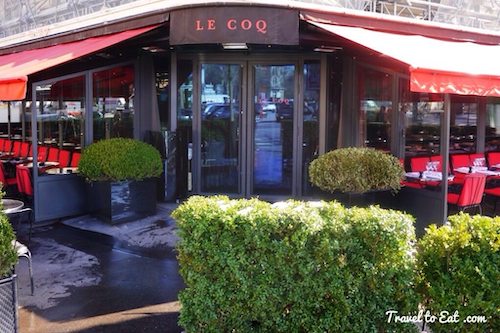 This review on Le Coq is the third of my series on the six restaurants of the Place du Trocadéro. The others are Le Wilson, Café Kléber, Pâtisserie Carette, Le Malakov and Café du Trocadéro. Le Coq is one of those expensive restaurants, in a great location, with great service and comfortable dishes that you may want to splurge for after a day of sightseeing. Located on the place du Trocadéro in the 16th district, Le Coq is a modern brasserie in a chic setting with a very cool design and cosy interior by Jacques Garcia. Red tables, mirrored walls and ceilings, corridors clad in small black tiles, columns of opaque imitation ice in the middle of the restaurant. According to the Michelin Guide, Le Coq is an old brasserie which has been given a facelift and new life as a Thierry Costes restaurant in 2007. They serve simple yet well-executed dishes. You might expect I would like this, reminds me of Las Vegas.

As you can see from the above panoramic photo, Le Coq is directly next to Le Wilson and across the street from Café Kléber. It is pretty hard to miss the red awnings.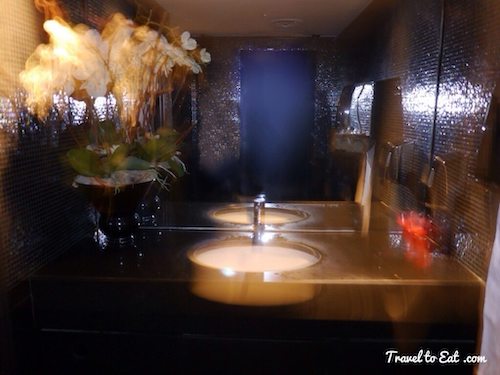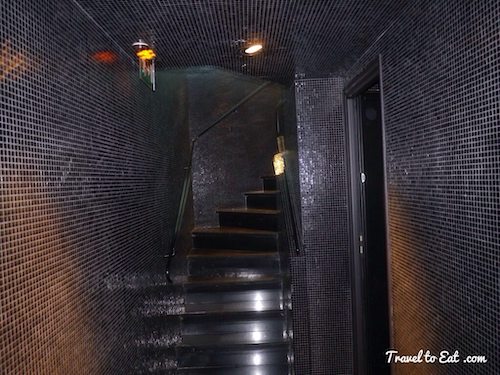 In terms of the "bathroom test", Le Coq passes with flying colors. Tres chic, very modern with the latest fixtures and those little black tiles everywhere.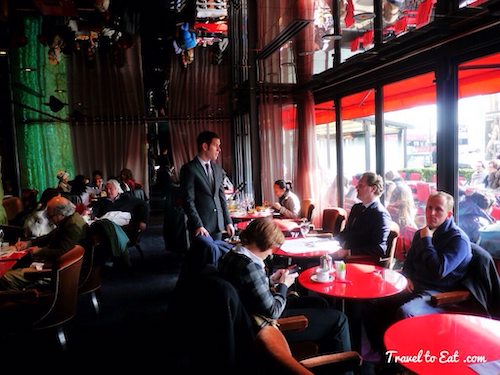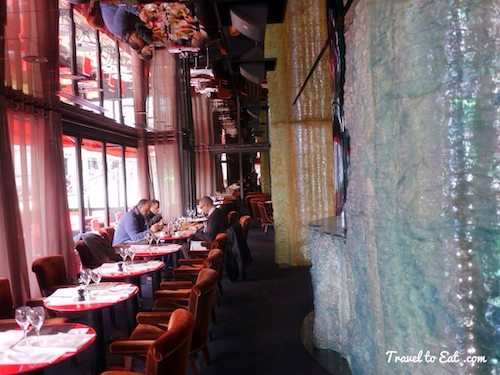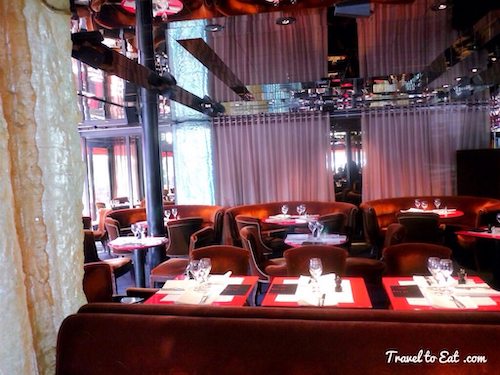 Upstairs, we have black rugs, mirrored ceilings (and walls), comfy seating before red tables, heavy drapes and the ice sculpture in the center of the room. You have to admit, those round booths remind you of Las Vegas.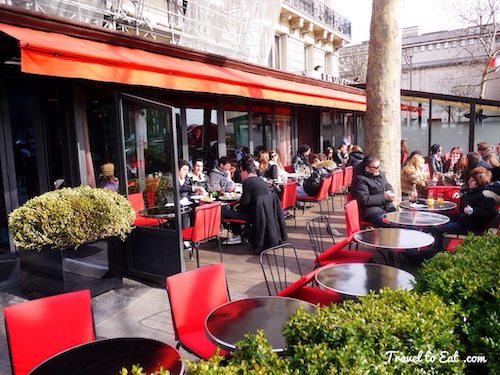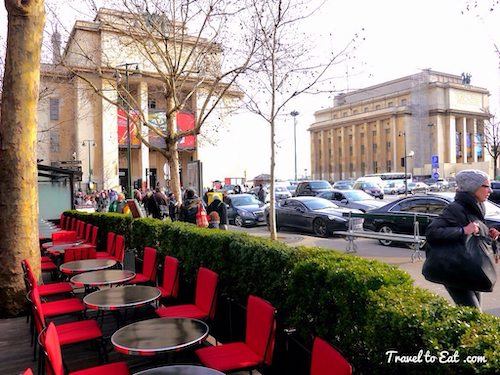 Outside, they have a really lovely patio fenced off with a small hedge and wood planking for the floor. You get a nice view of the side of the Place du Trocadéro.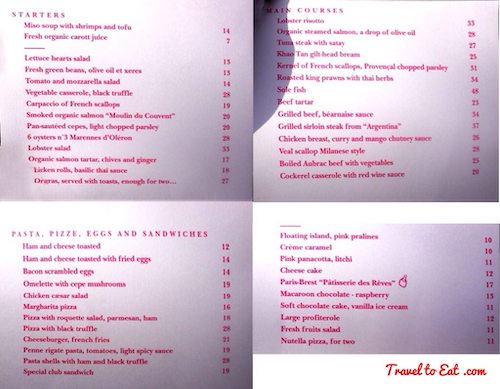 The menu is reflective of a casual international style, comfort food that just tastes good, regardless of national origin. This is Paris after all, so there are little surprises, like black truffle pizza, carpaccio of scallops and Fois Gras. The prices are about twice a normal French café so don't go here if you are pinching pennies.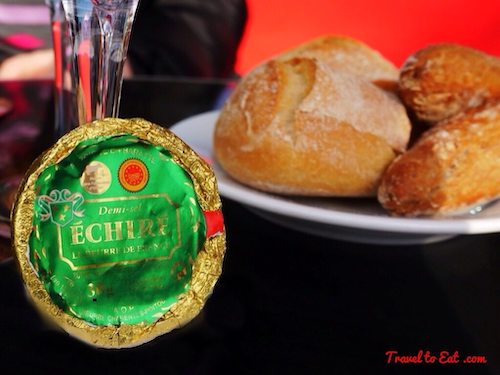 The good news is that everything is prepared and served with quality ingredients. Even the bread came with French quality beurre, Échire (the really good stuff). I didn't even have to ask.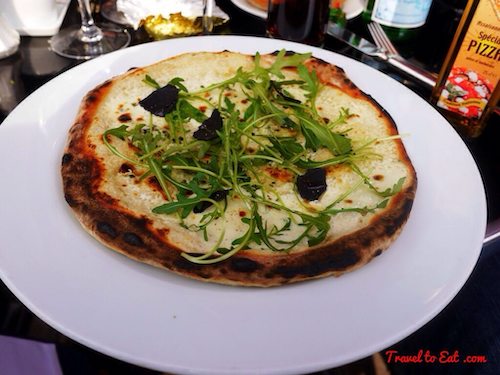 We decided on a black truffle pizza, I love black truffles even though I can't afford to eat them often. This pizza was very good even though it doesn't look like the average pizza. It came with a "special pizza sauce" which I have seen in Italy, basically olive oil with added herbs and seasonings. I really didn't use the sauce but I tried it.
We also had the lobster salad, equally nice with a little aioli sauce to go with it. A half bottle of white wine was 28€, a little expensive. So this is a plush, expensive restaurant in an excellent location with good tasting food and excellent service. It did not get very good reviews on TripAdvisor, mostly because of the prices, people generally liked the food. If you want to see and be seen at the Place du Trocadéro this might be your restaurant.
References:
Best Restaurants Paris: http://www.bestrestaurantsparis.com/en/restaurant-paris/lecoq.html
TripAdvisor: http://www.tripadvisor.com/Restaurant_Review-g187147-d1770825-Reviews-Le_Coq-Paris_Ile_de_France.html
Yelp: http://www.yelp.com/biz/brasserie-le-coq-paris