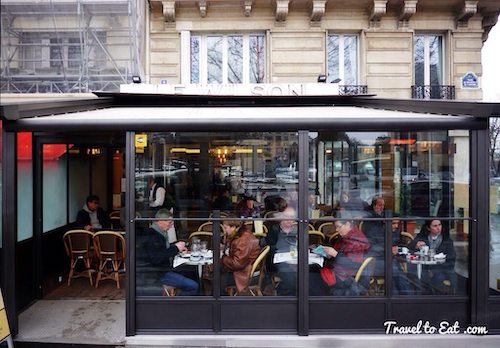 After the snow last night, we decided to get out for lunch. The Place du Trocadéro is only about five blocks from us, so we decided to get some pictures of the Eiffel tower in the snow and some lunch. Le Wilson is right across the street from the Trocadéro and its museums. I wouldn't call Le Wilson a gourmet restaurant but it is very nicely appointed for a cafe. When you're within walking distance of the Eiffel Tower, Le Wilson is one of the better choices you can make for lunch. You'll get a good meal and the prices are very reasonable. During the summer the front is open air sidewalk but in winter they close it in and provide heat-lamps for smokers outside.

As you can see from the above picture from just outside the restaurant, the Trocadéro is located on a circular roundabout. The entire city of Paris is arranged with these roundabouts, with major streets radiating outward like spokes on a wheel. This was Baron Haussman's grand plan, unlike most other cities which are organized on a square north-south, east-west plan. This is also why people tend to get lost in Paris.

There are six restaurants located on the half circle opposite the museums, seen in this panoramic photo. I plan to do a post on each restaurant because they are all good (and different), the Eiffel Tower is one of the most visited places on earth (hence they are always busy) and because the area just behind these restaurants is one of the swankiest areas in Paris, lots of Parisians eat here.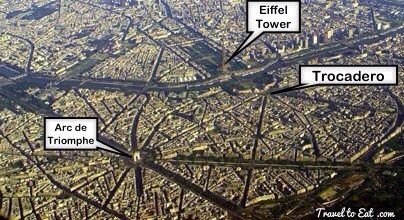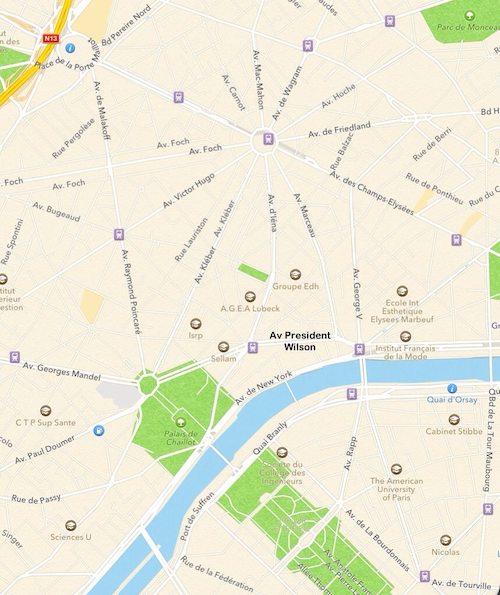 There are five main streets leading out from the Trocadéro roundabout, Ave President Wilson (see my post on the Pres Wilson Market), Ave Kléber leading to the Arc de Triomphe (see my post on Kleber), Ave Poincaré, Ave Doumer and the beautiful boulevard Georges Mandel. Le Wilson is on the corner of Ave Wilson and the roundabout, hence the name.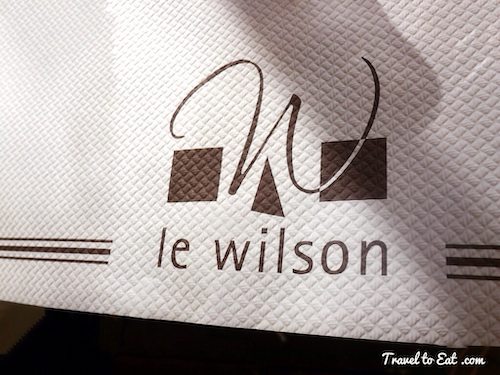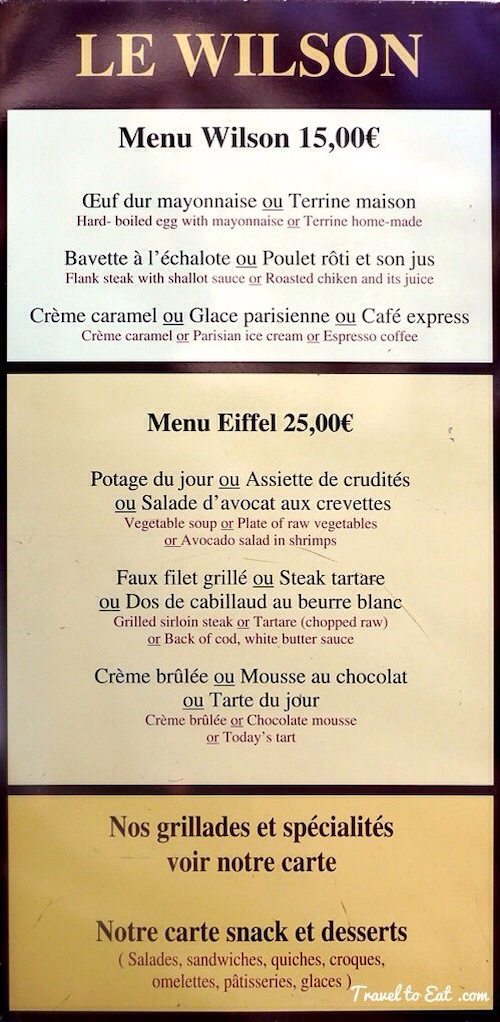 They have a prix fixe menu which is a really good deal for the quality of food, however I rarely choose prix fixe since it usually is chosen to appeal to the average palate and you almost always miss the really good stuff. Also, Lisa and I usually split dishes so we can sample more of the menu.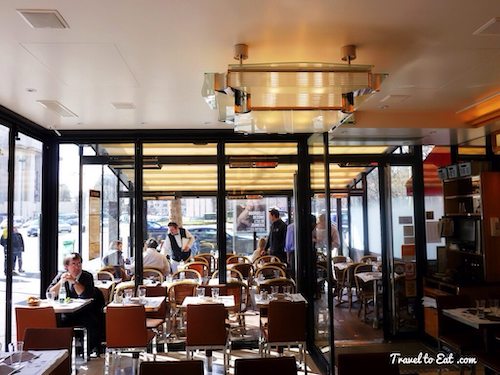 The interior and logo are done in stylish Parisian Art Deco. Leather and chrome chairs inside.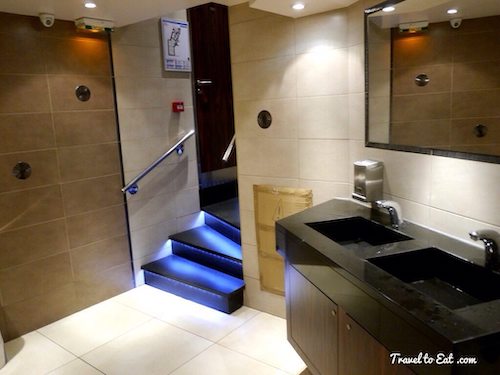 I find you can often tell a lot about a restaurant by the bathroom. This one was posh with marble and new fixtures. The long staircase had clever blue lighting under the stairs, very nicely appointed all the way up and down.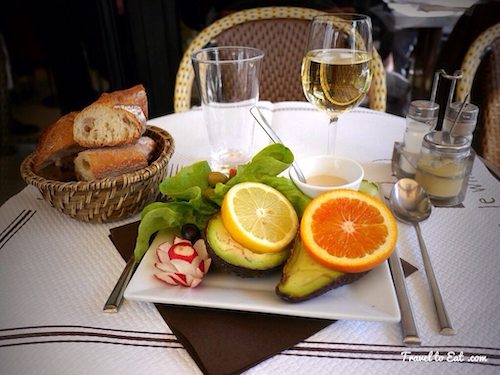 As for the food, since we have eaten here before, I highly recommend the avocado with vinaigrette. To me this represents some of the essentials of great French culinary technique. First, the appearance is lovely, lots of bright colors to invite the eye. Although it appears deceptively simple, it is actually a well thought out and original presentation. You are given a large spoon to scoop out the avocado and you are immediately confronted by a decision. Eat the avocado alone, squeeze lemon and orange into the bowl left by the pit (perhaps with a little salt) or use the vinaigrette. I elected to put lemon on one and the blood orange on the other. Both were absolutely delicious, making me wonder why I never thought of this myself. The avocado sings through with the aftertaste of lemon or orange, a typical French technique of allowing quality ingredients to speak for themselves, with a little surprise. In between, I varied the flavors with a little radish, olive or butter lettuce drenched in vinaigrette. The choice of butter lettuce is also inspired, just the right texture, appearance and taste for this dish. Altogether an impressive dish in just the right proportions.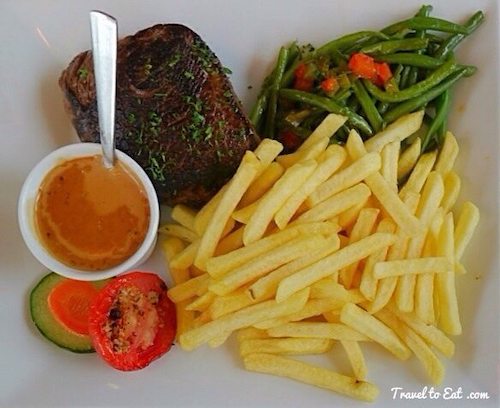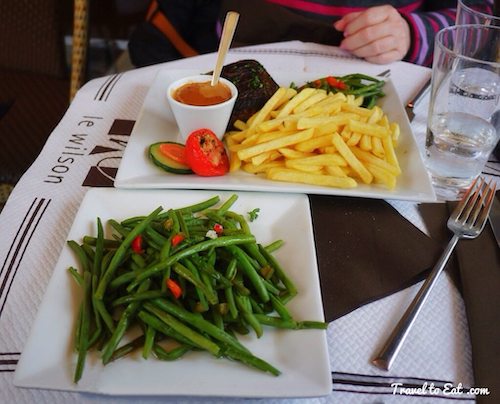 We ordered the rump "steak" with an extra helping of haricot vert (green beans), plenty of food for two people. It came with a delicious Poivre brown sauce with cracked green peppercorn. This is of course their take on the French classic Steak au Poivre Vert. The steak was seared to a perfect rare, the haricot vert were thin and al dente and the presentation was lovely. Lisa and I discussed the fact that in France beef is almost always cooked rare, as the standard presentation. This was an especially generous piece of beef for Paris, almost an inch and a half thick. The sauce was cooked perfectly with a piquant accent from the tangy green peppercorns. Green peppercorns are similar to black peppercorns, both made from the unripened fruit of the Piper nigrum plant. Dried green peppercorns are treated in a way that retains the green color, by freeze drying or pickling, resulting in a different taste. Black peppercorns were actually found stuffed in the nostrils of Ramesses II, placed there as part of the mummification rituals shortly after his death in 1213 BCE. Peppercorns have been around for a long time. In the Middle Ages peppercorns were routinely used as currency.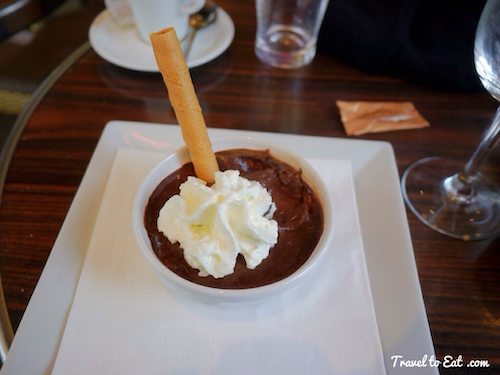 For desert, I ordered the chocolate "mousse", which is the English translation for the French classic Chocolate Pot de Crème. Pot de crème is a loose French dessert custard dating to the 17th century. The name means "pot of custard" or "pot of creme", which also refers to the porcelain cups in which the dessert is served. Pot de crème is made with eggs, egg yolks, cream, milk, and a flavor (in this case, rich dark chocolate). The milk and cream are heated and flavored, then mixed into the whisked eggs and egg yolks. The mixture is strained and poured into cups, which are then baked in a water bath at low heat. The result is chilled for several hours and topped with whipped creme. After a craze of popularity in the 60's and 70's in the US, Pot de Crème has made a recent comeback. It seems like it is the current dessert of choice at many new American restaurants across New York City. This was a generously sized "pot" with the intense chocolate taste I remember from my best previous tastings. A memorable completion to a classic Parisian meal.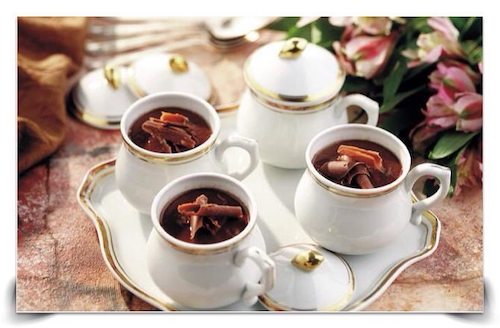 Although you can put your Pot de Crème in any small cup or bowl, they actually make sets of china designed for this particular purpose. I have a set myself. You may have noticed that this restaurant review is more in depth than my previous posts. There are two reasons for this, I have decided to elaborate a bit more than I have in the past in general. The second reason is that I particularly liked this restaurant. Even though it is not fussy and overpriced, I had a true gourmet experience dining here, for about $75 for the two of us including wine. The waiter was busy but attentive, the location was excellent and the food was expertly prepared classic French cuisine. I can recommend Le Wilson without a single reservation. By the way, if you visit Paris and order cheeseburgers (like one of the reviews on TripAdvisor) don't expect to be impressed…go to McDonalds, that is where you belong. One last pet peeve of mine with these reviews, restaurant service is different in France than in the US. Civilized people say bonjour, how is your day going, expect to relax and enjoy the day, they are pleasant and don't expect the waiter to constantly ask you if everything is OK. Eating in France is supposed to take time and if you will at least try a little French, your service will be even better.
References:
Le Wilson, TripAdvisor: http://www.tripadvisor.com/Restaurant_Review-g187147-d2329918-Reviews-Le_Wilson-Paris_Ile_de_France.html
Where to buy Pots de Crème sets: http://www.thefind.com/kitchen/info-pot-de-creme