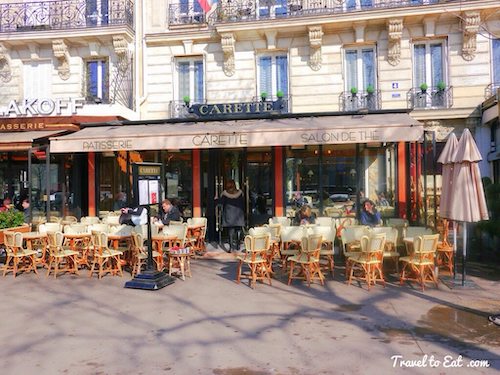 As I stated in my last post, I am doing a series on restaurants in the Trocadéro. Really, Pâtisserie Carette belongs in a category of its own or perhaps with Angelina (see my post). For more than 80 years this cafe of tea and sweets has held center court in the famous Place du Trocadéro and now it has opened a second outlet in the Place Des Vosges. Carette was founded in 1927, established by Jean Carette and quickly became a Parisian favorite. Ten years ago, under the direction of Chef Frédéric Tessier, the decor and menu were "refreshed". In addition to the macarons and other sweets, they have finger tea sandwiches and a good selection of teas. The menu is heavy on salads and sandwiches. I went there yesterday morning for brunch and today for lunch. TripAdvisor gives Carette #296 of 9,069 restaurants in Paris, one of the highest scores I have seen, I think mostly for the location.

The above panorama shows the location of Carette in the six restaurants of the Place du Trocadéro. It sits squarely in the middle, flanked by Le Malakov and Café Kléber.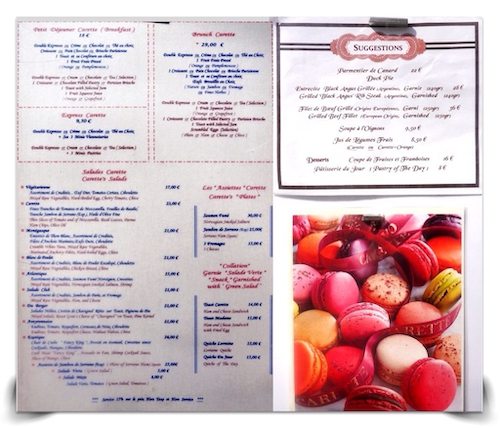 The posted menu highlights the choices, since Lisa was feeling under the weather yesterday, I was on my own and decided on a petit déjeuner.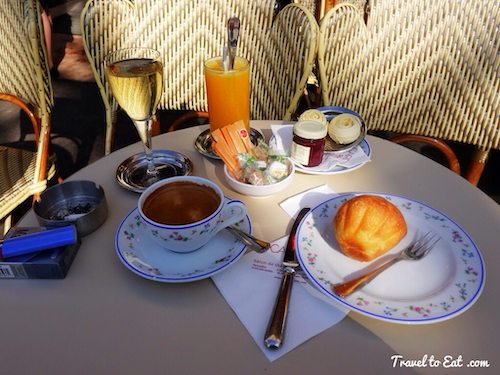 For this choice (and 18€) I got a double expresso, a glass of fresh squeezed orange juice, a brioche, toast (with the crust trimmed off) and a large helping of butter and strawberry jam. I added the Chardonnay. A few comments, the brioche was dry and that large helping of butter was not tangy French buerre, but instead was more related to American sweet creme butter. The service was nonetheless good.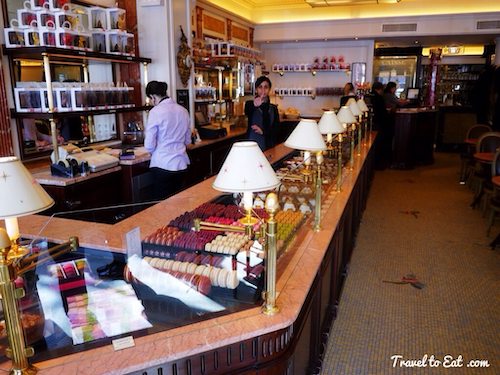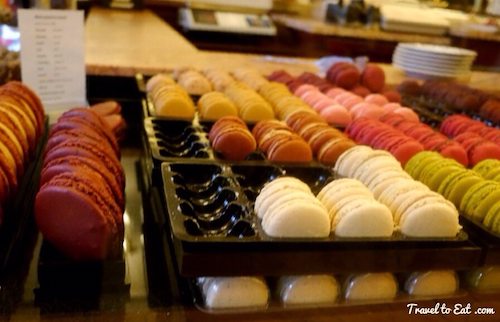 At this point I ventured into the restaurant with the intention of checking out the sweets and taking some pictures. As you can see from the woman in the above photo, cameras are strictly verboten, apparently there is a sign at the door. However, you can also see a long row of sweets, with sandwiches at the far end. They apparently have macaron takeout boxes as well.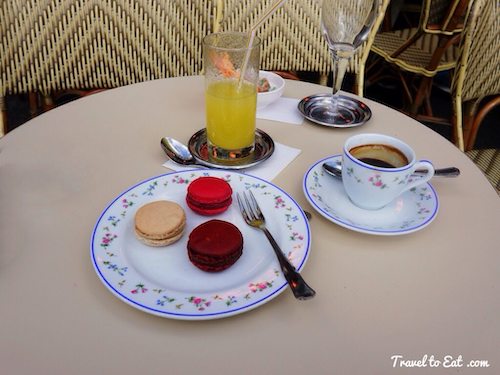 With this revelation I ordered another round of expresso, Orangina and Chardonnay. I included a trio of small macarons, which were really delicious. It might be a good time to mention that French macarons have nothing to do with the American macaroon. They are slightly crunchy on the outside, soft on the inside with a filling in between. The one on the left was filled with the salty caramel of Brittany, Caramel au Beurre Salé. That one was really good, as were the others.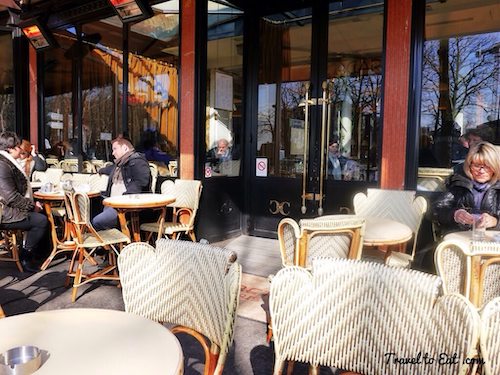 Today I took Lisa to lunch at Carrete to celebrate her feeling better.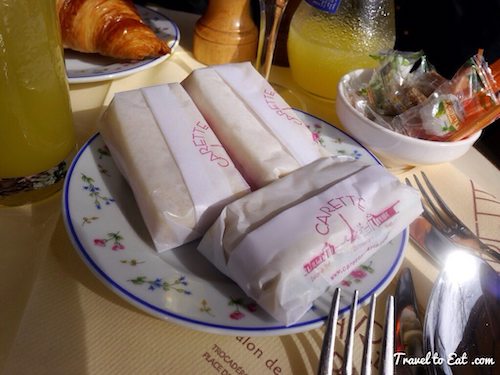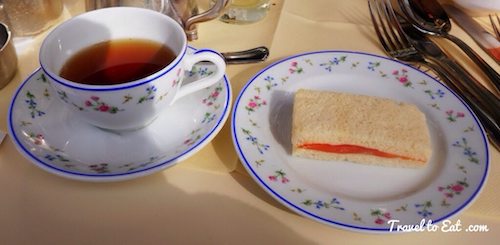 I ordered some finger sandwiches (ham, salmon and cucumber) and some Earl Gray tea for me. The sandwiches were pretty good, made on fresh brioche bread with the crusts cut off. I love the way Parisins wrap their food with such precision. These sandwiches would be perfect along with a box of macarons for a picnic lunch at the Eiffel Tower (bring a bottle of wine to round things up). Unfortunately the tea came in a pot without a cozy, and as it was a cold morning, the tea got cold.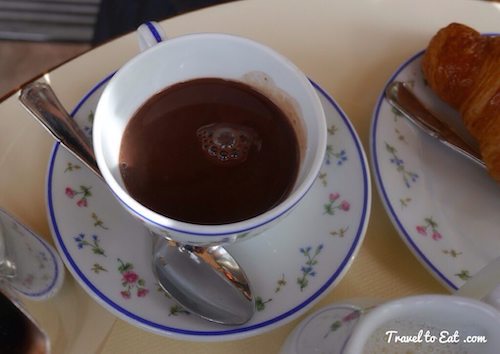 Lisa had the hot Chocolate Chaud (without whipped creme…too many calories) that is supposed to rival Angelina and a rather large croissant that she said was not dry. They give you hot creme to mix it to your own taste. Surprisingly, the thick consistency is achieved with lots of chocolate, not creme. If you order Viennese style, you get a huge serving of freshly whipped cream to top it off.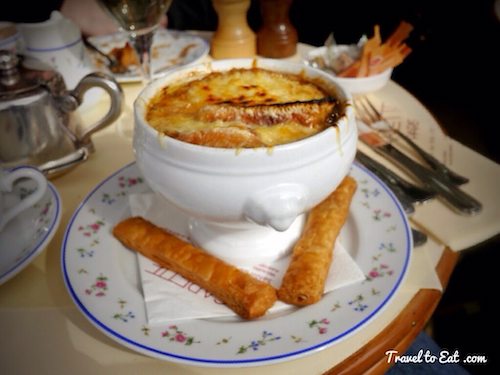 It was cold out, so we shared some onion soup. The flakey breadsticks were a nice touch. The onion soup was just ok, not enough cheese for my taste and just warm, not hot.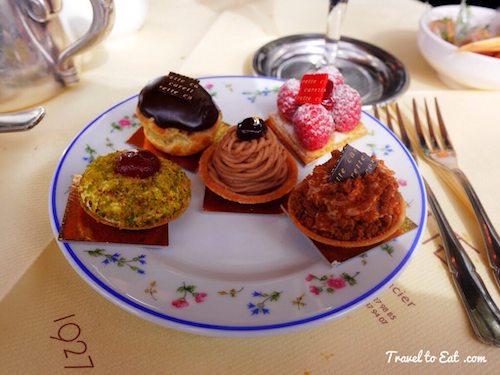 We finished with a very pretty plate of petit-fours. These actually were rather tasty. So what is the final verdict? Pâtisserie Carette is a great place to come for a light lunch or snack, especially if you are craving sweets. I did a quick perusal of the comments on TripAdvisor and most of the positive reviews were for a snack after visiting the Eiffel Tower. There were a number of complaints about the prices, let's face it, this is about as touristy as it gets and they charge more because they can. Probably not the place to go for a steak dinner, go to Le Wilson instead. Is it better than Angelina? Angelina is a big operation with locations at the Louvre, Versailles and the historic Grand Salon on Rue de Rivoli with a sense of history which Carette lacks. I think the speciality "African" chocolate chaud is better there but you need to try it for yourself. They do savory plates better and honestly, if Carette was not at the Place du Trocadéro, right by the Eiffel Tower, I wonder if there would even be a Carette. The reality is that they are a very good Paris pâtisserie in a great location and if you are visiting the Eiffel Tower you can't go wrong with Carette for a snack. I am going to end with some pictures of their sweets from the web.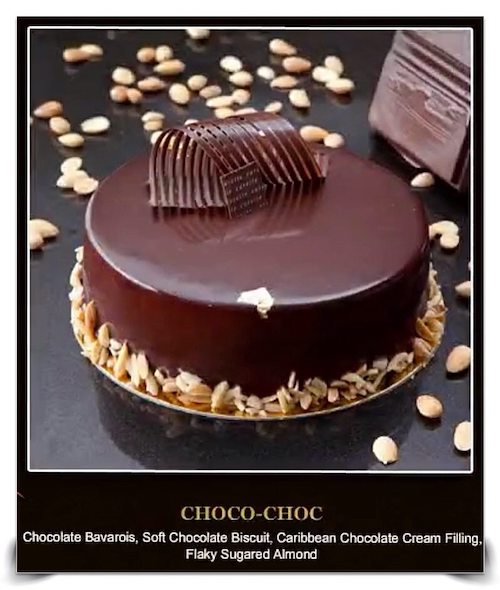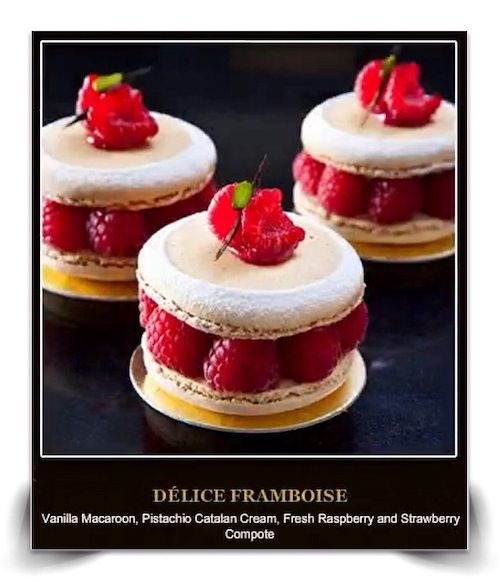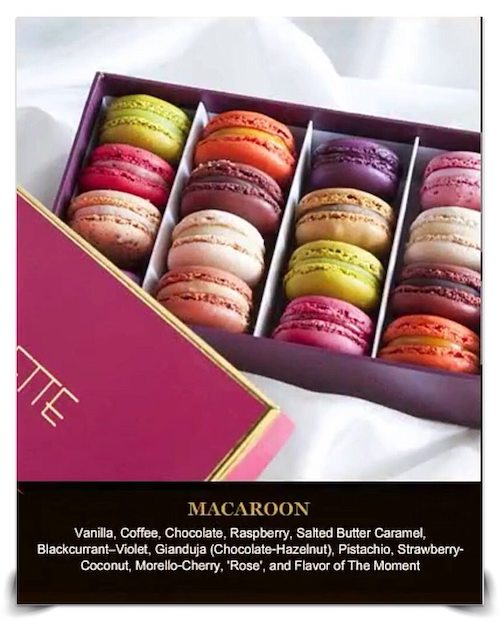 References:
Pâtisserie Carette (flash required): http://www.carette-paris.com/
David Liebovitz Chocolate Chaud Recipe: http://www.davidlebovitz.com/2005/11/parisian-hot-ch-1/