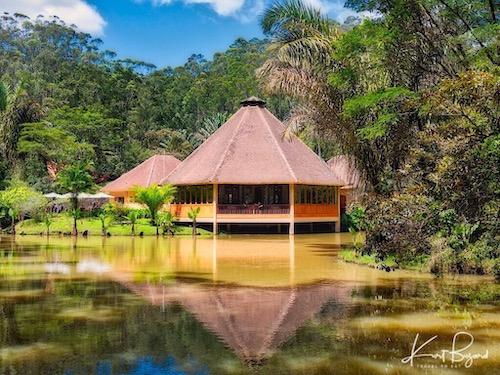 On my visit to Madagascar, I chose Natural Habitat (NatHab) as my tour group due to good reviews by friends and some internet investigation. I think in Madagascar, and Africa in general, it is best to visit with a tour. It is possible to book things on your own but these are poor countries, with limited lodging and transport options, often requiring private plane and car services. Both for safety and to avoid the headaches, I recommend a reputable tour service unless you simply want to go to one hotel for your stay. While Natural Habitat was a little more expensive, the hotels were really nice, there were local guides in addition to the tour director and the complex business of getting around in Madagascar was handled seamlessly. The Vakona Forest Lodge was the first hotel we stayed in after our arrival in Antananarivo and as you can see, it was a beautiful place with lovely gardens. This was our home base to visit Andasibe-Mantadia National Park (Reserve of Perinet), quite a mouthful. Andasibe-Mantadia National Park is a 100 square mile (155 square km) protected area, located about 93 miles (150 km) east of Antananarivo, consisting principally of primary growth forest in Alaotra-Mangoro Region in eastern Madagascar. The park's two component parts are Mantadia National Park and Analamazoatra Reserve, which is best known for its population of Madagascar's largest lemur, the Indri. The Analamazaotra (or Périnet) Special Reserve (ASR), known locally as Andasibe after the nearby village, was once part of the larger Mantadia National Park which also included Maromizaha Classified Forest to the southeast and Anosibe an'ala to the south. However logging and deforestation for farming has resulted in these parks now being isolated.
The Accommodations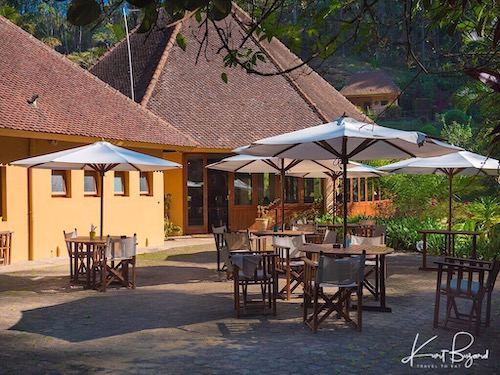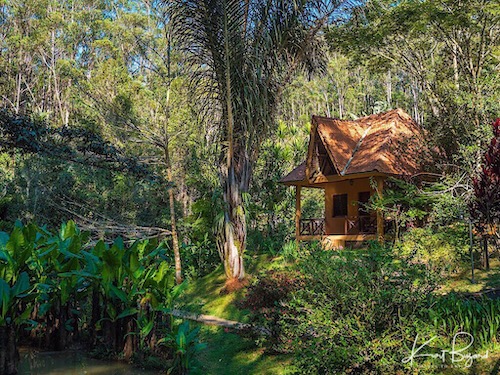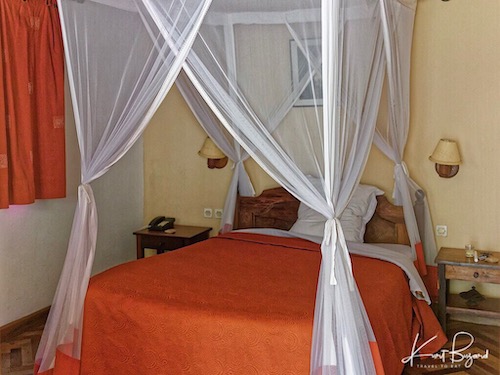 The lodge is rustic but nicely kept and really inexpensive at around $100 dollars a night for a deluxe bungalow. As you can see from the photos, all the rooms are bungalows, nestled in the gardens and primary growth forest. The large entrance lodge has a nice restaurant and bar with a fireplace and terraces overlooking the lake or the gardens. The staff was very pleasant, the food was good, the WiFi worked well and there was even a pool which some of our group used. The lodge is quite close to "Lemur Island" which is a home for confiscated pet lemurs. The lemurs here are tame and will jump all over you, especially if you have any fruit or treats. It's basically a glorified petting zoo but in a natural setting. The owning of lemurs as pets is illegal in Madagascar, but enforcing this law is lax and almost non-existent. Between 2013 and 2015, a staggering 28,000 or so lemurs have been living in thousands of urban households across the country, flying under the radar. There are at least 14 lemur species with populations numbering at less than 10,000, but the pet trade might be undermining efforts to help this species recover. As an example, there are more Ring-Tailed Lemurs in zoos around the world than there are in Madagascar (around 2,000).
The Gardens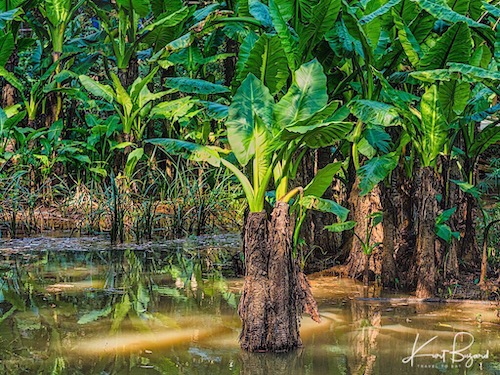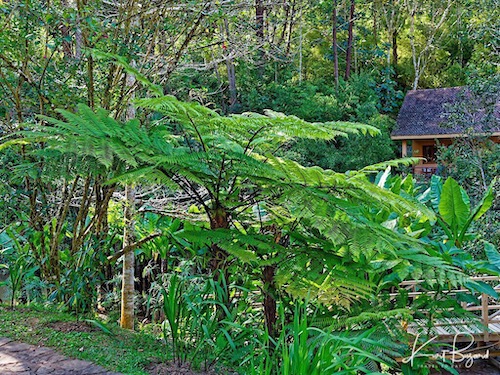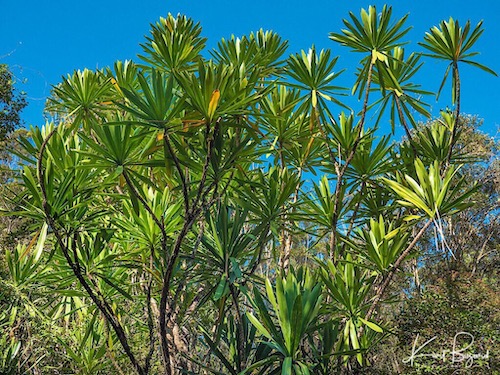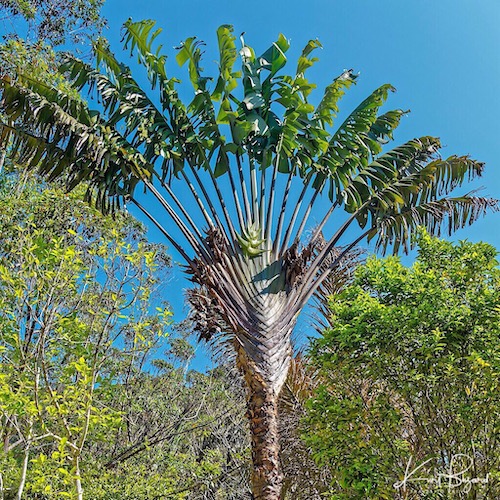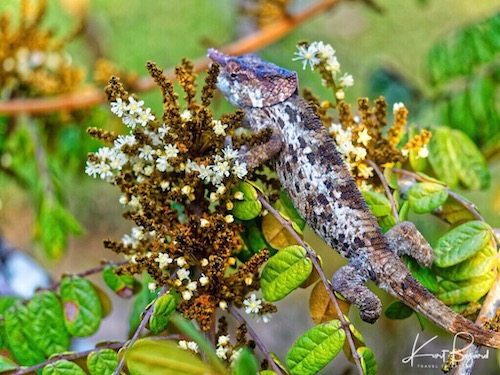 One of the main draws of the Vakona Forest Lodge is it's isolation, down a long and bumpy dirt road, in the middle of the primary growth Vakona Forest. Primary forest in Madagascar is threatened since the economy runs mostly on charcoal and cattle, so slash and burn tactics on the old-growth forests are common. Efforts by the government to replace these forests with fast growing pine and eucalyptus results in forest environments unsuited to most of the wildlife. It is an ongoing problem, exacerbated by poverty and an unsustainable growth in population. Since the garden is open to the forest, you can see many native plants within walking distance and even the occasional chameleon and birds. The garden around the Vakona Forest Lodge is thoughtfully planted with outstanding selections from around the world and includes iconic Madagascar natives such as Elephant Ears, Traveler's Palm, Sea Mango, tree ferns, Madagascar Periwinkle and Christ Thorn to mention just a few. It will be time well spent to wander around the garden. While I do not have the space to include everything, I have included some of my favorites in the remainder of the post.
Garden Croton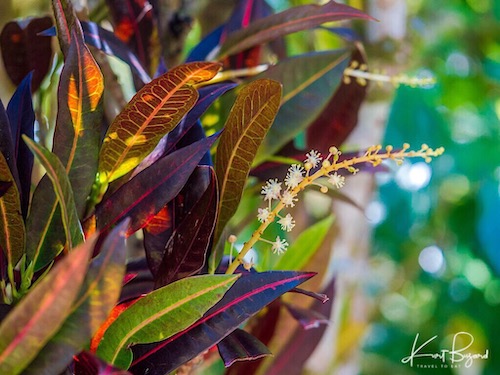 The Garden Croton (Codiaeum variegatum or Croton variegatum L.) in the Euphorbiaceae family is, despite the confusingly similar name, completely different than "Croton", a widespread genus also in Euphorbiaceae, containing more than 700 species of herbs, shrubs and trees. It is native to Indonesia, Malaysia, Australia, and the western Pacific Ocean islands, growing in open forests and scrub. It is an evergreen shrub growing to 9.8 ft (3 m) tall and has large, thick, leathery, colorful leaves, alternately arranged, 2.0–11.8 in (5–30 cm) long and 0.20–3.15 in (0.5–8 cm) broad. The flowers are long racemes 3.1–11.8 in (8–30 cm) long, with male and female flowers on separate inflorescences; the male flowers are white with five small petals and 20–30 stamens, the female flowers yellowish, with no petals. There are several hundred cultivars, selected and bred for their foliage. Depending on the cultivar, the leaves may be ovate to linear, entire to deeply lobed or crinkled, and variegated with green, white, purple, orange, yellow, red or pink. I think this is my first experience with Garden Croton trees, I think they were more like 15 feet tall.
Jasmine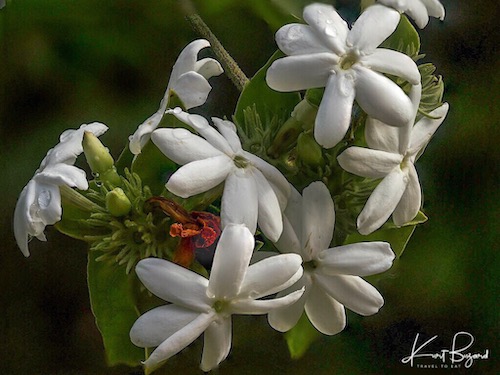 Jasmine is a genus of shrubs and vines in the olive family (Oleaceae). It contains around 200 species native to tropical and warm temperate regions of Eurasia, Australasia and Oceania. Jasmines are widely cultivated for the characteristic fragrance of their flowers. Jasminum multiflorum is a species of jasmine, known as winter jasmine, Indian jasmine, downy jasmine, and star jasmine. Jasminum multiflorum is native to India, Nepal, Bhutan, Laos, Burma, Thailand and Vietnam. It is widely cultivated in tropical and subtropical regions for its attractive and intensely fragrant flowers. I personally think this is one of the best looking and most fragrant jasmines I have seen, kudos to the garden planner.
Spirea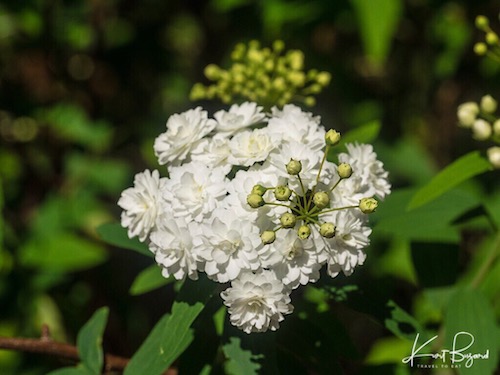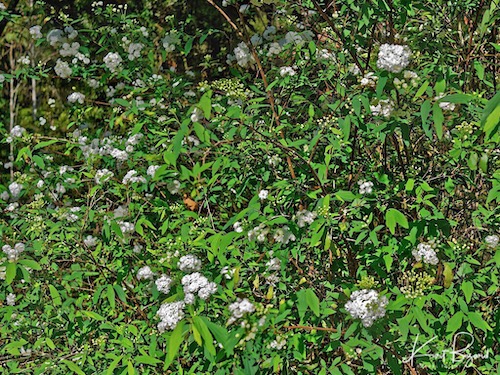 I personally love spirea, and I think this variety is one of the most lovely. Spiraea cantoniensis, with common name Double Bridal Wreath Spirea or Reeve's spiraea is a species of plant native to China, belonging to the family Rosaceae. It is a shrub growing up to 4.9 ft (1.5 m) tall with white flowers. In late spring or early summer, clusters of five-petaled white blossoms adorn the length of the red-brown stems, attracting both bees and butterflies. The brown seedheads persist on the stems. The leaves are lance-shaped and mid-green with toothed margins and blue-green undersides. This shrub is most commonly grown in the form of its double-flowered cultivar 'Flore Pleno' (aka 'Lanceata').
Madagascar Periwinkle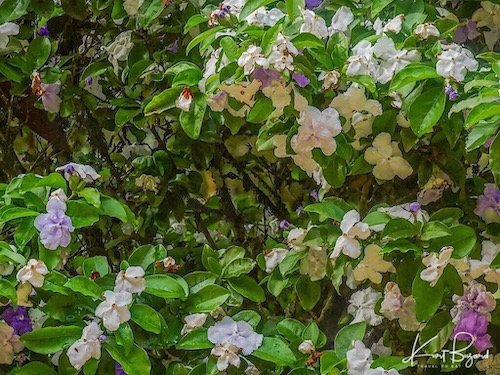 The Madagascar Periwinkle (Catharanthus roseus) is probably the best known flower from Madagascar. It is a species of flowering plant in the dogbane family Apocynaceae. It is native and endemic to Madagascar, but grown elsewhere as an ornamental and medicinal plant, a source of the drugs vincristine and vinblastine, used to treat cancer. Other English names include '"Cape Periwinkle" and "Old-Maid". Numerous cultivars have been selected, for variation in flower colour (white, mauve, peach, scarlet and reddish-orange), and also for tolerance of cooler growing conditions in temperate regions. Notable cultivars include 'Albus' (white flowers), 'Grape Cooler' (rose-pink; cool-tolerant), the Ocellatus Group (various colors), and 'Peppermint Cooler' (white with a red center; cool-tolerant). The white periwinkles pictured above have a yellow ring in the center and as you can see have a spectrum of colors from white to light purple. In the wild, it is an endangered plant; the main cause of decline is habitat destruction by slash and burn agriculture. It is also however widely cultivated and is naturalised in subtropical and tropical areas of the world.
Hippeastrum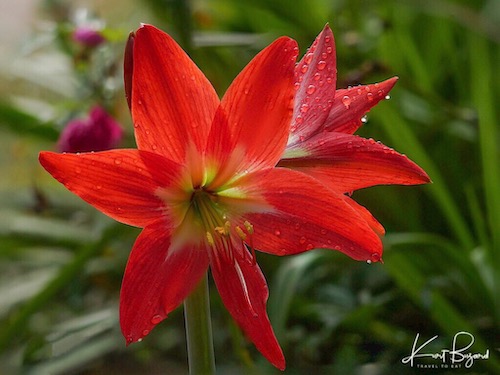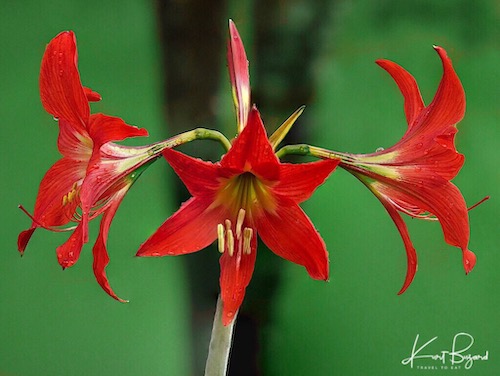 Hippeastrum is a genus of about 90 species and over 600 hybrids and cultivars of perennial herbaceous bulbous plants. They generally have large fleshy bulbs and tall broad leaves, generally evergreen, and large red or purple flowers. The name Hippeastrum was coined by English botanist, the Reverend William Herbert, and comes from the Greek hippeus (knight) and astron (star) after the resemblance of the flower to the "knight's star", a medieval weapon. There is often confusion when it comes to Amaryllis and Hippeastrums to the extent that most of the large flowered hybrids often sold as indoor flowering bulbs particularly at Christmas are erroneously called Amaryllis while they are, in fact, Hippeastrums. Although similar to Hippeastrum, the true Amaryllis is a bulb from South Africa with only one species in this genus, Amaryllis belladonna. This has pure pink trumpet-shaped flowers. Hippeastrums are from Central and South America with 75 species in the genus. Like the Amaryllis, they have strap-shaped leaves and large trumpet-shaped flowers but they come in many colors. This was a really beautiful flower to see in person.
Azelea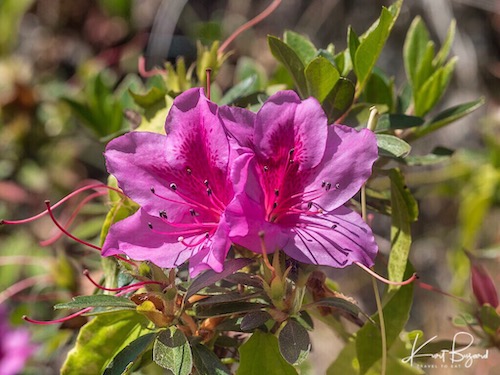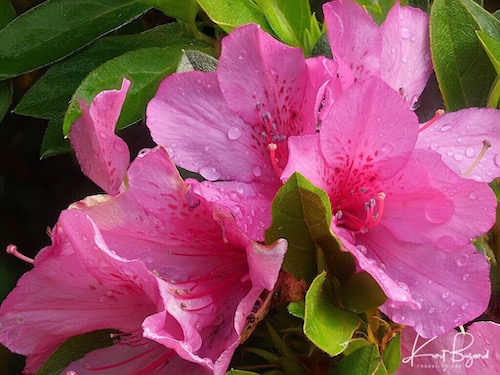 Plant enthusiasts have selectively bred Azaleas for hundreds of years. This human selection has produced over 10,000 different cultivars which are propagated by cuttings and seeds. Rhododendrons and azaleas are arguably Southern America's favorite shrubs. In fact an obscure federal law was passed in 1803 that states that all homeowners where azaleas will grow must plant them. Many people think of them as entirely different plants, but they both belong to the genus Rhododendron, which comprises more than 800 species and 10,000 named selections. Even to the untrained eye, one difference between the two groups is obvious: rhododendrons generally have much larger leaves. From a technical standpoint, rhododendron flowers are bell shaped and have ten or more stamens, while azalea blooms are typically funnel shaped and have five stamens. This plant was a real beauty, with absolutely picture perfect pink azeleas. As a side note, in the southwest and particularly Las Vegas, the soil is alkaline and azaleas need a more acid soil to grow. This is why you rarely see azaleas in the western United States.
Queen Elizabeth Grandiflora Rose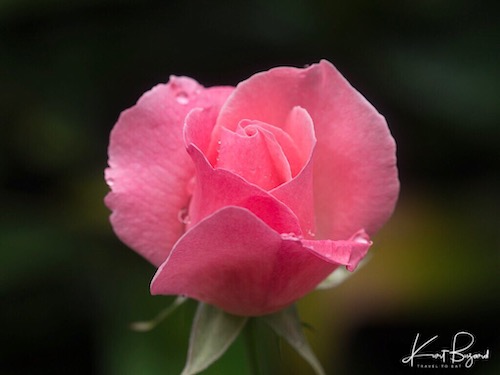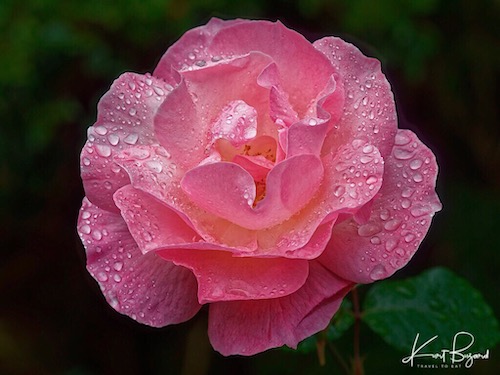 Although I love the "Souvenir de la Malmaison" rose, there is something to be said for the relative simplicity of tea roses. I usually do not photograph roses while I always love to stroll about and admire them. This rose however was something special. It looked like a Queen Elizabeth Grandiflora, the second most grown rose in the world after the Peace Rose and the bloom was in pristine condition. This rose is a cross between a Floribunda and a Hybrid Tea and it blooms in clusters. It was specially bred, the very first Grandiflora, in 1954 by the rose breeder Lammerts, to mark the Queen's Coronation in 1953 and it was a brilliant success. So remarkable that it is still around after 50 years of world-wide popularity. The most striking difference between hybrid tea roses and floribundas are their flowers. Hybrid tea roses appear as a single blossom on a long stem, making them a favorite for cut flower arrangements. Floribunda, as the name implies, produces abundant clusters of flowers on its stems. Although I sometimes bring a small water spray bottle when photographing flowers, I swear the rose was already beaded with water drops and is pictured the way I found it.
Angel's Trumpet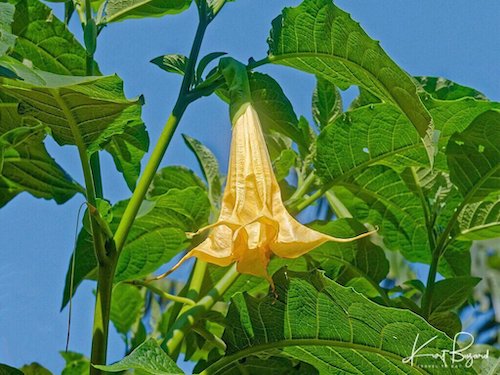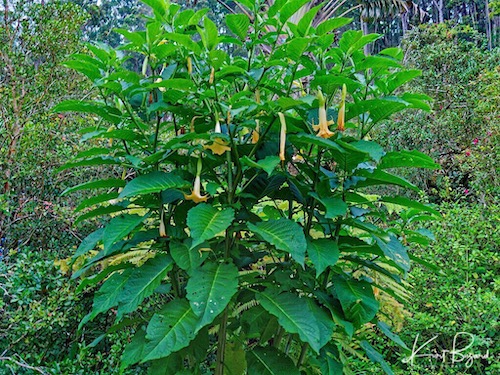 Brugmansia suaveolens, Brazil's white angel trumpet, also known as angel's tears and snowy angel's trumpet, is a species of flowering plant in the nightshade family Solanaceae, native to south eastern Brazil, but thought to be extinct in the wild. The flowers are usually white but may be yellow or pink and hang downward from fully pendulous up to nearly horizontal. The Latin epithet "suaveolens" means "with a sweet fragrance". Every part of Brugmansia suaveolens is poisonous, with the seeds and leaves being especially dangerous. There are quite a lot of Angel's trumpet trees in Madagascar, they appear to be a popular choice for landscapes.
Yellow Chalice Vine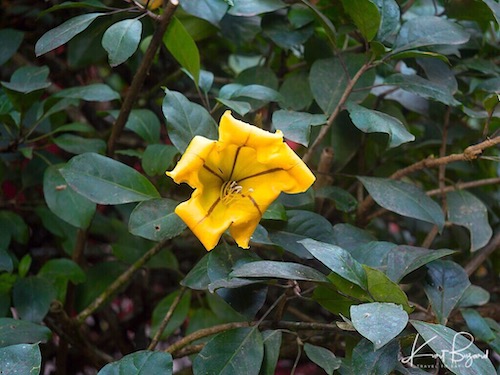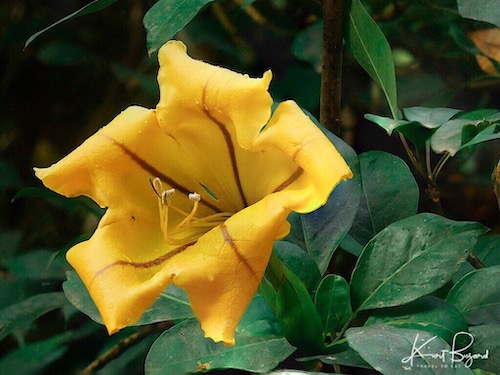 Solandra is a genus of flowering plants also in the nightshade family, Solanaceae. It is named after the Swedish naturalist Daniel C. Solander. The vines it contains are commonly known as Chalice Vines and are native to the Caribbean, Mexico and South America. They have very large flowers and glossy foliage. They are also called "Cup of Gold". The flowers are bigger than a large teacup, 6–8 inches across, very impressive in person. The stems are stout and strong, able to climb to 65 feet (20 m) in tropical climates, this one was about 20 feet tall and resembled a large bush, as wide as it was tall. A very unusual and large plant/flower which I have never seen before.
Thumbergia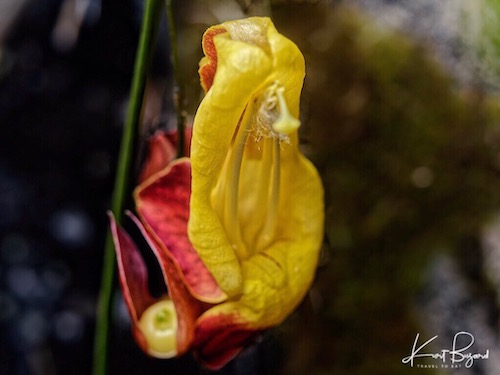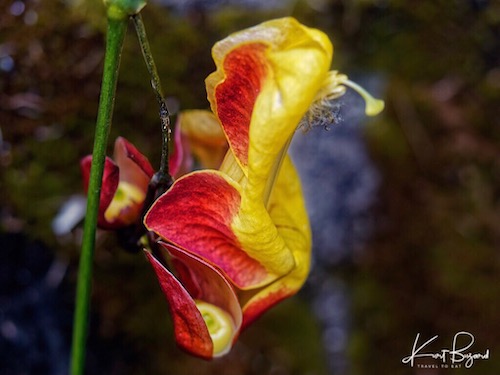 Another unusual vine with large flowers is the Mysore Clock Vine (Thunbergia mysorensis). Thunbergia mysorensis, also called Mysore Vine or Indian Clock Vine, is a species of flowering plant in the family Acanthaceae. A woody-stemmed evergreen, this vine is often cultivated in Spain (south) and native to southern tropical India. The epithet mysorensis is derived from the city of Mysore in India. Other names include Brick & Butter Vine, Lady's Slipper Vine, and Dolls' Shoes due to the flower shape and large size. Thunbergia mysorensis often reaches 20 ft (6 m) and has long narrow medium green leaves. The dramatic and very large pendent hanging blossoms have individual flowers in a bold curved shaped. This is enhanced by their being a rich saturated yellow, with maroon to brownish red outer tip coloring as seen above. This plant is also widely grown in Southern California and attracts hummingbirds. This flower is about 6 inches tall and 3-4 inches wide.
Shell Ginger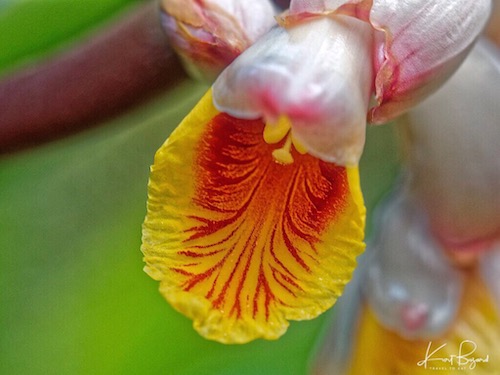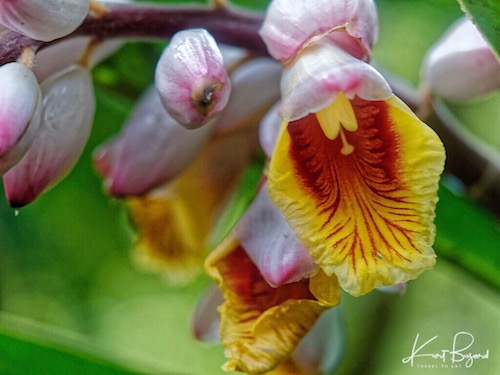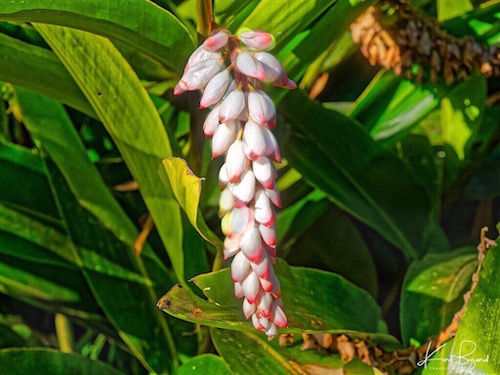 Next on our list of unusual flowers is Shell Ginger (Alpinia zerumbet), a perennial species of ginger native to East Asia. Alpinia zerumbet is called a "shell ginger" or "shell flower" most commonly, because its individual pink flowers, especially when in bud, resemble sea shells. Other common names in English include "Pink Porcelain Lily", "Variegated Ginger, "Butterfly Ginger", and "Light Galangal". They can grow up to 8 to 10 ft (2.4 to 3.0 m) tall and bear colorful funnel-shaped flowers. They are grown as ornamentals and their leaves are used in cuisine and traditional medicine. Native to eastern Asia, this plant may promote a longer life. The longevity of the population in the Okinawa Islands of Japan has been ascribed to genetic factors and the traditional Okinawa cuisine, which is low in calories and high in plant content. This diet includes shell ginger (Alpinia zerumbet). It has been suggested that eating shell ginger may contribute to longevity among the population in Okinawa. This is supported by its abundant phytochemical content, with antioxidant and anti-obesity properties.
Kohleria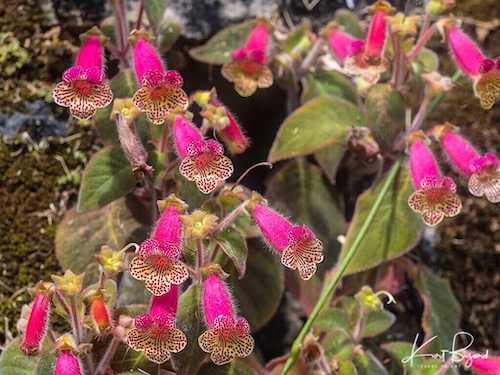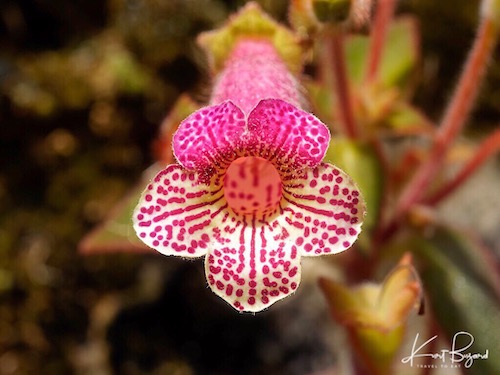 Kohleria is a genus of about 33 species, along with a number of natural hybrids in the family Gesneriaceae which also includes African Violets. The genus is distributed from central Mexico into northern South America, but typically not into the Amazon. Because of their colorful and exotically patterned flowers, as well as a general interest in the many tropical flowering plants that were being introduced from the Americas, kohlerias were very popular in England and Europe in the 19th Century. These species and hybrids almost entirely disappeared in the early 20th Century, and plant breeders have only recently begun to work extensively with this genus again. Their showy flowers and ease of culture have made them popular with growers of indoor houseplants. Numerous species and hybrids are now in cultivation, some with patterned or variegated foliage as well as vivid flowers.
Yellow Shrimp Plant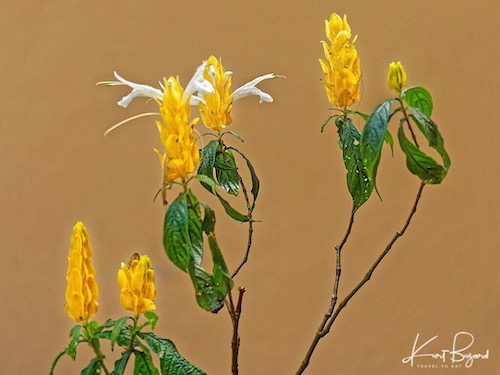 Pachystachys lutea, known by the common names Lollipop Plant and Golden Shrimp Plant, is a subtropical, soft-stemmed evergreen shrub between 36–48 inches (90–120 cm) tall. The, short-lived white flowers emerge sequentially from overlapping bright yellow bracts (specialized leaves) on racemes that are produced throughout the warm months. It is a popular landscape plant in tropical and subtropical areas of the world. It's name comes from the Latin lutea, which means "yellow". It is popular with hummingbirds. This plant reminds me of Aphelandra sinclairiana sometimes called the "orange shrimp plant" which I described in a post on the Conservatory of Flowers in San Francisco.
Epidendrum Orchid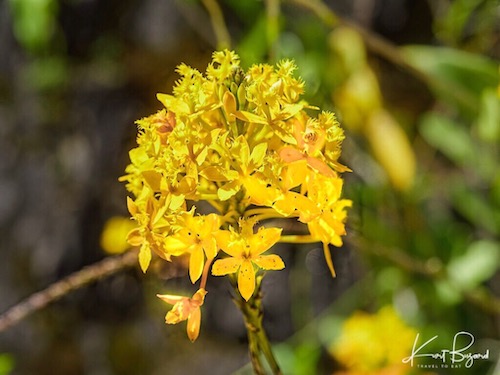 With their vivid long-lasting flowers, vigorous growth and forgiving nature, it would be difficult to name an orchid more ideal for the novice grower than a reed-stem Epidendrum. They have sometimes been called the poor man's orchid for several reasons: they were affordable and widely available during times when most orchids could be cultivated only by the wealthy; they are easily propagated, yielding many plants from one stem; and they are tolerant of a wide range of growing conditions, including outdoors. They also have the advantage of being relatively free of insects and flowering reliably throughout the year. Plants of the diverse genus Epidendrum are native to the tropical Americas, from South Carolina (Epidendrum conopseum) south through Mexico and Central America to Argentina. These orchids are extremely variable in habitat requirements. They can be found at elevations from sea level to 12,000 feet, growing in climates ranging from seasonally dry tropical forests to grassy slopes in full sun to hot steamy jungles to cool, damp cloud forests. This one was doing well, almost a shrub, full of blooms.
Cymbidium Orchid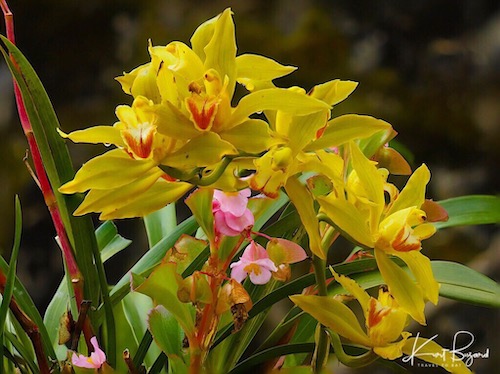 Cymbidium or boat orchid, is a genus of 52 evergreen species derived from the Latin cymba meaning boat. Its first known use was in 1815. The genus is distributed in tropical and subtropical Asia (such as northern India, China, Japan, Malaysia, the Philippines, and Borneo) and northern Australia. Known as the hardiest of orchids, they have long yellow-green arching foliage. The blossom size and number of flowers vary by variety, ranging from an inch to five inches in diameter, and from a few flowers to more than 20 per flowering stem.
Dendrobium Orchid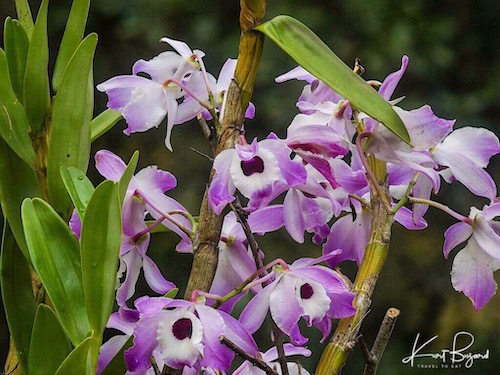 Dendrobium is a huge genus of orchids. It was established by Olof Swartz in 1799 and today contains about 1,200 species. The genus occurs in diverse habitats throughout much of south, east and southeast Asia, including China, Japan, India, the Philippines, Indonesia, Australia, New Guinea, Vietnam, and many of the islands of the Pacific. The name is from the Greek dendron ("tree") and bios ("life"); it means "one who lives on trees", or, essentially, an "epiphyte". The Noble Dendrobium (Dendrobium nobile) is native to southern China (including Tibet), the Himalayas (India, Bangladesh, Assam, Nepal, Sikkim, Bhutan), and Indochina. It has become a popular cultivated decorative house plant, because it produces colorful blooms in winter and spring, at a time when little else is in flower. It is also one of the 50 fundamental herbs used in traditional Chinese medicine, known as shí hú.
Sanchezia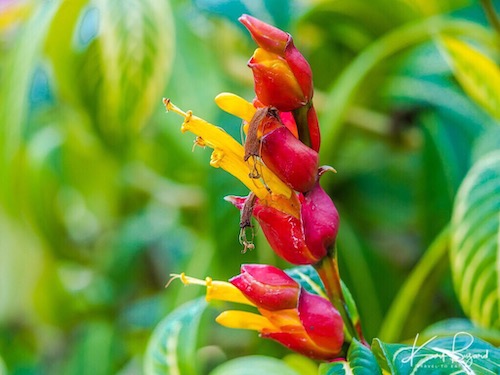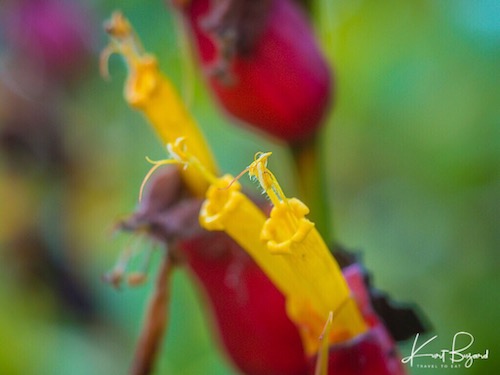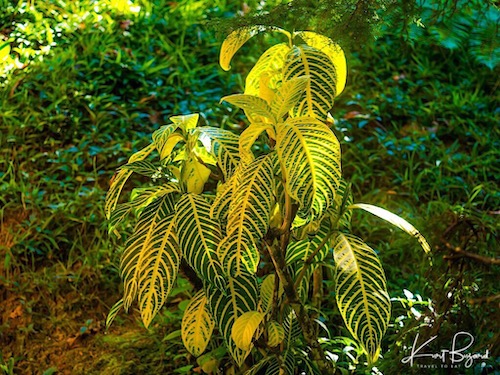 Sanchezia is a genus of the plant family Acanthaceae. It is estimated to contain about 20 to 50 species. Members of this genus are shrubs, this one was a very large shrub about 10 feet across, occurring in the lowlands of tropical South and Central America. Because they have large, colorful bracts and flowers, and sometimes even colorful leaves, several species are cultivated as ornamental plants throughout the tropics and in botanical gardens of temperate areas. Sanchezia is named for José Sanchez, a nineteenth-century professor of botany at Cadiz, Spain. Sanchezia nobilis is native to Ecuador. The leaves are large, up to 12 inch (30 cm) long, with prominent yellow stripes along the veins. Dense collections of yellow flowers about 5 cm (2 inch) long appear at the ends of the stems. The red bracts from the axils of which the flowers grow are also decorative; they may be as long as 1.5 in (4 cm). I was fortunate to see another form of this plant when I visited Peru, Sanchezia peruviana.
Christ Thorn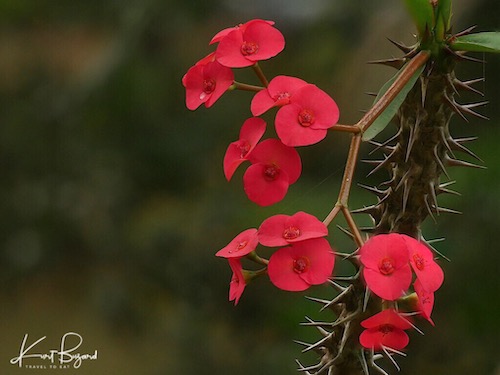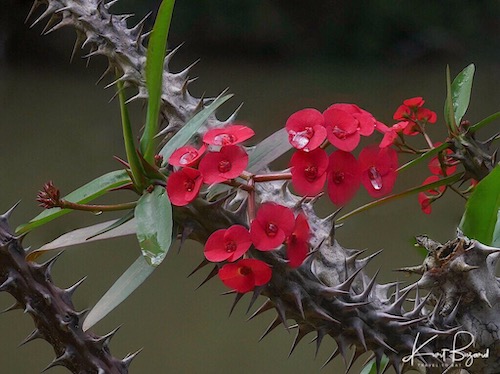 I thought I would finish up with another Madagascar native, Christ Thorn (Euphorbia milii). Common names include, the Crown of Thorns, Christ Plant, or Christ Thorn, also called Tú y Yo in Latin America. The species name commemorates Baron Milius, once Governor of Réunion island, who introduced the species to France in 1821. It is suspected that the species was introduced to the Middle East in ancient times, and legend associates it with the crown of thorns worn by Christ. It is not hardy, and does not tolerate temperatures below 10 °C (50 °F). The thorny Christ plant (Euphorbia milii) is a very popular indoor plant. This is due to its low water needs on the one hand and its pretty little red pseudo-blossoms on the other hand, which are not real flowers in the proper meaning of the word, but bracts (specialized leaves) located on the shoot tips. They tirelessly appear almost all the year. The actual flowers are tiny, in the center. Obviously, you see this all over Madagascar, but it is also popular in southern California.
I think whoever laid out this garden did an exemplary job with a little something for everyone. I hope you enjoyed this post as much as I enjoyed staying at the Vakona Forest Lodge. As always, I do my best to properly name the plants, please leave a comment if you disagree.
References:
Illegal Lemur Trade Growing in Madagascar
Spirea cantonesis, Dave's Garden
Conservatory of Flowers in San Francisco