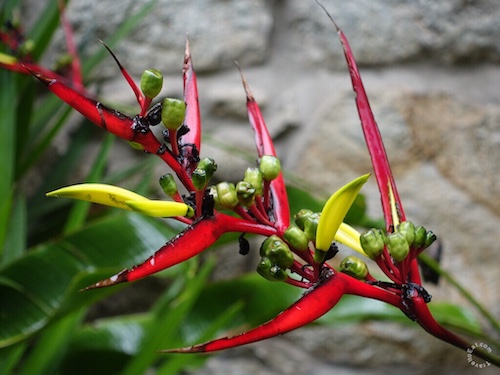 Machu Picchu is such a pregnant ecosystem, that it is difficult to include or categorize the many beautiful plants that you encounter. I have decided to arbitrarily divide descriptions of the plants into several posts; orchids, flowers, plants and herbs. The combination of the humid tropical greenery with the towering peaks of the eastern mountain ranges gives Mach Picchu a unique and remarkable quality. As one travels by train from Ollantaytambo to the Ecological Reserve of Machu Picchu, the Andean landscape transforms into a deep canyon festooned by a dense tropical jungle that seems impossible to penetrate through its soaring slopes. The valuable 32,592-hectare Reserve has an enormous ecological variety. That is why there is such scientific interest in their original genetic diversity. The primary forest ecosystem has an incredibly diverse flora with a lush forest vegetation (such as cedar, romerillo, laurel, among others), shrubs, ferns and ancient tall palm trees. In the higher parts, endemic mountain species can be found such as the beautiful queñual tree or Polylepis. It is pretty much impossible to describe it all but I hope these posts will form a helpful beginning.
Heliconia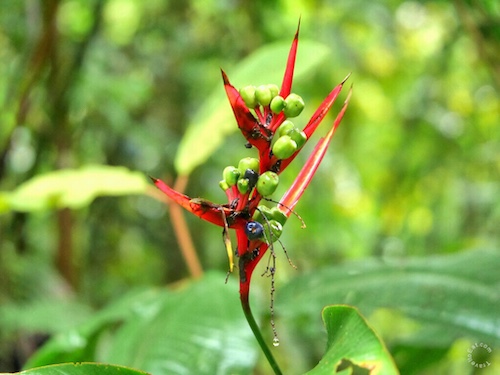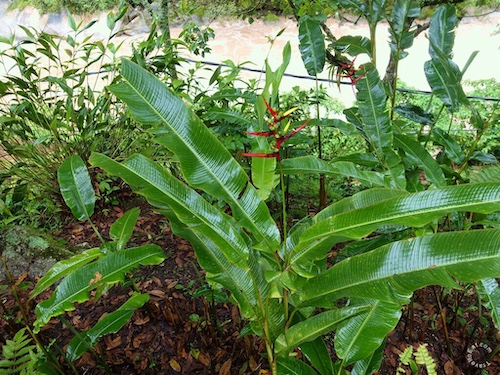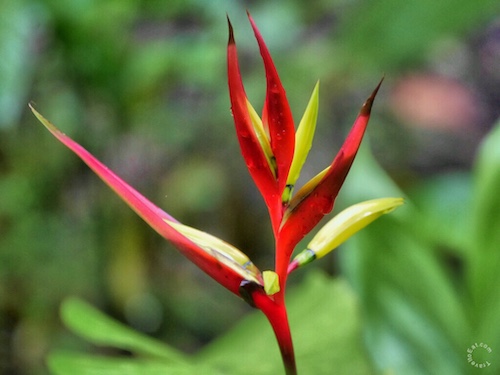 Heliconia, derived from the Greek word helikonios, is a genus of flowering plants in the Heliconiaceae. Most of the species are native to the tropical Americas, but a few are indigenous to certain islands of the western Pacific and Maluku. Many species of Heliconia are found in rainforests or tropical wet forests of these regions. Several species are widely cultivated as ornamentals, and a few are naturalized in Florida, Gambia and Thailand. Common names for the genus include lobster-claws, wild plantains or false bird-of-paradise. The last term refers to their close similarity to the bird-of-paradise flowers (Strelitzia). Collectively, these plants are also simply referred to as heliconias. The particular heliconia in Machu Picchu, pictured above, is difficult to categorize. Heliconia subulata Ruiz et Pav. (synonym: Heliconia affinis Loes., Heliconia psittacorum var. subulata Ruiz et Pav. Baker) probably occurs from Colombia in the north to Bolivia, southern Brazil (Cerrado, Mata Atlantica Pantanal) and northern Argentina (Misiones, Salta) to the south. Some authors reported incidence in Central America which is unclear, it is not excluded that it is at least partly related to the type of Heliconia gracilis, which was the type H. subulata sometimes assigned as subspecies.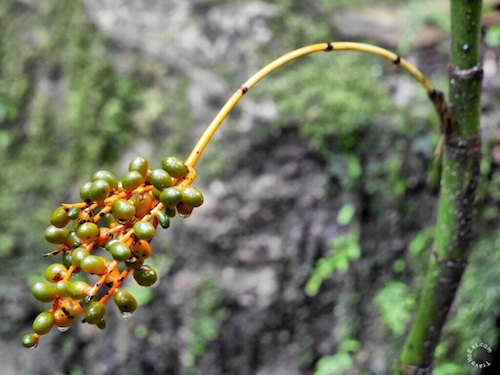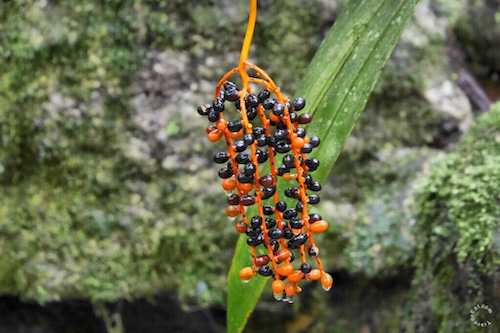 When it comes to identifying species, Heliconias are categorized primarily by their inflorescence habits: upright or pendent, and a flat (distichous) or spiral bract arrangement. The leaf arrangement of most heliconias is musoid, which means their leaves look like those of banana: six or eight large leaves extending above a longish stem. But to break the rule, Heliconia hirsuta, for example, is zingiberoid, which means it has many small leaves evenly spaced along the stem, like a ginger. The flowers of Heliconia hirsuta and Heliconia psittacorum look similar, but the foliage clearly distinguishes them. I think these are Helioconia berries but I do not know for sure.
Sanchezia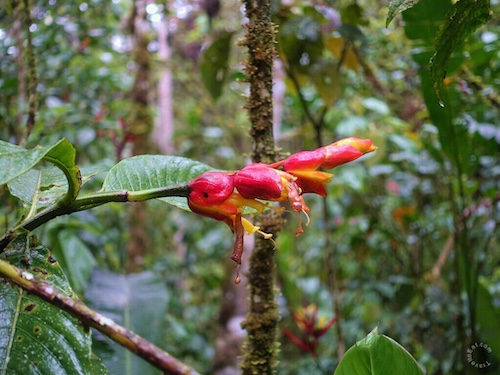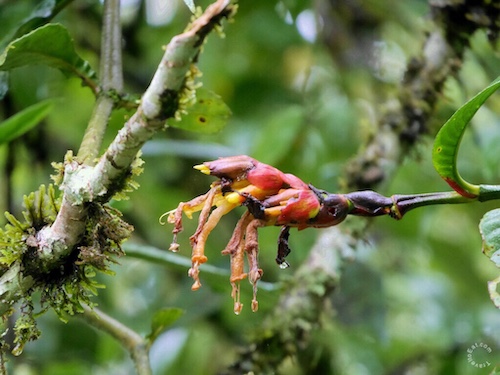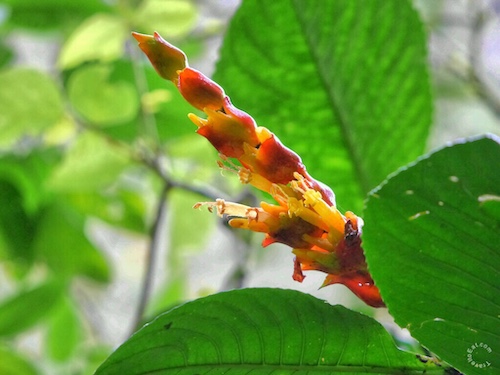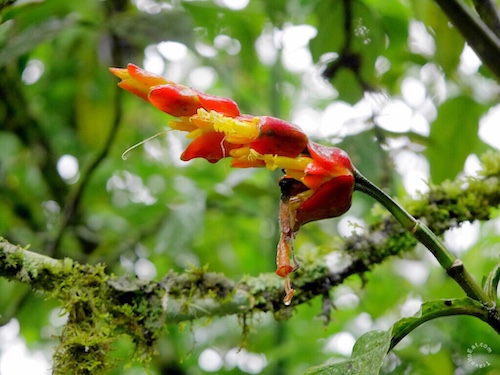 Sanchezia is a genus of the plant family Acanthaceae. It is estimated to contain about 20 to 50 species. Members of this genus are shrubs, rarely small trees or herbs, occurring in the lowlands of tropical South and Central America. A close relative is Suessenguthia, which looks quite similar. Because they have large, colorful bracts and flowers, and sometimes even colorful leaves, several species are cultivated as ornamental plants throughout the tropics and in botanical gardens of temperate areas.
Fuchsia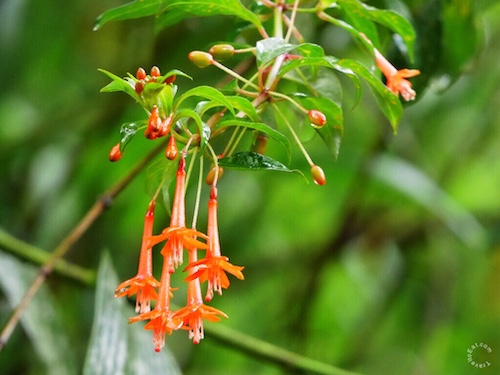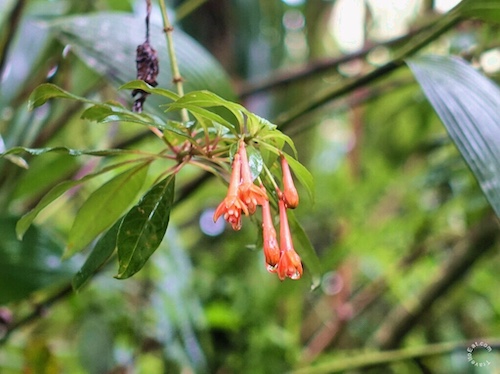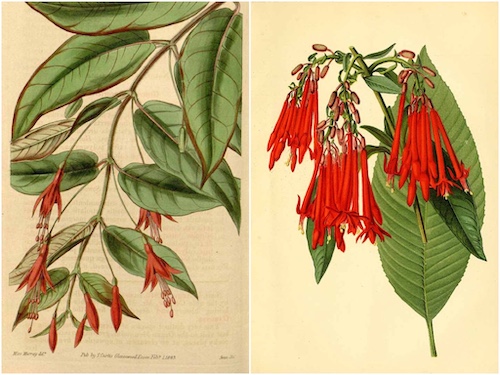 Fuchsia (synonym fuschia) is a genus of flowering plants that consists mostly of shrubs or small trees. The first, Fuchsia triphylla, was discovered on the Caribbean island of Hispaniola (present-day Dominican Republic and Haiti) about 1696–1697 by the French Minim monk and botanist, Charles Plumier, during his third expedition to the Greater Antilles. He named the new genus after the renowned German botanist Leonhart Fuchs (1501–1566) found in Northern Argentina to Colombia and Venezuela, and Hispaniola. With sixty-four currently recognized species, Sect. Fuchsia (syn. Eufuchsia) is the largest section within the genus. Fuchsia apetala was first described in the Ruiz & Pavón's Expedition (1777-1816).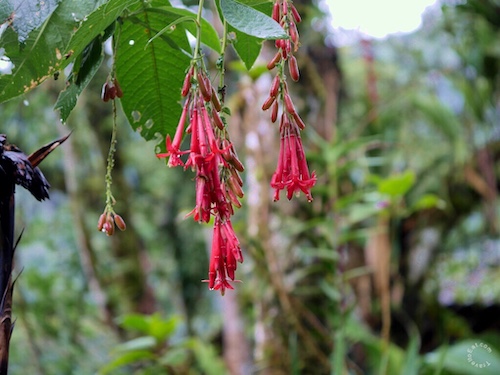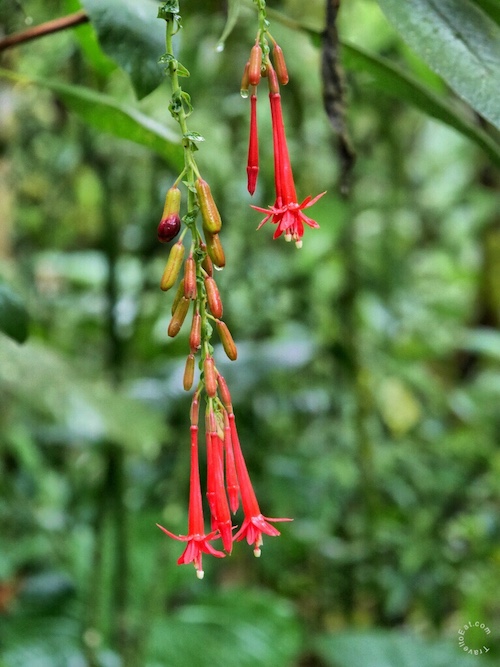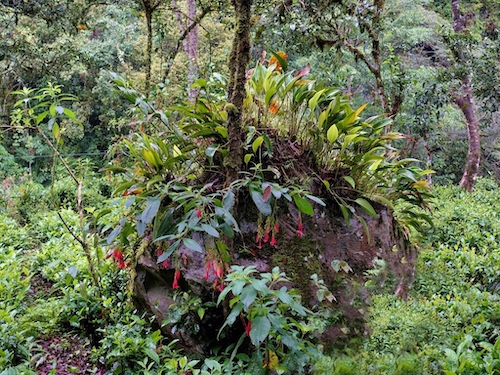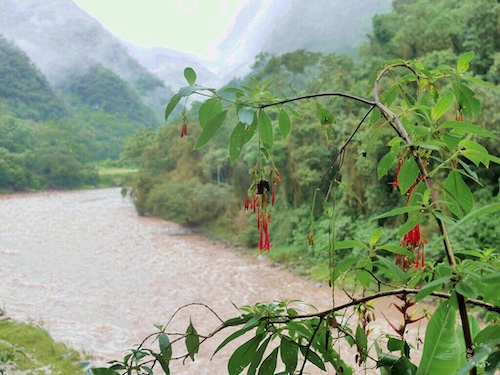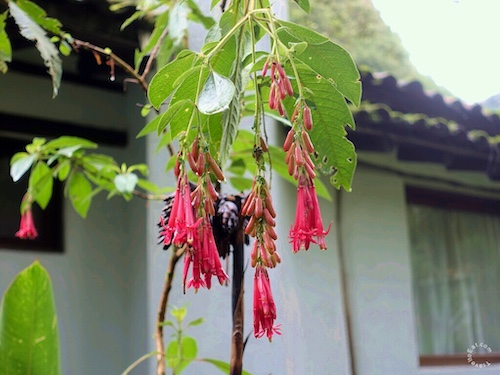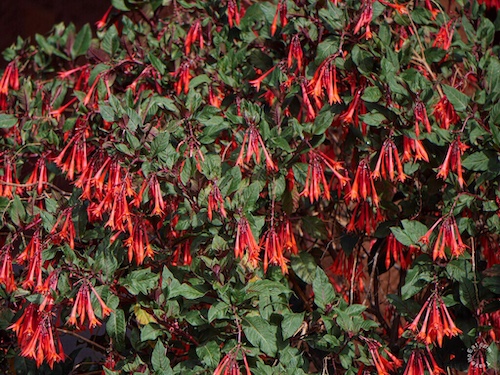 Fuchsia boliviana is an absolutely stunning, showy species, native to southern Peru, Bolivia and northern Argentina, producing exotic, hanging clusters of four inch flowers in a stunning combination of pure white and fluorescent red. The long trumpet-shaped blooms open progressively down the cluster for several months, followed, quite incredibly, by tasty green fruits. This is an extremely valuable plant that can either be grown in a large pot or be centre-stage in the garden. Freshly picked seeds are very rarely offered for sale.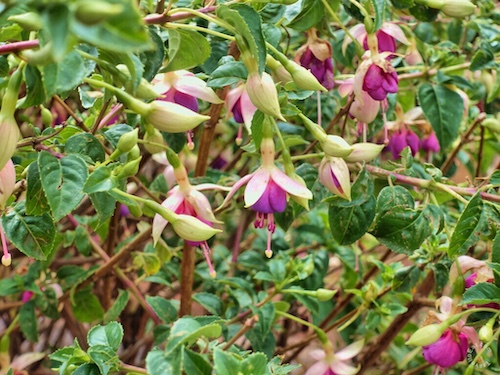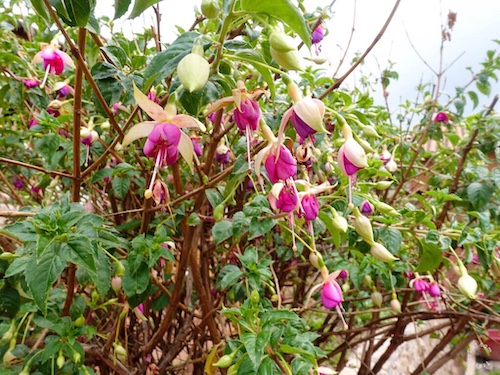 Fuchsia "La Campanella" is a pretty shrub fuchsia, bearing small, semi-double flowers with dark pink petals and white-pink sepals. It is a popular hybrid that seems to do well in Aguas Caliente.
Brugmansia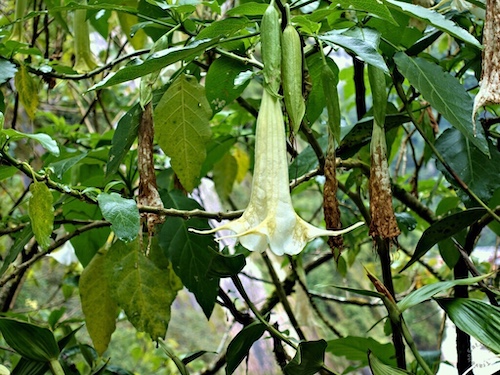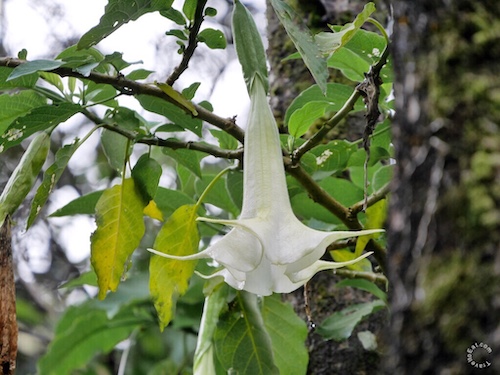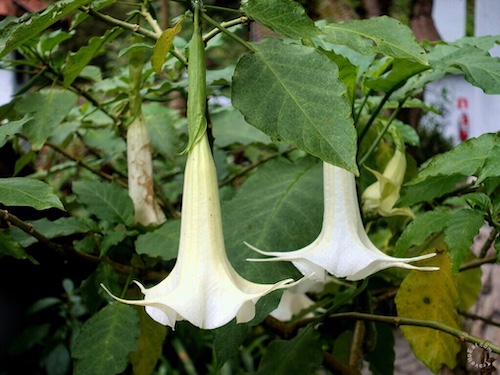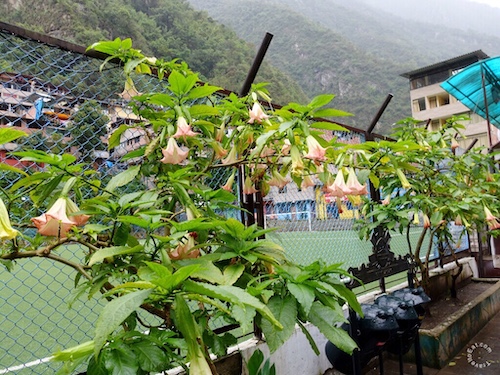 Brugmansia is a genus of seven species of flowering plants in the family Solanaceae. Their large, fragrant flowers give them their common name of angel's trumpets, a name sometimes used for the closely related genus Datura. Brugmansia are native to tropical regions of South America, along the Andes from Venezuela to northern Chile, and also in south-eastern Brazil. Brugmansia arborea are native to the Andes mountains of southern Colombia, Ecuador, Peru, western Bolivia, and northern Chile. As the hardiest of all Brugmansia species in regards to both cold and drought, they are often found in the drier valleys of the Andes, in areas with an annual rainfall of 400–1,400 millimetres (16–55 in). Occurring at elevations of 2000 to 3000 m, it is not uncommon for them to receive light frosts.
Mirabilis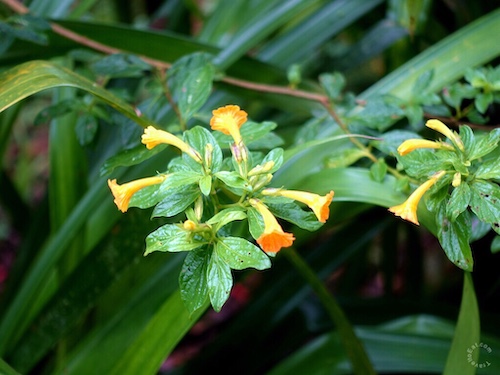 Mirabilis jalapa (the Four O'Clock Flower or Marvel of Peru) is the most commonly grown ornamental species of Mirabilis, and is available in a range of colours. Mirabilis in Latin means wonderful and Jalapa is a common placename in Central and North America. Mirabilis Jalapa was cultivated by the Aztecs for medicinal and ornamental purposes. It is also said to have been exported from the Peruvian Andes in 1540. The flowers usually open from late afternoon onwards, hence the first of its common names. Flowers then produce a strong, sweet-smelling fragrance throughout the night, then close for good in the morning. New flowers open the following day.
Lonicera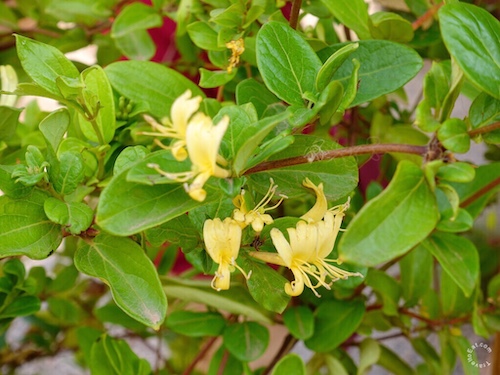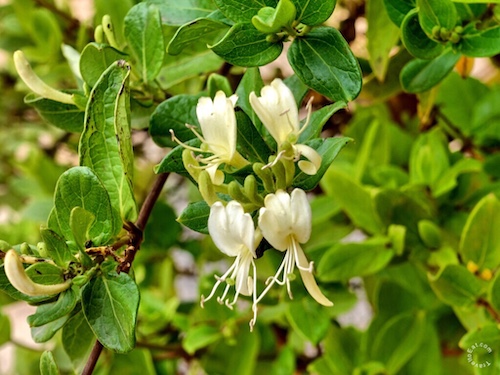 Honeysuckles (Lonicera, Caprifolium Mill.) are arching shrubs or twining bines in the family Caprifoliaceae, native to the Northern Hemisphere. Approximately 180 species of honeysuckle have been identified. About 100 of these species can be found in China and approximately 20 native species have been identified in Europe, 20 in India, and 20 in North America. Lonicera japonica, the Japanese honeysuckle or suikazura is a species of honeysuckle native to eastern Asia including China, Japan and Korea. The flowers are double-tongued, opening white and fading to yellow, and sweetly vanilla scented.
Senna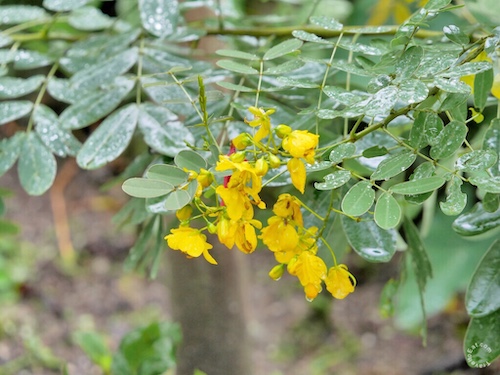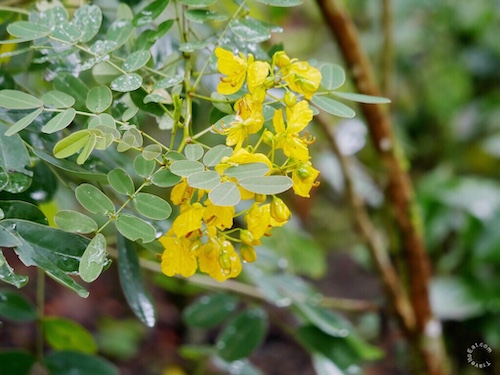 Senna (from Arabic sanā), the sennas, is a large genus of flowering plants in the legume family Fabaceae, and the subfamily Caesalpinioideae. This diverse genus is native throughout the tropics, with a small number of species in temperate regions. The number of species is estimated to be from about 260 to 350. Senna obtusifolia (Chinese senna, American sicklepod or sicklepod) is a legume in the genus Senna, sometimes separated in the monotypic genus Diallobus. It grows wild in North, Central, and South America, Asia, Africa, and Oceania, and is considered a particularly serious weed in many places.
Calceolaria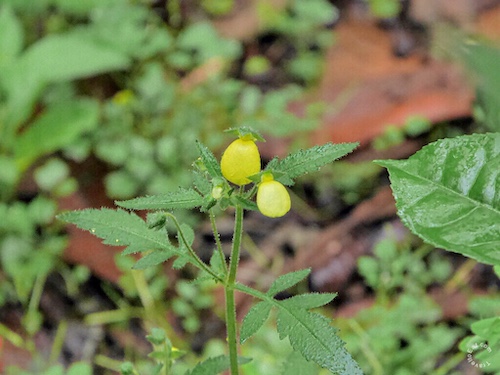 Calceolaria also called lady's purse, slipper flower and pocketbook flower, or slipperwort, is a genus of plants in the Calceolariaceae family, sometimes classified in Scrophulariaceae by some authors. This genus consists of about 388 species of shrubs, lianas and herbs, and the geographical range extends from Patagonia to central Mexico, with its distribution center in the Andean region. Calceolaria species have usually yellow or orange flowers, which can have red or purple spots. In Peru there are so many species of Calceolaria that it almost seems as though each population you run across is a different species. Not only are the flowers amazing and unique between species, there is also a high level of variation in the shape and form of the leaves. Calceolaria tomentosa is a perennial plant belonging to the genus Calceolaria and native to Peru.
Begonia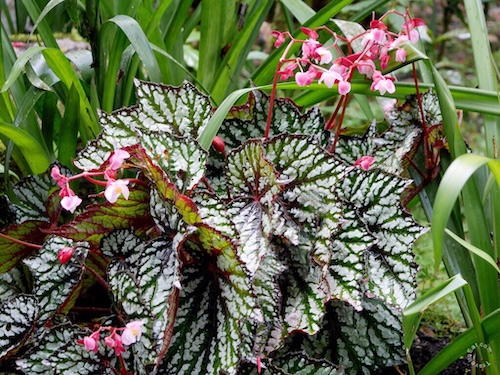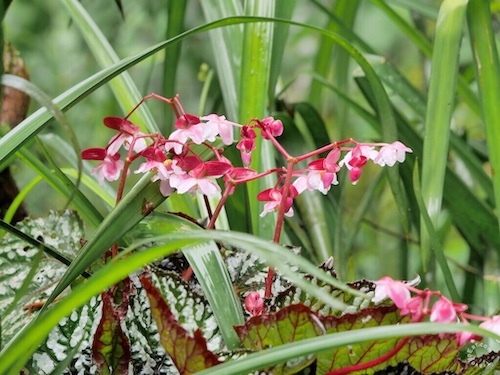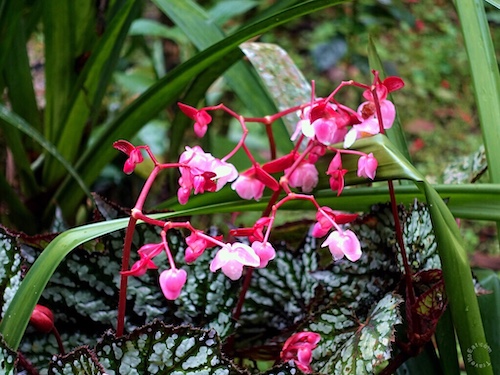 Begonia is a genus of perennial flowering plants in the family Begoniaceae. The genus contains 1,795 different plant species. The Begonias are native to moist subtropical and tropical climates. Some species are commonly grown indoors as ornamental houseplants in cooler climates. In cooler climates some species are cultivated outside in summertime for their bright colourful flowers, which have sepals but no petals. The nomenclature of begonias can be very complex and confusing. Because of their sometimes showy flowers of white, pink, scarlet, or yellow color and often attractively marked leaves, many species and innumerable hybrids and cultivars are cultivated. The genus is unusual in that species throughout the genus.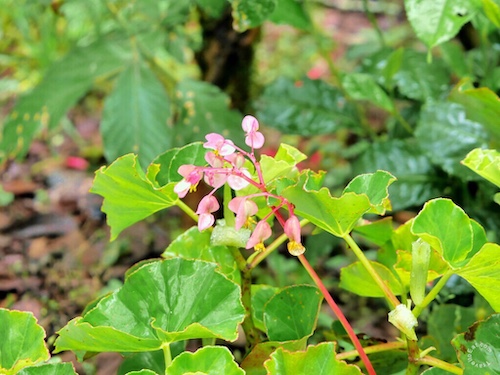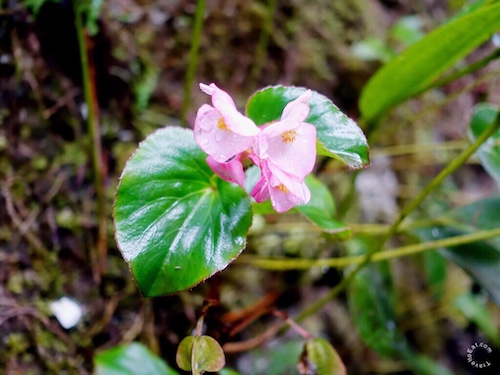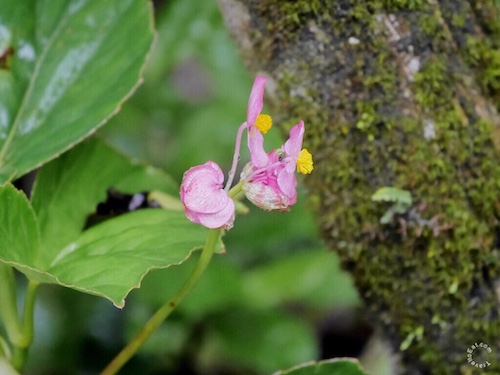 Begonias have long been popular greenhouse plants in temperate countries and are also used in some gardens, especially those with slightly cooler temperatures. Many hybrids have been developed, some grown primarily for their ornamental foliage, others for their attractive flowers. Among the latter group, which come mostly from tropical American species, are B. x semperflorens, which has small pink or white flowers, both double and single, and B. popenoei, on which the panicles of white flowers rise upright above the leaves. Among the foliage Begonias, B. rex is one of the best known, along with B. x erythrophylla, which has dark green leaves that are purple and red underneath, and B. heracleifolia, with striking green-and-bronze star-shaped leaves.
Abutilon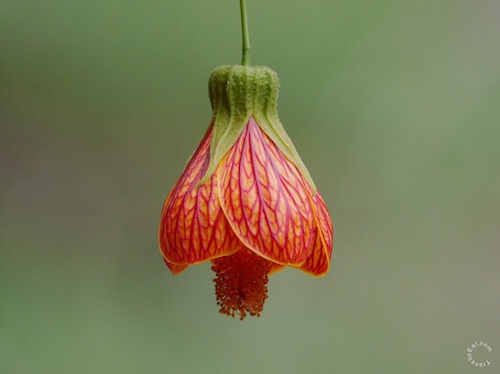 Abutilon pictum (synonym: Abutilon striatum,(disputed) and commonly known as Redvein Abutilon, Red Vein Indian Mallow, Redvein Flowering Maple, Chinese-lantern or Red vein Chinese lanterns, is a species of Abutilon in the Malvaceae family. It is native to southern Brazil and Argentina, and Paraguay and Uruguay. The plant has become naturalised in Central America, and common in horticulture. The yellow to orange-red bell shaped flowers have prominent dark red veining, with five petals 2–4 cm long. It blooms from April to September, and longer in warmer subtropical areas. The flowers attract pollinators, such as native bees and hummingbirds.
Arum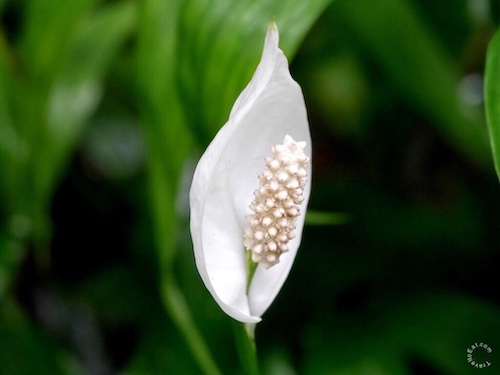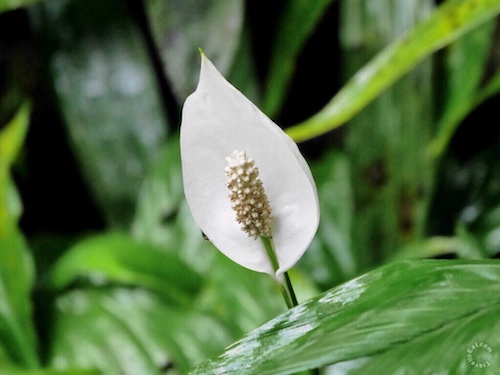 Arum italicum is a species of flowering herbaceous perennial plant in the family Araceae, also known as Italian arum and Italian lords-and-ladies. It is native to the Mediterranean region (southern Europe, northern Africa, and the Middle East) plus Great Britain, the Netherlands, Crimea, Caucasus, Canary Islands, Madeira, and the Azores. There are a number of cultivars depending mainly on varigated leaves. As you can see in the photo above, there is no variegation of the leaves (they are flat green) so this must be Arum italicum neglectum. The most interesting feature of this species is the particular form of fertilization, one spadix enclosed by a large tapered spathe. The two pictures above show the plant in with the knobby spadix which has been fertilized and growing on a stem.
Heliotropium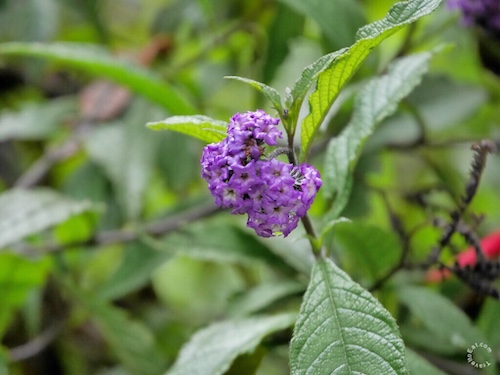 The garden heliotrope (Heliotropium arborescens) is a highly fragrant perennial plant, originally from Peru. It is especially notable for its intense, rather vanilla-like fragrance. Common names include cherry pie and "common heliotrope". Note that the common name "garden heliotrope" may also refer to Valerian (herb), which is not a heliotropium variety.
Viburnum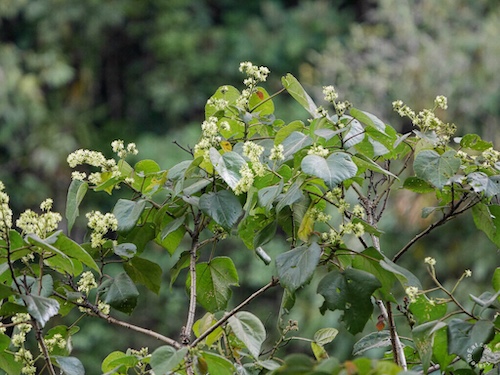 Viburnum tridentatum is a species of plant in the Caprifoliaceae family. It is endemic to Peru.
Miscellaneous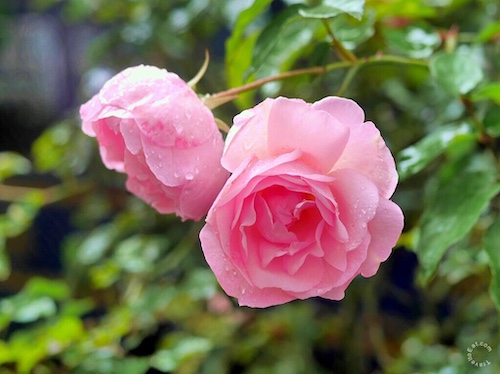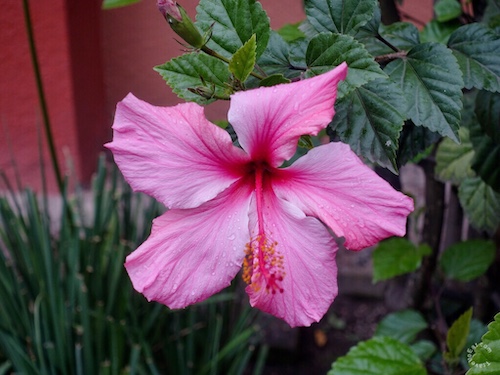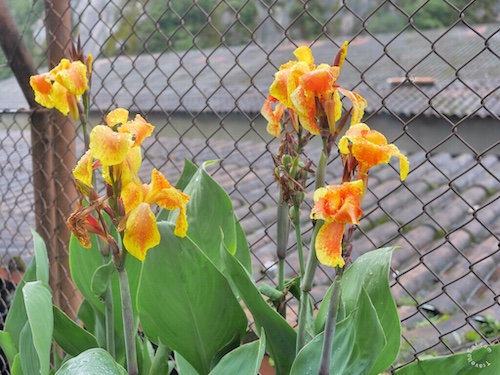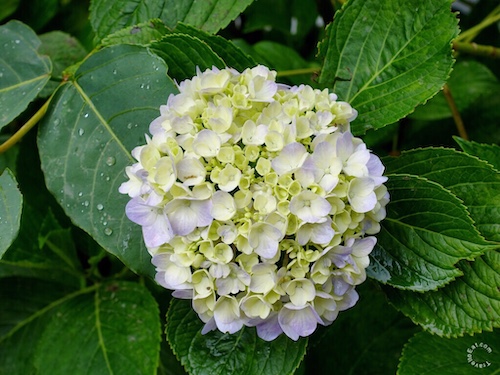 As always, I have tried my best to identify these plants. I cannot emphasize enough the help of my friends at "Dave's Garden". If you are not a member, think of joining up. Please leave a comment or corrections to my identifications. It was a really lovely place, I hope I did it justice.
References:
Helioconia: http://gardendrum.com/2014/11/09/how-to-grow-heliconia-brightest-tropical-flower/
Mirabilis jalapa: http://davesgarden.com/guides/pf/go/92/
Fuchia: http://www.nwfuchsiasociety.com/species.htm
Machu Picchu Field Guides: http://fieldguides.fieldmuseum.org/guides/guide/98
Orchid guide: http://www.flowershots.net/Orchid_Photogallery.html
Bolivian plants: http://sacha.org
Calceolaria: http://davesgarden.com/guides/pf/b/Scrophulariaceae/Calceolaria/none/cultivar/0/
Calceolaria: https://www.flickr.com/photos/mark_egger_castilleja/collections/72157618313064250/
Field Guides: http://fieldguides.fieldmuseum.org/guides/guide/98
Daves Garden: http://davesgarden.com/