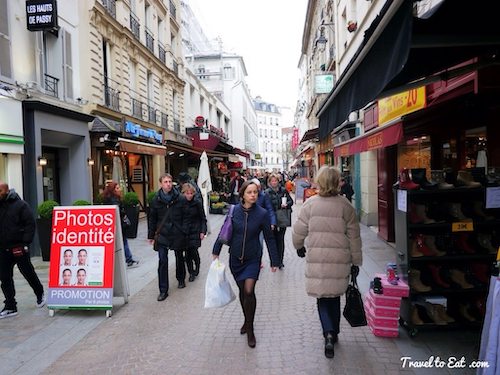 The pedestrian Rue de l'Annonciation has a number of good shops and restaurants crowded together near Rue Duban. During the week, it bustles with the two grocery stores, two boulangeries, a fromagerie, a boucherie, a librarie (book store), a chocolate shop, a wine shop, a creperie, a gourmet coffee store, two fresh produce markets, a flower shop, Latvian that sells solely caviar (only in Paris), a store that sells solely agneau (lamb…also only in Paris), a home decor store, an antique store, a depot vente (vintage clothing store), and even a American style mall, Passy Plaza (complete with H&M and the GAP).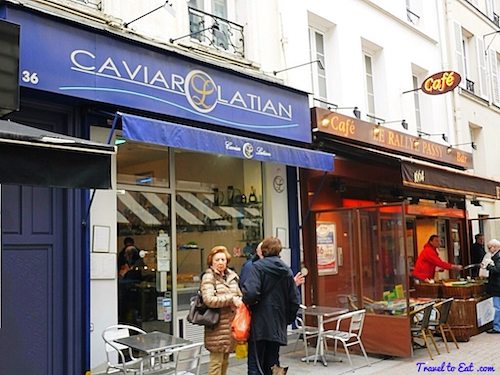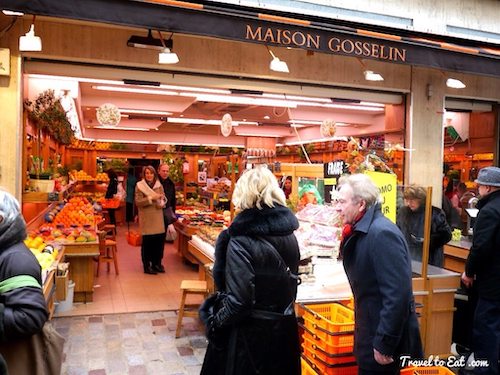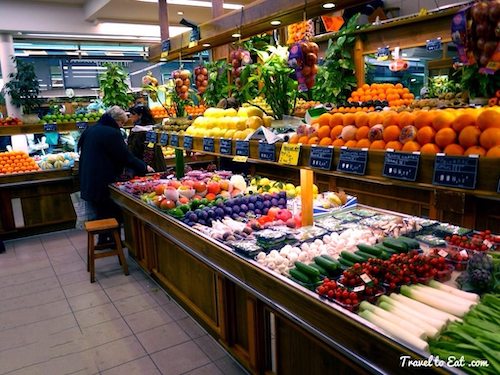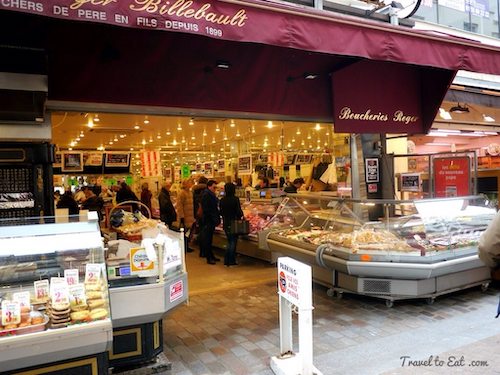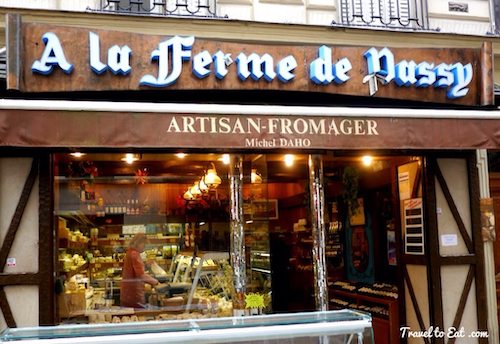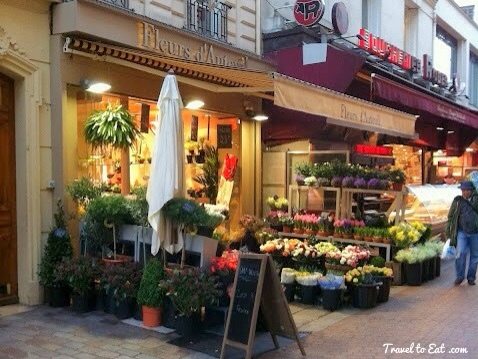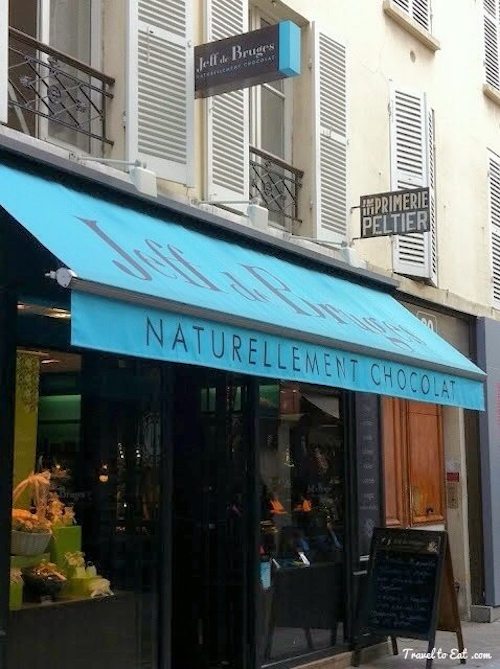 Maison Gosselon has one of the best selections of produce I have seen and Boucherie Roger is part of a chain, very good meat. Micheal Daho is a master cheese maker with a famous Stilton if you visit. I already wrote a post on Caviar Latian which you can read here. Jeff de Bruges is a chain of Belgian chocolate shops founded by a Frenchman named Philippe Jambon, Jeff de Bruges combines the "treat aspect of Belgian chocolate with French chocolate chic." Jeff de Bruges also specialises in dragées, or sugar-coated almonds.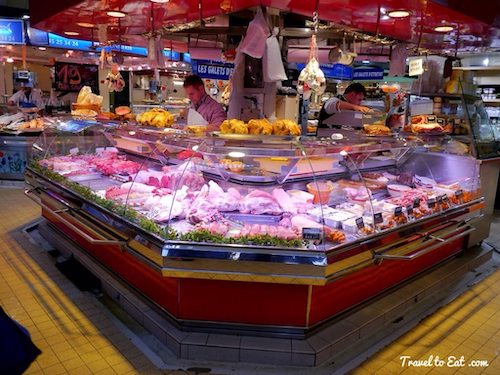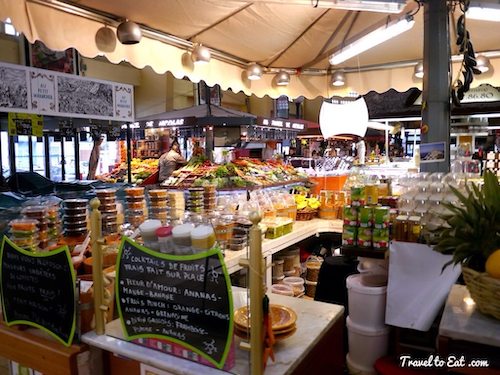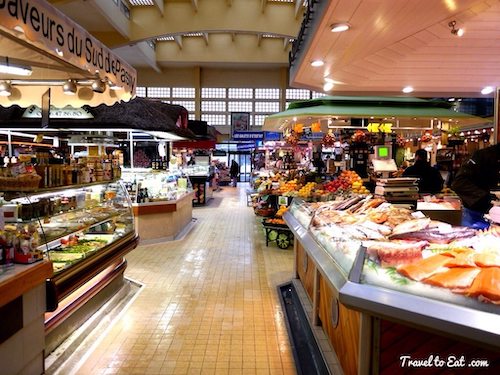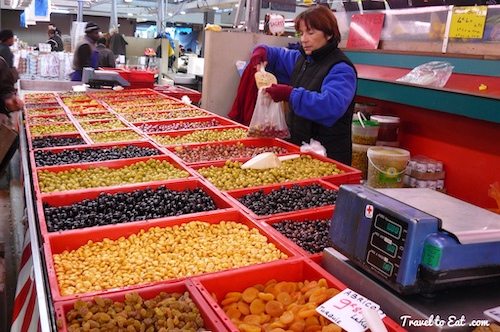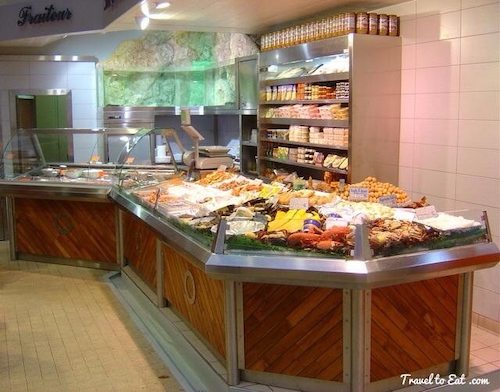 Go just a bit further on, on Duban and you come to the Marché Passy, which reminds me of Whole Foods on steroids. This is a collection of shops under one covered roof with almost everything you can imagine in terms of food. They have a particularly good fish counter.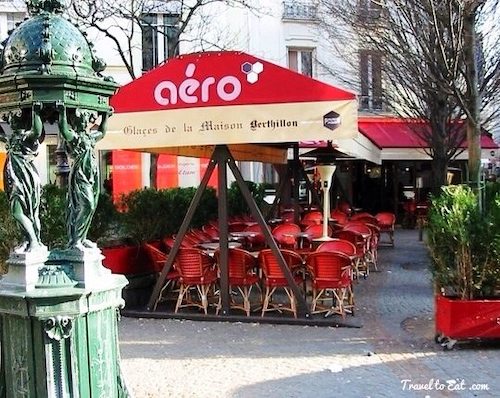 Set in the heart of it all, on the corner at the end of the pedestrian Rue de l'Annonciation (across from McDonalds) is the Aero Café, part of the Aero Hotel.
This little café is set in a little green oasis of trees and has our favorite Quiche Lorraine in Paris. They give you a big cheesy piece that melts in your mouth. For some reason, the quiche here just seems more cheesy than elsewhere.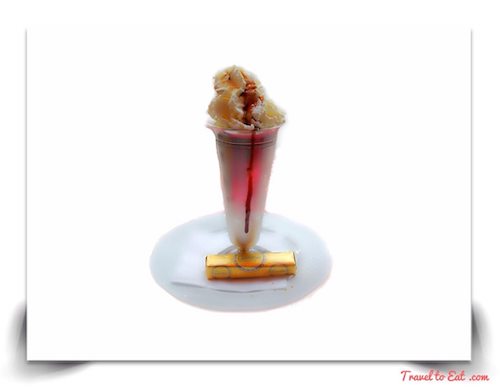 They also have huge tall sundaes made from real Berthillon ice creme (my personal favorite). It's not a fancy place but it is always open and always packed with people. There are lots of other restaurants in the area, especially ethnic restaurants like Italian, Chinese and Japanese. Settebello (Italian), Kura (Japanese), Passy Mandarin (get the Peking duck) and La Librairie are a few good choices.
References:
Boucherie Roger: http://www.boucherie-roger.fr/
Fleur D'Auteuil: http://www.fleursdauteuil.fr/boutiques.php
Caviar Latian: /caviar-latian-in-passy-paris/
Jeff de Bruges: http://www.jeff-de-bruges.com/
Hotel Aero: http://www.parishotelaero.com/index_en.html
Settabello: http://www.tripadvisor.com/Restaurant_Review-g187147-d803026-Reviews-Settebello-Paris_Ile_de_France.html
Kura: http://www.kuraparis.com/kuraparis/index.html
Passy Mandarin: http://www.tripadvisor.com/Restaurant_Review-g187147-d719811-Reviews-Passy_Mandarin-Paris_Ile_de_France.html
La Librairie: http://www.tripadvisor.com/Restaurant_Review-g187147-d3294330-Reviews-La_Librairie-Paris_Ile_de_France.html