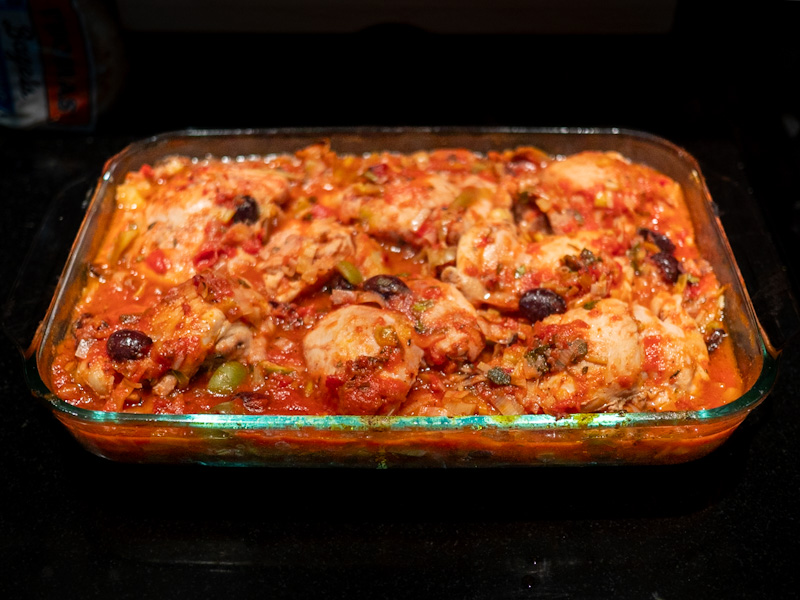 Various recipes in Italian cookbooks dating back to the 19th century describe pasta sauces very similar to a modern puttanesca under different names. One of the earliest dates from 1844, when Ippolito Cavalcanti, in his Cucina teorico-pratica, included a recipe from popular Neapolitan cuisine, calling it Vermicelli all'oglio con olive capperi ed alici salse. The origins of puttanesca sauce are disputed, but food historians agree it was created in Naples in the mid-20th century. The classic combination of anchovies, olives, garlic, chile flakes, tomatoes, and capers gives this sauce a robust flavor. It comes together quickly and can be prepared in the time it takes to boil water and cook the pasta.
This recipe is based on pasta puttanesca but is really just a way to cook chicken thighs or breasts with a tasty sauce.
Ingredients
8 chicken thighs skin-on or off, bone in or out
freshly ground black pepper
kosher salt
chili flakes to taste
1 can anchovies (about 6)
1/3 cup capers
1 bunch finely chopped scallions
1 cup finely chopped onions
several cloves finely chopped garlic
1 teaspoon dried oregano
1 teaspoon dried mint
1, 28-ounce (794 g) can whole peeled tomatoes in juice
1, 14.1-ounce (400 g) can water-packed artichokes, drained and quartered
½ cup (80 g) pitted black olives, such as Kalamata, halved
½ cup (80 g) pitted green olives, such as Castelvetrano, halved
Notes:
I use boneless and skin off chicken thighs, you get more flavor with bone in and skin on. If you choose skin on, cook the chicken, skin down on high heat before adding the the other ingredients. You can leave out the anchovies and capers if you like although it adds authentic flavors and umami. I add lots of garlic and the chili flakes, you can reduce or omit as needed.. If you want lots of sauce for pasta or rice, add the 28 ounce can of crushed tomatoes, otherwise use the 16 ounce can.
Instructions: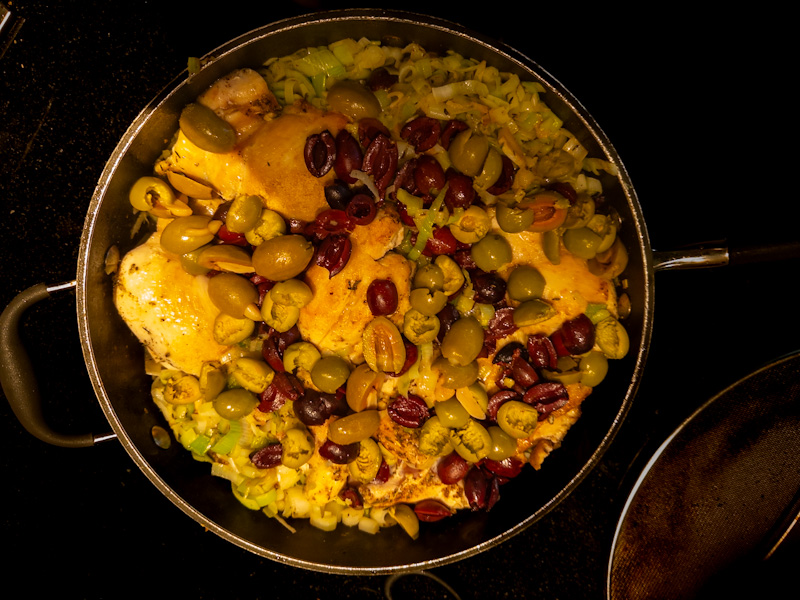 Adjust heat to low to medium, add olive oil, scallions and onions and sauté until softened. Add herbs (mint annd oregano) and scrape up any browned bits.
Season chicken with salt, pepper and garlic powder. Nestle chicken breasts into the pan and brown both sides, 5-10 minutes. While cooking, add grated or chopped garlic, sardines, halved olives, artichokes and capers.
Finally add crushed tomatoes and simmer until everything is bubbling. Transfer the chicken pieces to a greased glass casserole dish. Continue simmering the sauce on medium heat for 5-10 minutes, then add to chicken.
Bake at 425 for 45 minutes. You can serve with rice or noodles or just by itself. Enjoy!
References:
Travel to Eat: Pasta Puttanesca
Pasta Puttanesca: Food and Wine