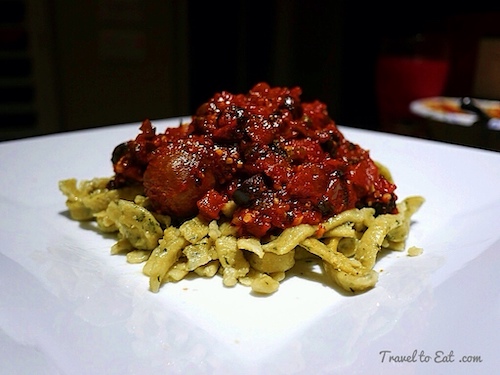 Puttanesca sauce, most often employed for pasta, originated in Naples. It is made from tomatoes, black olives, capers, anchovies, onions, garlic, and herbs, usually oregano and parsley but sometimes also basil. It is an easy sauce, briefly cooked, and is very fragrant and spicy. Puttanesca translates as "in the style of the whore." The name derives from the Italian word puttana which means whore. Puttana in turn arises from the Latin word putida which means stinking. This sauce also goes by the name Pasta alla Sorrentina.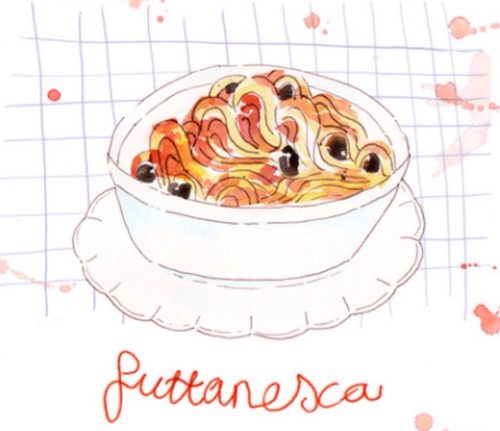 One story claims that at the end of the evening, the prostitutes would come begging at local restaurants for leftovers. This sauce was made of all leftover ingredients. If there was sauce on the stove, anything that may be going bad was put into the simmering sauce.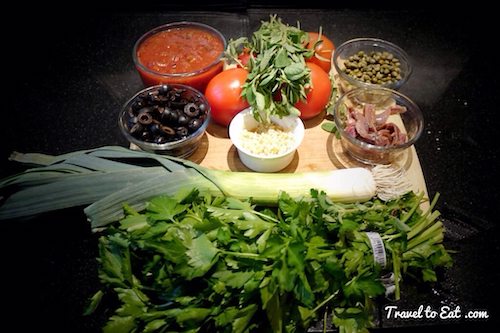 According to another story, the name purportedly comes from the fact that the intense fragrance of this sauce was like a siren's call to the men who visited such "ladies of pleasure."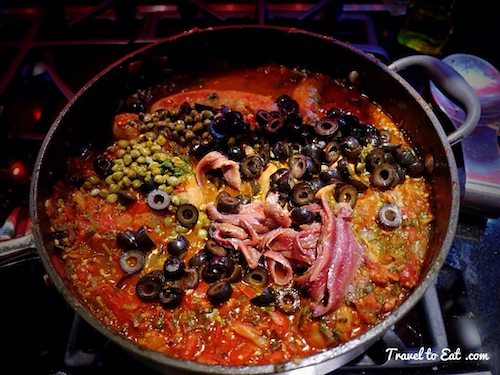 Another version claims the origin of the sauce was created when the prostitutes needed to make something speedy and nutritious between appointments. A lady of the evening could cook the sauce in the time it took her to take care of a client and enjoy it while recovering from her activities.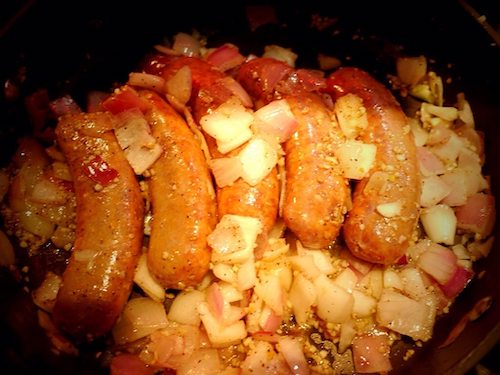 I decided to make my puttanesca with hot Italian turkey sausage to save on calories. I cut up the leek and sautéed the sausage with olive oil, garlic, red pepper flakes, the leek and half of a red onion that I had left over from another recipe. I browned the sausage completely since the point of puttanesca is to cook only for 10-15 minutes to maintain the fresh flavor of the tomatoes. The recipe for the puttanesca sauce follows, a couple of notes might be in order. If you don't like anchovies, don't add them or use half a small tin, they add an undefined umami taste. If you like your sauce thinner, use tomato sauce rather than crushed fire roasted tomatoes. This recipe serves six.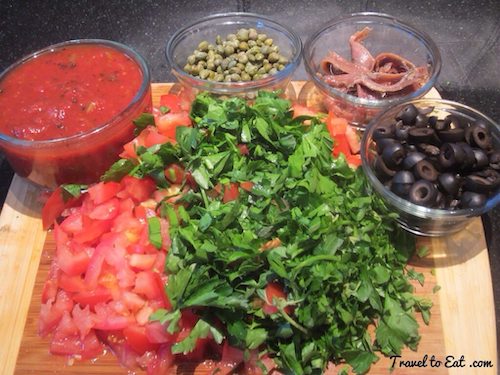 Ingredients for the Puttanesca sauce:
2 tablespoons extra-virgin olive oil
4 to 6 cloves garlic, chopped
1 tin flat anchovy fillets, drained
1 teaspoon crushed red pepper flakes
1/2 cup chopped black olives
3-4 tablespoons capers
1 (32-ounce) can chunky style fire roasted crushed tomatoes
3 finely chopped tomatoes
A few grinds black pepper, salt to taste
one bunch flat leaf parsley, chopped
3 tablespoons chopped fresh oregano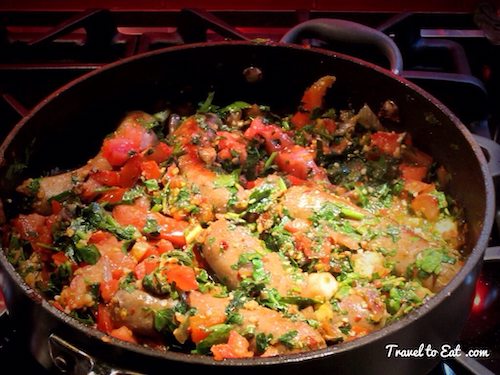 Directions:
Warm 2 tablespoons oil with garlic and anchovies in skillet over medium-low heat. Cook, stirring occasionally, until garlic is lightly golden, about 2 minutes. Add tomatoes to skillet, with some salt and pepper, parsley and oregano. Raise heat to medium-high and cook, stirring occasionally, until tomatoes break down and mixture becomes saucy, about 10 minutes. Stir in olives, capers and red pepper flakes, and continue to simmer for about 5 more minutes.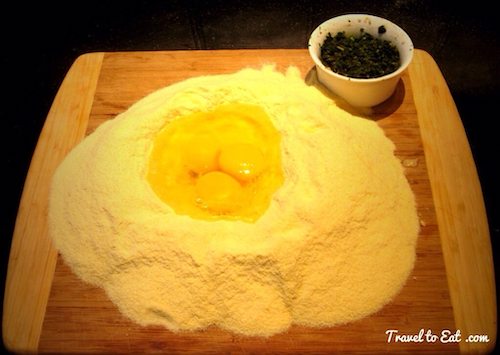 Ingredients for the Fresh Basil Pasta:
1 cup seminola flour
1 cup all purpose flour 3 eggs
Pinch of salt
1 tablespoon of olive oil 1/4 cup fresh chopped basil
Directions:
Semolina flour is more difficult to work with and makes a very stiff dough, while regular flour makes a very delicate dough that can tear. A good blend for a beginner just learning to make their own pasta, is a half and half mixture.
Thoroughly sift together all-purpose flour, semolina flour, and pinch of salt. On a clean surface, make a mountain out of flour mixture then make a deep well in center. Break the eggs into the well and add olive oil and fresh basil. Whisk eggs very gently with a fork, gradually incorporating flour from the sides of the well. When mixture becomes too thick to mix with a fork, begin kneading with your hands. You will have flour left over.
Knead dough for 8 to 12 minutes, until it is smooth and supple. Dust dough and work surface with semolina as needed to keep dough from becoming sticky. Wrap dough tightly in plastic and allow it to rest at room temperature for 30 minutes.
Roll out dough with a pasta machine or a rolling pin to desired thickness. Cut into your favorite style of noodle. Bring water to a boil in a large pot, then add 4 teaspoons salt. Cook pasta until tender but not mushy, 4 to 8 minutes depending on thickness. Drain immediately and serve.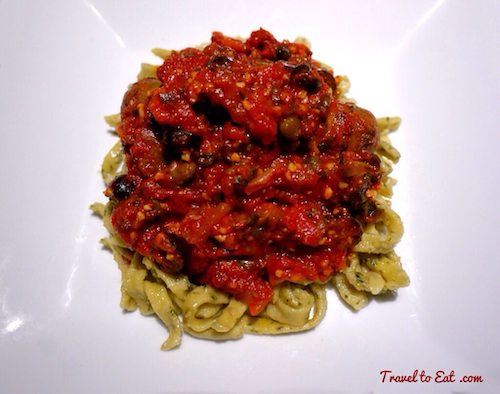 Puttanesca, is particularly amenable to Vegan recipes. I have included two good looking ones. This vegan puttanesca recipe super easy, super-fast, scaled-down version of the classic Puttanesca. This recipe courtesy of http://www.veganlivingtoday.com/how-to-make-vegan-pasta-puttanesca-recipe/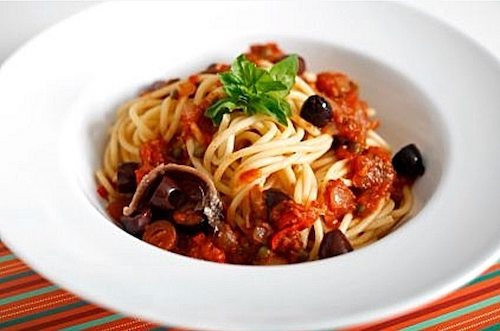 Prep Time: 10 minutes
Cook time: 15 minutes
Yield: 2
Rating: 0 stars – based on 0 reviews
Allergens: Dairy Free, Nut Free, Soy Free
Nutrition facts: Calories: 122 kcal; Ingredients: Extra Virgin Olive Oil – 1-2 Tablespoons Canned tomatoes – 1 14-oz can
Garlic – 2-3 cloves, minced or crushed
Green Olives – 4
Black Olives – 4
Capers – 10
White Cooking Wine – 2 tablespoons
Red Pepper Flakes – 1/4 teaspoon
Basil – 1/4 teaspoon
Oregano – 1/4 teaspoon
Black Pepper – dash
Salt – dash  
Instructions:
Pour 1 or 2 tablespoons of olive oil, and 1 or 2 cloves of minced or pressed garlic, in a stir fry pan.
Saute the garlic for a few minutes until cooked but not burnt.
Add one 14-oz. can of diced tomatoes, 10 capers, 3 black olives, 3 green olives to the pan.
Sprinkle in red pepper flakes, oregano, basil and salt and pepper.
Simmer for 10 min. and serve over your favorite pasta.
Another Vegan Recipe from: http://www.meettheshannons.com/pasta-alla-puttanesca-with-vegan-sausage-not-your-everyday-red-sauce/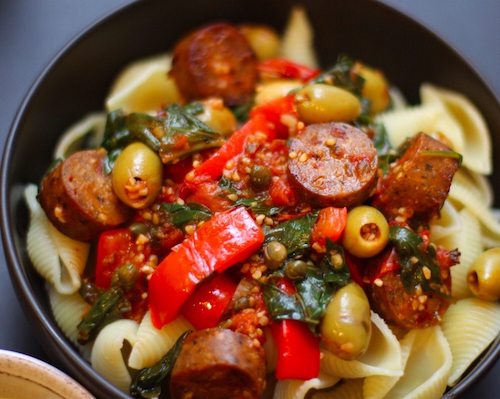 2 Tofurky Italian Sausages or Field Roast Italian Sausage (defrosted and sliced into coins – we recommend the Tofurky if you've never had it)
1 Box Decorative Cut Pasta (like Farfalle, Rotini, Lumaconi – we used Conchigile or small shells)
1 Tablespoon Olive Oil
7-8 Campari or Roma Tomatoes (diced large)
1 Large Red Bell Pepper (diced large)
1/4 Cup Fresh Baby Spinach
1 Tablespoon Fresh Basil Leaves (you'll want a little extra on the side for a topping)
2 Cloves Garlic (minced)
2 teaspoon Fresh Oregano Leaves
2 teaspoons Red Pepper Flakes
1/4 teaspoon Sea Kelp Flakes or Granules
1/3 Cup White Wine
1/2 teaspoon Braggs Liquid Amino Acids
1/4 teaspoon Garlic Powder
1/2 teaspoon Capers
1/4 Cup Green Olives
3 teaspoons Fresh Parsley (diced – you'll want a few pinches more to put over the top)
Crushed Black Pepper to taste
Directions:
In your deepest cast iron skillet or saute pan, heat your olive oil over a medium heat. Once your Oil is hot, toss in your Vegan Sausage and cook until it has crispy edges and light crust on the outside. Add the remaining ingredients except Black Pepper and cook while mixing until your saue begins to bubble and your vegetables begin to become tender.
Before you serve, use a spatula to crush your Tomatoes in the sauce. This is a very light sauce, it doesn't have anything extra added to thicken it up. So don't worry if this sauce doesn't look like something you would see in a jar. The light brothy sauce will flavor your pasta when you toss all together. If you clicked on some of the links above, you'll see that even the original sauce is quite thin.
References:
Karli Aliza: http://karlializa.com/page/2/
Vegan Puttanesca: http://www.veganlivingtoday.com/how-to-make-vegan-pasta-puttanesca-recipe/
Meet the Shannon's: http://www.meettheshannons.com/pasta-alla-puttanesca-with-vegan-sausage-not-your-everyday-red-sauce/