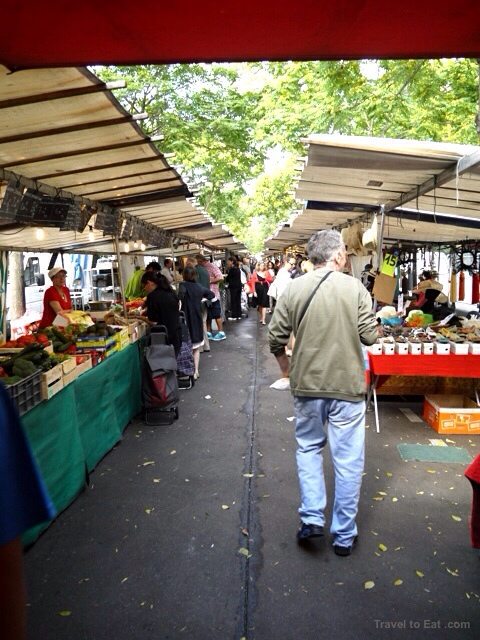 There are a lot of open air markets in Paris but this one on Avenue President Wilson, just down from the Trocadero is said to be one of the largest. This market is technically in the 16th arrondissement, but so close to the 7th that everyone from the neighborhood shops there. The market is open Wednesday and Saturday mornings, from about 7:30 to about 1:30. If you are coming from the left bank, walk across the Alma bridge and turn slightly left up Avenue de President Wilson – you can't miss the white trucks which have brought wines, cheeses, oils, spices, breads, meats and flowers from the country, parked on the street. Similarly, if you get tired of the Eiffel tower, go up to the Trocadero and turn right on Avenue President Wilson.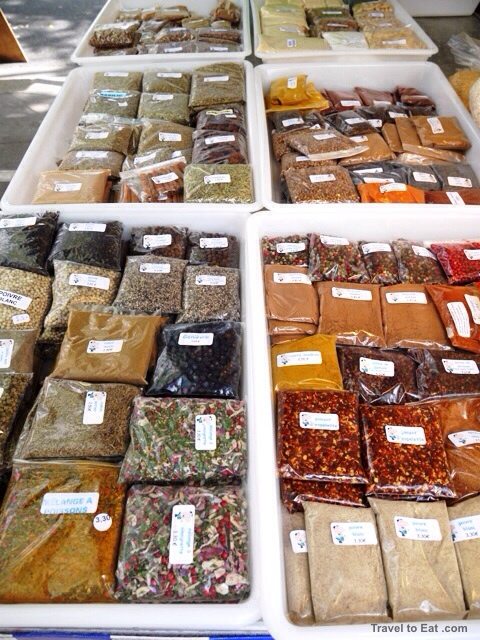 A fragrant stall of ground spices.

Lots of different kinds of nuts.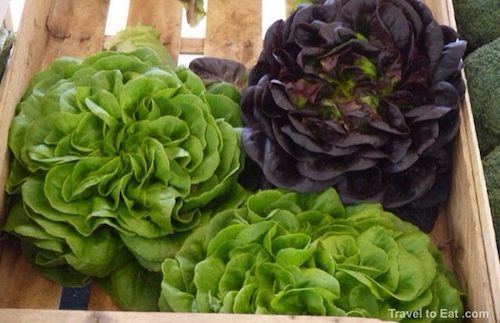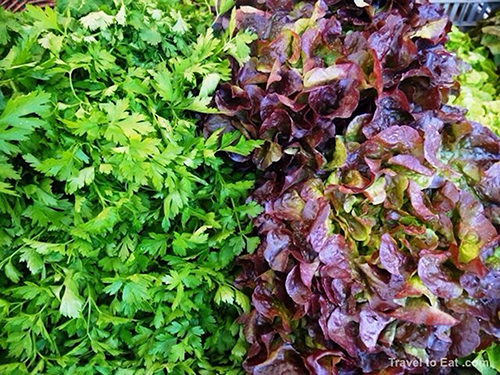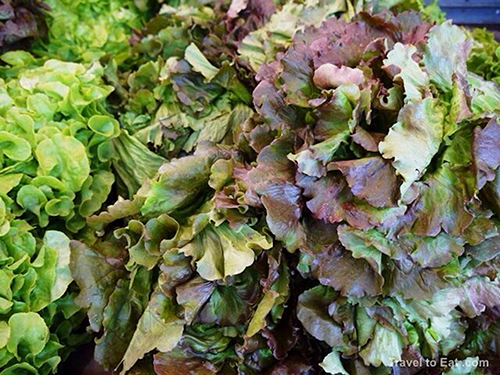 Lots of vegetables including very fresh salad greens.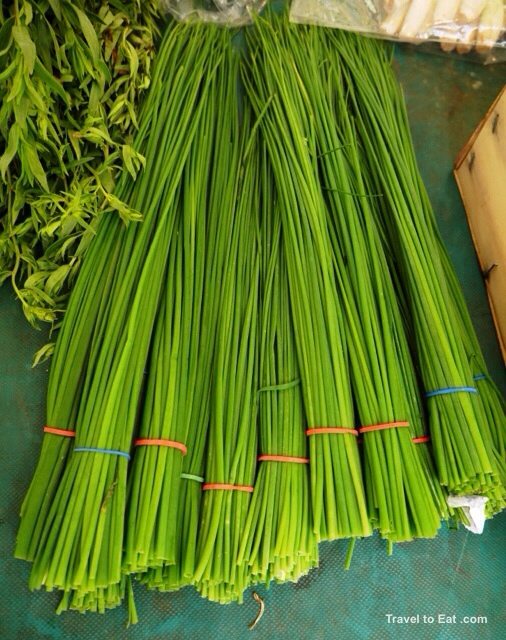 Long stems of fresh chives (cive in French).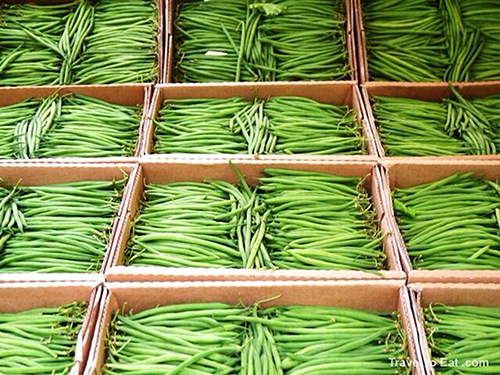 Neatly stacked haricot verts (green beans), it just cracks me up how neatly the French always stack green beans, like they are the most valuable commodity, which to the French foodies they might be.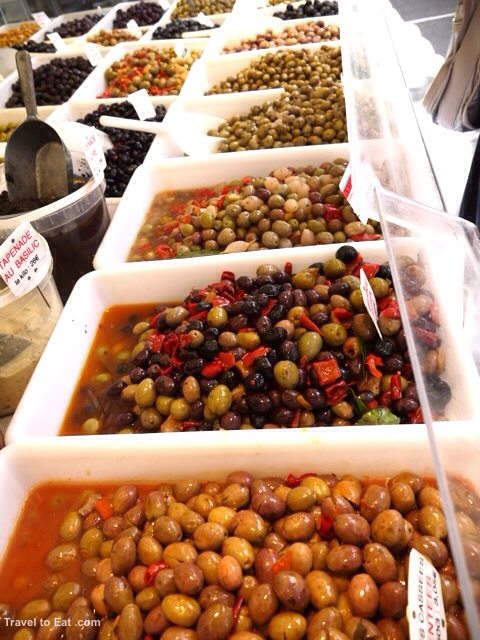 More kinds of olives than I even knew existed.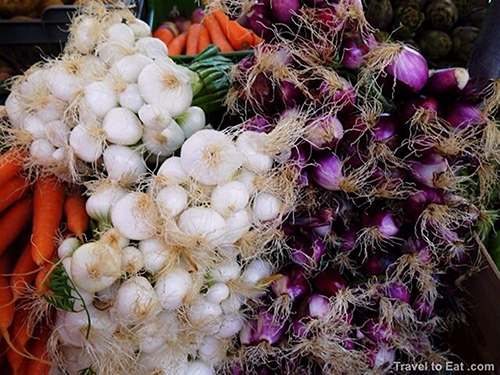 Multicolored onions, right out of the ground.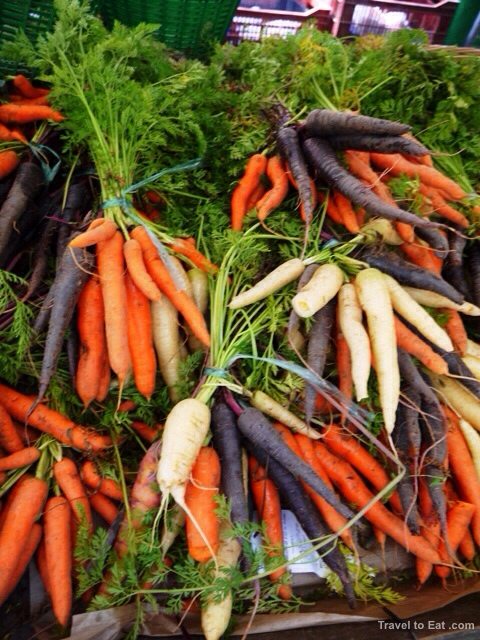 And surprise, multicolored carrots.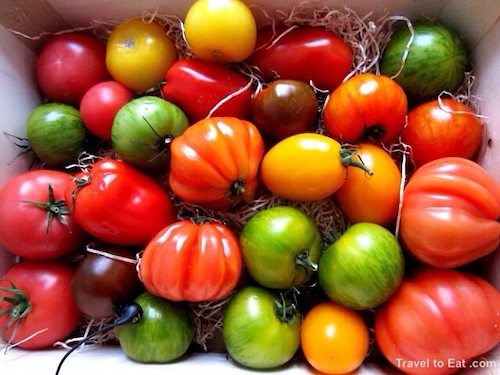 Heritage tomato varieties as I have already written on.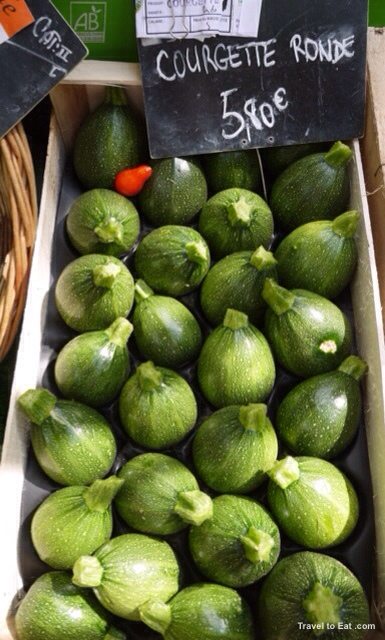 Beautiful little round zucchini (courgette in French).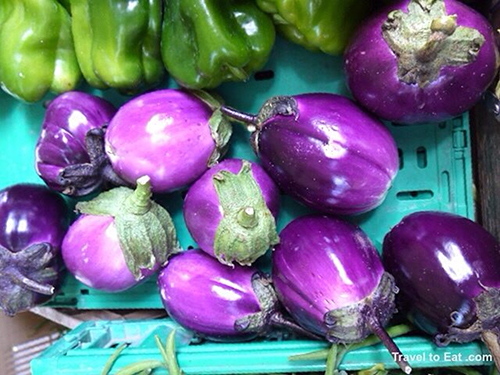 Even more beautiful little eggplants (aubergine in French).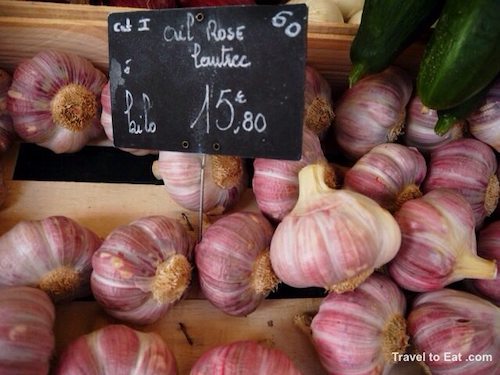 The famous Rose de Lautrec French garlic. In order to apply for the Label Rouge and PGI Lautrec Pink Garlic certifications, producers must comply with a strict set of specifications covering each stage of the production. There is even a website Ail Rose de Lautrec. The Pink Garlic is not only appreciated for its delicate taste but also for its ability to be preserved from one crop to another if it is stored at a constant temperature of 12ºc to 15ºc.
Pink garlic was introduced to Lautrec during the Middle Ages. This happened in an inn located at a place called l'Oustallarié when a peddler settled his accommodation with garlic cloves instead of money. The innkeeper planted the cloves, and soon seduced by the taste and colour of this new plant, launched the culture.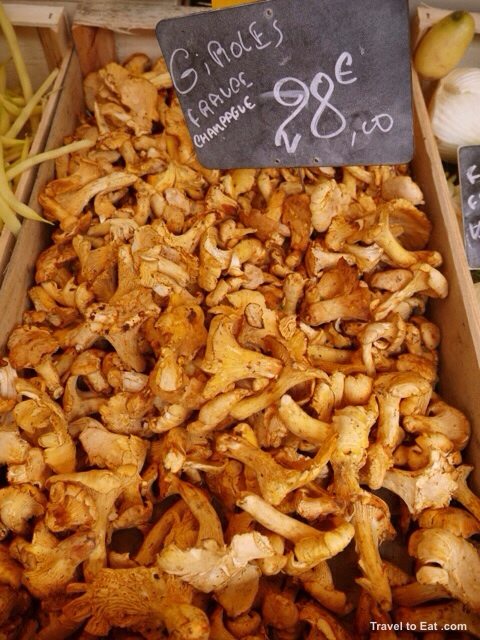 Fresh Chanterelle mushrooms (Giroles in French).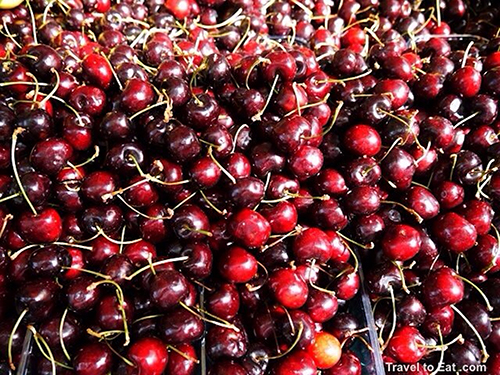 Huge piles of sweet Bing cherries (cerises in Fench) Cherries go back to ancient Rome, Greece and China where their color and taste guaranteed them a place of honor at table. Cherries were introduced to America by early settlers who brought them by ship in the 1600s. The word "cherry" developed in the 14th century from the old northern French word cherise, which came from the Akkadian karsu. I like this old Scottish proverb:
"Eat peas with the king and cherries with the beggar… " James Kelly, Scottish proverbs p.100 (1721)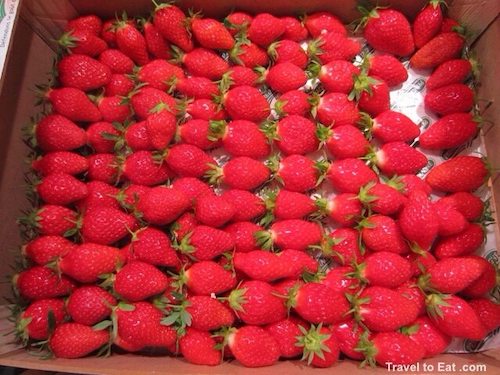 Lovely strawberries (les frais in French).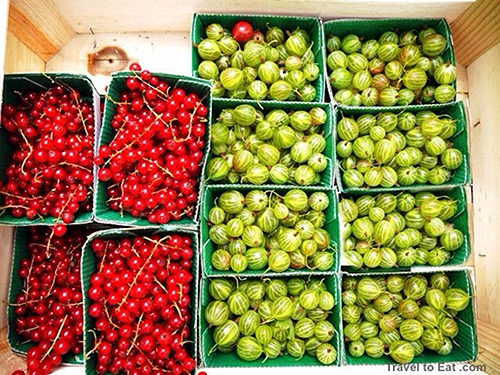 Unusual tiny little ancienne (heritage) gooseberries on the upper left and the usual green gooseberries (in French groseille) on the upper right.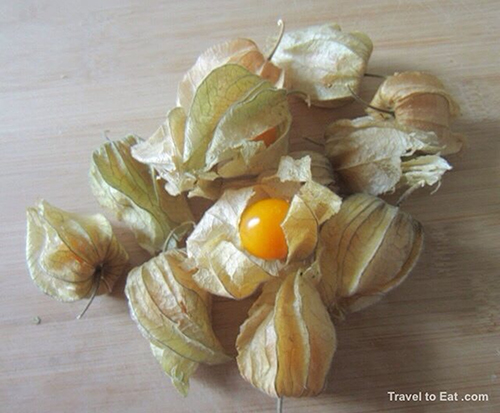 Desert Gooseberries which I bought for later munching.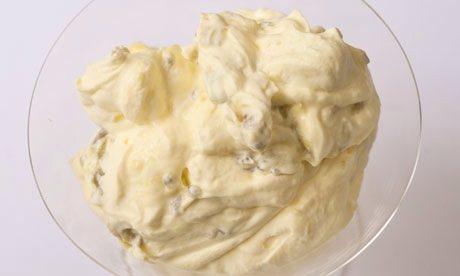 The gooseberry season starts with the familiar green gooseberries. These are the best ones for cooking. Use them to make a delicious gooseberry fool (seen to the right), basically gooseberries in whipped creme or poach them with a little sugar and water to make a traditional accompaniment to mackerel. Later in the season come the dessert gooseberries (the orange ones above) that are sweet enough to be eaten raw – try them in fruit salads.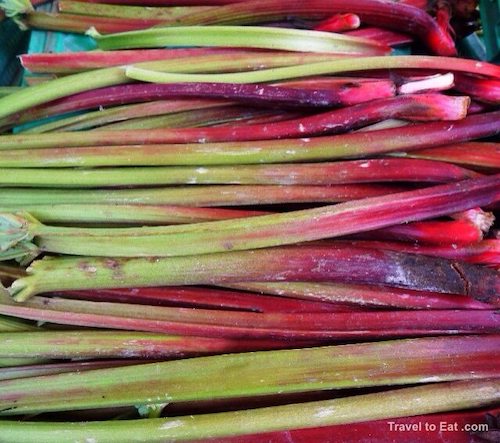 Fresh rhubarb.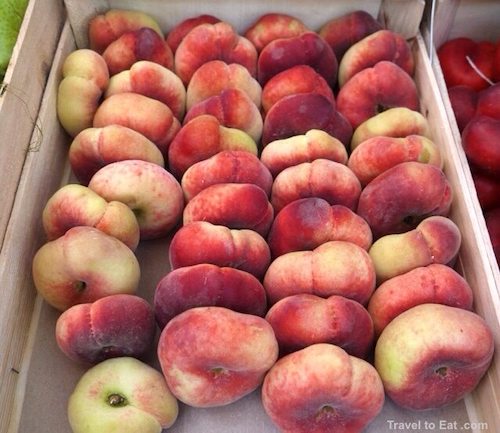 Neat stacks of peches plat (flat peaches).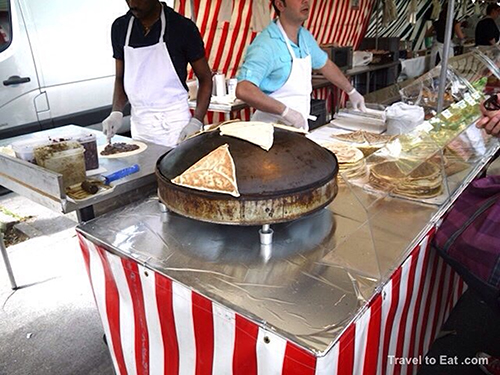 Fresh crepes and pita sandwiches.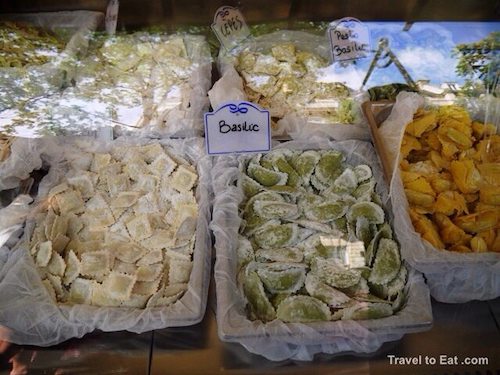 Fresh pasta and ravioli.

Freshly baked tarts.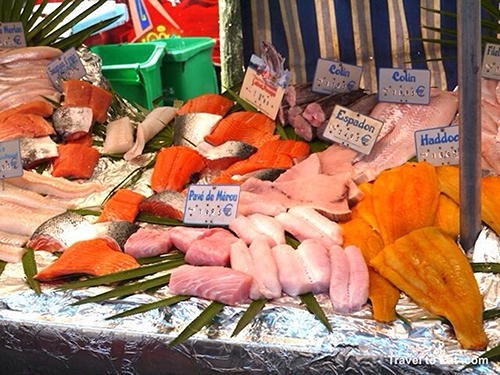 Fresh fish in all the different varieties.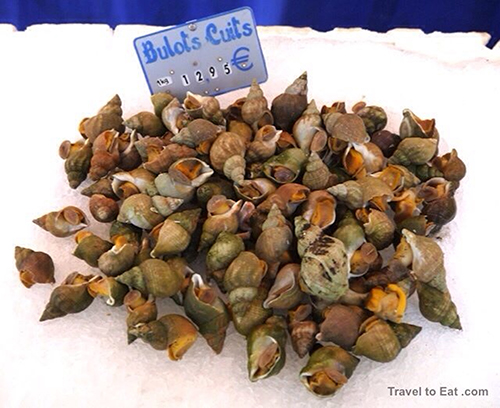 Sea snails or whelks (bulots cuits in French).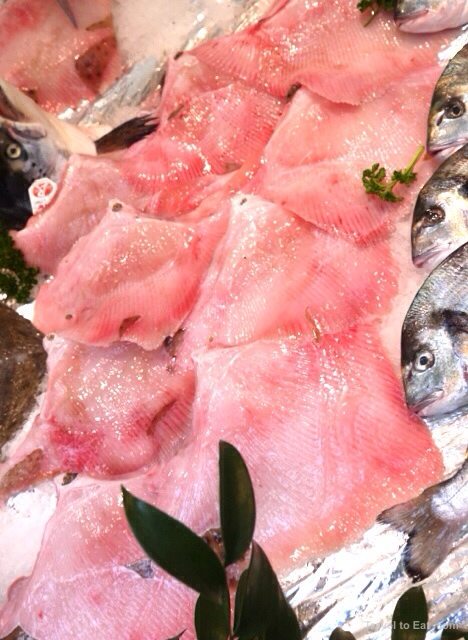 And one of the favorites of French chefs, Rae (manta ray).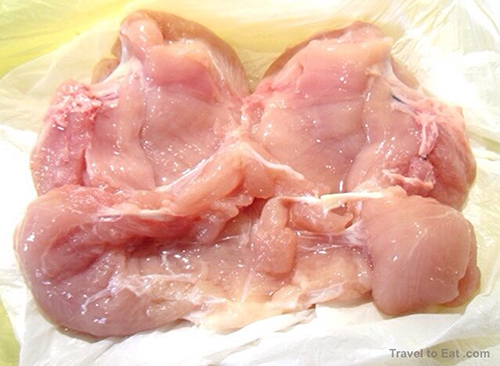 Lisa and I stopped at a stall specializing in duck and chicken and bought a huge "chicken breast" for dinner. When we got home, we opened it and were amazed to find that the whole chicken had been filleted away from the bones. You could tell the meat was really fresh and I used an Indian spice rub to cook it. Now that I know what it is, I am going to get another for coq a vin.
It's hard to adequately describe the variety and quality of the food here. The selection ranges from produce to meats, fish, flowers, pasta, breads, sweets and even housewares. Definitely worth a visit if you are in Paris.