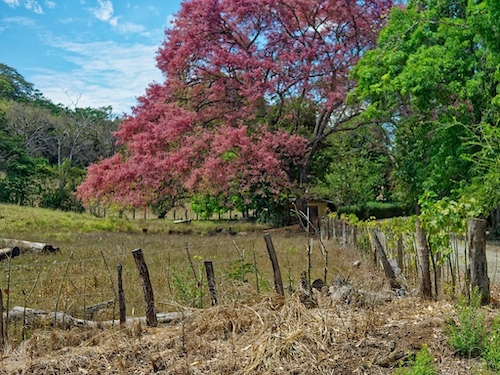 I thought I would add a post on the trees of Costa Rica since there are so many beautiful and unusual specimens. This trip, I visited during the winter or dry season, so many of the plants were without leaves or flowers. Nonetheless, there were many fascinating examples of trees that we in North America rarely get to see. I have roughly divided them into fruit trees, large trees and palm and palm-like trees. Cassia grandis, seen above, is one of several species called pink shower tree, and known as carao in Spanish. It is a flowering plant in the family Fabaceae, native to the neotropics, that grows up to 98 feet (30 m). The species is distributed from southern México, to Venezuela and Ecuador. It grows in forests and open fields at lower elevations, and is known to be planted as an ornamental. In at least Costa Rica, its pods are stewed into a molasses-like syrup, taken as a sweetener and for its nutritional and medicinal effects, called Jarabe (or Miel) de Carao.
Cashew Tree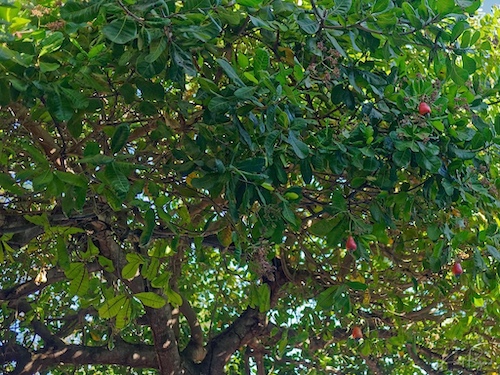 The cashew tree (Anacardium occidentale) is a tropical evergreen tree that produces the cashew seed and the cashew apple. It can grow as high as 14 m (46 ft), but the dwarf cashew, growing up to 6 m (20 ft), has proved more profitable, with earlier maturity and higher yields. The species is native to Central America, the Caribbean Islands, and northern South America. Portuguese colonists in Brazil began exporting cashew nuts as early as the 1550s.
Milky Way Tree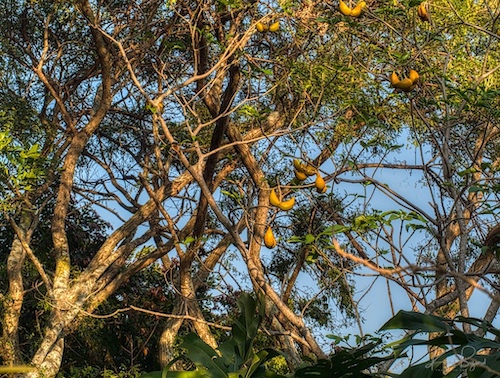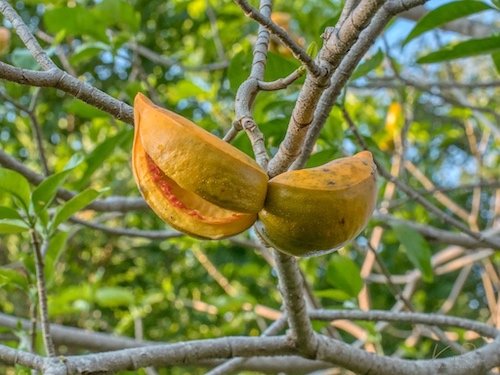 Tabernaemontana has a pan-tropical distribution, found in Asia, Africa, Australia, North America, South America, and a wide assortment of oceanic islands. These plants are evergreen shrubs and small trees growing to 1–15 m tall. The leaves are opposite, 3–25 cm long, with milky sap; hence it is one of the diverse plant genera commonly called "milkwood" or a variation on milk. The flowers are fragrant, white, usually 0.5–2 inches (1–5 cm) in diameter. Tabernaemontana litoralis is a tropical tree found from southern Mexico, Central America to northern Columbia. This is a very rare tropical tree with large white fragrant flowers with an unusual pinwheel shape. Stemmadenia litoralis Is a synonym for Tabernaemontana litoralis for the usual inscrutable reasons.
Papaturro Tree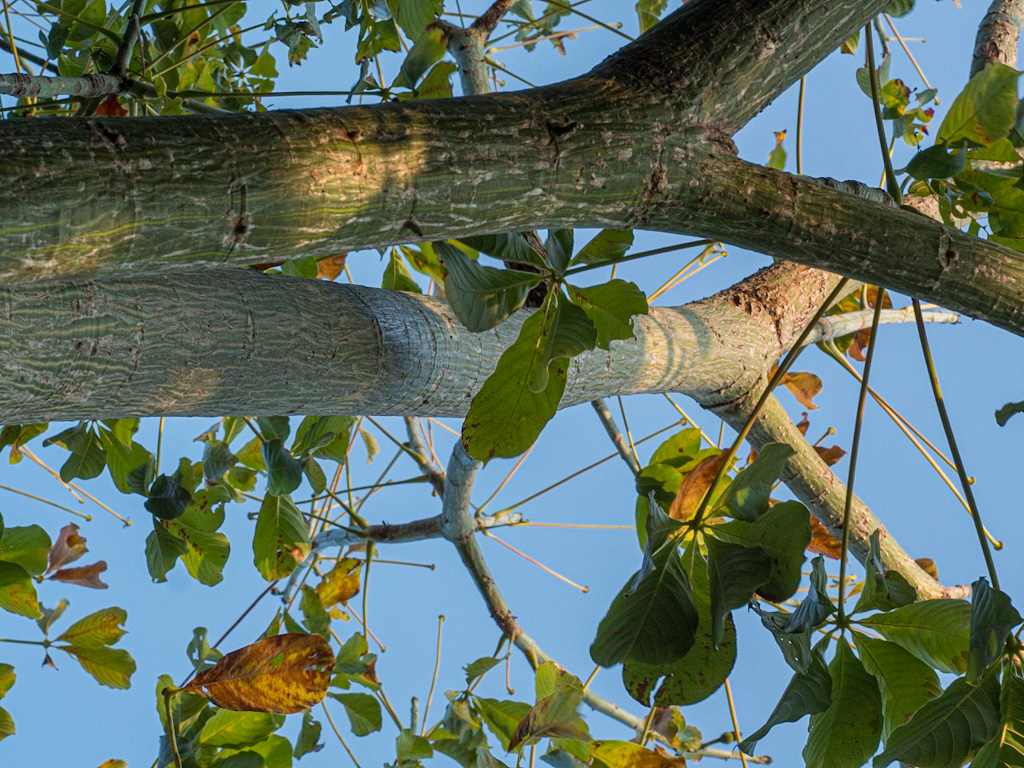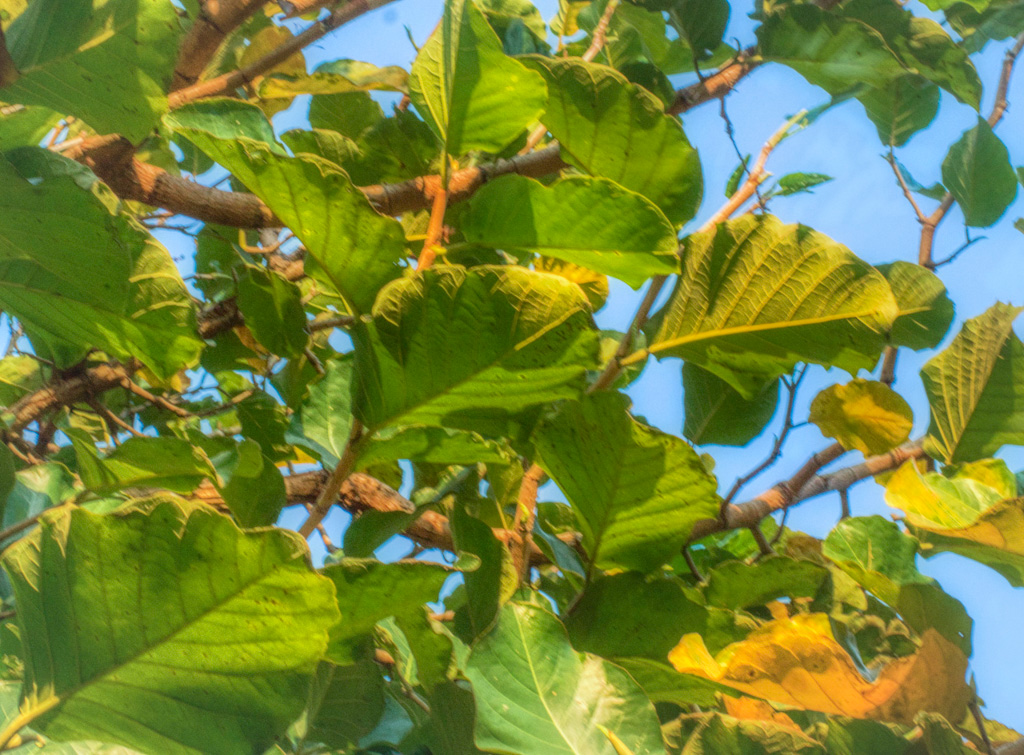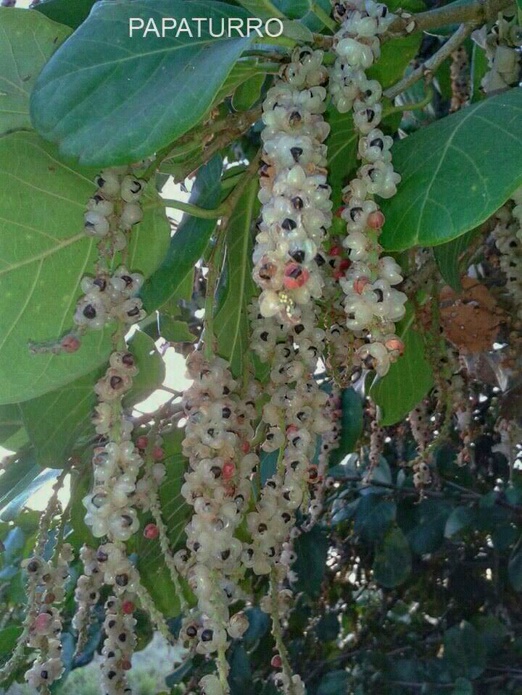 Coccoloba caracasana commonly known as Papaturro is actually a tree in the family Polygonaceae (Buckwheat family). The plant is native to Mexico and Central America. This tree ranges from El Salvador to Panama and northern South America, where it is most common in the Pacific regions. It prefers sandy, loose and wet soil; it may be found along rivers. Economically, the species is useful for its edible fruit. Fruits are white spheres with a whitish to translucent, sweet juicy edible, pulp with a grapelike consistency. The edible fleshy fruit is used to make jams. Its bunches are similar to those of grapes. It reproduces easily by means of stakes and seeds. The wood is used as firewood and for poles. The foliage is ornamental and hung for shade.
Mango Tree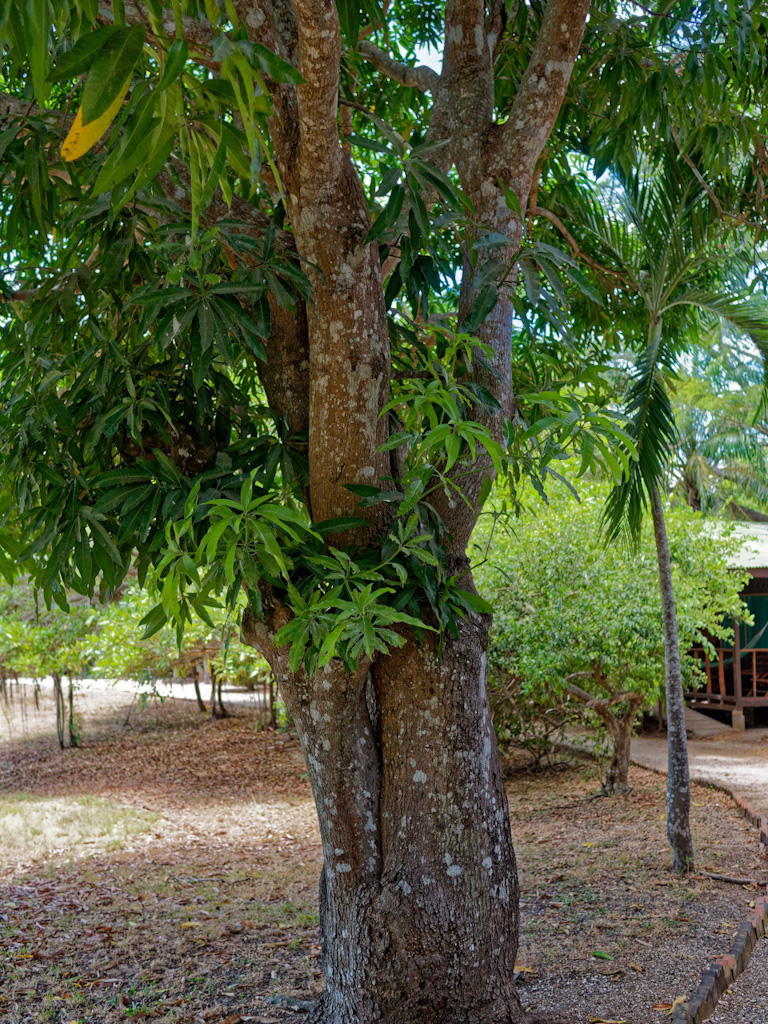 Mangifera indica, commonly known as mango, is a species of flowering plant in the sumac and poison ivy family Anacardiaceae. It is native to the Indian subcontinent where it is indigenous. Hundreds of cultivated varieties have been introduced to other warm regions of the world. It is a large fruit-tree, capable of growing to a height and crown width of about 100 feet (30 m) and trunk circumference of more than 12 feet (3.7 m). The species domestication is attributed to India around 2000 BCE. Mango was brought to East Asia around 400–500 BCE, in the 15th century to the Philippines, and in the 16th century to Africa and Brazil by Portuguese explorers.
West India Gooseberry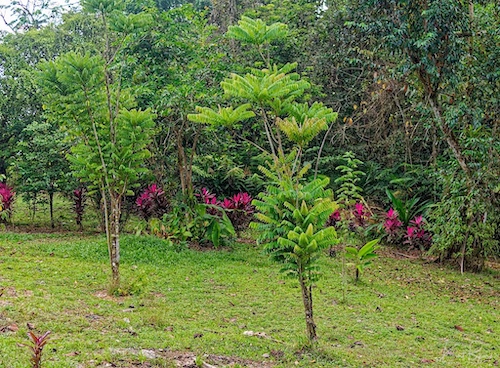 Phyllanthus acidus, known as the Otaheite gooseberry, Malay gooseberry, Tahitian gooseberry, country gooseberry, star gooseberry, starberry, West India gooseberry, or simply gooseberry tree, is one of the trees with edible small yellow berries fruit in the family Phyllanthaceae. Despite its name, the plant does not resemble the gooseberry, except for the acidity of its fruits. It tastes sour and tart. This tropical or subtropical species is found throughout Asia and also in the Caribbean region, Central and South America. While its origin is uncertain, the species may have originated in Madagascar. It expanded to the Caribbean in 1793, when William Bligh carried the plant from Timor to Jamaica.
Morro Tree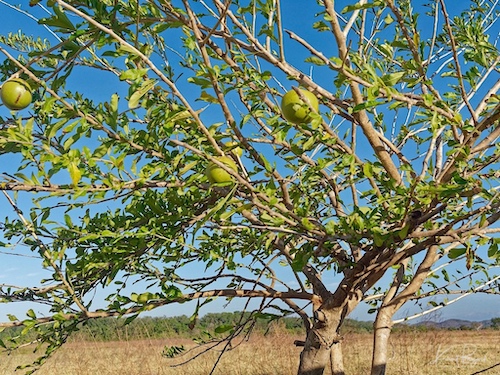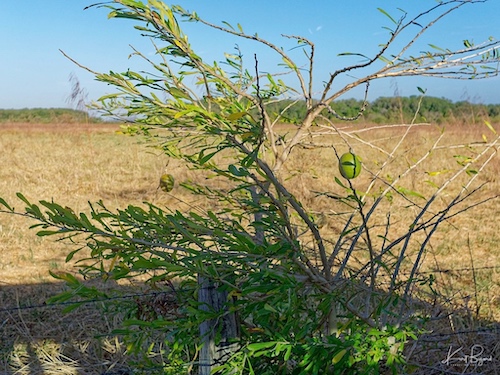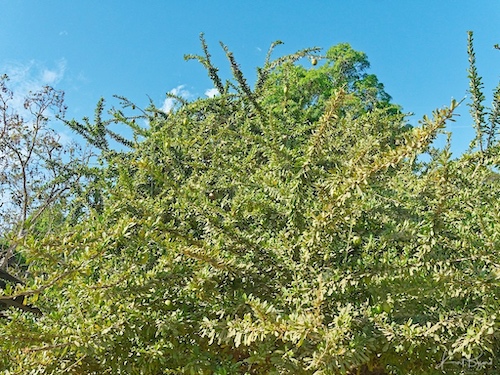 Crescentia alata (variously called Mexican calabash, jícaro, morro, morrito, winged calabash) is a species in the trumpet-flower family Bignoniaceae and in the calabash trees genus Crescentia, native to southern Mexico and Central America south to Costa Rica. It is a small tree growing to 25 feet (8 m) tall. It has hard, cannonball-like fruit 7–10 cm diameter, that are difficult to break into. It is most often found in open areas, such as pastures and fields. It is also cultivated for its gourd-like fruits, which may be hollowed, dried and used as containers for food and drink. In Central America, dried and painted gourds – like fruits are used by local people for making artisanal handicrafts such as piggy banks and ornaments.
Strangler Fig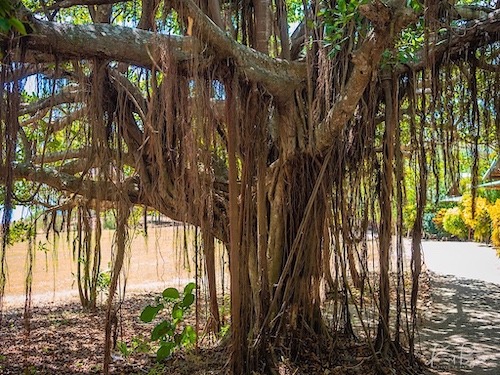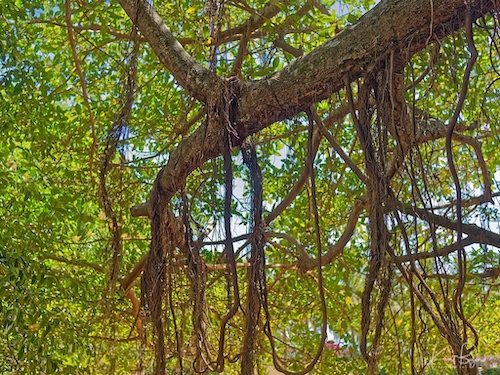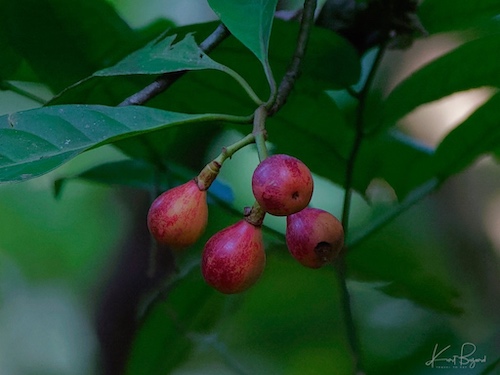 Ficus is a genus of about 850 species of woody trees, shrubs and vines in the family Moraceae. Collectively known as fig trees or figs, they are native throughout the tropics with a few species extending into the semi-warm temperate zone. The specific identification of many of the species can be difficult, but figs as a group are relatively easy to recognize. Many have aerial roots and a distinctive shape or habit, and their fruits distinguish them from other plants. Ficus goldmanii of the Moraceae family was given this name by Paul Carpenter Standley in 1917. It is found from Bucerias to Sayulita, Nayarit in México. It grows in a well drained soil with some to lots of water and some to lots of sun. The stem can grow to 80 centimetres in diameter, the tree reaches fifteen meters height. The flowers are green.
Shortleaf Fig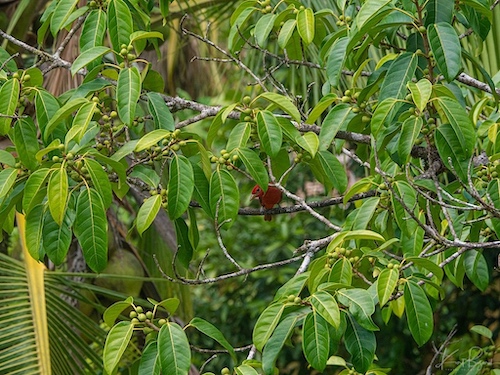 Ficus citrifolia, also known as the shortleaf fig, giant bearded fig, wild banyantree and Wimba tree, is a species of banyan native to southern Florida, the Caribbean, Central America, and northern South America south to Paraguay. It is distinguished from the closely related Florida strangler fig (Ficus aurea) mainly by the finer veining in the leaves. Ficus citrifolia is considered a tropical keystone species. Figs are a major component of the diets of more species of animals than any other tropical perennial fruit. Since Ficus citrifolia fruits year round many primates, birds and other species, feed exclusively on figs during seasons when other fruit is scarce. Additionally, the knobby, hollow, lattice-like trunk of this tree provides a home for thousands of invertebrates, rodents, bats, birds and reptiles.
Yellow Oleander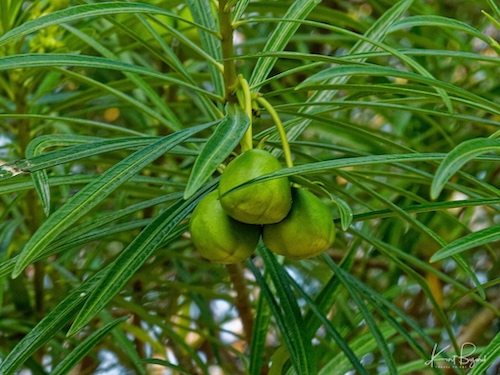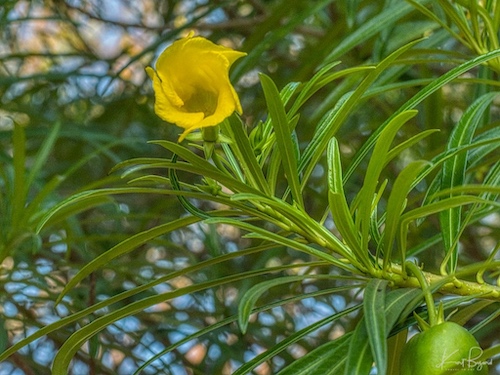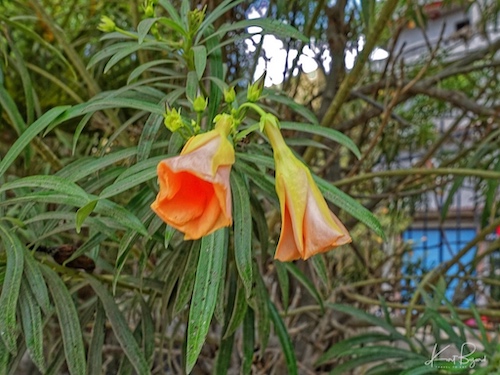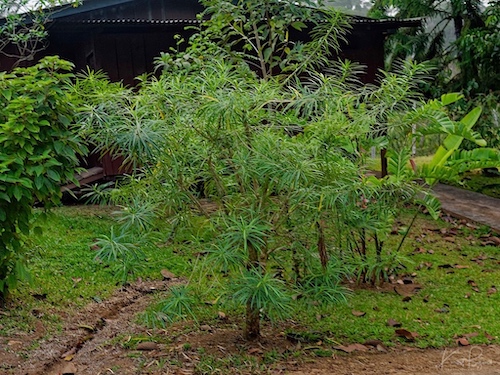 Cascabela thevetia (syn: Thevetia peruviana) is a poisonous plant native throughout Mexico and in Central America, and cultivated widely as an ornamental. It is a relative of Nerium oleander, giving it a common name yellow oleander, and is also called lucky nut in the West Indies. The flowers can be yellow or as in this case an apricot color.
Wild Coffee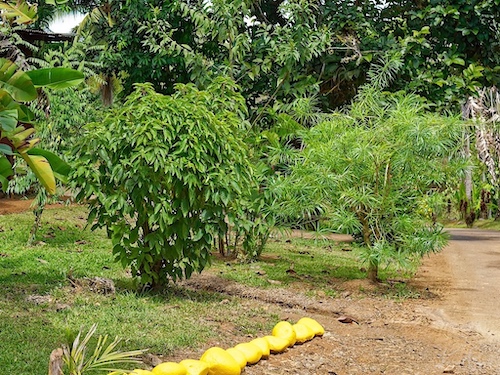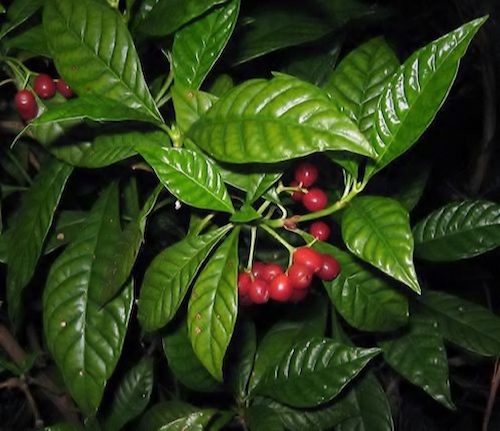 Psychotria nervosa, also known as Seminole balsamo or wild coffee, is a shade tolerant medium-sized shrub native to Florida as well as the West Indies and Central and South America. It produces a "small, red, ellipsoid fruit" that resembles "the true coffee bean" in shape and attract birds. Its maximum height ranges from approximately 4–10 feet. Despite its common name of wild coffee, this species is not known to contain any caffeine.
Dracena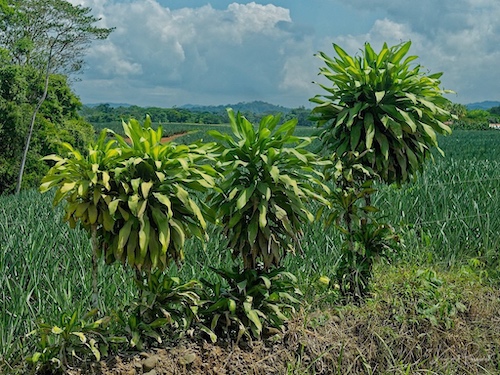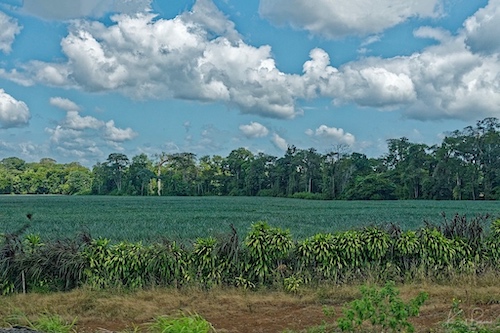 Dracaena fragrans (cornstalk dracaena or happy plant), is a flowering plant species that is native throughout tropical Africa, from Sudan south to Mozambique, west to Côte d'Ivoire and southwest to Angola, growing in upland regions at 600–2,250 m (1,970–7,380 ft) altitude. In Africa and Costa Rica, it is commonly grown as a hedge plant. In cultivation in the Neotropics, a few generalist hummingbird species like the sapphire-spangled emerald (Amazilia lactea) visit the flowers.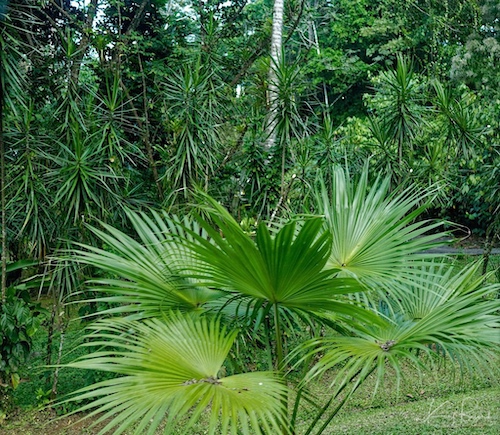 Dracaena marginata has beautiful dark and narrow leaves. There are 120 different types of Dracaena, some of which produce blood-red resin. That is why it is also called dragon tree or dragon blood tree. Dracaenas mainly originate from Africa, but species also occur in Asia and Central America. The marginata comes from Madagascar, but is grown for us in Costa Rica.
Pachote Tree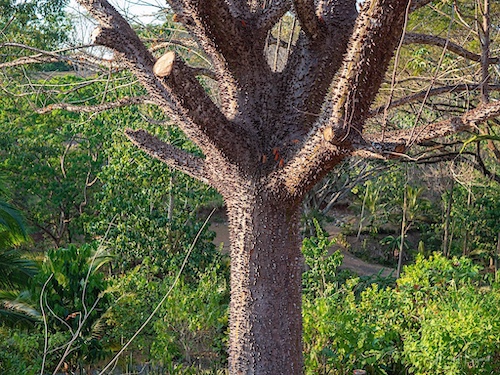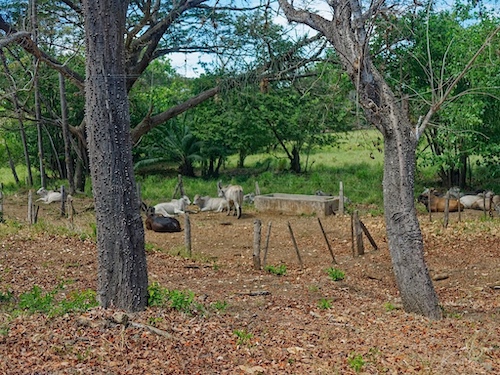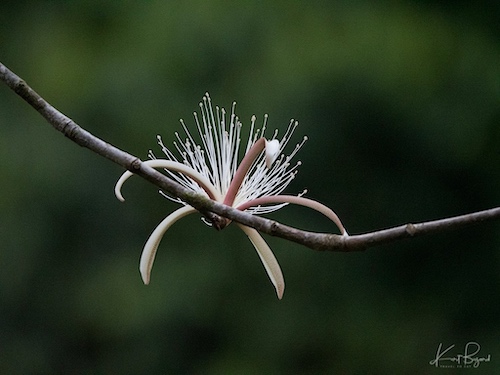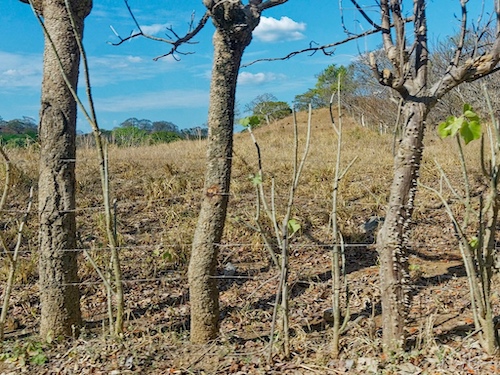 Pachira quinata, commonly known as Pochote, is a species of flowering tree in the mallow family, Malvaceae. It inhabits dry forests in Costa Rica, Nicaragua, Honduras, Panama, Venezuela, and Colombia. Pochotes bear large, stubby thorns on their trunk and branches and are often planted as living fence posts with barbed wire strung between them. Pochote is a lovely shade of medium reddish brown fine grain wood. If one cuts a branch and sticks it into the ground (as Costa Rican farmers sometimes do to create "living fences") it will come up with white wood, but that's a genetic defect and, unlike the "mother tree" which yields a very nice hard wood, this fence cutting's wood will rot.
Kapok Tree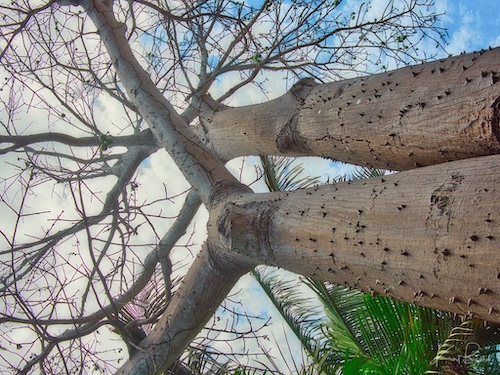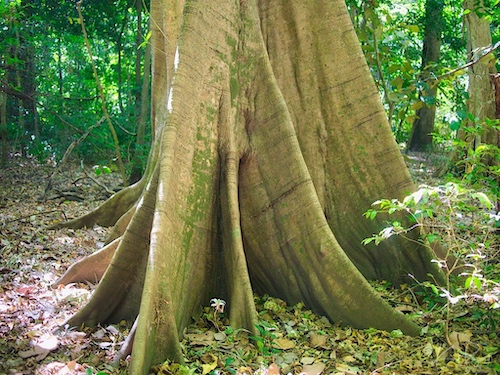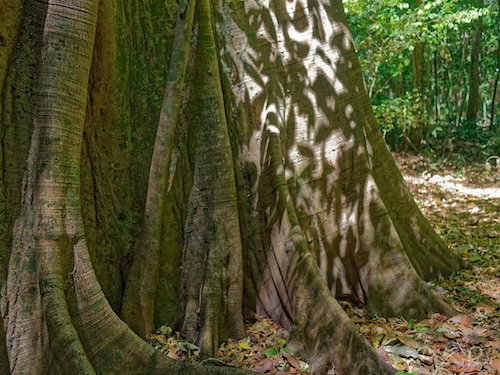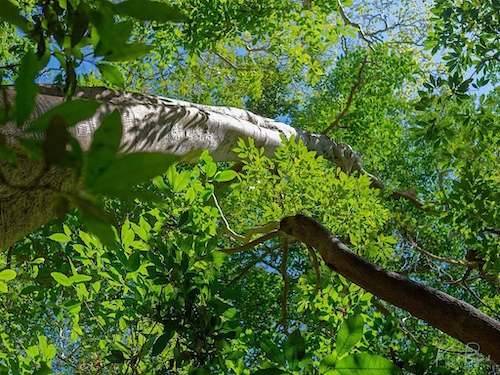 The Kapok tree, also known as Cieiba tree, originates from Central and South America, but it can be found in West Africa and Southeast Asia today. The Ceiba tree is one of the fastest growing trees in the world and is widely used in Costa Rica for reforestation projects. It can grow up to 13 ft in a year reaching a maximum height of 200 ft. Indigenous Costa Ricans believe the Ceiba tree to be sacred. Kapok trees grow in tropical rainforests. Thanks to large number of seeds equipped with fine, silky fibers, the Kapok tree easily conquers new (especially deforested) areas. People cultivate kapok tree mostly as a source of fine fibers and wood. Silky fibers extracted from the seed pods of kapok tree are the lightest natural fibers (they are 8 times lighter than cotton fibers). Kapok fibers do not induce allergy and do not contain toxins. The Kapok tree was sacred for Mayans, who believed that souls of deceased can reach heaven only via highest branches.
Elephant Ear Tree (Guanacaste Tree)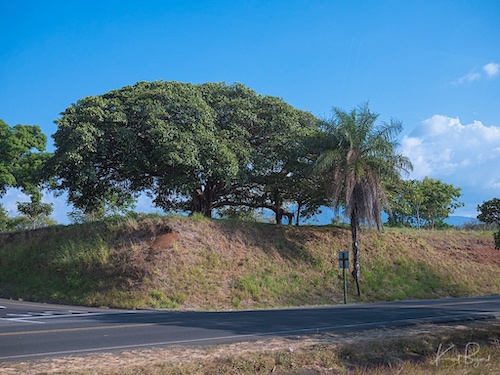 Enterolobium cyclocarpum, commonly known as guanacaste, caro caro, monkey-ear tree or elephant-ear tree, is a species of flowering tree in the pea family, Fabaceae, that is native to tropical regions of the Americas, from central Mexico south to northern Brazil (Roraima) and Venezuela. It is known for its large proportions, its expansive, often spherical crown, and its curiously shaped seedpods. The abundance of this tree, especially in Guanacaste Province, Costa Rica, where it is prized for the shady relief it provides from the intense sun, coupled with its immensity, have made it a widely recognized species. It is the national tree of Costa Rica.
Spineless Yucca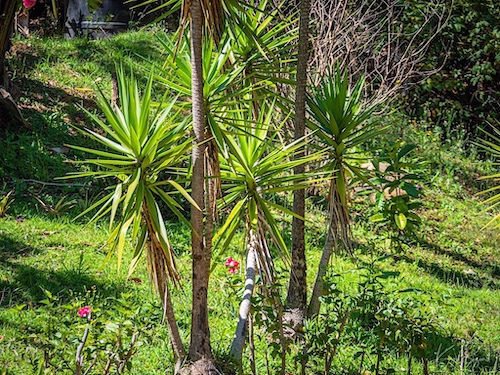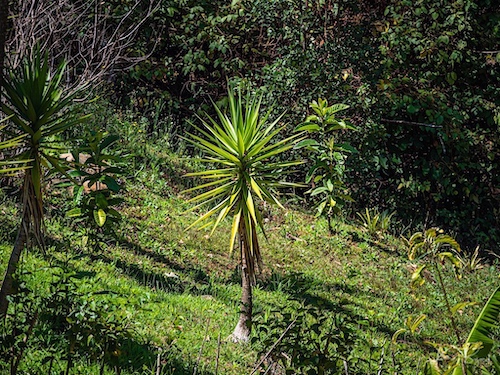 Yucca gigantea is a species of flowering plant in the asparagus family, native to Mexico and Central America. Growing up to 8–12 m (26–39 ft) in height, it is an evergreen shrub which is widely cultivated as an ornamental garden or house plant often being called just yucca cane. Common names include spineless yucca, soft-tip yucca, blue-stem yucca, giant yucca, yucca cane, and itabo. Its flower, the izote, is the national flower of El Salvador. It is well-known by Central Americans but not as Spineless Yucca. If you were to use that term in Central America, most people would likely respond with a polite and inquisitive stare. However, a broad smile of recognition would appear immediately if you mentioned itabo, izote, or daguillo, as the plant is commonly known in Costa Rica, Guatemala, Honduras, and Nicaragua. Costa Ricans and other Central Americans savor its flowers in a variety of dishes.
Cecropia Tree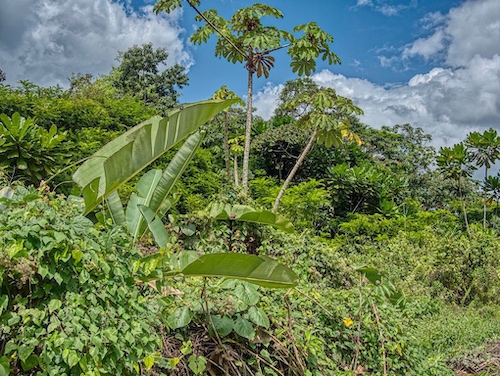 There are five species of Cecropia in Costa Rica. All very similar, recognized by their large, rounded, palmately divided leaves and ringed trunks. They are found nearly everywhere in the country, mostly in second growth or disturbed sites, Cecropia peltata is the only Cecropia found in seasonally dry forests like Guanacaste sea level to 1500 most often below 500 m. Cecropia obtusifolia and Cecropia insignis are found in wet forests below 1000 m. Cecropia polyphlebia is the only species in mountains between 1200–2400 m. When walking in the lowland forests of the neotropics, caution has to be exercised when standing near a Cecropia. Cecropia trunks are the refuge for an ant species that vigorously protects the tree trunk and even keeps herbivores from climbing the trunk from the ground. The ants are a type of Azteca ant and a nonchalant lean on a tree can result in extreme regrets by the leaner! The ants live inside of the tree and their holes are located at the growth ridges of the trunk. Guides will frequently provide a demonstration whereas they use a piece of wood and rap loudly on a cecropia. Within a few seconds, hundreds if not thousands of ants exit their holes and descend on the area where the knocking occurs.
Walking Palm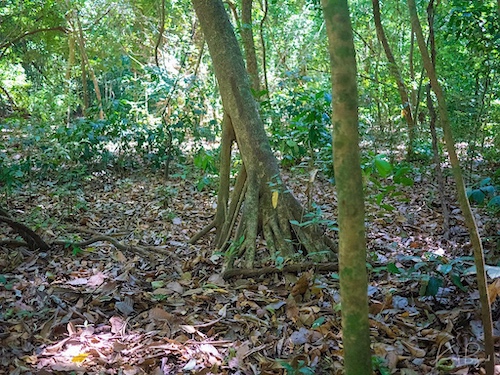 Socratea exorrhiza, the walking palm or cashapona, is a palm native to rainforests in tropical Central and South America. It can grow to 80 feet (25 m) in height, with a stem diameter of up to 6 inches (16 cm), but is more typically 50–65 feet (15–20 m) tall and 4 inches (12 cm) in diameter. It has unusual stilt roots, the function of which has been debated. Many species of epiphyte have been found growing on the palms. The palm is pollinated by beetles, and various organisms eat its seeds or seedlings.
Royal Palm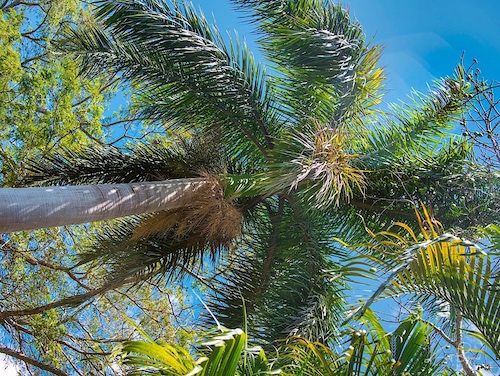 Attalea butyracea is a species of palm tree native from Mexico to northern South America. Between 29 and 67 species are recognised in the genus, with estimates of as many as 100. Incomplete herbarium collections make it difficult to determine whether certain groups represent single species, or groups of similar species. Attalea species have a long history of human use, and include economically important sources of palm oil and fibre. Many species are fire tolerant and thrive in disturbed habitats.
Tobago Cane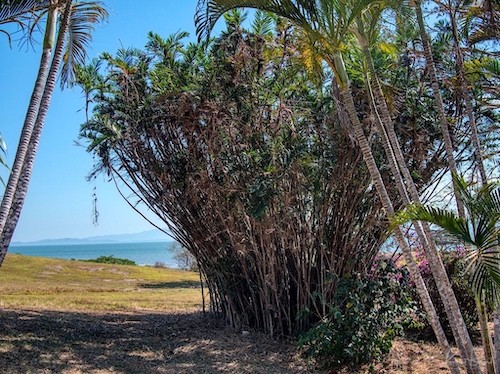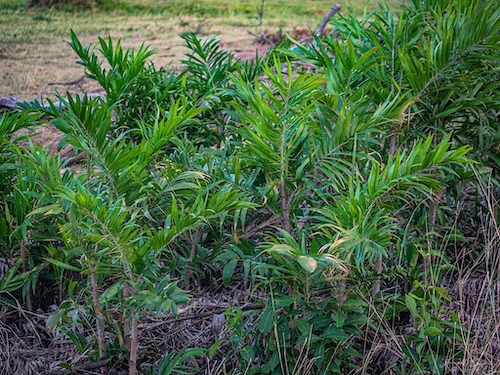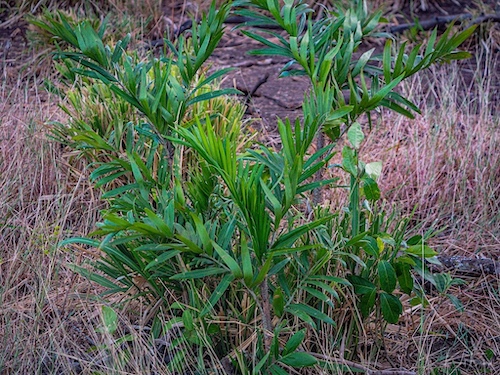 It is located on the shores of the Caribbean and the Pacific , in El Salvador , Honduras , Nicaragua , Costa Rica , Panama , Colombia and Venezuela , in dry areas, preferably less than 100 meters often on the beach . They are endemic in the Tropical Dry Forest, where it resists saline soils. It often forms colonies. Its morphology makes it an excellent refuge for birds since their spines protect them. Resists burning and often subsists to flooding in clay soils. Ripe fruits are used to make a rich drink Cosinan and trunks are used in residential construcion. In Venezuela, they produce an alcoholic beverage (rum Piritu) prepared from the maceration of the fruit then the wine is used to make rum. The maceration is 2 or more months. It is a very popular drink in Venezuela. In Colombia trunks after being slightly burnt are used to manufacture an instrument called guacharaca which is typical of vallenato sets.
Coconut Palm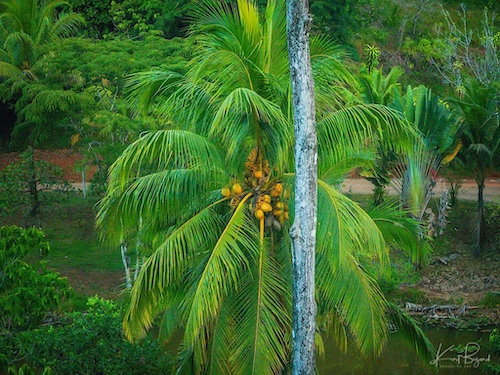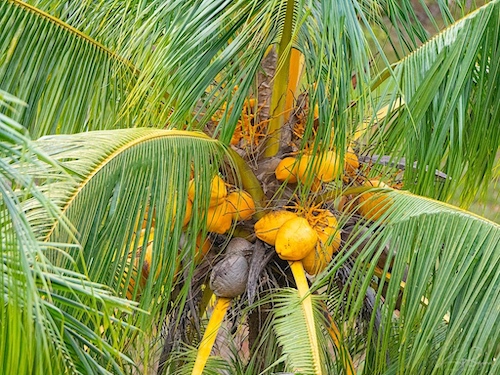 Palms are one of the best known and most widely planted tree families. Over 2,500 species of palm trees exist worldwide, with the majority occurring in tropical America and tropical Asia. They have held an important role for humans throughout much of history. Many common products and foods come from palms, and the coconut palm is an especially good example. In the past palms were symbols of victory, peace, and fertility. Today palms are a popular symbol for the tropics and for vacations. In the 1930's Los Angeles embarked on a program of public palm tree plantings that defined the city. These plantings were widely copied elsewhere and now exotic palms are highly sought after as landscaping elements in tropical gardens. For me though, the coconut palm is ultimate symbol of the tropics
Pygmy Palm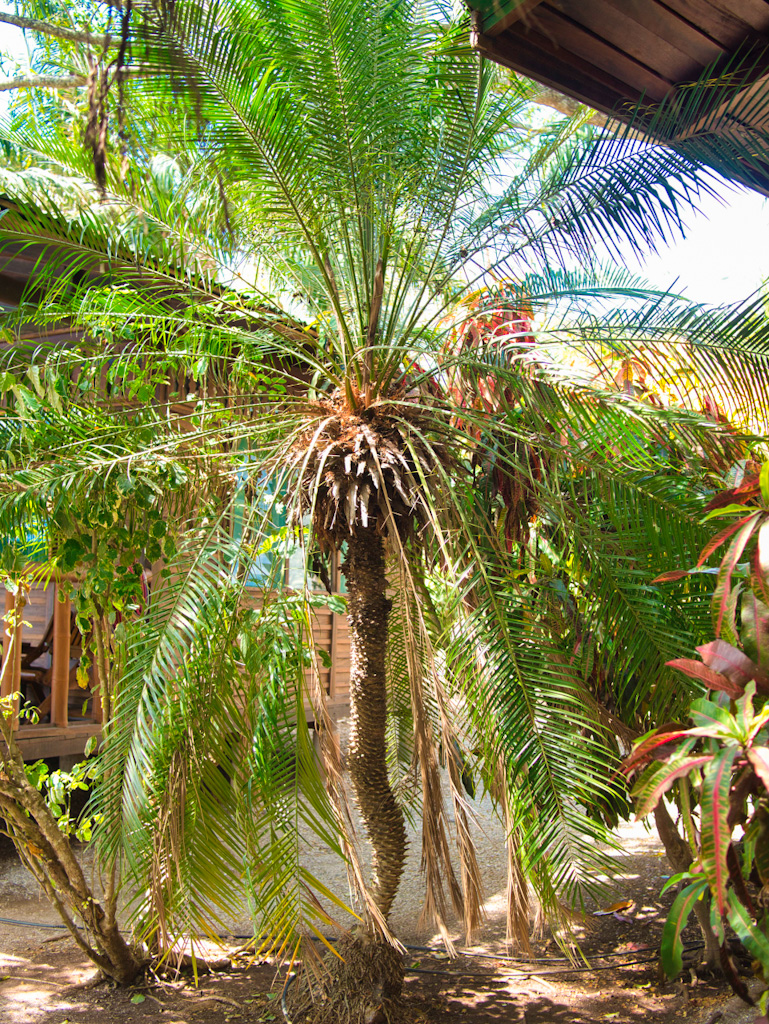 Phoenix roebelenii, with common names of pygmy date palm, miniature date palm or just robellini, is a species of date palm native to southeastern Asia, from southwestern China (Yunnan Province), northern Laos and northern Vietnam. While pygmy date palm is closely related to the larger edible date palm, this species is not really grown for its fruit – it's more like a pit surrounded by a thin edible skin, rather than something that could be harvested and enjoyed. Because of their slow growth rate, it may be five years or more after planting until the palms flower and fruit. The tree naturally has just one trunk, though it is commonly planted in tight clumps which creates the look of a multi-trunked palm as they grow, often resulting in picturesque curved trunks.
Vanuatu Palm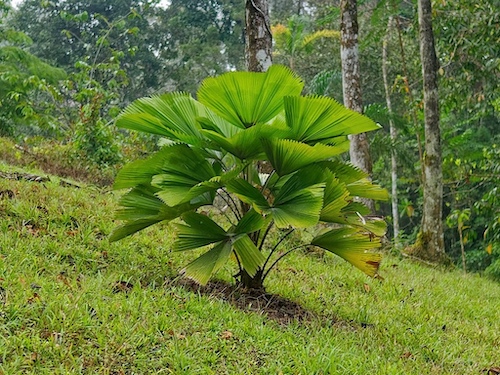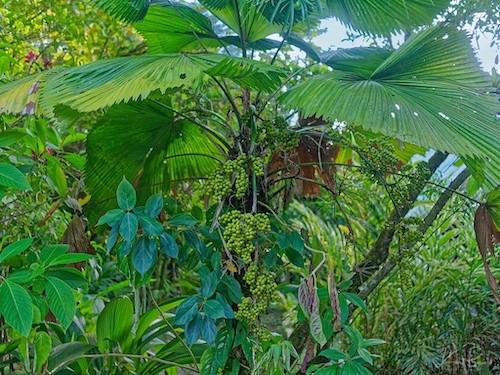 Licuala grandis, the ruffled fan palm, Vanuatu fan palm or Palas palm, is a species of palm tree in the family Arecaceae, native to Vanuatu, an island nation in the Pacific. On top of the thin, fiber covered trunk of this palm is a crown of twelve to twenty beautiful leaves. Each glossy, deep green frond is wedge-shaped and looks as if it's been pleated. The frond stems (petioles) are long and have sharp, curved teeth at the base. Most are held upright but the oldest arch gracefully. In early or midsummer, a cluster of yellowish white blossoms appear. These develop into small, round, red fruits by autumn. These were the first Vanuatu Palms I have seen in person although I later saw some in Tobago as well.
Areca Palms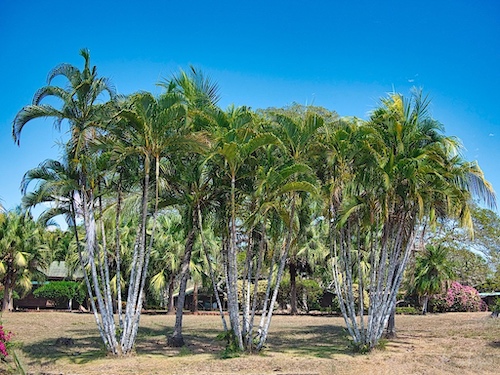 Dypsis lutescens, also known as golden cane palm, areca palm, yellow palm, or butterfly palm, is a species of flowering plant in the family Arecaceae, native to Philippines, Madagascar and South India. It is grown as an ornamental plant in gardens in tropical and subtropical regions, and elsewhere indoors as a houseplant.
Madagascar Palms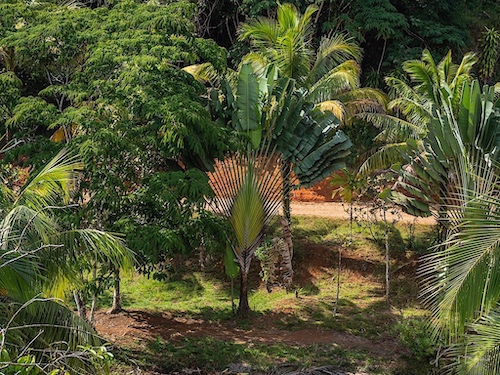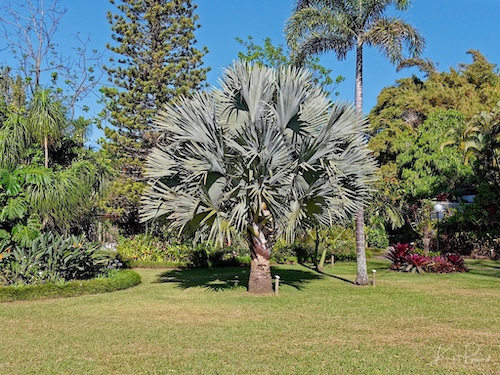 The two famous Madagascar Palms were well represented in multiple locations. Ravenala is a genus of flowering plants with a single species, Ravenala madagascariensis, commonly known as traveller's tree or traveller's palm, from Madagascar. It is not a true palm (family Arecaceae) but a member of a monocotyledonous flowering plant family, Strelitziaceae. Thus the Travelers Palm is related to Heliconia, Tropical Ginger, Bird of Paradise, Canna Lilies and Arrowroot.
Lipstick Palms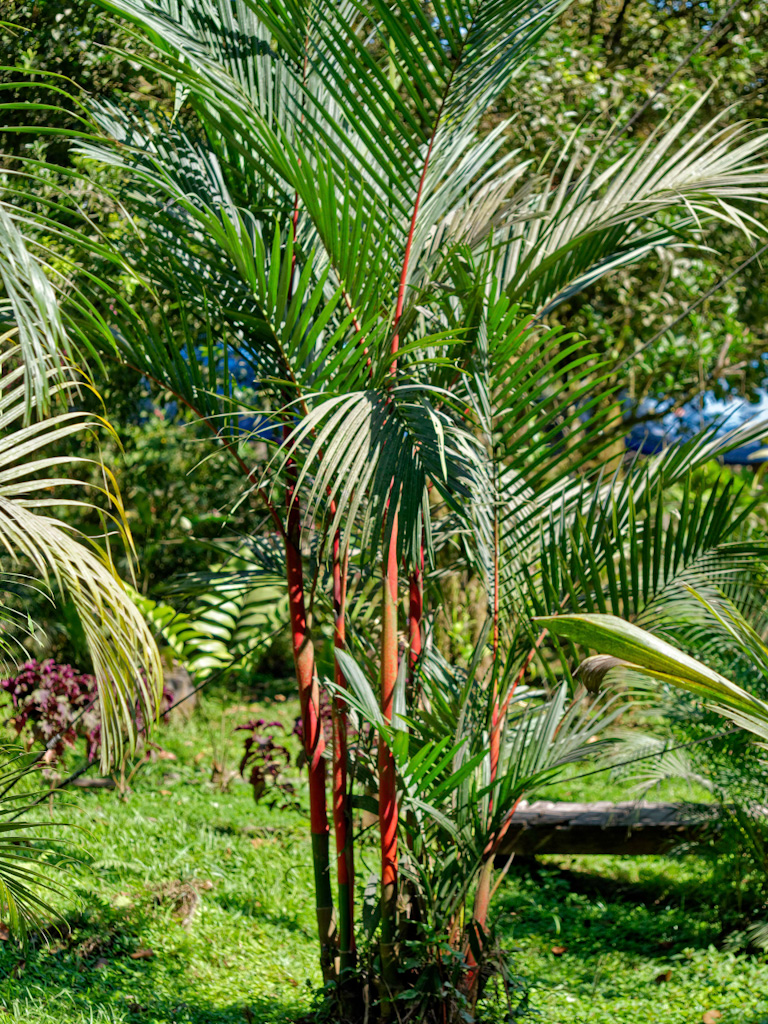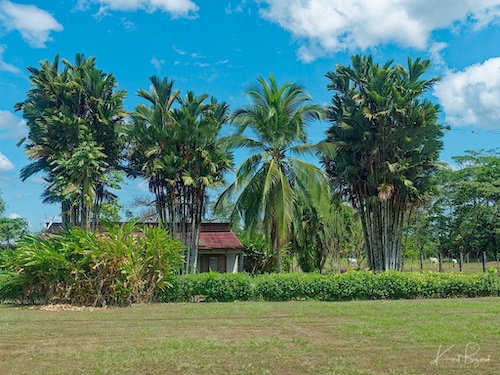 Cyrtostachys renda, also known by the common names red sealing wax palm and lipstick palm, is a palm that is native to Thailand, Malaysia, Sumatra and Borneo in Indonesia. Also known as the red palm, rajah palm, and Malay: pinang rajah, Cyrtostachys renda is a slender multi-stemmed, slow-growing, clustering palm tree. It can grow to 52 feet (16 m) tall. It has a scarlet to bright red colored crownshaft and leaf sheath, making it distinct from all other species of Arecaceae. The lipstick palm is generally grown for its brightly colored and unusual foliage and it is considered as a plant in high demand for gardening and a landscaping projects. Because of difficulties propagating them and their striking color, the palm has been offered for sale at prices as high as $1000 USD to collectors and gardeners.
Ponytail Palm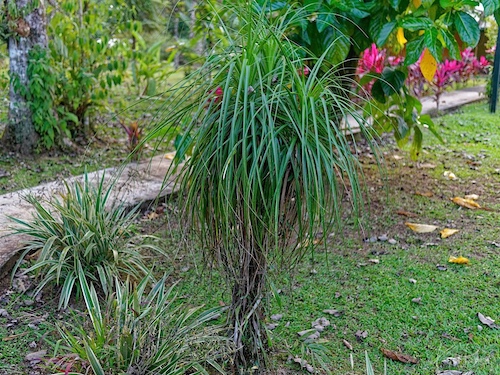 Beaucarnea recurvata (elephant's foot, ponytail palm) is a species of plant in the family Asparagaceae, native to the states of Tamaulipas, Veracruz and San Luis Potosí in eastern Mexico. Despite its common name, it is not closely related to the true palms (Arecaceae).
Ti Plant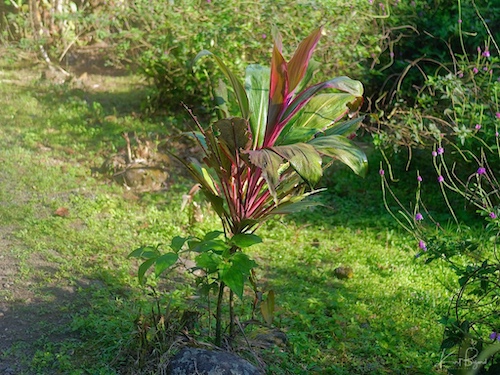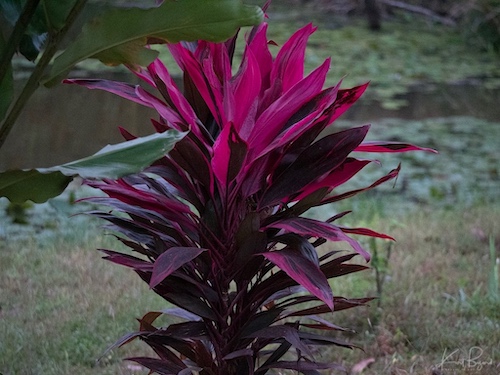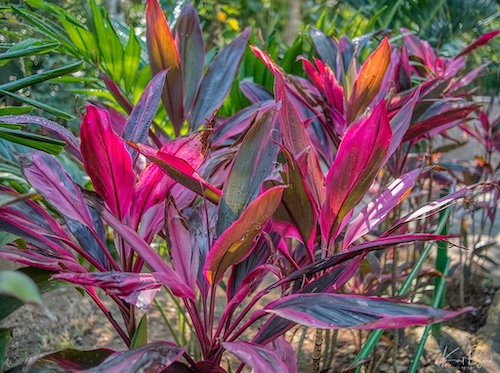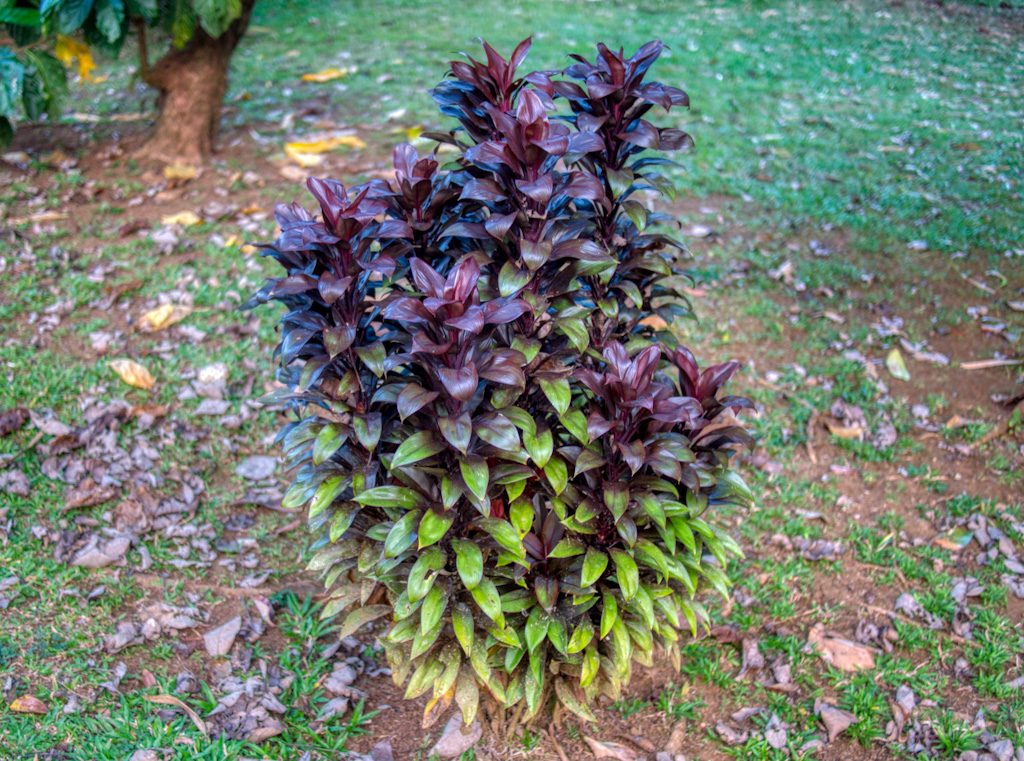 Cordyline fruticosa is an evergreen flowering plant in the family Asparagaceae. The plant is of great cultural importance to the traditional animistic religions of Austronesian and Papuan peoples of the Pacific Islands, New Zealand, Island Southeast Asia, and Papua New Guinea. It is also cultivated for food, traditional medicine, and as an ornamental for its variously colored leaves. It is identified by a wide variety of common names, including ti plant, palm lily, cabbage palm, and good luck plant. Its original native distribution is unknown, but it is believed to be native to the region from east Australasia. Ti is a palm-like plant growing up to 10–13 feet (3–4 m) tall with an attractive fan-like and spirally arranged cluster of broadly elongated leaves at the tip of the slender trunk. There are many cultivars as you can see above. This is another of those quintessential tropical plants.
I hope you enjoyed the post, the trees in Costa Rica are beautiful.
References:
Global and Neotropical Distribution and Diversity of Oak (genus Quercus) and Oak Forests
How The Palm Tree Came To Southern California