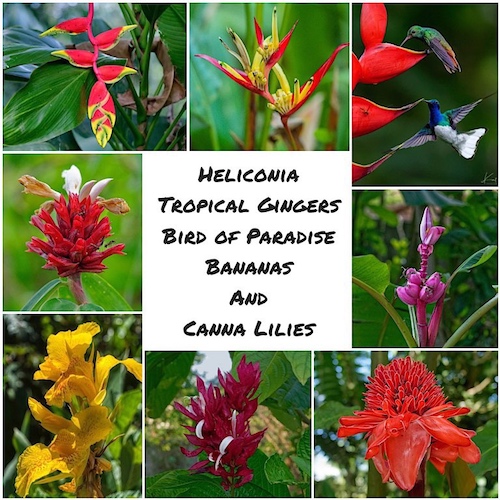 Heliconia is named after Mount Helicon, the seat of the Muses, nine goddesses of the arts and sciences in Greek mythology. These are known as lobster-claw, wild plantain, flowering banana, parrot flower, macaw flower and false bird-of-paradise. Heliconiaceae in the order Zingiberales, are among the showiest plants of the Neotropical rainforest and represent a spectacular co-evolutionary adaptive radiation with hummingbirds. Heliconia originated in the Late Eocene (39 million years ago), making it the oldest known clade of hummingbird-pollinated plants. Heliconia, the only genus of the family Heliconiaceae, has approximately 120 species in tropical America and the western Pacific. These large perennial herbs have brightly colored bracts and bear numerous flowers. Heliconia are typically pollinated by hummingbirds. Most of the 194 known species are native to the tropical Americas, but a few are indigenous to certain islands of the western Pacific and Maluku. Several species are widely cultivated as ornamentals, and a few are naturalized in Florida, Gambia, Thailand and Costa Rica. The plants have stout, reed-like stems and are related to Tropical Gingers, Bird of Paradise, Bananas and Canna Lilies, whose leaves are all similar. These are all grouped in the order Zingiberales, which includes many familiar plants, and are used as ornamental plants (Bird of Paradise flower, Heliconias, Prayer-Plant, Tropical Gingers), food crops (bananas, plantains, arrowroot), spices and traditional medicines (ginger, cardamom, turmeric, galangal and myoga). I saw a nice selection of these plants when I visited Costa Rica this year and thought it would make an interesting post.
Heliconia (Heliconiaceae)
Heliconia is the only genus in its family, Heliconiaceae, in the order Zingiberales. Its most famous cousins are bananas (Musaceae), gingers (Zingiberaceae), birds of paradise (Strelitziaceae), cannas (Cannaceae) and arrowroot (Marantaceae).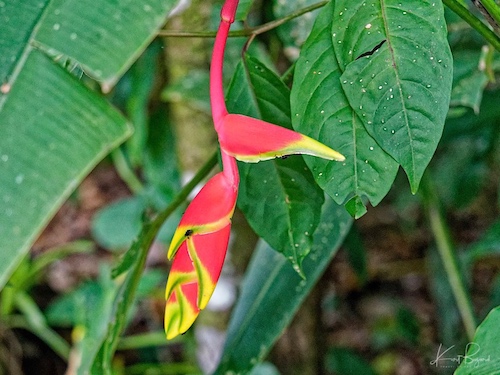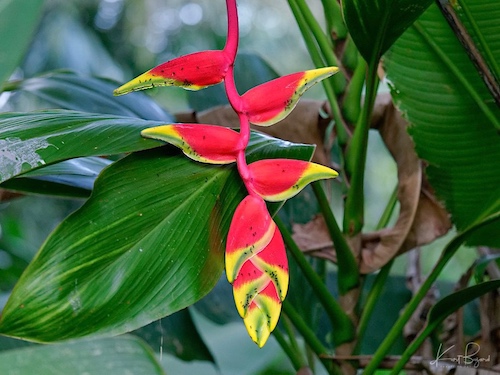 Heliconia rostrata (also known as Hanging Lobster Claw or Parrot Flower) is a perennial native to Peru, Bolivia, Colombia, Costa Rica, and Ecuador, and naturalized in Puerto Rico. Along with the Kantuta flower, Heliconia rostrata, known as patujú, is the national flower of Bolivia. There are three main species of lobster claw: giant, hanging or small lobster claw. The plants grow and propagate from underground rhizomes, which can be broken apart and used to start a new plant. Lobster Claw Plant is a perennial that will arise every year from the rhizomes. New stems will develop after the old plant has flowered, creating a continuous display of the flowers over the years. Freezing temperatures will damage or kill the rhizomes.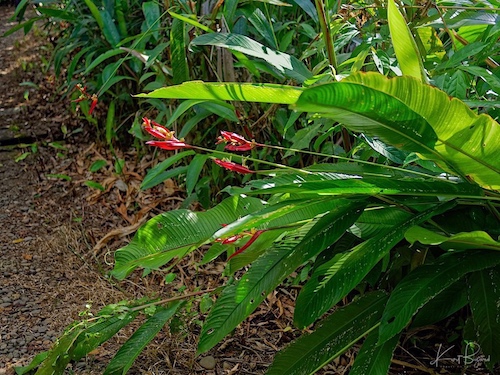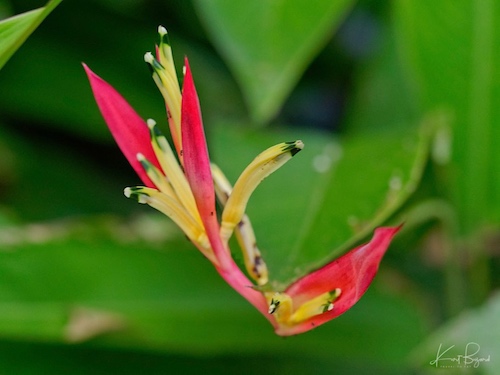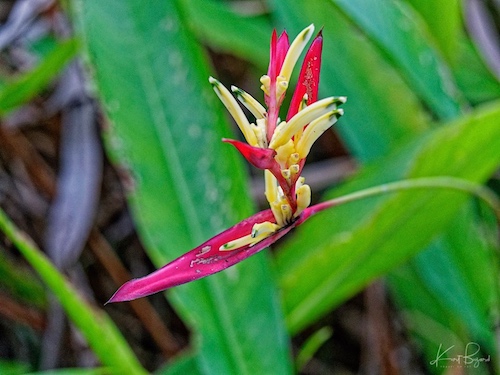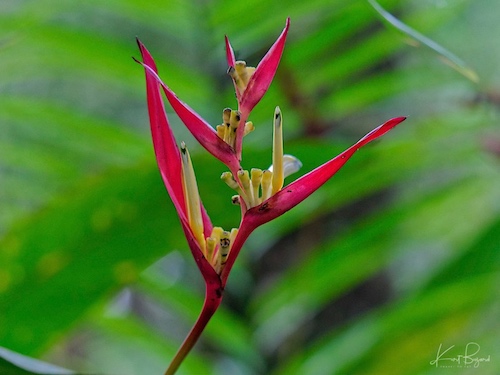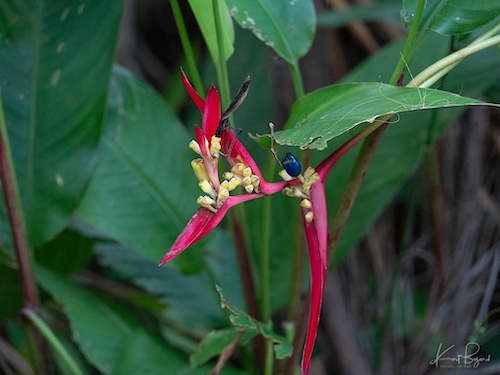 Heliconia psittacorum (Parrot's Beak, Parakeet Flower, Parrot's Flower, Parrot's Plantain, False Bird-of-Paradise) is a perennial herb native to the Caribbean and South America. It is considered native to French Guiana, Guyana, Suriname, Venezuela, Colombia, Bolivia, Brazil, Paraguay, Panama and Trinidad and Tobago. It is reportedly naturalized in Gambia, Thailand, Puerto Rico, Hispaniola, Jamaica and the Lesser Antilles. Heliconia psittacorum varieties form a group of smaller growing Heliconias which rarely exceed 5 feet (1.5 m). Psittacorums have no particular blooming season and produce blooms all year long, usually blooming during the first year after planting. The reddish pointed structures are called bracts. These tough, leathery structures protect the actual flower, which is yellow and quite delicate. The berries turn blue when fertilized. The hermit hummingbird that often visit this flower have curved beaks shaped to fit into the flower.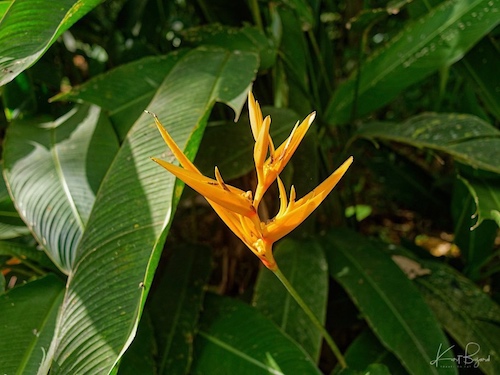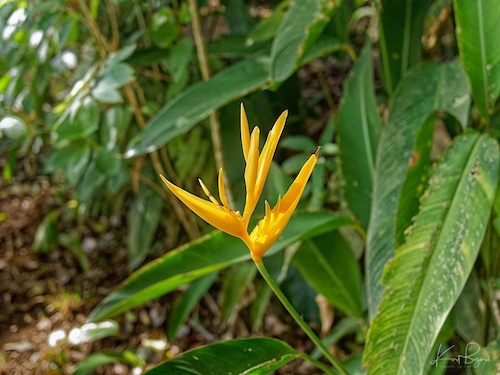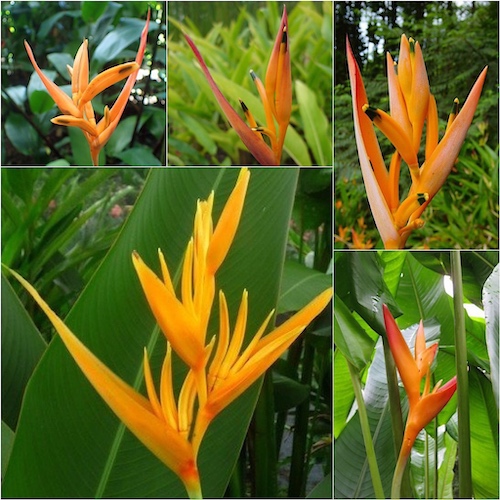 There is a general lack of definitive references regarding not only the 194 separate species of Heliconia but also the cultivars and hybrids. Many photographers mislabel or just describe their photography and stock photography, horticulture venders and even reference articles do the same. This Heliconia Golden Torch is a good example, WikiWand was the only place I could find a photo of Heliconia talamanca but they also labeled a hybrid/cultivar as Heliconia psittacorum (not including the 'Sherbet'). The top-right photo is Heliconia psitticorum 'Sherbet' from the Heliconia Society while the bottom-right photo is Heliconia spathocircinata from CalFlora. My point in all of this is that one needs to be critical of the assignment of unusual cultivars, hybrids or species when it comes to Heliconia. Even here, I could be wrong in assigning Heliconia Golden Torch to these photos, it might well be Heliconia talamanca. I have included a photo of poster from Plant Group Hawaii that nicely summarizes current knowledge of Heliconia at the end of this post but of course it is not inclusive. Even scientists have difficulty differentiating Heliconia as shown in the attached article from Carlos Hugo Avendaño-Arrazate with only 70% success based on selected observations alone.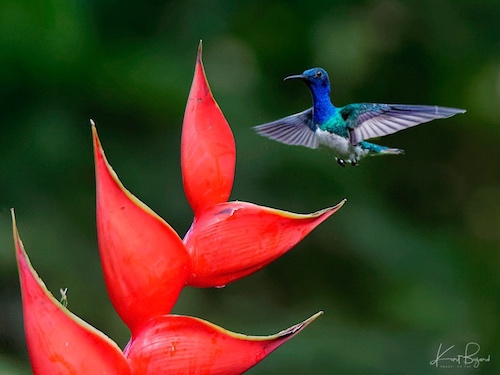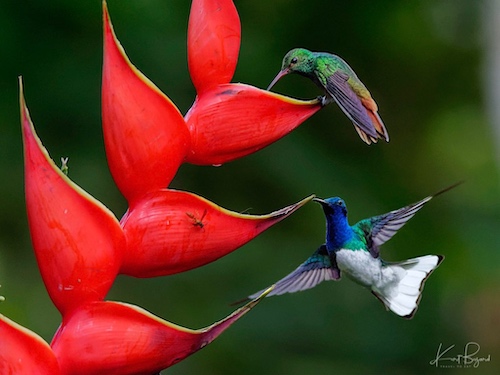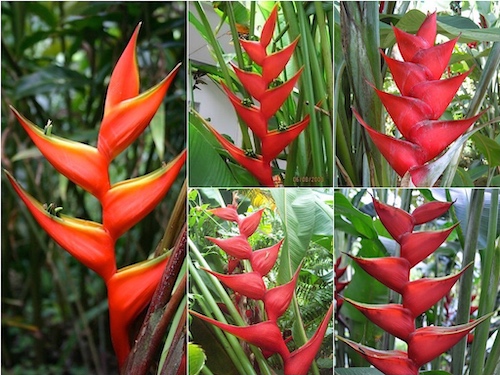 Heliconia lennartiana is native to Panama. It is a dwarf species but is a vigorous grower. As before, this is my best guess at identifying this Heliconia species. This particular Heliconia seemed to be relatively common, I saw it at Dave and Dave's Nature Park and at Laguna del Largarto Lodge. Despite this, I found next to nothing on this species on the internet except for one report from Puerto Rica. There are a number of other possibilities including Heliconia caribaea, Heliconia bihai and Heliconia stricta, any of these could be the correct plant. Dave and Dave's Nature Park responded to my inquiry on Dave's Garden and thought it was Heliconia ortotriche or ortotricha. Heliconia ortotricha usually has a dark green border along the edge of the bracts, so I am not sure about this identification. In any case this was popular with the hummingbirds and bugs, storing water and nectar.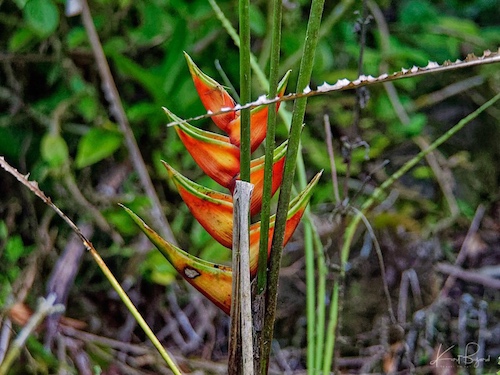 Heliconia wagneriana is a medium sized erect Heliconia, about 6–8 feet tall. It is native to Puerto Rico, Columbia and Central America. It is grown extensively in the tropics as a border plant. A classic Heliconia that produces 5 to 10 upright flowering bracts in the colors of pale yellow with bright pink to red cheeks and a thin green border. This Heliconia's bracts are so large and colorful that they almost hide the flowers altogether, which are tiny and are found inside. It blooms from January through July, with a peak in April and May, which is why its common name is Easter Heliconia.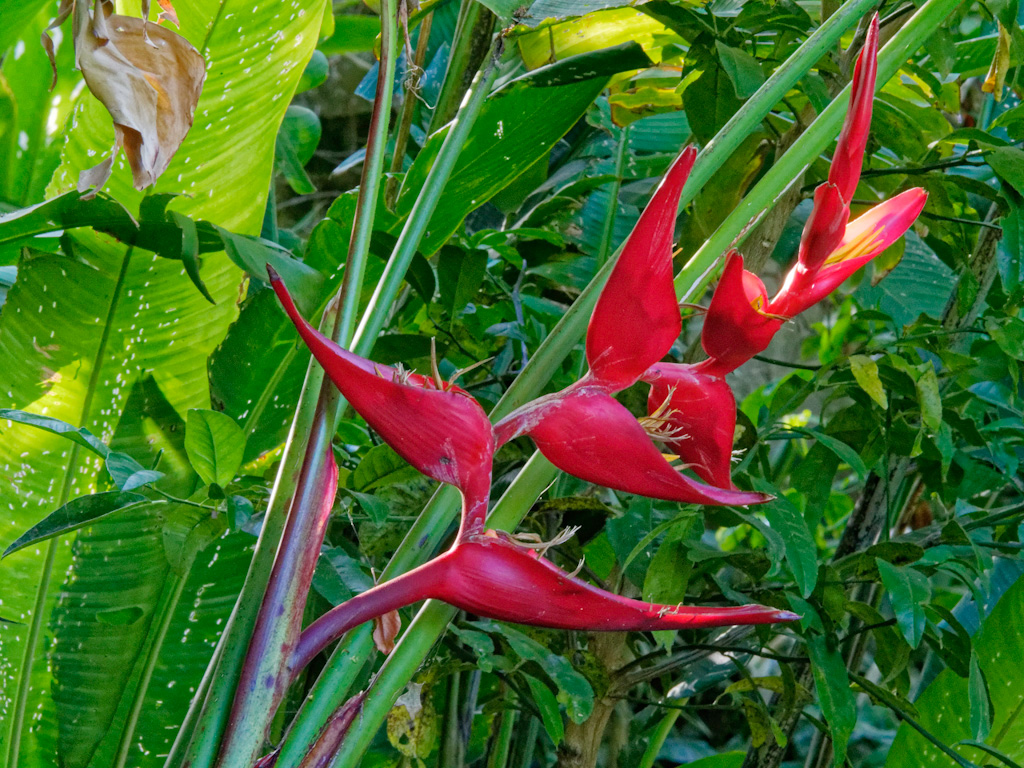 Pedro Ortiz grows from 8-10 feet tall, and produces a stunning large, bright, cherry-red inflorescence that is semi-pendulous with yellow flowers. The 20″-22″ flower stalk starts out as erect, and as it matures, it begins to lean over. It apparently adjusts to cold better than other Heliconia. This is definitely a specialty plant, beautiful to see it in person.
Bananaquit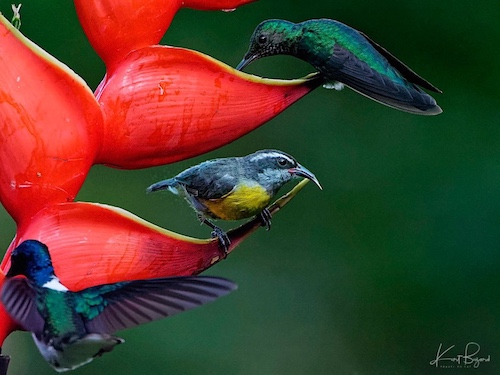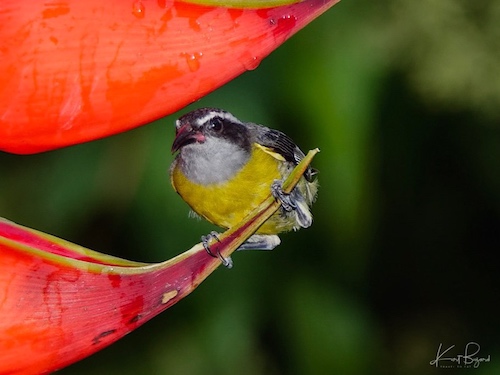 The Bananaquit lives on the mainland from southern Mexico to Argentina, and on most islands of the West Indies except Cuba. It lives in most regions of Costa Rica except those with tropical dry forest (such as Santa Rosa) and those at higher elevations. On the Caribbean slope it is common through lowland and middle elevations; on the Pacific side it may be found in southern lowlands and middle elevations. There are 41 currently recognized subspecies And this is the one from Costa Rica, Coereba flaveola mexicana. The bananaquit has a slender curved bill with a long hairy tongue, adapted to taking nectar from flowers. It sometimes pierces flowers from the side, taking the nectar without pollinating the plant. It also feeds on sweet juices by puncturing fruit with its beak, and will eat small insects on occasion. While feeding, the bananaquit must always perch as it cannot hover like a hummingbird. You can see that is nicely adapted to Heliconia.
Clouded Snake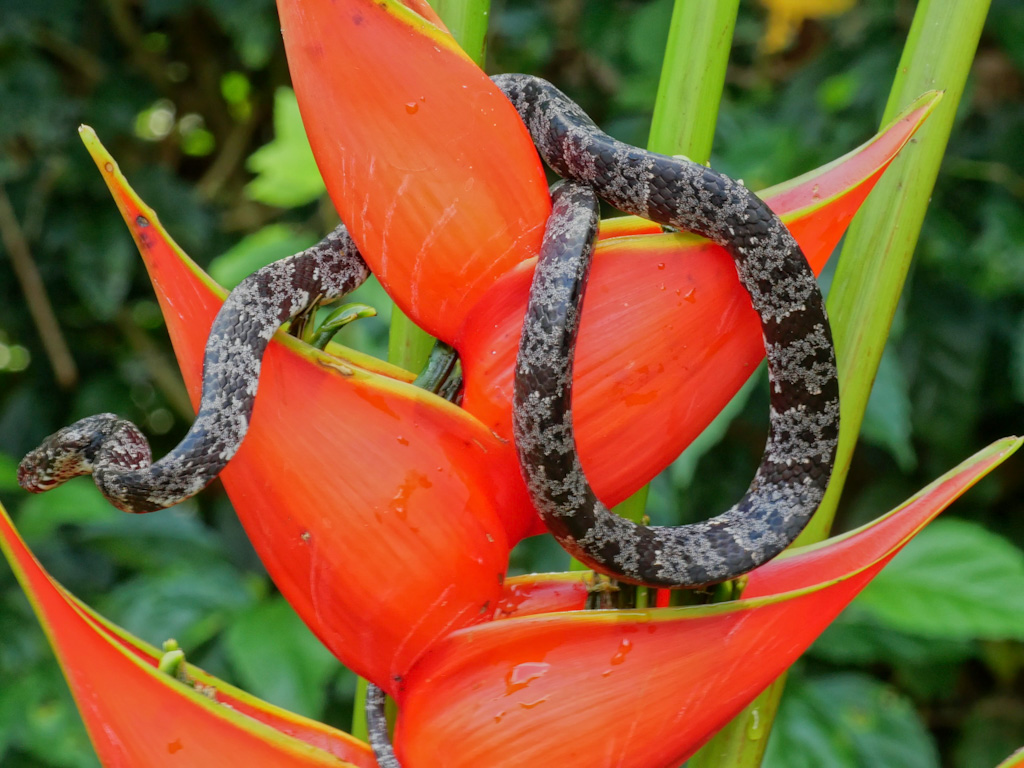 On our last day at Laguna del Lagarto, I had a chance to see this tree snake. He seemed pretty comfortable on the Heliconia. Sibon nebulatus, commonly known as the clouded snake, is a species of small, slender arboreal snake which is found in southern Mexico, Central America, northern South America, Isla Margarita, and Trinidad and Tobago. Sibon nebulatus feeds primarily on snails and slugs and are active nocturnal feeders. Initial attraction to prey is from prey movement in the line of sight followed by scent. The snake proceeds to follow the prey in a straight line with its head elevated and will stop moving when the prey stops moving. Once the anterior end of the slug or snail is located by its movement, the snake strikes for the head from a distance of 0.5-2.0 cm away.
Hermit Hummingbirds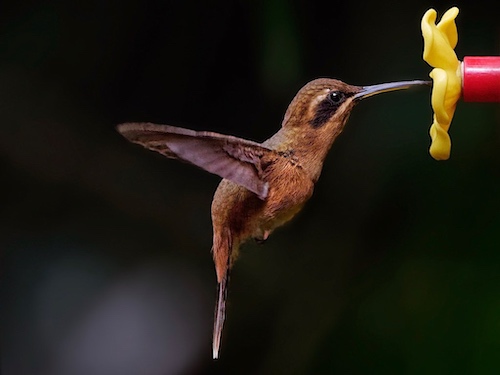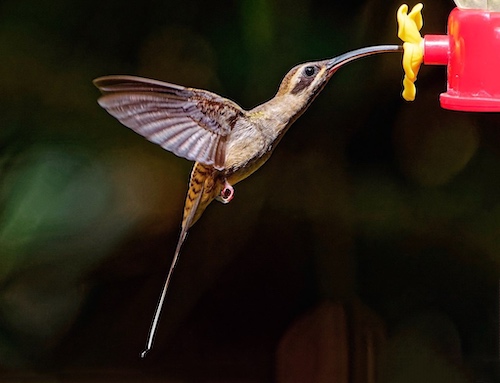 Heliconias are an important food source for forest hummingbirds, especially the hermits (Phathornithinae) and the curved bill of the hermit hummingbirds is thought to have evolved specifically in response to the shapes of Heliconia flowers. The rufous-breasted hermit (Glaucis hirsuta) also use the plant for nesting.
Bats Under Heliconia Leaves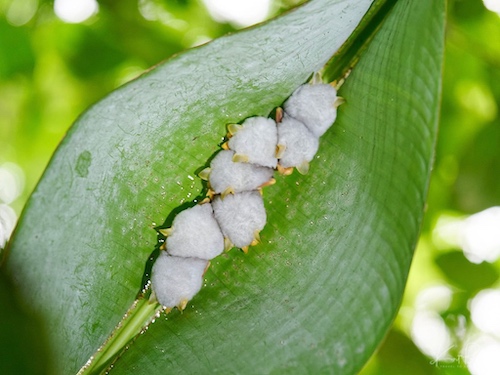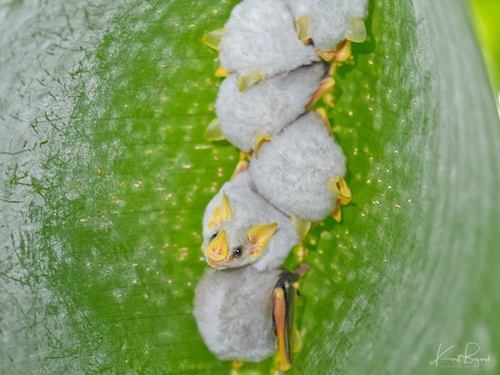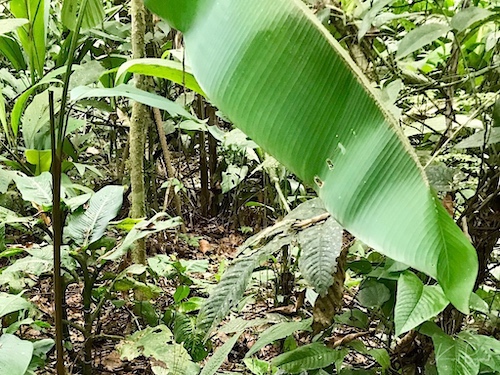 Many bats use Heliconia leaves for shelter. The Honduran white bat, Ectohylla alba, utilizes five species of Heliconia to make diurnal tent-shaped roosts. The bat cuts the side veins of the leaf extending from the midrib, causing the leaf to fold like a tent. Look carefully at the photos above and you can see light coming through next to the midrib. This structure provides the bat with shelter from rain, sun, and predators. In addition, the stems of the Heliconia leaves are not strong enough to carry the weight of typical bat predators, so shaking of the leaf alerts roosting bats to presence of predators.
Tropical Gingers (Zingiberaceae)
Zingiberaceae or the ginger family is a family of flowering plants made up of about 50 genera with a total of about 1600 known species of aromatic perennial herbs with creeping horizontal or tuberous rhizomes distributed throughout tropical Africa, Asia, and the Americas. Many of the family's species are important ornamental, spice, or medicinal plants. Spices include ginger (Zingiber), galangal or Thai ginger (Alpinia galanga and others), melegueta pepper (Aframomum melegueta), myoga (Zingiber mioga), korarima (Aframomum corrorima), turmeric (Curcuma), and cardamom (Amomum, Elettaria).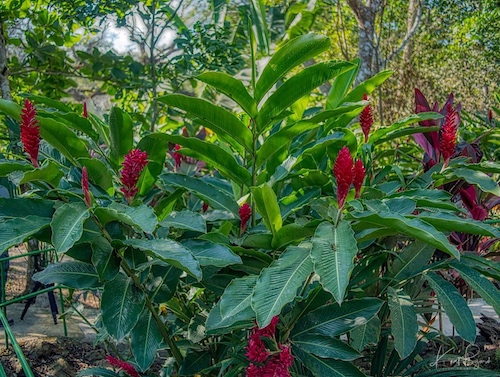 Alpinia purpurata, red ginger, also called ostrich plume and pink cone ginger, are native Malaysian plants with showy flowers on long brightly colored red bracts. They look like the bloom, but the true flower is the small white flower on top. It has two cultivars called Jungle King and Jungle Queen. Red ginger is a tropical plant that does best in areas where the temperatures do not drop below 60 degrees F. Ideally, the plant prefers temperatures consistently above 70 degrees.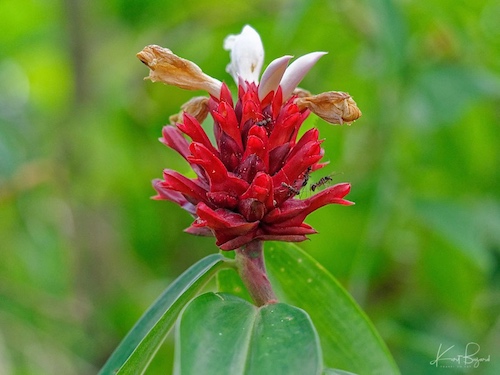 Cheilocostus speciosus, or crêpe ginger, is native to southeast Asia and surrounding regions, from India to China to Queensland. It is especially common on the Greater Sunda Islands in Indonesia. It is also reportedly naturalized in Mauritius, Réunion, Fiji, Hawaii, Costa Rica, Belize, Melanesia, Micronesia, and the West Indies. It is widely cultivated as an ornamental.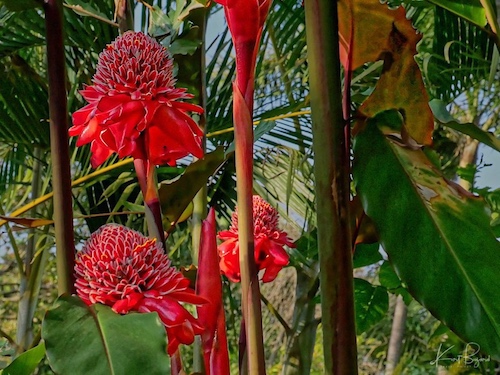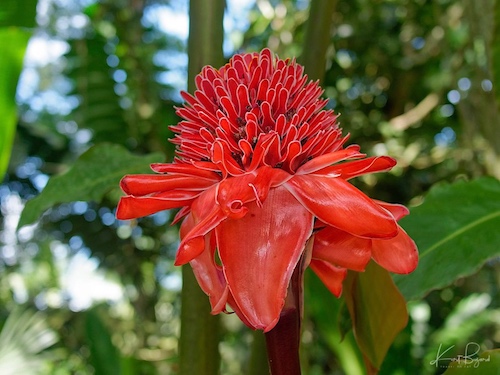 Etlingera elatior is also known as torch ginger, ginger flower, red ginger lily, torch lily, wild ginger, combrang, bunga kantan, Philippine wax flower, Indonesian tall ginger, boca de dragón, rose de porcelaine, and porcelain rose. It is native to Southeast Asia from India to China to Queensland. It is grown throughout tropical South East Asia for the spectacular flowers and for food. The stems of the flowers are chopped up and added to curries or soups with rice noodles. It grows in areas where temperatures fall no lower than 50 F (10 C) at night. Torch ginger thrives in full to partial shade and, like most Etlingera, prefers disturbed areas.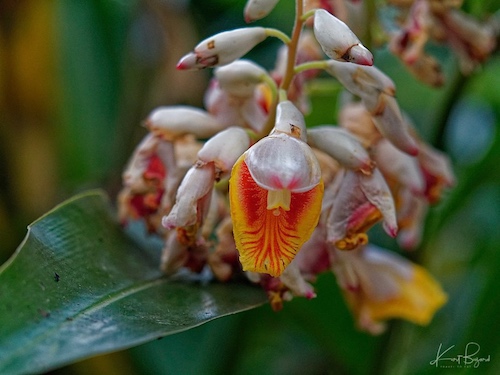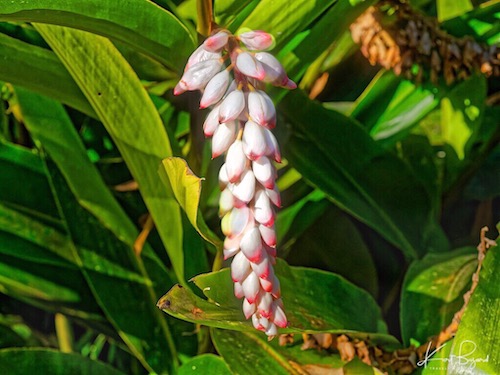 Shell Ginger can grow up to 8 to 10 ft (2.4 to 3.0 m) tall and is native to east Asia. They are grown as ornamentals and their leaves are used in cuisine and traditional medicine. They are also sometimes known as the pink porcelain lily, variegated ginger or butterfly ginger. Alpinia zerumbet is best grown in rich medium-wet, to wet well drained soils in full sun to part shade. Afternoon shade in hot summer climates, is recommended. Indoors, the plant must have bright light and humid conditions. Flowering rarely occurs before the second year. Statistically, Okinawan natives who consume a traditional diet that includes shell ginger have a very long life expectancy. Recent research has investigated its effects on human longevity and the phytochemicals that may be responsible. There have also been investigations into its antioxidant and hypotensive properties which may be responsible for its effectiveness in traditional medicine.
Bird of Paradise (Strelitziaceae)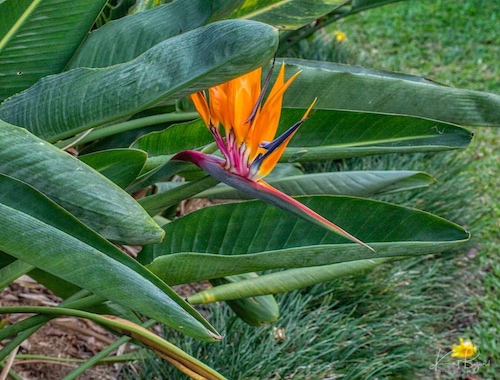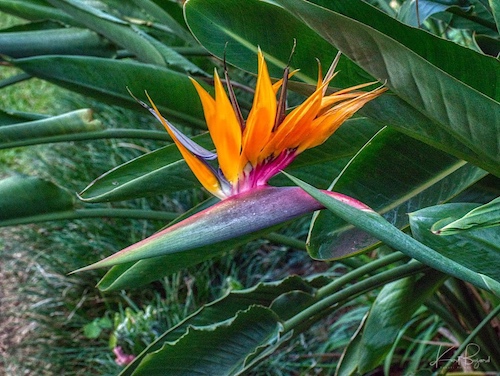 Strelitzia is a genus of five species of perennial plants, native to South Africa. Strelitzia reginae, also known as crane flower derives its name from the unusual flowers, which resemble brightly colored birds in flight. The plant needs warm temperatures and plenty of sunshine to produce the characteristic blooms. They are hardy in United States Department of Agriculture zones 9 to 11, but cooler regions can use them in containers outdoors in summer and move them inside as cooler temps arrive. Note the similarity in the leaves to other plants in the order Zingiberales.
Bananas (Musaceae)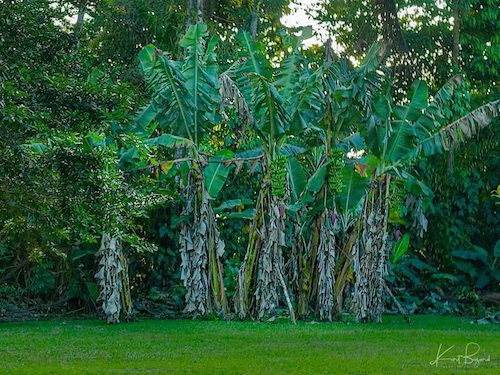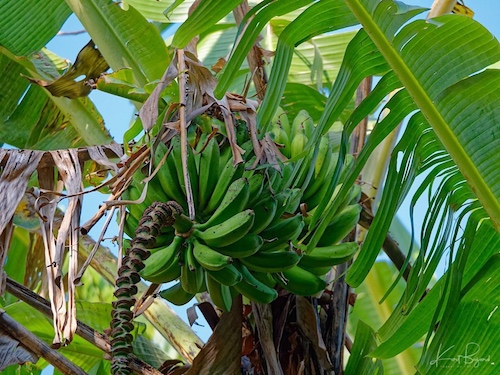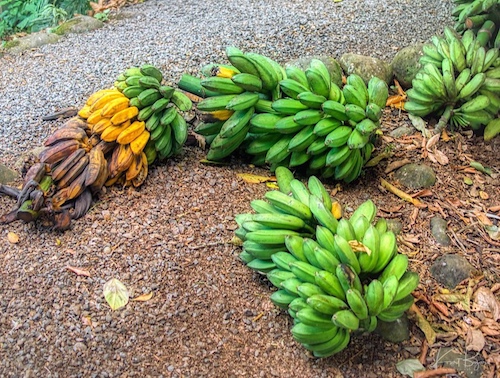 Bananas were originally found in South East Asia, mainly in India. They were brought west by Arab conquerors in 327 B.C. and moved from Asia Minor to Africa and finally carried to the New World by the first explorers and missionaries to the Caribbean. Bananas were introduced to Costa Rica in the 1890s by American entrepreneur Keith Minor. Minor started the first commercial banana plantation in Costa Rica in 1872, and began exporting bananas to the United States. In Costa Rica, the most important commercial cultivars are Gran Enano and Valery. Grand Nain bananas (also spelled Grande Naine) are banana cultivars of Musa acuminata. It is one of the most commonly cultivated bananas and a source of commercial Cavendish bananas. It is also known as the Chiquita banana because it is the main product of Chiquita Brands International. Cavendish and Brazilians are the two major groups of dessert bananas. The Cavendish group includes 'Williams', 'Valery', 'Hamakua', 'Grand Nain', and 'Chinese' varieties. Linnaeus originally classified bananas into two species based only on their uses as food: Musa paradisiaca for plantains and Musa sapientum for dessert bananas. Both are now known to be hybrids between the species Musa acuminata (A genome) and Musa balbisiana (B genome). The earlier published name, Musa × paradisiaca, is now used as the scientific name for all such hybrids. Most modern plantains are sterile triploids belonging to the AAB Group, sometimes known as the "Plantain group". Cuadrados, are the most common local variety of banana, well suited to Guanacaste. Shorter and fatter than the plantains cultivated for the market (hence squares or cuadrados), they grow quickly and require very little care.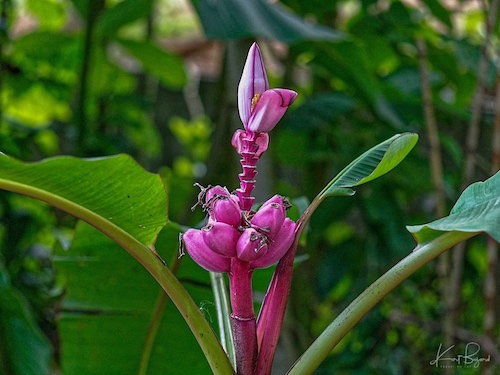 Musa velutina, the hairy banana or pink banana, is a species of seeded banana. These plants are originally from Assam and the eastern Himalayas. They are also cultivated in greenhouses and places like Australia. Its fruits are 3 in (8 cm) long, pink, and fuzzy. They are borne on erect flower stalks with a pink inflorescence. Musa velutina flowers at a young age, doing so within a year. The fruits peel back when ripe. It is often grown as an ornamental plant, but has soft, sweet flesh that can be eaten. The seeds are quite hard and can chip a tooth.
Canna (Cannaceae)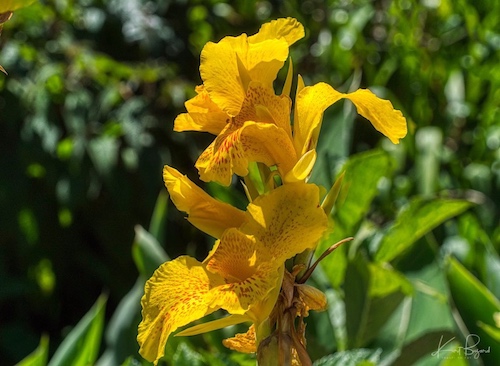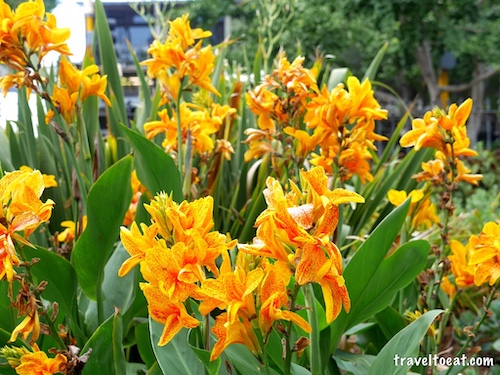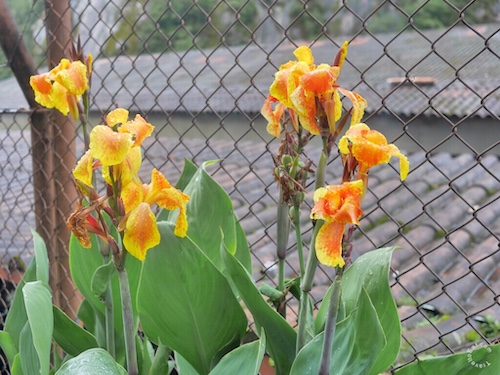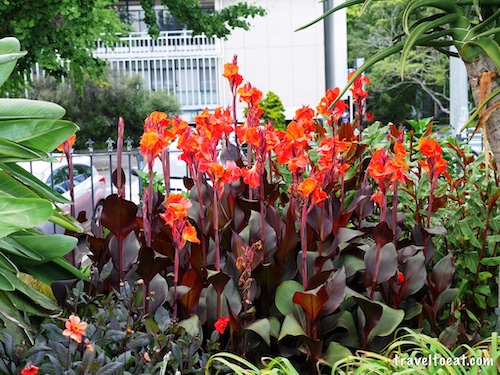 Canna (or Canna Lily, although not a true lily) is a genus of 10 species of flowering plants. The closest living relations to Cannas are the other plant families of the order Zingiberales as we discussed above, that is the Zingiberaceae (gingers), Musaceae (bananas), Marantaceae (arrowroot), Heliconiaceae (heliconia) and Strelitziaceae (bird of paradise). Canna indica, commonly called achira in Latin America, has been cultivated by Native Americans in tropical America for thousands of years and was one of the earliest domesticated plants in the Americas. The starchy root is edible. The first species of Canna introduced to Europe was Canna indica L., which was imported from the East Indies, though the species originated from the Americas. Much later, in 1658, Willem Piso made reference to another species which is Canna angustifolia L. (later reclassified as Canna glauca L). Without exception, all Canna species that have been introduced into Europe can be traced back to the Americas, and it can be asserted with confidence that Canna is solely an American genus.
Arrowroot (Marantaceae)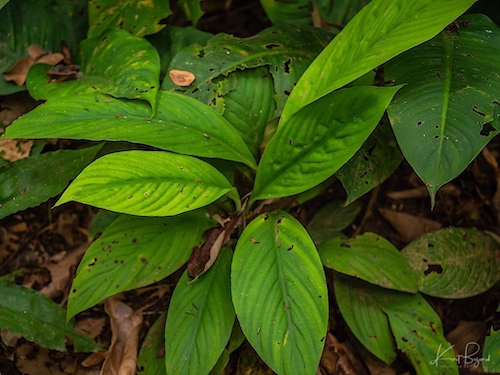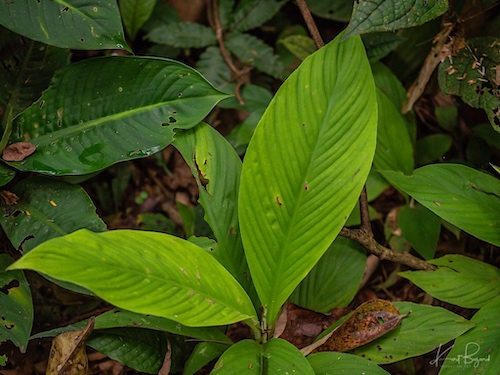 Maranta arundinacea, also known as arrowroot, maranta, West Indian arrowroot, obedience plant, Bermuda arrowroot, araru, ararao or hulankeeriya, is a large, perennial herb found in rainforest habitats. I found it growing wild in a remnant of rainforest near Flores, Guápiles on the Atlantic side of Costa Rica. Arrowroot was one of the earliest plants to be domesticated for food in northern South America, with evidence of exploitation or cultivation of the plant dating back to 8200 BCE. The arrowroot plant probably originated in the Amazon rainforest of north-western Brazil and neighboring countries. The edible part of the plant is the underground rhizome. When you grind the root into a fine powder, you get a high quality edible starch. This highly digestible starch is used in pastries, biscuits and baked goods, and is preferred to flour for thickening soups, sauces and gravies. Unlike flour, it does not add a mealy taste. Twin clusters of small white flowers bloom about 90 days after planting. The plant rarely produces seed and reproduction is typically by planting part of a rhizome with a bud. Rhizomes are ready for harvesting 10–12 months after planting as leaves of the plant begin to wilt and die. This plant is also part of the order Zingiberales as are the other plants in this post. I was not going to include it since there were no flowers but it is an important food crop both in history and even today.
I hope you enjoyed the post, Heliconia and their relatives are challenging to name but unique and strikingly beautiful.
References:
Heliconia Planting and Descriptions
Heliconia Collection at the Fairfiled Tropical Botanical Garden
Heliconia at the Hawaii Tropical Botanical Garden
Heliconia spathocircinata, CalFlora
Heliconia acuminata 'Balisier'
The phylogeny of Heliconia (Heliconiaceae) and the evolution of floral presentation
Morphological Characterization in Wild Species of Heliconias (Heliconia spp) in Mexico
How to grow Heliconia, brightest tropical flower (Puerto Rica)
Arrowroot in Ancient Mesoamerica