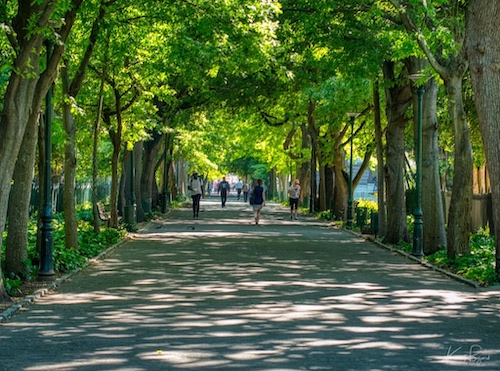 The Company's Garden is the oldest garden in South Africa, a park and heritage site located in central Cape Town. The garden was originally created in the 1650s by the region's first European settlers and provided fertile ground to grow fresh produce to replenish ships rounding the Cape. It is watered from the Molteno Dam, which uses water from the springs on the lower slopes of Table Mountain. The Dutch East India Company established the garden in Cape Town for the purpose of providing fresh vegetables to the settlement as well as passing ships. Master gardener and free burgher Hendrik Boom prepared the first ground for sowing of seed on the 29th of April 1652. The settlers sowed different kinds of seeds and kept record thereof each day. Through trial and error they managed to compile a calendar which they used for the sowing and harvesting throughout the year. At first they grew salad herbs, peas, large beans, radish, beet, spinach, wheat, cabbage, asparagus and turnips among others. By 1653 the garden allowed the settlers to become self sustainable throughout the year.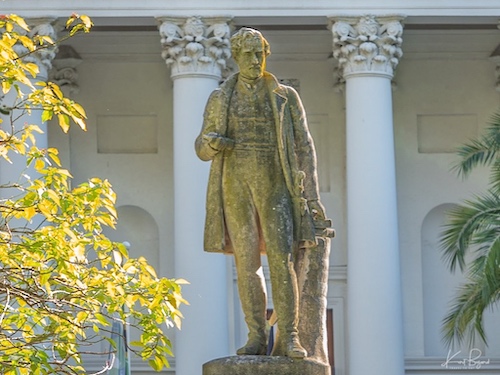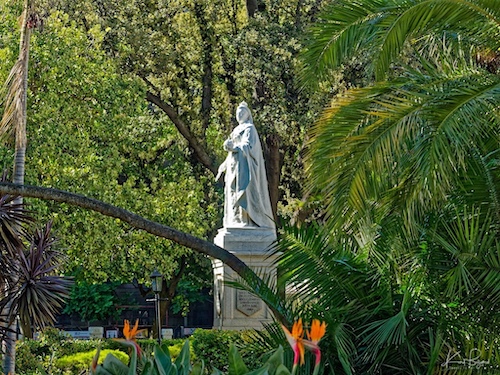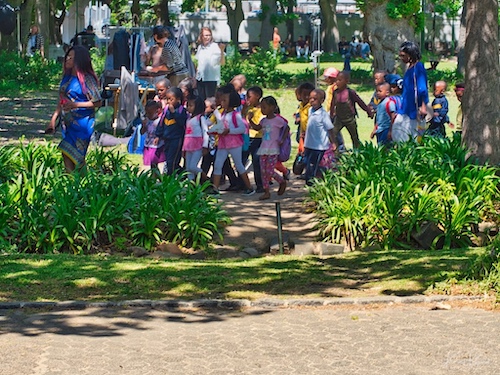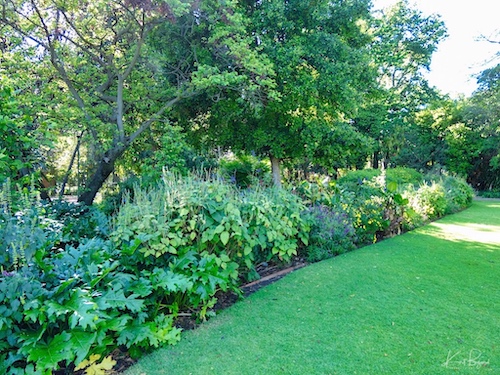 As the settlement grew, additional farming land was prepared at Rondebosch in 1656. By 1658 nearly every garden plant of Europe and India was already cultivated in the garden, though potatoes and maize were not yet introduced. During the 17th century the garden was made famous by writers of various nationalities, claiming that visitors who had seen the most celebrated gardens of Europe and India were agreed that nowhere else in the world was so great a variety of trees and shrubs of vegetables and flowers to be met with together. The garden superintendent and Botanist Hendrik Bernard Oldenland compiled a herbarium which was sent to the Netherlands after his sudden death. In 1770 the 'Catalogue of Plants' was found in possession of Professor Burmann of Amsterdam. Burmann (1706–1779) was professor of botany and director of the Botanical garden in Amsterdam and a close friend of Linneaus. Both worked together on the "Catalogi duo plantarum Africanarum".
Rocket Pincushion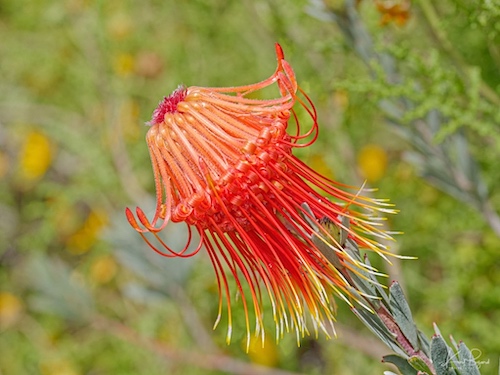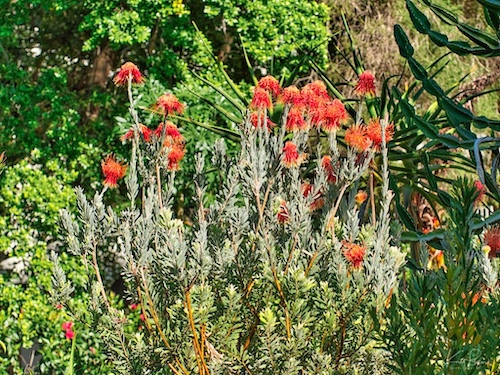 Leucospermum reflexum is a large rounded shrub that is assigned to the family Proteaceae. It grows from a single trunk and its branches are covered in smooth grey bark. It has small elliptic to inverted lance-shaped greyish leaves of only 1–2.2 inches (2–5½ cm) long. The more or less elliptic, simple leaves are covered with dense grey hairs. The heads consist of mostly dark orange (rarely pale yellow) flowers, from which long, identically colored styles emerge, which are directed straight down during flowering. It is called rocket pincushion or skyrocket leucospermum in English and perdekop (horse head) in Afrikaans. The common name of rocket pincushion is very apt because these downward bent styles look like the fiery tail of a rocket trailing behind it. For the same reason, the Afrikaans name perdekop is a good one as the mature flower head looks like a horse's head with its mane blowing back in the wind. It flowers from the end of August to December. It is an endemic species that can only be found in the southwest of South Africa.
Leucospermum cordifolium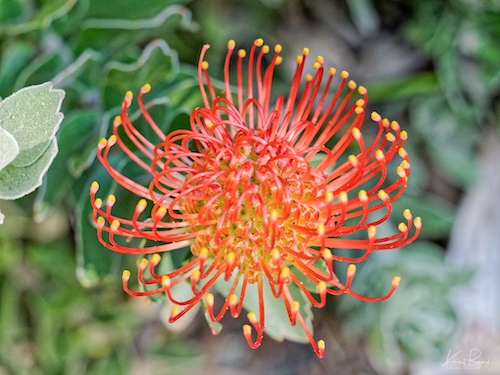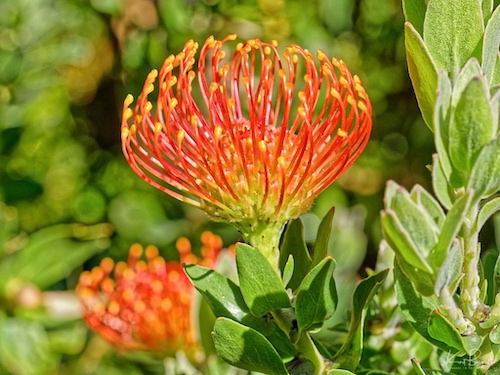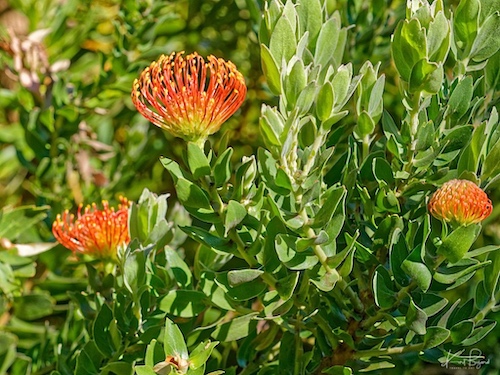 From the middle of July to the end of November groups of Leucospermum cordifolium shrubs provide vivid splashed of orange and red in the Fynbos. Visitors from all over the world may recognise the flowers from flower arrangements they have seen in their own country. Leucospermum cordifolium is an upright, evergreen shrub in the Protaceae family, native to South Africa and Zimbabwe. Like proteas, it has a globe-shaped pincushion-type flowers in red and yellow. Its common name is ornamental pincushion in English and bobbejaanklou in Afrikaans. It flowers between the middle of July and the end of November. It naturally occurs near the south coast of the Western Cape province of South Africa. Varieties and hybrids of this species are used as cut flower and garden plants. The ornamental pincushion can be distinguished by its spreading habit, with horizontal branches, leaf-shapes that range from oblong with teeth in the earliest growth of the season to entire and oval closer to the flower heads. In the early hours of the morning the abundant nectar flow attracts the Cape Sugarbird, three species of Sunbird, and a variety of small insects, which in turn attract the insectivorous birds that consume the small insects. The flowers are not self-pollinating and depend on the Protea Scarab Beetles and the birds for pollination.
Leucospermum cuneiforme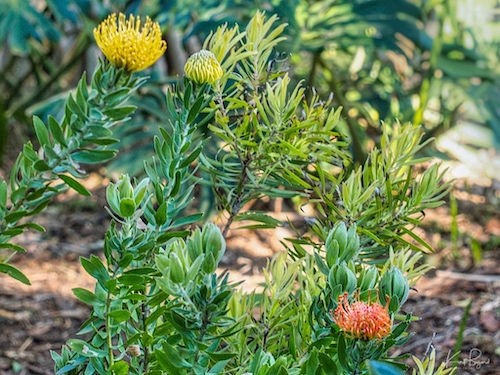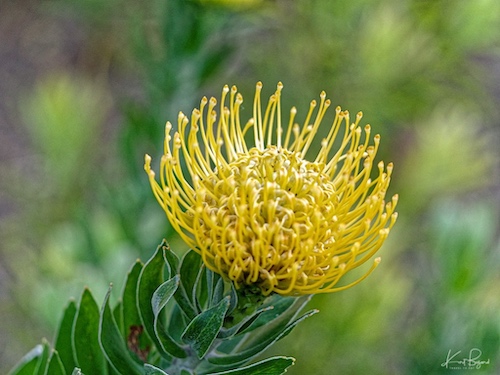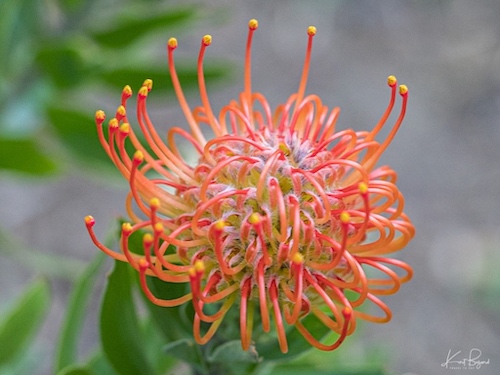 Leucospermum cuneiforme is an upright evergreen shrub with many pustules growing on the lower branches, wedge-shaped leaves, and oval, initially yellow flower heads that later turn orange, with long styles sticking far beyond the perianths, jointly giving the impression of a pincushion. It is called wart-stemmed pincushion in English and luisiesbos (lice-bush) in Afrikaans. The species is common in the southern mountains of South Africa. Leucospermum cuneiforme produces its showy pincushions from spring into late summer, bringing welcome color to the fynbos garden in mid summer. Most often the flowerheads are bright yellow aging to orange but there is some variation: some have orange styles, or red-tipped styles, some age a reddish orange, some a soft orange, some a pinkish orange, many have an attractive bicoloured (yellow and orange) effect. Flowerheads are produced at any time of the year, but the main flowering season is spring to late summer (August-February). Seeds are released about two months after flowering. They are small nuts covered by a soft, fleshy, white skin.
Leucospermum vestitum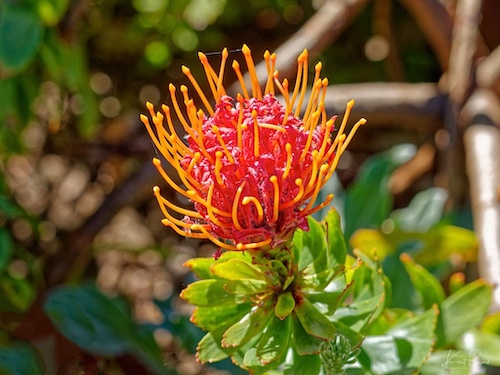 Leucospermum vestitum is a very showy pincushion with greyish foliage and large, two-toned flowerheads that start out bright orange and mature to brilliant crimson, in spring and early summer. It has greyish, seated, oblong, 2–3 inch long leaves with two to four teeth near the tip and large, showy two-toned flower heads that are bright orange at first and age to brilliant crimson. From the center of the perianth emerge long styles, higher up bending towards the center of the head, that jointly give the impression of a pincushion. It is called silky-haired pincushion in English and bergluisie in Afrikaans. It can be found in the Western Cape province of South Africa, and flowers from July until January, peaking October and November.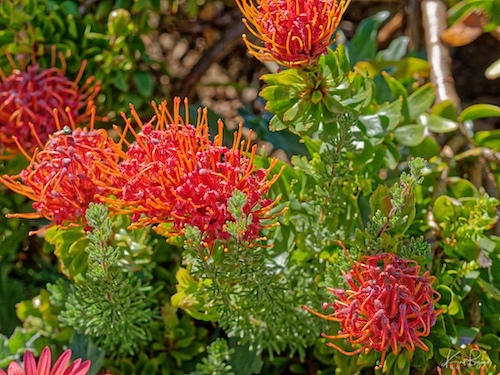 Joseph Martin, a French plant collector who was gardener at the Jardin du Roi in Paris, probably was the first to collect the silky-haired pincushion in 1788. Although there seems to be no written record of his Cape visit en route to Mauritius, the collection of Proteaceae he sent to Jean-Baptiste Lamarck makes it evident that he at least reached the upper Breede River Valley between Worcester and Tulbagh. Lamarck was the first to describe the silky-haired pincushion in 1792 and he named it Protea vestita. Based on another specimen, English botanist Richard Anthony Salisbury described Leucadendrum ellipticum in 1809 in a book titled On the cultivation of the plants belonging to the natural order of Proteeae, that was officially authored by Joseph Knight. Robert Brown published a paper in 1810 called On the natural order of plants called Proteaceae, wherein he created the genus Leucospermum and described Leucospermum medium. In 1816, Jean Louis Marie Poiret, who lumped species that had been assigned to new genera like Leucadendrum and Leucospermum. He assigned Brown's species to Protea, made the new combination Protea media. Edwin Percy Phillips in 1910 distinguished Leucospermum incisum. John Patrick Rourke considered all of these names synonymous, and made created Leucospermum vestitum in 1967 combining the earliest species name with the correct genus name.
Grey-Leaved Euryops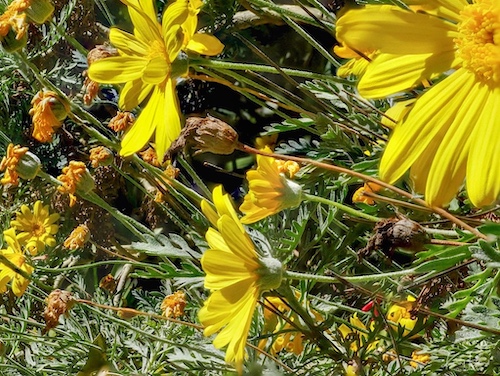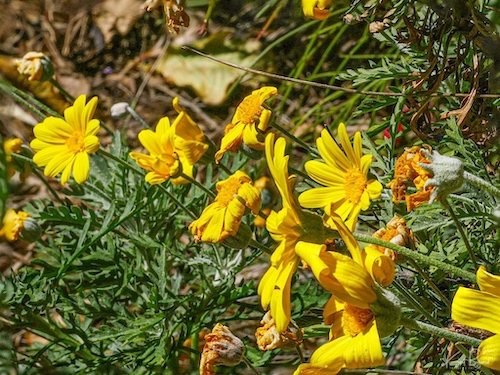 Euryops pectinatus, the grey-leaved euryops, is a species of flowering plant in the family Asteraceae, endemic to rocky, sandstone slopes in the Western Cape of South Africa (from Gifberg to the Cape Peninsula). It is a colorful, easily grown shrub from the winter rainfall region of South Africa. It is a medium-sized shrub which grows up to 4.5 feet (1.5 m) with bright-yellow daisy-like flowers and soft grey to green leaves. Flowering nearly all year round, peaking in springtime, it is an excellent garden plant, versatile, easy to grow and fairly low maintenance.
Dyckia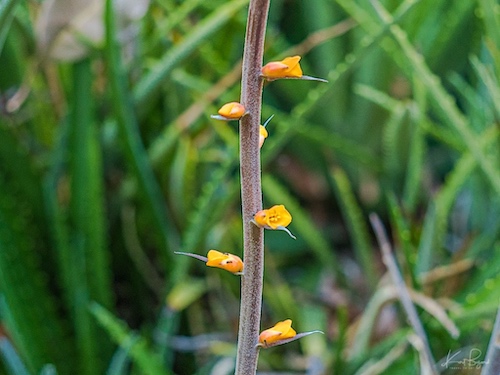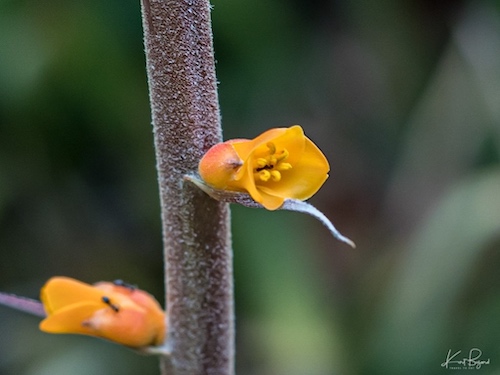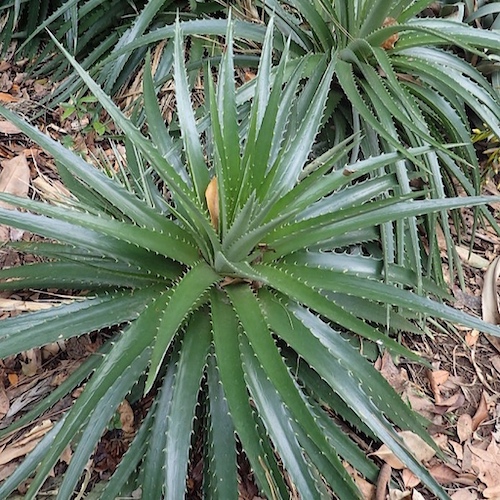 Dyckia are striking rare plants native to central South America, primarily Brazil. Dyckia plants are related to the pineapple and easy to grow. These are terrestrial bromeliads that are often confused with Agaves thanks to their barbed rosettes and ability to withstand drought so well (most bromeliads are not exactly drought tolerant, but these terrestrials, along with Puyas and Deuterocohnias, are quite well adapted to desert life, and usually planted in the cactus and succulent sections of botanical gardens that can support such species).
Bush Lily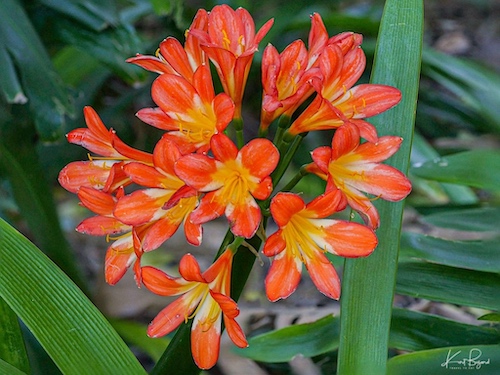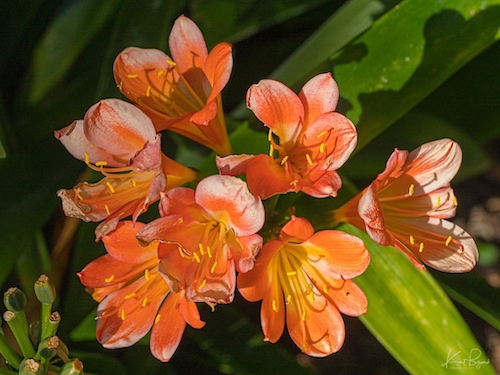 Clivia miniata, the Natal lily or bush lily is a species of flowering plant in the genus Clivia of the family Amaryllidaceae, native to woodland habitats in South Africa (Eastern Cape, Mpumalanga and KwaZulu-Natal provinces) as well as in Swaziland. Given suitable conditions it grows into large clumps and is surprisingly water wise. Clivia belongs to the lily family (Liliaceae), the same family as amaryllis, and it's easy to see why. Each colorful clivia flower, which vary in color from pale orange to red, is similar in shape to but much smaller than, the larger trumpet-shaped amaryllis flower. Unlike the amaryllis, clivias retain their foliage year round.
Peruvian Lily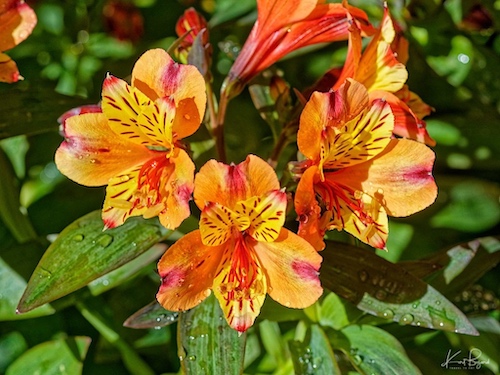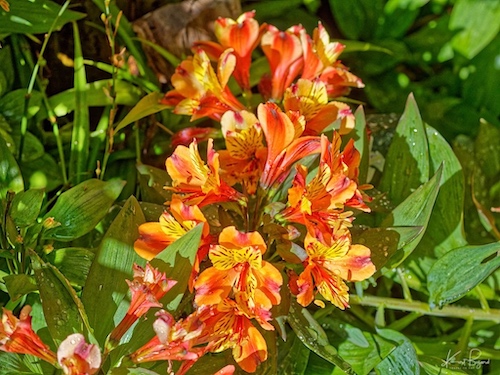 Alstroemeria, commonly called the Peruvian Lily or Lily of the Incas, is a genus of flowering plants in the family Alstroemeriaceae. They are all native to South America although some have become naturalized in the United States, Mexico, Australia, New Zealand, Madeira and the Canary Islands. Almost all of the species are restricted to one of two distinct centers of diversity, one in central Chile, the other in eastern Brazil. Many hybrids and at least 190 cultivars have been developed, featuring many different markings and colors, including white, yellow, orange, apricot, pink, red, purple, and lavender. The most popular and showy hybrids commonly grown today result from crosses between species from Chile (winter-growing) with species from Brazil (summer-growing). This strategy has overcome the florists' problem of seasonal dormancy and resulted in plants that are evergreen, or nearly so, and flower for most of the year. This breeding work derives mainly from trials that began in the United States in the 1980s, the main breeding is done nowadays by companies in the Netherlands.
Red Hot Poker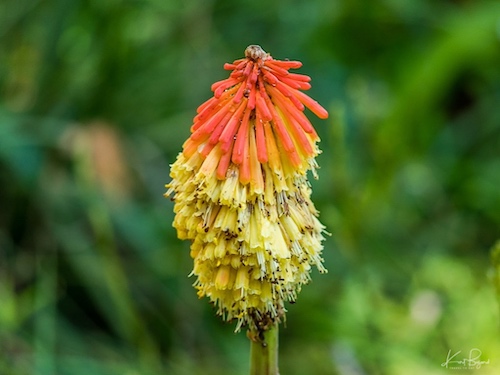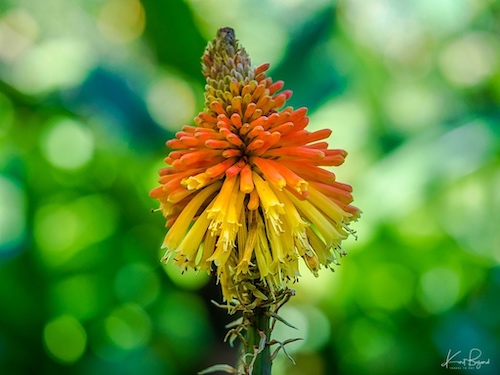 Kniphofia uvaria is a species of flowering plant in the family Asphodelaceae, also known as tritomea, torch lily, or red hot poker, due to the shape and color of its inflorescence. It originates from the Cape Province of South Africa, and has been introduced into many parts of the world partly because it is so attractive to bees, butterflies and hummingbirds. The leaves are reminiscent of a lily, and the flowerhead can reach up to 5 feet (1.52 m) in height. There are many varieties of torch lily, and they bloom at different times during the growing season. The flowers are red, orange, and yellow. There are about 73 described species of Kniphofia and many cultivars. The genus Kniphofia is named after Johann Hieronymus Kniphof, an 18th-century German physician and botanist.
Cape or Bitter Aloe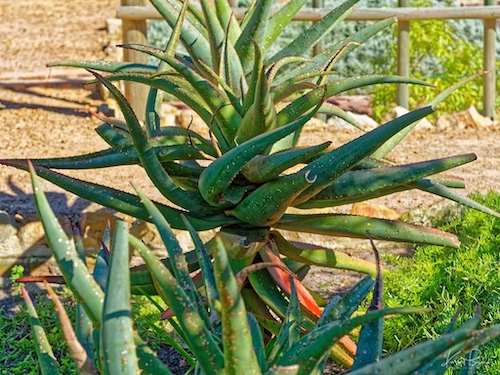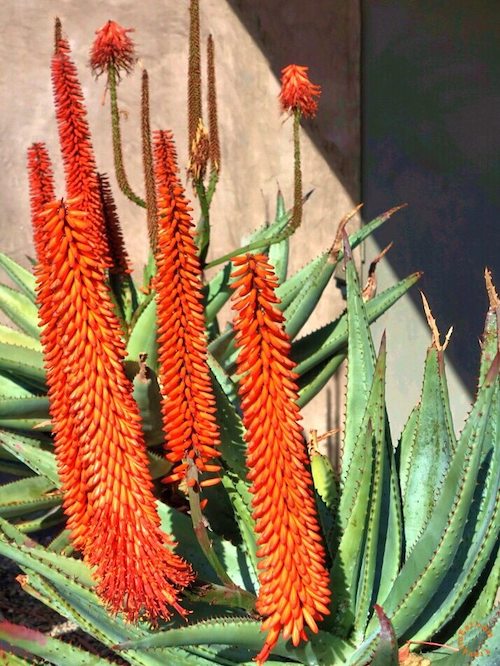 Aloe ferox, commonly known as bitter aloe, is a species of flowering plant in the family Asphodelaceae. This woody tall single-stemmed aloe has a wide distribution, ranging over 1000 km from the south western Cape through to southern KwaZulu-Natal. It is also found in the south eastern corner of the Free State and southern Lesotho. Flowering occurs between May and August, but in colder parts of the country this may be delayed until September. This aloe forms a beautiful display and attracts many bird species such as sunbirds, weavers, glossy starlings and mousebirds. Insects also visit the flowers which in turn brings yet more birds to your garden. In natural areas, monkeys and baboons will raid the aloes for nectar. Visitors usually leave adorned with large patches of pollen, often causing confusion amongst birdwatchers. It is one of several Aloe species used to make bitter aloes, a purgative medication. The gel-like flesh from the inside of the leaves is used in cosmetic products and is reported to have wound-healing properties.
Mexican Shrimp Plant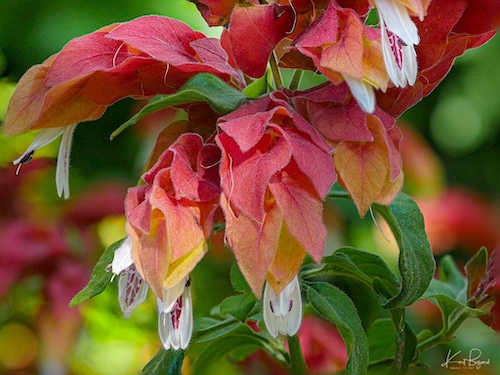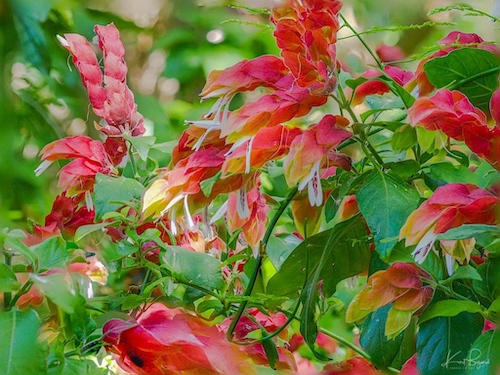 Justicia brandegeeana, the Mexican shrimp plant, shrimp plant or false hop, is an evergreen shrub in the genus Justicia of the acanthus family Acanthaceae, native to Mexico. The flowers emerge from bracts that form off the stems. The bracts start out white, but with more sun exposure they turn anywhere from pale pink to deep salmon. A chain of bracts will continue to grow until it falls off in most cases; thus the chains can grow anywhere from a few inches to nearly a foot in length. Flowers emerge from the bracts; usually they are long, thin, and white with speckled maroon throats. Blooming continues for months once it has begun, then halts for a short period before starting again. The flowers attract hummingbirds and butterflies. Pollination is usually by hummingbirds.
Fire Heath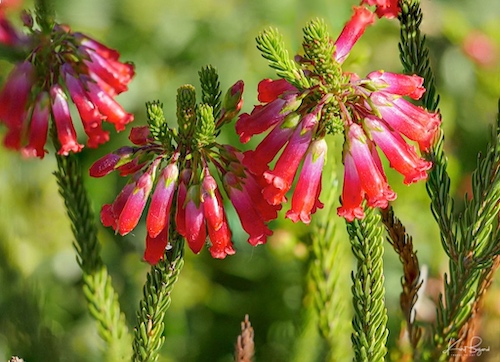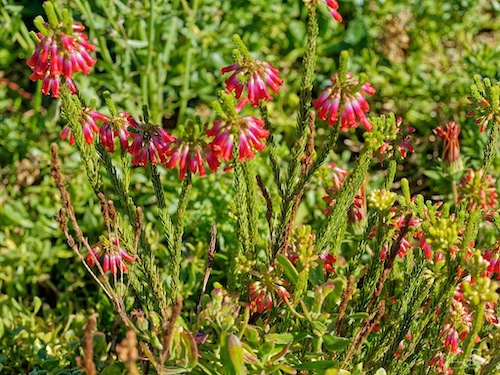 Erica cerinthoides is an extremely variable species over its distribution range. It varies particularly in growth habit, hairiness of leaves and flowers, and in size, shape and colour of its flowers. Most of the differences are found in the summer rainfall region resulting in the recognition of a separate variety Erica cerinthoides var. barbertona, which has short flower tubes. A white flowering form has also been recorded from Mpumalanga and Swaziland. Erica cerinthoides is one of a few ericas that resprout from a woody rootstock after fire. The result is the production of clusters of lovely inflated, tubular, red flowers at the ends of short branches, which form neat, colourful shrublets in a bleak burnt landscape. Fire thus keeps this plant in good healthy condition and will stimulate flowering at any time of the year. After a number of years they will grow taller, become straggly and produce fewer flowers.
Hibiscus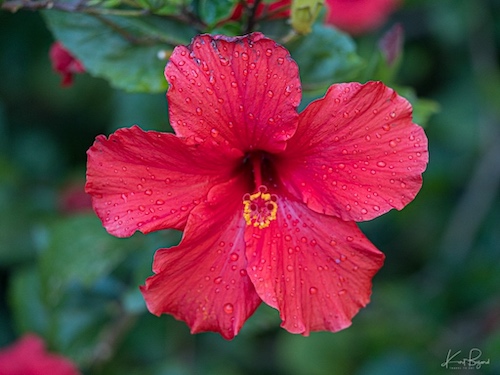 Hibiscus rosa-sinensis, known colloquially as Chinese hibiscus, China rose, Hawaiian hibiscus, Rose Mallow and Shoeblackplant, is a species of tropical hibiscus, a flowering plant in the Hibisceae tribe of the family Malvaceae. It is widely cultivated in tropical and subtropical regions, but is not known in the wild, so that its native distribution is uncertain. An origin in some part of tropical Asia is likely. It is widely grown as an ornamental plant in the tropics and subtropics. The flowers of Hibiscus rosa-sinensis are edible and are used in salads in the Pacific Islands. The flower is additionally used in hair care as a preparation. Traditional uses in China have been to make a black shoe-polish from its flower petals, or to make a woman's black hair dye. Hibiscus is commonly consumed in teas made from its flowers, leaves, and roots. In addition to casual consumption, Hibiscus is also used as an herbal medicine to treat hypertension, cholesterol production, and cancer progression.
Red-Edged Pig's Ear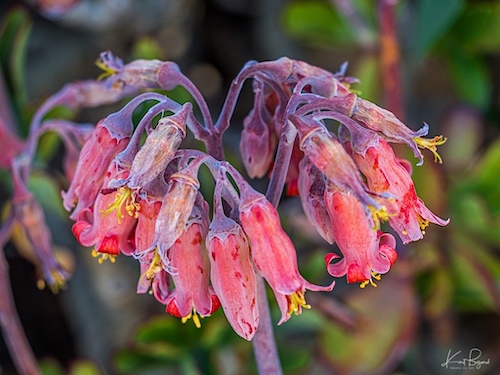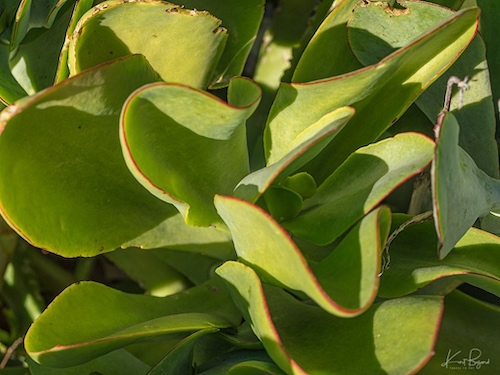 Cotyledon orbiculata is widespread throughout South Africa, but is usually confined to rocky outcrops in grassland, fynbos and karoo regions. Black frost will damage the flowers if planted in an unprotected spot, but the plant itself will tolerate moderate frosts. The genus Cotyledon consists of 10 species in South Africa. Other cotyledons recommended include C. woodii, C. velutina and C. papillaris. Another species, C. tomentosa, is a woolly shrublet with pretty red and yellow, bell-shaped flowers. This is a well-known medicinal plant. The fleshy part of the leaf is applied by many South Africans to soften and remove hard corns and warts. The Southern Sotho use a dried leaf as a protective charm for an orphan child and as a plaything. In the Willowmore District, the heated leaf is used as a poultice for boils and other accessible inflammations, earache in particular. The warmed juice can be used as drops for toothache or earache.
Arum Lily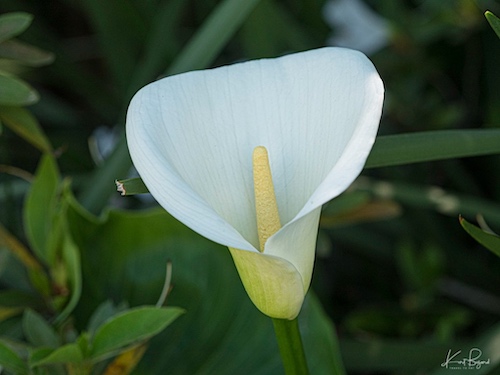 Zantedeschia is a genus of eight species of perennial, flowering plants in the family Araceae, native to southern Africa from South Africa north to Malawi. The genus has been introduced on all continents except Antarctica. Zantedeschia aethiopica, commonly known as calla lily and arum lily, is native to southern Africa in Lesotho, South Africa, and Swaziland. Members of the genus are neither true lilies of Liliaceae, true Arums, nor true Callas (related genera in Araceae). The inflorescences are large and are produced in spring, summer and autumn, with a pure white spathe up to 10 inches (25 cm) and a light yellow spadix up to 3.5 inches (90 mm) long. The spadix produces a faint, sweet fragrance.
Bridal Wreath Spirea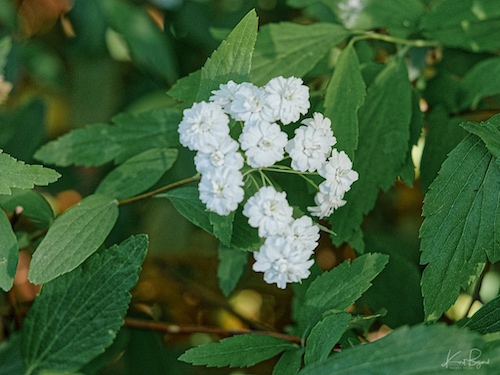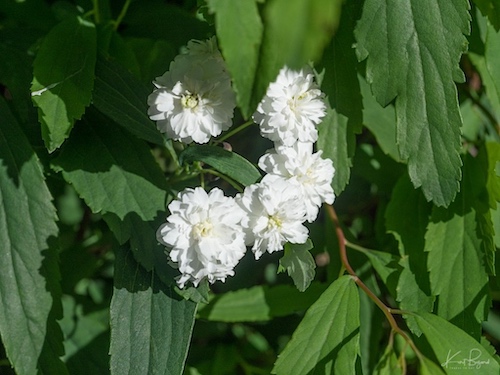 Spiraea cantoniensis, also known as, Reeve's spiraea, Bridalwreath spirea, Double White May, Cape May or May Bush, is a species of plant native to China, belonging to the family Rosaceae. An ornamental plant featured in gardens, it is a shrub growing up to 5 feet (1.5 m) tall with frothy, pompom-like clusters of snow-white flowers borne along arching branches that bloom in May in its native country, hence its common name. Spiraea is a generic name derives from the word Greek speiraira, "a plant used for wreaths or garlands" of Speira, "spiral or twisted".
Madeira Double White Marguerite Daisy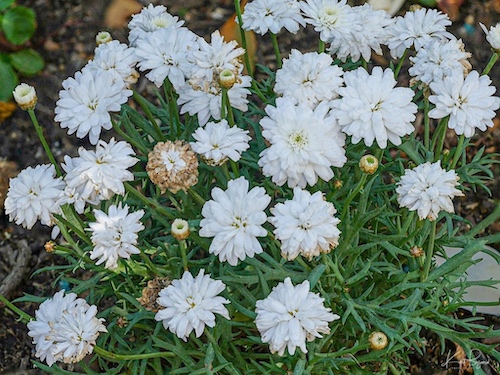 Argyranthemum frutescens, known as Paris daisy, marguerite or marguerite daisy, is a perennial plant known for its flowers. Like the other Argyranthemum species, the shrub marguerite originates from the Canary Islands. On El Hierro, La Gomera, Tenerife and Gran Canaria it is common in the coastal regions, on La Palma very rare. Overall, it is the most common species of the genus in the Canary Islands. The plant often grows in succulent shrubbery on well-drained, poor soils in full sun, preferably also near the coast at altitudes up to 700 meters. The cultivars produce prolific single or double-flowered daisy-like flowers in shades of white, pink, yellow and purple throughout summer. Madeira Double White Marguerite Daisy has masses of beautiful white daisy flowers with buttery yellow eyes at the ends of the stems from early summer to early fall, which are most effective when planted in groupings.
African Lily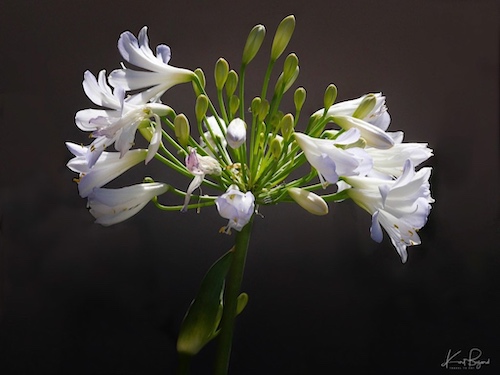 Agapanthus africanus (African lily) is a flowering plant from the genus Agapanthus native to the area of Cape of Good Hope in South Africa. Agapanthus Africanus Alba commonly known as the African Lily, is a beautiful, clump forming, evergreen perennial with tall, erect stems bearing wonderful pure white umbels of trumpet shaped flowers, produced in late summer in the Northern
Hemisphere, providing color when other plants begin to fall back. It was introduced to Europe at the close of the 17th century. Unlike the more common Agapanthus praecox, it is not generally suitable as a garden plant, and will not tolerate extended freezing temperatures.
African Iris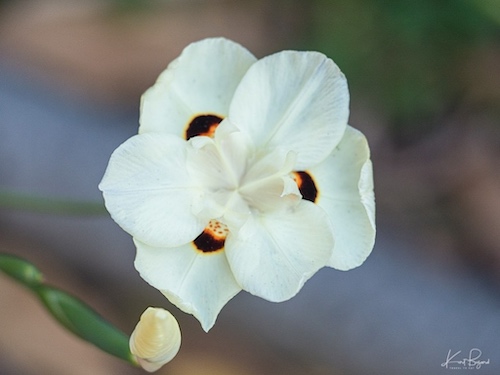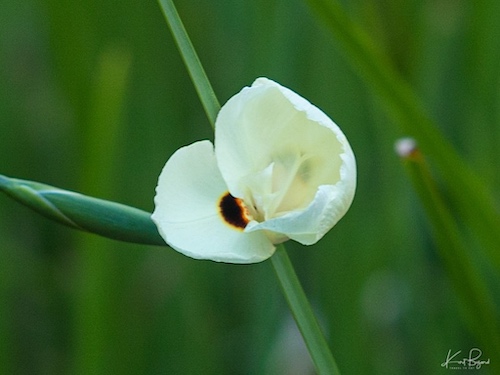 Dietes bicolor (variously known as African iris or fortnight lily) is a clump-forming rhizomatous perennial plant with long sword-like pale-green leaves, growing from multiple fans at the base of the clump. This species belongs to the Iridaceae (Iris) family. It can form large clumps if left undisturbed for years. This species is common in horticulture in its native South Africa, where it is often used in public gardens, beautification of commercial premises and along roadsides. The blooms are yellow with three dark purple spots, each surrounded by an orange outline, and are followed by a capsule that may bend the flower stalks to the ground. The leaves of Dietes bicolor are narrower than those of Dietes grandiflora and Dietes iridioides, and tend to arch more.
Fairy Iris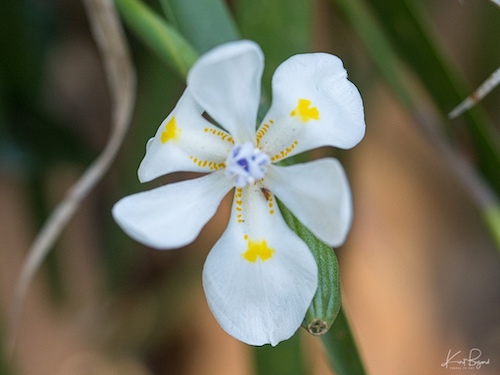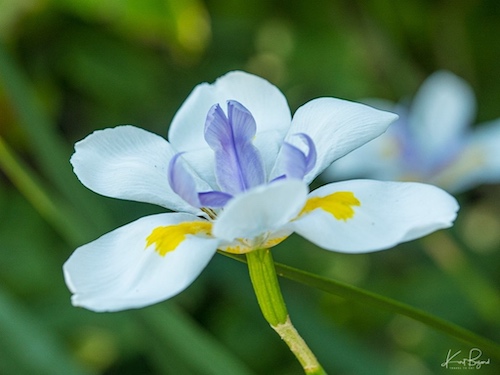 Dietes grandiflora, the large wild iris or fairy iris, is a rhizomatous perennial plant of the family Iridaceae with long, rigid, sword-like green leaves. This species flowers year round in coastal southern California gardens with each individual flower lasting only a few days (up to 3) but quickly followed by new flowers. Flushes of flowers appear on roughly a two week cycle, which has given this plant its common name of fortnight lily. Unlike Dietes iridioides which has fleeting flowers, each flower lasts several days. Dietes grandiflora has been long grown in the nursery trades as Dietes iridioides or Dietes vegeta, but this common large fortnight lily can be identified by examining the flower tepals and style arms; Dietes grandiflora has brown markings on the inner tepals and dark violet style arms while Dietes iridioides lacks markings on the inner tepals, with just the yellow spots on the outer tepals, and has pale violet style arms. As noted in "The Color Encyclopedia of Cape Bulbs" by John Manning, Peter Goldblatt and Dee Snijman (Timber Press, 2002) "the two species are often confused in the literature and the name Dietes vegeta has been misapplied to both plants in the past."
Van Staden's Daisy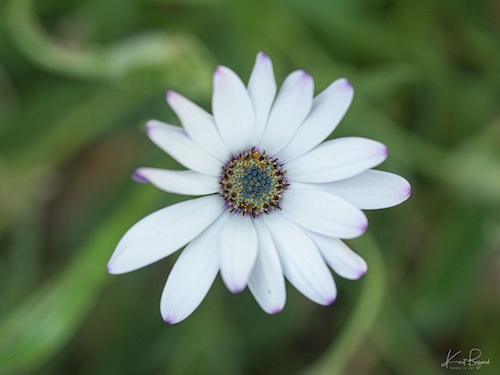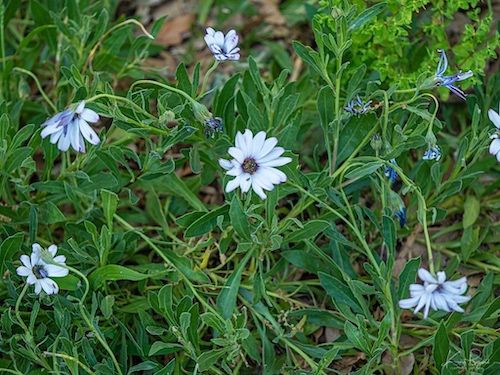 Dimorphotheca ecklonis, also known as Cape marguerite, Van Staden's river daisy, Sundays river daisy, white daisy bush, blue-and-white daisy bush, star of the veldt is an ornamental plant that is native to South Africa. The species is endemic to a small area in the Humansdorp, Port Elizabeth, and Uitenhage districts in the Eastern Cape. It is now regarded as a weed in parts of Australia, particularly Victoria and Western Australia. The large flowerheads (capitula) are up to 3 inches (80 mm) in diameter and borne singly or in a few groups at the end of the branches on short stalks (peduncles). The ray florets are long, bright white on the upper side and light blue or violet on the lower side. The disc florets are dark blue or purple.
Blue Felicia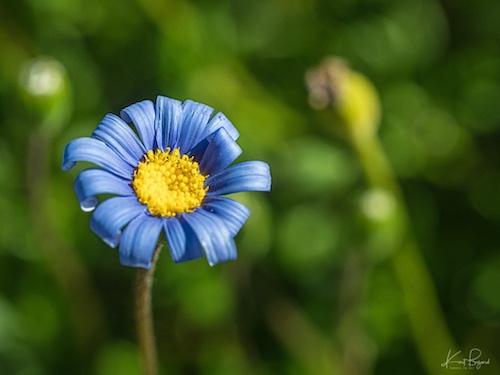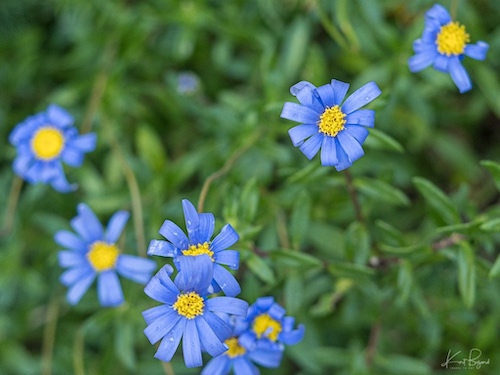 Felicia amelloides catches the eye wherever it is planted, with its striking sky-blue and sunny yellow flowerheads, held well above the leaves. South Africa has been blessed with many felicias, several of which make excellent garden plants. This species is one of the best. Apart from its beauty, this plant has many advantages. It is hardy, fast growing, long-flowering and long-lived, more or less frost- and wind-resistant, needs only moderate water and little care. It is also readily available from nurseries. Inside the green involucre (bracts surrounding base of flowerhead), each head has about 12 female ray florets that are sky-blue, or rarely mauve (white-flowered and pale blue forms are now offered by nurseries). In the center there are numerous yellow, bisexual disc florets. Felicias are visited by bees and small flying insects, such as wasps and butterflies. They also have tiny thrips running around the florets, usually carrying pollen grains on their bodies. Sometimes a bright yellow 'flower' spider lurks in the daisy's center, matching the disc florets perfectly. The blue felicia bush was introduced to Europe in the middle of the eighteenth century and hence was one of the first species used in horticulture.
Anise-Scented Sage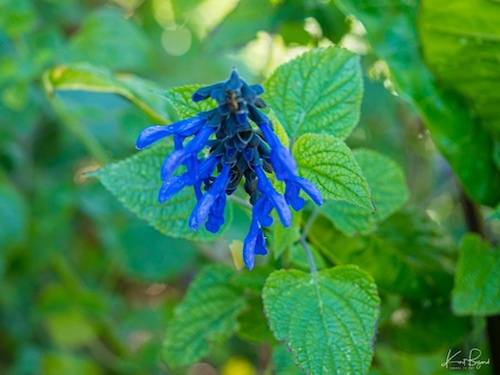 Salvia guaranitica, the anise-scented sage or hummingbird sage, is a species of Salvia native to a wide area of South America, including Brazil, Paraguay, Uruguay, and Argentina. It is a perennial subshrub growing 4 to 5 ft (1.2 to 1.5 m) tall, spreading into a large patch through its spreading roots. The leaves are ovate, 4 cm (1.6 in) long and nearly as wide, with a fresh mint green color, and an anise scent when crushed.
Coast Scabious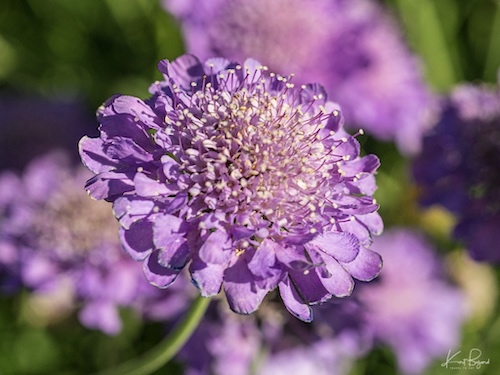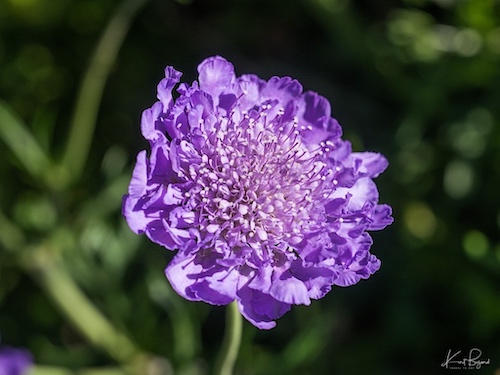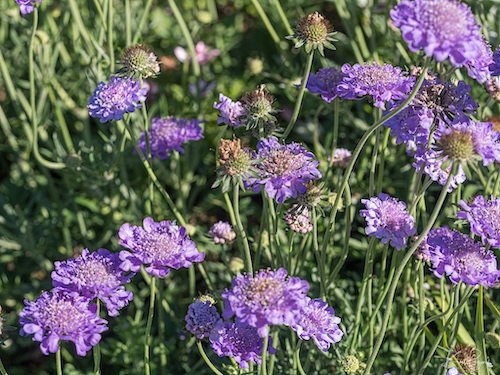 Scabiosa incisa with its large mauve or white flowers must be one of South Africa's prettiest indigenous perennials. Growing in small clumps, the flowerheads stand above the foliage, gently moving with the slightest breeze. On warm summer days, butterflies are often seen on the flowers, for Scabiosa is one of their favourite nectar plants. In South Africa the widely distributed Scabiosa columbaria (or rice flower) is the wild scabious most commonly used as a traditional medicine by different African tribes, but Scabiosa incisa is also used to make a dusting powder and wound lotion. Scabiosa incisa has been known and grown in Europe for a long time. Philip Miller (1691–1771), the head of the Chelsea Physic Garden, described S. incisa in 1768 in the Gardeners Dictionary with the species name incisa, which refers to the deeply incised leaves. The genus name Scabiosa comes from the Latin word scabius referring to scabies, an itching skin disease these plants were said to cure. It is, however, mostly valued as a good cut flower and beautiful garden plant.
Smelly Coleus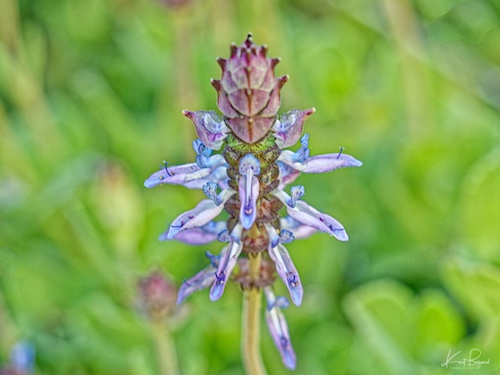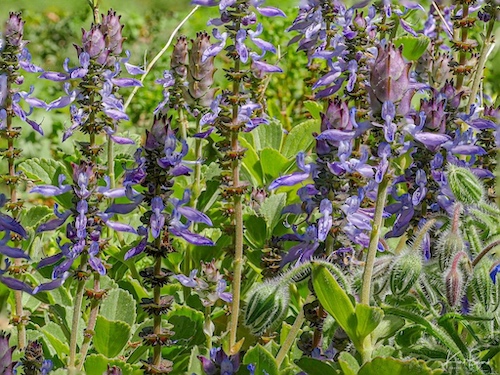 Coleus neochilus plants are believed to scare away snakes from human dwellings, perhaps because of their strong, unpleasant aromatic smell. It is also thought that these plants can be used effectively as an air purifier. Plectranthus are noted for their aromatic leaves when crushed or even brushed against, and the variety of aromas is as diverse as the genus itself. This is a popular and widely cultivated garden plant in South Africa, very easy to propagate and grow, and a plant that thrives in hot, dry and difficult positions. This may be attributed to its succulent stems and leaves and to the light colored, grey-green foliage, which is often associated with water-wise plants. The succulent stems and leaves store water and prevent wilting, and the light coloured leaves reflect the sun's rays, keeping the plant cool and ultimately reducing transpiration. Plectranthus is an unusual plant that was previously in its own genus and now is classified as part of Coleus. Most Coleus are slightly succulent, especially their stems. Plectranthus like Coleus neochilus are sometimes referred to as succulent coleus.
Lemon Scented Pelargonium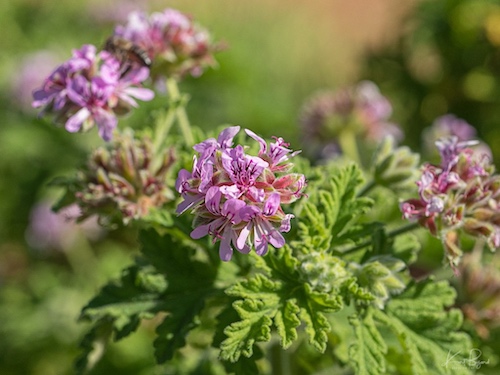 Pelargonium citronellum is an evergreen, bushy, strongly lemon-scented shrub, herbaceous when young and woody at the base. It grows up to 6 feet (2 m) high and spreads up to 3 feet (1 m). The stems and leaves are sparsely covered in small and glandular hairs. The leaves are simple, alternately arranged, with conspicuous veins at the back of the leaves. The leaf is palmately shaped with sharply pointed lobes. The flowers are pink-purple with a conspicuous dark marking on the two larger upper petals, the three smaller lower petals have no markings. The plant flowers during spring and summer (August to January) and is at its best in early summer (between September and October). Pelargonium citronellum is Rare. It requires a specialised habitat and occurs in scattered populations, but is not threatened. This plant can be used as a companion plant to repel pests, as the lemon scent has natural insecticidal properties. The leaves can also be used in potpourri.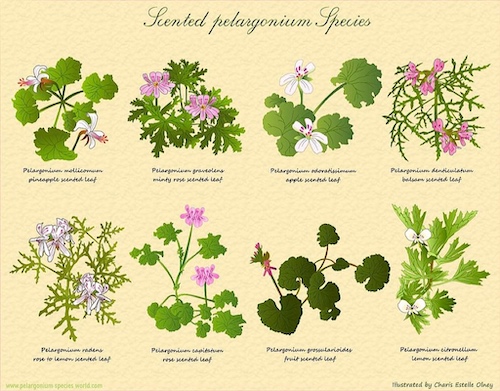 Since they were first brought from South Africa in the 1600s, pelargoniums have been prized not only for their blooms, but also for the fragrance of their oil-rich leaves. There are five general classifications of scented pelargoniums: rose, mint, fruit–which includes citrus, spice–including pepper, apple cider and others, and finally pungent (encompassing all woody smells like pine and oak). Centuries of hybridization within these categories have produced literally hundreds of cultivars, which have been used in perfumes, as folk medicine, and in cooking. Click on the drawing above to see eight examples.
Garden Heliotrope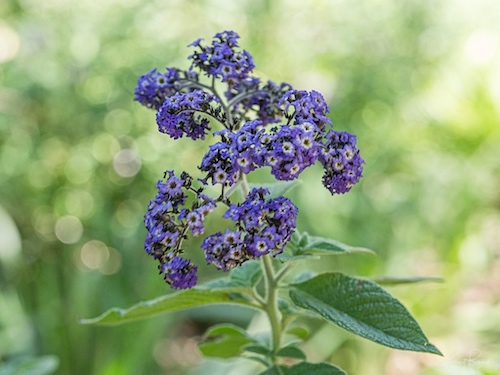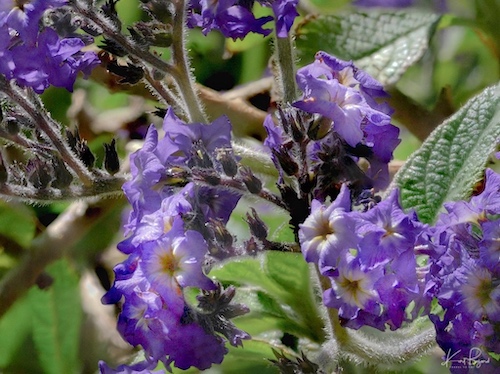 Heliotropium arborescens, commonly called heliotrope, is native to Peru. It is a tender perennial shrub that grows 2–6' tall in its native habitat. During the Victorian era in England this plant gained great recognition, often appearing in gardens and the herbaceous borders of parks. They were also grown as standards. Note that the common name "garden heliotrope" may also refer to valerian, which is not closely related. They have some huge bushes of this, a testimonial to the age of the garden.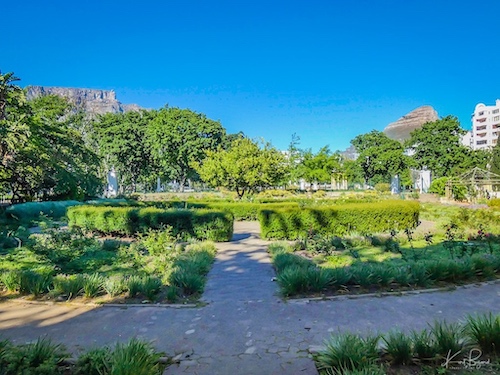 As Cape Town has grown, so have the gardening venues. This very historic garden has been superseded by the larger Kirstenbosch National Botanical Garden (SAMBI) on the outskirts of Cape Town with many more plants. Still, the Company's Garden has a very lovely cosmopolitan collection, echoing it's position on one of the most famous trade routes in history. Add to that is the chance to see so many plants adopted around the world and you will agree the Company's Garden is a must visit if you come to Cape town. Besides, it is cool, shady and a great place to have lunch.
References:
Kirstenbosch National Botanical Garden (SAMBI)
Prehistory of South African Forestry
Thesaurus zeylanicus: exhibens plantas in insula Zeylana nascentes; inter quas plurimae novae species et genera inveniuntur. Omnia iconibus illustrata ac descripta
Thesaurus zeylanicus: exhibens plantas in insula Zeylana nascentes; inter quas plurimae novae species et genera inveniuntur. Omnia iconibus illustrata ac descripta
Introduction to Dyckias and Hechtias
Fynbos Flowers at the Cape of Good Hope
Geranium or Pelargonium let's stop the confusion