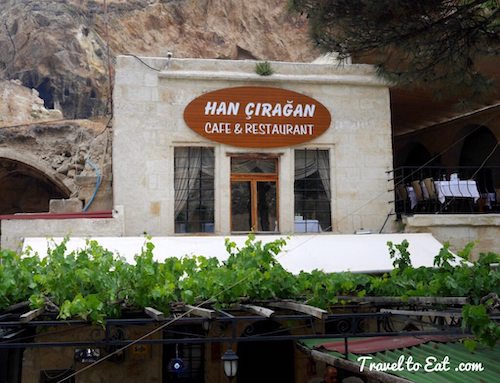 After a morning of traipsing through the Byzantine open air museum, we found ourselves hungry and went over the hill to Urgup in Cappadocia for lunch. Han Çiragan in the centre of Urgup is set in a caravanserai built around 250 years ago making it the oldest restaurant in Urgup. The restaurant has two levels of seating. The lower level, which includes a friendly bar, has outdoor seating under a beautiful shady vine lattice as well as indoor seating. The upper level is open to the sky. One of the great attractions of this restaurant is the Tandoor oven, located in the courtyard. They also have an excellent wine shop attached to the restaurant.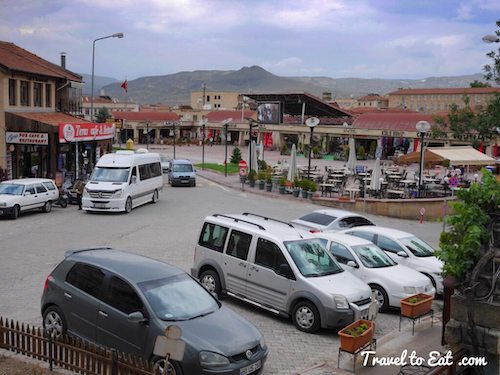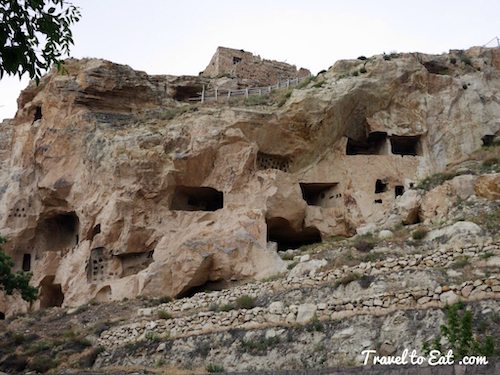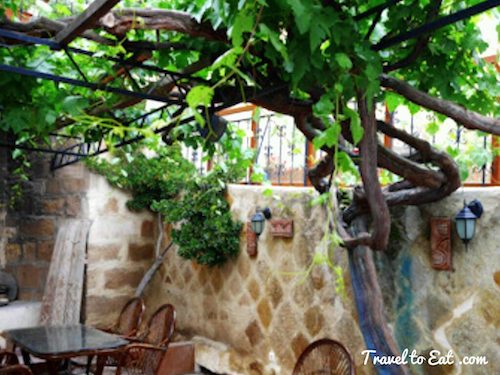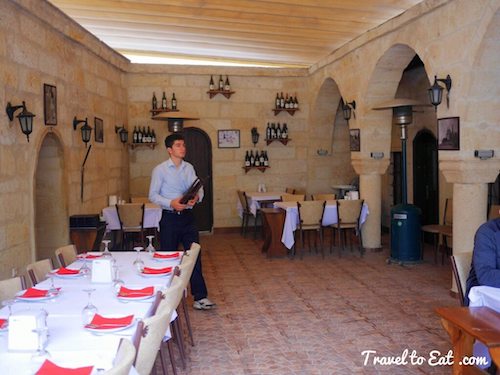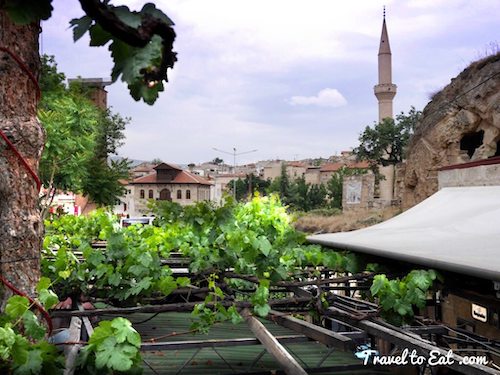 The setting is lovely with a view on the second floor over the town. Even though the dining area is open to the air, it is recessed into the stone cliff, making it cool and shaded.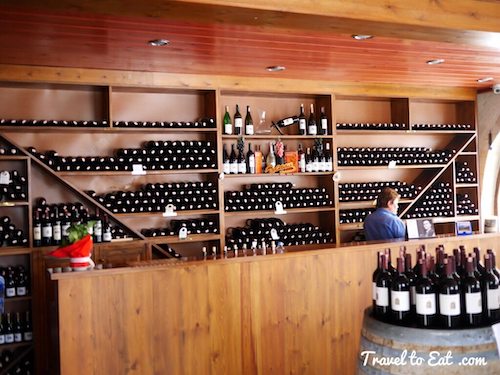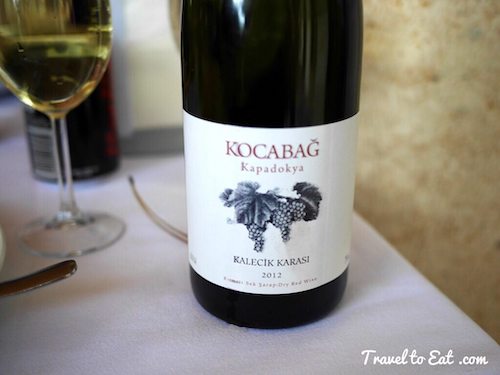 It was a nice touch to have a wine shop integrated into the restaurant, we made a small foray and returned with a bottle of dry Cappadocian white wine and a red, shown above. Kalecik Karası is a Turkish grape variety and a Turkish wine produced from this grape. This grape and wine are called by the name of area, the Kalecik district of Ankara Province, Turkey. Kalecik Karası grows successfully near the Kızıl River and is used to make some of Turkey's best red wine. Cappadocia is also a major producer of wine which fits nicely with the droves of tourists who like to consume it. It is generally quite good and comes in a variety of whites, reds, and rosé.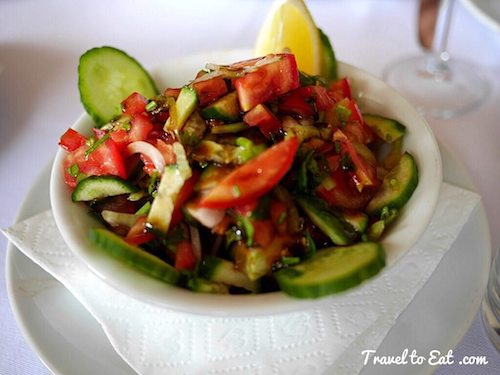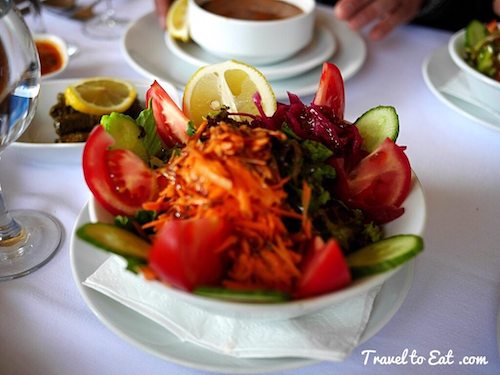 Turkish salads are very broadly divided into Shepherd's salads, consisting of cucumber, tomato and onion and salads with lettuce, both with vinaigrette and/or lemon. The cucumber salads are equal parts cucumber and tomato along with herbs and/or shredded carrots, beets or cabbage. We had one of each. I personally like cucumber salads with a predominance of cucumber, we did not see many of those.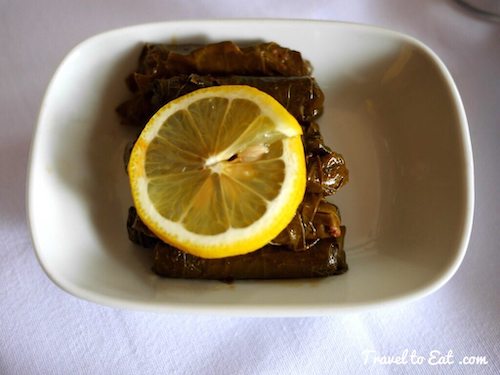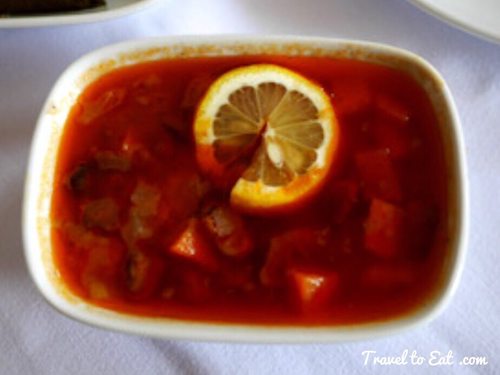 We chose two meze for our dinner, stuffed grape leaves and cold eggplant in a spicy oil. The stuffed grape leaves tend to be smaller in Turkey, emphasizing the taste of the leaves which I really liked. Meze or mezze is a selection of small dishes served to accompany alcoholic drinks in the Middle East and the Balkans. In Levantine, Caucasian, and Balkan cuisines meze is served at the beginning of all large-scale meals. Turkish meze often consist of beyaz peynir (literally "white cheese"), hummus, kavun (sliced ripe melon), acılı ezme (hot pepper paste often with walnuts), haydari (thick strained yogurt like the Levantine labne), patlıcan salatası (cold aubergine salad), beyin salatası (brain salad), kalamar (calamari or squid), enginar (artichokes), cacık (yogurt with cucumber and garlic), pilaki (foods cooked in a special sauce), dolma or sarma (rice-stuffed vine leaves or other stuffed vegetables, such as bell peppers), and köfte (meatballs).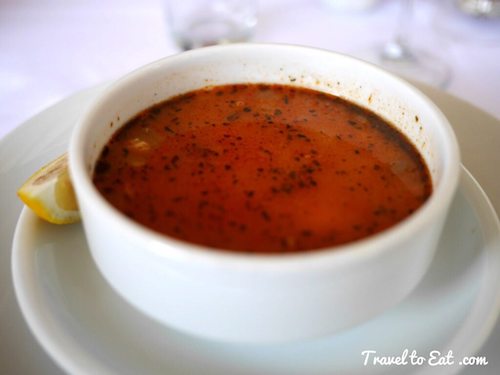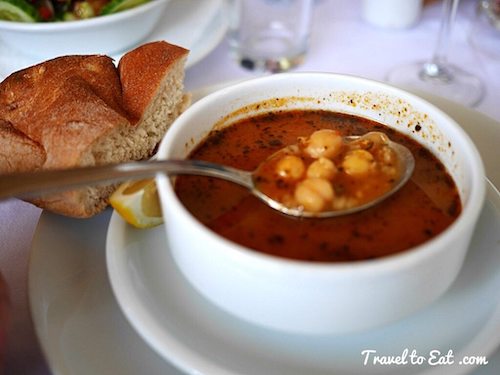 They have a Tandor oven in the courtyard and offered an intriguing soup made in the Tandor oven with bulgar wheat, chickpeas and red lentils called Tandir Çorbasi on the menu. I can personally attest to the delicious flavor of the soup. Cooking grains and legumes together, often as a soup, is a common, efficient way of supplying all the major nutrients in one dish. The name tandir is derived from the Persian word for a clay oven (tandor), which is where this soup was traditionally cooked. The Turkish word corba is derived from shurba, a Persian word for "soup"; corba also means "tangy" which is the principal flavor of corba soups. Variations on this soup include substituting rice for the bulgar wheat, Lebanese Machlouta without the chili, tomato paste and mint and Lebanese Alajah which substitutes lemon juice and parsley. Both yogurt and meat (usually chicken or lamb) can be added, making hundreds of possible variations. Chickpea soup is loved across Northern Africa and the Mideast including the Morrocan and Tunisian Lablali.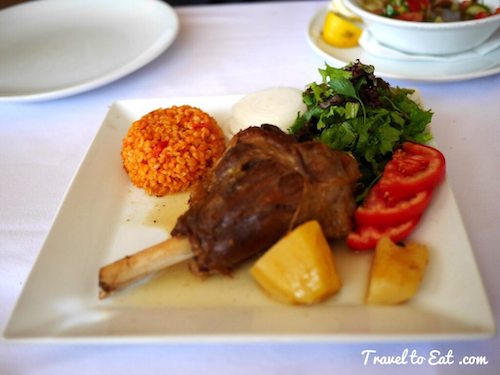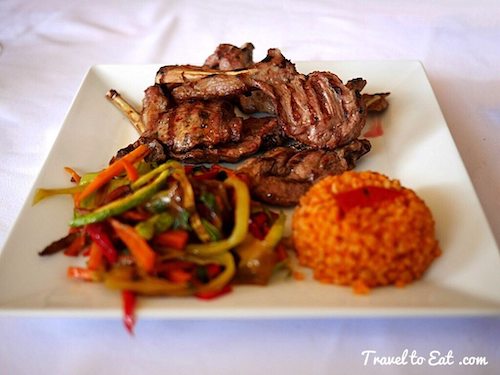 For our main dishes, we settled on lamb chops with damson plums, cooked for two hours in a clay pot in the Tandor oven and lamb tandoori (Kuzu tandir) both of which were served with tomato rice. "Kuzu tandır" is the most beloved lamb dish in Turkish cuisine. Its lamb is so fragrant and tender, it falls away from the bone and melts in your mouth like cotton candy. The traditional way to cook meat in a "tandır" is to hang the lamb whole from a suspended hook over the coals, then cover the top and leave it to cook for hours on end. Usually for the leg, a glaze is applied but this lamb was tender and delicious. The name damson derives from the earlier term "damascene", and ultimately from the Latin prunum damascenum, "plum of Damascus". One commonly stated theory is that damsons were first cultivated in antiquity in the area around the ancient city of Damascus, capital of modern-day Syria, and were introduced into England by the Romans. Damsons are relatively small plums with a distinctive, somewhat astringent taste, and are widely used for culinary purposes, particularly in fruit preserves. One further note concerns the size of the lamb chops. They are much smaller and more tender in Turkey, perhaps because they actually come from a lamb and not a full grown sheep.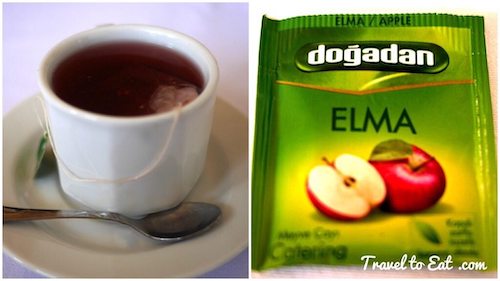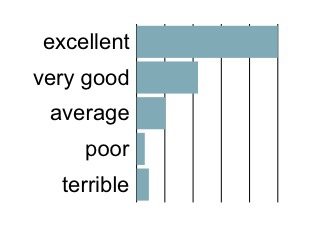 To finish we all had Turkish tea, but my friends suggested I try the apple tea which was delicious. I carried a few packets with me from that time to dip in my Turkish tea. You can get it on Amazon. It is a little unfair to reference TripAdvisor since my local friends selected this restaurant as one of the best in Urgup. Nonetheless the reviews were in keeping with my overall impression that the food was unique, using the best local ingredients and was one of the best meals we had in Turkey. I found it interesting that I was not the only one to find the apple tea memorable. On some evenings they have live music and combined with the great food and lovely location, I think this is a place you should visit if you come to Cappadocia.
References:
Han Çiragan Website: http://www.hanciragan.com/home/index.html
Olive Trees and Honey: A Treasury of Vegetarian Recipes from Jewish Communities Around the World By Gil Marks
Tandir Soup: http://www.kultur.gov.tr/EN,35556/tandir-soup.html
Lablali: /lablali-tunisian-breakfast-soup/