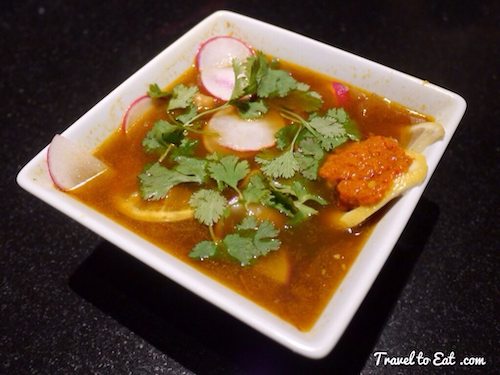 Since I made up a batch of Harissa, I thought I would look for some recipes that use Harissa. Lebleli or Lablabi is a simple chickpea soup served over torn bread and usually topped with a soft boiled egg. Americans would eat this beautiful spread of chickpeas with condiments at dinner. But in Tunisia, it's a traditional breakfast dish: a simple bowl of chickpeas flavored with onion, garlic, harissa and olive oil, served with a number of garnishes. It would certainly get you through the day. Just about every street corner in Tunisia has a vendor serving this hearty dish. I first learned about it from a Tunisian waiter we saw frequently in Paris. The finished soup will taste great for another three to four days. Keep in the refrigerator. You will want to refresh the condiments each time you serve. You can make a salad with the leftover beans.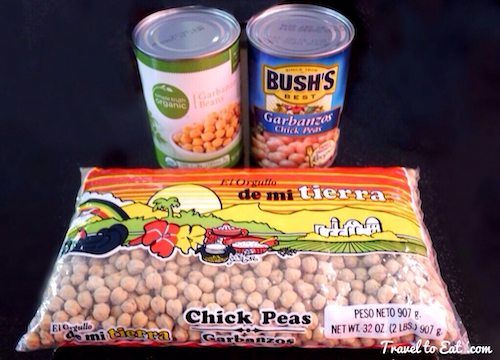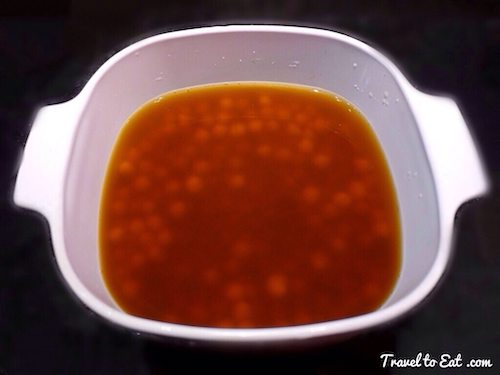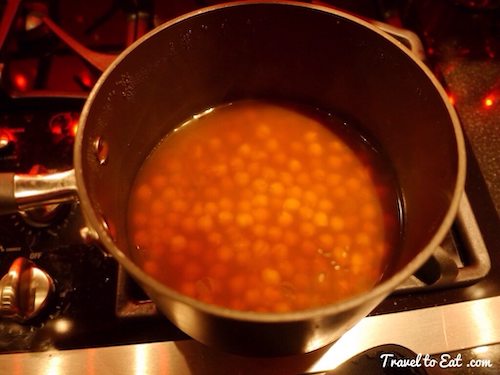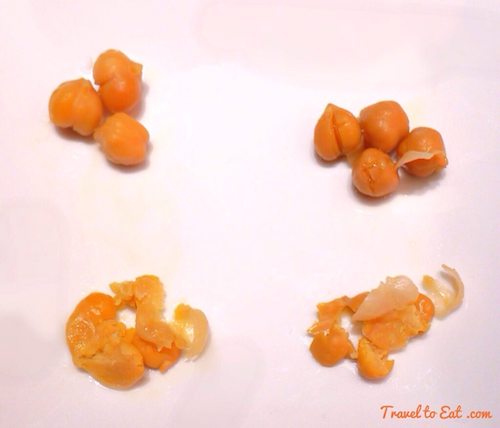 The first issue is how to cook the chickpeas and canned vs dry. The point of cooking for this recipe is to make them soft and tender with a consistency like gnocchi, soft and creamy on the inside. Chickpeas are harder to cook than most beans and require more time to cook. I actually tried four methods for cooking this central component of the dish. The canned chickpeas were cooked for 3 hours on the stove in one batch and in the oven at 350 F for 3 hours in a second batch to get them to the soft consistency that I wanted. Unfortunately they absorbed little flavor from the vegetable stock, there was no difference between the stove and oven batch. If you live in an area with hard water, like Las Vegas, it may be hard to get the chickpeas soft. For this reason, I use distilled water in this recipe.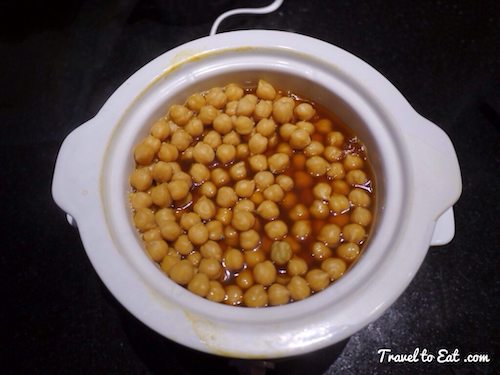 Dried chickpeas take a little longer but soak up the flavors of the soaking liquids. I like making them in a crockpot. Put two cups of dried chickpeas with two cups of water and two cups of vegetable broth and cook on high for four hours or on low for 8 hours. The volume of chickpeas will double. Another method is to soak overnight. So before going to bed at night, I pour 1 cup of dried chickpeas onto a baking sheet and pick out any damaged ones, stones and other grit I don't plan to ever knowingly put in my stomach. I pour them into a strainer and rinse pretty thoroughly. Then I put them in a heavy pot, cover them with 2 inches of distilled water, cover the pot, and go to bed. The following morning, drain the water from the beans and cook them for 1-2 hours. Once you have the softened chickpeas, you are ready to make the soup.
Ingredients Serves 6-8:
2 cups dried chickpeas cooked in a crockpot on high for 4 hours as described above

2 cups vegetable broth and 2 cups distilled water

3 tablespoons olive oil

1 red onion, chopped

5 large garlic cloves, minced

1 knob of ginger, minced (optional)

1 teaspoon toasted coriander seed (optional)

1 teaspoon toasted caraway seed (optional)

1/8 tsp. ground cinnamon (optional)

2 generous teaspoons toasted ground cumin (Heat spices for 5 minutes in a dry skillet or until browned and fragrant then grind in a spice grinder)

2 teaspoons harissa, prepared or homemade

1/4 cup freshly squeezed lemon juice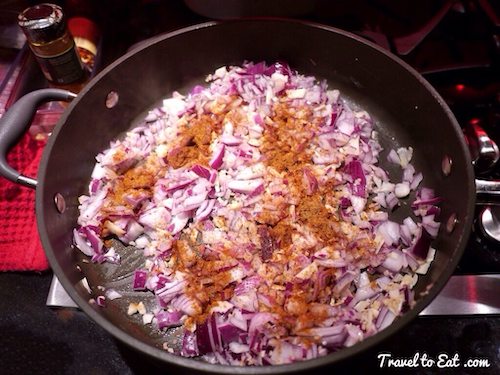 Instructions:
Place the crockpot chickpeas with 2 cups water and 2 cups vegetable broth in a large, heavy soup pot or Dutch oven. Bring to a boil, reduce the heat, cover and simmer 1 hour.
Meanwhile, heat the oil over medium heat in a medium size, heavy nonstick frying pan and add the onion. Cook, stirring, until tender, about 5 minutes. Stir in the garlic, ginger and freshly ground spices and stir together for couple of minutes, until the garlic smells fragrant. I happen to like caraway, coriander, cinnamon and ginger but the authentic recipe really only requires cumin; add the spices you like. Remove from the heat and stir into the beans. Deglaze the skillet with some of the lemon juice and add to pot.
After the beans have cooked for an hour, stir in the harissa and the rest of the lemon juice. Cover and continue to cook for another 5-10 minutes, until the beans are very tender and the broth fragrant. Taste and adjust salt and/or add more lemon juice.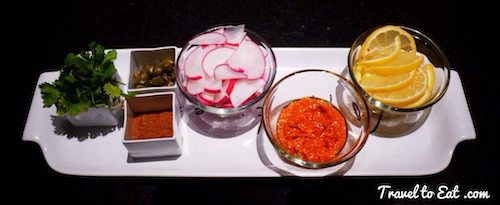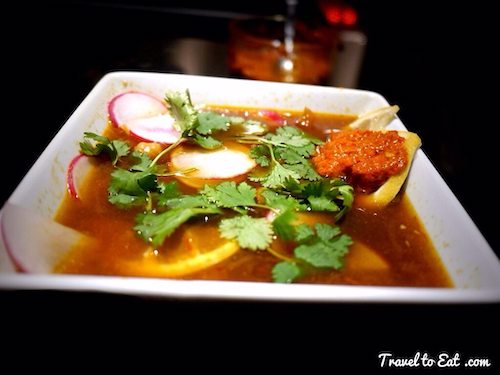 There are many ways to serve this soup. Typically the soup is served with a tray of condiments. I have included chopped parsley, capers, a mix of cumin, coriander, caraway and cinnamon with a pinch of saffron, radishes, Harissa and thinly sliced lemons which can be replaced with preserved lemons.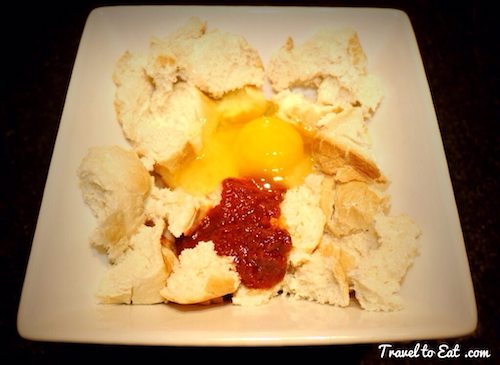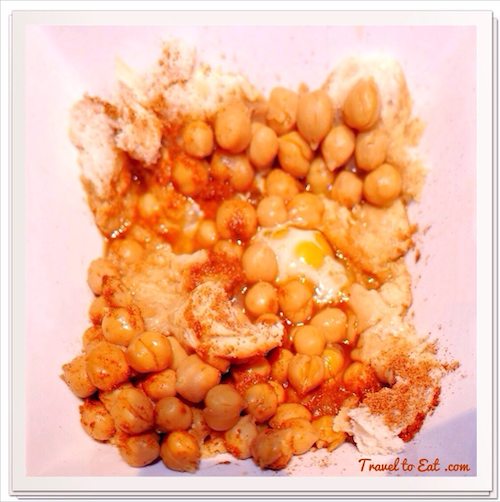 The traditional street corner version involves day-old old bread torn into pieces in the bottom of the bowl. Put a dollop of Harissa and an egg over the bread. Spoon in the the soup and cover the egg with chickpeas and broth. Shake on cumin and wait 3 minutes. The egg will be cooked perfectly and you can then mix all the ingrediants and chow down.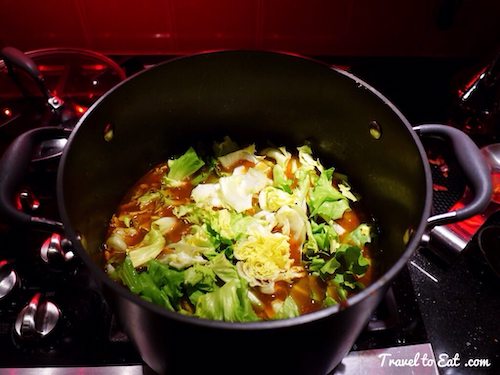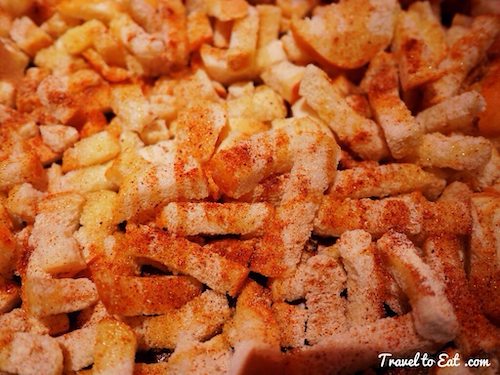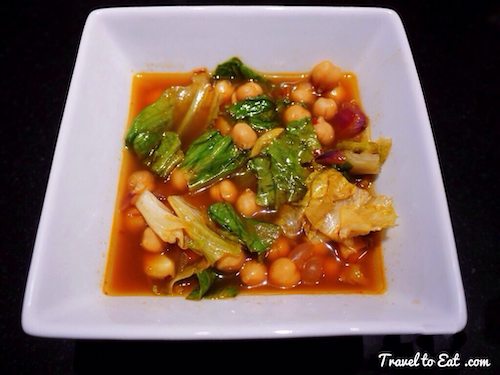 For a little more refined version, take a roughly chopped head of escarole and add it directly to the soup about 5 minutes before serving. You will then have a Tunisian version of the Tuscan classic, Escarole and White Beans. Replace the torn bread with plain white bread croutons drizzled with olive oil, cumin, paprika and garlic powder to give a little crunch to the soup. No matter how you serve this soup, you will find it to be a delicious and winter warming complement to any breakfast or dinner.
Keeping Time / Leftovers: The cooked chickpeas will keep for 4 to 5 days in the refrigerator. You will want to refresh the condiments each time you serve.
Leftover Leblebi Salad: Drain the beans, toss with condiments of your choice, and season to taste with lemon juice, olive oil, garlic, salt, pepper and cumin.
References:
Well Seasoned Cook: http://thewellseasonedcook.blogspot.com/2008/03/spice-is-right-tunisian-chickpea-soup.html
Kaylyns Kitchen: http://www.kalynskitchen.com/2008/02/crispy-roasted-chickpeas-garbanzo-beans.html
Serious Eats: http://www.seriouseats.com/recipes/2013/10/mollie-katzens-lablabi-tunisian-chickpea-soup.html
WSJ: http://online.wsj.com/news/articles/SB10001424052970204138204576602992864354726
Lebleli: http://localfoods.about.com/od/eggdishes/r/escarole_stew.htm
Cooking Chickpeas: http://chowhound.chow.com/topics/356029
Harissa: /spicy-tunisian-harissa/