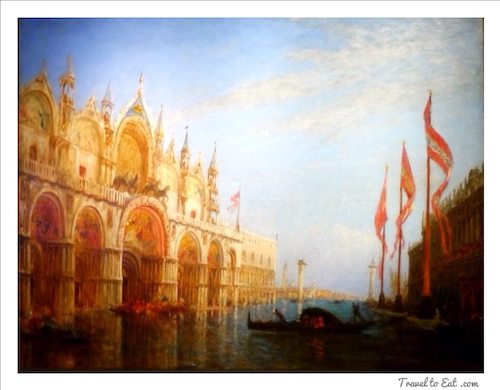 They were having an exhibition of Félix Zeim at the Petit Palace and we decided to go. Starting his career in the shadow of Delacroix and ending it in Picasso's, the importance of Félix Ziem (1821-1911) in 19th century French art has too often been overlooked. Félix Ziem is an artist of the pre-impressionist generation who has a unique style inspired by the chromatic variations between the sky and the sea. His paintings of Venice and Constantinople were very successful among the collectors of the time and remain sought after icons of 19th century travel painting today. His contemporaries; Théophile Gautier, Théodore Rousseau and Chopin all held him in great esteem. An extensive traveller, friend of the Barbizon school of artists, admirer of Claude Lorrain and JMW Turner, Ziem played a unique part in the 19th century art world. At the end of his life, concerned with his legacy, Ziem had put aside a significant body of work, 171 drawings, paintings and watercolours, to donate to the brand new City of Paris Beaux-Arts Museum. Two small notes, he did not date his works, thus no dates occur in my captions and unlike my previous posts I did not include the frames because the are for the most part simple wood.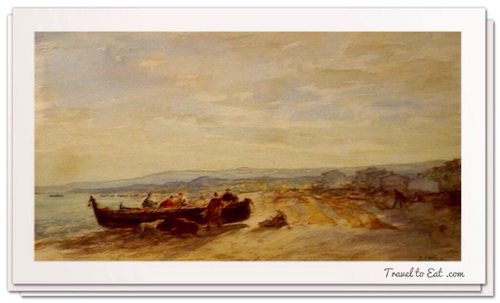 The son of a Polish tailor who migrated to France, with a mother from Burgundy, he began architecture studies at the Ecole des Beaux-Arts in Dijon before abruptly turning a page on university and his father. Originally a student at the "Academie d'architecture" in Dijon, Ziem was excluded from a scholarship there due to "disciplinary" problems. With this excuse, Ziem decided to leave for Rome, on foot, exchanging sketches for food along the way.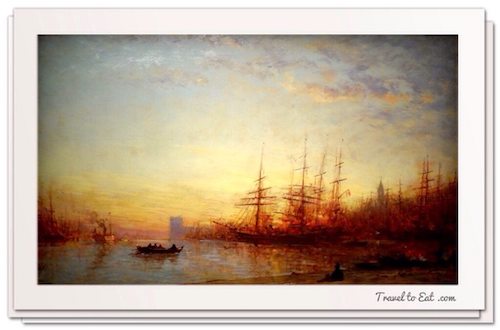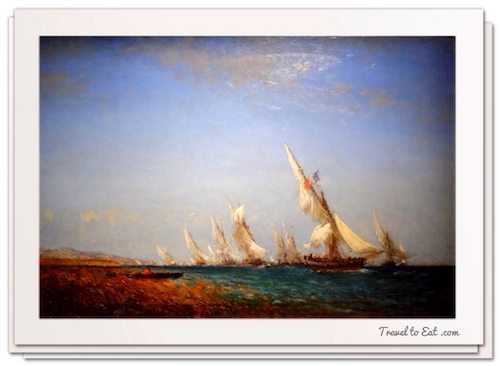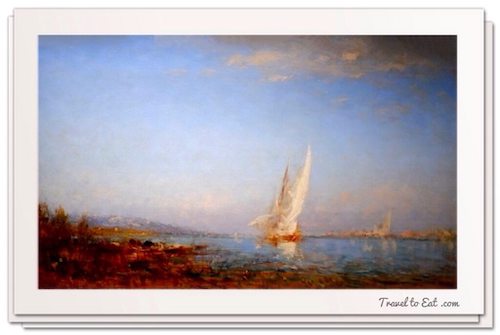 Ziem stopped in Marseille in 1839, where he was clerk of works on the construction of the Marseille canal. In 1839 he was noticed by Ferdinand Philippe, Duc D'Orléans, who accepted two watercolours that Ziem presented to him and commissioned a further six. This first success decided Ziem's vocation, and he began a school of drawing with Louis Auguste Adolphe Monticelli and Laurent Aiguier. During this period he also met the artists Emile Loubon Provencal, Prosper Gresy and Gustave Ricard. Contemplating the Étang de Berre (the harbor), Zeim came up with the project of creating "a meridional form of marine art, somewhere between Claude Lorrain and Rembrandt". A fairly ambitious agenda, I would say.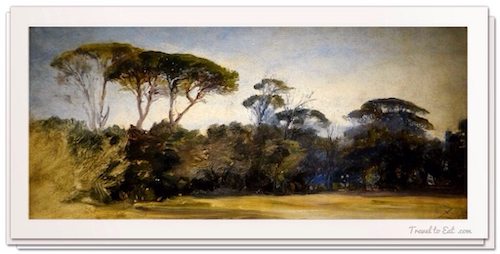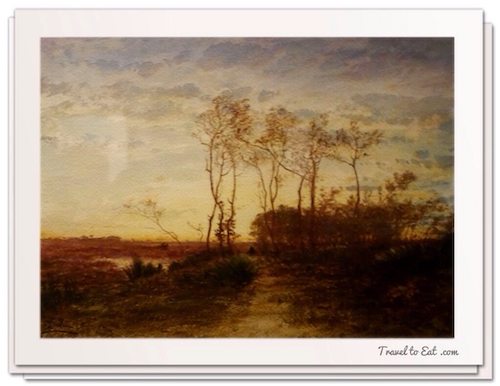 After a long stay in Nice, he finally arrived in Rome. Ziem was disappointed by the city, so he continued on to Naples and finally Venice in 1841. Zeim was a watercolorist first and a painter second. These watercolors represent finished pieces of art, not just studies. The chiaroscuro in his painting is reminiscent of the Dutch masters and the Barbizon school. Against a backdrop of skies at dusk, bathed in an orange and yellow wash, backlit trees or darkened foreground motifs stand out.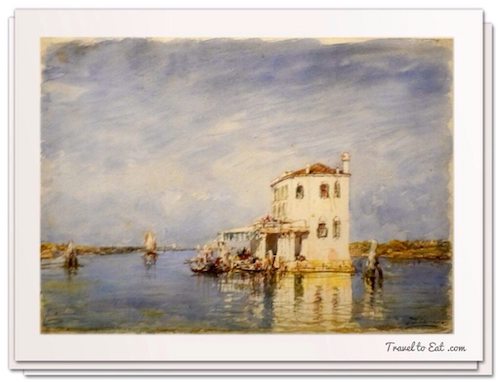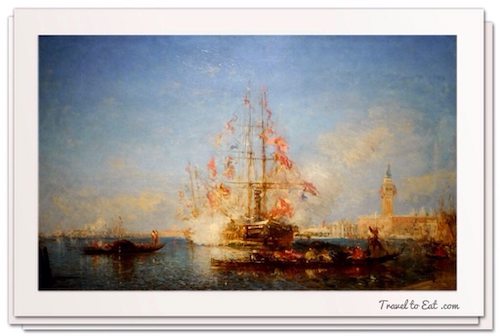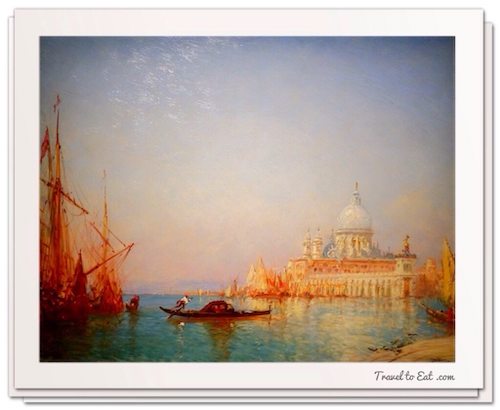 He first visited Venice in the early 1840s, came back in 1845 for a three-year stay, and visited throughout his career until 1892. When in Venice in 1845, he converted a boat into an atelier and many sketches of Venice that formed the basis of many of his later paintings of Venice when he returned to Paris. Many of his paintings were extensively reproduced with engravings. The painting, A Blast from the Cannons, was reproduced by Brunet-Debasne.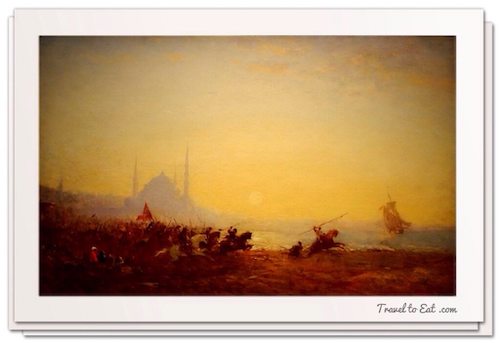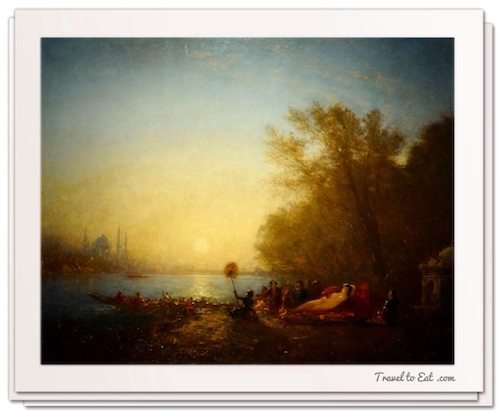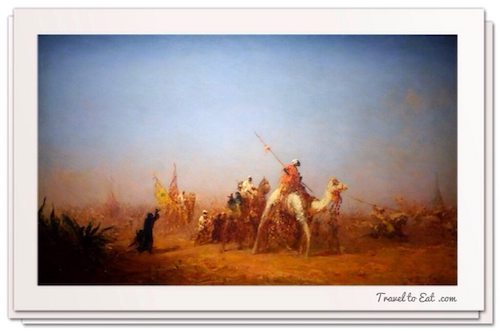 Zeim visited Constantinople in 1856 for the first and last time. He wrote in his diary; "Everything is sublime in color and form. Both beggars and monarchs are equally beautiful in paint." On the way home, he passed through Beruit, Damascus and Egypt. He painted repeated variations of the Hagia Sophia as an excuse to work with countless atmospheric conditions. Between his Venetian sojourns, he painted views of Constantinople and other cities throughout Europe, and established connections to his artistic peers. He painted next to Charles-Francois Daubigny at Jouarre and Eugene Boudin at Le Havre. In 1861 he exhibited at the Universal Exhibition in London. In 1864, his primary student was none other than English monarch Queen Victoria.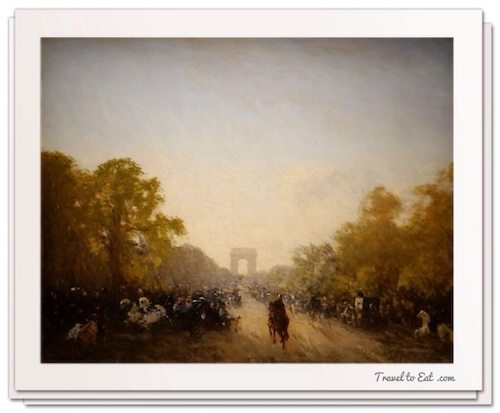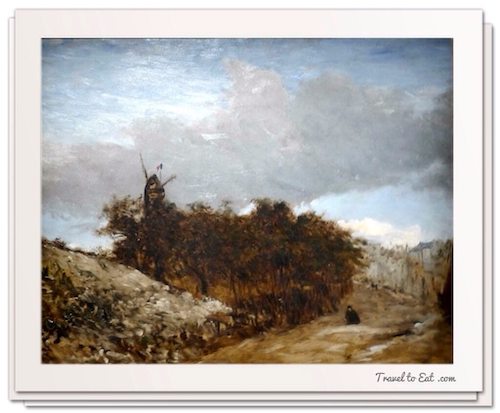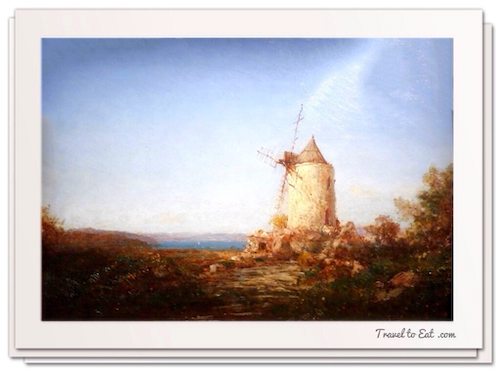 In 1849, Ziem settled in Paris where his dream-like Oriental landscapes attracted a rich clientèle who dreamed about travelling, allowing him to buy a house on the hill of Montmartre in 1853. In his atelier, he rarely painted the French capital that he disliked and prefered the unsual landscapes of Venice or of the Mediterranean region that he often visited. The two top paintings shown above are exceptions, notice the difference in mood between the windmill at Montmartre and the one Martigues in the south of France, not too hard to see what he preferred. Ziem's works were first exhibited in 1849 at the Paris Salon and he remained a regular exhibitor there for many years. Financially successful, he was known to assist struggling young artists.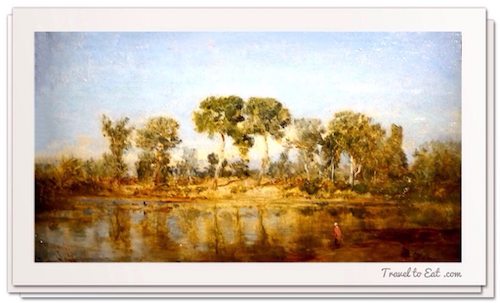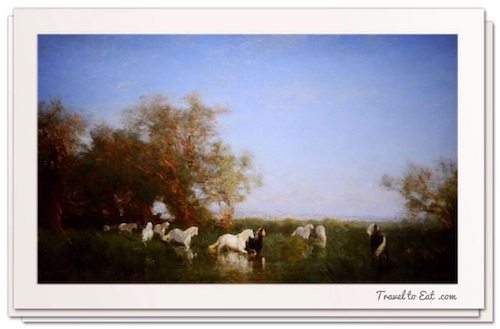 He continued to paint the sun-drenched south of France, with naturalistic scenes reminiscent of the Barbizon painters.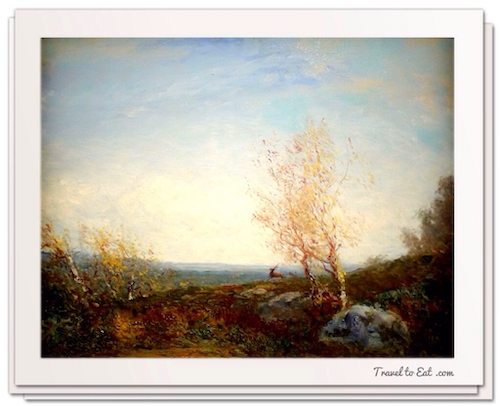 After 1849, when Ziem settled in Paris, he divided his time between the capital and the forest of Fontainebleau where he became friends with the painters of the Barbizon school, Théodore Rousseau and Jean-François Millet, who were also patrons of the forest. The Barbizon school of painters were part of an art movement towards Realism in art, which arose as a reaction to the dominant Romantic Movement of the time. The Barbizon school was active roughly from 1830 through 1870. It takes its name from the village of Barbizon, France, near the Forest of Fontainebleau, where many of the artists gathered. The French landscape became a major theme of the Barbizon painters. Some of the most prominent features of this school are its tonal qualities, color, loose brushwork, and softness of form. During the late 1860s, the Barbizon painters attracted the attention of a younger generation of French artists studying in Paris. Several of those artists also visited Fontainebleau Forest to paint the landscape, including Claude Monet, Pierre-Auguste Renoir, Alfred Sisley and Frédéric Bazille. In the 1870s those artists, among others, developed the art movement called Impressionism and practiced plein air painting.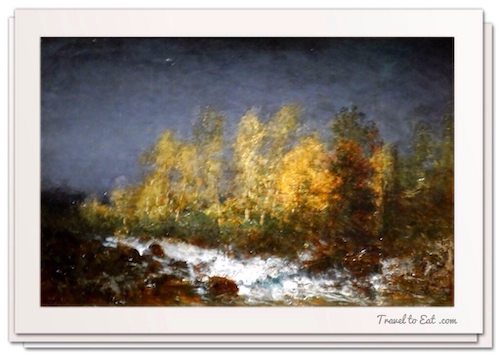 I have to be honest, the progression from Romanticism and/or Naturalism to Realism is not very clear to me and how Zeim fits in this framework is even more murky. The exotic subject matter of Zeim reminds me of Delacroix, a Romantic artist, while the obsession with loose brushstrokes and light look more like an Impressionist painter. While Zeim knew many of the Barbizon artists and had some paintings devoted solely to nature, I am not sure I would classify him as solely a member of the Barbizon school either. He did like the forest, he designed a rolling studio to facilitate his forest walks and only sketched outside, totally reinventing the forest scenes in his paintings at home in his studio. In 1866 he bought Charles Jacque' house at the entrance to the village of Barbizon.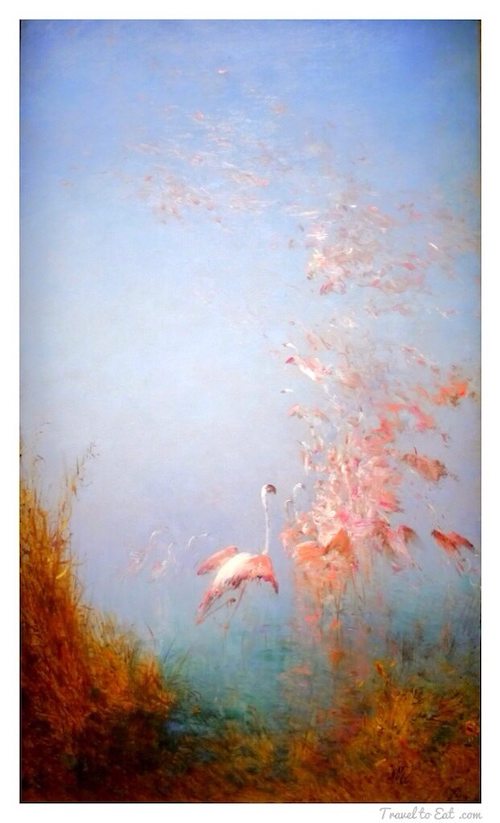 I really love this piece, I could have made it smaller but I wanted you the reader to get the feeling I got seeing it in person. To me, this is a glimpse of the artist Zeim might have been in a later age and if his depictions of Venice and Constantinople were not so lucrative. Felix Ziem was one of the last painters to produce his own colors from natural pigments. The lapis-lazuli from which he derived his blues (like Vermeer), gave to his marine paintings a truly enchanting quality where the blue of the sky met that of the water. Blues never ceased to inspire Ziem, perhaps because they symbolized for him the far-away, the exotic. In 1879, he wrote in his notebook: "Beautiful sky, polished and silent lagoons where I dreamt the beautiful". Vincent Van Gogh was very fond of his blue, as reported in one of his letters from 1888: "And I'd like to be able to do blues like Ziem, which don't change as much as the others". In another letter in January 1886: "People will also recognize Isabey, Ziem too. Those two are very much painters and that, after all, is what it comes down to in painting."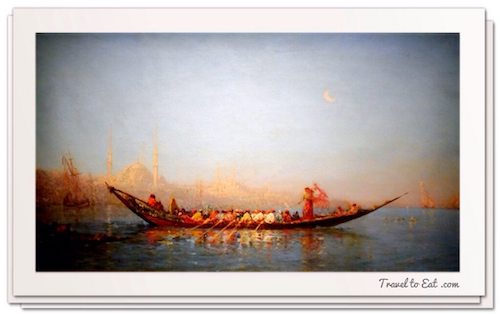 This was the painting selected for the exhibition marque piece. I too think it is emblematic of the artist, combining his love of the exotic with the background wash of evening in Constantinople. In 1908 the City Council of Martigues formalized the creation of a Musée Ziem. A major exhibition was inaugurated in 1909 in Nice. The Chauchard gift brought Ziem paintings to the Louvre in 1910, he was the first artist ever to have his works exhibited in the Louvre during his lifetime. He died in 1911 at the age of 90.

Zeim was a prolific artist who over his lifetime produced over 10,000 drawings and over 6,000 paintings. In a sense this was his undoing, perhaps leading to overexposure and an under-appreciation by the public. He certainly influenced the Impressionist artists to follow him and in fact might have been the first impressionist artist given his obsession with light. I really enjoyed this exhibition and I think you would too, there are many more works than the ones I showed here. It will be at the Petit Palais until August 4, 2013.
References:
Petit Palace Exhibition Notes: http://www.petitpalais.paris.fr/en/expositions/felix-ziem
Musée Zeim: http://www.ville-martigues.fr/culture-sport-et-loisirs/musee-ziem-1708.html
Van Gogh Letters/Zeim: http://vangoghletters.org/vg/search/advanced?originaltext=original&translation=translation&annotations=notes&essays=essays&other=other&from=1&to=1&date_from=1872-09-29&date_until=1890-07-31&order=date&person_code=1449