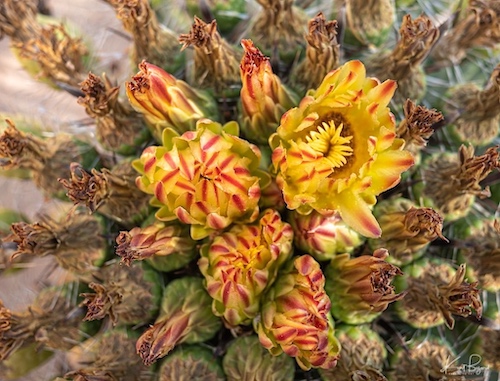 This is the third in a series of posts on carbon fixation in Mohave desert plants. In this post we will focus on plants that use CAM carbon fixation which includes cactus, yucca and agave. The most important benefit of CAM to plants is the ability to leave most leaf stomata closed during the day. Plants employing CAM are most common in arid environments, where water comes at a premium. Being able to keep stomata closed during the hottest and driest part of the day reduces the loss of water through evaporation and transpiration, allowing such plants to grow in environments that would otherwise be far too dry. Plants using only C3 carbon fixation, for example, lose 97% of the water they take up through the roots to transpiration – a high cost avoided by plants able to employ CAM. The Mojave Desert is the northernmost "hot desert" in North America and essentially a transition land between the Great Basin and Sonoran. It's the smallest of the Big Four, covering some 54,000 square miles of southeastern California, southern Nevada, and itty-bitty strips of southwestern Utah and northwestern Arizona. Roughly speaking, the Great Basin Desert yields to the Mojave at the northern range limit of creosote bush, the defining shrub of North America's hot deserts; its distribution essentially outlines them. You can rightly think of it as the hot-desert equivalent of big sagebrush. But the trademark plant of the Mojave, the one whose geography basically maps out this desert, is the Joshua-Tree. This outsized yucca actually flourishes best on the Mojave margins, reaching peak development on middle slopes of foothills and bajadas. Interestingly, the Joshua-Tree uses C3 carbon fixation while most of the remaining yucca and agave use CAM carbon fixation, along with all of the cactus species.
CAM Photosynthesis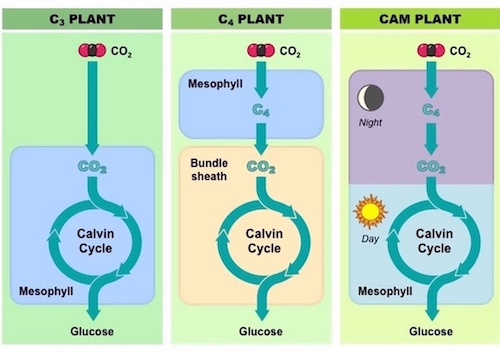 Crassulacean acid metabolism, also known as CAM photosynthesis, is a carbon fixation pathway that evolved in some plants as an adaptation to arid conditions. In a plant using full CAM, the stomata in the leaves remain shut during the day to reduce evapotranspiration, but open at night to collect carbon dioxide (CO2), and allow it to diffuse into the mesophyll cells. There are no special anatomical adaptations like the bundle sheaths we see in C4 photosynthesis. The CO2 is stored as the four-carbon acid malic acid in vacuoles at night, and then in the daytime, the malate is transported to chloroplasts where it is converted back to CO2, which is then used during photosynthesis. The C4 pathway bears resemblance to CAM; both act to concentrate CO2 around RuBisCO, thereby increasing its efficiency. CAM concentrates it temporally, providing CO2 during the day, and not at night, when respiration is the dominant reaction. C4 plants, in contrast, concentrate CO2 spatially, with a RuBisCO reaction centre in a "bundle sheath cell" being inundated with CO2. Due to the inactivity required by the CAM mechanism, C4 carbon fixation has a greater efficiency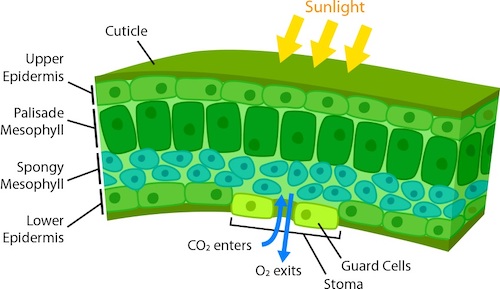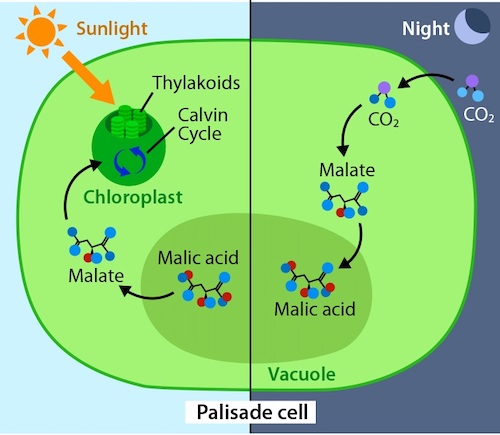 In CAM plants, stomata remain closed during the day to help save water. This means that carbon dioxide can only enter the plant at night. But the reactions of the Calvin cycle that allow plants to make sugars need light. So, if carbon dioxide comes in during the night, but the plant can't really use it until the daytime, what's a plant to do? Within the plant, carbon dioxide can move in and out of cells through diffusion. But the cells need to save up the carbon dioxide so they can use it throughout the entire day, when the stomata are closed. To store this carbon dioxide, several steps are used to convert it into the molecule malate. Malate can then be moved into the cell's vacuole, where it is turned into malic acid and stored. This process continues to happen for most of the night, as the plant saves up a stockpile of malic acid. When light begins reaching the mesophyll cells (where most photosynthesis takes place) in the day, malic acid is converted back into malate. Then it can be moved out of the vacuole and delivered to the chloroplast. Here, the Calvin cycle takes place, using the carbon dioxide from malate to produce sugars. In this way, CAM plants work all around the clock, storing carbon dioxide at night and using it to make sugars during the day.
Polyploidy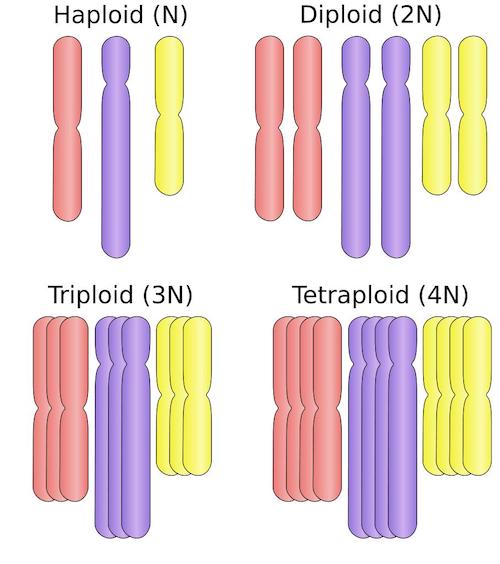 Polyploidy is widely observed among plants. The occurrence of related forms possessing chromosome numbers which are multiples of a basic number (n), the haploid number. Forms having 3n chromosomes are triploids; 4n, tetraploids; 5n, pentaploids, and so on. Autopolyploids are forms derived by the multiplication of chromosomes from a single diploid organism. As a result the homologous chromosomes come from the same source. These are distinguished from allopolyploids, which are forms derived from a hybrid between two diploid organisms. As a result, the homologous chromosomes come from different sources. About one-third of the species of vascular plants have originated at least partly by polyploidy, and as many more appear to have ancestries which involve ancient occurrences of polyploidy. The condition can be induced artificially with the drug colchicine and the production of polyploid individuals has become a valuable tool for plant breeding.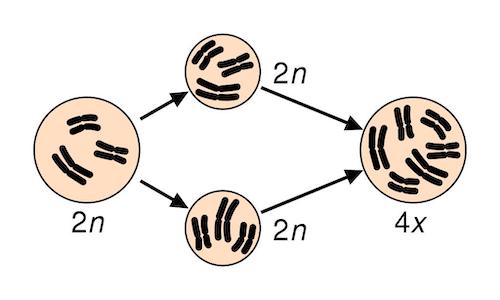 A multiple increase in the number of chromosomes in the cells may be effected by extreme temperatures, ionizing radiation, chemical substances, and changes in the physiological state of the cell. All of these factors are common in the desert, where cactus, yucca and aloes are subjected to high heat and cold, stresses such as drought, poor and alkaline soil, and ionizing radiation. These factors disrupt the separation of chromosomes in mitosis or meiosis, causing the formation of cells with multiple increases in the number of chromosomes in comparison with the original cell. One immediate and important consequence of polyploidization is that the polyploid plants cannot breed with their progenitors. The differing chromosome numbers generally present strong barriers to fertilization. Thus, the polyploidization can create a new species. Where there was one there are two, and they go their separate ways. Twice the number of chromosomes means twice the number of genes. For instance, there will be twice as many genes for flower formation, opening, and color, etc. Maybe flowers will be brighter or larger. The gene duplications have consequences in many areas including plant shape and appearance. Spines may be sturdier, and plants may be be more robust. The extra genes may allow plants to move into new environments that their parent species could not successfully colonize.
Beavertail Cactus (CAM)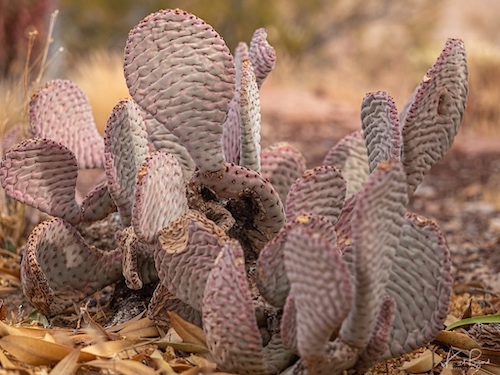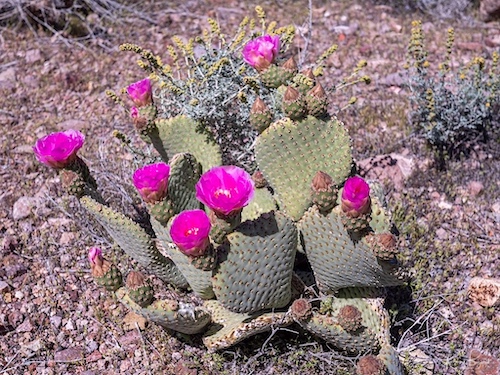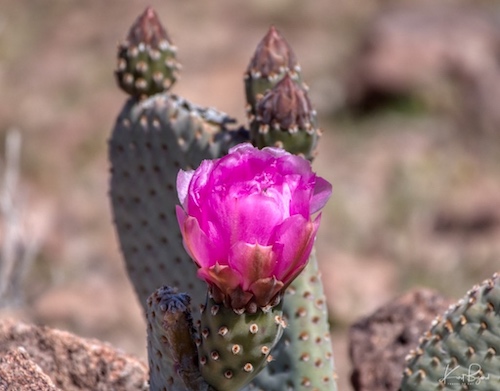 Opuntia basilaris, the beavertail cactus or beavertail pricklypear, is found in the southwest United States. It occurs mostly in the Mojave, Anza-Borrego, and Colorado Deserts, as well as in the Colorado Plateau and northwest Mexico. It is also found throughout the Grand Canyon and Colorado River region as well as into southern Utah and Nevada, and in the western Arizona regions along the Lower Colorado River Valley. It is a medium-sized to small prickly pear cactus, with pink to rose colored flowers. A single plant may consist of hundreds of fleshy, flattened pads. These are more or less blue-gray, depending on variety, 50–210 mm (2.0–8.3 in) long and less than 100 mm (3.9 in) wide and 10–15 mm (0.4–0.6 in) thick. They are typically spineless, but as is typical for Opuntia species, have many small barbed bristles, called glochids, that easily penetrate the skin. Opuntia basilaris blooms from spring to early summer. The paddle-shaped leaves of beaver tail prickly pear are bluish gray, often with a pale purple tint. The flowers may be purple, red, or pink, and the fruit is yellow.
Mohave Prickly Pear (CAM)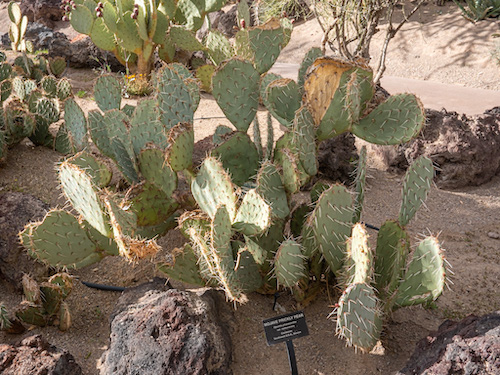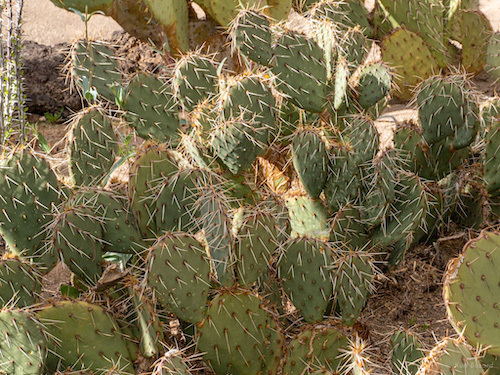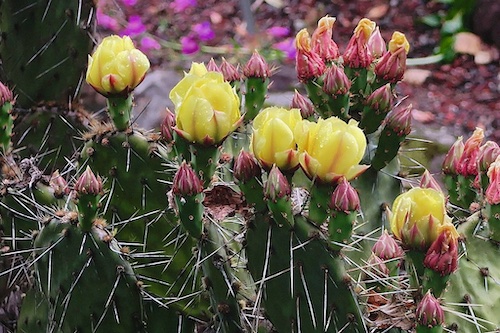 Opuntia phaeacantha is a species of prickly pear cactus known by the common names tulip prickly pear and desert prickly pear found across the southwestern United States, lower Great Plains, and northern Mexico. The plant forms dense but localized thickets. Several varieties of this particular species occur, and it also hybridizes easily with other prickly pears, making identification sometimes tricky. Opuntia phaeacantha has a mounding habit of flattened green pads. The pads are protected by clusters of spines. Each cluster bearing 1–4 spines. The spines are brown, reddish-brown, or gray, and often over 3 cm in length. The flowers are bright yellow with a pale green center. Some plants produce yellow flowers with an orange-red center. The edible fruits are red or purple with a pink seedy flesh. The fruit has a mild watermelon or pear flavor. Both the fruit and the fleshy pads provide and important food resource for desert wildlife. Older names for this species, and names for old species which are now considered variants of this species, include plateau prickly pear, brown-spined prickly-pear, Mojave prickly pear, and Kingman prickly pear.
Engelmann Prickly Pear (CAM)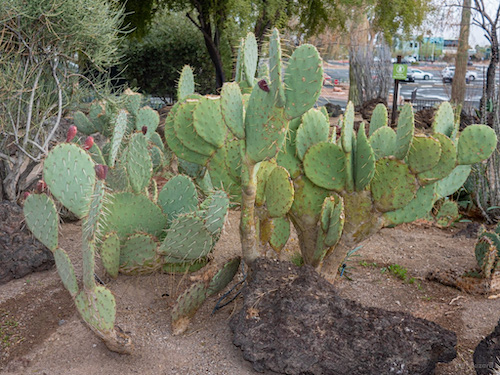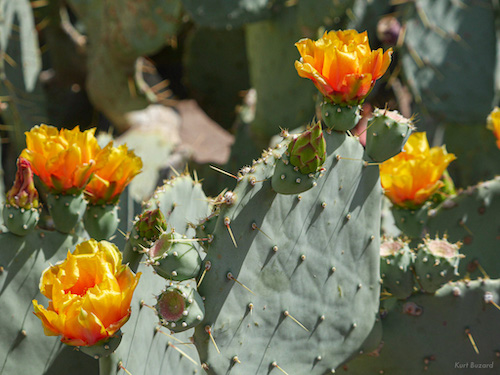 This plant was labeled Prickly Pear (Opuntia phaeacantha discata) at the cactus garden but the name seems to be in flux. Llifle gives Opuntia engelmannii var. discata as the current name with Opuntia discata as a synonym, I think the truth is the whole naming convention is under review. In any case, variations of prickly pear are common in the Mohave desert. Engelmann prickly pear is a shrubby cactus forming hemispherical mounds up to 5 feet (1.5 m) high and 2 or 3 times as wide. Pad size varies with individual plants; the largest are over a foot (30 cm) long. (these giants may be hybrids with other species.) The spines are also variable. The O'odham recognize this variability in applying 4 or 5 names to different forms. The flowers are yellow, about 3 inches (8 cm) in diameter, and bloom in May near the end of the spring flowering season. They last a day each, and those of some plants age to orange by afternoon. The juicy fruit ripens to varying shades (from plant to plant) of rich purple to red. The specific status of this plant is still in dispute; it has been shuttled between Opuntia phaeacantha, O. discata, and O. engelmannii by different taxonomists during the past few decades. In Arizona, California, and New Mexico, Opuntia engelmannii var. engelmannii hybridizes with O. phaeacantha yielding numerous named and unnamed hexaploid forms. Hybrid swarms occur in both Zion and Grand Canyon national parks; these plants were perhaps brought in to the parks by native peoples as a food source and they are associated with agaves also believed to have been imported.
Opuntia diploursina (CAM)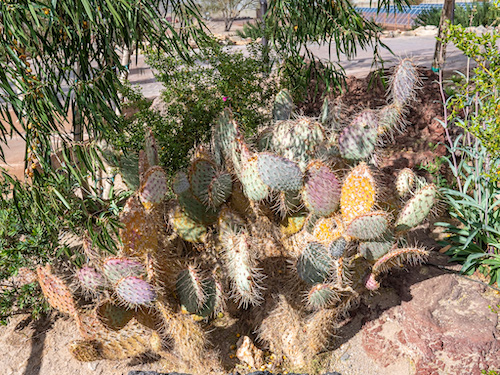 Opuntia diploursina grows near and in Lake Mead National Recreation Area and northward across Nevada's Mormon Mesa, into Utah. This species is a close relative and probable ancestor of Opuntia erinacea, but differs in minor spines more closely appressed to pad surface, spines smaller in diameter and more flexible, inter-areolar distance less, upright growth habit, larger fruit with longer, more flexible spines and larger seeds. Additionally, it has similarities with O. polyacantha erinacea and O. trichophora. O. diploursina grows to 20–45 cm tall with upright branches of 1–4 cladodes. Cladodes are narrowly obovate to elliptic, 9–14 cm long, and 6–9 cm wide. As in O. polyacantha erinaceae and O. trichophora, the areoles are many and close together. Often there is one major spine per areole, especially in the second year. Spines are straw-colored or yellow-tan and flexible, 2–10 cm long. There are many minor spines appressed to the cladode surface and crossing over other areoles. Overall, the plant is very shaggy with its numerous long spines. The yellow flowers are 6–7 cm long, but they can have a peach-colored cast to them due to a pinkish blush on many tepals. The style is white and the stigma is green. Filaments are white. Fruit is dry. There may be about 10–15 spines in each fruit areole–10 mm long or longer. The fruit is many-seeded. At 9–10 mm in diameter, seeds are large, and they have pronounced rims. This was not labeled but I think this is the proper identification.
Grizzly Bear Prickly Pear (CAM)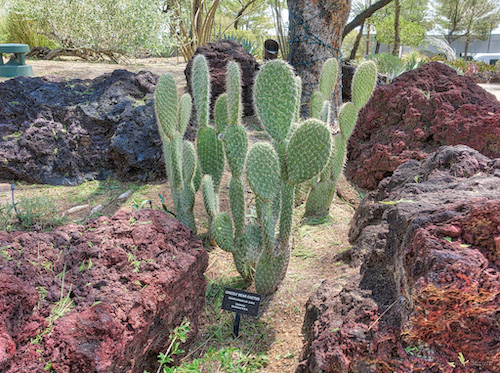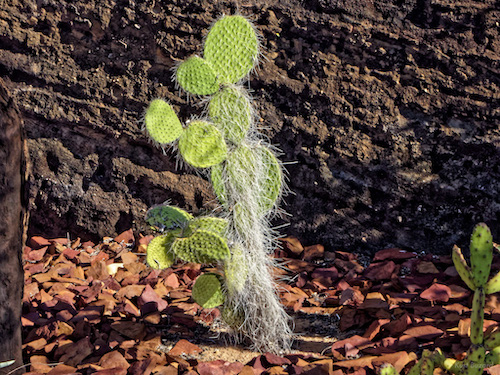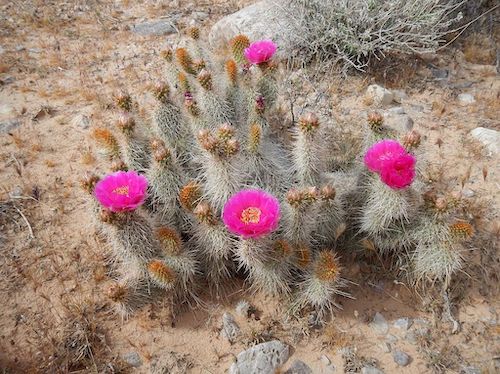 Opuntia erinacea, Also known ad Grizzlybear pricklypear, Mojave prickly pear, Old man cactus, Old man prickly pear, is a species in the family Cactaceae, that is a distributed throughout the Mojave and Great Basin deserts. Opuntia erinacea is proposed by some botanists to be an allopolyploid that resulted from hybridization between Opuntia diploursina and the Beavertail Cactus (Opuntia basilaris).
Hairy Roger (CAM)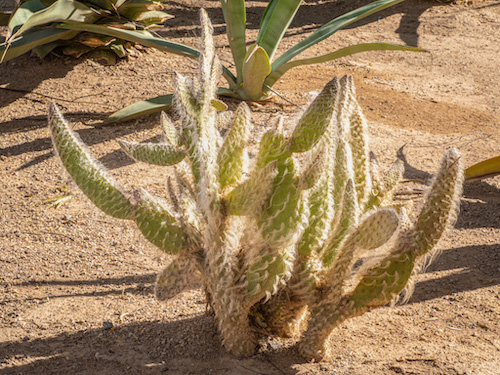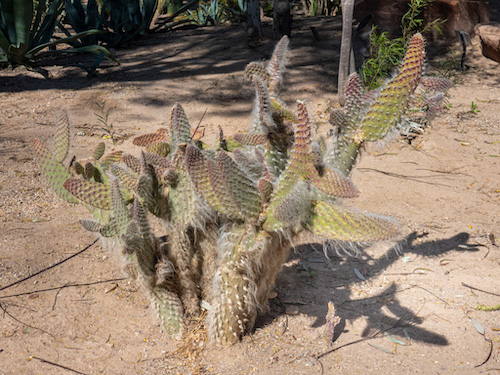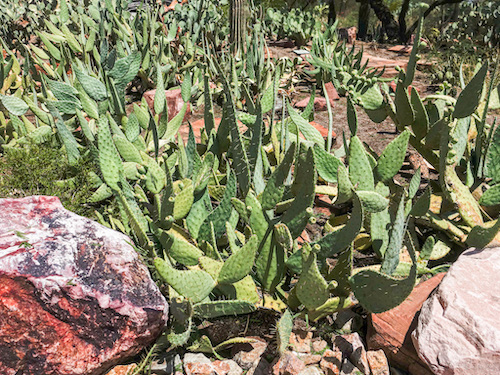 This is an unusual, collectable "hairy" opuntia, probably a hybrid of Cow's Tongue (Opuntia engelmannii var. linguiformis) from Texas and perhaps a Grizzly Bear Prickly Pear (Opuntia polyacantha). Although there are a few for sale, not much info about it.
Purple Pricklypear (CAM)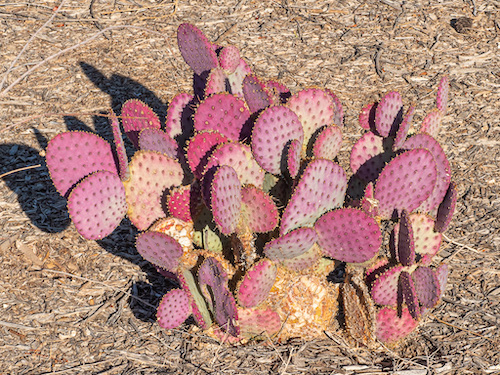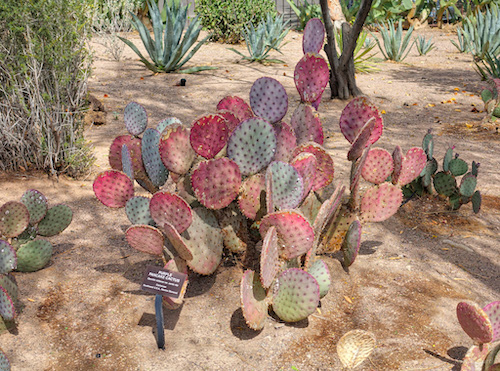 Opuntia macrocentra, the long-spined purplish prickly pear or purple pricklypear, is a cactus found in the lower Southwestern United States and Northwestern Mexico. A member of the prickly pear genus, this species of Opuntia is most notable as one of a few cacti that produce a purple pigmentation in the stem. Other common names for this plant include black-spined pricklypear, long-spine prickly pear, purple pricklypear, and redeye prickly pear. Opuntia macrocentra is an upright spreading shrub, usually growing from 30–60 centimetres (1–2 ft) tall. Individuals occasionally reach 3 feet (1 m) in height. The stem is blue-gray, blue-green, or purplish in color. The purple pad color is the most intense at the edges of the pad or around the areoles. The purple color comes from the production of a betalain (betacyanin) pigment that becomes more evident as the plant is stressed by drought or cold. Different authorities disagree on the division of plants into Opuntia chlorotica, Opuntia violacea, Opuntia gosseliniana, Opuntia macrocentra, and perhaps others. To complicate the issue, there are numerous natural hybrids between species. These purple opuntias are a favorite in desert landscapes and are found throughout the southwest.
Bunny Ears Cactus (CAM)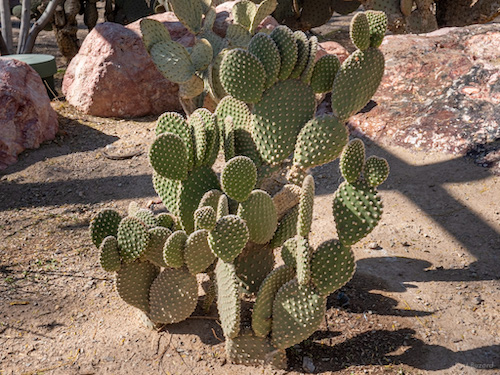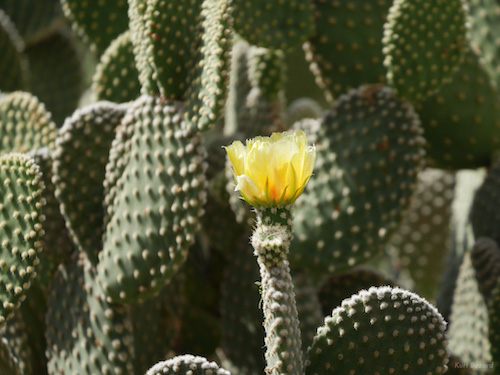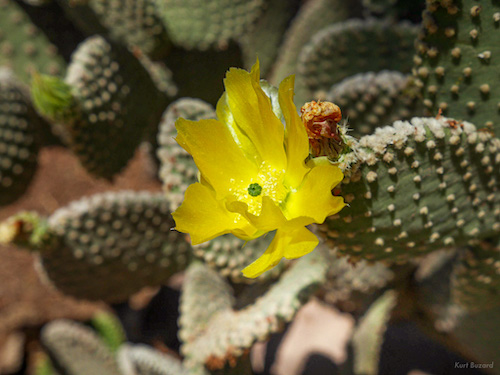 Opuntia microdasys (angel's-wings, bunny ears cactus, bunny cactus or polka-dot cactus) is a CAM plant in the cactus family Cactaceae, native and endemic to central and northern Mexico. This plant will grow 2–3 feet tall and spread 4–6 feet as a mature plant. Instead of spines it has numerous white or yellow glochids 2–3 mm long in dense clusters. They are barbed and thinner than the finest human hairs, detaching in large numbers upon the slightest touch. If not removed they will cause considerable skin irritation so the plants must be treated with caution. The Latin specific epithet microdasys means "small and hairy". The yellow flowers appear only rarely in cultivation although it has flowered at least twice at Ethyl M in the past few years. Despite this, it is a very popular cactus in cultivation, partly because of the young plant's comical resemblance to a rabbit's head.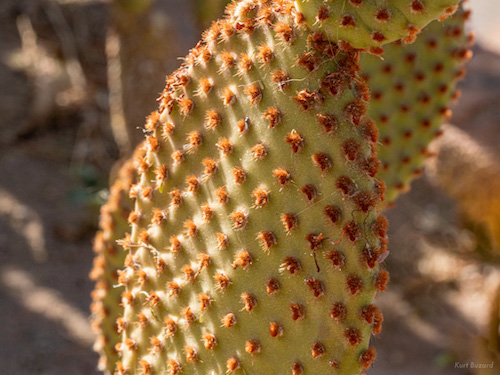 There are many varieties of Opuntia microdasys; among other things, they may be distinguished by the shape and size of the joints and the color of the glochids. The very closely related Opuntia rufida (Opuntia microdasys subs. rufida) differs in having reddish-brown glochids. It occurs further north in northern Mexico, and into western Texas. Some botanists treat the two as a single species.
Teddy-Bear Cholla Cactus (CAM)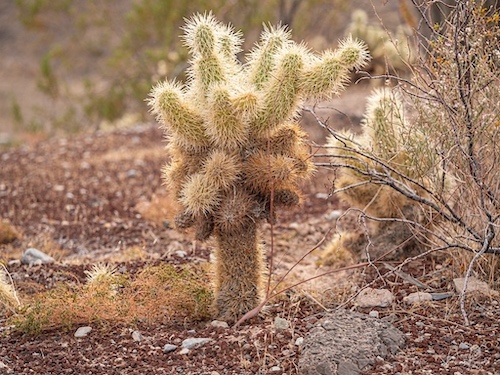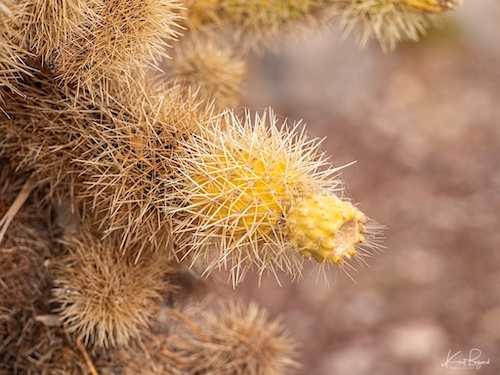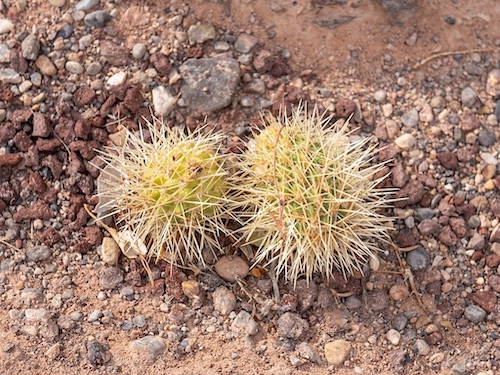 Cylindropuntia bigelovii, the teddy bear cholla, is a cactus species native to Northwestern Mexico, and to the United States in California, Arizona, and Nevada. The Teddy-Bear Cholla is an erect plant, 1 to 5 ft (0.30 to 1.52 m) tall with a distinct trunk. The branches or lobes are at the top of the trunk and are nearly horizontal. Lower branches typically fall off, and the trunk darkens with age. The silvery-white spines, which are actually a form of leaf, almost completely obscure the stem with a fuzzy-looking, but impenetrable, defense. Like its cousin the jumping cholla, the stems detach easily, and the ground around a mature plant is often littered with scattered cholla balls and small plants starting where these balls have rooted.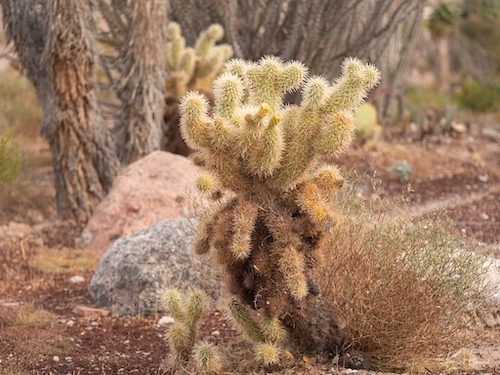 Hot temperatures pose special problems for cacti. Most leafy plants cool themselves during the day by opening their pores. The movement of water from stem to leaf to air keeps leaf temperatures from rising too high. Because their pores open only at night, cacti cannot take advantage of such transpirational cooling. They adapt to desert heat by internal mechanisms. Teddybear cholla, for instance, can withstand an air temperature of 138 degrees F. Most other plants would literally cook at this temperature, but teddybear cholla often rises 59 degrees F or more above the air temperature.
Buckhorn Cholla (CAM)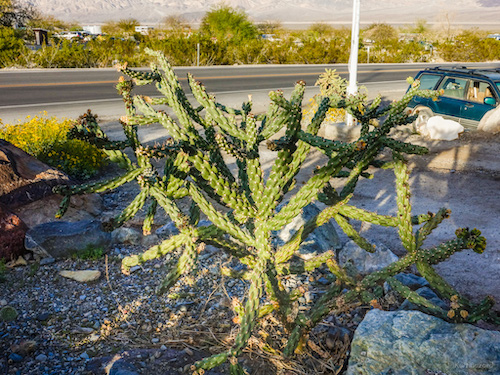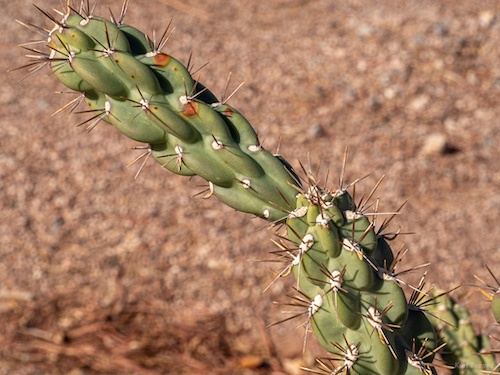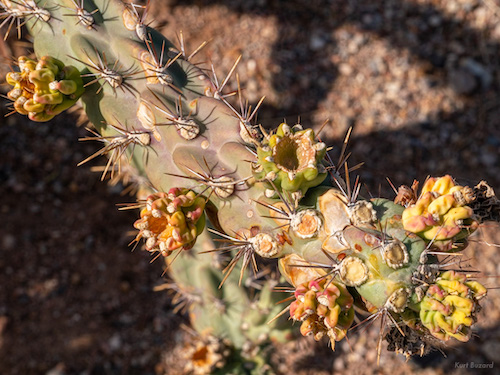 Cylindropuntia acanthocarpa, commonly referred to as buckhorn cholla, is a cholla native to the Mojave, Sonoran, and Colorado Deserts of North America. Along with Cylindropuntia bigelovii (the "teddy bear" cholla), it is the most common cholla found in these deserts. At least six varieties of buckhorn cholla have been identified, differing mostly in spination; acanthocarpa, coloradensis (Colorado buckhorn cholla), ganderi (Gander's buckhorn cholla), major, ramosa and thornberi (Thornber's buckhorn cholla).
Silver Cholla (CAM)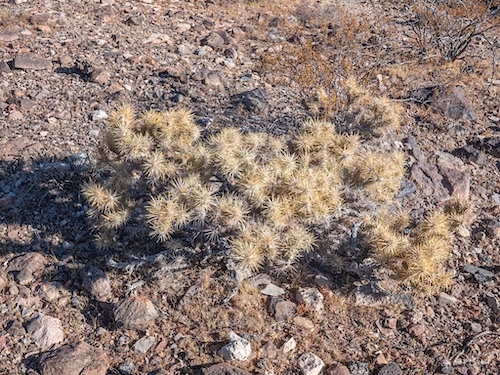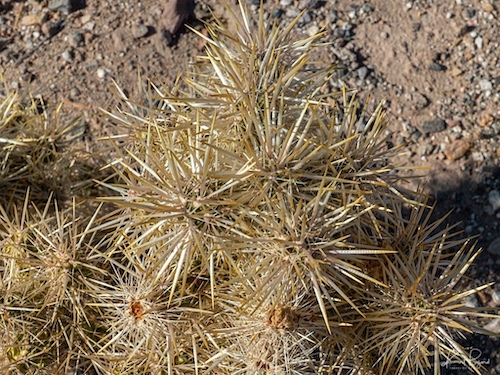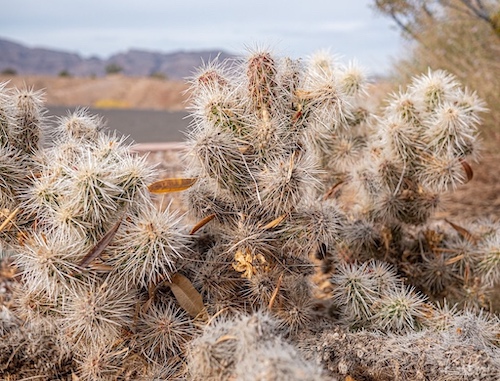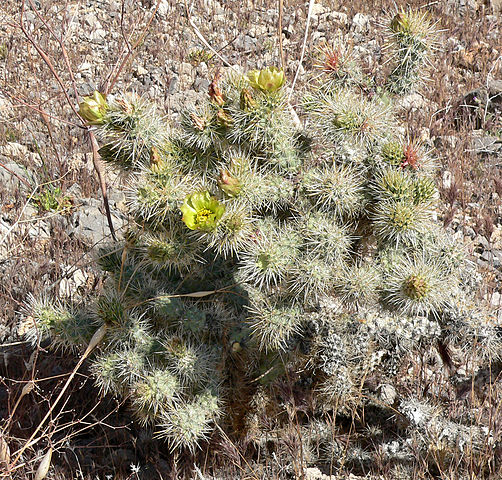 Cylindropuntia echinocarpa, the Silver Cholla, is a cactus species native to Southwestern United States and Northwestern Mexico, where it can be found the Sonoran Desert, the Mojave Desert, and Colorado Desert in California and other states. It is also known by the common names silver cholla, golden cholla, and Wiggins' cholla. It was formerly named Opuntia echinocarpa. It commonly occurs in desert dry wash, creosote bush scrub, Joshua tree woodland, and pinyon-juniper woodland communities. It is an upright cactus with joined, cylindrical stems. They often have a narrow upright trunk, but some populations are essentially prostrate (grow along the ground). Silver Cholla tends to have many short branches that are densely covered with yellowish or golden spines. The stem segments usually are shorter than 4 inches and tuberculated. The flowers are yellow-green and about 2.5-inches in diameter. The spines are covered with a papery sheath that can be plucked off. Silver Cholla superficially resembles Buckhorn Chollas, but Silver Cholla has short stem segments, while Buckhorn Cholla has long stem segments.
Jumping Cholla (CAM)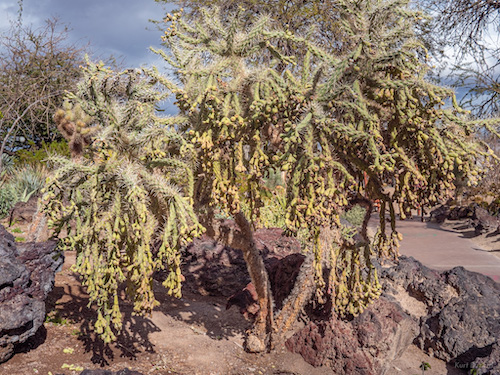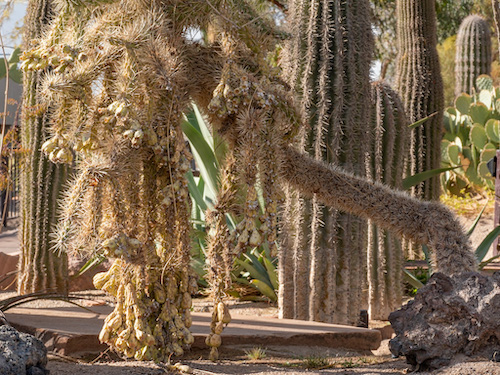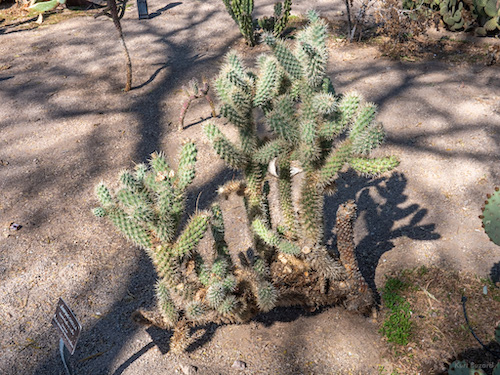 Cylindropuntia fulgida, the jumping cholla, also known as the hanging chain cholla, is a cholla cactus native to Sonora and the Southwestern United States. The greatest range of the jumping cholla is the entire of Sonora, except the Sierra Madre Occidental cordillera on the east and northern California, including the major islands of Tiburon and Isla Ángel de la Guarda. In the Southwestern United States, the range extends into the Colorado Desert of California, and in Arizona. It also reaches into the northeast section of the Mojave Desert in southern Nevada and Utah, and in the very southern section of the Great Basin Desert of southern Utah. While the name "jumping cholla" is applied especially to this species, it is also used as a general term for all chollas. The "jumping cholla" name comes from the ease with which the stems detach when brushed. Often the merest touch will leave a person with bits of cactus hanging on their clothes to be discovered later when either sitting or leaning on them. The jumping cholla is an tree-like (arborescent) plant with one to several low-branching trunks. It often grows to heights of 13 feet (4 m), with drooping branches of chained fruit. The stems are light green and are strongly tuberculate, with tubercles (small, wart-like projections on the stems) measuring 6 to 9 mm. Together, the plants form fantastic looking forests that may range over many acres. Leaves have been reduced to spines, 6 to 12 of which grow from each areole. Young branches are covered with 1–1.5 inches (2 to 3 cm) silvery-yellow spines, which darken to a gray color with age. These spines form a dense layer that obscures the stems. Slower growing or older branches have sparse and/or shorter spines. As the spines fall off of older parts, the brown-black bark is revealed. It becomes rough and scaly with age.
Diamond Cholla (CAM)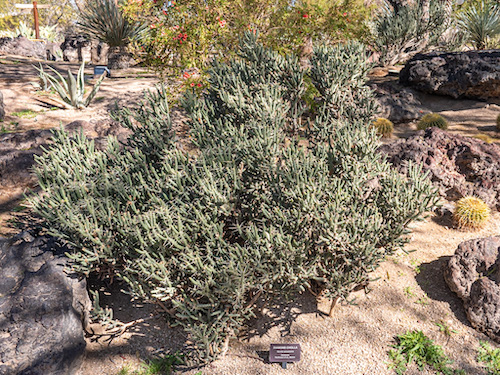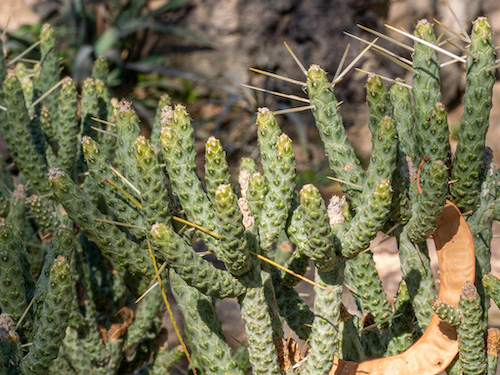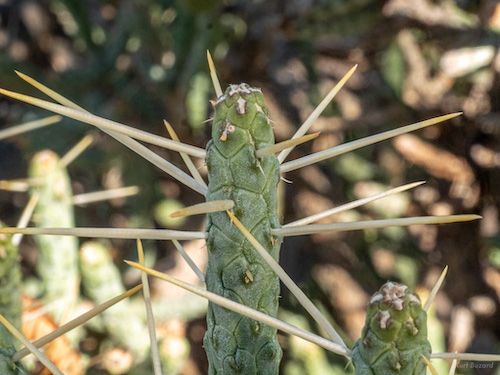 Cylindropuntia ramosissima is a species of cactus known by the common names diamond cholla and branched pencil cholla. Cylindropuntia ramosissima is native to the Mojave and Sonoran Deserts of the Southwestern United States, California, and Northwestern Mexico, and to Baja California and its Islas San Benito. It is an upright, shrub-like cactus with very narrow stem segments and long, but sparse spines. The stem segments are short (to about 3-inches) and narrow (about 1/4-inch diameter). The spines tend to be solitary rather than clustered as in most cactus and usually occur at the growing segment ends, the spines seem to break off on the older segments. Starting off as a low spreading cactus, this erect and treelike cactus can grow to a maximum height of 6 feet, actually more commonly 3 feet. The green stem color is clearly evident, however a lack of water may cause them to turn gray. Close-up views of the stem reveal surface lines in a diamond-shaped or crosshatch pattern. Its straight, round,radial spines range to about 2-inches long. When it blooms in early summer, its inflorescence consists of small solitary flowers (less than 1-inch across), yellow, orange, or red, at the ends of stem segments.
Arizona Pencil Cholla (CAM)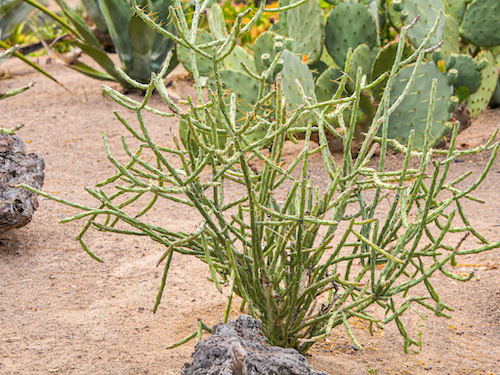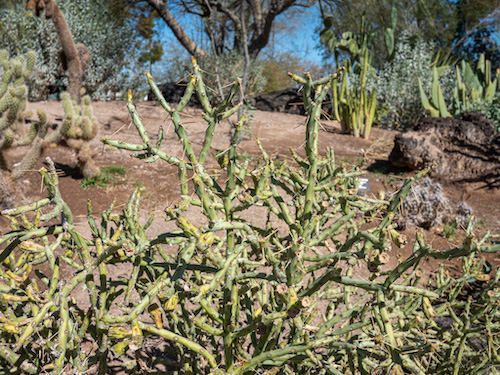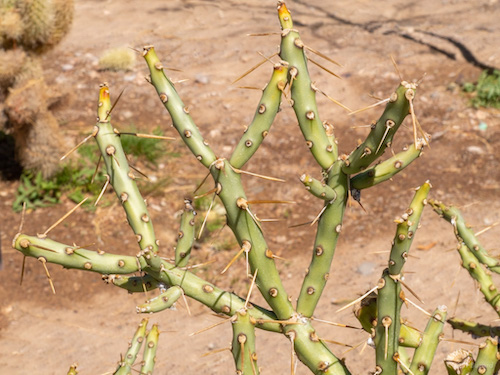 As its common name (Arizona pencil cholla) suggests, cylindropuntia arbuscula is found only in Arizona, in the south central part of the state from the Phoenix area south to the border with Mexico. Stems are lightish green in color and very thin, usually no wider than half an inch (1.5 cm); only the Christmas cholla has thinner branches, and although the ranges of the two plants coincide, they may be readily identified by their fruit. The pencil cholla has green fruit bearing glochids, while the Christmas cholla has smaller, bright red fruit, which remains on the plant for many months. Cylindropuntia arbuscula spines are yellow-brown in color, up to 1.5 inches long and point downwards; there are between 0 and 3 per areole. The lack of spines on some areoles is another identifying feature; Christmas cholla has a generally denser covering. Mature plants reach heights of 4 feet, with hundreds of branches (2 to 5 inches long) sprouting from an upright trunk.
Cane Cholla (CAM)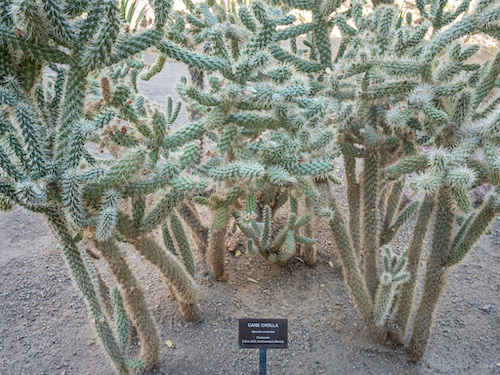 Staghorn cholla is found over a small area of south Arizona, centered on Tucson, and extending south into Mexico. The latin name for staghorn cholla (versicolor) reflects the wide range of colors of its long-lasting flowers, which are produced in spring and early summer; they may be red, yellow, purple or intermediate shades. The cactus adopts a typical upright, branched form, with slender, green or purple stems up to 7 inches long, covered with elongated tubercles bearing clusters of 6 to 11 light-colored spines. The spines are variable in length but all are short – not much more than half an inch, and the neat clusters are quite widely separated so that the spines do not overlap, which is one way to distinguish the staghorn cholla from the similar buckhorn cholla (a slightly wider-stemmed species occupying the same range), for here the spines are longer and thicker, and adjacent clusters do overlap. Another is the fruit; although both are the same color (green) that of the buckhorn is spiny and somewhat knobbly, whereas staghorn's is smooth, rounded, spineless, and remains on the plant a lot longer, sometimes forming short chains.
Southwestern Barrel Cactus (CAM)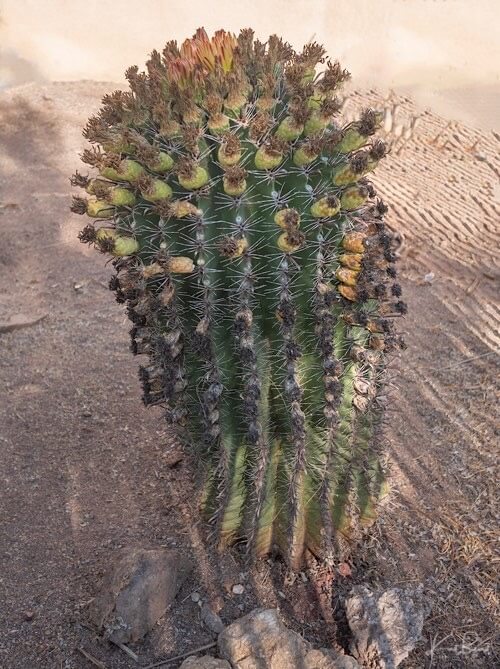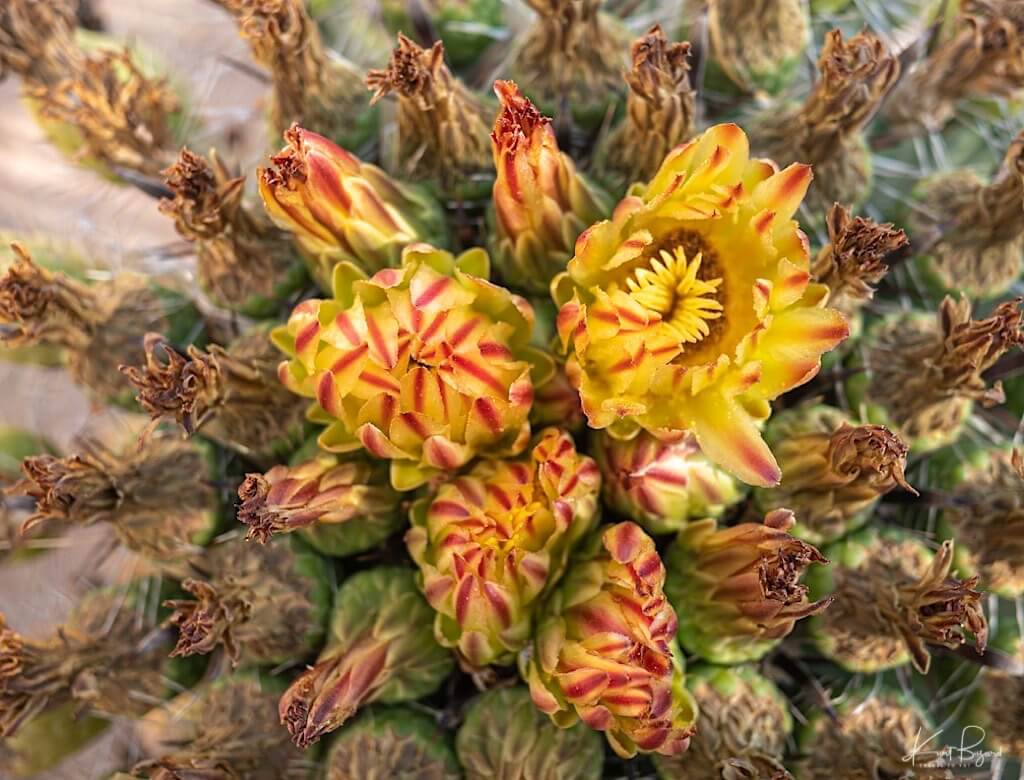 Ferocactus wislizeni, the fishhook barrel cactus, also called Arizona barrel cactus, candy barrel cactus, and Southwestern barrel cactus is native to southwestern United States and northwestern Mexico. It's is easy to remember genus Ferocactus if you think ferocious-cactus. It grows in gravelly or sandy soil, more commonly on bajadas than steep slopes, at 1000 to 5300 feet (300–1600 m) elevation. It prefers full sun, and does well in hot arid climates. In adulthood, fishhook barrel cacti generally lean southward, toward the sun, earning them the nickname "compass barrel cactus." One theory about why this happens is, the afternoon sun is so intense it slows the growth on the exposed side, causing the plant to grow unevenly. Older barrels can lean so far they uproot themselves and fall over, especially after heavy rains when the soil is loose. Its life cycle is 50–100 years. The "fishhook" spines and the armored web of spines enclosing the cactus body are a defense against hungry animals. Its flowers are yellow to red-orange and appear atop the cactus fruit during the summer months although these flowers were photographed in early November. The flowers are pollinated by cactus bees (Lithurge spp.). Mule deer, birds, and javelina eat the fruit. The birds especially like the seeds. The people of the Sonoran Desert use the fruit for candy and jelly.
Cotton Top Cactus (CAM)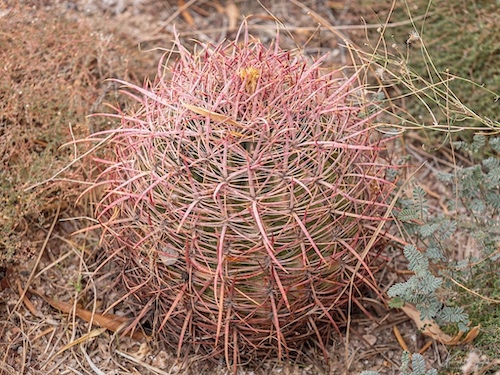 Echinocactus polycephalus is native to the Mojave Desert region of Arizona, California, and Nevada. It also occurs in the Sonoran Desert region of southern California and northern Sonora, Mexico. The plants grow in some of the most extreme arid environments in the American Southwest, such as Death Valley National Park, and the Mojave National Preserve of Southern California. The stems of Echinocactus polycephalus are sometimes solitary, but more often in clusters of as many as 30, each up to 2 feet (0.6 m) tall. The spines are yellow to red. The fruits are densely woolly, giving the common name "Cotton top cactus". They have a reputation for being difficult in cultivation, and are rarely seen in cactus collections.
Strawberry Hedgehog Cactus (CAM)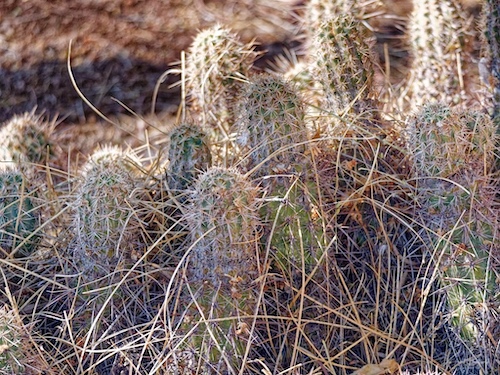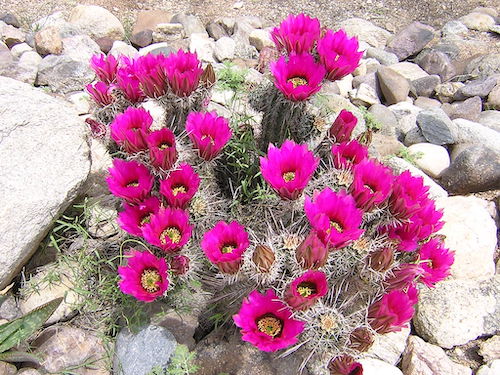 The strawberry hedgehog cactus or Engelmann's hedgehog cactus (Echinocereus engelmannii) is a small cactus commonly found in desert areas of the southwestern United States and the adjacent areas of Mexico, including the states of California, Nevada, Utah, Arizona, Baja California and Sonora. It usually grows in clusters, sometimes up to 20 and more stems. Its bright magenta flowers bloom in April in its southern extremes to late May at northern locations. The flowers are borne at the upper half to one third of the stem. They are funnelform in shape, up to 3.5 inches (8.9 centimetres) long with dark-green stigmas. The fruit is very spiny. At first it is green, becoming pink and drying when ripe. The ripe fruit has spines which are easily detached. The seeds are black, and around a tenth of an inch in size. It is one of the most common species of cactus in the south-western USA (southern California, Arizona, southern Nevada, Utah) and Mexico (Baja California down to northern Baja California Sur, Sonora). Still, there are a number of varieties of Echinocereus engelmannii, and some are quite rare.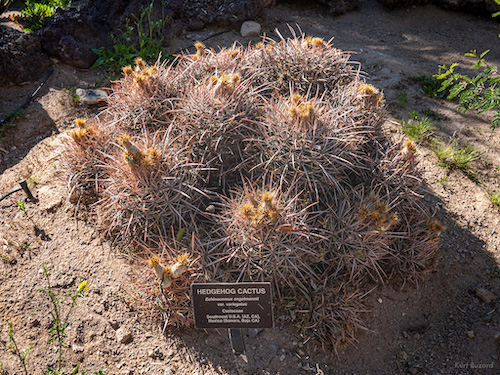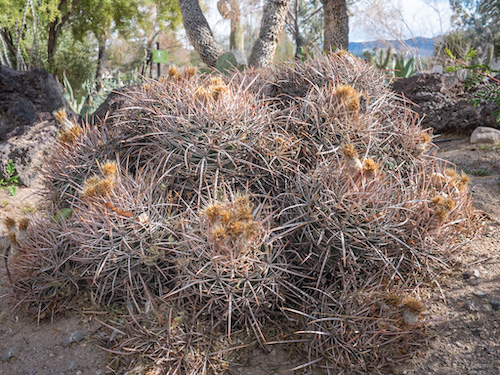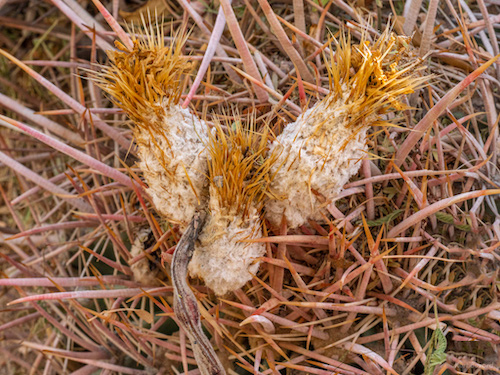 Echinocereus engelmannii is one of the most common species of cactus in the south-western USA and Mexico, the var. variegatus is restricted to Southeastern Utah, Northern and western Arizona.
Black-Spine Claret-Cup Hedgehog (CAM)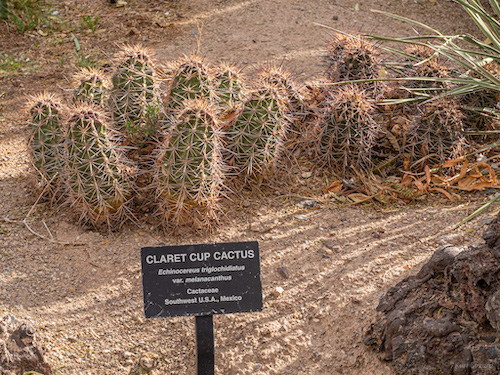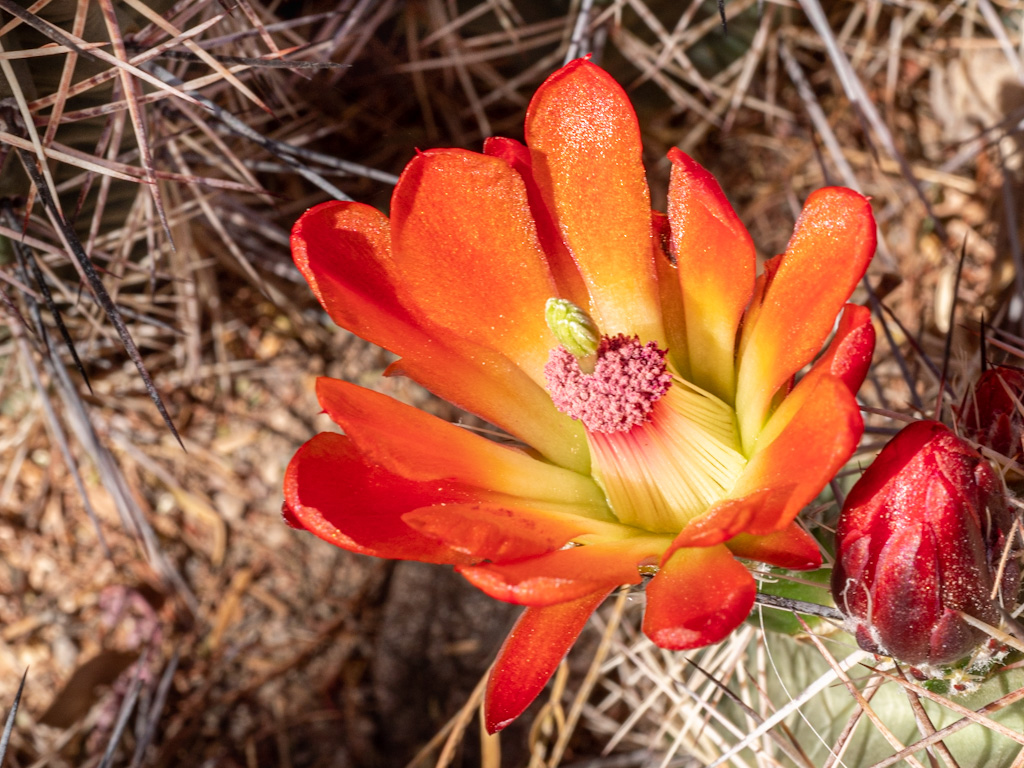 Echinocereus triglochidiatus is a species of hedgehog cactus known by several common names, including kingcup cactus, claretcup, and Mojave mound cactus. This cactus is native to the southwestern United States and northern Mexico, where it is a resident of varied habitats from low desert to rocky slopes, scrub, and mountain woodland. It is most abundant in shady areas. A number of varieties of this highly variable cactus species are known, but not all are universally recognized. In general, it is a mounding cactus, forming bulbous piles of a few to hundreds of spherical to cylindrical stems. It is densely spiny and somewhat woolly. The showy flower is a funnel-shaped bloom up to 8–9 cm wide and bright scarlet red to orange-red tepals. A thick nectar chamber and many thready pink stamens are at the center of the corolla. The flowers are pollinated by hummingbirds.
Mohave Yucca (CAM)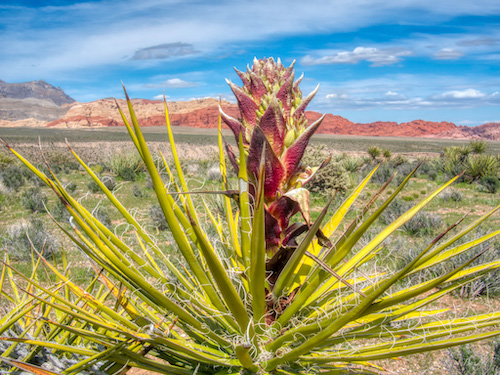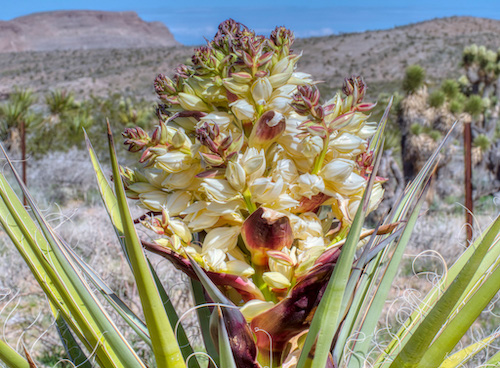 Yucca schidigera, also known as the Mojave yucca or Spanish dagger, is a flowering plant that is native to the Mojave Desert, Chihuahuan Desert and Sonoran Desert of southeastern California, Baja California, New Mexico, southern Nevada and Arizona. The Mohave Yucca (Yucca schidigera) is a small unbranched tree, usually with dead leaves around the trunk, growing as tall as 16 feet (5 m). The yellow-green, thick leaves are much longer than the Joshua tree, 1–5 feet long (30–150 cm), spirally arranged. As you can see above, the flowers are a beautiful creamy white, with a purple tinge on the sepals if out in direct sun, produced in a cluster 2–4 feet (60–120 cm) tall at the top of the stem. The fruit is an elongated berry, up to 5 inches (11.5 cm) long. I truly think this is one of the most spectacular desert flowers.
Banana Yucca (CAM)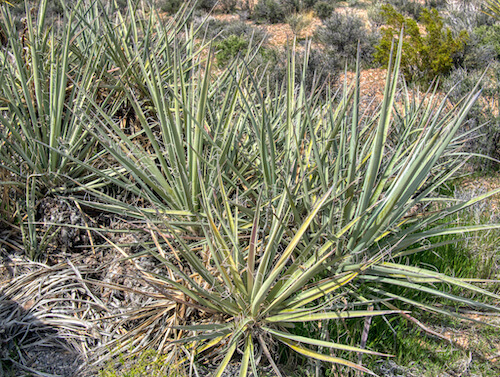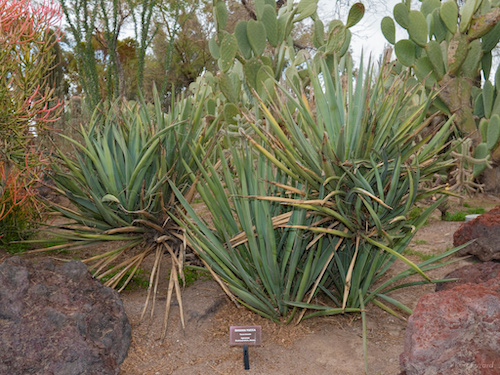 Yucca baccata (datil yucca or banana yucca, also known as Spanish bayonet) is a common species of yucca native to the deserts of the southwestern United States and northwestern Mexico. The species gets its common name "banana yucca" from its banana-shaped fruit. The specific epithet "baccata" means 'with berries'. Banana yucca is closely related to the Mojave yucca (Yucca schidigera), with which it is interspersed where their ranges overlap; hybrids between them occur. Yucca baccata is recognized by having leaves 50–76 cm (20–30 in) long with a blue-green color, and short or nonexistent trunks. It flowers in the spring, starting in April to July depending on locality (altitude), and the flowers range from 5 to 13 cm long, white to cream with purple shades. The flower stalk is not especially tall, typically 1–1.5 meters. The seeds are rough, black, wingless, 3–8 mm long and wide, 1–2 mm thick; they ripen in 6–8 weeks. It is a larval host to the ursine giant skipper, yucca giant skipper, and various yucca moths. I have included two pictures of the Banana Yucca, one in the wild and one at the Ethyl M Cactus Garden to show how different a specific species can look in different environments.
Red Yucca (CAM)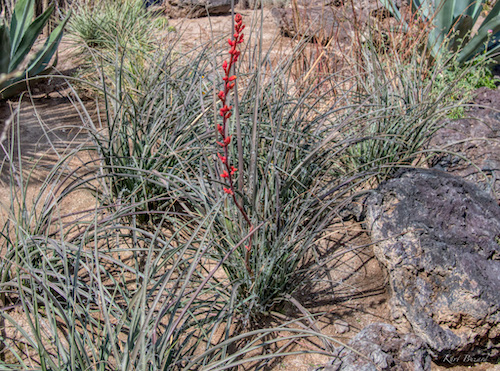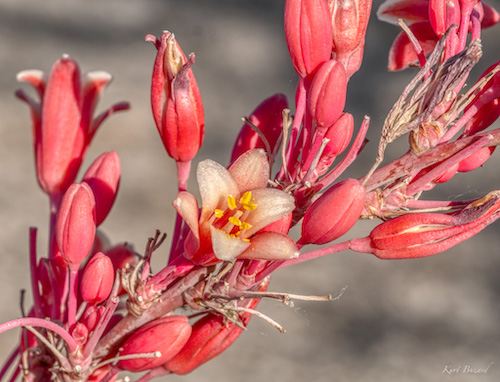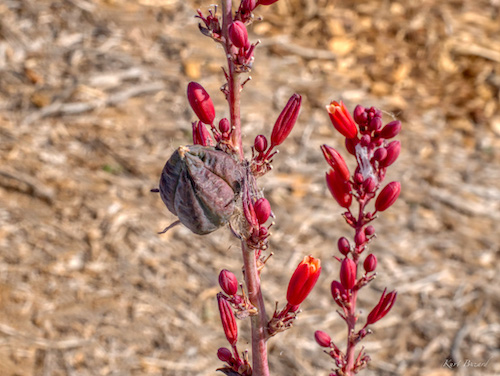 Hesperaloe parviflora, also known as red yucca, hummingbird yucca, redflower false yucca and samandoque, is a plant that is native to Chihuahuan desert of west Texas east and south into central and south Texas and northeastern Mexico around Coahuila. Thus this is not really a native plant to the Mohave Desert but it is used widely in Las Vegas for landscapes and it is a CAM photosynthetic plant. Not a yucca, this member of the Century-Plant family produces soft, yucca-like, evergreen leaves, 2–3 ft. in length, crowded on the perennial's short, woody base. The flower stalk rises 5 ft. and bears showy, coral-colored, tubular flowers occur on arching, wand-like, pink stems. Leaves are plum-colored in winter; blue-green other times.
Shin Dagger (CAM)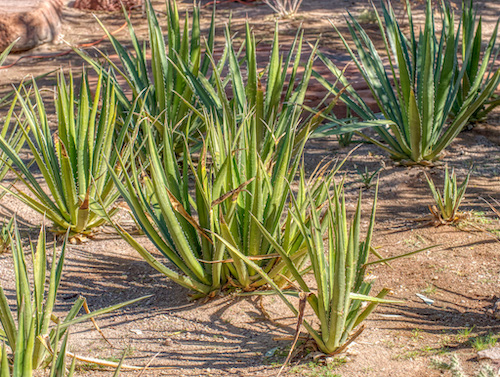 Agave lechuguilla (lechuguilla, meaning "small lettuce") is an Agave species found only in the Chihuahuan Desert, where it is an indicator species. It typically grows on calcareous soils. The plant flowers once in its life, then it dies. The flowers are a source of nutrients for insects, bats, and some birds. The leaves are long, tough, and rigid, with very sharp, hard points which can easily penetrate clothing and even leather, giving the colloquial name "shin daggers". Native people used fibers from the leaves (commonly called ixtle) and a harder fiber called by the trade name Tampico fiber. The water stored in the flowering stalks of this plant, rich in salts and minerals, is sold in Mexico as a sport drink. The plant makes up a large part of the diet of the collared peccary (javelina) in some areas. It is toxic to cattle and sheep, however. Roots of the plants were used as soap by Native Americans. It can flower anytime after the plant has reached three to twenty-one years of age, producing a leafless stalk that can reach 12 feet (3.7 m) in height. The plant dies after flowering. This is a CAM photosynthesis species.
Thread Agave (CAM)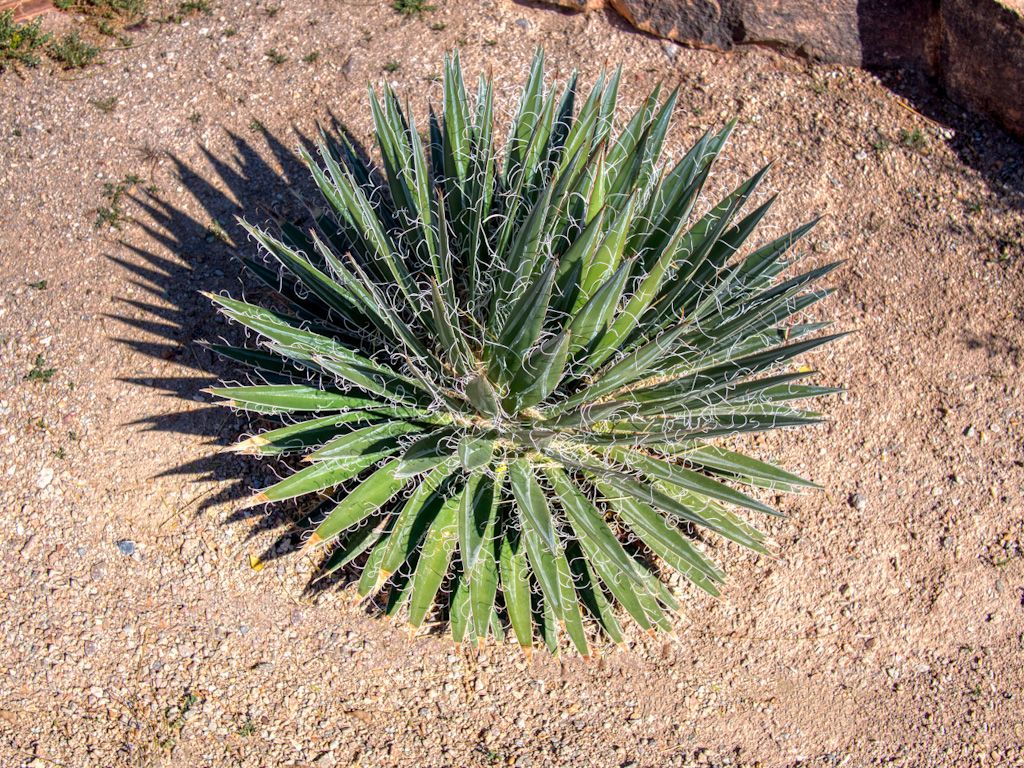 Agave filifera is a clump-forming species from central Mexico, native to several mountain ranges to the north and northwest of Mexico City. It is closely related to Agave schidigera, which has a more extensive area of occurrence farther to the west, but A. schidigera is single-headed and has somewhat longer leaves which are more slender. Both plants have fibers which curl from the edges of the leaves, but these tend to be finer and less conspicuous with Agave filifera. It is a small or medium-sized succulent plant that forms stemless rosette up to 3 feet (1 m) across and up to 2 feet (60 cm) tall. The leaves are dark green to a bronzish-green in color and have very ornamental white bud imprints. The flower stalk is up to 11.5 feet (3.5 m) tall and is densely loaded with yellowish-green to dark purple flowers up to 2 inches (5 cm) long. Flowers appear in autumn and winter. Agave rosettes are monocarpic, meaning they come into flower only once at the ends of their lives, and then die afterwards. With Agave filifera, however, more new heads are produced each year than the number which flower, so the clump keeps expanding over time.
Desert Spoon (C3)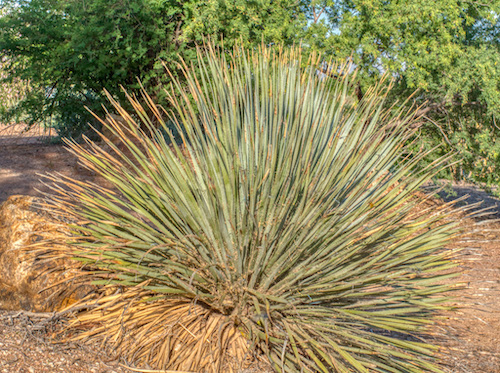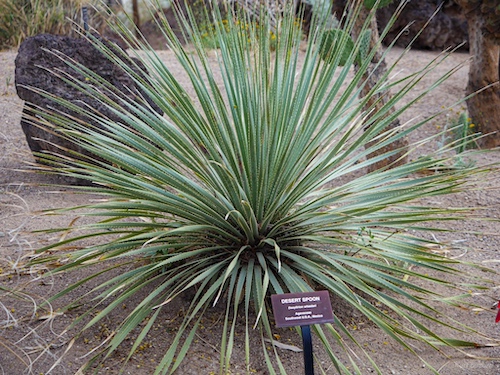 Dasylirion wheeleri (desert spoon, spoon flower, sotol, or common sotol) is a species of flowering plant in the asparagus family Asparagaceae, native to arid environments of northern Mexico, in Chihuahua and Sonora and in the southwestern United States, in the Sonoran Desert in Arizona, and also in New Mexico and Texas. It is not really native to the Mohave desert, even though it grows well in Las Vegas. The alcoholic drink sotol, the northern cousin to tequila and mezcal, is made from the fermented inner cores of the desert spoon. It is the state drink of the Mexican states of Chihuahua, Durango, and Coahuila. The leaf blade is slender, 35–100 cm long, gray-green, with a toothed margin. The leaves radiate from the center of the plant's apex in all directions (spherical). The flowering stem grows above the foliage, to a height of 5 m (16 ft) tall, and 3 cm in diameter. The stem is topped by a long plume of straw-colored small flowers about 2.5 cm long with six tepals. The color of the flower determinate the gender of the plant, being mostly white colored for males and purple-pink for females. The fruit is an oval dry capsule 5–8 mm long, containing a single seed.
Pale Yucca (C3)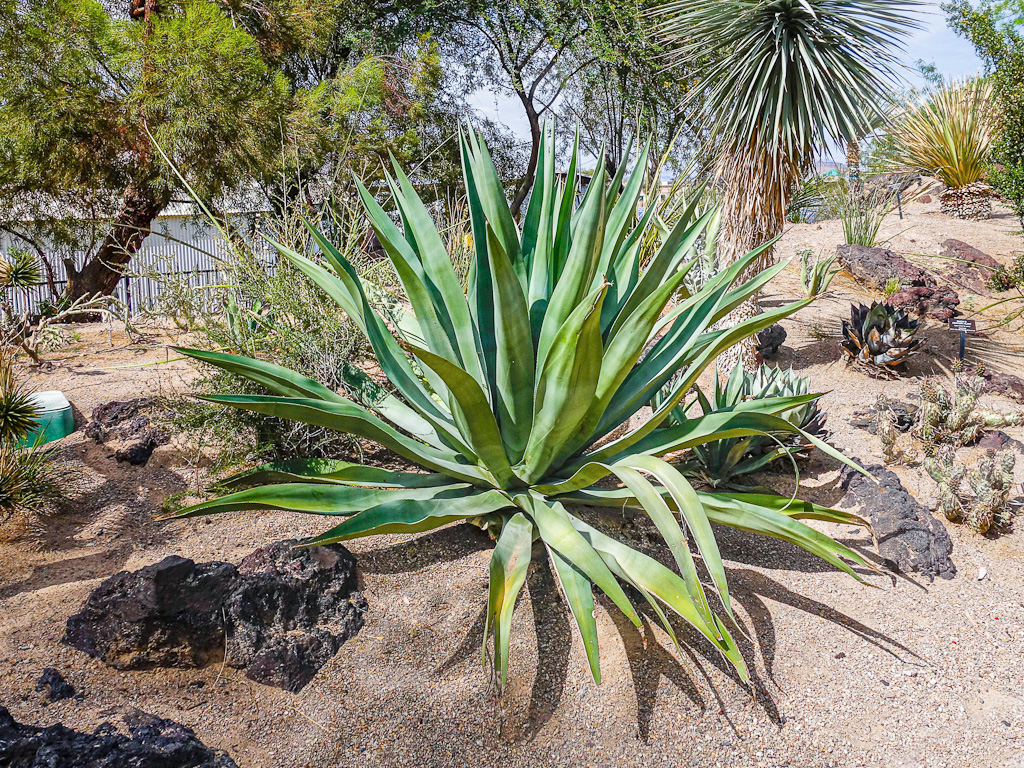 Yucca pallida, sometimes called pale yucca, is a species of yucca native to Northern Mexico and parts of the blackland prairies of northern and central Texas, and notable for its light-colored leaves that range from a pale blue-gray to sage-green in color. The rosettes sit directly on the ground, with little or no trunk. The leaves have a yellow to brown terminal spine, and are generally flat, possibly with some waviness or rolling along the edges. Yucca pallida is known to hybridize with Yucca rupicola Scheele, which has a similar appearance, but whose leaves are more twisted and curved.
Joshua Tree (C3)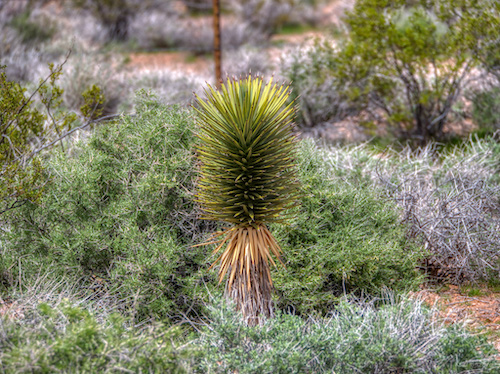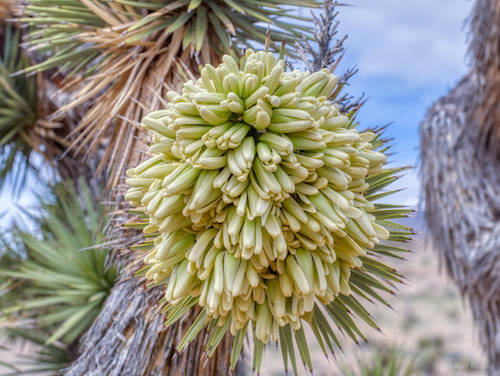 The Mormons named the Joshua tree after the biblical figure, Joshua. The trees appeared to them as if they were raising their branches in supplication. Other travelers, such as John Fremont, described Joshua trees as "repulsive." Both revered and disdained, these members of the yucca genus have become a symbol of the Mohave desert and provide habitat for animals that range from the Scott's Oriole to the Northern flicker. They grow in elevations that range from 3,000–7,000 feet with an average life span of 150 years. As protection from predation, Joshua Trees often germinate under nurse plants until the age of four years. Once their spiny limbs develop, they eventually overtake the nurse plant. Like all yucca, Joshua Trees rely on the Pronuba moth (Tegeticula yuccasella) to pollinate its creamy cluster of white flowers. Joshua trees acquire their energy by C3 photosynthesis although other Yucca can use CAM carbon fixation.
Soap-Tree Yucca (C3)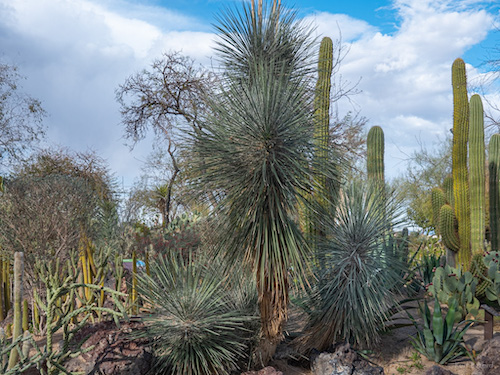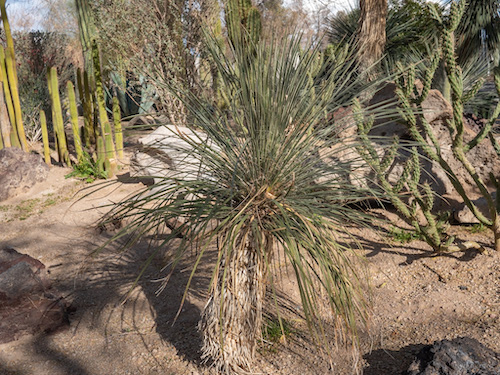 Yucca elata is a perennial plant, with common names that include soaptree, soaptree yucca, soapweed, and palmella. It is native to southwestern North America, in the Sonoran Desert and Chihuahuan Desert in the United States (western Texas, New Mexico, Arizona), southern Nevada, southwestern Utah, and northern Mexico. This plant grows from 1.2–4.5 m tall, with a sparsely branched trunk. The trunk is brown, cylindrical in shape and has a small diameter and often has holes drilled by escaping yucca moth larvae. The leaves are arranged in a dense spiral whorl at the apex of the stems, each leaf 25–95 cm long and very slender, 0.2–1.3 cm broad. The white, bell-shaped flowers grow in a dense cluster on a slender stem at the apex of the stem, each flower 32–57 mm long, creamy white, often tinged pinkish or greenish.
Beaked Yucca (C3?)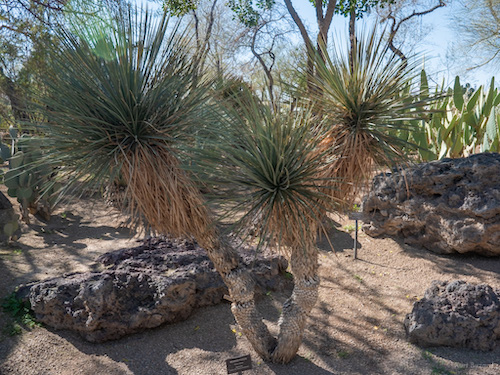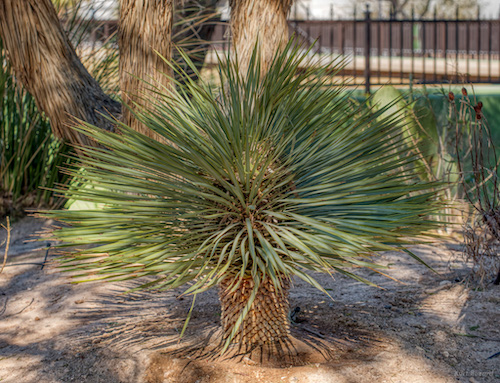 Yucca rostrata also called beaked yucca, is a tree-like plant belonging to the genus Yucca. The species is native to Texas, Chihuahua and Coahuila. A slow-growing tree-like yucca with upright stems and beautiful gray-blue narrow foliage. Although it can branch, it is most often seen with a single trunk, that can grow to 12–15 feet tall. The 2 foot long, stiff, slightly waxy, pale bluish-green leaves with yellow margins, form a dense rosette on top of the stems. The old leaves fall off leaving a fibrous soft gray covering on the trunk. Large clusters of white flowers bloom on yellow-orange colored stalks that rise above the foliage on mature plants in late spring. This is a common cactus but fairly rare in the wild and I could not find the form of carbon fixation. I have a hypothesis that arboreal forms of Yucca are C3 for reasons I will explain in the next post.
Blue Yucca (C3?)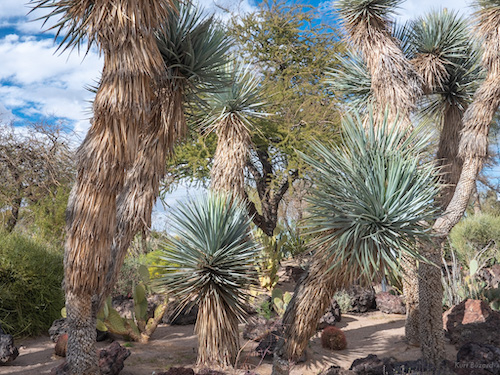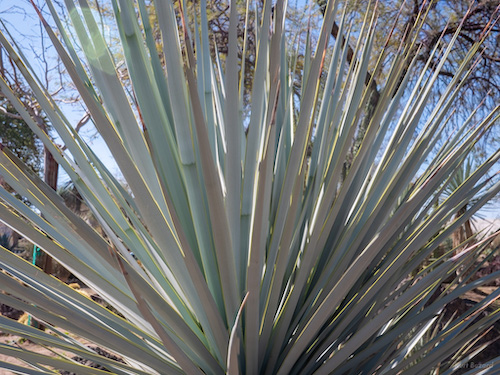 Blue Yucca (Yucca rigida) is only found in northern Mexico were it grows on rocky hill sides. Yucca rigida is in general a single trunked species, but occasionally it forms multiple trunks growing up to 4–5 m height. The beautiful light blue stiff leaves are 30–70 cm long and are 1.2 to 2 cm wide, but in cultivation they can reach 120 cm in length, ending in a stiff dark brown spine. The leaves are also lined with a yellow margin and very tiny teeth that you cannot see but you can feel when you run your finger along the edge. In comparison to Yucca rostrata, the leaves of Yucca rigida are generally wider, less twisted, and less flexible than Yucca rostrata…in other words, more anti-social. The 2' tall flower spike, adorned with pendent white bells that attract hummingbirds, is also held slightly down in the foliage as compared to Yucca rostrata. This is a common cactus but fairly rare in the wild and I could not find the form of carbon fixation. I have a hypothesis that arboreal forms of Yucca are C3 for reasons I will explain in the next post.
CAM in the Agavoidea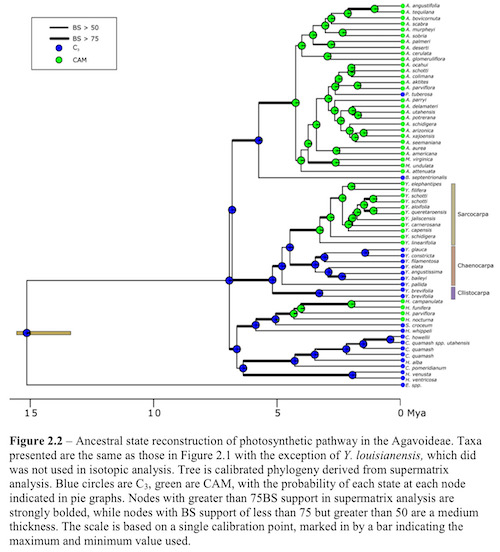 I have included this helpful phylogenetic tree from Caroline Heyduk since not all members of Agavooidea have convergently evolved CAM photosynthesis. Agavoideae is a subfamily of monocot flowering plants in the family Asparagaceae, order Asparagales. It has previously been treated as a separate family, Agavaceae. The group includes many well-known desert and dry-zone types, such as the agaves, Hesperoyucca and yuccas (including the Joshua tree). About 640 species are placed in around 23 genera. Hesperoyucca is a small genus of two recognized species of flowering plants closely related to, and recently split from, Yucca, which is in the century plant subfamily within the asparagus family.
As always I hope you have enjoyed the post and will return for more in the future.
References:
Desert Adaptations in Mohave C3 Plants. Travel to Eat
Desert Adaptations in Mohave C4 Plants. Travel to Eat
CAM Photosynthesis in Bromeliads and Agaves
Response of CAM Species to Increasing Atmospheric CO2 Concentrations
PHYLOGENETIC RELATIONSHIPS AND EVOLUTION OF GROWTH FORM IN CACTACEAE. Tania Hernández-Hernández et al
Phylogenetic Relationships and Evolutionary Trends in the Cactus Family. Pablo C Guerrero et al
Nevada Cactus. American Southwest
CAM IN THE AGAVOIDEAE (ASPARAGACEAE) by Caroline Heyduk
Big Beautiful Cactus. Travel to Eat
Opuntia polyacantha var erinacea
Mohave Prickly Pear (Opuntia diploursina)
Desert Prickly Pear (Opuntia phaeacantha)
Opuntia engelmannii subs. aciculata. Llifle
Differences between Opuntia lindheimeri and Opuntia engelmannii
Photosynthetic pathway types of evergreen rosette plants (Liliaceae) of the Chihuahuan desert
Yucca Introduction. Dave's Garden
Ecophysiology of Yucca brevifolia