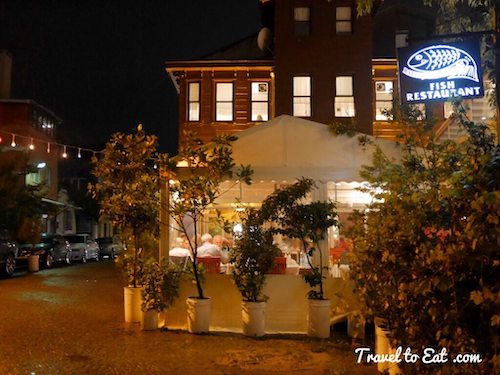 While we were in Istanbul, a friend who lives there invited us out to eat at his favorite seafood restaurant. Balıkçı Sabahattin is housed in a wonderfully restored Ottoman mansion constructed in 1927, nestled behind Hagia Sophia and the Blue Mosque on a quiet side street in the Sultanahmet. It started off more than 40 years ago as a small fish shack and has since developed a reputation as one of Istanbul's top seafood restaurants, popular among both Turks and foreigners. It is still a family-run business, handed down from the original owner Fisherman Sabahattin. The space is decorated with colorful kilims and plants, giving the impression of dining in a cheerful family dining room. A delicious range of cold and warm starters, salads, and fish are available, to be rounded off with light deserts and drinks. The menu leans more towards seafood than fish – octopus, mussels, prawns, and calamari are served alongside a select range of fish, which are priced by weight.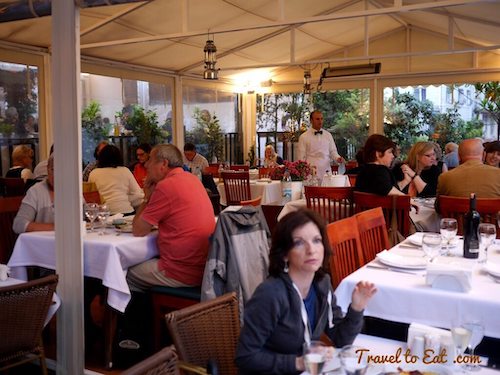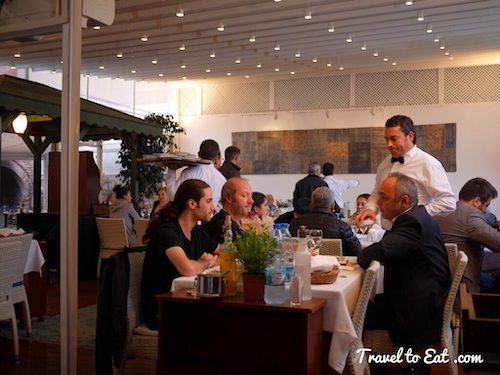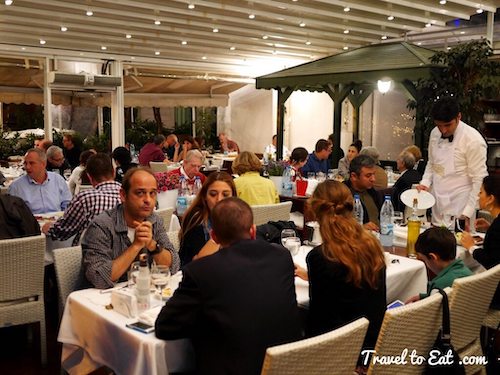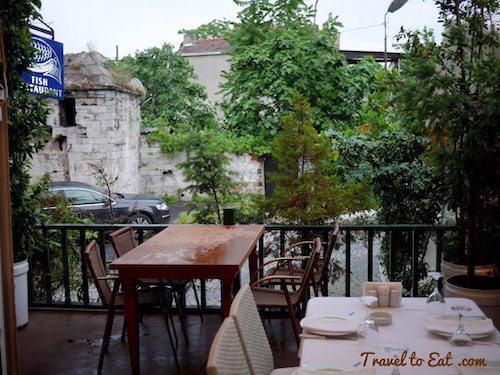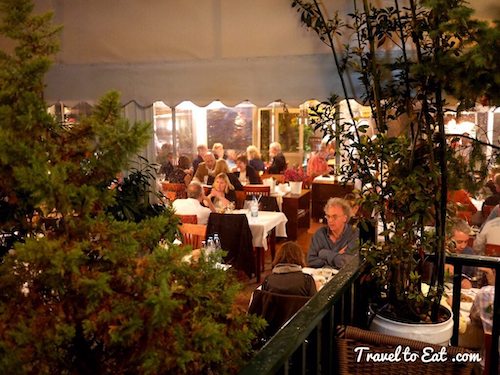 The interior is warm and inviting, divided into sections, a covered veranda, indoors and balcony seating. If you are looking for a restaurant with a great view, you will be disappointed, but for great food in a comfortable environment you will not be disappointed. The service is excellent with very professional waiters and when we visited, as you can see from the pictures, the restaurant was packed.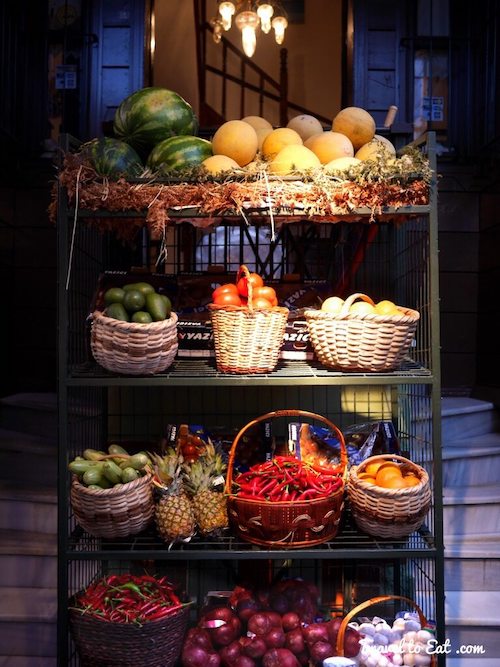 Aleppo peppers take their name from the ancient city Aleppo in northern Syria, 45 kilometers east of the Syrian-Turkish border. For centuries they have been humble and used as were other local peppers in the area (Antep, Urfa, Maraş). This was until they were discovered by renown cookbook author Paula Wolfert who published "The Cooking of the Eastern Mediterranean" (by the way, fantastic must-have) in 1994. According to Los Angeles magazine, this is how the Aleppo pepper came to the attention of American chefs, home cooks and foodies of sorts. In the photo above, you can see two large baskets of red Aleppo peppers along with garlic, shallots, cucumbers, pineapples, mangos, tomatoes, lemons, watermelon and melons. The display presents an artistic and mouthwatering introduction to the restaurant.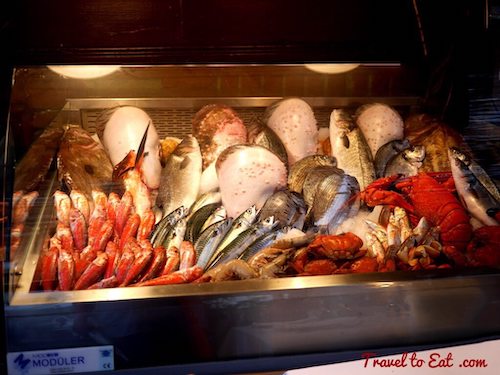 A selection of fresh seafood is also on display including red mullet, octopus, turbo, sea bass, bonito, lobster, prawns and probably other species I did not recognize. Just another impressive display to stimulate the appetite on the way in.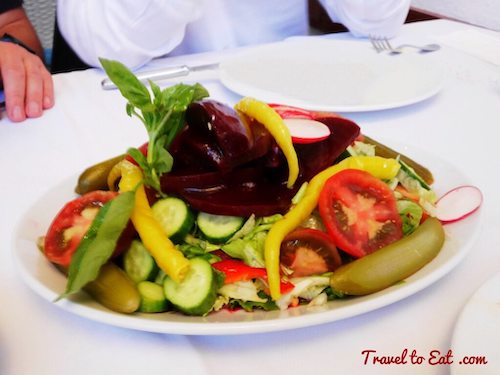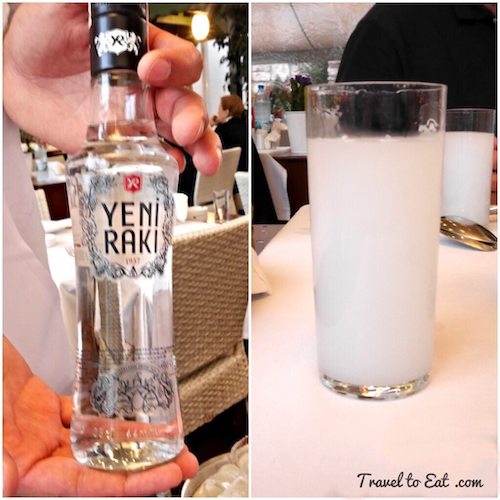 We began with the salad, a beautiful plate heaped with lettuce, radishes, pickled peppers, beets, tomatoes and cucumbers. We also ordered a bottle of Raki, which is famous as the Turkish national drink. Raki is an unsweetened, anise-flavored alcoholic drink that is popular in Turkey, and in the Balkan countries as an apéritif. It is often served with seafood or meze. It is similar to several other alcoholic beverages available around the Mediterranean and the Middle East, for instance, pastis, ouzo, sambuca, arak, and aguardiente. With the collapse of the Ottoman Empire and the establishment of the modern-day Republic of Turkey, grape-based rakı began to be distilled by the state-owned spirits monopoly Tekel. With increasing sugar beet production, Tekel also began to distill the alcohol from molasses, and a new brand of raki made from sugar-beet alcohol was introduced under the name Yeni Rakı ("New Rakı"). Molasses gave Yeni Rakı a distinctive bitter taste and helped increase the drink's popularity. It is usually mixed with water, thus the milky appearance, and I personally find it unpalatable although it is generally cheaper than wine, with a much higher alcohol content, and is thus more popular.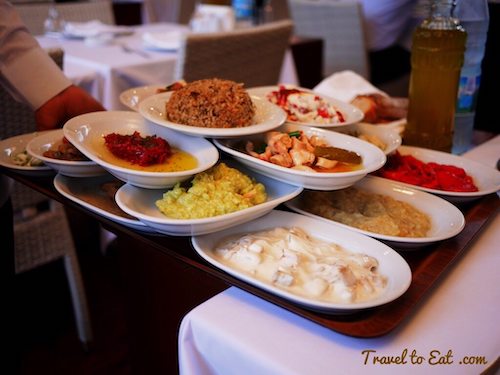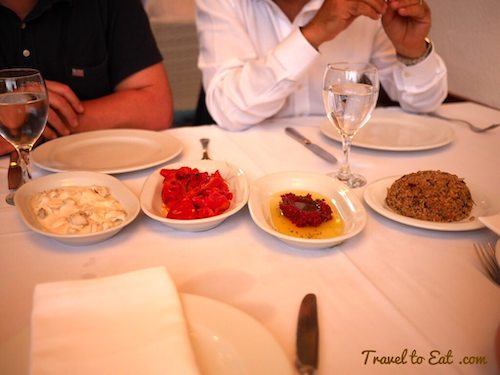 The meze or appetizers are brought to the table already plated and you select those you might like. We chose the rice with mussels (Midyeli Pilav), marinated sea bass (Levrek Marin), Acili Ezme, and roasted red peppers (Közlenmiş biber). Acili Ezme is one of the most popular of all Turkish mezzes, and is found at almost all Turkish meals. It is a spicy and fresh accompaniment especially for kabobs. A mixture of ingredients including minced tomatoes, peppers, onions, walnuts, hot spices, garlic, olive oil and lemon juice, Acili Ezme is a vibrantly red Turkish chopped vegetable dip creased with rivulets of olive oil and jolted with hot pepper paste. It strikes a perfect balance of raw heat and heart-healthy ingredients that will please the spice lover in you. It reminds me of Morrocan Harissa but with more tomato taste, more like a Tunisian Harissa and more mild in terms of spice level. All four of the meze that we ordered are classic dishes in Istanbul. The marinated sea bass was particularly good, sort of like a lemony pickled herring. The rice with mussels was also exceptionally tasty. Other appetizers on the platter include Ahtapot Salatası (Octopus salad), Torik Salatası (Bonito salad), Patlıcan Közde (ember Aubergine/Eggplant), Çıtır (crispy chickpeas), Deniz Börülcesi (Glasswort/ Samphire, sort of like asparagus), Beyaz Peynir (white cheese) and Kavun (Muskmelon).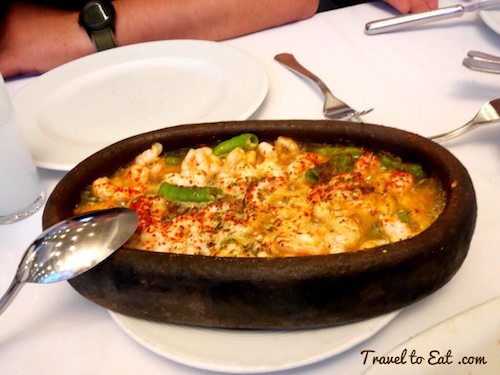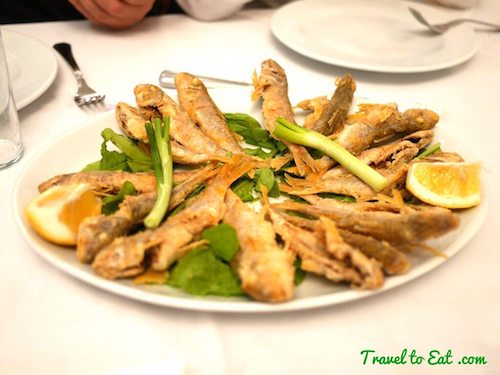 By the time we got to the main course, we were all pretty full, so we ordered two specialties of the house, the first, shrimp casserole (Karides Güveç) with tomatos, peppers and cheese. It was really delicious and worth the extra calories. We also ordered a plate of red mullet (Barbunia) another extremely fresh and delicious dish.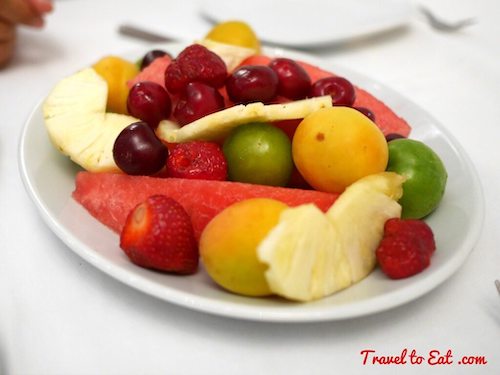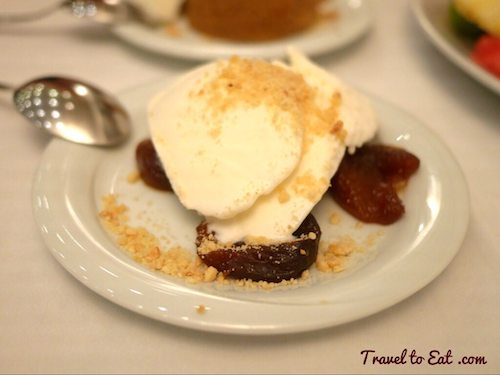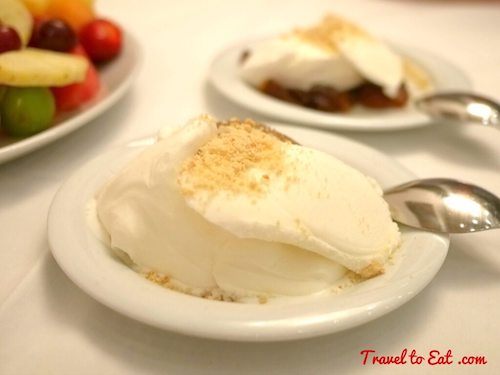 For dessert we had some fresh fruit, dried apricots with clotted creme and vanilla ice cream (Kayisi Tatlisi) and vanilla ice cream over whipped cream with nuts. Green plums (Yesil Erik), as seen in the fruit plate above, are a spring unripe fruit in Turkey, much like almonds, and are eaten in their unripe condition. American consumers rarely or never see unripe fruits or nuts but they are very popular in Turkey and even in Europe. Called Erik in Turkish and goje sabz in Farsi (and sometimes marked as such at the stores), unripe green plums are in season April through June. They taste intensely tart. Crunchy and hard, they are for lovers of all things sour and mouth-puckering. They are usually eaten with a pinch of salt, which brings out the delicate sweetness, and they have a faint floral taste. The plums are small, ranging from the size of hazelnuts to large cherries, and if left to ripen on the tree, they turn golden and syrupy sweet. Due to its rich natural vegetation, Turkey is one of the richest countries in the world in terms of fruit production. Its regional differences in climate and soil type provide a ready environment for the cultivation of fruit as well as vegetables. One may find hundreds of varieties of a single fruit, this is especially true in Turkey for fruits such as pears, apples, grapes and of course plums.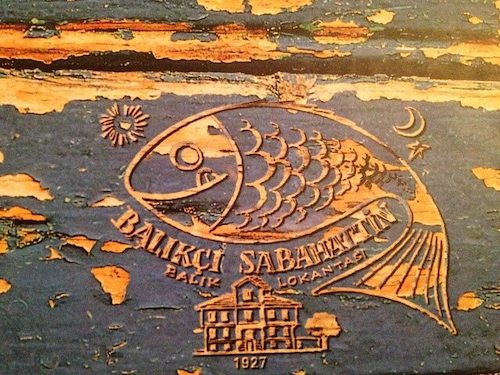 This post has gotten a little longer then I would have planned but it is not only a review of an excellent restaurant but an introduction to Turkish cuisine and dining. Dining out in Istanbul is very similar to France. Our incredibly generous host took us to a dinner that took over three hours to complete, with conversations, periodic infusions of food and of course lots of drinking. This leisurely pace of dining is common all over the world with the exception of the US. I am going to dispense with TripAdvisor on this restaurant because most of the negative comments were due to ignorance on the part of the patrons. One review said they brought a platter of appetizers they did not order, and brusquely dismissed him, when in reality they were being offered a selection from the meze platter. Another said the waiters were rude, I spoke in English to the waiters and they were nothing but polite and helpful. Nonetheless, Balıkçı Sabahattin is consistently ranked in the top ten seafood restaurants in Istanbul and one of the best seafood restaurants I have ever had the pleasure to visit. A trip to Istanbul and especially the Sultanahmet (Old Town) would be incomplete without a visit to this restaurant.
References:
Official Website: http://balikcisabahattin.com/
Top 10 Seafood Restaurants in Istanbul: http://www.wittistanbul.com/magazine/top-10-fish-restaurants-in-istanbul/
TripAdvisor: http://www.tripadvisor.com/Restaurant_Review-g293974-d817660-Reviews-Balikci_Sabahattin-Istanbul.html
The Cooking of the Eastern Mediterranean: http://www.harpercollins.com/9780060166519/the-cooking-of-the-eastern-mediterranean
Acili Ezme: http://thewellseasonedcook.blogspot.com/2010/11/acili-ezme-turkish-red-pepper-dip-for.html
Karides Güveç: http://ozlemsturkishtable.com/2013/11/simply-irresistible-baked-prawns-with-vegetables-and-cheese-karides-guvec/
Harissa: /spicy-morrocan-harissa/
Levrek Marin: http://www.mucizelezzetler.com/tarif-detay/2/balik-yemekleri/levrek-marin
Glasswort: http://en.m.wikipedia.org/wiki/Salicornia_europaea
Erik: http://www.turkeysforlife.com/2010/05/seasonal-food-in-turkey-erik.html