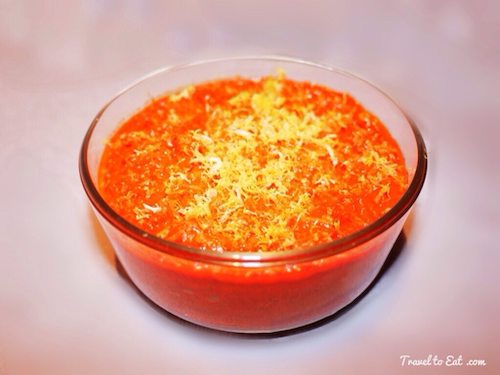 Harissa is a hot chili paste that is commonly found in North African cooking, mainly Moroccan, Algerian, and Tunisian cuisine. It is added to couscous, soups, pastas and other recipes. Recipes for harissa vary according to the household and region. Variations can include the addition of cumin, red peppers, tomatoes, garlic, coriander, mint and/or lemon juice/zest. Tunisia is the biggest exporter of pre-made Harissa although I have found most pre-packaged Harissa too salty and generally inedible. Tunisian Harissa has tomato paste added. Fish and seafood have a natural affinity with harissa: stir the paste into seafood stews, spread it over salmon fillets and grill until crisp, or swirl a generous spoonful through yoghurt or hummus to make a spicy marinade. Treat harissa as an alternative to chili paste in stir fries, soups and grilled dishes, or serve it as a dip to accompany cooked meats. I like to put it in pasta dishes. Boiled potatoes tossed with harissa are great. Green beans, cooked carrots, Brussel sprouts, in mashed potatoes, it goes great with about any vegetable. Of course it is a perfect topping for pizza, hot dogs and hamburgers.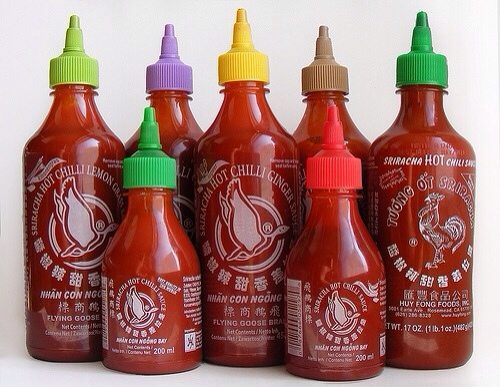 Since Columbus discovered peppers in the New World, spicy hot sauces have proliferated throughout the world. While there are thousands of hot sauces, I have three that are my favorites. Sriracha is a delicious chili-based hot sauce that has taken the world by storm. It literally tastes great on everything. The amazing thing is that they have done zero marketing. In Thailand, Sriracha is frequently used as a dipping sauce, particularly for seafood. In Vietnamese cuisine, Sriracha appears as a condiment for phở, fried noodles, a topping for spring rolls (Chả giò), and in sauces. It is named after the coastal city of Si Racha, in the Chonburi Province of Eastern Thailand, where it was possibly first produced for dishes served at local seafood restaurants. This Americanized version (made with serrano chilies), primarily produced by Huy Fong Foods, is somewhat different from the Thai pastes and has become a common condiment stateside. It rates 2,200 on the Scoville scale. This company also makes a chili garlic version and Sambal – both great hot sauces too. You can put this on anything, this is one of my favorite hot sauces.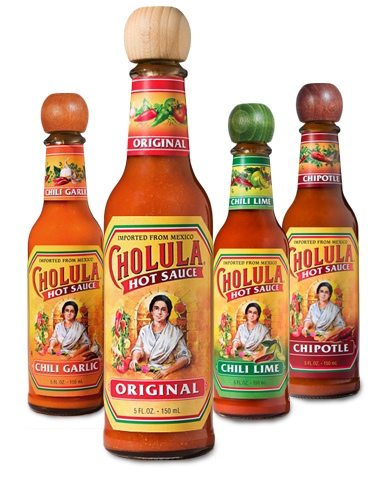 Original flavor Cholula is my pick for one of the best hot sauces ever made. Not actually that spicy/hot, but has a fantastic flavor. It rates 3,600 on the Scoville scale. The sauce is packaged with an iconic round wooden cap in various colors. I put it on and in everything – soup, grits, veggies, veggie burgers, stirfry, chicken, seafood, dips, curry but especially eggs and huevos rancheros. In fact it is the perfect hot sauce for any Mexican food.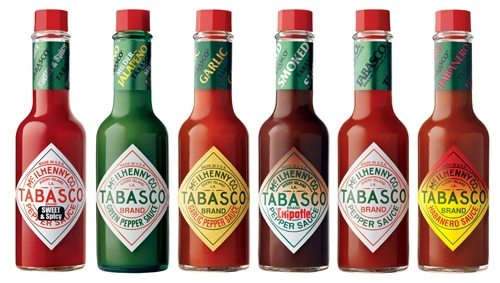 Originally all peppers used in Tabasco sauce were grown on Avery Island. Today peppers grown on the Island are used to produce seed stock, which is then shipped to foreign growers, primarily in Central and South America. Several sauces are produced under the Tabasco brand name, including jalapeño-based green, chipotle-based smoked, habanero, garlic, "sweet and spicy", and "Buffalo style" sauces. The habanero, chipotle, and garlic sauces include the tabasco peppers blended with other peppers, whereas the jalapeño variety does not include tabasco peppers. None of these have the three-year aging process the flagship product uses. The original red variety of Tabasco pepper sauce measures 2,500–5,000 SHU on the Scoville scale. The habanero sauce is considerably hotter, rating above 7,000 Scoville units. The chipotle sauce adds chipotle pepper to the original sauce, measuring 1,500–2,500, the green pepper (jalapeño) sauce is even milder at 600–1,200 Scovilles.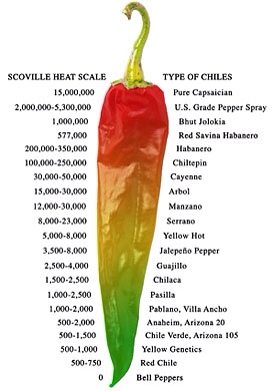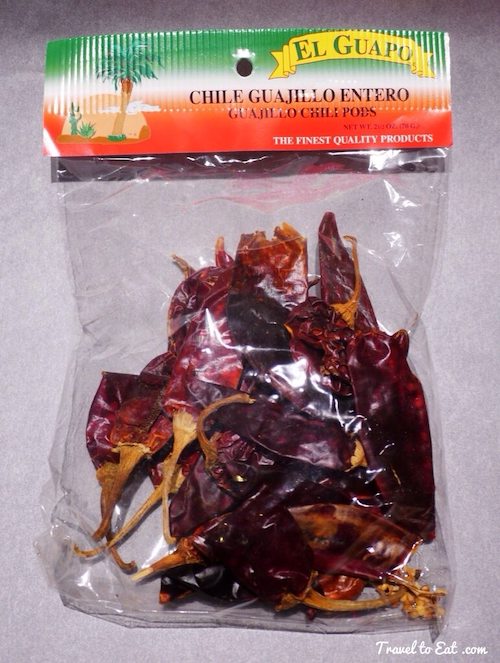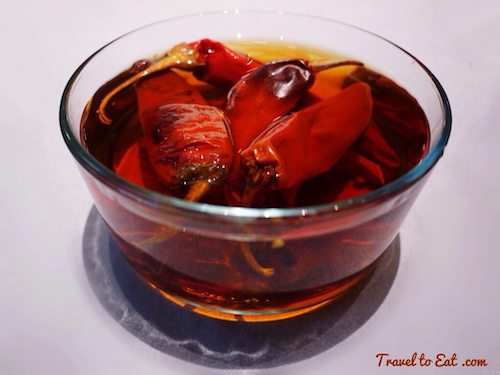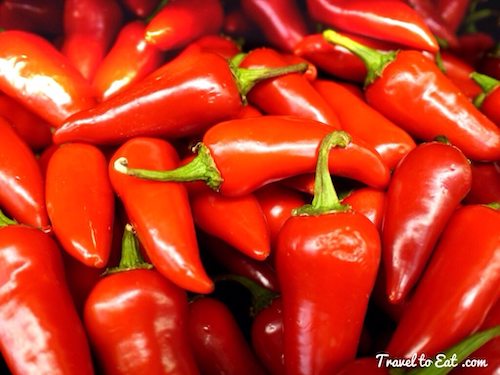 So, with all these thousands of hot sauces, why make your own? Harissa just tastes completely different than any of the above chili sauces. I have to say that I am a bit of a "chili-head", I love the taste of different chilies, spicy sauces and spicy food in general. While I like Tobasco, it is a little watery and has a distinct vinegar flavor. Cholula is a great sauce with a Mexican flavor profile and Sriracha has an Oriental pedigree. The reason I keep making Harissa, is that I like lemon rather than vinegar, I like the mint, I can add as much garlic as I like and I like the spices. I make this 3-4 times a year and change out the peppers, usually with one dried and one fresh. Harissa should be medium to mild spicy, more heat keeps you from appreciating the flavors. For moderately spicy harissa, try a mix of Guajillo and New Mexico or Fresno chiles. Add heat with Arbol or Puya chiles. Add smokiness with Chipotle or Morita chiles. Add richness with Ancho, Mulato, or Pasilla chiles. For a very mild harissa, use roasted red bell peppers, banana or Anaheim peppers. To substitute fresh chiles: Use 1 1/2 as many fresh chilies as dried (3 ounces total fresh instead of 2 ounces total dried). Soak the chilies in boiling water for 30 minutes before cleaning. Reserve the soaking liquid in case you want to thin out the paste.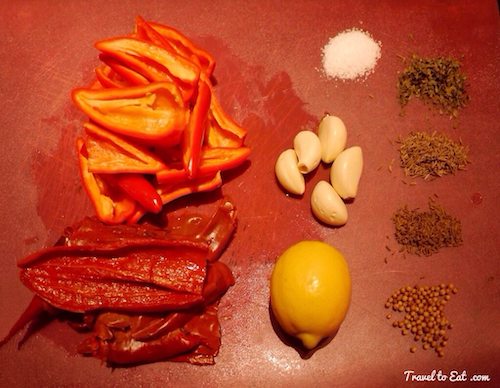 Ingredients:
8 dried guajillo chiles, stemmed and seeded (about 1 1/2 oz.)

12 fresh Fresno Chilies, stemmed and seeded (about 2 oz.)

1 tsp. caraway seeds

1 tsp. coriander seeds

1 tsp.

cumin seeds

2 tbsp. fresh finely chopped mint leaves

1 tsp. kosher salt

5 cloves garlic

Juice and zest of 1 lemon

3 tbsp. extra-virgin olive oil, plus more as needed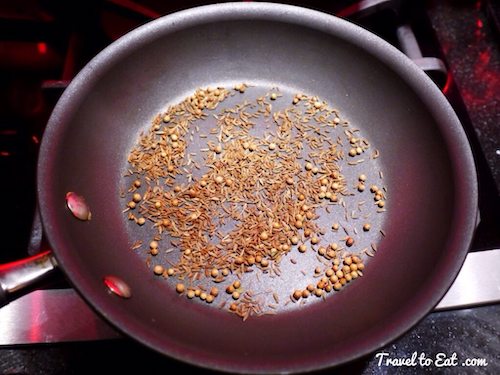 Directions:
Warm the caraway, coriander, and cumin in a dry skillet over low-medium heat, occasionally shaking or stirring to prevent burning. When the spices are fragrant, remove them from the pan. Grind the spices in a mortar and pestle, spice grinder, or coffee grinder.
Combine the chiles with spices, garlic, and salt. Combine the chiles, ground spices, garlic, and salt in the bowl of a food processor. (You can also use a mortar and pestle).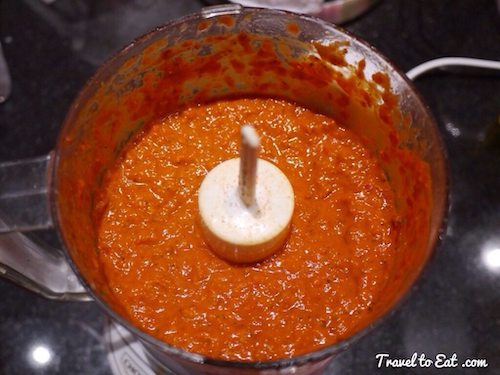 With the food processor running, slowly drizzle in the olive oil and process to form a smooth and thick paste. Scrape down the sides of the bowl occasionally. If a thinner paste is desired, blend in a little of the chile soaking liquid until the paste has reached your desired texture or use more lemon juice. Taste and adjust seasonings. The flavor of the harissa will deepen over the next day or two, but you can taste it now and add more salt or other optional ingredients to your liking.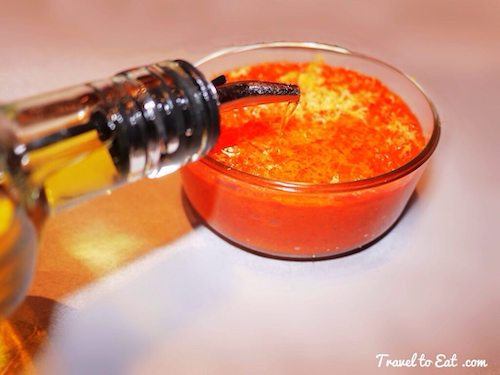 Top with olive oil and store. Transfer the harissa to a jar or resealable container and cover the surface with a thin layer of olive oil. Cover the jar and refrigerate for up to a month, adding a fresh layer of olive oil on the top each time you use the harissa. I have added lemon zest to the surface to give visual appeal and a little more flavor.
Notes:
I really love garlic and added 5 cloves in this recipe. If you like it less, add one or two cloves. The same goes for the spices and dried mint. I like the taste of mint but you can leave it out if you like. You can also use more or less spice, the recipe is very fluid. Finally, don't make the sauce too spicy, it will mask the natural great taste which is why you make it in the first place.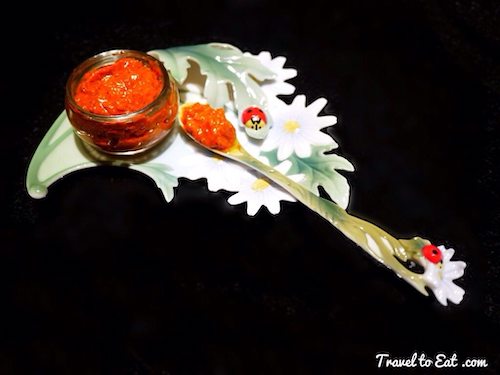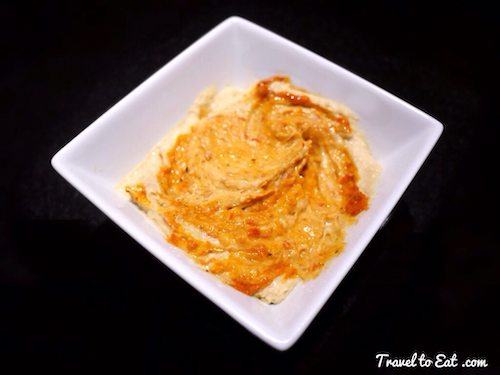 References:
The Kitchn: http://www.thekitchn.com/how-to-make-harissa-cooking-lessons-from-the-kitchn-190188
Saveur: http://www.saveur.com/article/Recipes/Harissa
Whole Foods: http://www.wholefoodsmarket.com/recipe/harissa
Siracha: http://www.nytimes.com/2009/05/20/dining/20united.html?pagewanted=1&_r=0&adxnnl=1&adxnnlx=1388007739-A8t4mttO/Q3tX55CZzQwPQ
Scott Roberts: http://www.scottrobertsweb.com/scoville-scale/
Cook's Thesarus: http://www.foodsubs.com/Chilefre.html