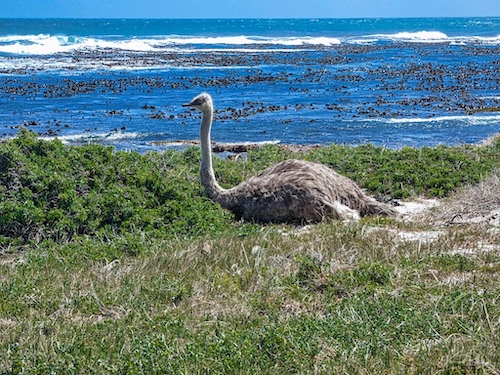 The South African Ostrich (Struthio camelus australis), also known as the Black-Necked Ostrich, Cape Ostrich or Southern Ostrich is a subspecies of the common ostrich endemic to Southern Africa. In the 18th century, ostrich feathers were so popular in ladies' fashion that they disappeared from all of North Africa. If not for ostrich farming, which began in 1838, the world's largest bird would probably be extinct. Today, ostriches are farmed and hunted for feathers, skin, meat, eggs, and fat — which, in Somalia, is believed to cure AIDS and diabetes. Ostriches were hunted to extinction in the Middle East and might have met the same fate in Africa if not for the evolution of ostrich farms. Ostriches are now farmed commercially in more than 50 countries around the world, including the United States. In Roman times, there was a demand for common ostriches to use in venatio games or cooking. They have been hunted and farmed for their feathers, which at various times have been popular for ornamentation in fashionable clothing (such as hats during the 19th century). Their skins are valued for their leather. In the 18th century they were almost hunted to extinction; farming for feathers began in the 19th century. At the start of the 20th century there were over 700,000 birds in captivity. The market for feathers collapsed after World War I, but commercial farming for feathers and later for skins and meat became widespread during the 1970s. Common ostriches are so adaptable that they can be farmed in climates ranging from South Africa to Alaska.
Cape Point Ostrich Farm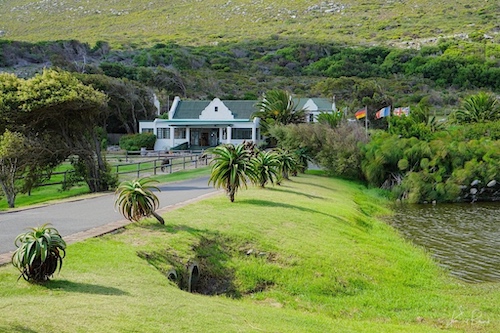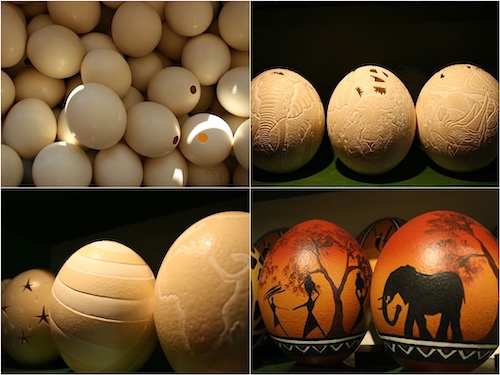 The Cape Point Ostrich Farm lies on the most beautiful part of the Cape Peninsula. The farm is 31 miles (50 km) from Cape Town, next to the Cape of Good Hope Nature Reserve (Cape Point National Park). The drive to the farm is one of the great scenic routes of South Africa leading to the Cape of Good Hope, either via Simons Town or via Scarborough. The farm is easy to find on Cape Town's route M65 south, 400 m north of the entrance to the Cape Of Good Hope Nature Reserve (Cape Point National Park). A family-run business in operation since 1996, the Cape Point Ostrich Farm is found a mere 400m from the entrance to the Cape Point. This Cape Town ostrich farm has guided tours around the grounds with knowledgeable staff educating visitors about this, the largest flightless bird in the world. The birds are found in 40 camps spread across the area. During breeding season, guests may even be lucky enough to experience a hatching. The farm-style restaurant offers breakfasts and lunches while quality leather is on sale with a selection of handbags, belts, wallets and shoes. Carved ostrich eggs are also on sale with decorations ranging from plain or decoupage to intricate carvings and painted scenes. An Ostrich Egg has a slightly sweeter flavor and a fluffier texture when compared to a chicken egg. They are the largest eggs laid by a bird. You will need a chisel and hammer to break the shell. One Ostrich egg is approximately equal to a dozen and a half chicken eggs. On an average Ostrich eggs weigh around 3 to 4 Lbs.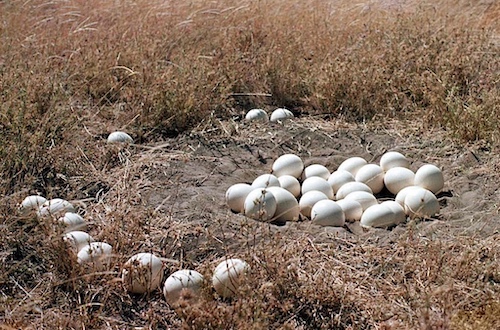 The female common ostrich lays her fertilized eggs in a single communal nest, a simple pit, 30 to 60 cm (12–24 in) deep and 3 m (9.8 ft) wide, scraped in the ground by the male. The dominant female lays her eggs first, and when it is time to cover them for incubation she discards extra eggs from the weaker females, leaving about 20 in most cases. A female common ostrich can distinguish her own eggs from the others in a communal nest. Ostrich eggs are the largest of all eggs, though they are actually the smallest eggs relative to the size of the adult bird — on average they are 6 inches (15 cm) long, 5 inches (13 cm) wide, and weigh 3–4 pounds (1.4 kilograms), over 20 times the weight of a chicken's egg and only 1 to 4% the size of the female. They are glossy cream-colored, with thick shells marked by small pits. Ostriches do not lay eggs throughout the year like chickens do. They have a specific breeding season that starts in June/July every year and the birds will lay one egg every second day. Once they have laid enough eggs to cover with their bodies and wings they will start incubating them. The incubation period is 42 days before the chicks hatch out.
Common Ostrich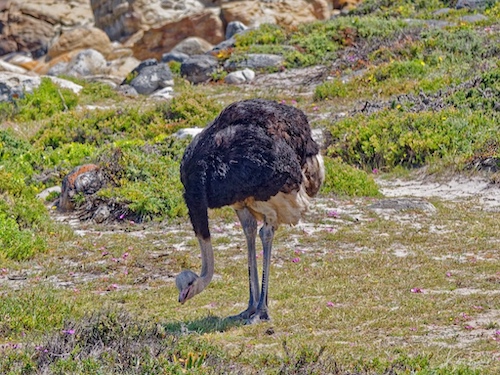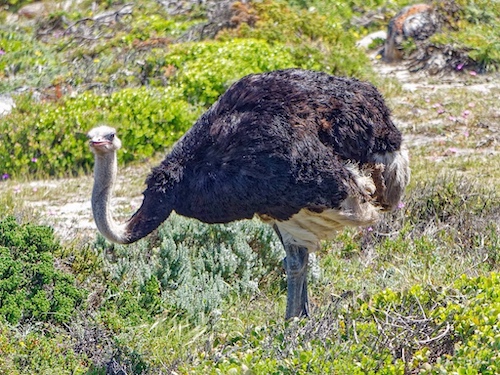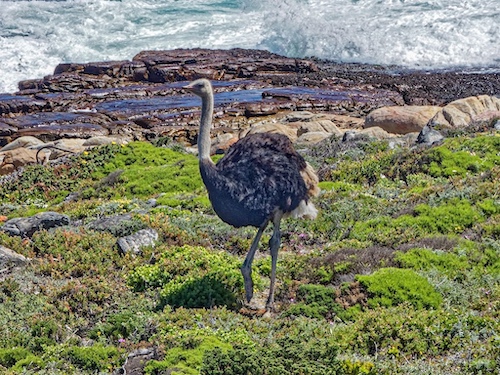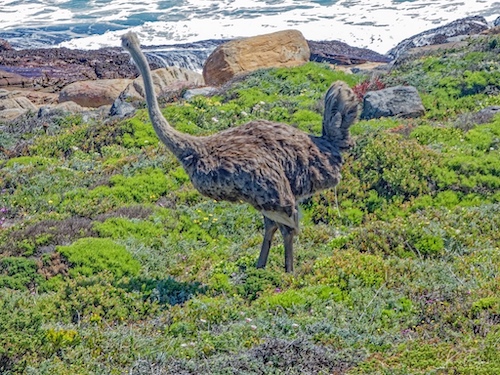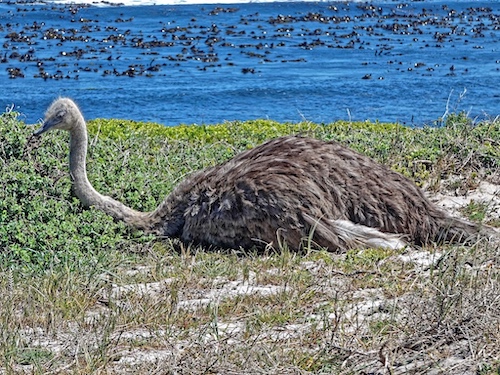 Male ostriches have mostly black plumage but with some white on the wings and tail. The tail may be buff in color or with a reddish color, along with the same color on their bill and lower legs when breeding. The female is a greyish brown and immatures are colored like the females until about one year when they get their full adult plumage. The head and long neck are covered with greyish down while the large thighs are bare. The ostrich's attractive head and bill are rather small for the size of the bird but there is room for their very large brown eyes with thick, long eyelashes over them. The head and neck of both male and female ostriches is nearly bare, with a thin layer of down. The skin of the female's neck and thighs is pinkish gray, while the male's is gray or pink dependent on subspecies. Unlike most birds' feathers, ostrich feathers are loose, soft, and smooth. They don't hook together the way feathers of other birds do, giving ostriches a "shaggy" look. The feathers can also get soaked in the rain, because ostriches do not have the special gland many birds have to waterproof their feathers while preening. The plumage colors of the male and female help them protect their nest when they take turns incubating the eggs as the female has the day duties and the male takes over at night when it is dark. When on the nest ostriches tend to lay their long necks out in front of them on the ground thus appearing like a mound of something else in the landscape.
Mother and Babies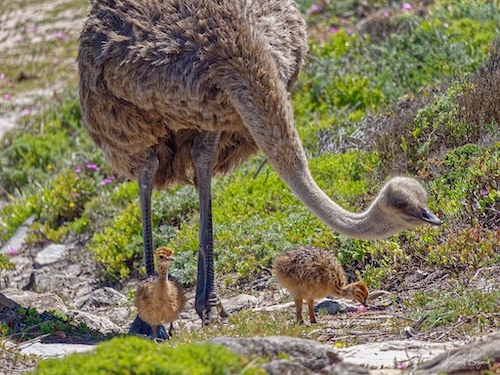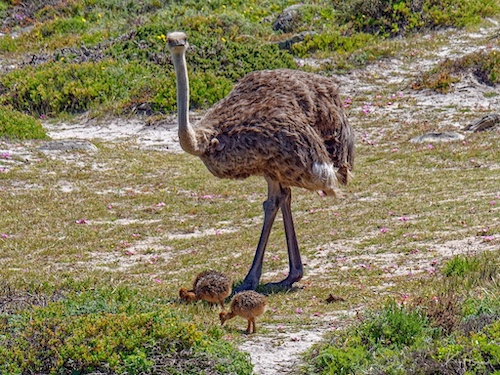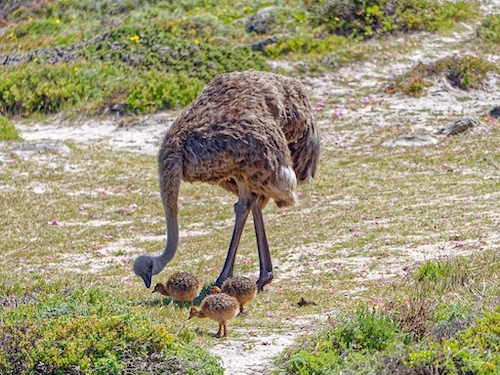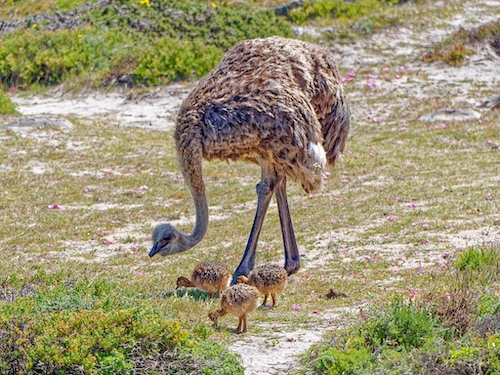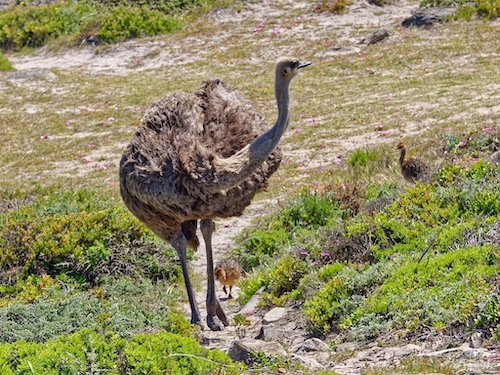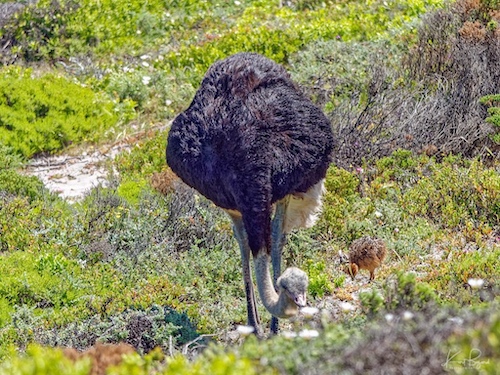 Ostrich offspring are larger than any other bird baby. At birth, chicks can be as big as chickens. The males and females share the responsibility of taking care of the young, according to the San Diego Zoo. Ostrich chicks hatch from their eggs fully feathered. Within a few days, they will leave their nest and follow their parents around. Both parents take an interest in them from the start. They will defend the hatchlings from predators, shelter them under their wings, and teach them what to eat. If the nest or young are threatened, either or both of the parents may create a distraction, feigning injury. However, they may sometimes fiercely fight predators, especially when chicks are being defended, and have been capable of killing even lions in such confrontations.
Baby Ostriches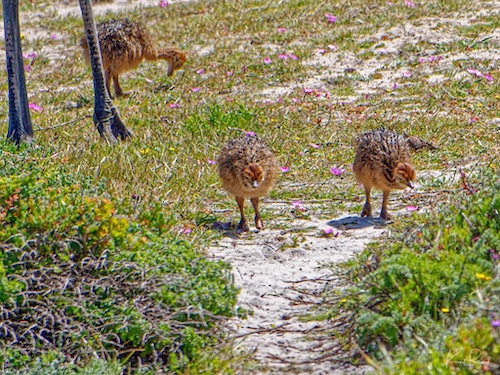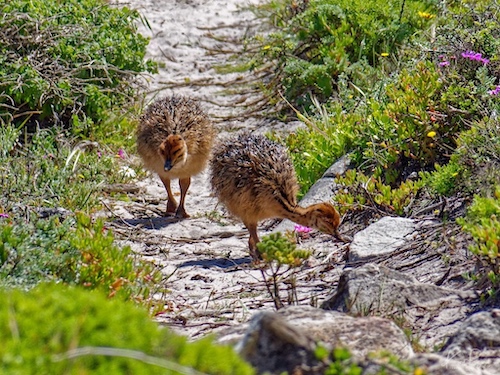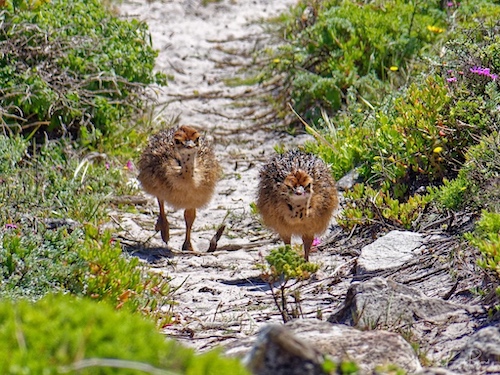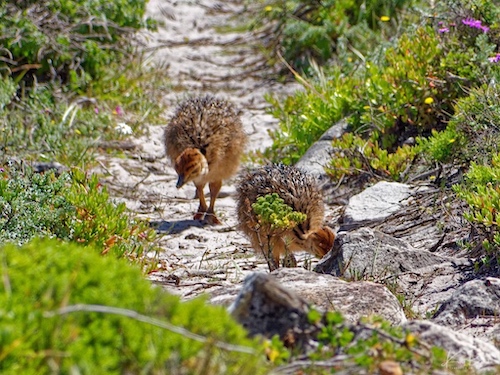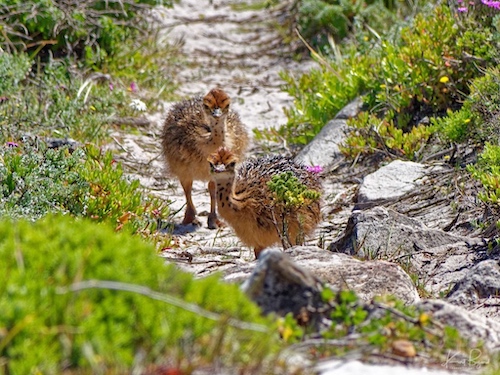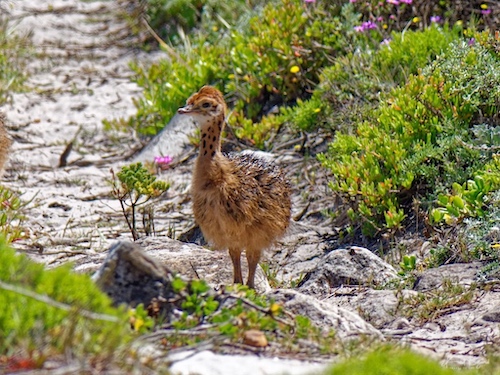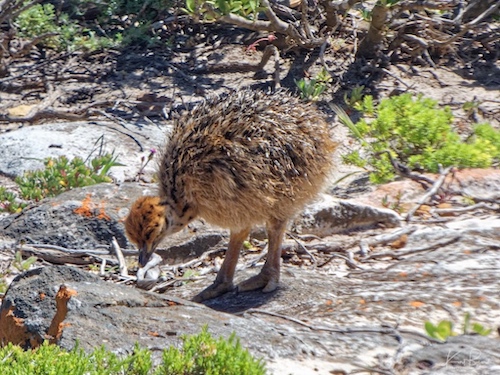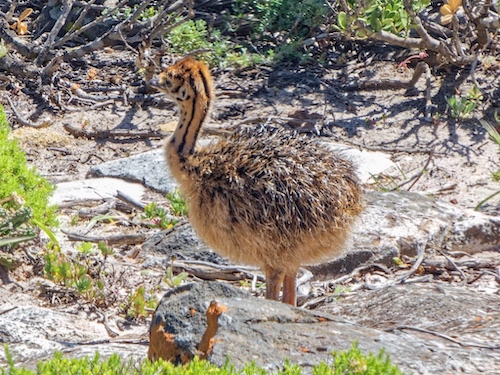 Newly hatched chicks have a strange, prickly down that matches their surroundings thus giving them some camouflage. New chicks are fawn in color, with dark brown spots. In the wild fewer than 10% of nests survive the 9-week period of laying and incubation, and of the surviving chicks, only 15% of those survive to 1 year of age. During the first year of life, chicks grow at about 10 inches (25 cm) per month. By six months, a chick is almost at its full-grown height; at 3 or 4 years, it will reach maturity. At one year of age, common ostriches weigh approximately 100 pounds (45 kg). An ostrich can live 50 to 75 years. Predators of nests and young common ostriches include jackals, various birds of prey, warthogs, mongoose and Egyptian vultures. Egyptian vultures have been known to hurl stones at ostrich eggs to crack them open so they can eat their contents.
Okavango Delta Ostriches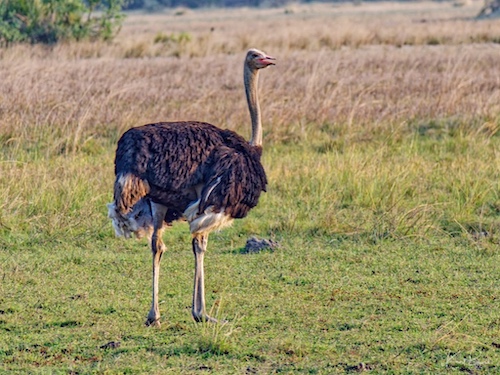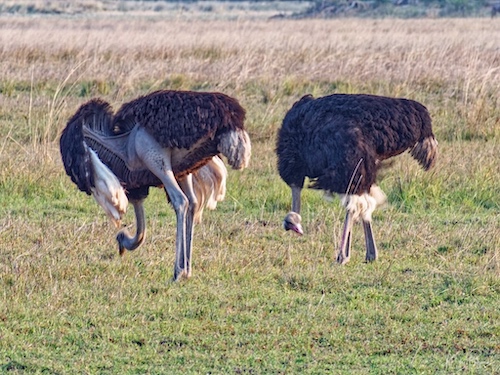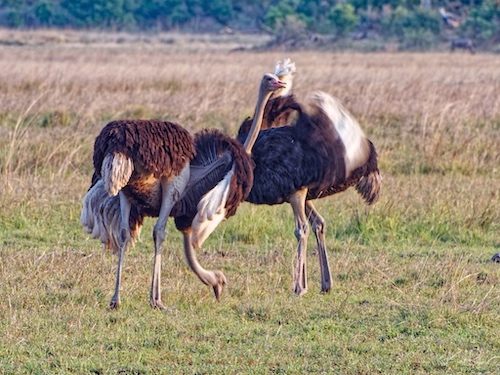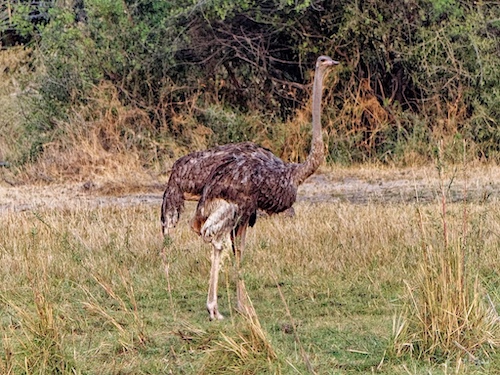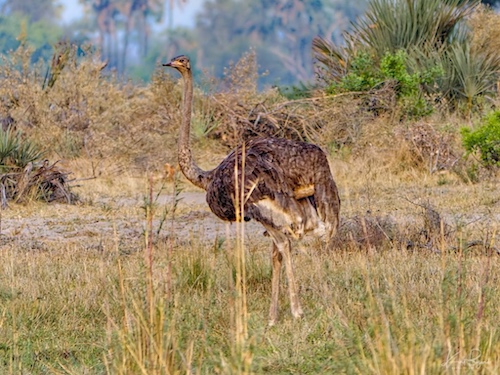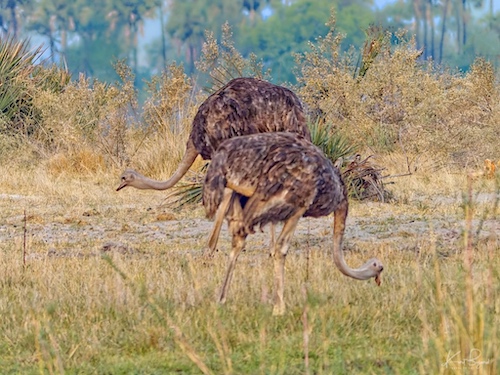 Even the scientific name is interesting as Struthio means ostrich but camelus means camel. Of course the ostrich is not related to, nor looks like a camel but camelus was included in the name to designate its preferred habitat that is the same camels prefer – dry, open plains. There ostriches can often go for long periods without access to water like a camel – if their food contains enough moisture, although they drink regularly if water is readily available. They feed on grasses, shrubbery, berries, seeds, and succulents. They also eat insects and small reptiles — which they chase in an awkward zigzag pattern. These large, flightless birds can rely on the vegetation as a water source for a short time; however, for long-term survival, they need open-water sources. Ostriches live in groups, which helps with defense. With their long necks and keen vision, they can see for great distances, so in a group at least one of them is likely to notice danger approaching. Ostriches sometimes gather in a large flock of 100 or more, but most flocks are smaller, usually about 10 birds or just a male and female pair. The groups have a pecking order, with a dominant male that establishes and defends a territory, a dominant female called the "main hen," and several other females. Lone males may also come and go during breeding season. They can run up to 40 mph (64.3 km/h) for sustained periods of time, according to the American Ostrich Association. Ostriches fight with their feet. They kick forward because that's the direction in which their legs bend, according to the American Ostrich Association. A solid kick can kill a lion.
Do Ostriches Hide Their Heads in the Sand?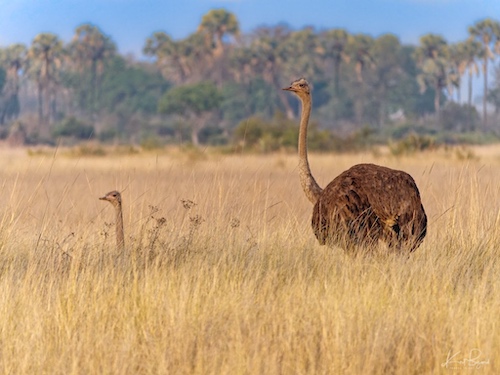 Contrary to the popular myth, ostriches do not bury their head in the sand when scared or frightened. In fact, when an ostrich senses danger and cannot run away, it will flop to the ground and remain still, attempting to blend in with the terrain. However, from time to time you might find an ostrich looking as if it has its head in the sand, but not because it's scared. Ostriches dig shallow holes in the sand to serve as nests for their eggs. The ostrich will use its beak several times a day to turn the eggs in the nest, creating the illusion of burying its head in the sand.
Ostrich Subspecies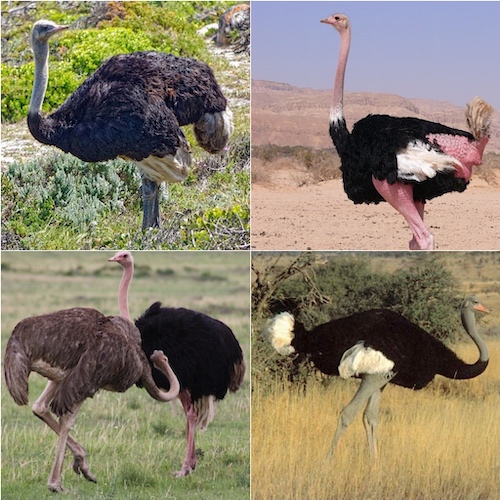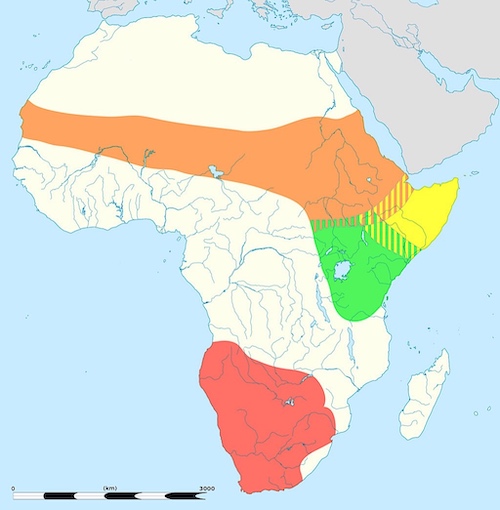 There are nine known species in this genus, of which seven are extinct. The North African ostrich (Struthio camelus camelus) is the largest living subspecies of Struthio camelus, at 9 feet (2.74 m) in height and up to 340 pounds (154 kilograms) in weight. The neck is pinkish-red, the plumage of males is black and white, and the plumage of females is grey. A century ago this race of ostrich inhabited the entire periphery of the Sahara both north and south, a total of 18 countries; today its range has been reduced to just six. Currently, it's classified as 'Critically Endangered' however efforts are underway to reintroduce it to Tunisia and Morocco. The Masai ostrich (Struthio camelus massaicus), also known as the East African ostrich is a red-necked subspecies variety of the common ostrich. Today it is hunted and farmed for eggs, meat, and feathers. Wild Masai ostriches are located across Uganda, Kenya and Tanzania. Denser populations are often found in the semi-arid, open grassy plains of the African savanna. Despite this preference, they have been known to also inhabit desert, dense brush, and steep rocky mountain environments. In 2016, the Somali Ostrich (Struthio molybdophanes) was named a separate species from the common ostrich although this classification is not widely accepted. They were previously a subspecies. Though generally similar to other ostriches, the skin of the neck and thighs of the Somali ostrich is blue (rather than pinkish), becoming bright blue on the male during the mating season. The neck lacks a typical broad white ring, and the tail feathers are white. The females are slightly larger than the males and browner in plumage than other female ostriches. They are flightless and rely on strong legs with two clawed toes used for running and kicking. The Somali ostrich is mostly found in Horn of Africa, especially in north-eastern Ethiopia and across all of Somalia.
Ostrich Beads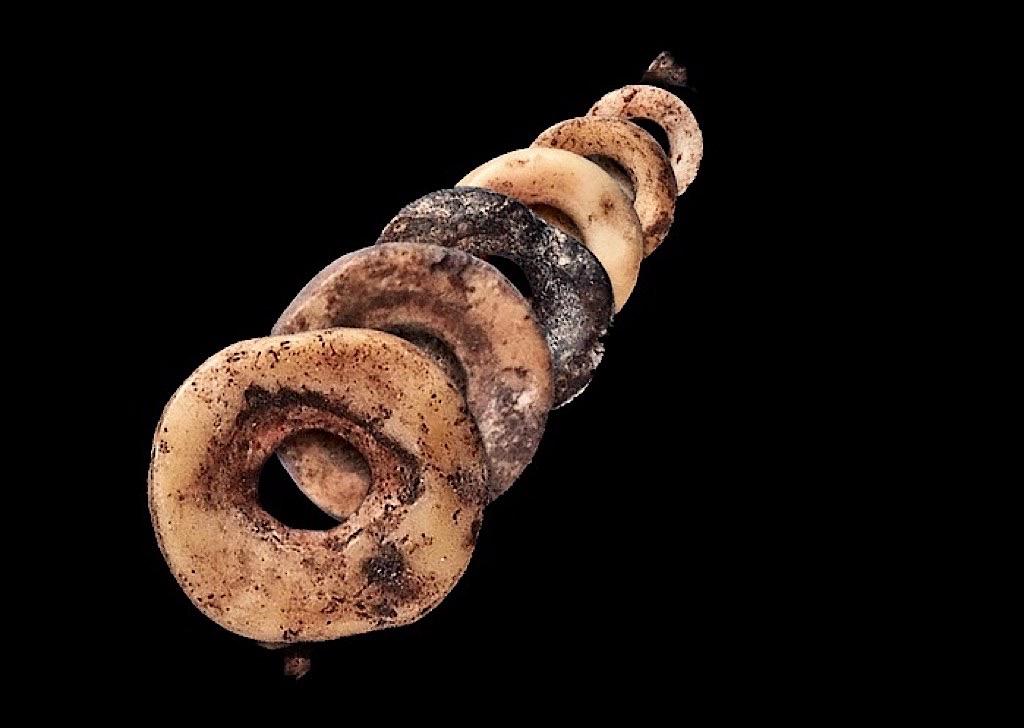 People exchanged ostrich eggshell beads over long distances in Africa for a longer period of time than previously thought, according to new research. Anthropologists have long known that contemporary hunter-gatherers use ostrich eggshell beads to establish relationships with others. In Lesotho, archeologists began finding small ornaments made of ostrich eggshell. But ostriches don't typically live in that environment, and the archeologists didn't find evidence of those ornaments being made in that region—no fragments of unworked eggshell, or beads in various stages of production. So when archeologists began discovering eggshell beads without evidence of production, they suspected the beads arrived in Lesotho through these exchange networks. Testing the beads using strontium isotope analysis would allow the archeologists to pinpoint where they were made. The findings established that these beads were exchanged during a time of climactic upheaval, about 59,000 to 25,000 years ago. Using these beads to establish relationships between hunter-gatherer groups ensured one group access to others' resources when a region's weather took a turn for the worse. The presence of such eggshells with engraved hatched symbols dating from the Howiesons Poort period of the Middle Stone Age at Diepkloof Rock Shelter in South Africa suggests common ostriches were an important part of human life as early as 60,000 BP.
As always, I hope you enjoyed the post and will return for more in the future.
References:
Ostrich Farming in South Africa
Ostrich: African Wildlife Foundation
How some birds lost the ability to fly
Truth or Tail: Do ostriches really bury their head in the sand when scared or frightened?