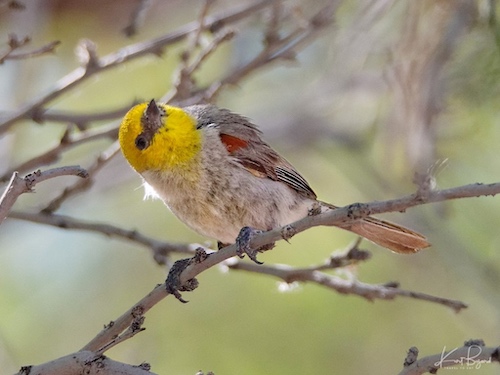 Since the Covid virus pandemic, I have been sheltering at home like everyone else. Fortunately the Henderson Bird Viewing Preserve has re-opened and I go almost every day. I had been going since December, recording the spring changes of birds and plants but the Coronovirus put all of that on hold for a while. It has been a repetitive comfort to me to have a beautiful place to walk each morning with an ever changing cast of beautiful birds. One constant and always welcome bird companion has been the tiny Verdin who are resident at the bird preserve. The Verdin is a very small bird. At 4.5 in (11 cm) in length, it rivals the American bushtit as one of the smallest passerines in North America and it is smaller than many hummingbirds. At the Henderson Bird Viewing Preserve, Verdin the most common bird, rarely seen but almost always heard. It is most easily detected by its surprisingly loud calls, which sound like "cheep" followed by a pause the another "cheep". These tiny birds are difficult to photograph, rather like shooting skeet or pinball. The tiny birds are quick and athletic, jumping from branch to branch sideways, up and down. You need a hair-trigger on the shutter, shoot first and check your focus and framing later, you will not get a second chance. Since I have collected quite a number of photographs of my avian friends the Verdin, I decided to make a post of it.
Description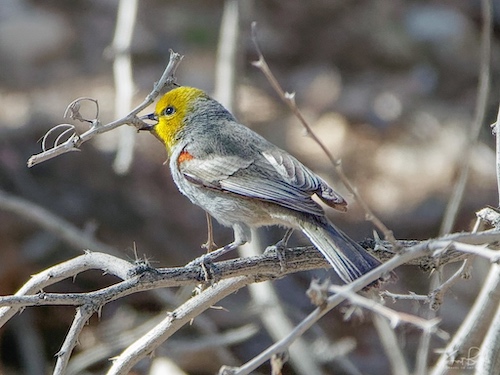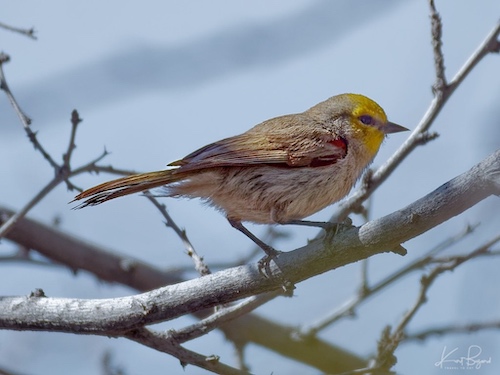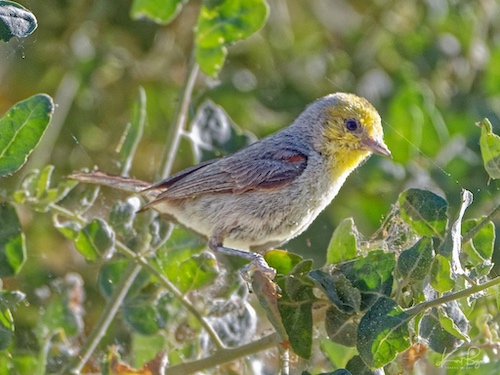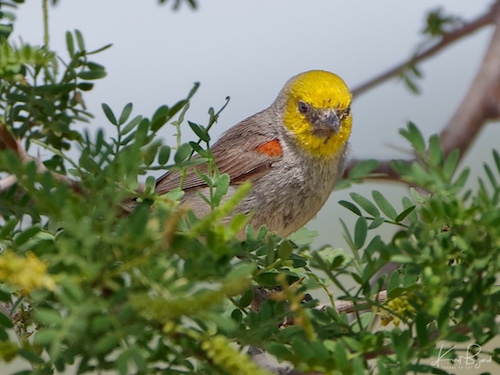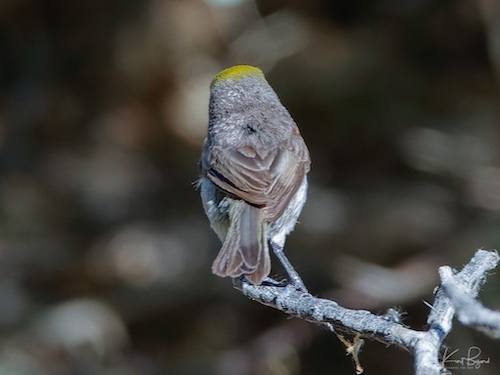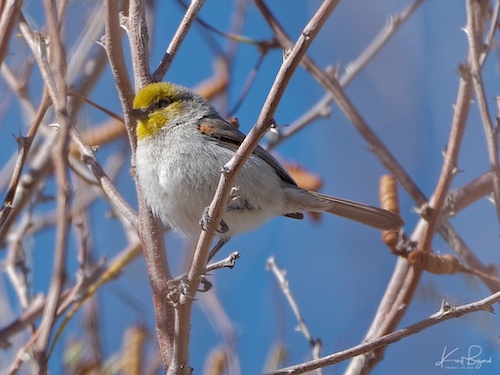 Verdins are among the smallest of North American birds, averaging only 0.24 ounces (6.9 g) in weight and 4.5 in (11 cm) in length. Verdin are gray overall, and adults have a bright yellow head and rufous shoulder patch (the lesser coverts). Adults have dark gray eye ring with a short dark gray/brown lore and eye line. The eyes are dark brown, the beak is black, short and pointed. The wings and rounded tail are a slightly darker gray or gray-brown. The plain underparts are paler grayish white. The coloration is very subtle and seems to change in different light and seasons. The yellow on the head is an olive-yellow, not a bright sunflower yellow. The nape of the neck and mantle are a very light olive green-gray color, only really apparent in the right light. The Auriparus flaviceps acaciarum subspecies here in Nevada naturally has more brown on the upper body, compared to the more eastern Auriparus flaviceps ornatus in Texas, New Mexico and Mexico. The difference in overall color from sunlight to shadow makes me wonder if the feathers are gray tipped although I was unable to find anything on the internet. I definitely think the local Verdin are more gray in winter and more brown in late spring and summer. Also, keep in mind that most of these photographs were taken at dawn, making the Verdin seem more brown than in full midday sunlight.
Adolescent Verdin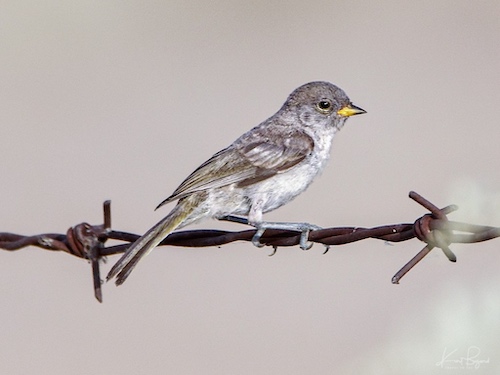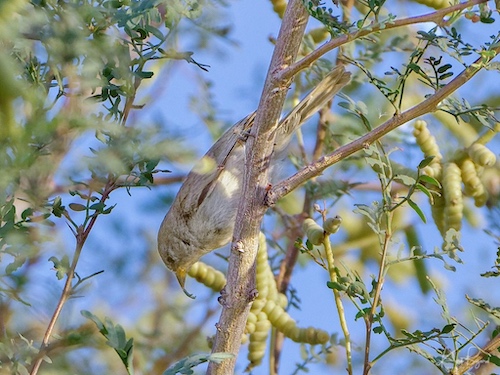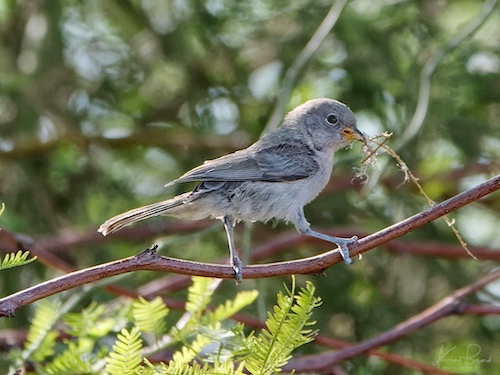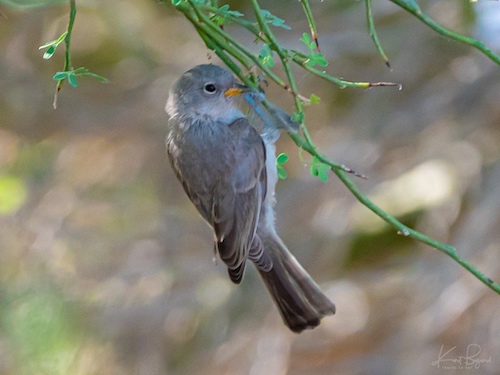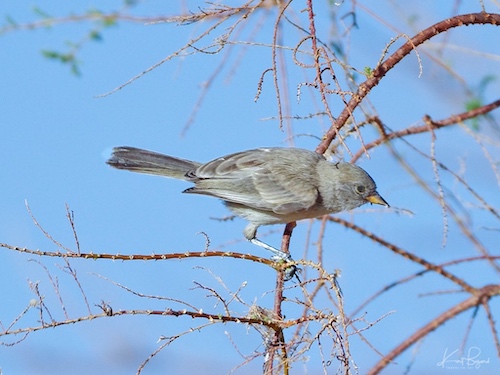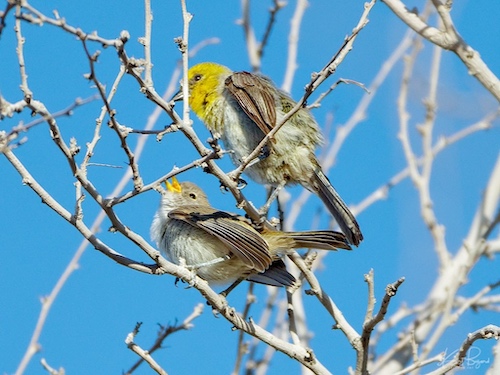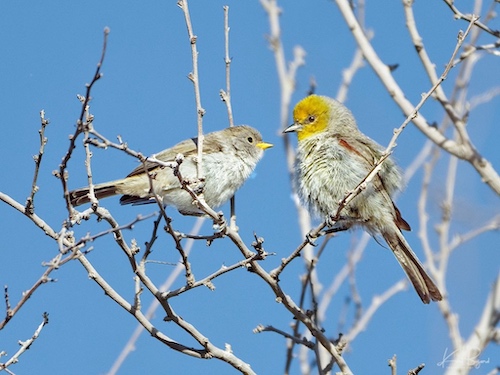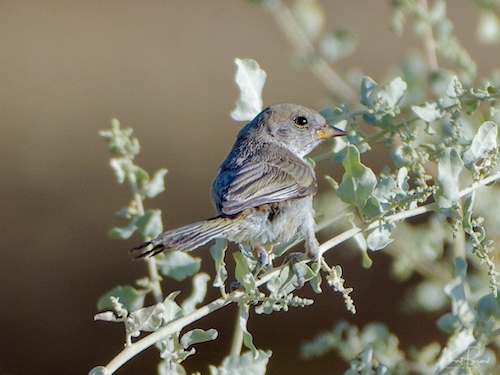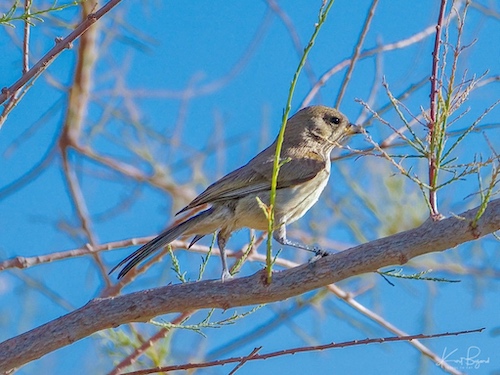 Adolescent Verdin almost look like a separate species and you would be hard-pressed to identify them if you have never seen them before. I found it surprising that WIkipedia and most other sources give no details about the appearance of juvenile Verdin so I will do it here. The juveniles are really gray overall with no yellow on the head and no rufous shoulder patch. They have a white eye ring, a dark brown eye and no lore or eye line. The bill is short and pointed but they have a pronounced yellow gape which gradually goes away as they age. In the right light, the tail and wings have a dark olive-yellow color and the breast is white or cream colored. One additional important note, adolescent Verdin are mostly silent and when they flit across your vision they are often mistaken for Black-Tailed Gnatcatchers (Polioptila melanura).
Tough Little Birds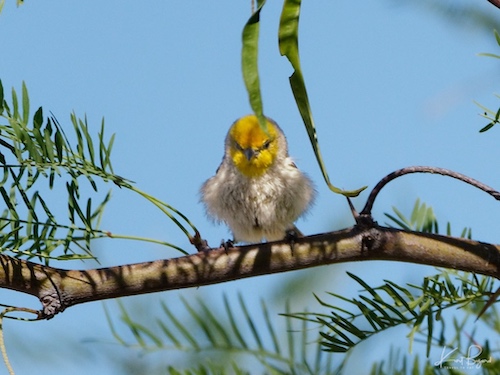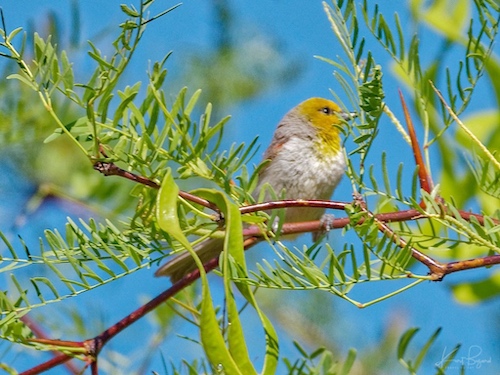 Verdin seem undaunted by our extremes of weather in Las Vegas. Hardy and adaptable, they are active on the hottest days and the coldest winter mornings. These small birds are found in arid scrub and desert habitats, particularly in areas where there is abundant mesquite and creosote scrub for foraging. They're also likely to be seen along desert riparian washes and in suburban areas. The Henderson Bird Viewing Preserve borders on the Las Vegas Wash and the Verdin are comfortable and abundant in both places. Their year-round range extends from the southern tip of Nevada and southwest California through western and southern Arizona, southern New Mexico, and western Texas, as well as south into the Baja peninsula and appropriate habitats in western and central Mexico. There are currently recognize 6–7 subspecies, all of which differ slightly in plumage tone and size. Two of these nest in the United States. The subspecies (Auriparus flaviceps acaciarum) is resident from southern California, Nevada, and Utah southward into Mexico; it is associated mostly with the Sonoran Desert. Variation in the two North American subspecies is weak and varies slowly across the geographic range of the two US subspecies. Western birds (acaciarum) tend to have more brownish coloration on the upperparts than those found from southern New Mexico to central Texas (ornatus).
Verdin and Bananaquit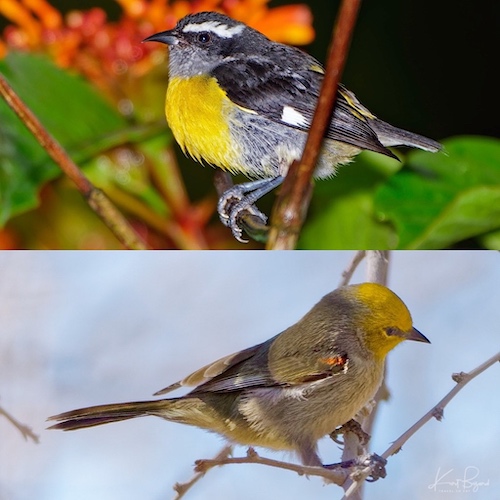 For a while the Verdin was placed, uneasily, in the same family as the chickadees, which it resembles in size and in hyperactive behavior. Many experts now believe that its closest relatives are several species of small, plain birds found in Europe, Asia, and Africa. They are the only American example of the family Remizidae (Old World penduline tits), a family near Paridae (chickadees and titmice) in taxonomic arrangement. Placement of Verdin in Remizidae is supported by a few genetic, morphological studies and feeding behavior however Remizidae have nests over water with white eggs and they spend most of the year in small flocks, often migrating. Verdin are solitary birds most of the year with no migration and the verdin lays blue-green eggs with red spots. Penduline tits only take nectar occasionally while it comprises at least a third of the Verdin diet. Bananaquits from Central and South America are similar nectar loving birds with similar nests and have a similar appearance when juveniles. They also have been difficult to place in a specific family although they were described by Linnaeus in 1758 and are tentatively placed in the family Thraupidae. Either these two birds show a remarkable example of convergent evolution or there is some connection that binds them together. I may explore this in a future post.
Quick and Almost Invisible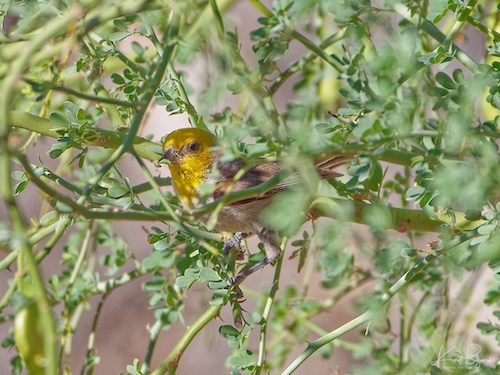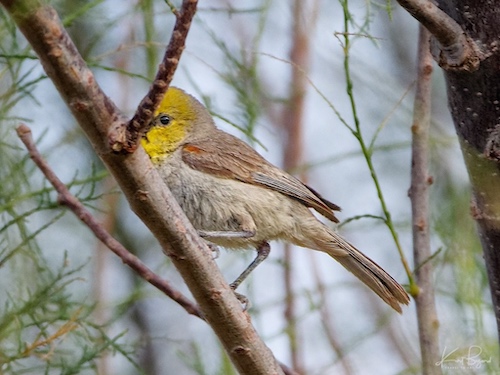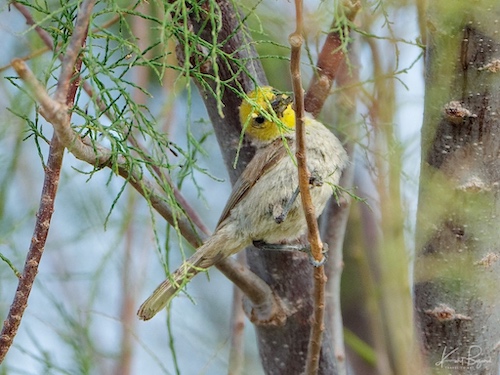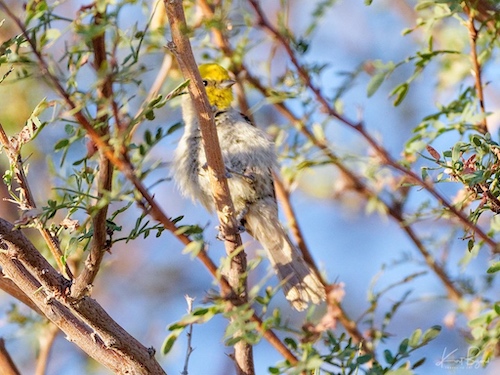 Photography and viewing of Verdin is a contact sport, they forage with rapid, short flights and hops among outer branches of small trees and bushes, often hanging upside-down by the feet to search for insects and spiders. Tiny and rather plain, the Verdin seems quite unremarkable at first sight. But it is among the most characteristic birds of the desert, thriving in difficult terrain. The call is a loud cheep or tschep repeated in pairs or almost continuously. An interesting phenomenon is the reflection of the calls by the tree. Most of the time, the Verdin are in the middle of the tree but their calls sound like they are higher up. When you look up, they fly away. Better to stop about ten to 15 feet from the tree, turn on your camera, look for movement, get the sun at your back for the best light and approach slowly shooting at every movement. Verdin are playful birds and if it sees you are not a threat you will be treated to about 10 minutes of "peak-a-boo" until the Verdin gets bored and flies off.
Verdin Nesting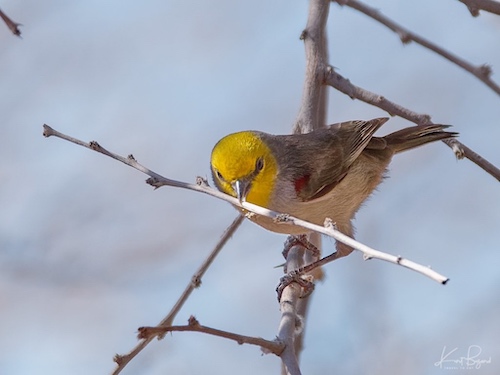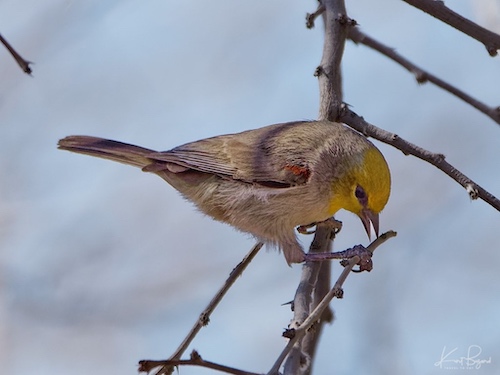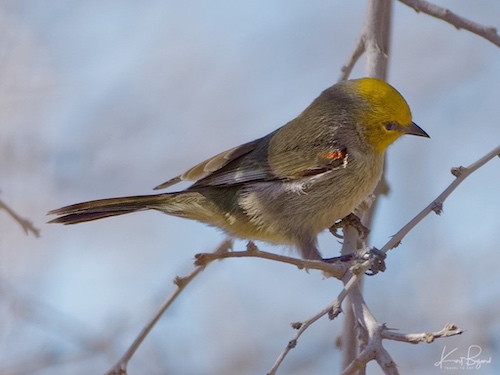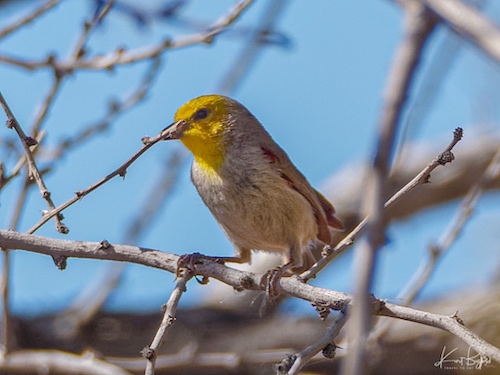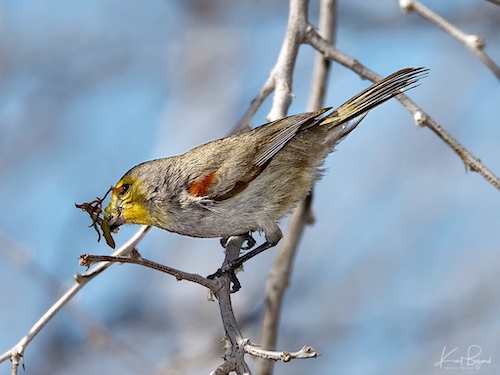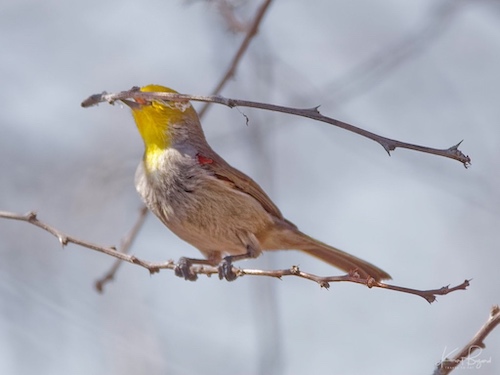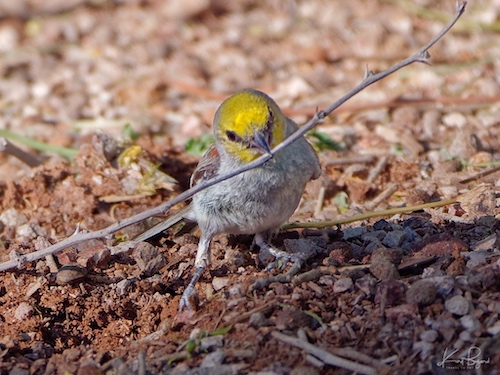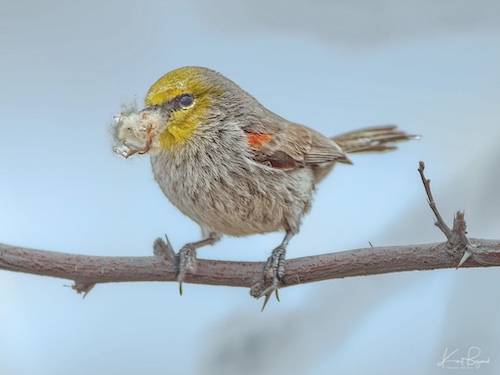 Verdin are inveterate builders. Verdins spend the night in their roosting nests, smaller versions of their breeding nest, but the birds still lose an average of 7% of their body mass during a winter night. Roosting nests may be built any time of the year and the interwoven twig structures may remain attached to a bush or tree for years, giving an exaggerated impression of population size. There are generally two nests built very close together or in the same bush. This pairing of nests is easy to account for when we learn that the verdins, like the cañon wrens, build roosting- as well as breeding-nests. The larger nest is the one built and occupied by the female for nesting-purposes, while the smaller is built by the male and is for his sole use as sleeping-quarters. After the young have been reared, the female uses her nest for the same purpose. If you see a Verdin carrying sticks, it's most likely a male, while one with a feather in her bill is probably a female.
According to the Cornell Lab of Ornithology: Roosting nests are much smaller than breeding nests. "The outer stick shell is constructed mostly by the male, while the female does most of the lining. The Verdin's roosting nests help it stay warm in winter. Winter roosting nests have thicker insulation, and may reduce energy requirements for thermoregulation by as much as 50 percent. The Verdin builds roosting nests all year round. One pair of Verdins in Arizona was observed building 11 nests in one year."
Verdin Nests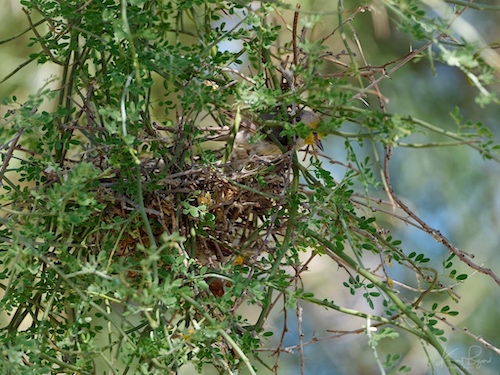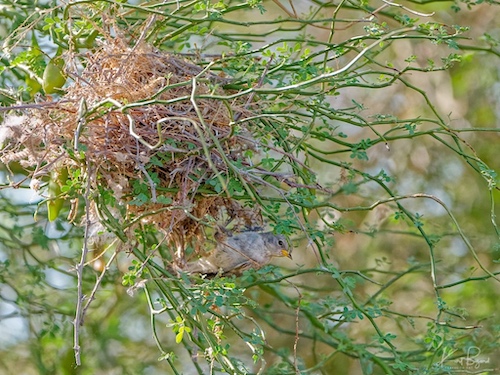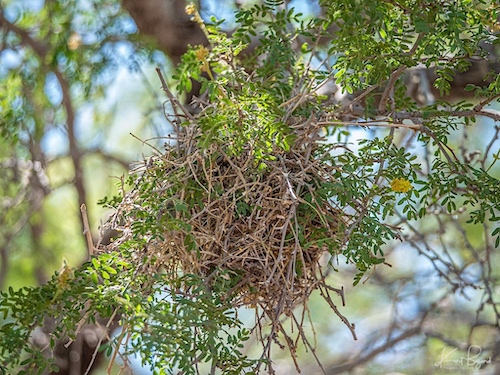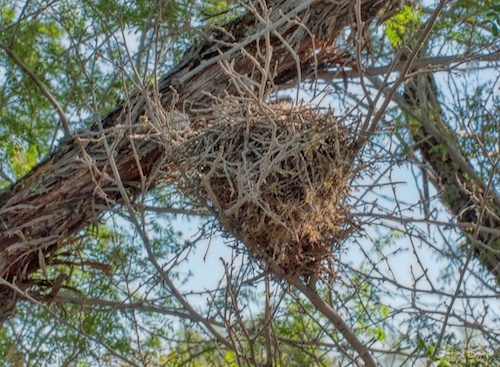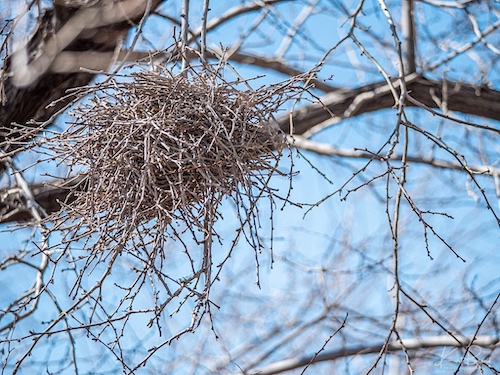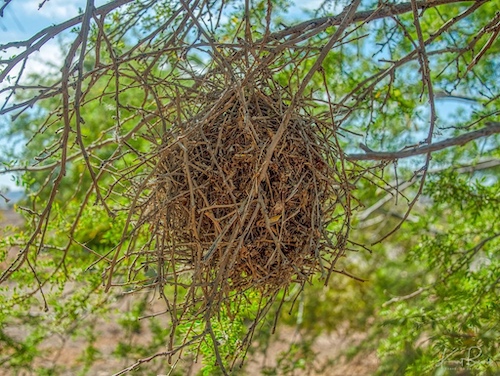 Verdins nest in shrubs and thorny thickets with few trees. Their nests are best described as spherical masses of bulky twigs and branches that are then lined with grasses, feathers, and hair. The entrance to the nest is about 1" in diameter, and is usually at the bottom of the sphere. They feed in shrub-land and scrubby outcrops where insects are hosted and berries and seeds are plentiful. During the hottest part of summer, verdins will construct extra, empty nests for roosting to escape the harshest desert heat. These roosting nests are often smaller than the nests where eggs are laid, but the shape and construction is similar. The entrance to the nest often faces prevailing winds, possibly an adaptation to the high temperatures of their desert habitat. Incubation takes about 10 days and the young are ready to leave the nest about 21 days after hatching, although they return to the nest at night.
Diet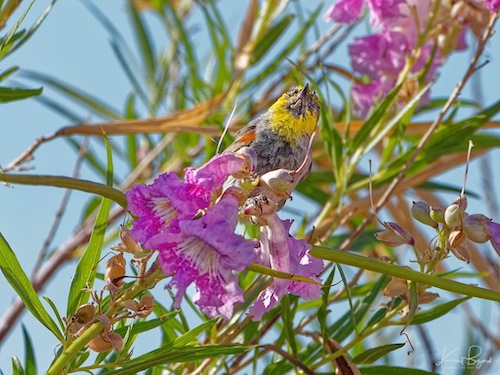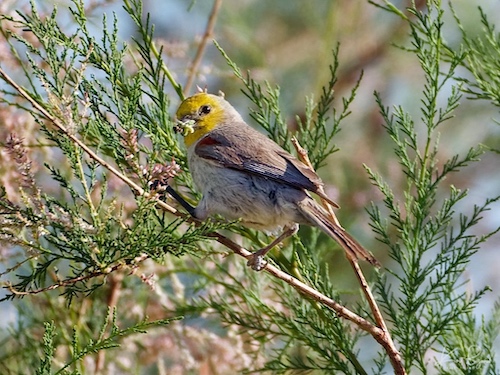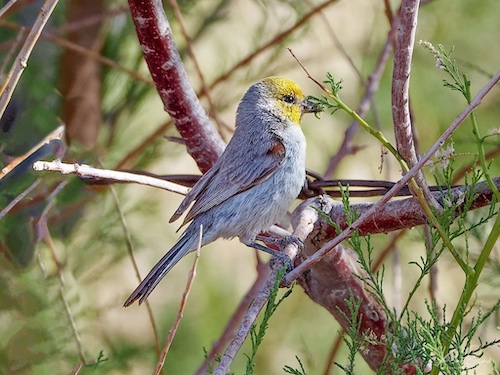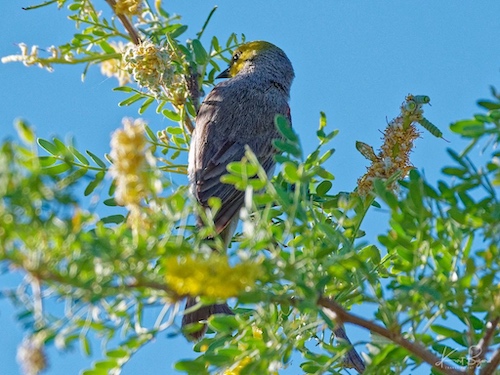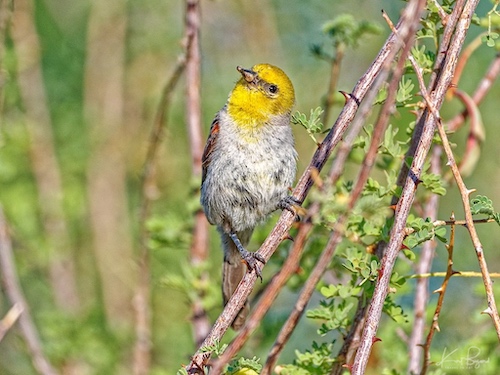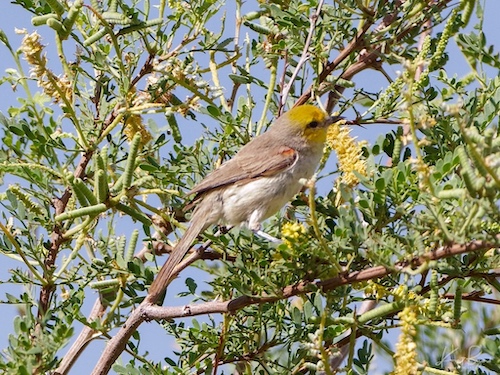 Although they are most common in thick mesquite bosques, they also range out onto open flats where the plant life is sparse, and they readily move into desert cities. Insects are their main menu items, but Verdins also take nectar; among desert birds, they are second only to the hummingbirds as flower visitors, and they also come to hummingbird feeders to sip sugar water.
According to the Cornell Lab of Ornithology: "Verdins eat insects and spiders, and they also consume nectar, fruit, and plant matter in smaller amounts. To capture insects and spiders, they move rapidly and with agility through small branches, often hanging upside down or using their feet to survey the undersides of leaves. Verdins often tenderize larger items, such as caterpillars, by striking them against a branch with the foot before consuming them. They forage mostly low in the small trees of their environment, normally about 10 feet above the ground, and often frequent the outer portions of the tree rather than the interior. Their diet includes scale insects, aphids, leafhoppers, caterpillars, wasps, beetles, and spiders. Plant foods include fruits of palm, agarita, mesquite, hackberry, and wolfberry. Verdins also drink nectar from flowers, either by inserting the head into the flower, like a hummingbird, or by piercing the base of the flower (such as chuparosa) to "steal" the nectar. In some areas, they attend hummingbird feeders. Verdins also eat pulp from seedpods of legumes such as paloverde, mesquite, and ironwood."
Mesquite Trees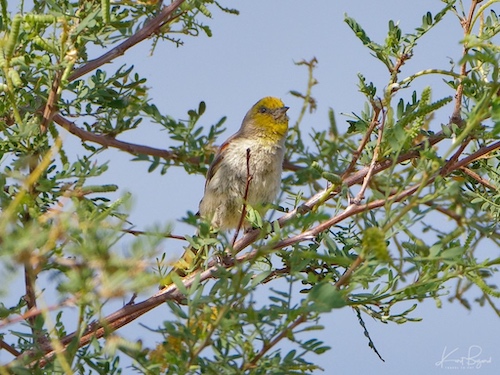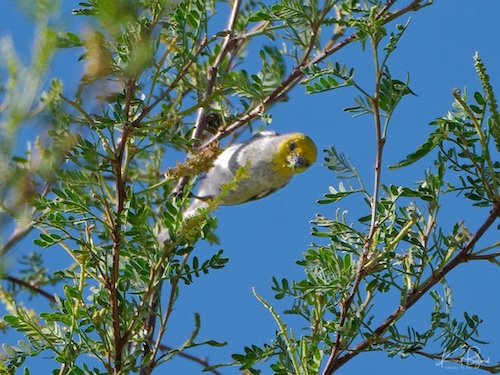 It isn't hard to see why Verdin prefer Mesquite trees, they are a one stop shop for virtually all their needs. There are three distinct elements of the Mojave lowland riparian community that each more or less support their own wildlife community – cottonwood overstory, mesquite/willow midstory, and herbaceous understory. Naturally these communities indicate the presence of water, another plus for the Verdin. Finally the Screwbean and Honey Mesquite flower most of the summer drawing insects and providing nectar for the Verdin.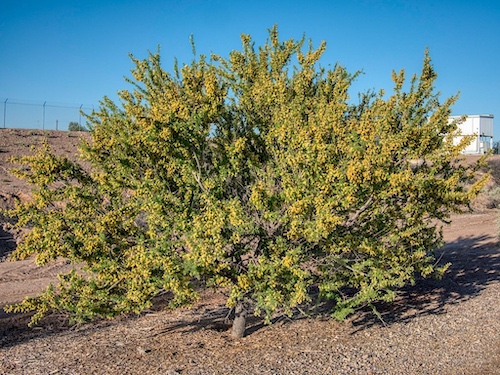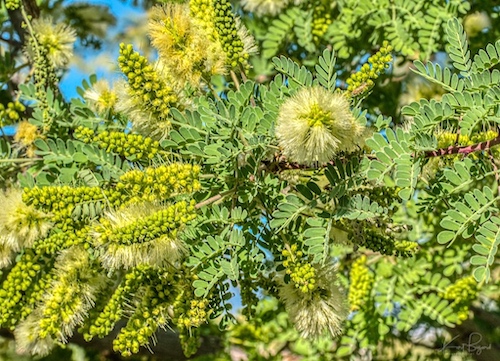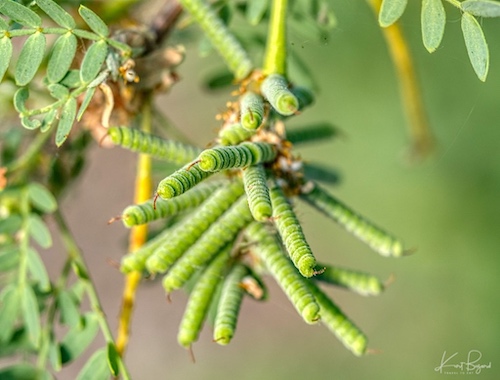 The screwbean mesquite, identified by its tightly spiraled bean pods, has established as its basic range the northern Sonoran Desert up into the Mojave Desert. In Arizona it was originally found along the Santa Cruz River. It is small for a tree, usually topping out at 30 feet (9 m) in height. With its multiple trunks and spreading branches, it can sometimes grow to be wider than it is tall.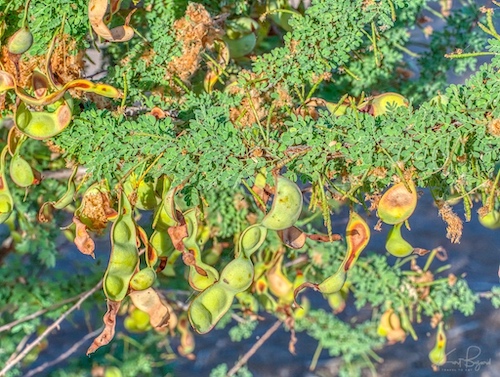 The is Velvet Mesquite is found in the Sonoran desert and in Arizona it is the native species found in the Verde Valley. It grows as a tree on the floodplains and terraces near the Verde River and its tributaries.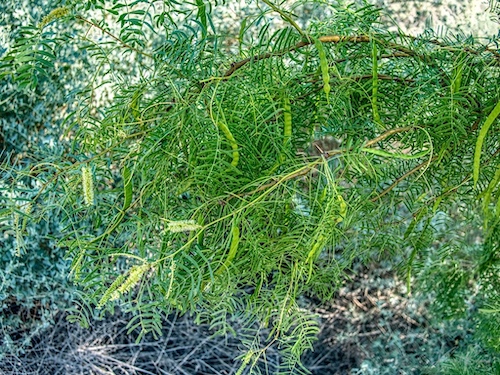 The honey mesquite, distinguished by smooth-surfaced leaflets, makes its primary home in the Chihuahuan Desert, east of the Continental Divide, although its outer range extends across the Sonoran Desert as well. Where distributions of the species overlap, the plants hybridize, often making identification difficult. Verdin are drawn to Mesquite and build nests almost exclusively in Mesquite And Catclaw Acacia trees. Mesquite is the most common shrub/small tree of the desert southwest. Like many members of the legume family (called Fabaceae these days), mesquite restores nitrogen to the soil. There are three common species of mesquite: honey mesquite (Prosopis glandulosa), screwbean mesquite (Prosopis pubescens ) and velvet mesquite (Prosopis velutina). The mesquite contributes greatly to the desert ecosystem. Coyotes, round-tailed ground squirrels, collared peccaries, mule deer, white-tailed deer, and jackrabbits all eat mesquite pods, as do livestock when they are available. Birds feed on the flower buds. As a member of the legume family, mesquites fix nitrogen in the soil. Mesquite beans, durable enough for years of storage, became the livestock feed of choice when pastureland grasses failed due to drought or overgrazing. They were carried by early freighters, who fed the beans to their draft animals, especially in Mexico.
Desert Scrub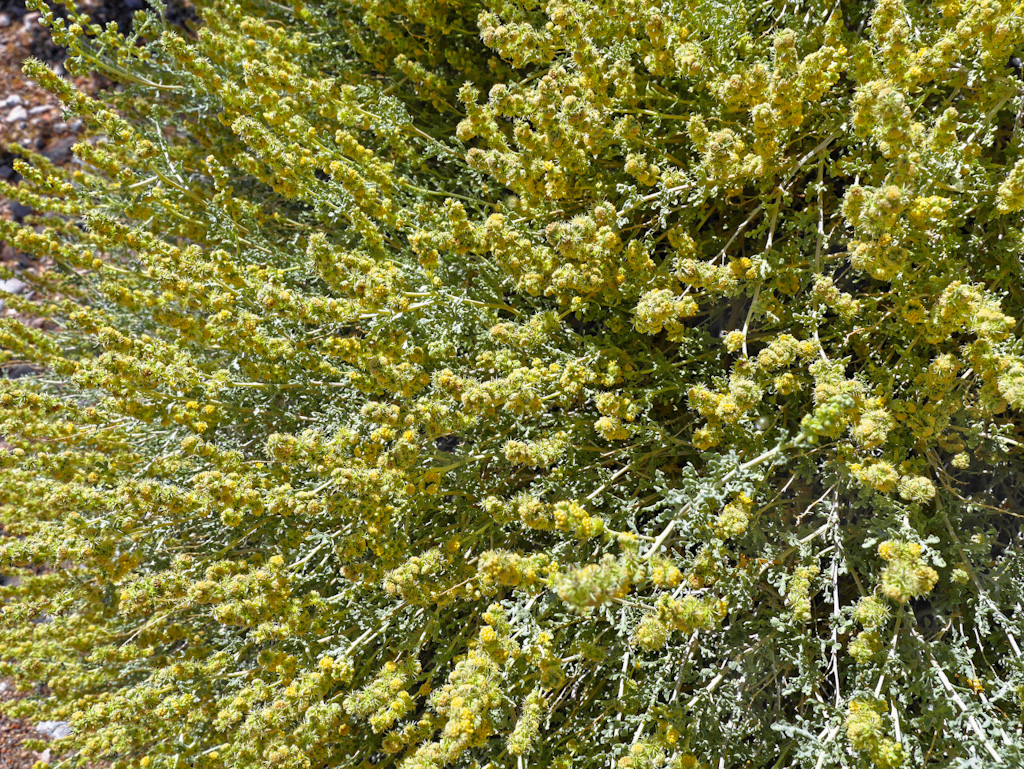 Creosote Bush is one of the most common and important plants of the warm deserts (Sonoran, Chihuahuan and Mojave) of North America, but cold winters exclude it from the Great Basin Desert. It is one of the best examples of a plant that tolerates arid conditions simply by its toughness. There are more than 60 insects associated with creosote bush, including 22 species of bee that feed only on its flowers, and a creosote katydid and creosote grasshopper that are specialised to use it as a food source. Anna's and Costa's Hummingbirds in particular are attracted to the yellow flowers as well as Verdin. Creosote Bush is one of the oldest living plants in the world, known to reach ages of several thousand years and some Creosote Bush clone colonies may be the oldest living organisms. White Bursage is commonly found with Creosote and together they form an important dry desert scrub plant complex.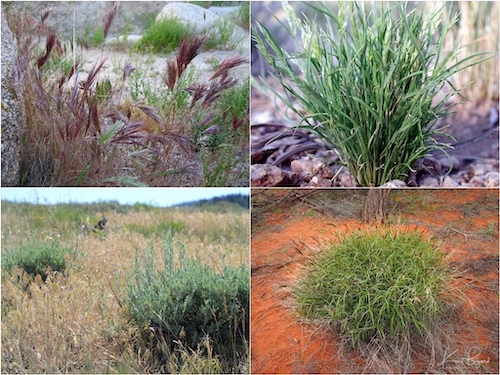 Fires, not considered common historically in southwestern deserts but increasing in recent decades exist partly because of fuel provided by non-native annual grasses which cause hotter fires, decreasing the prevalence of Creosote and White Bursage. These invasive grasses include Red Brome (Bromus madritensis ssp. rubens), Mediterranean Grass (Schismus barbatus), Cheatgrass (Bromus tectorum) and Buffelgrass (Cennisetum ciliare). Thus the ecology of desert scrub is impacted, affecting Verdin among many other species if insects, birds and animals.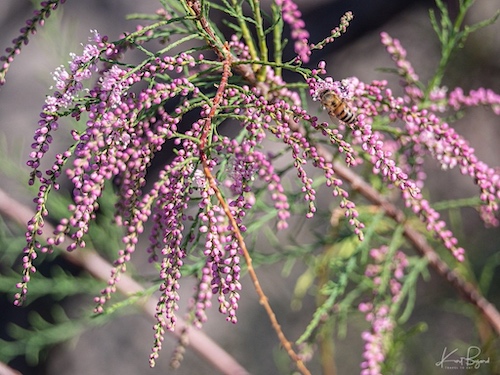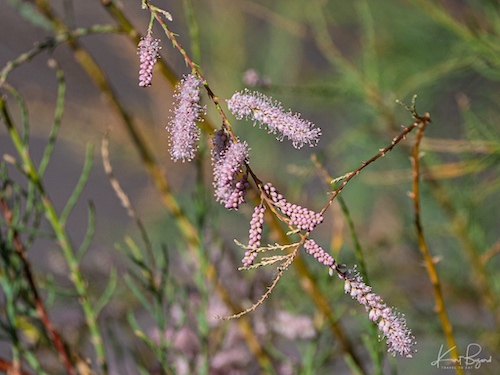 Salt Cedar is another invasive species with deep taproots that lower the water table, killing nearby plants. The high salt level in tamarisk also infiltrates the soil, preventing other plants from growing, creating a tamarisk-dominant forest with no understory, void of important habitat for pollinators and other native species. Tamarisk forests also tend to burn hotter than most native riparian trees, worsening the fire hazard of acres of uninterrupted tamarisk and their risk to human structures. The only good thing about Salt Cedar is that Verdin and other birds love the flowers and bugs.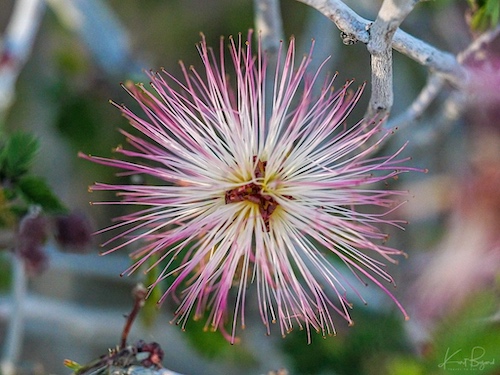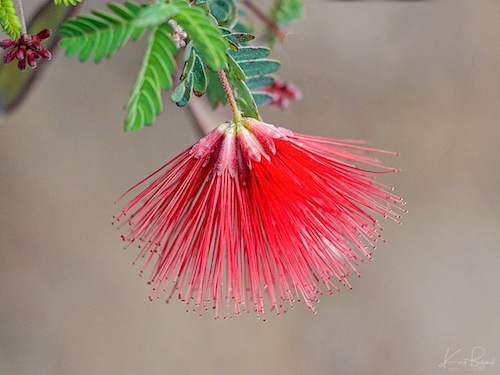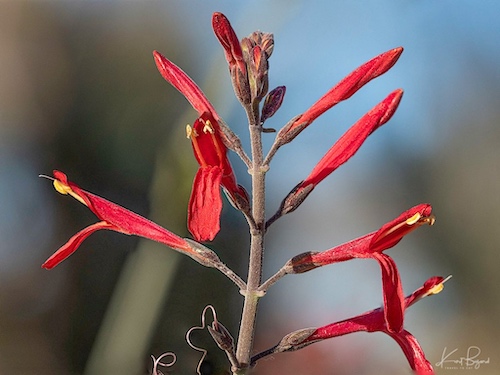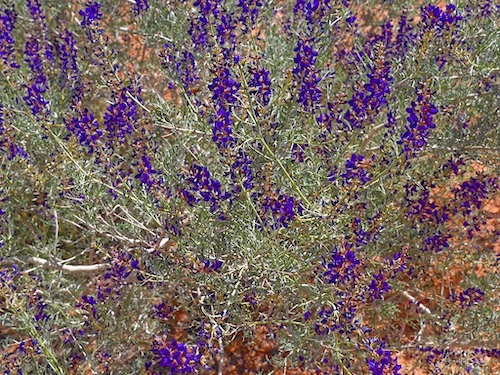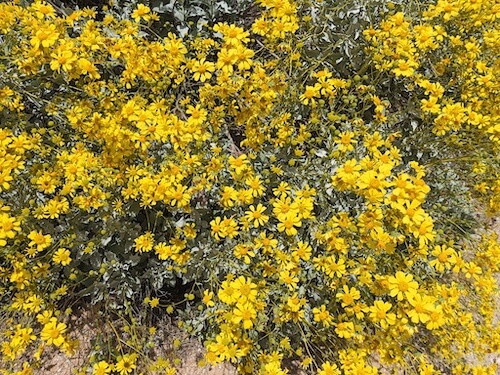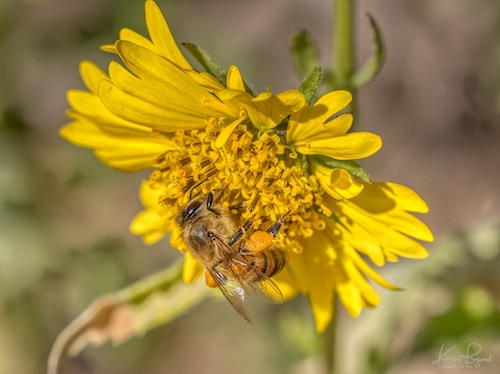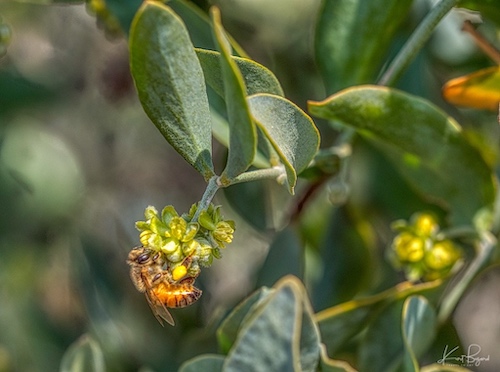 In a previous post on the Henderson Bird Viewing Preserve, I described typical riparian plant communities, focused on the trees near water. Verdin certainly live in these areas but surrounding them is a vast area of desert scrub, with different and sometimes complementary plant communities. These desert shrub communities are often called desert scrub or creosote bush scrub. Desert scrub is not the only plant community in these deserts. Desert scrub is a general term that includes several desert plant communities occurring usually at elevations below 3,500 feet. These are the areas of hot summers, mild winters, and low (9 inches or less) and irregular rainfall. Going without rain for a year or more is not unusual in deserts. The vegetation is a mixture of shrubs, succulents, herbs, and a few grasses. The herbs often appear almost absent until above normal rainfall makes many bloom at the same time in spectacular wildflower displays. The blooming plants are particularly important to Verdin, hummingbirds and insects and include:
Desert Willow (Chilopsis linearis), Desert Lavender (Condea emoryi), California Fan Palm (Washingtonia filifera), Ocotillo (Fouquieria splendens), Jojoba (Simmondsia chinensis), Blue Paloverde (Parkinsonia florida), White Bursage (Ambrosia dumosa), Chuparosa (Justicia californica), Barrel Cactus (Ferocactus cylindraceus), Desert Agave (Agave deserti), BrIttlebush (Encelia farinosa), Indigo Bush (Psorothamnus arborescens), Smoke Tree (Psorothamnus spinosus), Apricot Mallow (Sphaeralcea ambigua), Opuntia cactus and numerous annual wildflowers.
As always I hope you enjoyed the post. The desert is full of life if you know where to look.
References:
Henderson Bird Viewing Preserve: Travel to Eat
Feeding Patterns of Bananaquits and Honeycreepers: Travel to Eat
Bird Field Markings: Travel to Eat
Verdin: Birding the Brooke and Beyond
How the Verdin got Its Colors: Indian Story
Verdin, Auriparus flaviceps acaciarum
Verdin: Texas Breeding Bird Atlas
Mesquite-Acacia Bosques in Nevada
Native Flora: Tucson Audubon Society
North American Shrubland: Creosote Bush-Burro Bush
LATITUDINAL VARIATION IN SUBSPECIFIC DIVERSIFICATION OF BIRDS