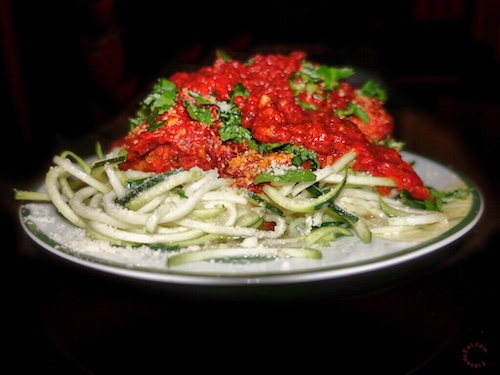 I love a good spaghetti, especially when the noodles are "al dente". The single greatest use of my new vegetable spiralizer is for crisp zucchini noodles ("zoodles") with marinara and/or meatballs. Honestly, I may never eat regular noodles again, they are that good. Zucchini noodles are not only a great way to use up the overwhelming supply of summer squash, but they're also delicious. The zucchini's subtle flavor makes "zoodles" a perfect substitute for pasta. Also, eating a plate of them gets you closer to satisfying your daily requirement for veggies. Some recipes call for sautéing the "zoodles", while others blanche them or leave them uncooked. Just make sure that you eat the raw noodles quickly, before they begin to sweat and fill your bowl with zucchini water.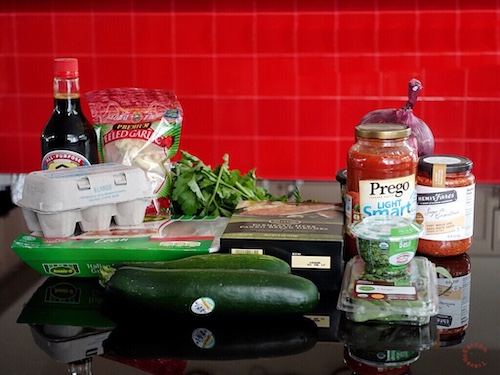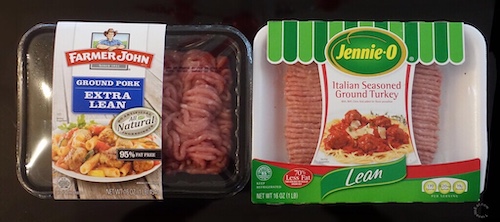 I have been looking for a use for "extra lean pork" which I have recently noticed in my local supermarket when I was looking for ground turkey. As my regular readers know, I am on a constant diet because of my low level of activity and age. Farmer John extra lean pork has 180 calories per 4 oz serving as opposed to 170 calories per 4 oz for Jennie O Italian ground turkey. I love the taste of pork and meatballs are the perfect vehicle for the taste of authentic Italian meatballs. Because I used zucchini noodles and such low fat meat, I felt comfortable using breadcrumbs and cheese in my meatballs. Everyone has a recipe for meatballs but I thought I would include mine for Italian meatballs although my groundmother's recipe for Swedish meatballs is still my favorite.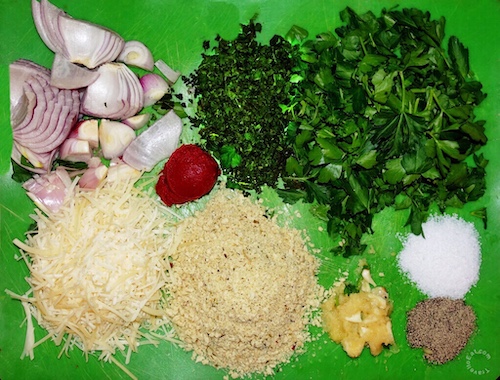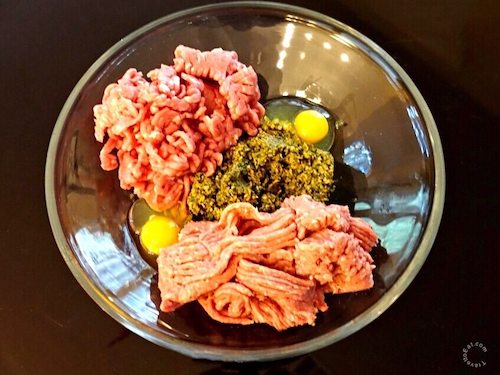 Ingredients
1 pound Jennie O Italian turkey sausage
1 pound Farmer John extra lean pork
1 small onion, finely chopped
1/4 cup shredded tri-cheese blend (Parmesan, Romano and Asiago)
1/2 cup Panko Italian breadcrumbs
1/4 cup chopped fresh basil
1/2 cup chopped fresh Italian parsley
1 tablespoon tomato paste
6 cloves garlic, minced or more to taste
1 tablespoon kosher salt
1/2 tablespoon freshly ground black pepper
2 large eggs, at room temperature
Extra-virgin olive oil, for drizzling
Soy Sauce also for drizzling
Instructions
Place the onion, cheese, breadcrumbs, parsley, basil, garlic salt, pepper and tomato paste into a food processor and blend into a paste. In a large bowel combine the paste, meat and two eggs. Gently mix the ingredients together with your fingers.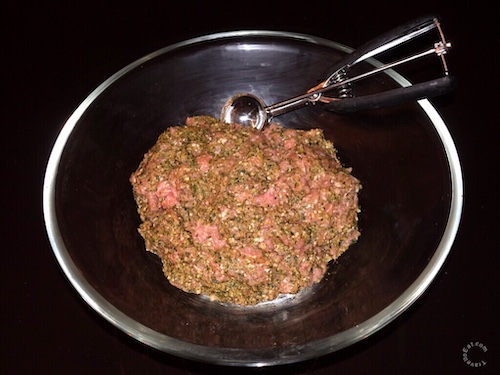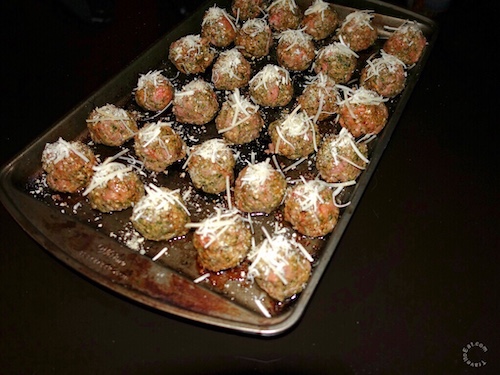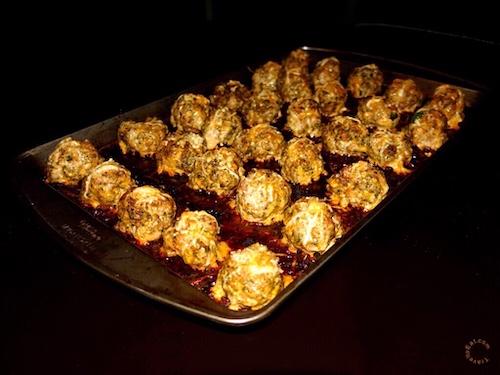 Using a small ice cream scoop, measure out the meatballs on a non-stick oven pan sprayed with Pam. Drizzle with soy sauce and olive oil. Top with the grated three cheese blend. Cook at 400 degrees F for 15 minutes or until lightly browned.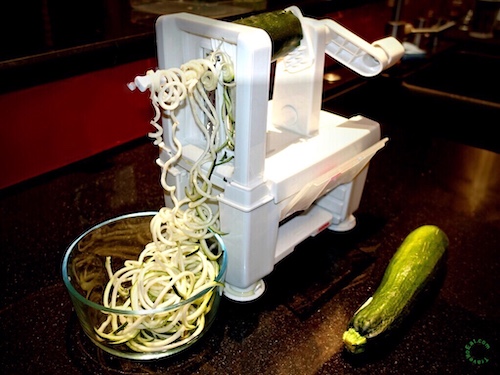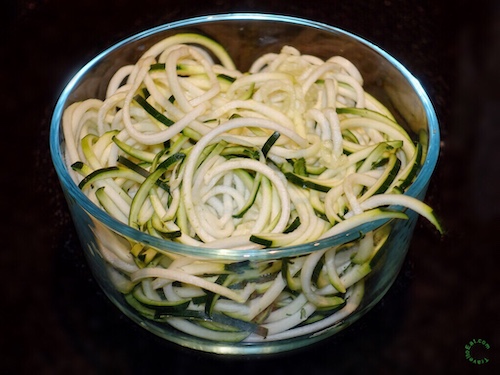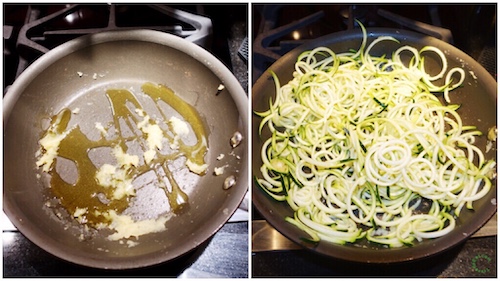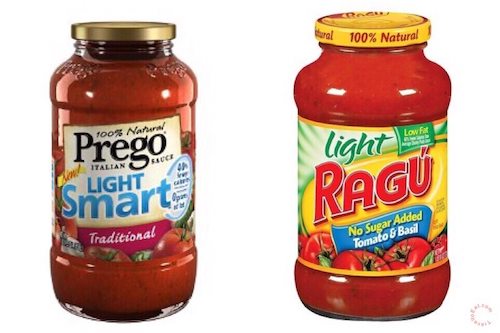 To make the Zoodles, use the spiralizer on the medium noodle setting. The noodles do not really need to be cooked, rather they should just be warmed up. Making the noodles just before eating is sort of mandatory since they can become soft and watery with time. I really like garlic so I placed a little garlic zest with olive oil in a pan and tossed the Zucchini in the pan for about a minute. The Zucchini soaks up flavors and another option is to toss the noodles in Marinara sauce for about a minute. You can make your own marinara sauce but I have been using Prego Light Smart Italian marinara which tastes really fresh and only has 45 calories per 1/2 cup. Light Ragu is also only 50 calories per half cup but I prefer the sweeter and less greasy taste of Prego.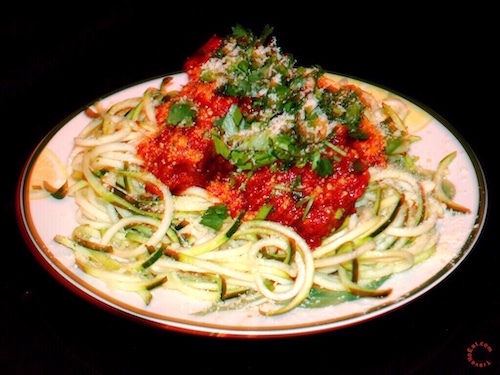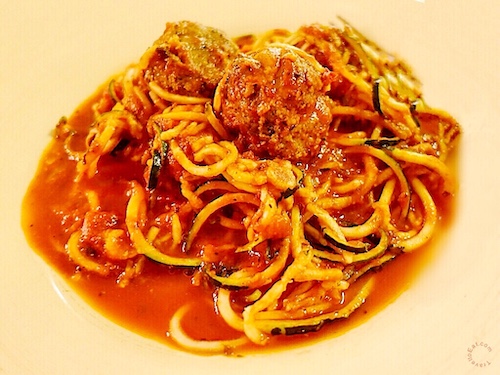 To say Zoodles are amazing is to understate the obvious. I can now have Zoodles with a little light marinara sauce for less calories than a bowl of popcorn. This is a delicious and low calorie meal that even people not on a diet would enjoy. As a substitute for noodles, Zoodles are the undisputed champion. As always, I hope you enjoyed the post, please leave a comment.
References:
Farmer John Extra Lean Pork: https://www.farmerjohn.com/products/farmer-john-extra-lean-ground-pork/
Jennie O Italian Ground Turkey: http://www.jennieo.com/products/195-Lean-Italian-Seasoned-Ground-Turkey
Prego Light Smart Marinara: http://www.prego.com/sauces/classic-italian-pasta-sauces/light-smart-traditional-italian-sauce/
Zoodles: http://www.huffingtonpost.com/entry/zucchini-noodle-recipes-are-a-great-reason-to-put-down-the-pasta_us_55e880a5e4b0c818f61b1cb1