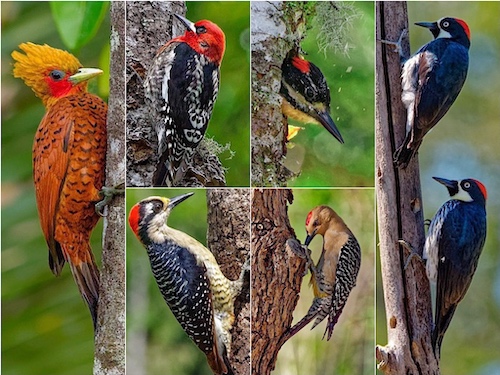 I happen to love woodpeckers, they are colorful, noisy and just fun to look at. Their cheerful tapping always calls to me to take a look. There are about 200 known varieties, many of which are threatened or endangered. The plumage of woodpeckers varies from drab to conspicuous. The colors of many species are based on olive and brown and some are pied, suggesting a need for camouflage; others are boldly patterned in black, white and red, and many have a crest or tufted feathers on the crown. Woodpeckers tend to be sexually dimorphic, but differences between the sexes are generally small, usually involving the head. I thought it would be nice to present these all together so that you could see and compare the various forms and colors that woodpeckers exhibit in different places. I have some beautiful woodpeckers from Africa, Costa Rica, Colorado and Arizona. Sapsuckers are also part of the Woodpecker family and I have a beautiful Red-Breasted Sapsucker from Humbolt county in California.
Hairy Woodpecker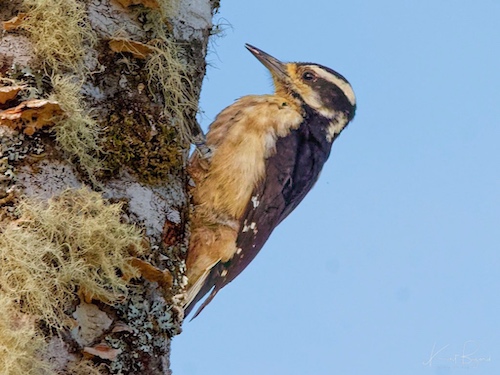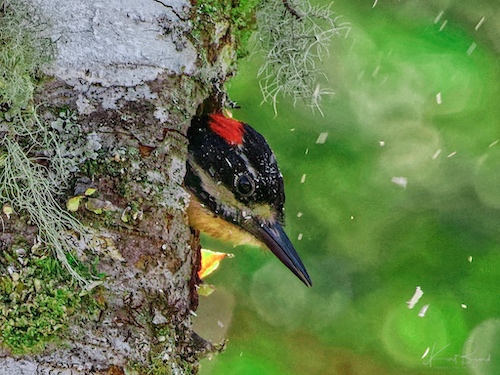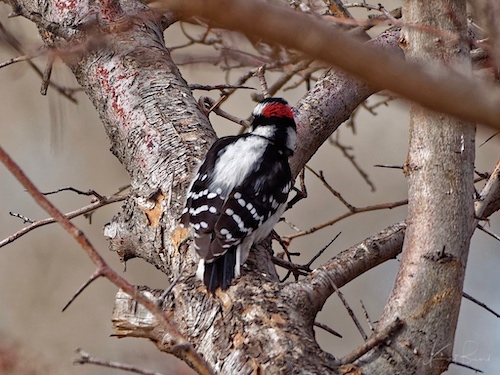 In Costa Rica they have a resident and isolated population of Hairy Woodpecker (Leuconotopicus villosus extimus (Bangs, 1902) which are more tan in color compared to the ones I have seen in Colorado. Across North America and into Canada the Hairy Woodpecker can be found from sea level to high in the mountains. In Central America, at the southern end of it's range, it is restricted to higher mountain forests. The hairy woodpecker is a medium sized woodpecker measuring 7.1–10.2 in (18–26 cm) in length, 13–17 in (33–43 cm) in wingspan and 1.4–3.4 oz (40–95 gm) in weight. It is virtually identical in plumage to the smaller Downy Woodpecker. The Downy has a shorter bill relative to the size of its head, which is, other than size and voice, the best way to distinguish them in the field. Another way to tell the two species apart is the lack of spots on its white tail feathers (present in the Downy). These birds are mostly permanent residents. Birds in the extreme north may migrate further south; birds in mountainous areas may move to lower elevations. They forage on trees, often turning over bark or excavating to uncover insects. They mainly eat insects, but also fruits, berries and nuts, as well as sometimes tree sap. As you can see, the male Hairy Woodpecker has a patch of red on the head.
Downy Woodpecker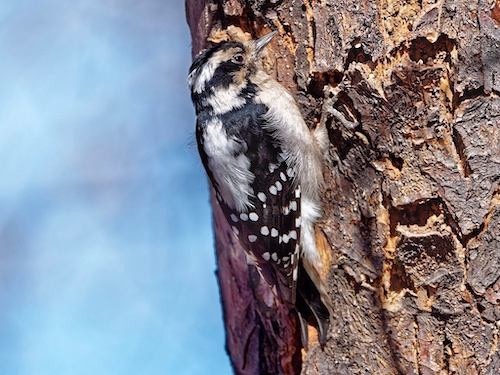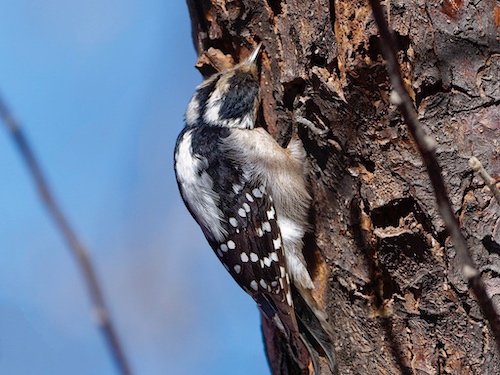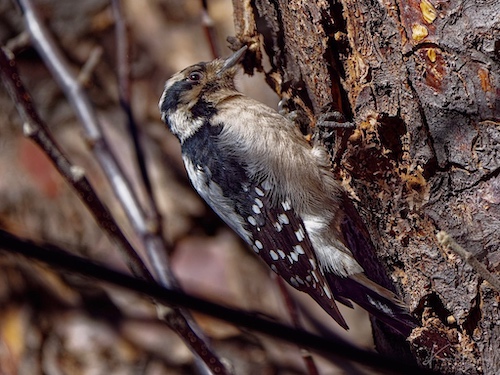 Adult Downy Woodpeckers (Dryobates pubescens) are the smallest of North America's woodpeckers but there are many smaller species elsewhere. The total length of the species ranges from 5.5 to 7.1 inches (14 to 18 cm) and the wingspan from 9.8 to 12.2 inches (25 to 31 cm). Body mass ranges from 0.71 to 1.16 oz (20 to 33 gm). Despite their close resemblance, Downy and Hairy Woodpeckers are not very closely related, and they are likely to be separated in different genera. Downy Woodpeckers nest in a tree cavity excavated by the nesting pair in a dead tree or limb. In the winter, they roost in tree cavities. Downy Woodpeckers forage on trees, picking the bark surface in summer and digging deeper in winter. They mainly eat insects, also seeds and berries. The range is coast to coast and from the tree line in Canada and Alaska to south Florida and the riparian forests of southern California. I saw this exceptionally cute Downy Woodpecker in my mother's back yard in Denver.
Acorn Woodpecker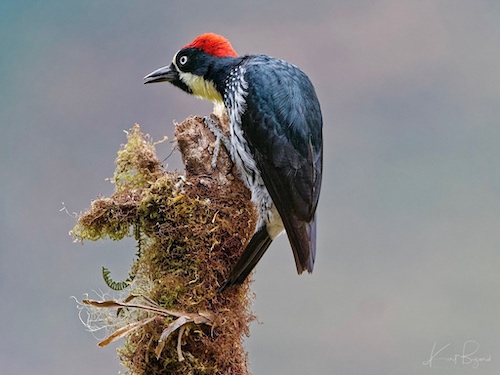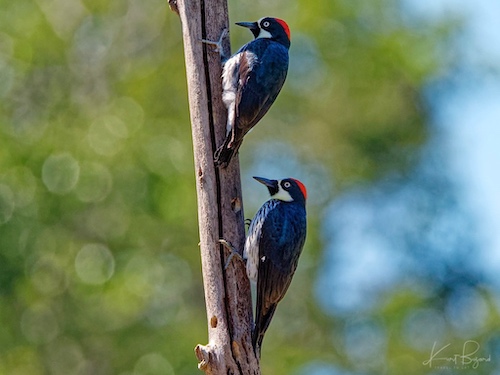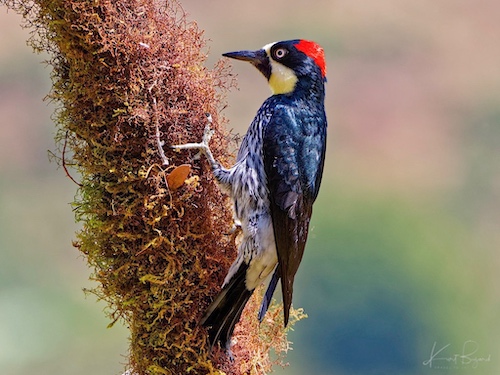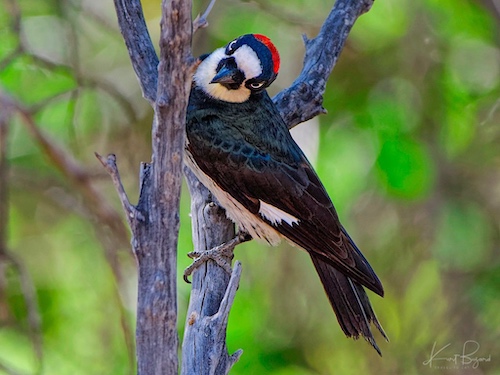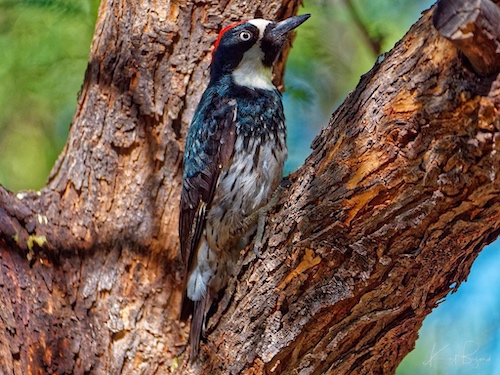 The acorn woodpecker (Melanerpes formicivorus) is a medium-sized woodpecker, 8.3 inches (21 cm) long, with an average weight of 3.0 oz (85 gm). The breeding habitat is forested areas with oaks in the hills of coastal areas and foothills of California and the southwestern United States south to Colombia. This species may occur at low elevations in the north of its range, but rarely below 1,000 m (3,300 ft) in Central America, and it breeds up to the timber line. A group of adults may participate in nesting activities and group food storage. Acorn Woodpeckers excavate custom holes into trees that are the perfect size to hold their favorite food, acorns. Each Acorn Woodpecker group works together to maintain and defend its acorn collection. The same tree, called a "granary", is reused over generations to store the winter food supply. They also feed on insects, sap, and fruit. The Acorn Woodpeckers in Arizona look identical to the ones I found in Costa Rica. The adult male has a red cap starting at the forehead, whereas females have a black area between the forehead and the cap.
Black-Cheeked Woodpecker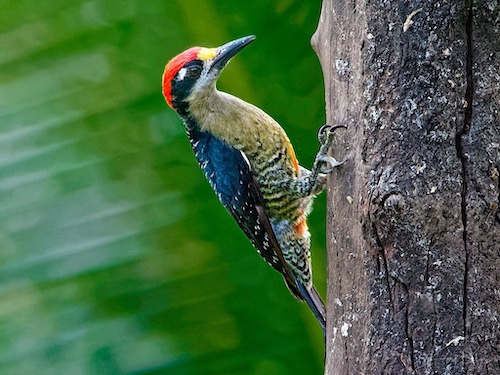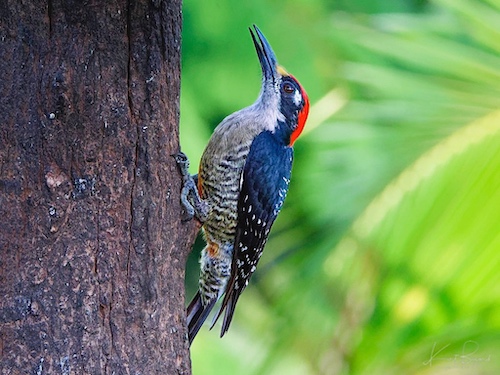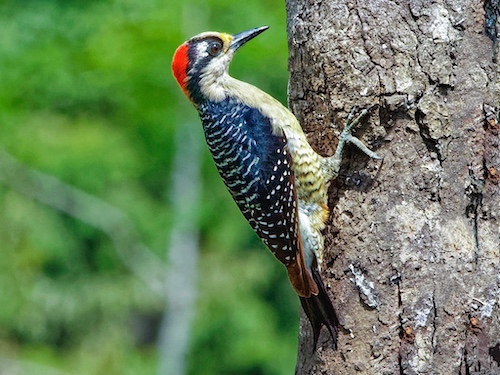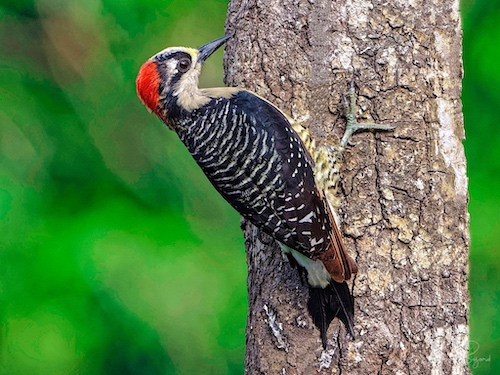 The Black-Cheeked Woodpecker (Melanerpes pucherani) is a resident breeding bird from southeastern Mexico south to western Ecuador. It is a medium sized woodpecker, 7.3 inches (18.5 cm) long and weighs 2.2 oz (63 gm). This woodpecker occurs in the higher levels of wet forests, semi-open woodland and old second growth. The Black-cheeked Woodpecker has black upperpart with white-barred mantled and spotted wings. The face and sides of the neck are also black. The throat and breast are brownish-buff with barred belly and central red area. The male has a red cap and nape. Females have only the nape red. The black-cheeked woodpecker feeds on insects, but will take substantial quantities of fruit and nectar. At Laguna del Lagarto were I observed several of these, they were plenty fond of bananas.
Chestnut-Colored Woodpecker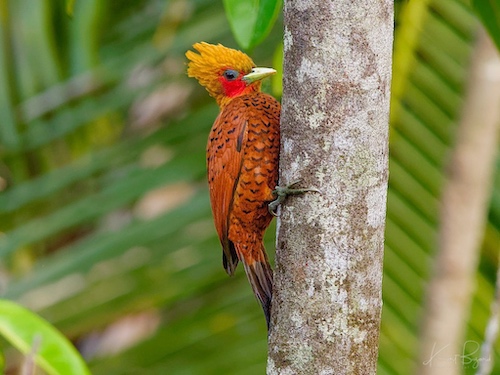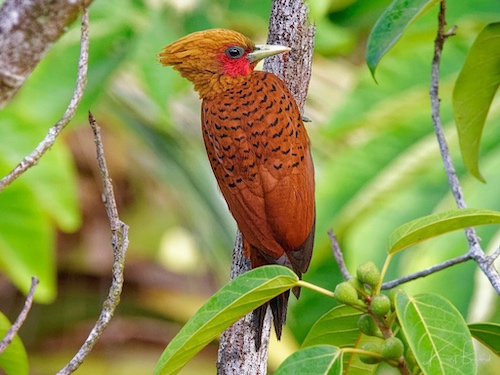 The spectacular Chestnut-Colored Woodpecker (Celeus castaneus) occurs from southern Mexico to extreme northwestern Panama. I have to say, this is the most beautiful woodpecker and possibly the most beautiful bird I have ever seen. This is a medium sized crested Woodpecker, 8.5 inches (21.5–24 cm) long and weighs 2.8–3.7 oz (80–105 gm). Overall, as you can see, the bird is bright chestnut-brown. The crest is a paler light rufous-brown, the underparts and back have extensive black chevron-shaped scaling. The male has a red patch on the cheeks that extends around the eyes. The female lacks the red cheek patch. The wing-tips and tail are black. The Chestnut-Colored Woodpecker primarily feeds on ants and termites. Less commonly, it also consumes fruit although the ones I saw did not approach the feeder with bananas.
Gila Woodpecker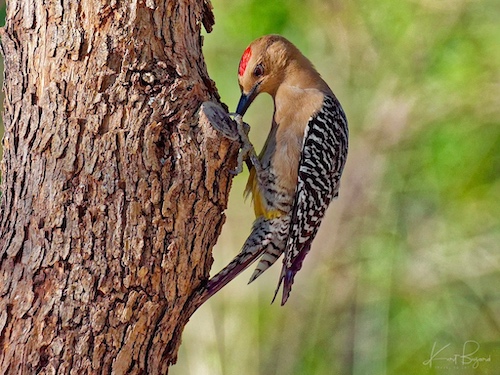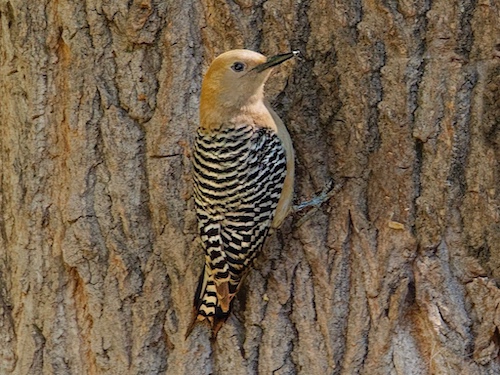 The Gila Woodpecker (Melanerpes uropygialis) is a medium-sized woodpecker of the desert regions of the southwestern United States and western Mexico. In the U.S., they range through southeastern California, southern Nevada, Arizona, and New Mexico. They range from 8–10 in (20–25 cm) in length and weigh 1.8–2.8 oz (51–79 gm). The back and wings of this bird are spotted and barred with a black and white zebra-like pattern. The neck, throat, belly and head are greyish-tan in color. The male has a small red cap on the top of the head. Females and juveniles are similar, but both lack the red cap of the adult male. White wing patches are prominent in flight. The dark tail has white bars on the central tail feathers. I included a report on Gila Woodpeckers feeding on baby dove brains, pretty gruesome, check it out in the references.
Ladder-Backed Woodpecker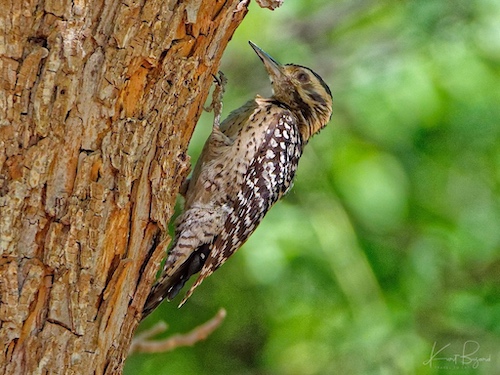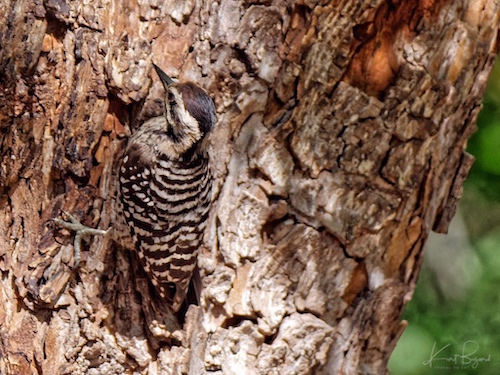 The Ladder-Backed Woodpecker (Dryobates scalaris) is a small woodpecker found year-round over the southwestern United States (north to extreme southern Nevada and extreme southeastern Colorado), most of Mexico, and locally in Central America as far south as Nicaragua. It is about 6½ to 7½ inches (16.5 to 19 cm) in length and weighs 0.7–1.7 oz (21–48 g). It is primarily colored black and white, with a barred pattern on its back and wings resembling the rungs of a ladder. Its rump is speckled with black, as are its cream-colored underparts on the breast and flanks. Southern populations have duskier buff breasts and distinctly smaller bills. Adult males have a red crown patch that is smaller in immatures and lacking in adult females. The ladder-backed woodpecker is fairly common in dry brushy areas and thickets.
Bennett's Woodpecker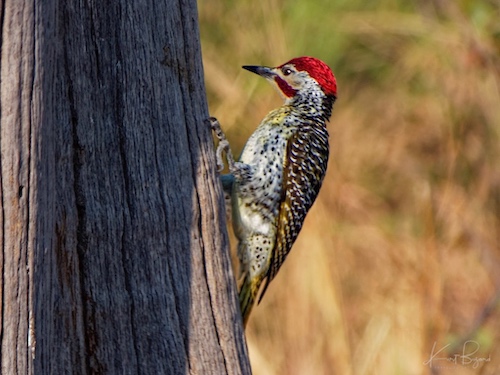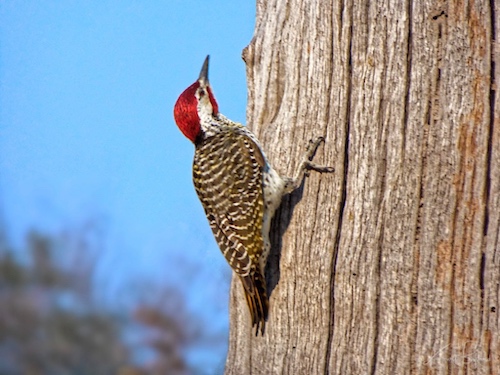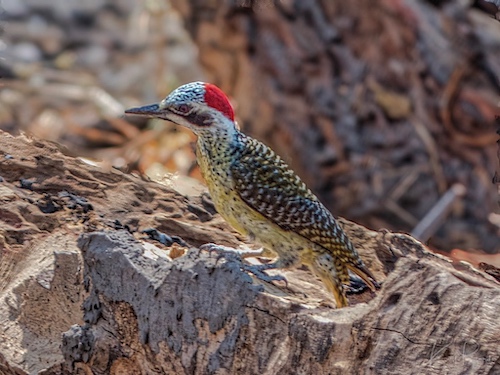 Bennett's woodpecker (Campethera bennettii) is a medium to large sized Woodpecker found in woodlands and bushes in Africa. Bennett's woodpecker is about 9.4 in (24 cm) long and weighs 2.2–3.0 oz (61–84 gm). The male's forehead, crown and nape are red. The chin and throat are white. The upperparts are brown, yellow and white. The underparts are pale yellow, and there are dark spots on the breast and flanks. The eyes are red, the beak is grey, and the legs are bluish-green or grey-green. The female has a black forehead with white spots, and its ear coverts and throat are brown or blackish-brown. Bennett's woodpecker is found singly, in pairs or in family groups. It mostly forages on the ground, either bare or with short grass, and also feeds in trees. It mostly eats ants and termites, including their eggs. I saw this lovely woodpecker on a safari in northern Botswana on 2–3 occasions.
Red-Breasted Sapsucker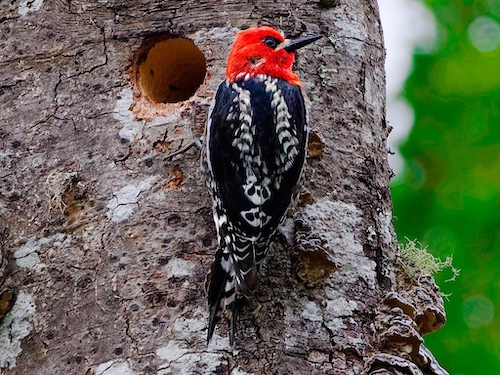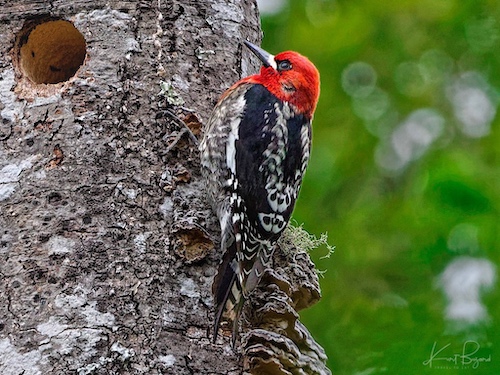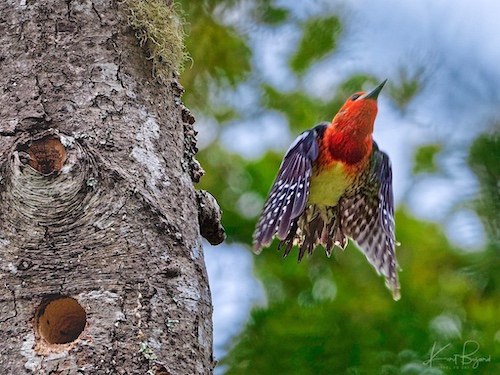 The red-breasted sapsucker (Sphyrapicus ruber) is a medium-sized woodpecker of the forests of the west coast of North America. It is 7.9–8.7 in (20–22 cm) in length and weighs 1.9–2.2 oz (53.1–63.5 gm). Males and females are the same with a red head and upper chest and a white lower belly and rump. They are black on the back and wings with bars; they have a large white wing patch. Red-breasted sapsuckers nest in tree cavities as you can see above. Northern birds migrate to the southern parts of the range; birds on the coast are often permanent residents. Like other sapsuckers, these birds drill holes in trees and eat the sap as well as insects attracted to it. They sometimes catch insects in flight; they also eat seeds and berries. These birds interbreed with the red-naped sapsucker or yellow-bellied sapsucker where their ranges overlap.
Woodpecker Anatomy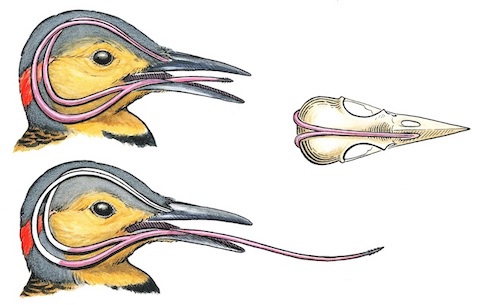 Many of the foraging, breeding and signaling behaviors of woodpeckers involve drumming and hammering using the bill. To prevent brain damage from the rapid and repeated powerful impacts, woodpeckers have a number of physical features which protect the brain. These include a relatively small and smooth brain, narrow subdural space, little cerebrospinal fluid (CSF) surrounding it to prevent it from moving back and forth inside the skull during pecking, the orientation of the brain within the skull (which maximises the contact area between the brain and the skull) and the short duration of contact. The skull consists of strong but compressible sponge-like bone which is most concentrated in the forehead and the back of the skull. Another anatomical adaptation of woodpeckers is the enormously elongated hyoid bone which subdivides, passes on either side of the spinal column and wraps around the brain case, before ending in the right nostril cavity. It plays the role of safety-belt. The hyoid is in the neck, and is present in all vertebrates. It's made of cartilage, bones, and connective tissue. Hyoids help support the tongue muscles. In humans it's pretty small, and shaped like the letter "U". However, in birds it's a more complex structure. Bird hyoids have two elongated arms which reach all the way around the skull and to the tip of the tongue, known as "hyoid horns".
I really hope you enjoyed the post, I will add to this list in the future, so check back. Questions and comments are welcome.
References:
What Woodpeckers are You Going to See When Birding Costa Rica
The Granaries of Acorn Woodpeckers
Gila Woodpeckers Eat Baby Doves Brains
Ladder-Backed Woodpecker; Audubon
Red-Breasted Sapsucker; Audubon
Lizzie Harper Woodpecker Illustrations