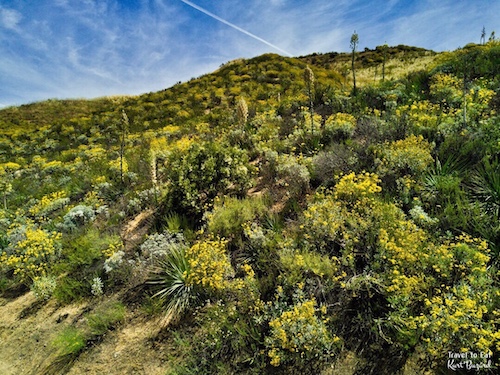 Since we were in Santa Clarita for the past two weeks, caring for our grandson, we decided to visit the Angeles National Forest to see the wildflowers. The Angeles National Forest (ANF) of the U.S. Forest Service is located in the San Gabriel Mountains and Sierra Pelona Mountains, primarily within Los Angeles County in southern California. The ANF manages a majority of the San Gabriel Mountains National Monument. The San Gabriel Forest Reserve was established on December 20, 1892, the San Bernardino Forest Reserve on February 25, 1893, and the Santa Barbara Forest Reserve on December 22, 1903. They became National Forests on March 4, 1907, and they were combined on July 1, 1908, with all of the San Bernardino forest and portions of San Gabriel forest and Santa Barbara forest composing the new Angeles National Forest. On September 30, 1925, portions of the Angeles National Forest and the Cleveland National Forest were detached to re-establish the San Bernardino National Forest. Angeles National Forest is registered as California Historical Landmark, for being the first National Forest in the state.
San Francisquito Canyon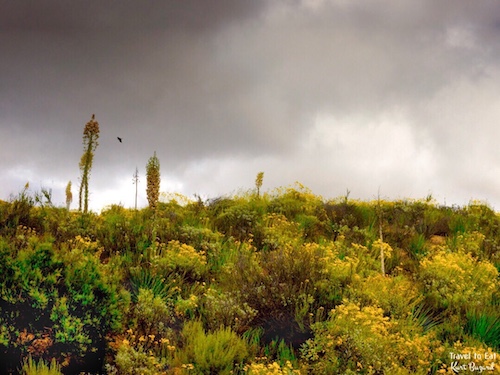 At the turnoff to San Francisquito drive from Copper Hill drive, the road to Antelope Valley Poppy fields, there is an amazing entrance with two hillsides covered with brittlebush and Yucca. We must have had good luck because it was the time of year that the Yucca were blooming. The San Francisquito Canyon is a canyon created through erosion of the Sierra Pelona Mountains by the San Francisquito Creek, in Los Angeles County, Southern California. The canyon cuts through the Sierra Pelona Mountains, which are central part of the Transverse Ranges system of California. At the San Francisquito Canyon head is the San Francisquito Pass, which the early routes between Los Angeles and the San Joaquin Valleycrossed. The canyon grows wider as it approaches the Santa Clarita Valley.The middle and upper portions of this canyon fall within the Angeles National Forest.
Brittlebush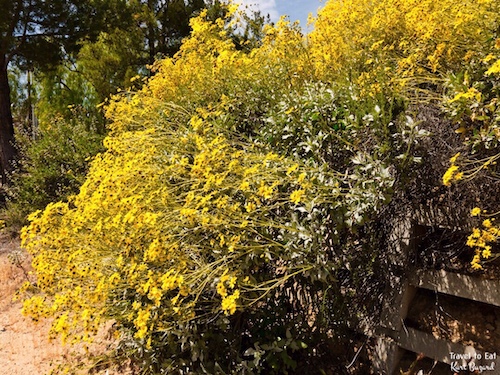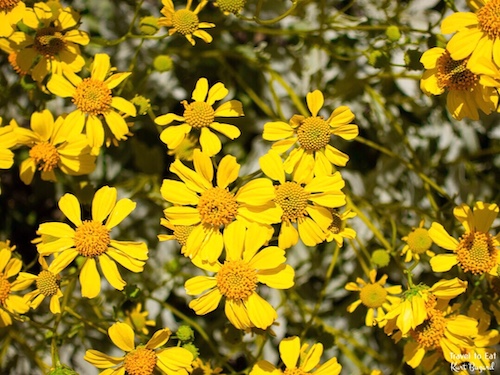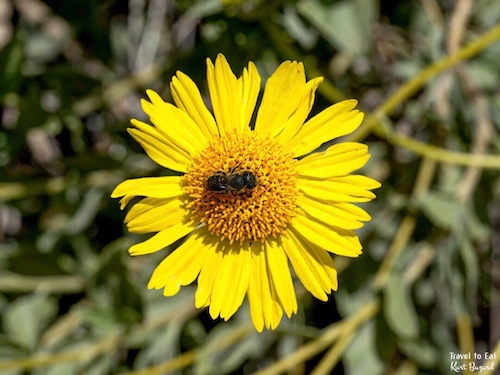 The common name "brittlebush" comes from the brittleness of its stems. Other names include hierba del vaso (Spanish) and cotx (Seri). Another Spanish name for it is incienso because the dried sap was burned by early Spanish missions in the New World as incense. Brittlebush has had many uses in the past. The stems of the brittlebush secrete a clear resin which was used by Native Americans from the Southwest as a glue and also as a gum. Ground up it was used by the Seri Indians of Mexico as a toothpaste. They also would sprinkle the paste on sores or heat it and spread it on their bodies to relieve pain.
Yucca Flower Spires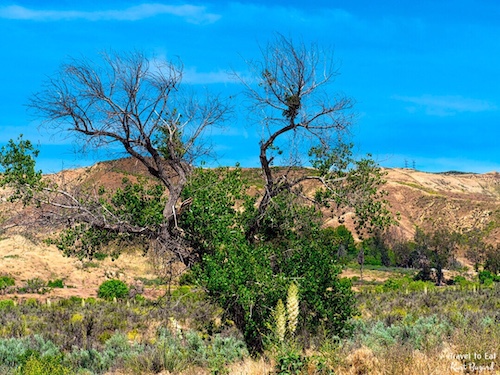 Yuccas produce a flower spire with many dangling panicles, which are individual flowers. Yuccas are members of the lily family with blooms of similar form but much different foliage. The plants form rosettes of spiky sword-like leaves from the center of which rises the flower spires. The Yucca pictured above are Hesperoyucca whipplei (synonym Yucca whipplei) (chaparral yucca, our Lord's candle, Spanish bayonet, Quixote yucca or foothill yucca), a species of flowering plant closely related to, and formerly usually included in, the genus Yucca. It is native to southern California, United States and Baja California, Mexico, where it occurs mainly in chaparral, coastal sage scrub, and oak woodland plant communities at altitudes of 0–2500 m (0-8202 feet).
Crowtoe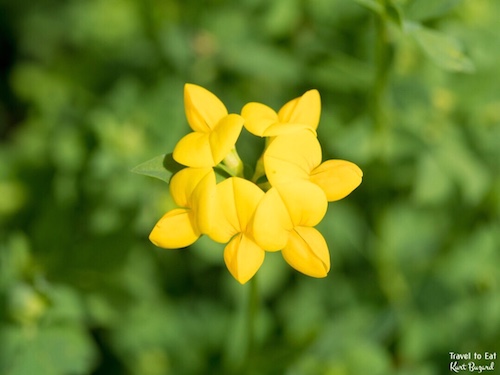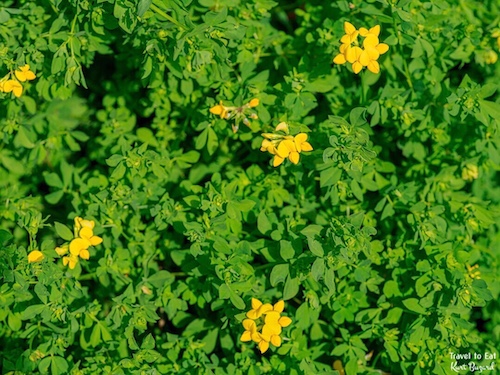 Lotus corniculatus (bird's foot trefoil, crowtoe) is a common flowering plant in the pea family Fabaceae, native to grassland in temperate Eurasia and North Africa. It is a low growing perennial legume that has long been valued as an agricultural crop. Lotus corniculatus is native to much of Europe, Asia and parts of Africa, but now has a near global distribution and is widely naturalized in California. Over most of its range, Lotus corniculatus is not considered invasive, although in a few areas it has out-competed native vegetation.
Desert Dandelion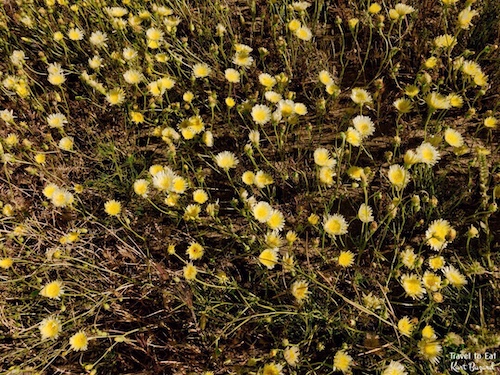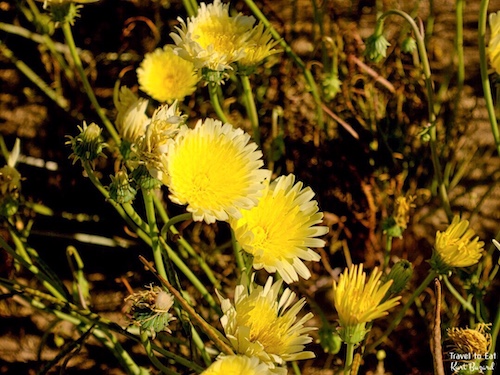 Malacothrix glabrata (smooth desert dandelion or desert dandelion) is an annual plant in the sunflower family (Asteraceae). It is common to the southwestern deserts of North America and has showy pale-yellow to white flowers. The name "glabrata" refers to the leaves being (nearly) hairless. Like other members of its genus, it has a milky sap and flower heads composed of smaller strap-like flowers called "ligules". The species is native to the western United States, excluding much of the Pacific Northwest, and into northern Mexico.
Fiddleneck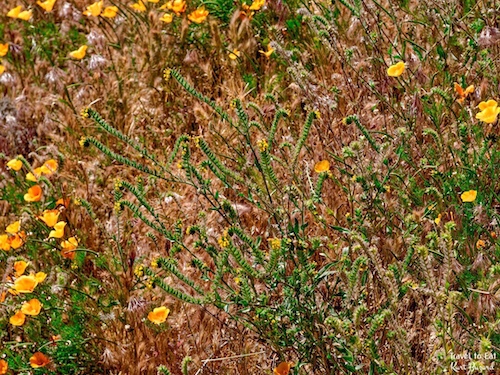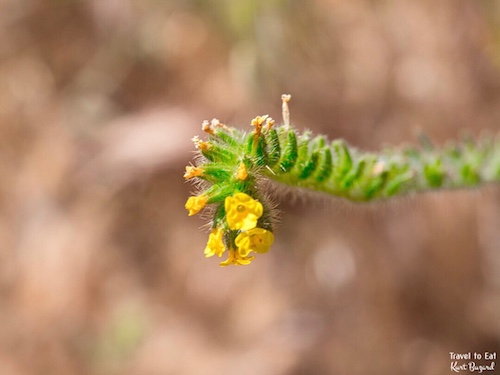 The fiddlenecks are native to western North America and south-western South America, but they are naturalized in other regions. Fiddleneck might not be very good for humans, nor for our imported livestock which didn't evolve as natives in this landscape anyway. But the Native Americans who prospered for centuries while being dependent for their existence on the plants that grew around them, the shoots, seeds and leaves of the abundant fiddleneck were used as food. A pinole (an ancient "power food" prepared from ground and toasted seeds and used as an ingredient in cereals, baked goods, tortillas, and beverages), made by the Chumash and other Indians, was described by the Spanish settlers as having "good flavor and pretty color".
Melilotus indicus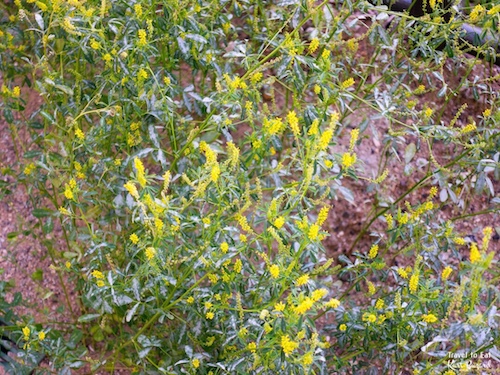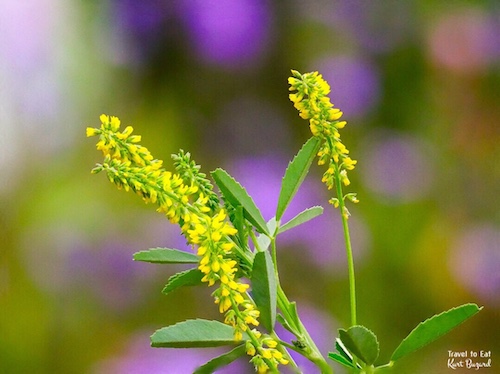 Melilotus indicus (Indian sweet clover), sometimes incorrectly written Melilotus indica, is a yellow-flowered herb native to northern Africa, Europe and Asia, but naturalized throughout the rest of the world. It has a wide native distribution, ranging from Macaronesia and northern Africa, through Europe, and into temperate and tropical Asia. It is naturalised throughout most of the rest of the world, including the United Kingdom, the United States, South America, Australia and New Zealand. The seed is made into a gruel and used in the treatment of bowel complaints and infantile diarrhea.The plant is discutient, emollient, astringent, strongly laxative and narcotic. It is used externally as a poultice or plaster on swellings. The plant contains coumarin, which is an anticoagulant. The plant also contains dicumarol, which is a broad spectrum bactericide.
Wild Mustard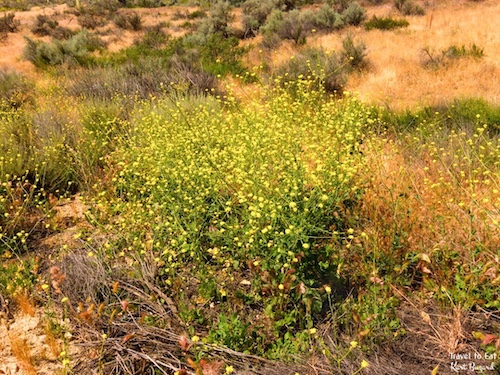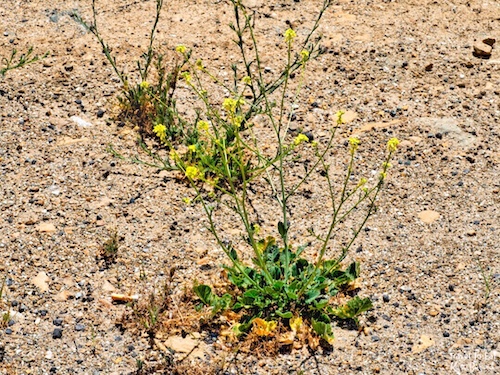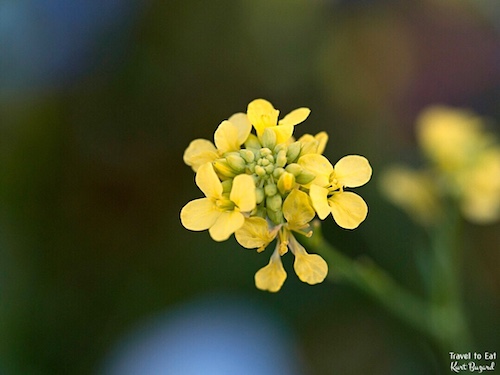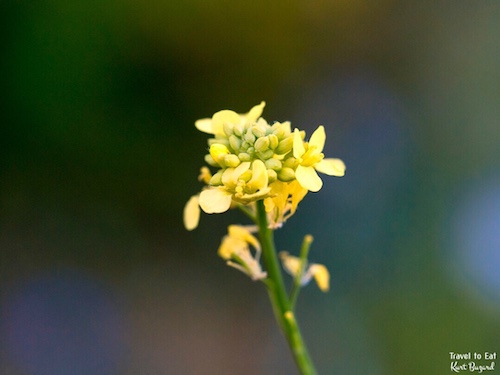 This plant is not native to California and was actually introduced by Spanish. Several stories are given for the introduction including Rancheros to support the growing cattle industry. The wild mustard arrived to compensate for overgrazing of native grasslands fueled by increasing numbers of cows. No longer consumed by cattle, this invasive species has run wild in Los Angeles' Mediterranean climate, consuming the landscape at any chance it is given. That said, every spring you can see the yellow on almost every hill, bringing a little color to the normally drab landscape. There are several species including White Mustard (Sinapis alba, Brassica alba), Black Mustard (Brassica nigra) Common Mustard (Brassica raps) and Sahara Mustard (Brassica tournefortii) all of which are part of the mustard family Brassica and all edible. Identification can be tricky but I think this might be Hirschfeldia incana (formerly Brassica geniculata) which is very similar in appearance to black mustard, but is generally shorter. It forms a wide basal rosette of lobed leaves which lie flat on the ground, and it keeps its leaves while flowering. Its stem and foliage have soft white hairs. Unlike black mustard, H. incana is a perennial plant. This identification is thanks to a helpful comment by Alexandra (see below) to the post.
Wild Elderberry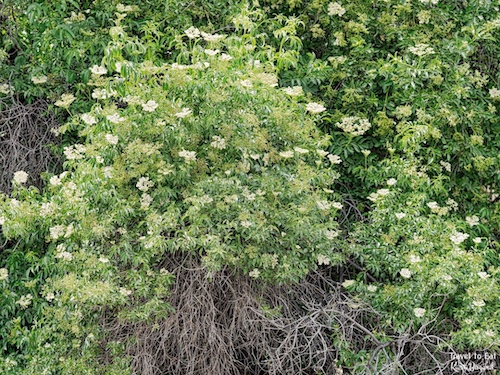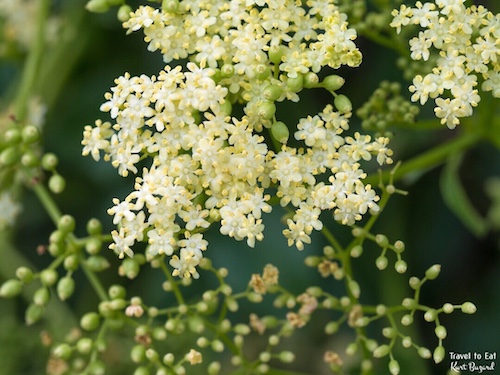 Sambucus is a genus of flowering plants in the family Adoxaceae. The various species are commonly called elder or elderberry. The genus occurs in temperate to subtropical regions of the world. More widespread in the Northern Hemisphere, its Southern Hemisphere occurrence is restricted to parts of Australasia and South America. The blackberry elder Sambucus melanocarpa of western North America is intermediate between the preceding and next groups. The flowers are in rounded panicles, but the berries are black; it is a small shrub, rarely exceeding 3–4 m (9.8–13.1 ft) tall. Some botanists include it in the red-berried elder group. Black elderberry extract (Sambucus nigra L) has been proven multiple times to be effective in shortening the duration of flu symptoms by at least 3 to 4 days.
Silver Puff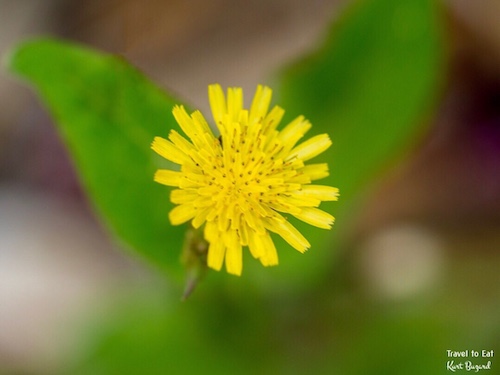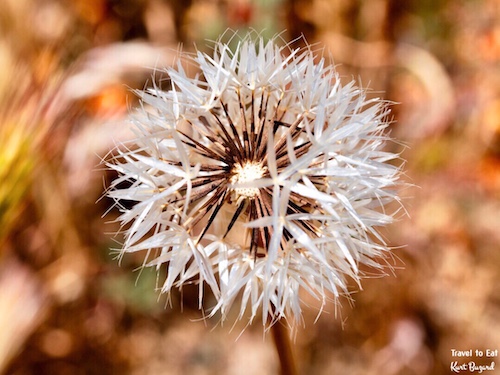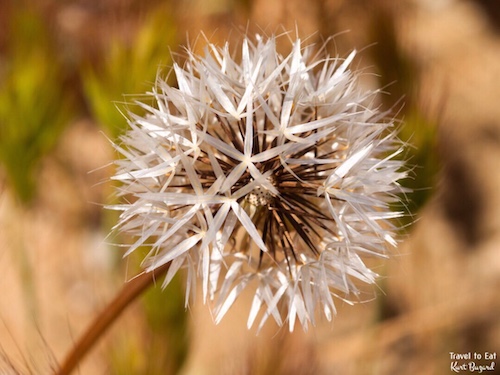 Uropappus lindleyi is one of numerous dandelion-like species, plants with milky sap and ligulate flowerheads, the ligules having four notches at the tip, i.e. partly divided into five lobes. The seeds are thin, dark-brown and cylindrical, radiating out from the flower center, each topped by five radiating, silver-colored pappus scales, ending in a narrow bristle. Uropappus, commonly called silverpuffs, is a genus of North American plants in the dandelion tribe within the sunflower family. Just like the dandelion, the silverpuff exists in two forms, a yellow flower and a globular silver ball. The beauty of the ball is undeniably beautiful.
Fremont Pincushion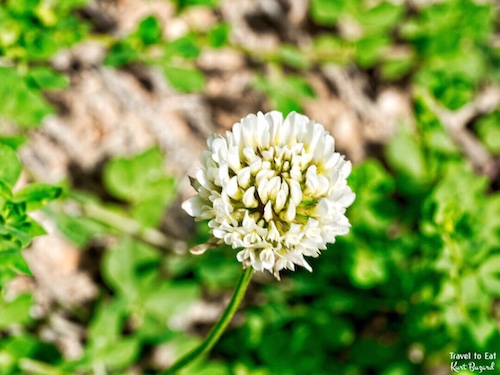 Chaenactis fremontii, with the common names Fremont's pincushion and desert pincushion, is a species of annual wildflower in the daisy family. Both the latter common name, and the specific epithet are chosen in honor of John C. Frémont. Chaenactis fremontii grows in patches of long stems which are green when new and grow reddish with age. They may branch to extend many tall, almost naked stems. The sparse leaves are somewhat fleshy and long and pointed. Atop each erect stem is an inflorescencebearing usually one but sometimes more flower heads, each with plentiful densely packed disc florets.
Prickly Poppy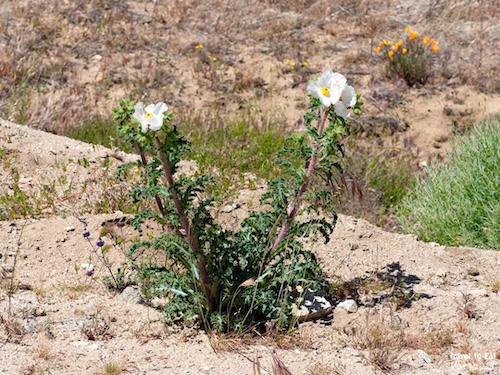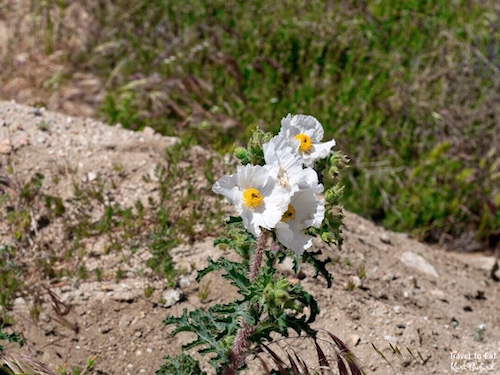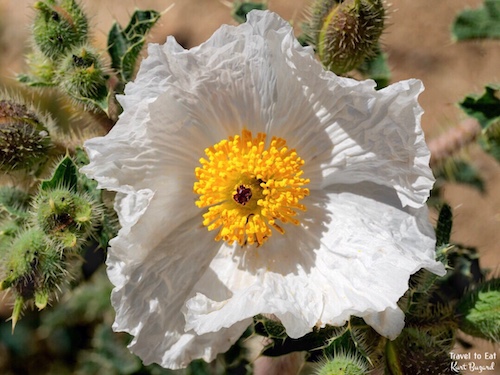 Prickly Poppy is the name used for various species of the Argemone Genus, all virtually indistiguishable from each other. Members of the Poppy Family are characterized by flowers with numerous stamens and 4 to 6 petals.This very branchy, pale green plant grows to 4 feet high and is covered with yellow pricklies. Long, very lobed, spiny leaves resembling thistles grow to 8 inches. All parts of this plant contain alkaloids that are poisonous. It is common throughout the West because not even cattle eat it. The variety of Prickly Poppy around Santa Clarita is Argemone munita.
Sweet Alyssum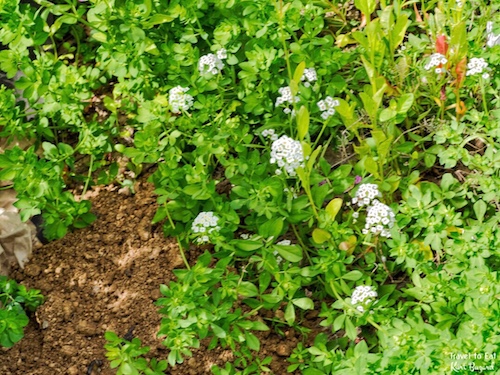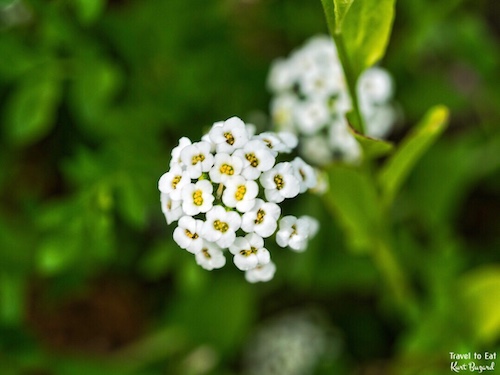 Lobularia is a genus of five species of flowering plants in the family Brassicaceae, closely related to (and formerly often included in) the genus Alyssum. The genus is native to Macaronesia and the Mediterranean region, and comprises annuals and perennials growing to 10–40 cm (4–16 in) tall, with hairy oblong-oval leaves and clusters of cross-shaped (cruciform), fragrant white flowers. Lobularia maritima (sweet alyssum) is a perennial herb that is not native to California, it was introduced from elsewhere and naturalized in the wild. Lobularia maritima is one of the easiest annuals to grow. It is a mat-forming plant that produces spreading mounds of well-branched stems clad with linear, lance-shaped, gray-green leaves (up to 1" long).
Chaparral Whitethorn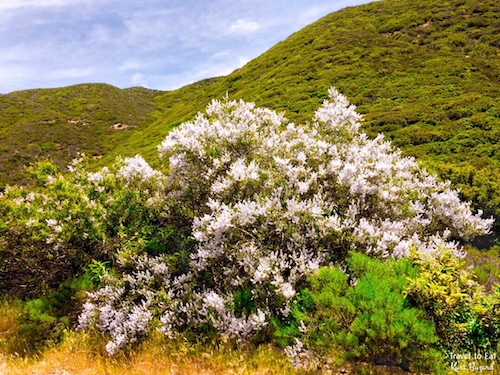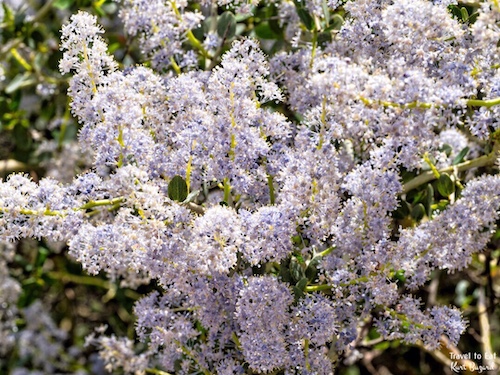 Chaparral Whitethorn (Ceanothus leucodermis) is a shrub that is native to California and is found only slightly beyond California borders. Ceanothus leucodermis is a thorny shrub growing erect to heights approaching 4 meters. The bark is gray-white, waxy, and somewhat hairy, especially when new. The twigs harden into sharp-tipped thorns as they age. The evergreen leaves are alternately arranged, oval in shape and up to about 4 centimeters long. The edges are smooth or lined with tiny glandular teeth. Leaves are covered with a delicate, white powdery coating that can be rubbed off. Stipules, the small leaf-like structures on the stem at the base of the stem of the leaf (petiole), are thin and fall off early, compared to other members of the genus. The inflorescence is a long, stalked cluster of flowers in shades of blue, lavender, or white. The fruit is a sticky, three-lobed capsule about half a centimeter long. Fruits do not have horns, as do some other members of this genus.
Indian Paintbrush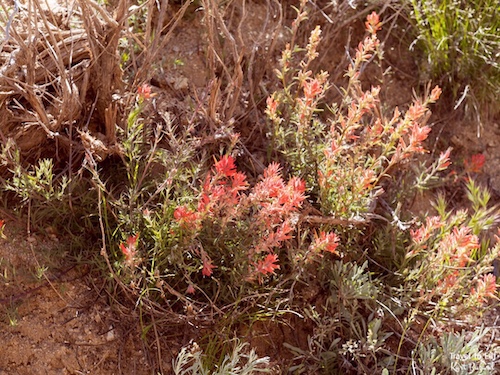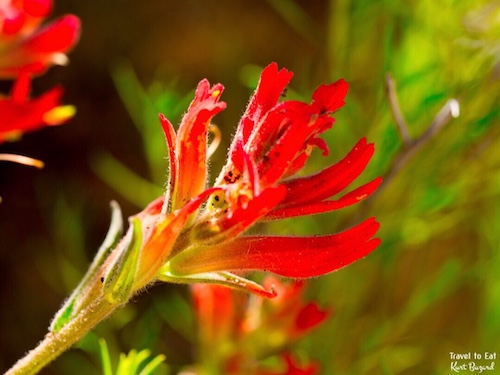 Castilleja, commonly known as Indian paintbrush or prairie-fire, is a genus of about 200 species of annual and perennial herbaceous plants native to the west of the Americas from Alaska south to the Andes, northern Asia, and one species as far west as the Kola Peninsula in northwestern Russia. Coast Indian Paintbrush (Castilleja affinis) is a native perennial herb that grows in northern, southern and central California. It tends to grow in sea bluffs and , at elevations from 0-3900 feet.
Coulter's Lupine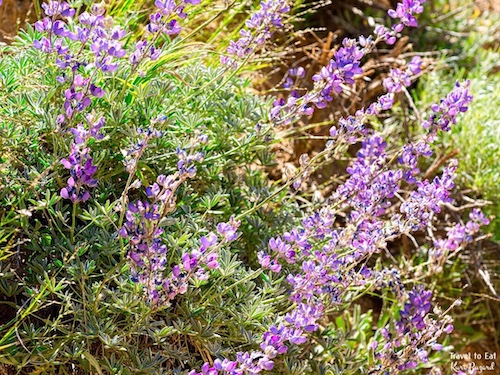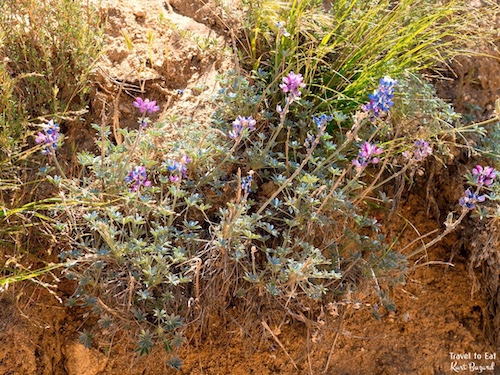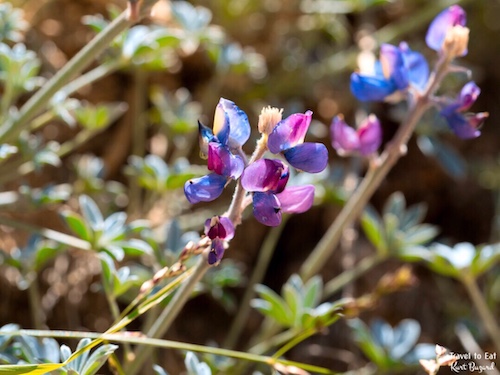 Lupinus sparsiflorus (Coulter's lupine) is a species of lupin native to North America. In the United States it occurs in California, Nevada, Arizona and Utah, and in Mexico it is found in Baja California and Sonora. Other common names include Mojave lupine, a name it shares with Lupinus odoratus. The desert lupine flower is pale blue or purple. The upper petal (banner) has a yellow spot which changes to reddish after pollination. The close-up above shows the beautiful colors of the pollinated flower. The two bottom petals (keel) are short, and wide; they are hairy on the bottom edge and curve upward to a slender tip. When ripe, seed pods explode, scattering their seed to the wind.
Chaste Tree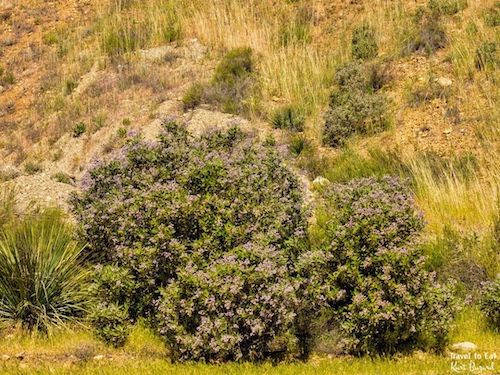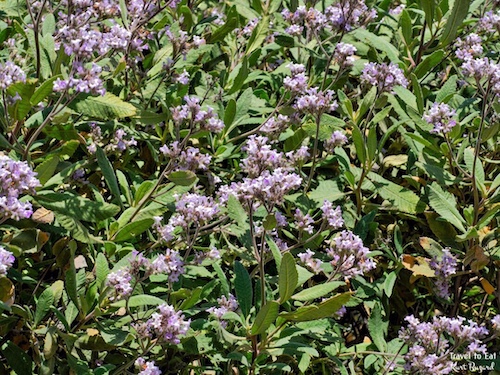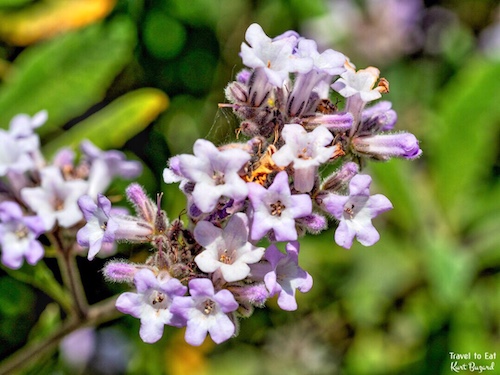 Chaste Tree (Vitex agnus-castus) is not native to the southwest or even North America. It originated in the Mediterranean Region and was introduced to the Western Hemisphere for medicinal and horticultural purposes. With its widespread use for cultivated purposes, and ability to thrive in warm temperate and subtropical regions, it has spread as an invasive species primarily in the southern United States but also in the southwest. Chaste Tree has fragrant foliage and readily attracts large numbers of butterflies and insects.
California Vervain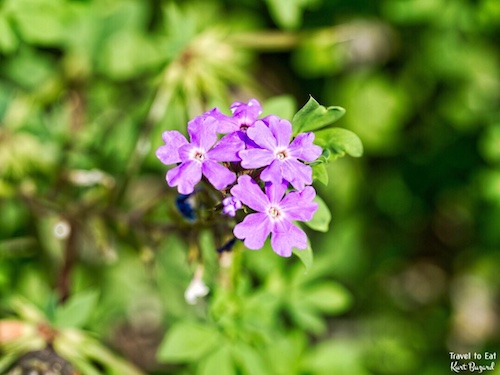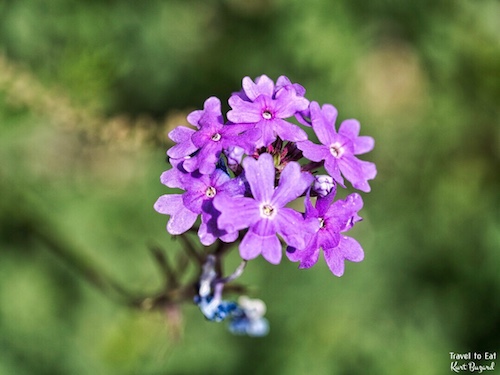 Verbena californica is a rare species of verbena known by the common names California vervain and Red Hills vervain. This flower is endemic to Tuolumne County, California, where it is known from ten or eleven occurrences in the Red Hills, a section of the Sierra Nevada foothills near Chinese Camp. It grows in moist woodland habitat, often on serpentine soils. It is a federally listed threatened species of the United States.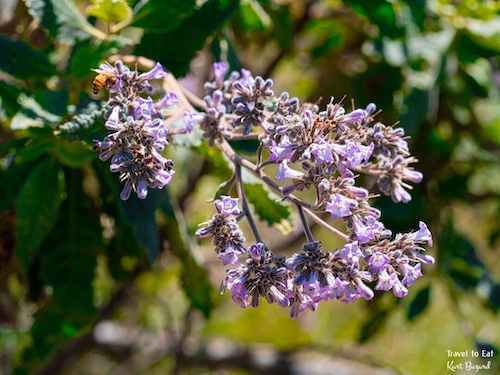 I hope as always that you enjoyed the post, if you visit Los Angeles, consider a visit. Please leave a comment.
References:
Angeles National Forest Campgrounds: http://www.forestcamping.com/dow/pacficsw/anginfo.htm
Brittlebush: http://outdoorselfreliance.com/brittlebush-encelia-farinosa/
Yucca: http://scvnews.com/2016/04/28/yucca-plant-of-many-uses-commentary-by-mari-carbajal/
Fiddleneck: https://granadanativegarden.org/2016/02/07/fiddleneck-what-good-is-it/
Indian Sweet Clover: https://gobotany.newenglandwild.org/species/melilotus/indicus/
Elderberry: http://sunflower-press.com/definitive-guide-elderberry/
Chaparral Whitethorn: http://calscape.org/Ceanothus-leucodermis-(Chaparral-Whitethorn)?srchcr=sc560cf7c37ffe0
Chaste Tree: http://southwestdesertflora.com/WebsiteFolders/All_Species/Lamiaceae/Vitex%20agnus-castus,%20Chaste%20Tree.html
Sent from my iPad