---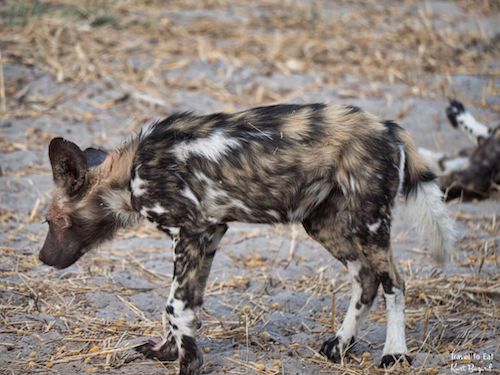 The African wild dog (Lycaon pictus), also known as African hunting dog, African painted dog, painted hunting dog or painted wolf, is a canid native to Sub-Saharan Africa. It is the largest of its family in Africa, and the only extant member of the genus Lycaon, which is distinguished from Canis by its fewer toes and its dentition, which is highly specialised for a hypercarnivorous diet. These long-legged canines have only four toes per foot, unlike other dogs, which have five toes on their forefeet. The dog's Latin name means "painted wolf," referring to the animal's irregular, mottled coat, which features patches of red, black, brown, white, and yellow fur. Each animal has its own unique coat pattern, and all have big, rounded ears. It is classified as endangered by the IUCN, as it has disappeared from much of its original range.
Wild Dog Pack (Lycaon pictus) in Botswana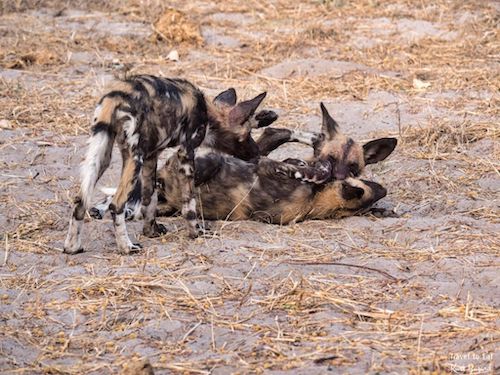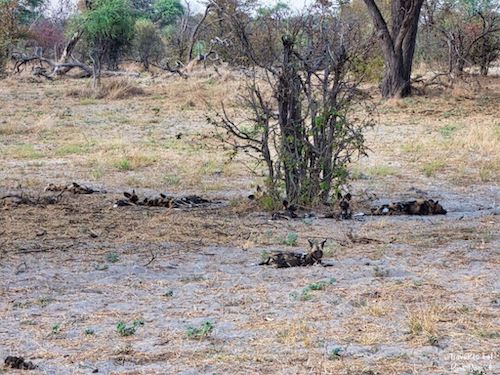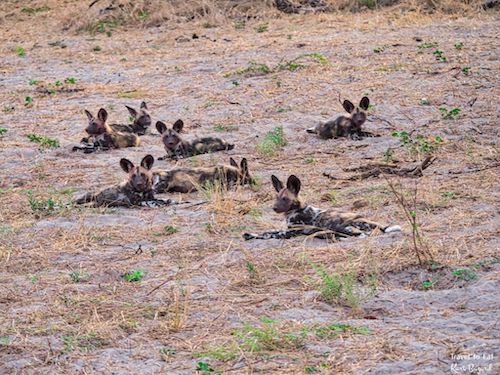 We were lucky enough to find a large pack of wild dogs in Botswana, perhaps 20–30 dogs. Over half of the dogs had a red face and legs typical of a recent hunt and kill. African wild dogs are some of Africa's lesser known animals and certainly some of the most misunderstood. Due to their being critically endangered, with only about 5,000 left in the wild, sightings are rare outside of specific areas such as Botswana and Zimbabwe. The sight of a 50-strong pack of African wild dogs in action has to be one of the most wonderful and exhilarating spectacles on the vast African savannah. Wild dogs are renowned for their strong family bonds, and anyone lucky enough to witness their interaction with a new litter of pups cannot fail to be struck by their collective devotion. Peaceful and co-operative within their family groups, they look after their young and sick and depend on each other for survival. The current population has been estimated at roughly 39 subpopulations containing 6,600 adults, only 1,400 of which are fully grown. The decline of these populations is ongoing, due to habitat fragmentation, human persecution, and disease outbreaks.
Speed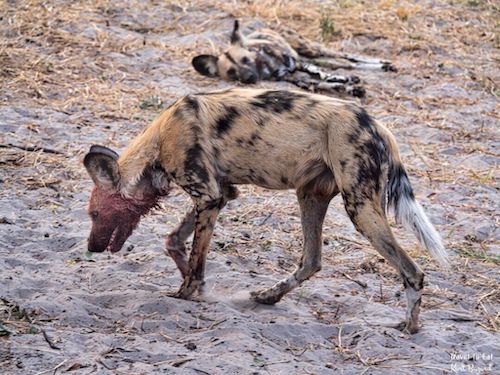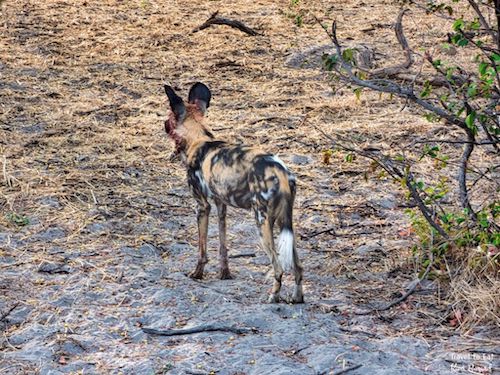 Like the greyhound, the these dogs have long legs, large lungs and a powerful torso. The African wild dog is a specialised pack hunter of common medium-sized antelopes. It and the cheetah are the only primarily diurnal African large predators. L. pictus hunts by approaching prey silently then chasing it in a pursuit clocking at up to 66 kilometres per hour (41 mph) for 10 to 60 minutes. As their prey tires, it is easier to catch. Their long legs and large lungs help them run long distances without tiring.
Big Ears Long Intestine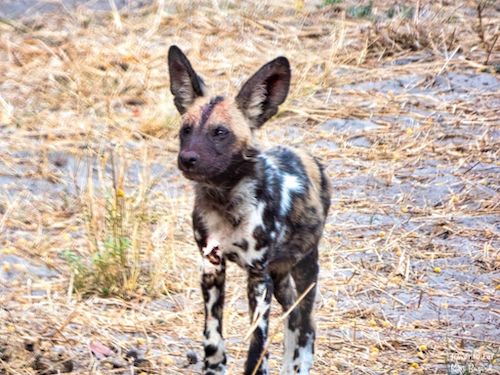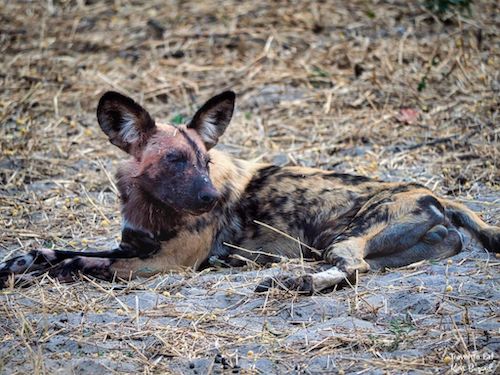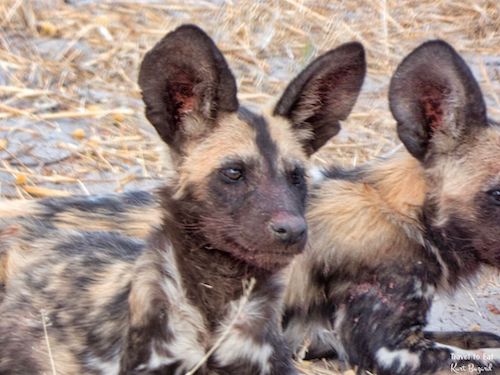 The large ears help to defuse heat and to improve hearing. They act much like elephants ears. The long large intestine of the African Wild Dog means that they have a very efficient system for absorbing as much moisture from their food as possible. This gives these canines an advantage in such arid climates as they do not need to find such a regular supply of water. African Wild Dogs are therefore able to go for long periods of time without needing to drink. This is partly why the African wild dog does not pant since it wastes moisture.
Unusual Fur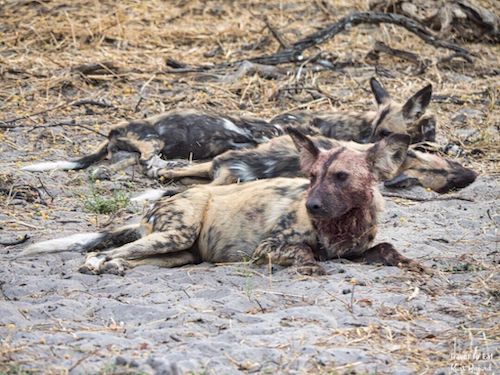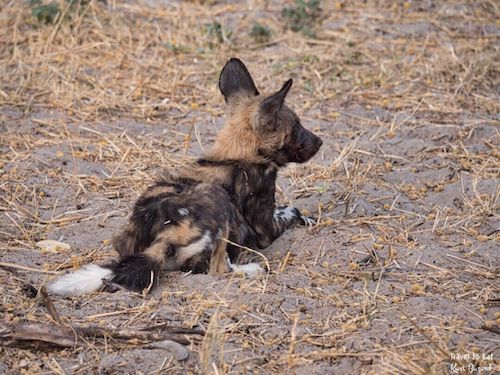 The fur of the African wild dog differs significantly from that of other canids, consisting entirely of stiff bristle-hairs with no underfur. It gradually loses its fur as it ages, with older specimens being almost naked. Colour variation is extreme, and may serve in visual identification, as African wild dogs can recognise each other at distances of 50–100 metres. There is some geographic variation in coat colour, with north-east African specimens tending to be predominantly black with small white and yellow patches, while southern African ones are more brightly coloured, sporting a mix of brown, black and white coats. Much of the species' coat patterning occurs on the trunk and legs. There is little variation in facial markings, with the muzzle being black, gradually shading into brown on the cheeks and forehead. A black line extends up the forehead, turning blackish-brown on the back of the ears. The tail is usually white at the tip, black in the middle and brown at the base. Some specimens lack the white tip entirely, or may have black fur below the white tip.
Hunting Behavior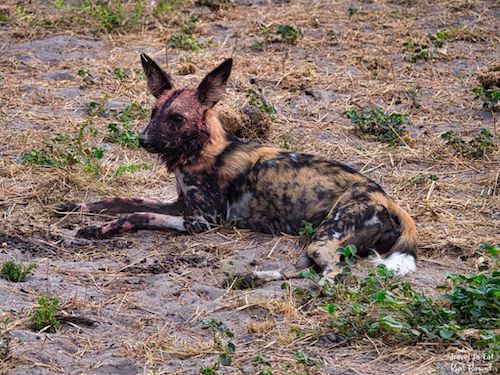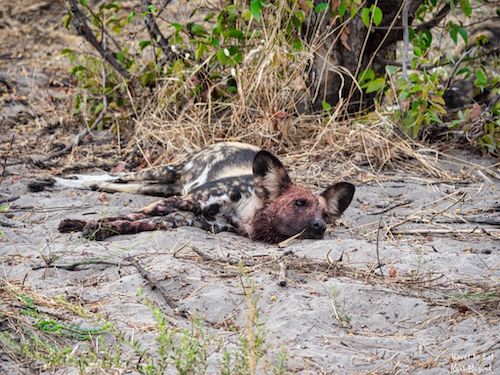 The African wild dog is a highly successful hunter. Nearly 80% of all wild dog hunts end in a kill; for comparison, the success rate of lions, often viewed as ultimate predators, is only 10%. The average chase typically only goes as far as 2 km, during which time the prey animal, if large, is repeatedly bitten on the legs, belly and anus until it stops running, while smaller prey is simply pulled down and torn apart. L. pictus hunting strategies differ according to prey, with wildebeest being rushed at in order to panic the herd and isolate a vulnerable individual, whereas territorial antelope species, which defend themselves by running in wide circles, are captured by cutting off their escape routes. Medium-sized prey is often killed in 2–5 minutes, whereas larger prey like wildebeest may take half an hour to pull down. Male wild dogs usually perform the task of grabbing dangerous prey, such as warthogs, by the nose. Small prey like rodents, hares and birds are hunted singly, with dangerous prey like cane rats and porcupines being killed with a quick and well-placed bite in order to avoid injury. Small prey is eaten entirely, while large animals are stripped of their meat and organs, with the skin, head, and skeleton left intact. The African wild dog is a fast eater, with a pack being able to consume a Thompson's gazelle in 15 minutes. In the wild, the species' consumption rate is of 1.2–5.9 kg per African wild dog a day, with one pack of 17–43 specimens in East Africa having been recorded to kill three animals per day on average. In East Africa, its most common prey is Thomson's gazelle, while in Central and Southern Africa it targets impala, reedbuck, kob, lechwe, and springbok.
Sneezing And the Hunt
African wild dog populations in the Okovango delta have been observed "rallying" before they set out to hunt. Not every rally results in a departure, but departure becomes more likely when more individual dogs "sneeze". These sneezes are characterized by a short sharp exhale through the nostrils. When members of dominant mating pairs sneeze first, the group is much more likely to depart. If a dominant dog initiates, approximately 3 sneezes guarantee departure. When less dominant dogs sneeze first, if enough others also sneeze (~10) then the group will go hunting. Researchers assert that wild dogs in Botswana, "use a specific vocalization (the sneeze) along with a variable quorum response mechanism in the decision-making process [to go hunting at a particular moment]"
Regurgitation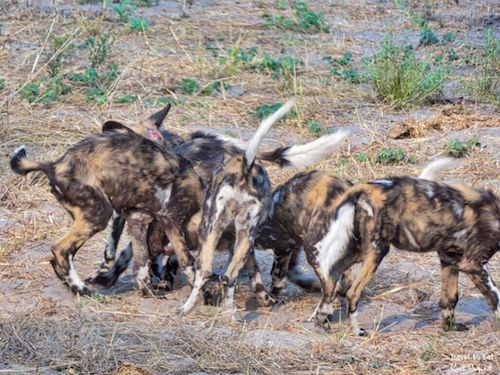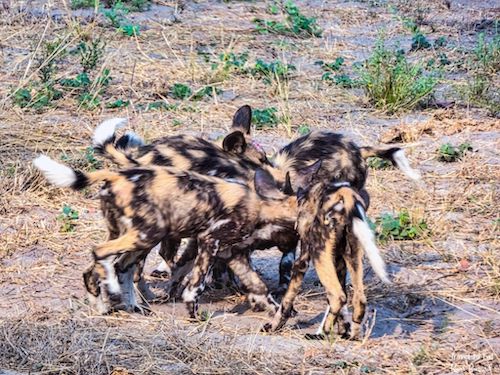 Unlike most social predators, Wild Dogs (Lycaon pictus) will regurgitate food for adult as well as young family members. Like other canids, it regurgitates food for its young, but this action is also extended to adults, to the point of being the bedrock of African wild dog social life. The ability to do this rests with an abnormally large stomach which might also explain why they can eat so much, so quickly. Pups old enough to eat solid food are given first priority at kills, eating even before the dominant pair; subordinate adult dogs help feed and protect the pups. It has been estimated that the food from a kill may pass through as many as seven recipients.
Predators, Poachers and Competitors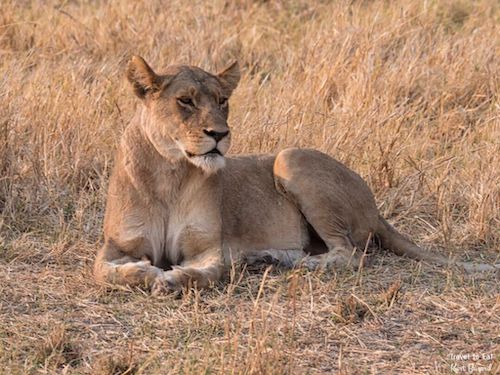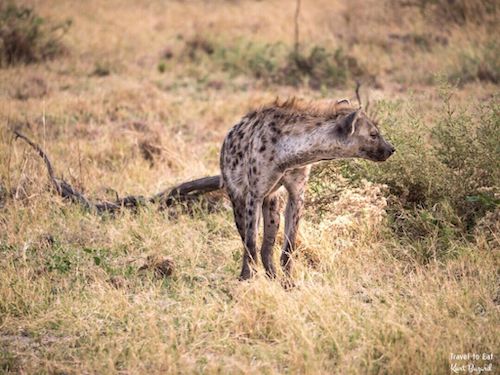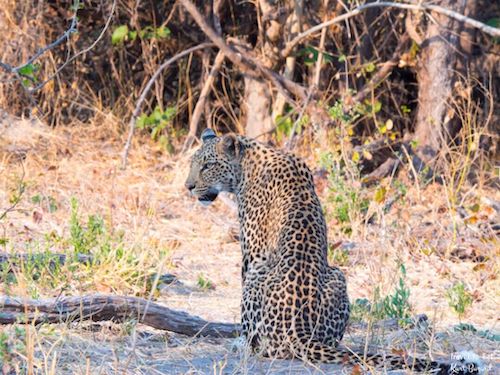 The African Wild Dog (Lycaon pictus) has few natural predators, though lions are a major source of mortality, and spotted hyenas are frequent poachers. Lions dominate African wild dogs, and are a major source of mortality for both adults and pups. Population densities of African wild dogs are low in areas where lions are more abundant. Wild dogs are one of the most successful hunters in Africa while the hyena will do and eat almost anything to survive. One of their many ways to find food is to follow other predators and either wait for them to leave and then eat whatever is left, in the case of a lion pride/wild dog pack or steal kills where possible. So as wild dogs roam through an area you will often find hyenas following them, opportunistic as ever. The African Leopard and the African Wild Dog are two of the most vicious predators in the wilderness of sub-Saharan Africa. They have long been rivals, as they share habitats and are both hypercarnivores that hunt and scavenge to survive.
Domestication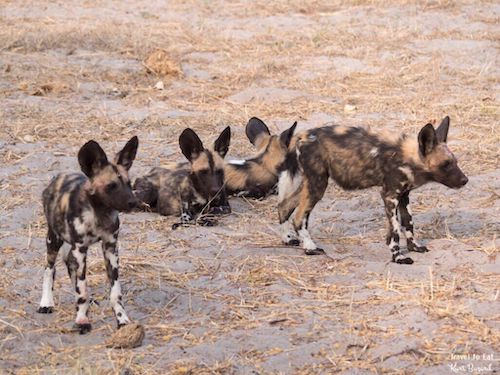 The wild dog is an attractive animal, particularly as cubs, and you would expect ancient people would have tried to domesticate them. People have attempted to tame wild dogs but never successfully. They are naturally distrusting of humans or indeed any animal outside of their own pack. When humans have domesticated dogs in the past, it was due to certain character traits prevalent in canines that could be amplified through breeding. One of these traits was a willingness to be touched by humans. This combined with traits of curiosity and opportunism paved the way for humanity's greatest symbiotic relationship with an animal affectionately named "man's best friend." Wild dogs have never displayed these traits and it is unlikely they ever will.
<h2>References:</h2>
<p><a href="https://www.nationalgeographic.com/animals/mammals/a/african-wild-dog/">Nat Geo Wild Dogs</a></p>
<p><a href="https://arstechnica.com/science/2017/09/wild-dog-packs-vote-on-whether-to-start-hunting/">Sneezing Behavior</a></p>
<p><a href="http://rspb.royalsocietypublishing.org/content/284/1862/20170347″>Sneezing Behavior</a></p>
<p><a href="http://www.fauna-flora.org/species/african-wild-dog/">Fauna and Floral International</a></p>
<p><a href="https://africageographic.com/blog/10-interesting-facts-african-wild-dogs/">https://africageographic.com/blog/10-interesting-facts-african-wild-dogs/</a></p>
<p><a href="https://www.denverzoo.org/african-wild-dog">https://www.denverzoo.org/african-wild-dog</a></p>
<p><a href="https://www.sabisabi.com/blog/7936/wild-dog-vs-hyena/">https://www.sabisabi.com/blog/7936/wild-dog-vs-hyena/</a></p>