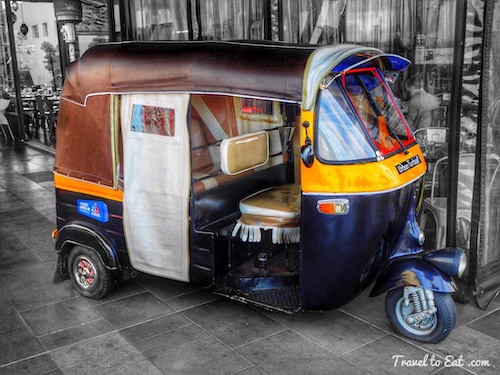 When Bhushan and Jasmine Arolkar wanted to start a restaurant that represented the modern dining culture of India, they did not have to look far from their hometown, Bombay (Mumbai, India). Bombay is the food capital of India, offering a wide variety of cuisine from all parts of India from tasty street food, to gourmet Pacific-Rim styles. New-age Indian cuisine puts the emphasis on the experience of the restaurant. Apart from the food, an excellent wine list, and staff dedicated to refining you dining experience, the final element that makes Urban Turban special is the location, and the contemporary design of the restaurant itself. The North Wharf is at the Harbor's edge with stunning views of the Waitemata Harbor, and Urban Turban's modern spacious design, is perfectly modelled to take advantage of the harbor side location.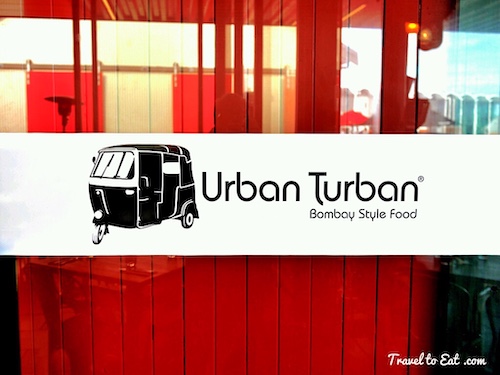 They had an cool little authentic auto rickshaw, imported I would assume from Mumbai, with a few bumps and scrapes to verify its authenticity. This is also their logo. An auto rickshaw, also known as a three-wheeler, samosa, tempo, tuk-tuk (in Thailand), trishaw, autorick, bajaj (in India), keke Napep or Maruwa (in Nigeria), rick, tricycle, mototaxi, baby taxi, lapa or tukxi (Piaggio Ape Calessino) in popular parlance, is a common form of public transportation in many countries around the world. The idea came when in 1947 Corradino D'Ascanio, aircraft designer at Piaggio and inventor of the Vespa, came up with the idea of building a light three-wheeled commercial vehicle to power Italy's post-war economic reconstruction. The Piaggio Ape followed suit which was soon copied around the world. There are 246,458 black and yellow metered auto rickshaws, often simply called autos, in the Mumbai metropolitan area as of 2008. Since 2002, all auto rickshaws in Mumbai have been required to use CNG (compressed natural gas) as fuel.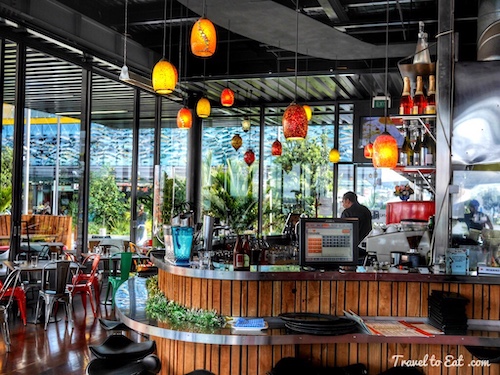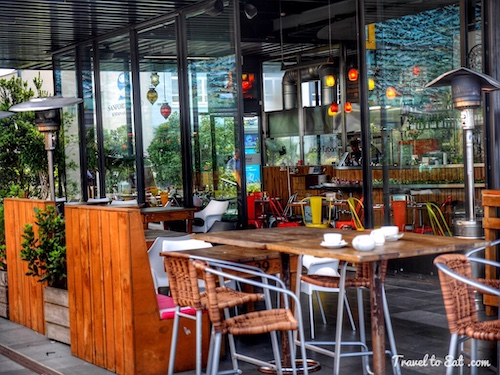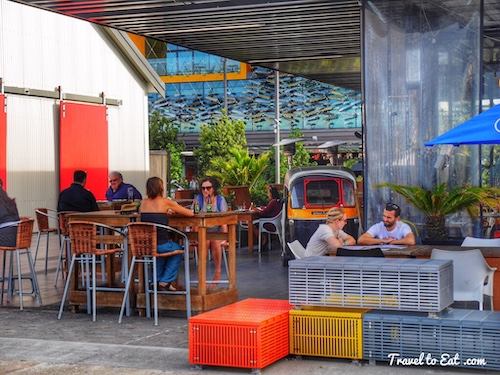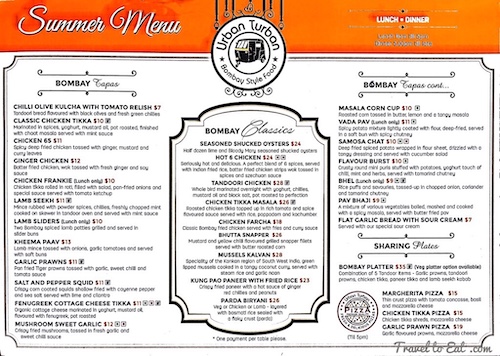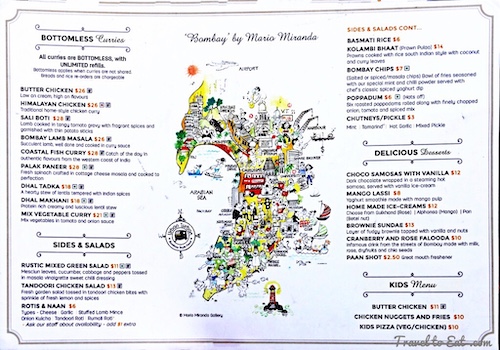 The menu is inspired by Mumbai cuisine and divvied up into entrees, street food, sharing plates, Bombay classics and bottomless curries. Respectively, your best bets from the above include: Gun Powder Prawns (giant tiger prawns marinated in Urban Turban's hot chilli sauce), Flavour Bursts (puri, or little deep-fried bread pockets, stuffed with potatoes and yoghurt), Spiced Fries, Hot 6 Chicken (tandoori chicken coated with a six spice mix and served with fried rice), and Sali Boti (boneless lamb cooked in a rich, tangy tomato-based gravy).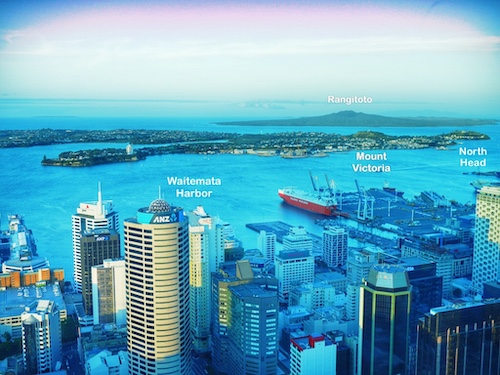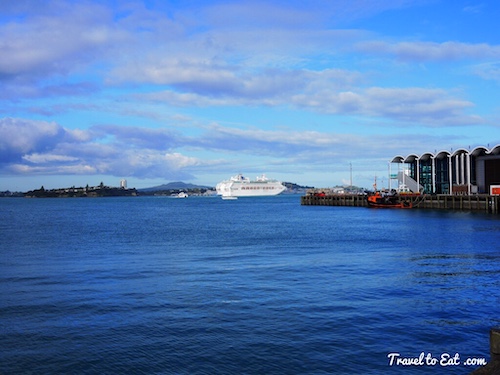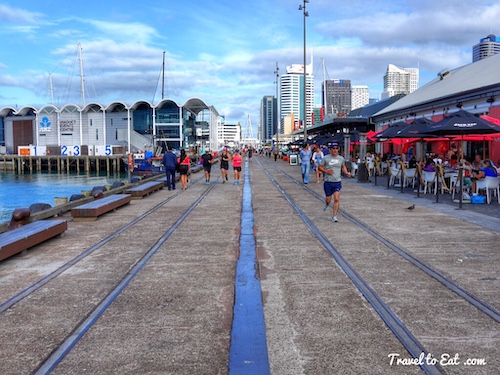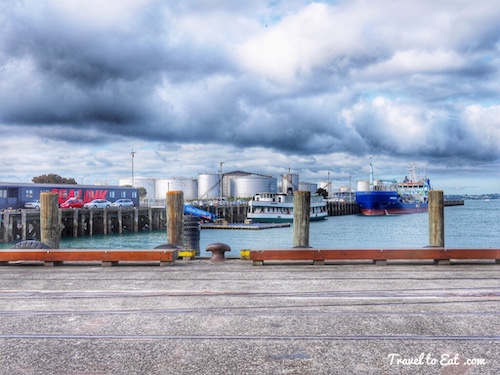 You can see Rangitoto island from the restaurant. Situated about 8 km northeast of Auckland and connected to Motutapu Island by a causeway, Rangitoto is a large island of 2311 hectares (5711 acres) with a wonderful volcanic landscape that supports over 200 species of moss, plants and trees including the largest Pohutukawa forest in the world.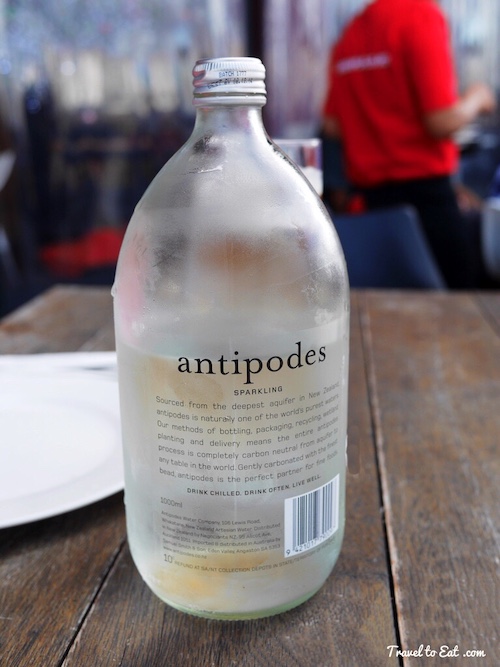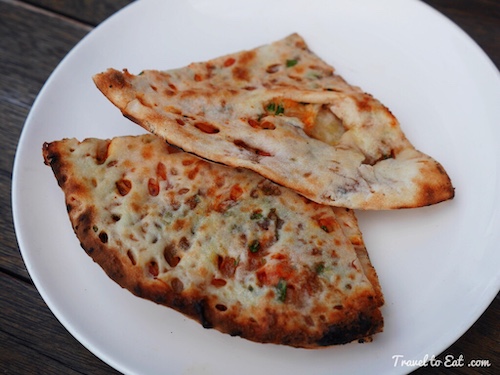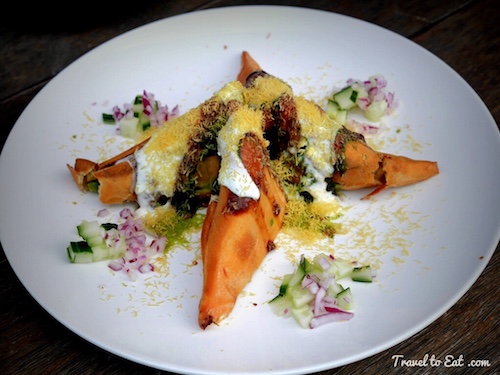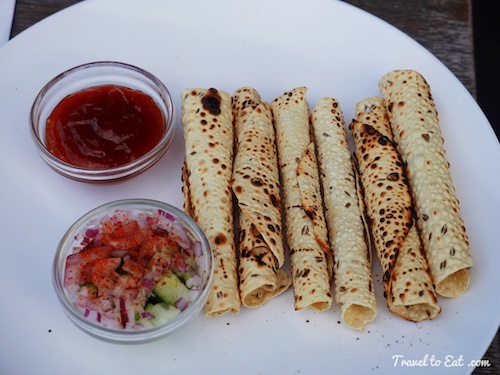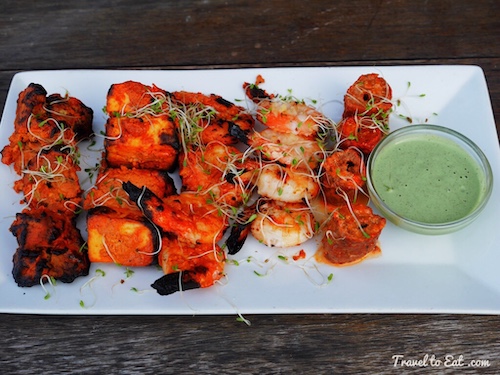 We decided to just get some finger food as you can see above. The food was good and the view of the harbor was even better. Tapas style offerings, known as Bombay Bites, include a variety of chicken, lamb, seafood and vegetarian options. Bombay Bites menu items include Lamb Sliders, Ginger Chicken, Salt N Pepper Calamari and grilled tofu. Recently, they have opened an outlet in Las Vegas, off the strip. It has opened to good reviews and if you are in Las Vegas, jonesing for Indian food, consider the Urban Turban.
References:
Website: http://www.urbanturban.co.nz/
Rangitoto "A Summer Place": http://www.nzonscreen.com/title/a-summer-place-1995
Urban Turban Las Vegas: http://www.urbanturbanlv.com/