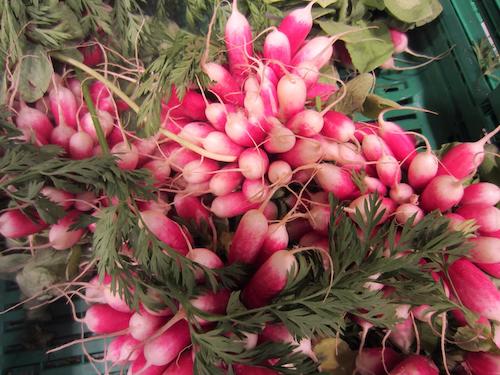 I have found some other unusual produce items in the markets that I thought I would share! The picture above shows the Parisian Breakfast radishes, available everywhere. They have a distinctive cylinder shape with a white tip and excellent flavour. This traditional French variety was named French Breakfast because market porters in Paris used to eat their radishes with salt and butter as a mid-morning snack. The photograph below comes from "Food Je T'Aime" and shows a little open faced radish sandwich with radishes, coarse bread, salt, butter and parsley.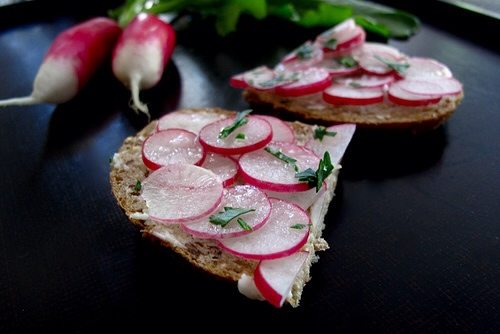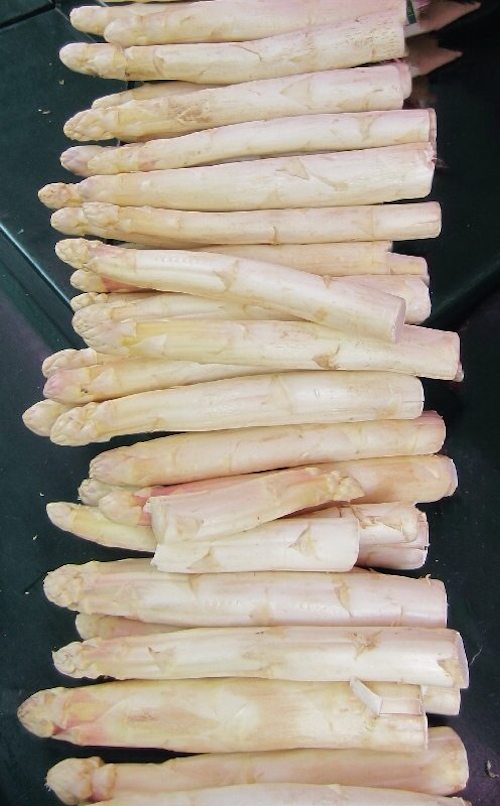 Parisians also have these amazing giant white asparagus. White Asparagus is not so common in the United States, while in France, white asparagus is actually more popular than green. White asparagus is grown without light, which is why it is white. Either they are grown indoors or under a layer of topsoil. When the tip peeks out, they are harvested by hand. This makes them expensive and they are very desirable. The thicker the asparagus is, the better it is.
White asparagus must be peeled and trimmed before cooking, and if they are thin there is nothing left, so always buy big, fat ones. Believe it or not, Amazon actually has an asparagus peeler. To trim, test the stalk until you find the division between fibrous ends and tender. White asparagus must also be cooked until tender, not crunchy, and this takes time, depending on their thickness and age it can take 20 minutes or more. Simmer them in salted water with a pinch of sugar. Test the asparagus at the thick end, insert a cake tester from the cut end, the whole length of the spear, if there is no resistance, you know they are ready. Drain them on a towel before serving.
Apparently legends have it that the white asparagus was discovered in the 16th century when a hailstorm destroyed the crop and forced people to eat what was left. It was then that they discovered the beauty and sweetness of white asparagus.
Asparagus has a rich history in Europe. The Greeks began growing it as early as 600 BCE and it flourished in central Europe. In particular, Hoerdt in Alsace has accrued notoriety for its production of asparagus over the centuries. Also in France, King Louis XIV enjoyed this vegetable so much, he built special greenhouses in Versailles so he could enjoy it year-round. Today, even commoners can enjoy asparagus despite the season. However, the best time of year is generally April to June.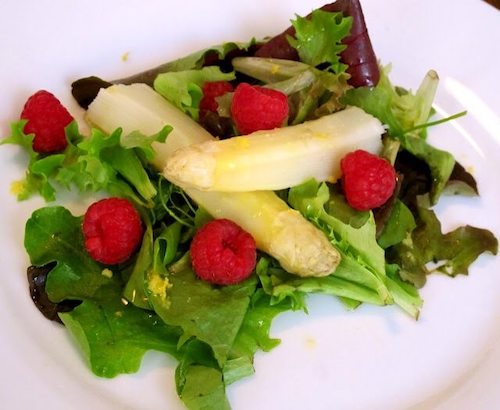 Regardless, white asparagus is delicious and has a much more delicate taste than its green cousin. Whether sophisticated or simple, the French tend to treat white asparagus tenderly. It is expensive and is in season for so short a time that it most often turns up at the heart of a dish. The dish shown above is from "The tasty side of life" with organic microgreens, raspberries, lemon zest and a Dijon Vinaigrette.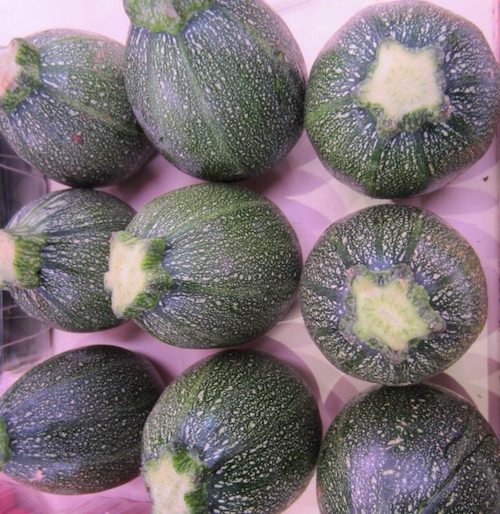 Round Zucchini have been popular in Europe for years. The Italians have their dark green Tondo di Piacenza, the French have the light green speckled Ronde de Nice (seen above), the Dutch have the "Roly Poly" (a loose translation from Burpee's marketers) and the British have their single serve striped marrow, Tender and True. There is even a Chinese produced seed of an almost white round zucchini. The common thread is that these zucchini are actually rather nice; solid, nutty, sweet, and as a bonus they are extremely early producers and are prolific, like all zucchini if you keep harvesting the fruit.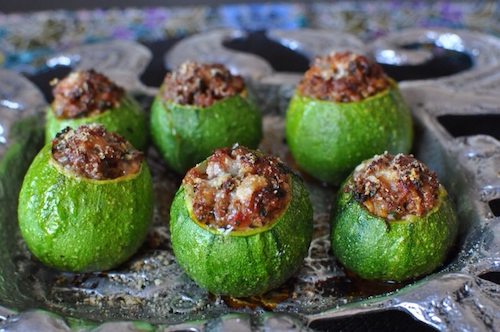 The lovely stuffed round zucchini's shown above come from "Spade and Spatula" (love that name) and are stuffed with beef ragout. For anyone who has actually grown zucchini, you know that after about a month you have run out of recipes and none of your friends will take anymore zucchinis. I am sure there is some authentic French recipie for round zucchini, but these sure look good. I personally like to sauté zucchini in butter with shallots and fresh tomatoes seasoned with fresh oregano and basil from my garden.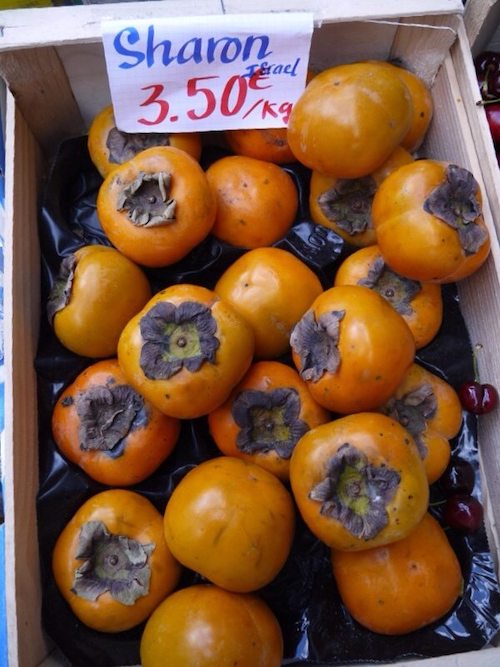 These Israeli Sharons are also called Israeli Persimmons. If it is very ripe it is sweet and fruity. You just peel it and scoop it out.You may add a dash of lemon juice with it. It tastes like a cross between a plum and a mango, a bit acidic.
You can tell if it is ripe by pressing on it, it should be soft and the stem will separate easily. It looks a little like a tomato but it has no seeds. You can eat the skin. I have personally eaten these with whipped cream, which were delicious.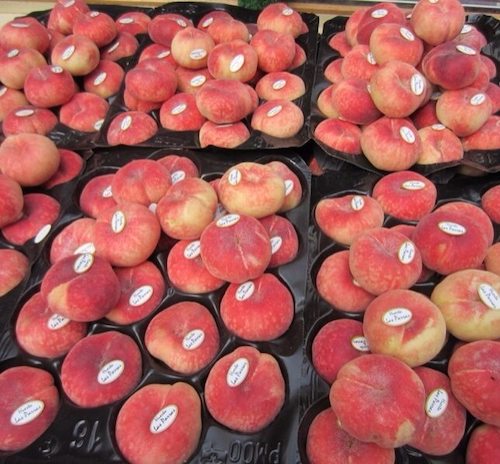 Flat peaches are very sweet and almost nutty – fantastic in salads and deserts. In France they are called Peche Plat or flat peaches. Others call them the doughnut peaches. This is a bona fide peach species, first grown in China in the 19th century. What is surprising is that they've taken so long to catch on, because they are perfect for almost everybody. You can break them in half and the seed falls away. Also they store better than normal peaches.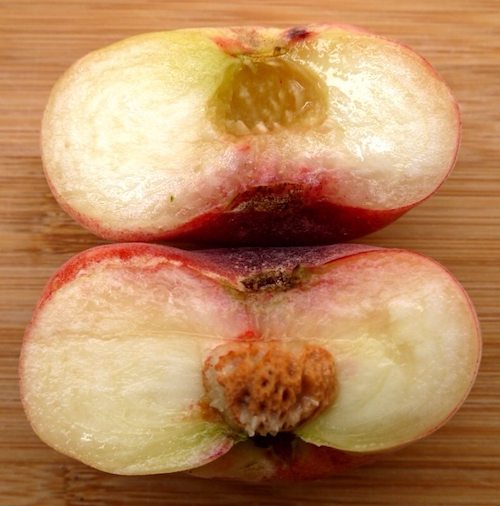 All peaches originated in China. Peaches were taken along the old silk routes from China to Persia, where they were discovered by Alexander the Great, who mentions half a dozen types and who introduced them to the Greeks and Romans. The Romans spread the peach further north and west.
As you can see from the picture to the left, the flat peach has a white, firm flesh with a small pit and they are especially sweet and peachy.
I am going to wrap this up for now, I am going to some produce markets next week, and if I see anything interesting I will post it then.