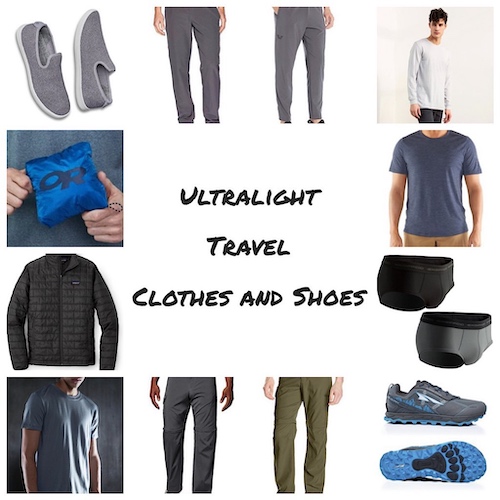 As time has gone by, the options for travel clothing and shoes have increased exponentially. With these new options it becomes sometimes overwhelming to decide what to pack. While I am not a fashion expert, nor do I profess to be, I thought I would write a post on my, more or less, permanent travel wardrobe. My days of carefree, fashion forward, European vacations are long gone and today my clothing needs revolve primarily around comfort, in both heat, cold and wet climates and the weight and size of the contents since I carry a lot of photographic gear. Since I also do a lot of light hiking, the requirements are the same as the needs in ultralight backpacking and outdoor stores like REI are the best place to shop. Ultralight really requires a change in thinking about travel. You plan to do laundry every night or two, each item can be used alone or layered, the more uses the more valuable it is. You do not worry overly about getting wet or dirty, just as long as you have a plan to stay warm and get dry. From this point of view, a trip of three or four days is the same as a trip of three or four weeks and requires no more clothing than you already have packed. The result is a liberation of sorts from the material things of daily needs, really a surprise of how little is actually needed to stay warm and comfortable. As always, I have no financial dealings with any of the companies and there are no advertising gimmicks or cookies, the links are just for convenience.
Merino Wool vs Everything Else
The first clothes that almost everyone who hikes or travels has experienced are jeans and a t-shirt. While inexpensive, cotton is not the best material for either hiking or travel since it is bulky, heavy, and when it gets wet it takes a long time to dry. Thus doing laundry at night is inadvisable since the jeans never quite dry and the cotton t-shirts will start to smell before the day is over.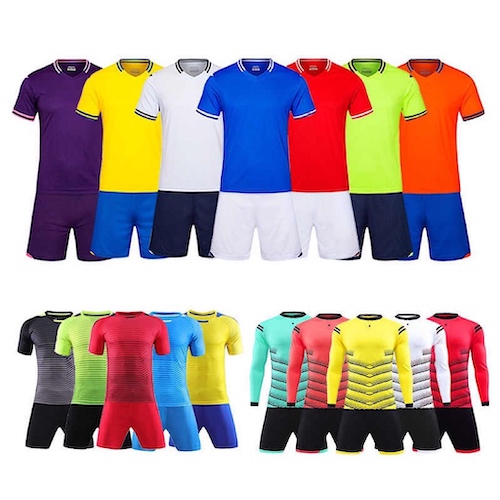 Clothing made from polyester and polyester blends are typically dry-wicking, which is ideal for athletic clothing. A large number of excellent athletic clothes incorporate polyester because of its strength and light weight. Shorts, jerseys and athletic shirts all are commonly made from polyester blends as they can be made dry-wicking and light enough for athletic purposes. The problem is the stink factor and also the smooth feel of polyester. Nylon garments typically offer bad breathability and are thus typically used only for hiking in areas where durability is a priority (dense vegetation). There is, however, one exception; hiking pants are almost always made of nylon for good abrasion resistance.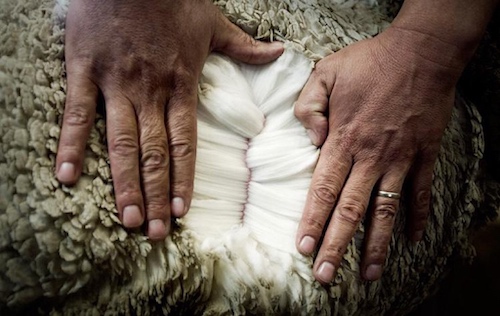 Wool's major downside as a clothing fabric is its itchiness. The itch comes from the scaly surface of coarse fibers found on most sheep. But there's a genetic strain of sheep that produces a fine wool fiber that takes itch out of the equation. That family of sheep is known as the merino, and its bounty is nature's itch-free, super fiber: merino wool. Merino turns the notion that wool is itchy and uncomfortable completely on its head. Merino fibers are much finer and softer than standard wool and easy to wear all day. A high-end merino shirt feels softer and lighter than cotton while outperforming it in warmth, moisture wicking, and temperature regulation. Wool is a naturally strong fiber. It can bend back on itself 20,000 times without breaking; compare this to cotton at 3,200 times, silk at 1,800, and rayon at only 75 times. Despite the bending strength, durability is the Achilles heel of Merino wool clothing. Therefore, using thinner Merino wool clothing for high-intensity activities such as running may cause them to fall apart. However, new fabrics made by wrapping merino wool around a core of polyester or nylon are making lighter, thinner and stronger merino wool garments possible.
Pickpocket Proof, Clothing Arts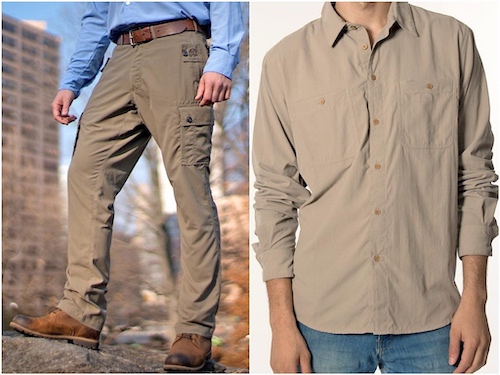 Clothing Arts has made a name for itself by creating clothing that resists pick pockets, a huge problem in Europe and elsewhere. I personally have two episodes in which these pants prevented pick pockets in France on the metro and at the Louvre. Their clothing is extremely well-made and durable with lots of deep pockets which are convenient for carrying lenses and accessories for my photography. They are made of a proprietary nylon material, that looks and feels like cotton. I got mine a few years ago and since that time they apparently have made improvements in the fabric but the pants that I have are water and stain resistant and the new ones apparently are wrinkle resistant as well. Although I still use these as my primary pants in rugged conditions such as Africa and Madagascar I find that they are heavy and bulky, weighing in at 22 oz. I bought several of the shirts but unfortunately I got the ones with coconut shell buttons in the tan color that are difficult to button and unbutton. Also this nylon shirt is bulky and relatively heavy at 12 oz.
Pick-Pocket Proof® Adventure Travel Pants
Pick-Pocket Proof® Travel Shirt
REI Long Sleeve Shirts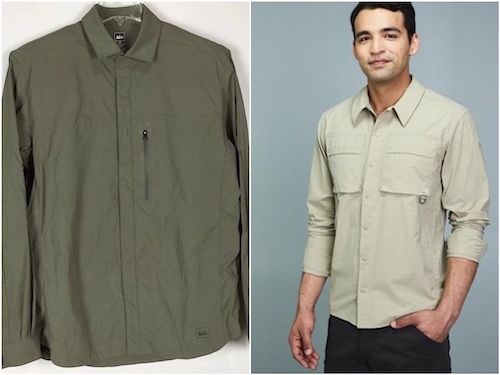 If I am going to wear a button up/down shirt I much prefer snaps over buttons. Also the nylon REI Savanna Trails Long-Sleeve Shirt seen above admittedly has less pickpocket protection but also feels like cotton and only weighs 7 oz. I also really liked the vertical pocket on the original but they apparently no longer make it.
Old and New REI Savanna Trails Long-Sleeve Shirt
Smartwool and Columbia Long Sleeve Shirts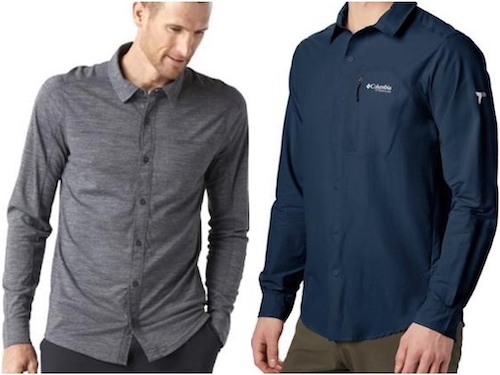 These days I rarely pack button up/down shirts except for pleasure trips, I have not bought any in a while. However if I were to pack a more stylish shirt, the Smartwool Merino Sport 150 at 8.3 oz would be my choice for odor protection, while the Columbia Featherweight Hike II nylon shirt incorporates a vertical pocket and weighs only 4 oz in large. These are both available at REI. Over the years I have bought many Columbia shirts and pants, and I have on average been more than pleased with all of them. Columbia makes great lightweight outdoor clothing but the synthetic fabrics they use have a tendency to smell after a day or two, even with the antimicrobial treatment protecting against bacterial growth. Nothing a quick wash will not solve, I generally count on washing every day or two, even with wool, especially for shirts and underwear.
Smartwool Merino Sport 150 Long-Sleeve Button-Down Shirt
Columbia Featherweight Hike II Shirt
Outlier Merino Wool Shirts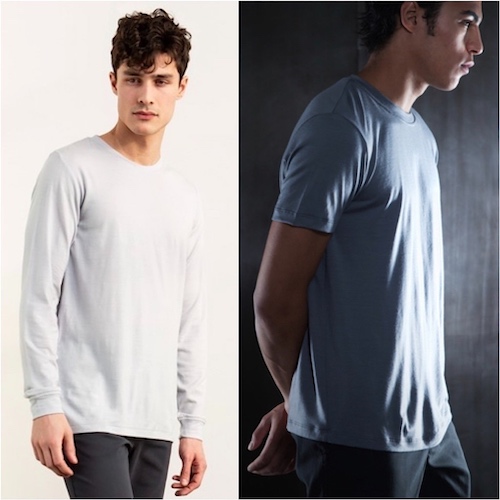 Probably the best known, softest and most expensive Marino wool shirts are made by the New York firm, Outlier. They use a Mackenzie 17.5, 195gsm Merino Jersey who's name stems from the Mackenzie Basin on New Zealand's South Island, where the bulk (but not all) of the merino used is sourced. Merino is measured in microns, the smaller the number, the finer the fiber and the softer the hand feel (and the higher the price). In the past, this number was actually an average, a mixture of different micron fibers that averaged out to the reported value, meaning half the fibers actually are thicker than the rating. Global Merino's Mackenzie Blend is top capped, so the number indicates not the average but the absolute maximum thickness that can be included in the blend. It is also a tight spectrum blend, meaning that there is a very low variance of fiber thickness allowed in the mix. This creates a more stable and predictable fabric with an exceptional hand feel. I own two of the long sleeve and one short sleeve of the ultrafine merino shirts and they form the base of my travel shirts. They are soft as a cashmere sweater, look great and and are surprisingly warm in cold weather and cool in warmer conditions. I have actually worn this on a cruise on and off for ten days and it was still relatively fresh. These were expensive but worth the money in my opinion.
Icebreaker Merino T-Shirts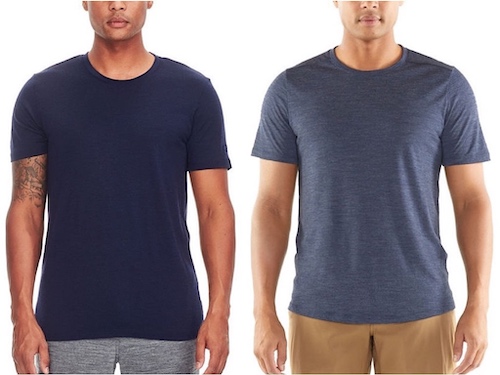 Although I really like the Outlier Merino wool shirts I have found that in really warm conditions they are too thick and a little warm, even with the t-shirt. Fortunately manufacturers have developed techniques to combine the benefits of Merino wool with the strength and durability of nylon and/or polyester. Basically, they wrap Merino wool around a core of nylon or polyester to get strength, lightness and thinner fabric with almost all the benefits of Merino wool. Although Outlier makes a version of this, some of my friends suggested Icebreaker, and I bought one each of the Tech Light and the Cool-Light Sphere in XL. So far I like them, they are thinner than the Outlier and a little more scratchy. However in hot weather they seem cooler and I am more than satisfied with the quality. The difference between the Tech Light and the Cool-Light Sphere is mostly in the amount of Merino. The Tech Light has 87% Merino Wool, 13% Nylon (6.7 oz in a large) while the Cool-Light sphere has 52% Merino Wool, 35% TENCEL®, 13% Nylon (5.36 oz in a large). Although I am happy with the quality, the price is a little more than half as much as Outlier and I think I will pay extra for Outlier the next time.
Icebreaker Tech Light Short Sleeve Crewe
Icebreaker Cool-Light Sphere Short Sleeve Crewe
Columbia Water Resistant Pants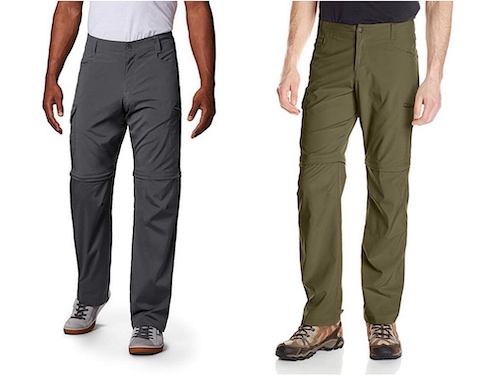 Almost all my pants are Columbia, REI or Khul. All of them make great convertible pants, although I rarely use them as shorts. While there are many notable pants available, my favorite Columbia pants at this time are the Columbia Silver Ridge Stretch Convertible Pants. They are light, have plenty of pockets and are convertible to shorts. Columbia's Silver Ridge Cargo Pant features sun protection and quick-wicking fabric with multiple pockets, making them the perfect pant for active days in the sun and if it gets wet, quick drying. They are 95% polyester, 5% elastane. A few years ago I bought some Khul waterproof pants which were indeed waterproof but sweaty and wet because of the true waterproofing. I have since moved towards water resistant pants which are quick drying and more comfortable. While I love these pants, they are very thin and light, perfect for my light hiking and photography needs although maybe not as much for more rugged use. I think these have been replaced by the Columbia Silver Ridge II Stretch Convertible Pant which is made from nylon instead of polyester due to poor reviews on the thinner polyester fabric (I still love them).
Nylon Hiking Pants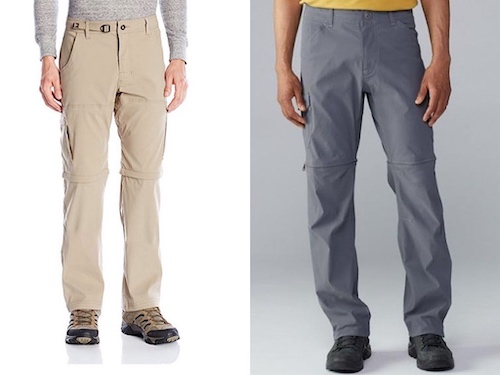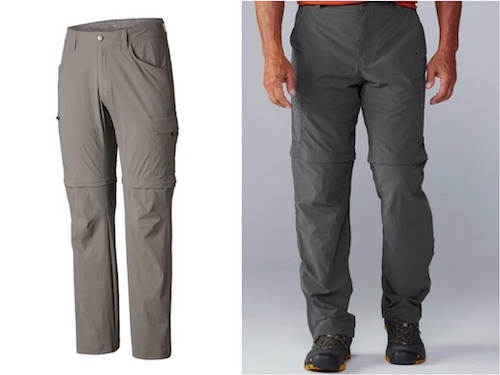 The bedrock of all hiking pants is a tough but soft nylon fabric available in various weights and styles but for me, usually in a cargo style with lots of pockets. I always take a lightweight backup pair of nylon convertible cargo pants which are generally a little thicker and more durable than my current polyester favorites. I have 10 to 15 pairs of cargo style nylon pants and the ones you choose will really depend more on style, fit and availability. It seems like the companies are constantly changing various aspects of the pants and any recommendations that I give are likely to be out of stock in a few months. My general guidelines are that the pants should weigh under a pound and preferably closer to 12 oz. The weight varies by size and I am a 40" waist with a 30" inseam. So while the Prana Zion pants look nice and have a proprietary fabric Zion (mainly nylon and a little stretch), the size 40 weighs 18.88 oz, and would not suit me. Similarly the KUHL pants weigh 17.8 oz and would be too heavy although they style for slimmer people anyway. You may well find that if you are taller and heavier, it will be difficult to find good fitting hiking pants. In general terms the REI pants are a little boxier but still lightweight while the Columbia pants seem to fit better for me.
Prana Stretch Zion Convertible Pant
KUHL Renegade Convertible Pants
Columbia Silver Ridge II Stretch Convertible Pant in Nylon
REI Co-op Sahara Convertible Pants
Relaxing Pants and Swimsuit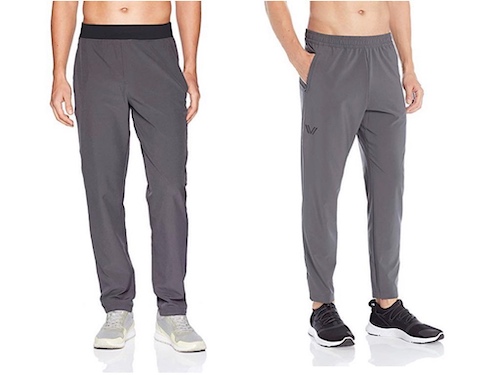 At the end of the day, I like to take off the pants that I wore during the day that are usually filled with photographic lenses and other objects and relax in a light pair of clean pants. It is also nice to have thin pants that you can sleep in. For this purpose I have discovered extremely lightweight and thin polyester stretch pants that look fairly good and also have pockets. These were introduced as an alternative to bulkier sweatpants. I have included two examples from the Amazon brand Peak Design but there are others and generally go under the name yoga pants or stretch athletic fit pants. In addition to being just nice to have, they are also an alternative to wear while washing. Along these same lines, a lightweight swimsuit is a must for me, especially in hot climates without air conditioners, like many of my wildlife locations.
Belts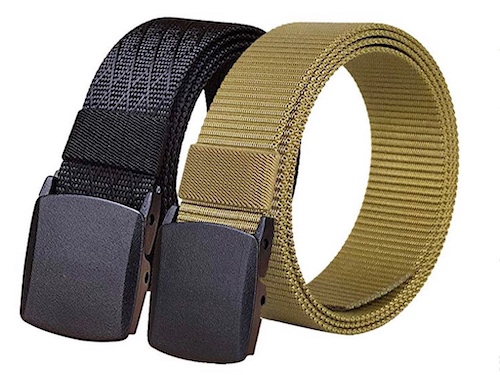 Since many of the hiking pants no longer include a free nylon belt, I found this inexpensive Fairwin nylon belt as a replacement and like it much better than the free ones. First it is wider so it doesn't get twisted out of place or roll over and it adjusts much more easily. I liked it so much I replaced all my other belts.
Socks and Underwear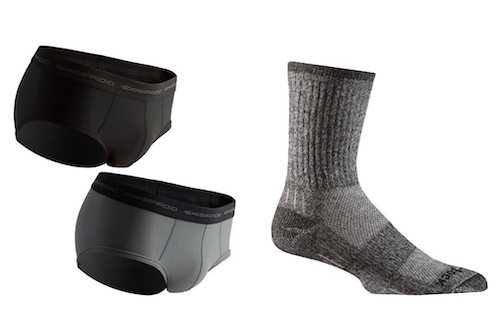 The best travel underwear for men is made by ExOfficio without question although they are a little expensive. I personally think they are worth the money. It is light, well-made and odor resistant. It also washes easily and dries quickly on the road. In terms of socks my favorites are Wrightsocks due to their dual layer construction that prevents blisters. My only complaint would be that they fit tight and due to their use of nylon and polyester, they tend to get smelly. I have not tried the Silver Escape Socks long enough to determine whether the silver really decreases odor. These also wash well and dry quickly even if your feet get wet on the trail. I will say that I tried a pair of Smartwool Merino wool socks from REI but found them so itchy that I could not continue wearing them. Hopefully in the future, someone like Wrightsock will make a dual layer Merino/nylon combination sock that would be the best of both worlds.
Altra Lone Peak 4 RSM Trail-Running Shoes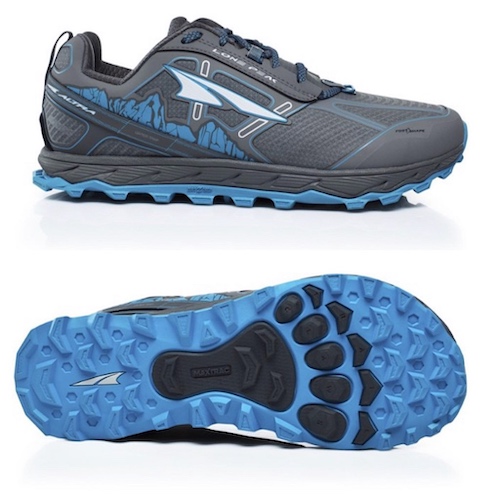 The discussion of hiking shoes/boots is a post in itself however, I thought I would include what I am currently wearing and why. I previously had a Salomon hiking boot that I really liked but they were bulky to pack, my foot is a little wide and I was looking for more comfort. I decided to go with the running shoes because they are very light and less bulky than a boot. Since I don't do a lot of heavy duty hiking and scrambling I thought I could get away with the lighter shoes even though the foot is flat as opposed to traditional boots which have an elevated heel. One advantage of the Altra line is that they believe in spreading room for the toes and as a result are very comfortable to wear even on the plane. However I have found that the extra width in the front of the shoe allows my foot to slip back-and-forth when hiking which is less stable and could promote blisters. I haven't decided if it is enough of a problem to switch out. The RSM refers to the version of the shoe that is waterproof to rain, snow and mud. Thus far I've been happy with them, only time will tell if I keep them. They are really light at 22 oz for the pair.
Altra Lone Peak 4 RSM Trail-Running Shoes
Allbirds Tree Loungers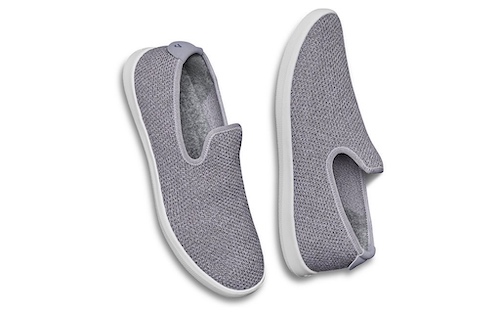 The importance of comfortable shoes for travel and hiking cannot be overestimated. Almost all serious hikers have so-called "camp shoes" that they switch into at night around the camp. Most of the time people use light flip-flops but I don't like getting rocks or mud under my feet. I had been using a pair of Sanak shoes with a canvas upper but I was looking for something a little bit lighter, more comfortable and better at controlling foot odor. The answer for me was were the Allbirds Tree Loungers, washable ultralight weight slip on shoes lined with soft New Zealand Merino wool for comfort and odor control. I cannot say enough good things about the shoes, it is like a vacation for your feet every time you put them on. They only weigh about 12 oz and easily pack into my suitcase. The only downside is they are relatively expensive but I think they are worth the price. In fact I have taken to wearing them as my every day shoes.
Rain Jacket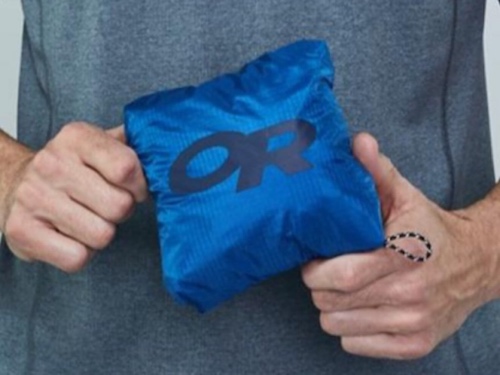 Though this is a little pricey, I believe all hikers and photographers need a rain jacket or shell and I have had one for years. It is basically a waterproof polyester shell with a hood, pockets and doubles as an outer layer in cold weather. The ones I like fold down into a small pouch you can wear on your belt. Even though my cameras are weather sealed, I got mine a size larger to stick the cameras inside when it rains which is often in my travels. I did try rain ponchos for a while but I found that they were too cumbersome and did not protect the equipment particularly well.
Patagonia Nano puff Jacket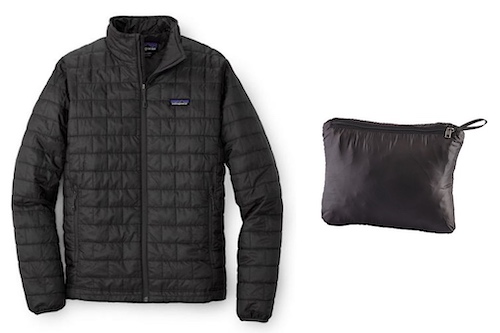 It's actually surprising how warm Patagonia's Nano Puff is, considering its lightness. The jacket's PrimaLoft Insulation works to trap your body's heat and keep cold air out, doing the work of bulky puffer jackets in a super-slim design. It stuffs into an inside pocket to make it easy to pack. The only thing I am sorry about is that I bought it with the hood which is in my opinion irritating and nonfunctional. The problem with nature photography trips are that during part of the trip you may be at altitude and cold and the other part may be low altitude and hot. I found layering was just not enough to keep me warm all the time yet I wanted something compact when not in use. The Nano puff works perfectly for me.
Woman's Anti-Theft Travel Purse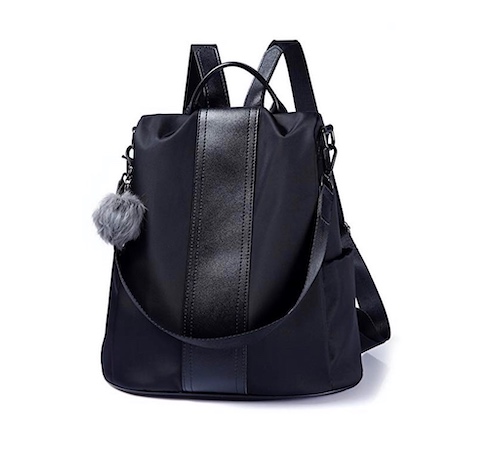 I am including this anti-theft travel purse/backpack since Lisa has been using it recently and really likes it. Part of the appeal is that it is inexpensive but looks expensive. It has an expansive interior with pockets for use as a additional item when boarding the airplane with pockets on the interior, a pocket facing the back, two side pockets with hidden zippers and room for a water bottle and umbrella on either side. There is an extra strap so it can be worn as a shoulder bag and overall Lisa has been quite pleased with it.
I hope you enjoyed the post, this was not meant to be an extensive comparison but just the things that I pack and have found useful. Merino wool does seem to be the latest low tech/high tech fabric and I suspect the clothes we have now are just the beginning. So to summarize, I bring two long sleeve Outlier Merino wool shirts, 4–5 Merino wool t-shirts, two hiking pants, casual pants and swimsuit, 3–5 socks and underwear along with the rain jacket, Nano puff jacket and two pairs of shoes. This kit allows me to stay warm in the cold and cool in the heat almost indefinitely. I hope this has been helpful.
References:
Cotton Kills! Or: Why You Should Be Wearing Merino Wool Hiking
Softwear: How an Underground Fashion Label for Nerds Got Cool
10 Best Hiking Shoes Boots of 2019