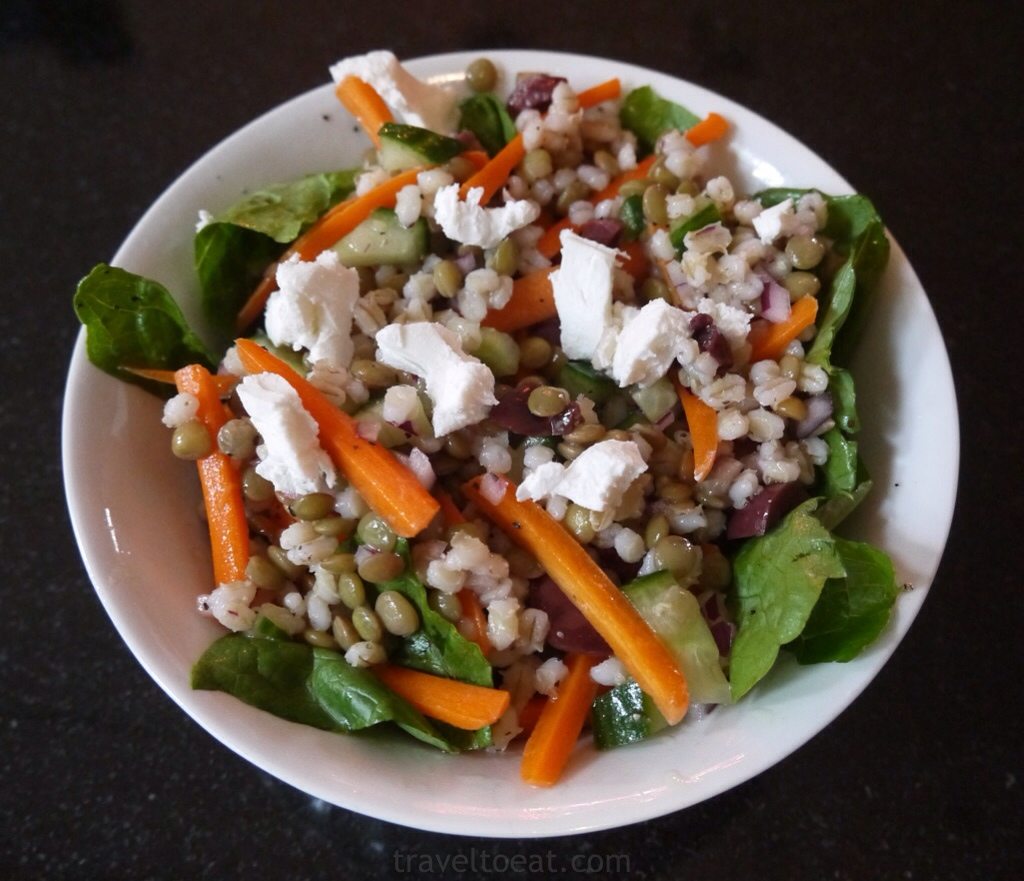 We have been trying to eat more vegetables lately and I thought I would share two of the salads that we like based on our travels. I love Indian food, goat cheese and lentils, This recipe has two out of three. In Europe, it is really hard to find kidney beans, while lentils are readily available. I actually made chili one night with lentils, which by the way was delicious. As a result, Lisa is always on the lookout for lentil recipes. She found the salad shown above in Real Simple magazine. It tastes as good as it looks, I really like the combination of lentils and barley, the barley actually tastes like Israeli couscous with fewer calories. Here is the recipie, serves four:
Barley and Lentil Salad With Goat Cheese
Ingredients
3/4 cup quick-cooking barley
3 tablespoons olive oil
2 tablespoons fresh lemon juice
kosher salt and black pepper
1 medium head romaine lettuce, torn into bite-size pieces (about 8 cups)
1 15-ounce can lentils, rinsed
1 large carrot, cut into matchsticks
1/4 small red onion, chopped
1/4 cup chopped pitted kalamata olives
1/4 English cucumber, chopped
2 ounces goat cheese, crumbled (1/2 cup)
Directions
Cook the barley according to the package directions. Drain and run under cold water to cool.
Meanwhile, in a small bowl, whisk together the oil, lemon juice, and ½ teaspoon each salt and pepper.
In a medium bowl, toss the lettuce with half the lemon dressing. In a second medium bowl, toss the barley, lentils, carrot, onion, olives, and cucumber with the remaining lemon dressing. Serve the barley mixture over the lettuce and sprinkle with the goat cheese.
Note
I use dried lentils, use twice the water as lentils. Add lentils to boiling water, cook for 10-15 minutes. We could not find quick cooking barley. For the regular pearl barley, use 4 cups of water to 3/4 cups of barley. Cook for 45 minutes.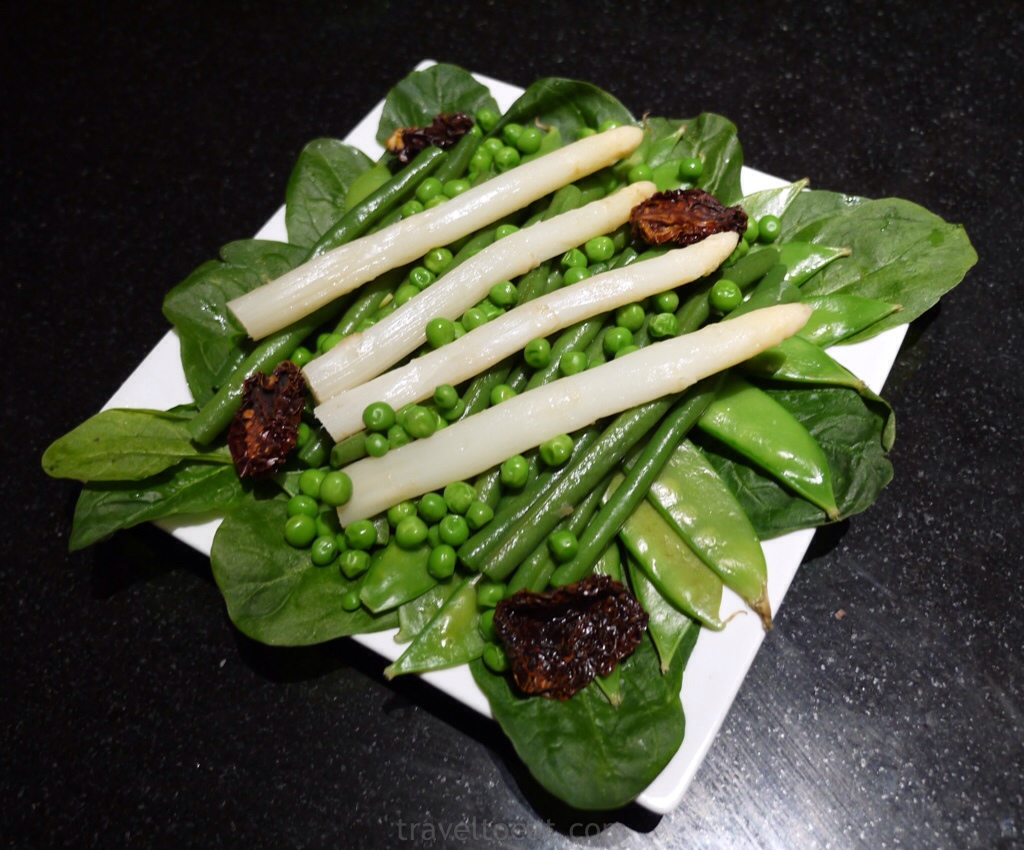 This salad is based on one we had in Roc in Paris, by the Louvre. I love sweet peas on salad, I usually keep some in the refrigerator just for salads. Also this is really easy to make, and keeps for up to a week. It is a great salad for gatherings, you can make all the ingredients ahead of time. You can see the French influence with the Haricot Verts (green beans) and snow peas, which are very popular right now. In this salad it is important to note that the green beans and especially the snow peas are only blanched, so that they remain crispy. The amount of ingredients depends on your tastes and number of people to feed. Snow peas are called mange-tout in French, which means "eat the whole thing."
White Asparagus and Haricot Vert with Mange-tout
Ingredients
3 tablespoons olive oil
2 tablespoons fresh lemon juice
kosher salt and black pepper
One bunch of green beans
One bunch of snow peas
Frozen or fresh garden peas
Fresh asparagus
Sun-dried tomatoes
Fresh Spinach
Directions
Bring a large pot of water to a boil. Cook the green beans for 3-4 minutes and the snow peas for 30 seconds to 1 minute. Rinse both in cold water and set aside. Cook the asparagus for 10-15 minutes, depending on size. Test with a fork to check if they are done. Dry everything, put in a plastic container and refrigerate. Cook the frozen peas for 2 minutes and refrigerate.
To make the dressing, in a small bowl, whisk together the oil, lemon juice, and ½ teaspoon each salt and pepper. Add finely chopped sun-dried tomatoes to taste. Toss the spinach in half of the dressing
Lay down a bed of spinach, layer sweet peas on the bottom, green beans above those and asparagus on top. Garnish with sweet peas and sun-dried tomatoes. Add the the rest of the dressing at the end.
References:
Real Simple: http://www.realsimple.com/food-recipes/browse-all-recipes/barley-lentil-salad-00100000075581/index.html