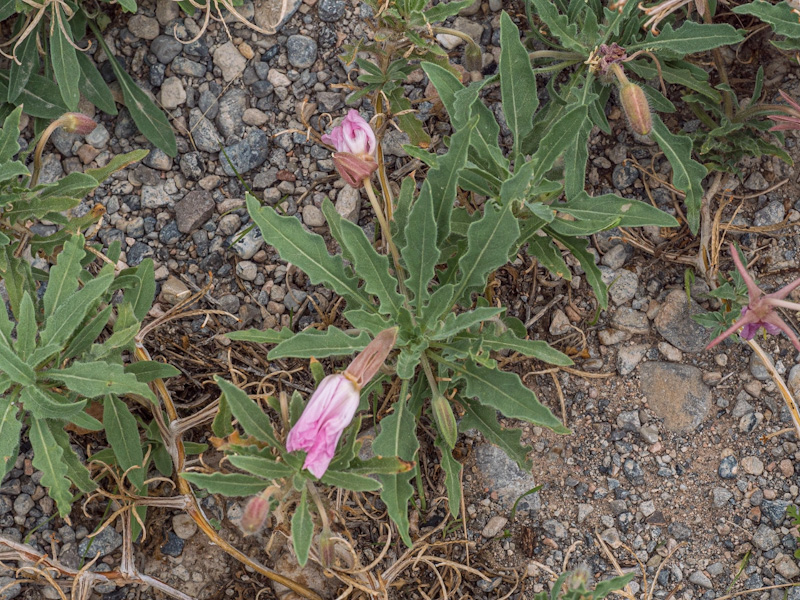 Common Names: Tufted Evening Primrose, Gumbo Evening Primrose, Gumbo Lily, Fragrant Evening Primrose, Tufted Evening-primrose
Synonyms: Oenothera caespitosa
Taxonomy: Onagraceae (Evening Primrose)
Habit: perennial herb
Size: up to 1 foot
Flowers: white, pink, violet, purple
Bloom: Mar, Apr, May, Jun, Jul, Aug, Sep
Leaves: basal rosette
Fruit: capsule
Description:
Tufted evening-primrose is a low-growing stemless perennial with gray-green fuzzy leaves and wonderful 3-4 inch fragrant white flowers that open in the evening and close in the mid-day heat. It has no stems, with flowers and leaves growing directly from the root crown. The four-petaled white flowers open at dusk and wilt the next morning, turning pink. It grows throughout the West in sunny, dry, infertile, rocky, well-drained soils.
Distribution: AZ, CA, CO, ID, MT, ND, NE, NM, NV, OR, SD, TX, UT, WA, WY
Seen: NV (Mountain Springs Summit)
Habitat: dry buttes, exposed hillsides and open woods