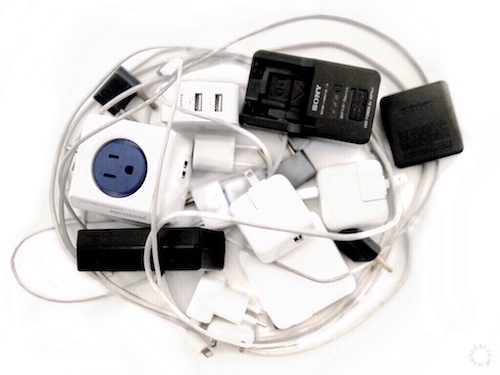 I have decided to begin a category of posts devoted to travel and photography technology since I have either tried or continue to use so many items in my own travels. A recurring problem for me occurs, especially when traveling overseas with power adapters, different plugs for different countries. A second and equally important problem is the limited number of power sockets in most hotel rooms. By the time you plug in your iphone, ipad, laptop, and/or camera, you end up unplugging the lamp on the bedside table to spend the night in darkness, and you still have to juggle devices. This is if you travel alone, with spouse or kids the problem becomes exponentially worse, leading to use of the dreaded bathroom socket with its associated risk of electrocution and/or dousing your device in water.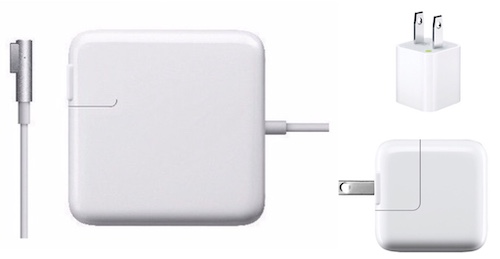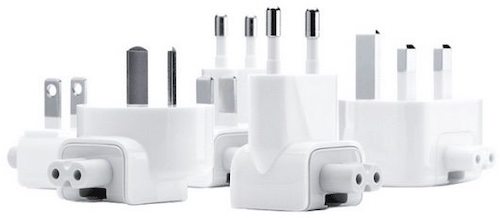 When I began traveling , I really did not have electronic gadgets, my camera used film (imagine that) and I had a pager that used batteries. Today Lisa and I travel with both iPad and iPhones and I have my MacBook Air. Apple has conveniently made their charging devices compatible with voltages worldwide (from 100-240 VAC), so a travel transformer is no longer necessary in most cases. The issue revolves around plug adapters and Apple has again made a range of interchangeable plug adapters available, for more money. They sell the collection of plugs for about $30, which is reasonable I guess but you have to buy a kit for each adapter which can add up.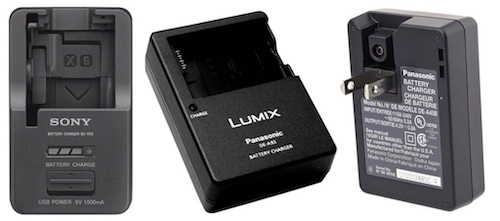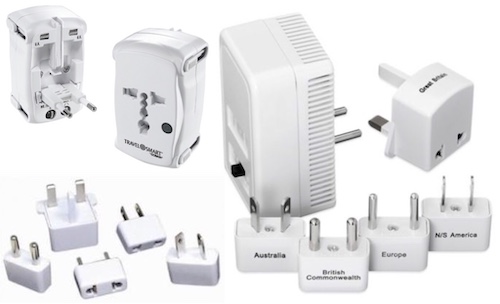 I also travel with two cameras, my main camera the LUMIX GX7 and my backup camera the Sony RX100M4. I keep extra batteries for both and in fact carry two chargers for the LUMIX GX7 (more on cameras in a future post). Again, the battery chargers are rated for 100-240 VAC so no transformer is required but plug adapters are required for all three devices as seen above. The options range from a single plug with multiple configurations to more simple, lighter and less bulky individual adapters for each country. Keep in mind that multiple plug adapters may be required if you visit more than one country or even if you plan on charging at a US airport before, after and/or during the trip.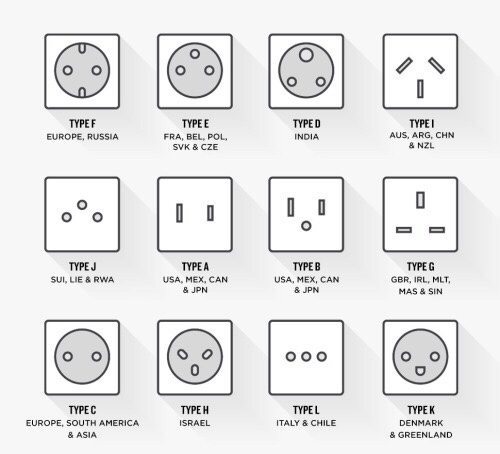 I am not done yet, I also carry a wifi router (because in many cases the hotel network is too slow or has erratic coverage), a battery USB charger for my iPad/iPhone and a music player with wireless earbuds (again more on this in a future post). Lisa travels with a flat iron and sometimes a hair dryer. You may travel with other miscellaneous items that require power, ideally rated for all worldwide voltages (100-240 VAC). All of these need at the very least, a plug adapter. These days many if not all "gadgets" charge via USB with an apple charger but they all need space on the plug at some point. This could result in a somewhat bulky bag of chargers and plug adapters.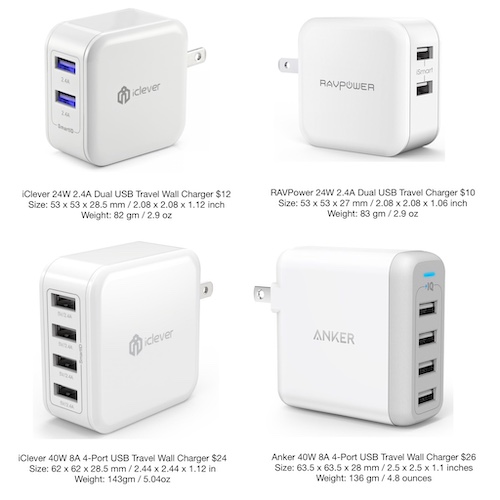 My first approach was to find a device with multiple USB ports and a foldable plug rather than a cord. About 6 months ago, the four port options were unreliable and often required a dedicated port for the iPad and/or android devices. I purchased the iClever two port device (24W 2.4A per port) with intelligent sensing technology, meaning either port would charge both iPhone and iPad. Since then, the same technology has been extended to a four port version (40W 2.4A per port) with good reviews. My results with both the iClever and Anker devices has been uniformly good and I would recommend the four port option if you are buying today for the marginal increase in size and weight. Anker claims they are the market leader, I don't really know if that is true but they seem to be a good company with marginally higher prices. All three of the brands I have are shown in the above figure, iClever, RavPower and Anker seem to be reliable and I suspect they, like others competing in this space, all use the same chips and/or technology.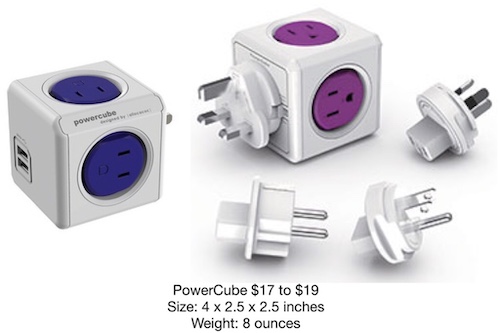 The most recent addition to my travel plug adapter arsenal is the PowerCube seen above which received a "red dot" award for design. First, the four sockets are on the four sides of the cube. This means it can easily accommodate four other adapters (like my camera battery chargers) without blocking outlets so long as the charger is within the 2.5 inch width. The designer further reduced the chance of blocking by orienting the sockets differently: two of the opposing sockets are aligned in the up-down direction and the other two opposing sockets are aligned in the left-right direction. The two USB outlets only have a combined output of 2.1A at the usual 5 volts, it charges my iPad and iPhone easily. The real advantage is that I only need to carry one foreign plug adapter and I only need one outlet to charge everything. It is a little bulky but solves so many issues that I now always pack it for travel. The Rewireable has foreign plugs and you can even use a standard computer cord as an extension.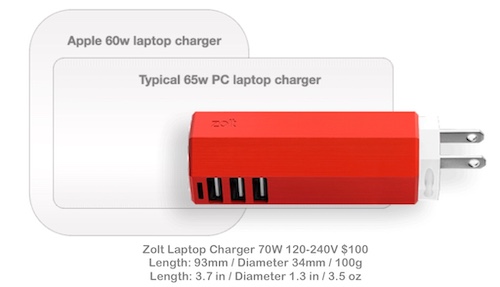 The last charger I will mention is the Zolt laptop charger that just came out on December 4, 2015. It has an Apple MagSafe cord option for an additional $20. It is smaller and lighter than the Apple laptop charger but it costs quite a bit more than the original. I'm keeping my eye on this and other laptop chargers for the future.
References:
Zolt Laptop Charger: https://www.gozolt.com