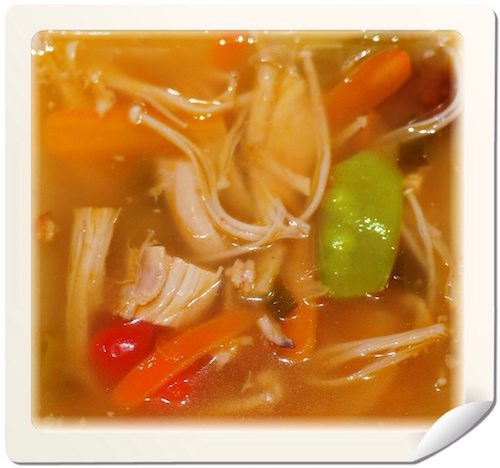 When the weather starts getting cold here in Las Vegas, I like to make soup. Not just any soup, mind you, but my very favorite soup of winter, Tom Yum, a dose of fresh, dare I say "zingy" flavour in the form of a clean, aromatic soup that is just the thing to shake up a hibernating palate. Tom Yum is a clear, sour and spicy soup that is widely served in Laos and Thailand, but is also very popular in the neighboring countries of Malaysia, Indonesia and Singapore. "Tom" comes from the Thai word for boiling, and "Yum" is derived from the word "yam" which is a Laotian and Thai spicy and sour salad. This soup is most often made with prawns, but there are many variations which use tofu, noodles, rice, pig knuckles, chicken, and coconut milk instead of, and in addition to, the prawns. Tom yum goong or tom yam kung, the version of the dish most popular among tourists, is made with prawns as the main ingredient. Tom yum gai or tom yam kai is the chicken version of the soup, which is the recipe I will be doing here. Less well-known outside Thailand is Tom Khlong (ต้มโคล้ง), a spicy sour soup where the sourness does not derive from lime juice but through the use of tamarind. I use both tamarind and lime in my soup.
Ingredients for the Chicken Broth: Serves 4-6
6 cups Hot Water

Bones and Flesh of a Roasted Chicken

One Quartered Whole Onion

3/4 Cup Baby Carrots

3/4 Cup of Celery

One stalk of Lemongrass Chopped

6 Kafir Lime Leaves (or one Lime Zest and Juice)

5-10 Thai Chili Split in Two

2×2 Square of Tamarind Paste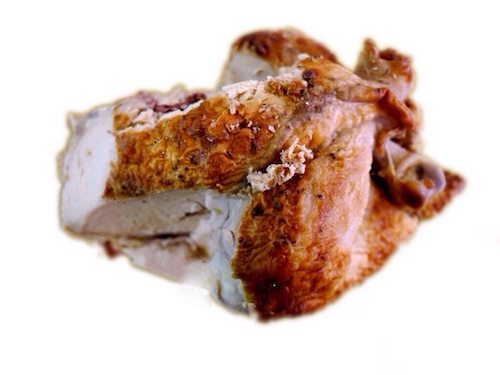 The most important part of any soup, of course, is its liquid base, and with Tom Yum there seems to be little consensus on what form this should take. I like chicken broth, both because it tastes delicious and because there are only the two of us in the house and when I buy a roast chicken at the market, it inevitably ends up half eaten. Since I hate to waste good food, I transform it into something else, in this case Tom Yum soup or at the very least I make a chicken broth to freeze for future use.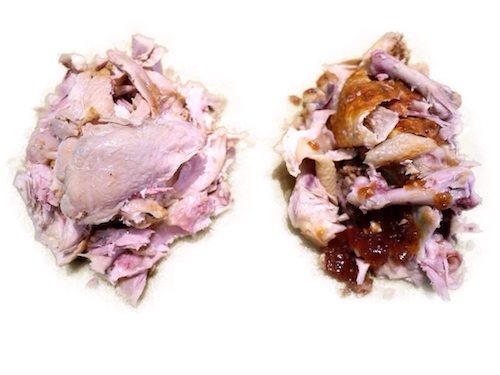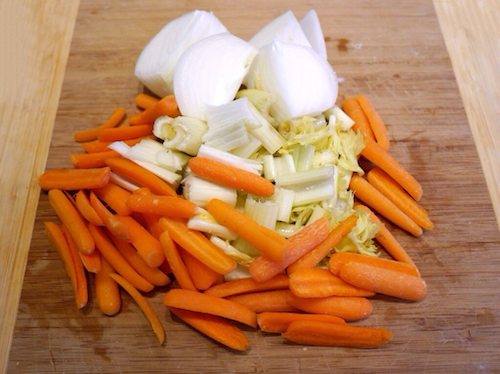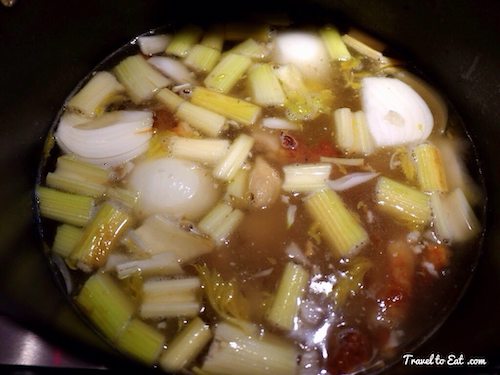 Break the chicken down into meat (left) and skin and bones (right), roughly chop the chicken meat. Quarter a whole onion, cut a handful of baby carrots in half and cut three stalks of celery into one inch sections. Place the bones and aromatics into 6 cups of boiling water and cook for one hour.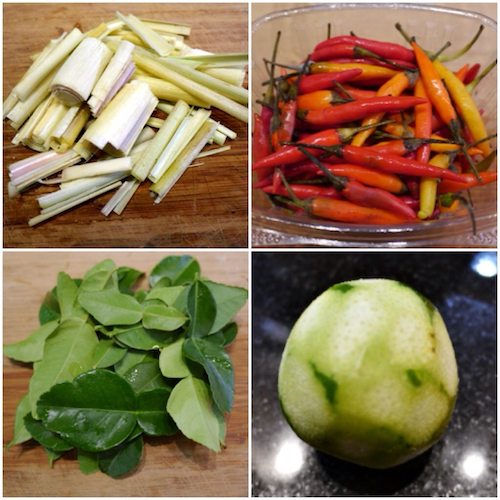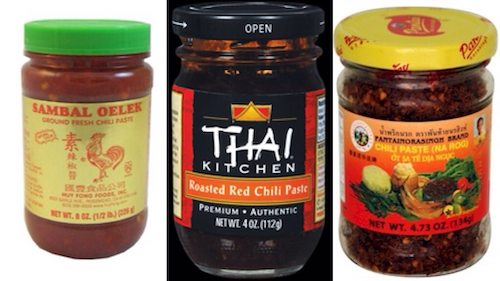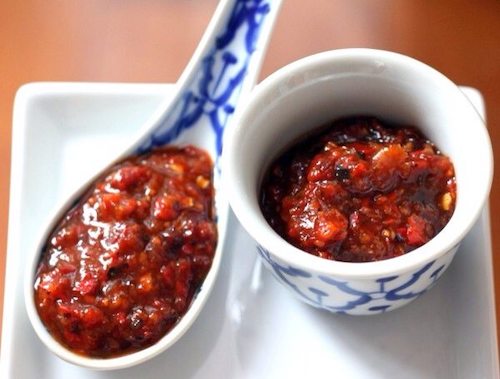 While the broth is cooking, you can prepare and add ingredients specific to Tom Yum. One stalk of lemongrass cut in half and cut to one inch pieces, several leaves of Kafir lime, and several hot chilis, according to taste. I like the Thai hot chilis, and I use six of them split in two with the seeds. You may substitute less hot chilis like Serrano or use half a teaspoon of red chili flakes. You can also use Thai chili paste which is available in most supermarkets. I like my soup very spicy while Lisa likes it much more mild. You can adjust the heat of the soup at the table with the chili paste, which I encourage if you have different heat tolerances among your guests. The lime leaves are not strictly necessary but act as a kind of bay leaf in the soup, if you don't have any don't worry, zest two limes and use the juice and zest of one at this point.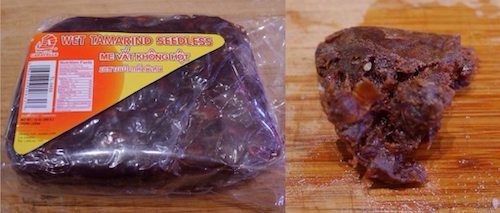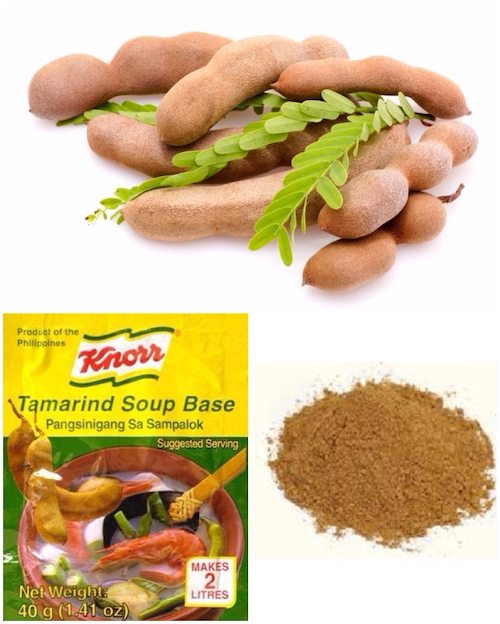 Often Tamarind is used instead of lime to provide the sour component of the soup. Tamarind is a sticky, sour-tasting fruit that grows in large brown pods on the tamarind tree, a common fruit tree that grows all over Asia and also in Mexico. The fruit is removed from the pods and must be separated from the seeds in order to use it. The taste of tamarind fruit is very sour, so whatever recipe you're making will need sugar or some kind of sweetener except for this soup. The texture of tamarind is very sticky and paste-like, and the color of tamarind fruit is dark brown. In Thai cooking, tamarind is used for a variety of dishes, from the famous Pad Thai noodles to fish and chicken dishes. Tamarind is also a common ingredient in Indian and Mexican cuisines. In Western cuisine, it is found in Worcestershire sauce and HP sauce. I really like the taste of Tamarind and I add it in addition to limes in the recipe and use about a 2×2 square of the paste. I prefer the paste but you can also use powdered Tamarind; I add it in addition to the lime.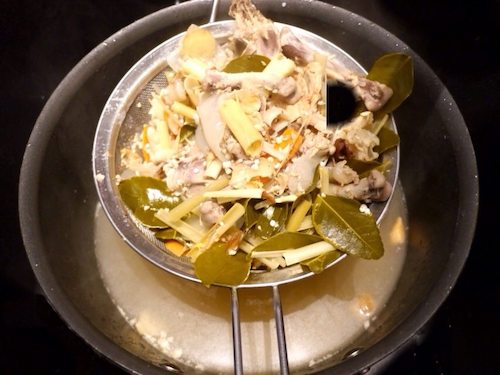 After an hour, strain the bones from the chicken soup and discard them. You now have a perfect sour and spicy broth for Tom Yum soup.
Ingredients for Tom Yum Gai Soup: Serves 4-6
6 Cups of Tom Yum Chicken Broth

One Cup Roughly Chopped Chicken

1/2 Cup of Halved Cherry Tomatoes

1/2 Cup of Sliced Baby Carrots

1/2 Cup of Sliced Snow Peas

One Knob of Sliced Galangal or Ginger

Six Cloves of Diced Garlic

One Sliced Stalk of Lemongrass

3-6 sliced Scallions

Six Kafir Lime Leaves

One Lime Zest and Juice

Enoki Mushrooms 1-2 Packages (or 1/2 Cup Straw Mushrooms)

Optional:

Thai Chili Paste

Fresh Coriander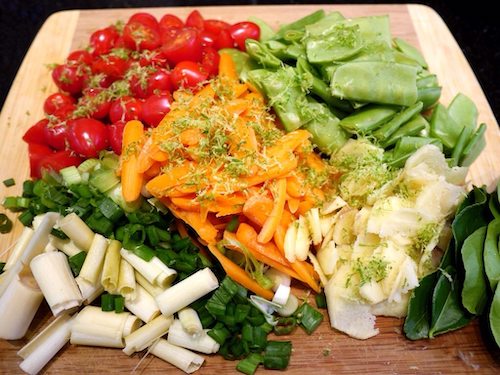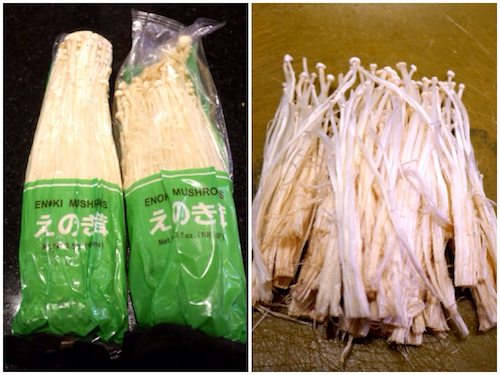 Now is the time to make the actual soup. Add the roughly chopped chicken, the carrots sliced longways with a mandolin, the garlic, the thinly sliced ginger, three diced scallions, the juice and zest from one lime and a handful of cherry tomatoes sliced in half. If you don't mind having a few inedible bits in your soup, add another set of lemongrass and Kafir lime leaves at this point but these are optional. My personal secret ingredient is one (or two) packages of Enoki mushrooms, available year round at Whole Foods, which turn this soup into Chicken Tom Yum with mushroom noodles. Remember this is a thin broth soup, don't add too much "stuff" or it will get too thick. If you prefer the "standard" mushrooms, try one half a cup of straw mushrooms. Add the Enoki mushrooms and snow peas after 10 minutes, cook for five more minutes and serve. You can add fresh coriander leaves at the end as a garnish, personally I find they add little to the taste of the soup. I don't use fish sauce because I don't like the taste despite the Unami component they are supposed to add. Fish sauce condiments from Thailand and Burma are called nam pla and are commonly added to Tom Yum.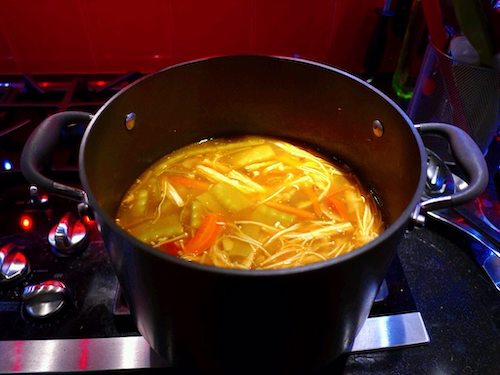 As you may have noticed, you may decide not to make your own chicken broth or to even use a vegetable broth. In this case it takes only 15 minutes to make the soup. Use low sodium or salt free broth, salt ruins the soup. You can use prawns, coconut milk or even other ingredients. Aside from being one of the most popular soups in Thailand, Tom Yum Soup has many health benefits, due its potent combination of herbs and spices. In fact, this Thai soup is currently under scientific study, as it appears to have immune-boosting power as a natural remedy for cold and flu viruses. You may have noticed that my recipe is very specific, the result of many trials to get the best results. Tom Yum is not a recipe but a universe of foodie black magic. My warning, once you taste any variation of Tom Yum, you will be hooked, and you will begin your own journey into the ceremony of making Tom Yum.
References:
Felicity Cloake: http://www.theguardian.com/lifeandstyle/wordofmouth/2012/feb/09/cook-perfect-tom-yum-soup
Thai Chili Paste: http://www.lindasyummies.com/thai-chili-paste-namprik-pao/
Fish Sauce: http://www.npr.org/blogs/thesalt/2013/10/26/240237774/fish-sauce-an-ancient-roman-condiment-rises-again