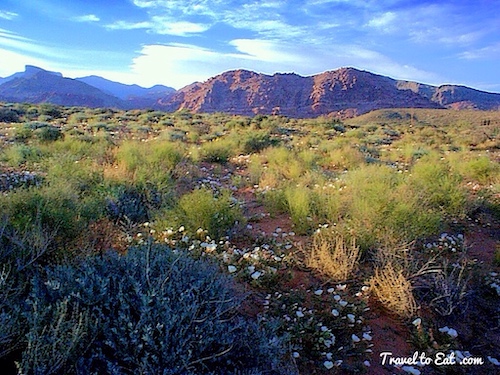 The Mojave desert surrounds Las Vegas and extends almost all the way to Los Angeles. Even though most visitors to Las Vegas are interested in gambling, restaurants and shows, there is a beautiful natural world just outside the city limits. The Mojave desert is named after the Mojave Indians who met explorer Father Francis Garces in 1776 after he successfully crossed the Mojave desert. Mojave tribal peoples were concentrated along the Colorado River and the Mojave trail was their main trading route. Other intrepid explorers would follow Garces, including Jedediah Smith in 1826 and John Fremont in 1844.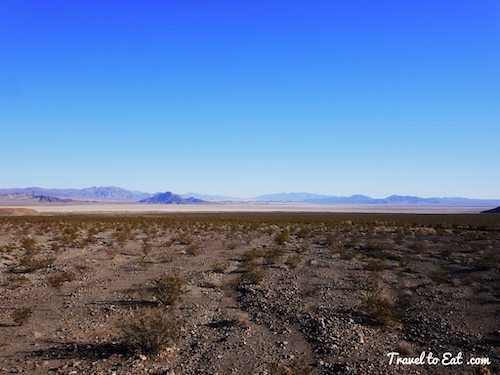 Geologically, the region is just as diverse as it is ecologically. Mountain ranges, dry river and lake beds, great mesas, towering sand dunes, striking cinders cones, domes and lava flows define the Mojave. Ancient rocks that date back to 2.5 billion years old have been discovered in the Clark Mountains. People often think the desert is lifeless but particularly in spring, the desert can be carpeted with flowers. I actually love the desert and if you look carefully, beautiful plants and vistas are almost everywhere, with lots of walking trails.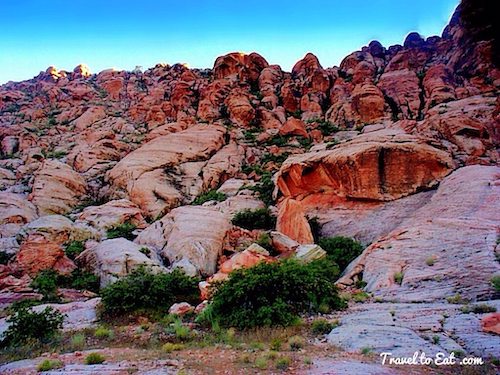 Temperatures vary considerably along with the great range in elevation, from 7,929 feet at Clark Mountain to 880 feet near Baker. Summer temperatures average from 90 to upwards of 120 degrees, while lows in the winter can plummet to the 20's and blanket the Mojave with snow. The best times to visit are spring and fall when the temperatures are a pleasant 70 degrees.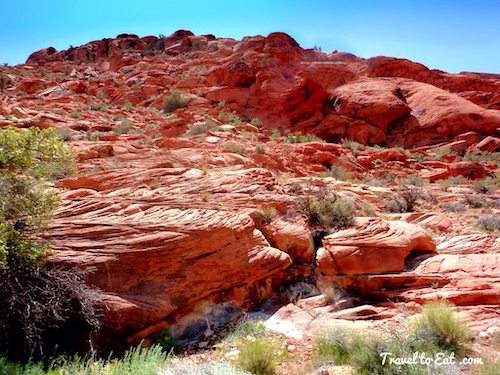 Red Rock Canyon Park is located about 15 miles (24 km) west of Las Vegas, and easily seen from the Las Vegas Strip. The area is visited by over 1 million visitors each year.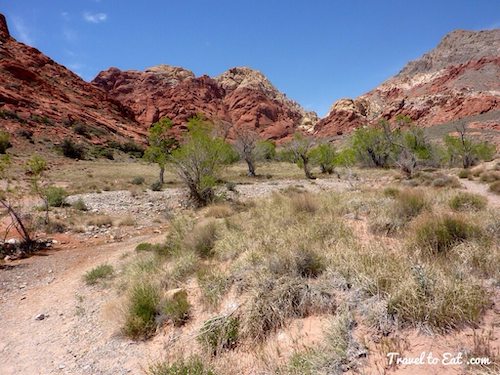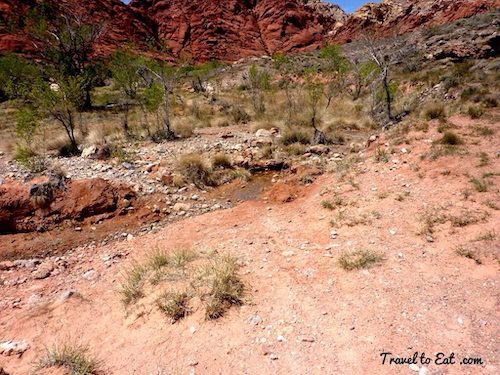 Dozens of seeps and springs coupled with varied elevations and soil types create microhabitats across the Mojave desert that support a diversity of plant and animal life. Cactus gardens, relict plant communities of white fir and chaparral and the densest, largest Joshua tree forest in the United States are all found here.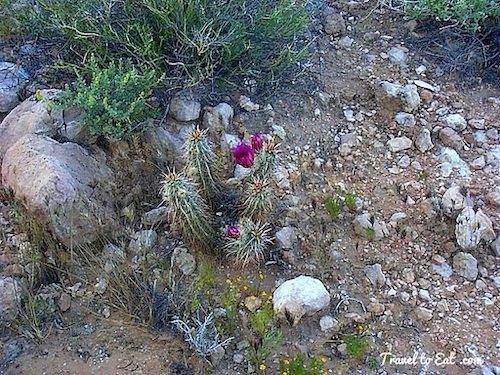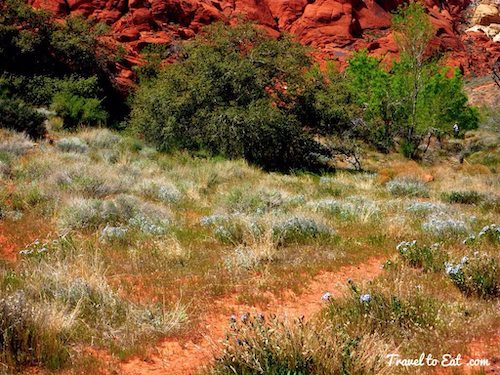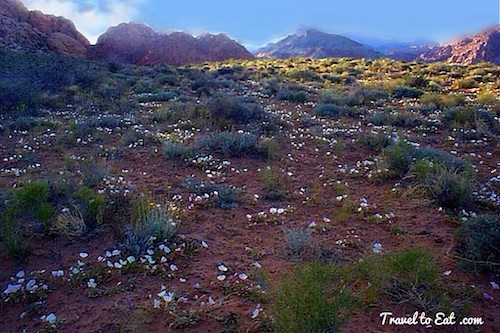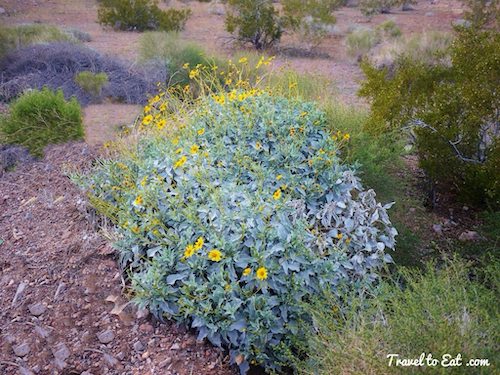 Look carefully and you will find desert flowers almost year round. Desert Wildflowers keeps an updated page showing the current location of desert flowers all year long. They seem to come out in crops at different times and places and the results can be lovely as you can see above.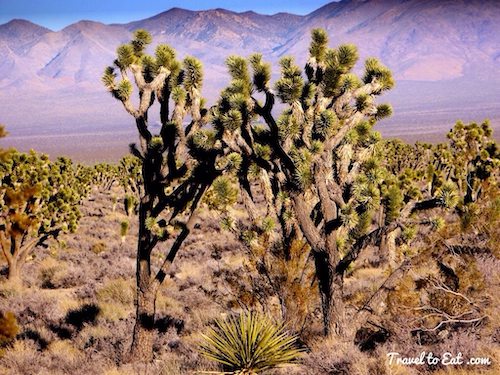 By the mid-19th century, Mormon immigrants had made their way across the Colorado River. Legend has it that these pioneers named the Joshua Tree after the biblical figure, Joshua, seeing the limbs of the tree as outstretched in supplication, guiding the travelers westward.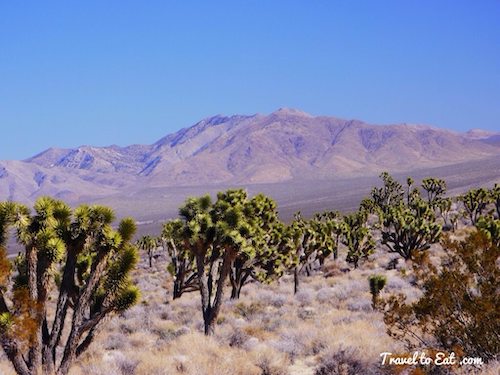 The Mojave Desert's boundaries are generally defined by the presence of Joshua trees (Yucca brevifolia), found throughout the Mojave desert. Years ago the Joshua tree was recognized by American Indians for its useful properties: tough leaves were worked into baskets and sandals, and flower buds and raw or roasted seeds made a healthy addition to the diet. The local Cahuilla have long referred to the tree as "hunuvat chiy'a" or "humwichawa;" both names are used by a few elders fluent in the language.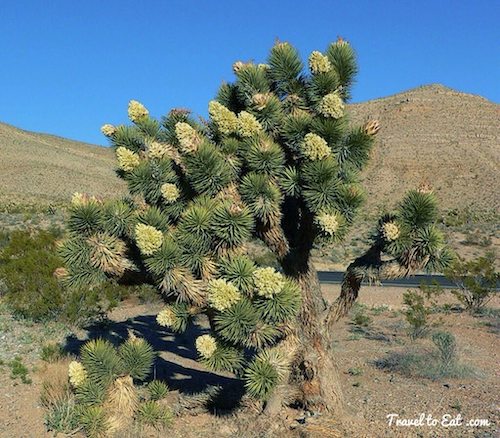 Spring rains may bring clusters of white-green flowers on long stalks at branch tips. Like all desert blooms, Joshua trees depend on just the perfect conditions: well-timed rains, and for the Joshua tree, a crisp winter freeze.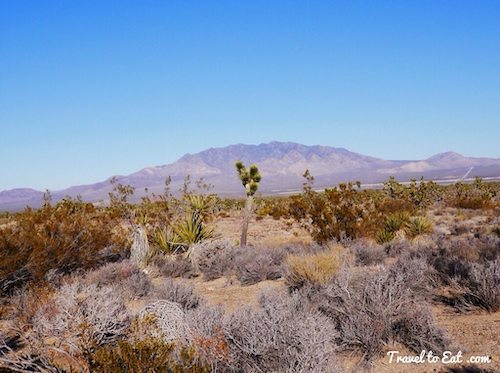 These "trees" do not have growth rings like you would find in an oak or pine. This makes aging difficult, but you can divide the height of a Joshua tree by the average annual growth of one-half inch to get a rough estimate. You may notice some Joshua trees grow like straight stalks, like the one shown above. These trees have never bloomed, which is why they are branchless.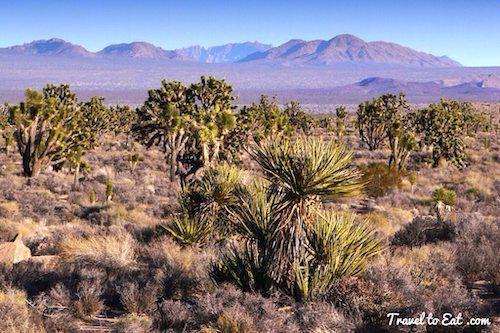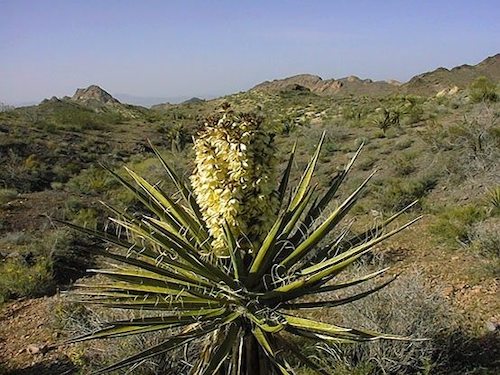 Don't confuse the Joshua tree with the Mojave yucca (Yucca schidigera) seen in the foreground above. This close relative can be distinguished by its longer, wider leaves and fibrous threads curling along leaf margins. Both plants can be seen growing together as in the above picture. The fibers of the Yucca schidigera leaves were used by Native Americans to make rope, sandals, and cloth. The flowers and fruit could be eaten and the black seeds were ground into a flour. The roots were used to make soap. Some reports claim that Native Americans washed their hair with yucca to fight dandruff and hair loss.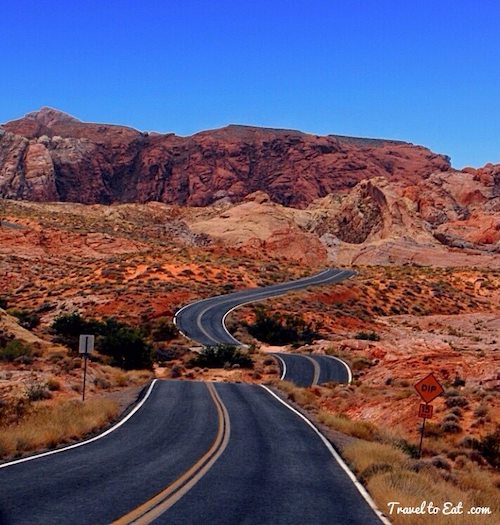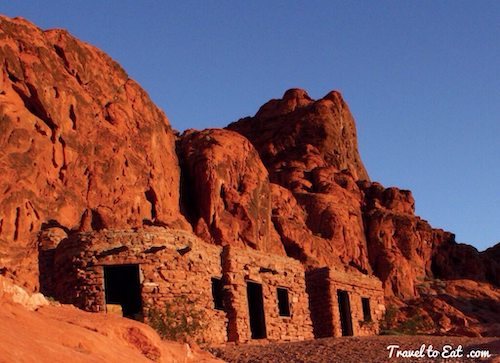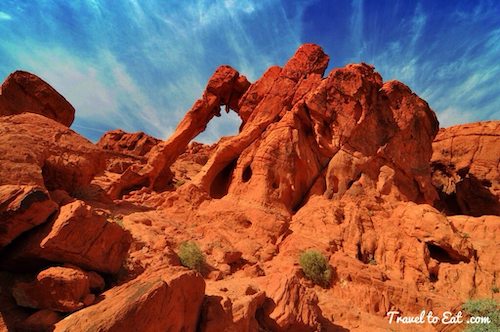 Valley of Fire is Nevada's oldest and largest state park, located about 50 miles north of Las Vegas, dedicated in 1935. Ancient trees and early man are represented throughout the park by areas of petrified wood and 3-4 thousand year-old petroglyphs. Popular activities include camping, hiking, picnicking and photography. A great place to take a picnic lunch and to go hiking with the family.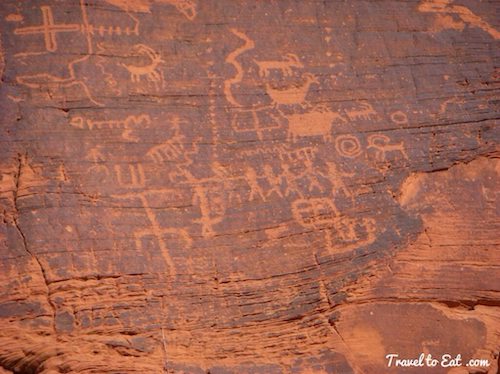 Prehistoric users of the Valley of Fire included the Ancient Pueblo Peoples, also known as the Anasazi, who were farmers from the nearby fertile Moapa Valley. Their approximate span of occupation has been dated from 300 BC to 1150 AD.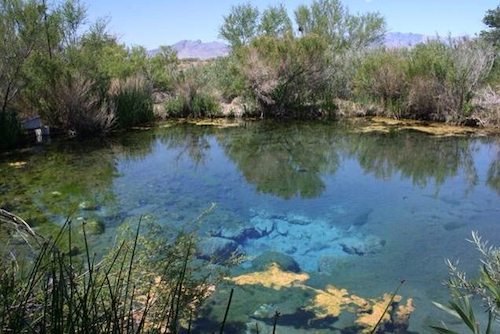 Nevada has 312 hot springs, the most hot springs of any state in the US. Some notable hot springs near Las Vegas are in Alamo, Pahrump and Tecopa just inside California, about 90 minutes from Las Vegas. The picture above is from Devil's Hole natural springs. Located less than 25 miles from Pahrump lies the Ash Meadows National Wildlife Refuge which attracts visitors from all over the world to see huge mineral-filled springs with cobalt blue water, the famed Devil's Hole pupfish, and see examples of endemic species of plants and bugs found nowhere else on Earth. You can't swim here but it is beautiful. Call 775-372-5435 for more information.
The little town of Alamo is located in southern Lincoln County, just 90 miles north of Las Vegas. You drive through completely barren desert and suddenly come upon this little oasis in the desert. This small community includes a cafe, grocery store, church, two motels, service stations, emergency services and a landing strip for small private airplanes. It is the social and business center of the rich Pahranagat Valley and home to the Pahranagat National Wildlife Refuge. The refuge is the reason to come, it extends along the valley and has many migratory birds and beautiful scenery.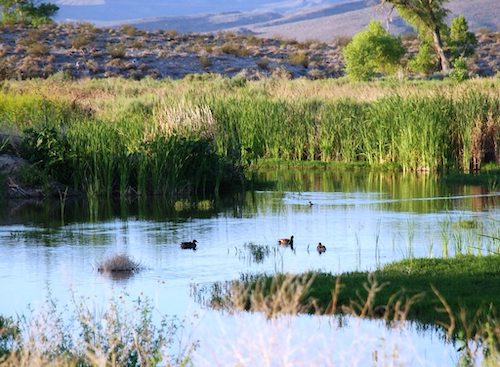 Various types of wetland habitats support many plants favored as food by over 230 species of migratory birds and other resident wildlife. The refuge has four main water impoundments; North Marsh, Upper and Lower Pahranagat Lakes, and the Middle Marsh. Numerous recreational opportunities are available at Pahranagat. Wildlife observation, fishing, and hunting are all popular activities enjoyed by refuge visitors. Bird watching is also a popular activity, with a bird list available at the refuge or online. Camping and picnicking are permitted along the east shoreline of the Upper Lake. They have a small hot spring concrete pool that is usually packed with bathers.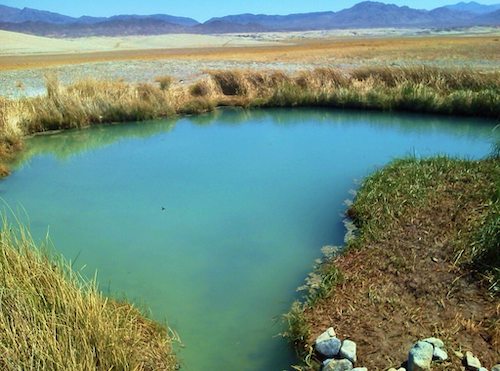 If you are really set on getting into a hot spring or mud bath, you need to go to Tecopa, about 90 minutes from Las Vegas. They have the rustic, mud bath approach shown above and you can also rent little cabanas in town.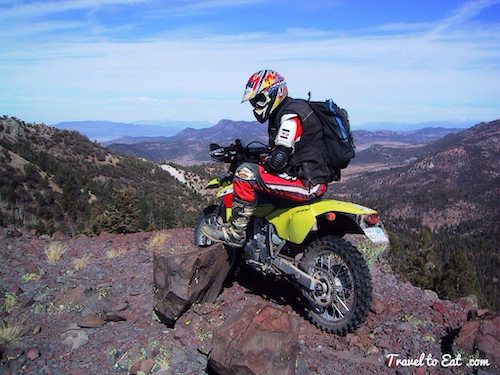 Of course, if you really want to get in touch with the desert, consider scheduling a motorcycle tour with my friend Steve. He has motorcycles and all the protective gear as part of the package. You don't even need to be an expert, just tell him what you want to see and off you go. Check out Admo-Tours in the references or call 702-326-7065.
Well, there are many more things to do in the desert around Las Vegas but I hope this list will entice you away from the casinos for at least a day. I will add more in the future.
References:
Mojave Indian Tribes: http://mojavedesert.net/mojave-desert-indians/
Desert Wildflowers: http://www.desertusa.com/wildflo/wildupdates.html
Red Rock Canyon: http://www.redrockcanyonlv.org/
Mojave National Preserve: http://www.nps.gov/moja/index.htm
Joshua Tree National Park: http://www.nps.gov/jotr/index.htm
Springs Preserve: http://www.springspreserve.org/
Valley of Fire: http://parks.nv.gov/parks/valley-of-fire-state-park/
Pahranagat National Wildlife Refuge: http://www.fws.gov/desertcomplex/pahranagat/
Admo-Tours: http://www.admo-tours.com/