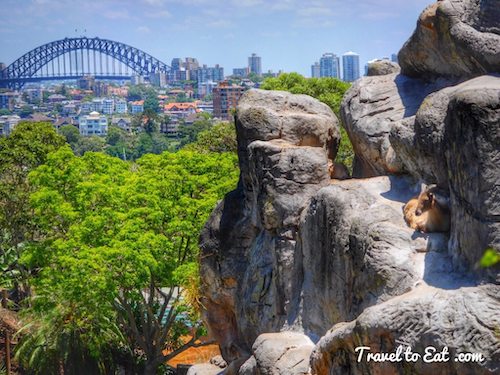 Australia is the only continent (and one of the only two countries – the other being New Guinea) in the world to still have all three of the major groups of mammals: monotremes, marsupials and placentals. Half of Australia's mammal species are marsupials. South America has a few dozen species, all in the opossum family, and a couple of species have found their way into North America, but Australia is the only continent to have such a diverse range or to have marsupials as their most common and conspicuous land mammals. It is the only continent other than Antarctica to not have native hoofed animals, or terrestrial native Carnivora (dogs, bears, cats, weasels etc. The dingo appears to have arrived from Southeast Asia only about 4,000 years ago, probably with Indonesian traders. It is also the only continent to have rainforests but no monkeys.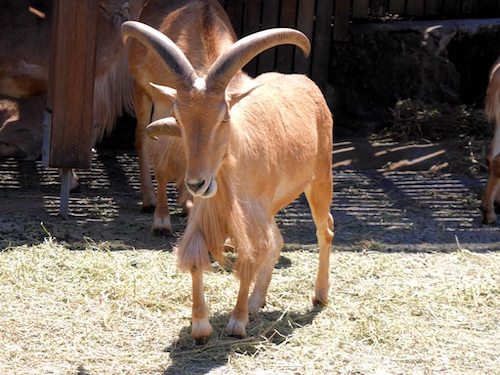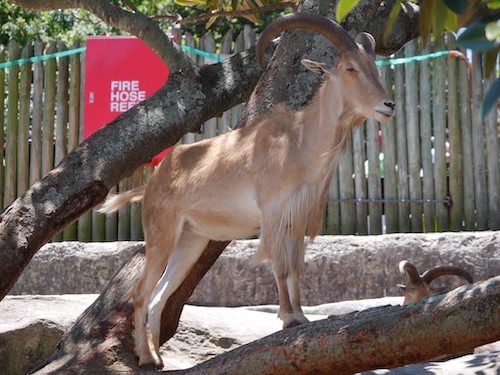 The Barbary sheep (Ammotragus lervia) is a species of caprid (goat-antelope) native to rocky mountains in North Africa. Six subspecies have been described. Although it is rare in its native North Africa, it has been re-introduced to North America, southern Europe, and elsewhere. It is also known as aoudad, waddan, arui, and arruis. Barbary sheep are found in arid mountainous areas where they graze and browse grasses, bushes, and lichens. They are able to obtain all their moisture from food, but if liquid water is available, they drink it and wallow in it. Barbary sheep are crepuscular: active in the early morning and late afternoon and resting in the heat of the day. They are very agile and can achieve a standing jump of over 2 meters (7 ft). Barbary sheep flee at the first sign of danger.They are well adapted to their habitats which consist of steep rocky mountains and canyons.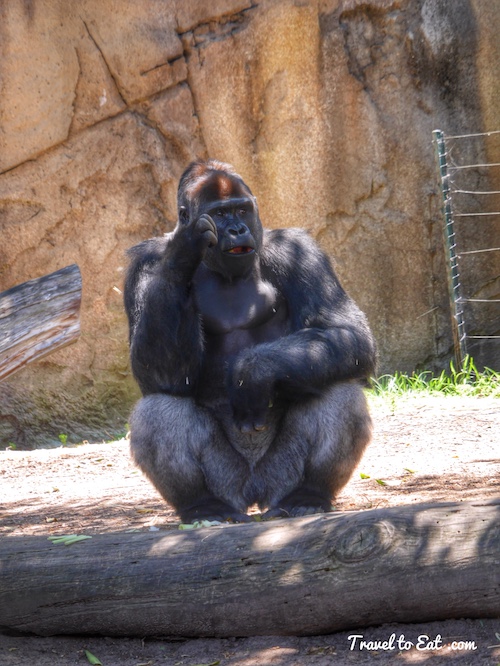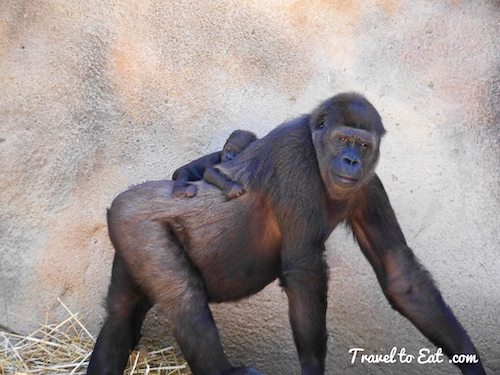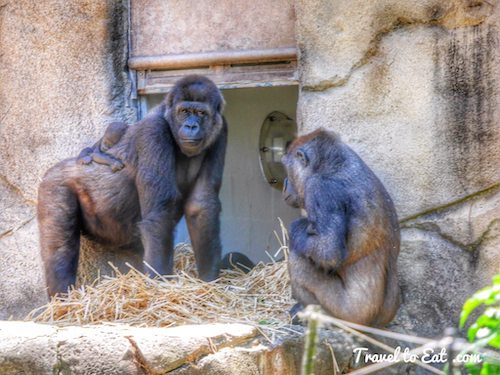 Taronga's Western Lowland Gorilla (Gorilla gorilla) family is part of an important worldwide breeding program which insures a future for their species. The Sydney group is recognized globally for their breeding success, with the much loved Silverback, 'Kibabu' having sired an impressive 14 offspring. Western Lowland Gorillas are critically endangered, just one step away from being extinct! That's why good zoos around the world, like Taronga and the French ape park, La Vallee des Singes, work together to breed genetically healthy animals, providing a safety net against the loss of them in the wild. In the thick forests of central and west Africa, troops find plentiful food for their vegetarian diet. They eat roots, shoots, fruit, wild celery, and tree bark and pulp. Female gorillas give birth to one infant after a pregnancy of nearly nine months. Unlike their powerful parents, newborns are tiny—weighing four pounds (two kilograms)—and able only to cling to their mothers' fur. These infants ride on their mothers' backs from the age of four months through the first two or three years of their lives.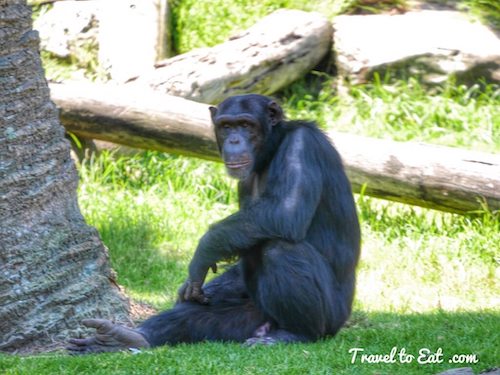 The bushmeat industry, the pet trade and habitat clearance all threaten wild Chimpanzees (Pan troglodytes). These apes are only found in west and central Africa, from Senegal to Tanzania, where they inhabit tropical forests, woodlands and savannahs. The conservation of this species has been hampered by ongoing civil unrest in most of the Chimpanzee's natural range. Taronga's Chimpanzee family is recognised internationally as one of the most significant in the world. The Taronga zoo was one of the first to house and exhibit chimpanzees as a group and has an extremely successful breeding record. In 1988 Taronga co-founded the Chimpanzee Sanctuary and Wildlife Conservation Trust, which manages the Ngamba Island Sanctuary, in Lake Victoria, Uganda. The sanctuary comprises 100 acres of rainforest and houses orphaned chimps that have been saved from poachers and the illegal pet trade. Taronga Zoo has financed the construction of facilities, the purchase of equipment and veterinary support.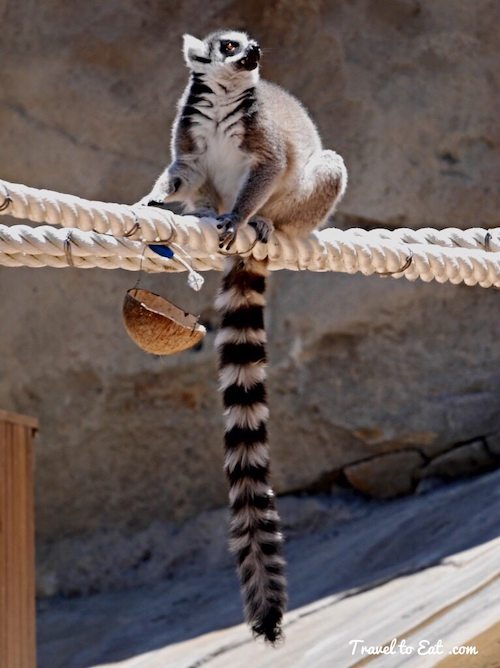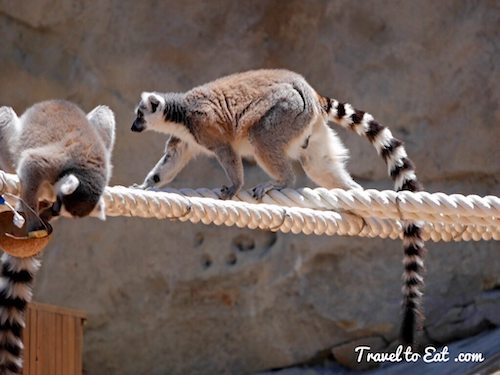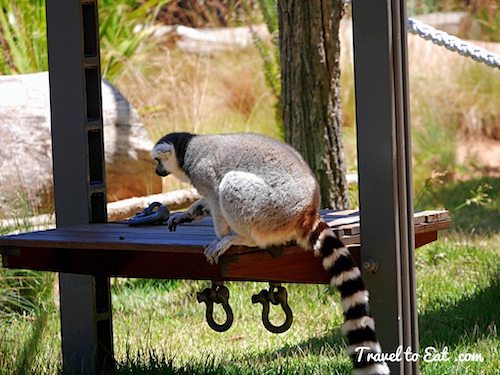 The Ring-Tailed Lemur (Lemur catta) is a large primate and the most recognized lemur due to its long, black and white ringed tail. It belongs to Lemuridae, one of five lemur families, and is the only member of the Lemur genus. Like all lemurs it is endemic to the island of Madagascar. Known locally in Madagascar as maky, spelled maki in French) or hira, it inhabits gallery forests to spiny scrub in the southern regions of the island. It is omnivorous and the most terrestrial of lemurs. The animal is diurnal, being active exclusively in daylight hours. The ring-tailed lemur is highly social, living in groups of up to 30 individuals. The ring-tailed lemur is an opportunistic omnivore primarily eating fruits and leaves, particularly those of the tamarind tree (Tamarindus indica), used in Worcestershire sauce. When available, tamarind makes up as much as 50% of the diet, especially during the dry, winter season. The ring-tailed lemur eats from as many as three dozen different plant species, and its diet includes flowers, herbs, bark and sap.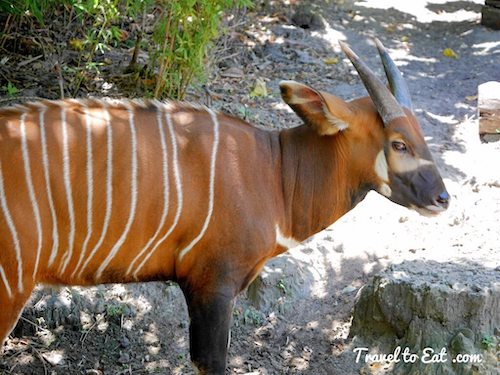 The Bongo (Tragelaphus eurycerus) is a herbivorous, mostly nocturnal forest hooved mammal. It is among the largest of the African forest antelope species. Bongos are characterized by a striking reddish-brown coat, black and white markings, white-yellow stripes and long slightly spiralled horns. Indeed, bongos are the only tragelaphid in which both sexes have horns. They have a complex social interaction and are found in African dense forests. The name "Tragelaphus" comes from the mythical tragelaph, half goat and half stag. Bongos are both timid and easily frightened; after a scare, a bongo moves away at considerable speed, even through dense undergrowth. They seek cover, where they stand still and alert, facing away from the disturbance and turning their heads from time to time to check on the situation.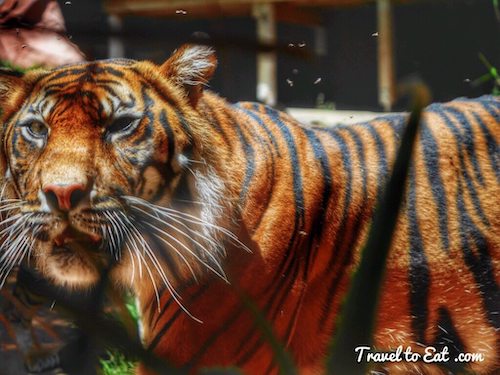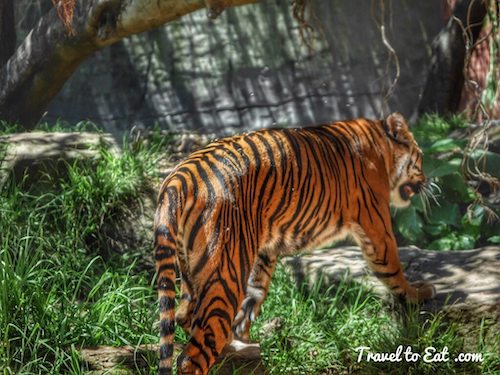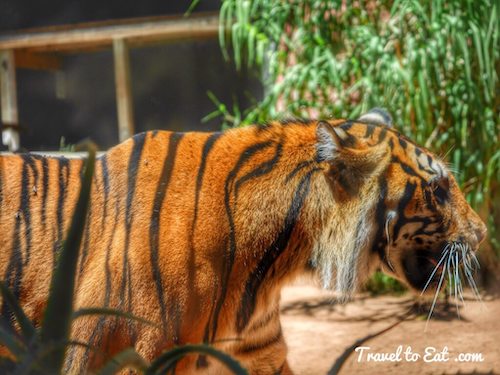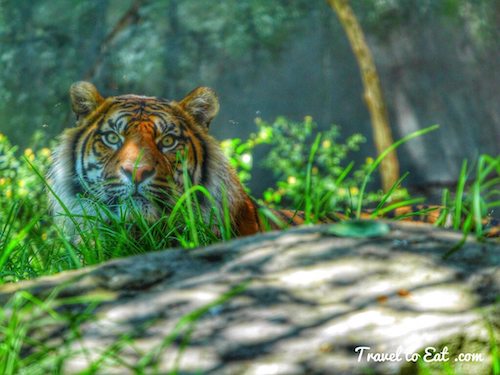 The Sumatran Tiger (Panthera tigris sumatrae) is the smallest of the surviving subspecies of tiger and are classified as critically endangered, with numbers as low as 400. These tigers are predominately solitary animals that live on the Indonesian island of Sumatra in lowland forests that extend through to the mountain forests. The fur of the Sumatran Tiger appears orange to reddish brown and its underside white. Webbing between their toes makes them very fast swimmers. Being the smallest of the tiger family, it moves with ease through the dense growth of the jungle forests. The Sumatran Tiger lives in lowland forest to sub-mountain and mountain forest where there is minimal human disturbance. The remaining tigers are distributed in fragmented pockets throughout the island. Of the 400 tigers still alive, most can be found in five national parks and two game reserves on the island of Sumatra. The largest populations of Sumatran Tiger can be found in the Gunuag Leuser National Park. Some are still living in unprotected forested areas; however these are more open to poaching.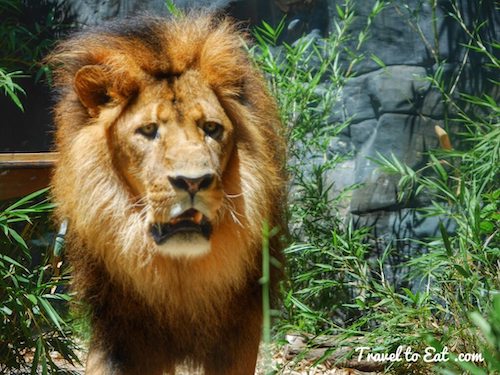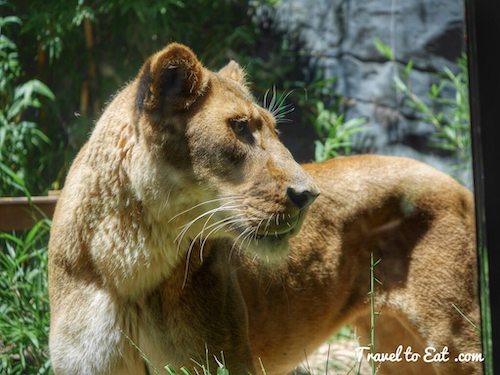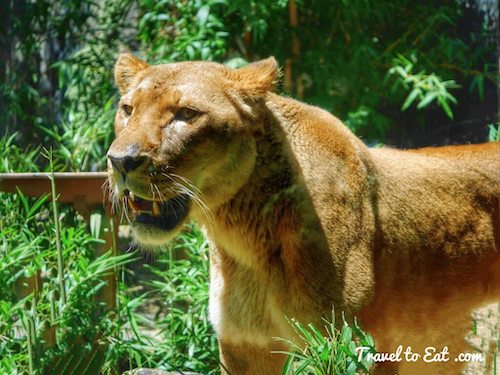 The number of African Lions (Panthera leo) has been declining in range and numbers, a population decrease of approximately 30 per cent has occurred over the past two decades (approximately three Lion generations). This estimated reduction is based on direct observation; appropriate indices of abundance; a decline in area of occupation, extent of occupation and habitat quality; and actual and potential levels of exploitation. The lion is the only truly social big cat, and its roar can be heard over 8 kms away. They live in prides of up to 40 individuals, including a dominant male, four to six related females and their cubs. The females tend to give birth at the same time, creating a nursery environment. A male lion's large, healthy mane says two key things: "stay away" to other males, and "come here" to females. A good mane is an indicator of health, nutrition and also good genes. Lions and other cats (including your domestic cat) have an extraordinary organ in the roof of their mouths, called the Jacobson's organ, which allows them to "taste" smells. Generally lions stalk their prey at night and rest during the day out of the hot sun – up to 20 hours of their day is spent resting and sleeping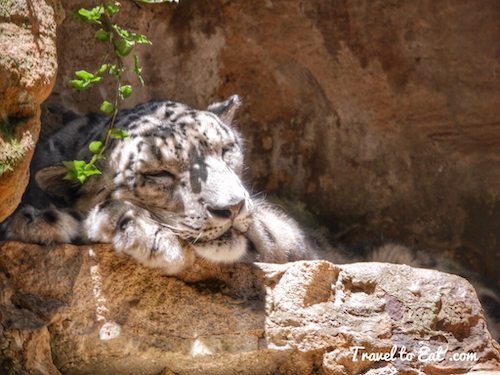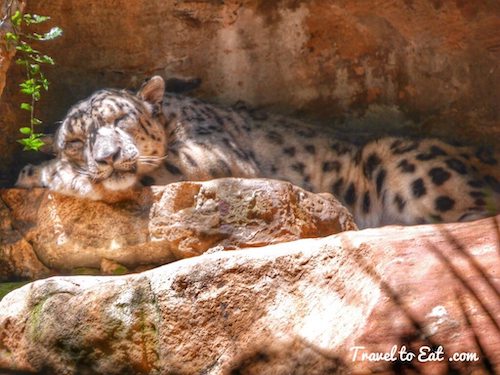 Snow Leopards (Panthera uncia) have the thickest coat of all the cats, helping them to survive in their cold habitat. They also have the longest tail of all the cats, helping them balance on the rocky terrain where they live. This long tail is also a babysitter for a mother with cubs, providing both warmth and amusement to the youngsters. These rare, beautiful gray leopards live in the mountains of Central Asia. They are insulated by thick hair, and their wide, fur-covered feet act as natural snowshoes. Snow leopards have powerful legs and are tremendous leapers, able to jump as far as 50 feet (15 meters). Snow leopards prey upon the blue sheep (bharal) of Tibet and the Himalaya, as well as the mountain ibex found over most of the rest of their range. Though these powerful predators can kill animals three times their weight, they also eat smaller fare, such as marmots, hares, and game birds.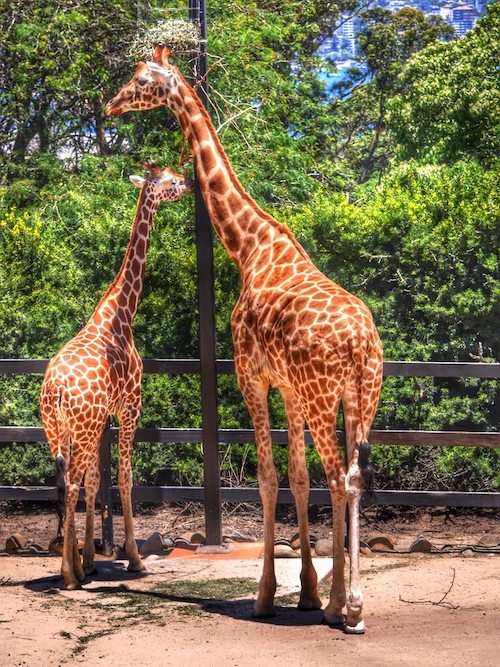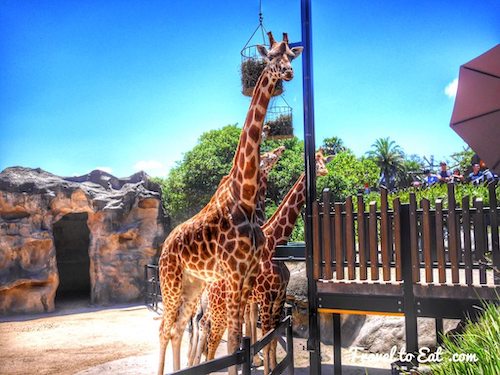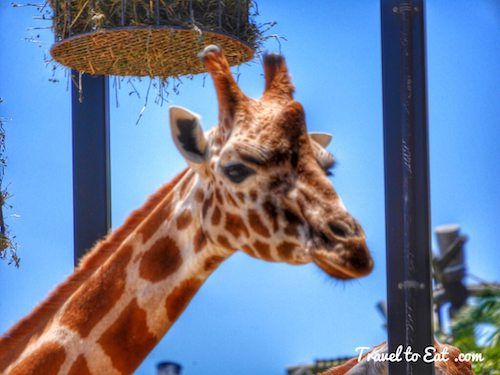 Giraffes (Giraffa camelopardalis) are the world's tallest mammals, thanks to their towering legs and long necks. A giraffe's legs alone are taller than many humans—about 6 feet (1.8 meters). These long legs allow giraffes to run as fast as 35 miles (56 kilometers) an hour over short distances and cruise comfortably at 10 miles (16 kilometers) an hour over longer distances. The giraffe's stature can be a disadvantage as well—it is difficult and dangerous for a giraffe to drink at a water hole. To do so they must spread their legs and bend down in an awkward position that makes them vulnerable to predators like Africa's big cats. Giraffes only need to drink once every several days; they get most of their water from the luscious plants they eat.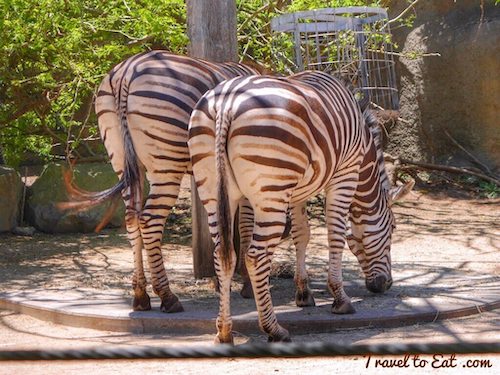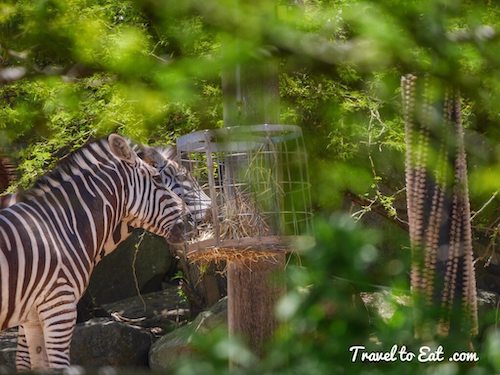 There are in fact four species of zebra. These are the Plains Zebra (Equus burchellii), Grevy's Zebra, Cape Mountain Zebra and Hartmann's Mountain Zebra. They have the Plains Zebra at Taronga and Taronga Western Plains Zoos which are the most common of the four species in the wild. Each zebra has a unique pattern of stripes, just like a human's fingerprint. It is thought that this allows zebras to recognize individuals within their herd, and could be particularly useful for a mare and her foal, recognizing each other . These stripes also help protect the zebra from predators. Together in a herd, the mass of stripes may help blur the shape of an individual zebra and so make it difficult to be singled out and chased by a lioness.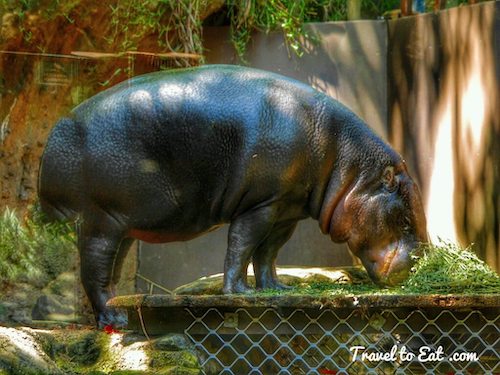 The Pygmy Hippopotamus was discovered only recently – in the mid 1800s. A shy and solitary animal, it lives in swamps and forests. It is smaller than the Common Hippo but not an exact copy. For its size the Pygmy Hippo has longer legs, a smaller head and narrower mouth. Hiding in dense forests it eats leaves, herbs, fallen fruits and grasses. To reach higher branches it stands on its hind legs and leans on the tree with its front legs. Pygmy Hippos are a solitary forest-dwelling creature native to West Africa. Little is known about them in the wild with the majority of research recorded about the species learned from those cared for in zoos. The World Conservation Union estimates that there are fewer than 3000 Pygmy Hippos remaining in the wild. They are primarily threatened by loss of habitat as forests are logged and converted to farm land, and are also vulnerable to poaching, hunting, natural predators and war.
I am going to stop here, again the pictures I have presented are only the good ones I was able to take. Pictures of animals are always hard to get and there are many more things to see here. If you are in Sydney, take a day and go to the zoo.
References:
Taronga Zoo List of Animals: http://taronga.org.au/animals/search
Wikipedia List: http://en.m.wikipedia.org/wiki/Taronga_Zoo
Australian Animals: http://www.learnaboutwildlife.com/wildlifeAustraliaMammals.html
Sumatran Tiger: http://www.worldwildlife.org/species/sumatran-tiger
African Lion: http://taronga.org.au/animal/african-lion
Snow Leopard: http://animals.nationalgeographic.com/animals/mammals/snow-leopard/