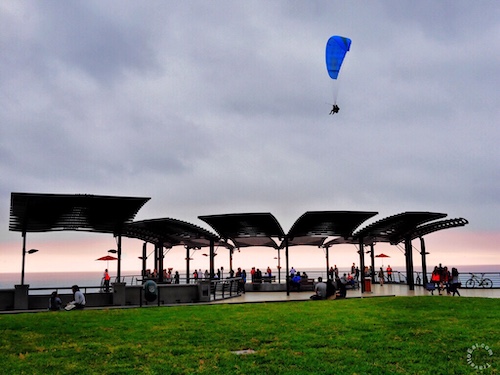 Since we dined on the beach in Miraflores, we decided on dinner on top of the cliffs in Tanta restaurant located in the very modern Larcomar shopping center. The Miraflores "malecón" or boardwalk is possibly the most emblematic attraction in Miraflores. This six mile stretch of board walk starts with Malecón de la Marina in the north, then becomes Malecón Cisneros, and ends as Malecón de la Reserva in the south. This stunning cliff-top walk offers fabulous views of the Pacific Coast and is a great place for people watching. Although Lima is almost always cloudy, this Boardwalk down the coast where Lima sits is a beautiful walk. You will often see surfers and swimmers in the water and even paragliders overhead in the sky. It is also an amazing location to view a sunset although the overcast sky makes for an unusual sunset. Larcomar shopping center is a stunning feat of architecture located on the boardwalk in front of the JW Marriott Hotel. You can't see this multi-level food, entertainment and shopping complex from street level as it is tucked away in the cliff face boasting stunning views of the Pacific Coast. You will find a lot of big brand stores here like North Face, Adidas and Banana Republic but you will also find Peruvian stores like Ilaria Jewelery, Kuna Alpaca as well as the great gift store Dedalo.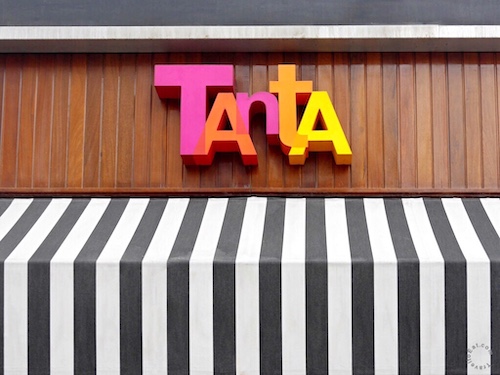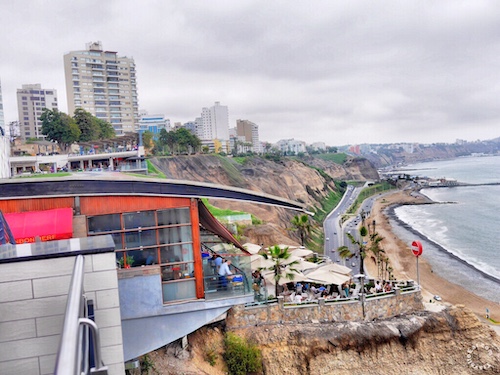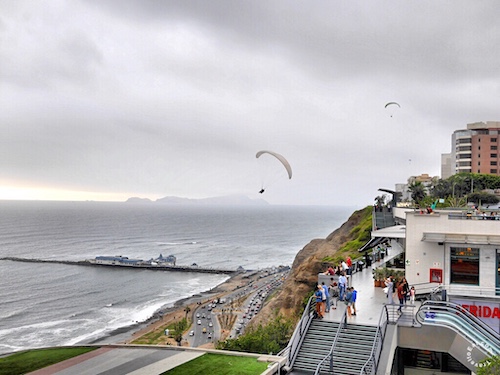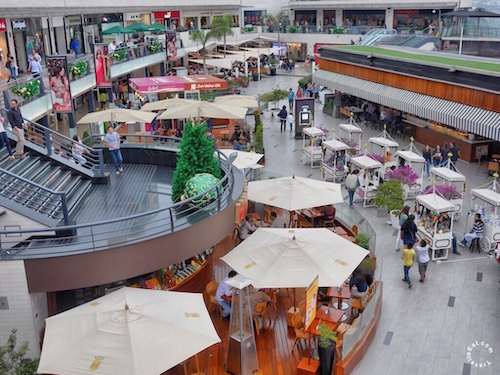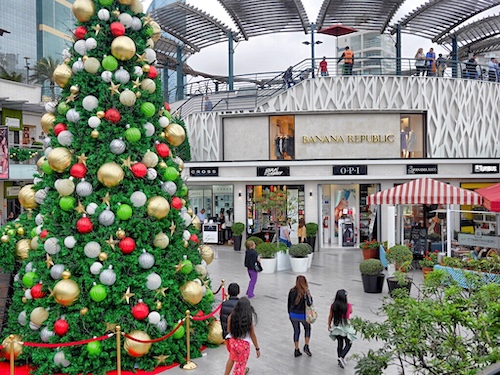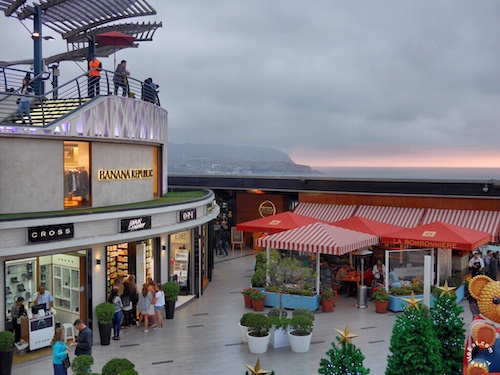 Larcomar has a western feel and is usually packed with well-heeled Limeños and international travelers but it is a good place to enjoy sunset cocktails with an unparalleled view, a bite to eat or a great coffee at the Arabica espresso bar or food at The Tanta restaurant. It also has a cinema and bowling alley.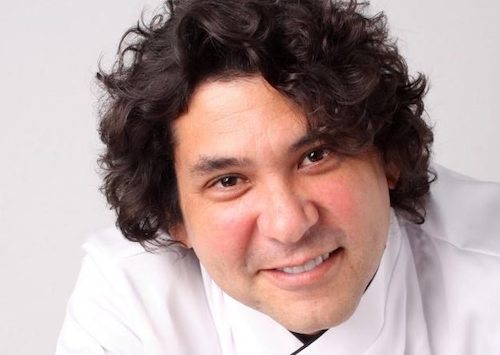 Gastón Acurio is a chef, writer, businessman and promoter of the Peruvian culinary arts. In 2005, he was named "Entrepreneur of the Year" by America Economía Magazine – the most prominent and influential business magazine in South America. With 33 restaurants in 12 countries, the Acurio Organization is leading the Peruvian culinary revolution. The confectionery and pralinerie T'anta was opened in 2003. T'anta comes from Quechua and it means bread. Together with his wife Astrid, he managed the restaurant franchise Astrid & Gastón since 1994. It opened in the district of Miraflores in Lima and expanded in Latin America and recently in Europe, opening restaurants in Santiago de Chile, Bogotá, Quito, Caracas, South America, Europe and Chicago.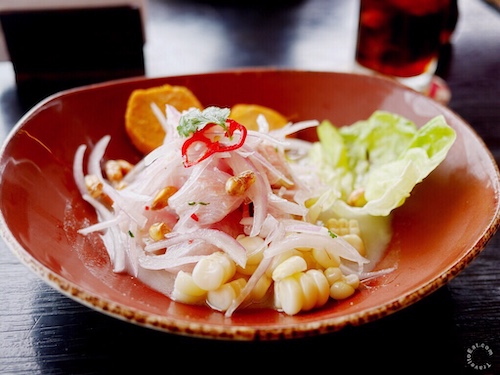 We started with the internationally famous Peruvian Cerbiche (cerviche). Ceviche's birthplace is disputed between Peru and Ecuador, and as both countries have an amazing variety of fish and shellfish, it could easily have come from the ancient Inca civilizations of Peru and Ecuador. Every Latin American country has given seviche/ceviche its own touch of individuality by adding its own particular garnishes. In Peru, it is served with slices of cold sweet potatoes. In Ecuador, it is accompanied by popcorn, nuts, or corn nuts. Typically served with "camote", or sweet potato. "Ceviche", is often spelled "cebiche" as well, is the flagship dish of coastal cuisine, and one of Peru's favorites. It is the quintessence of fusion: aji peppers, onions and Peruvian Key Limes (acidic aromatic lime). Cerbiche usually consists of large bite-size pieces of white fish (such as "corvine" or white sea bass), marinated raw in lime mixed with Aji. Cerbiche is served with raw onions, boiled sweet potatoes (camote), toasted corn (cancha), and sometimes a local green seaweed or "yuyo".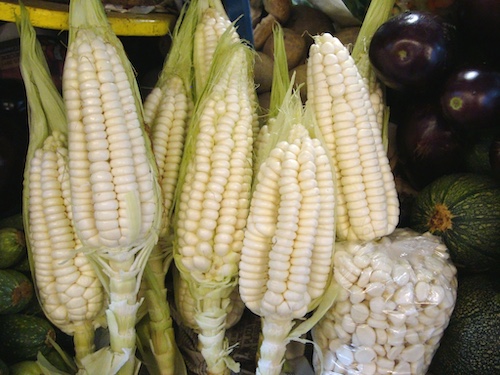 Choclo, is a variety of field corn, also referred to as Peruvian corn or Cuzco corn (named for the capital city of the Inca empire: Cuzco), is a large kernel corn from the Andes. It is consumed in parts of Central America and South America, especially in Peru, Bolivia and Colombia. Field corn is not generally regarded, in industrialized societies, as desirable for human food without commercial pre-processing. When compared to sweet corn, the kernels are larger and chewier and have a starchy, hefty texture rather than a sweet taste. The taste and appearance are somewhat similar to hominy.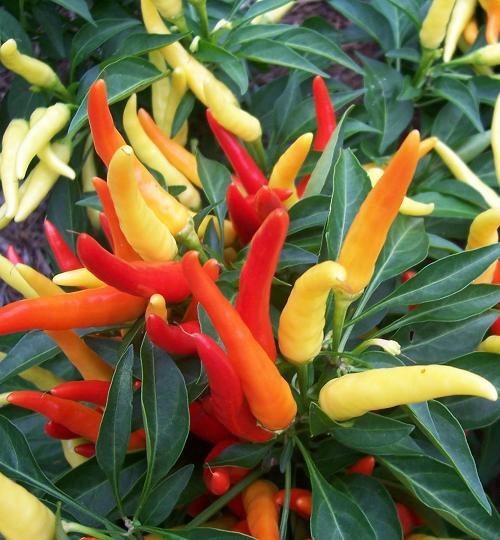 Capsicum baccatum is a species of chili pepper that includes the cultivars Ají amarillo, also called amarillo chili and ají escabeche. Aji, also known as pimiento chile, originated in the Americas and have been cultivated for around 7000 years. Chili Peppers might have been the first spice with which ancient Peruvians seasoned their dishes and were found in many archeological excavations. Today there are around 300 varieties of chili peppers in Peru being an essential part of the local cuisine.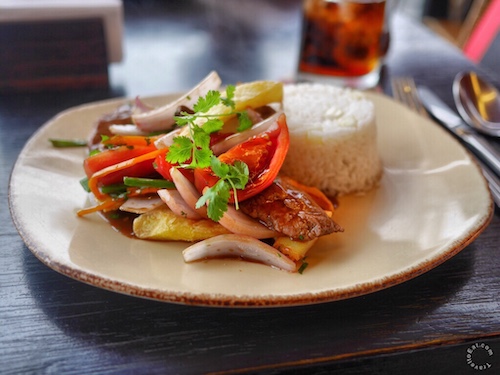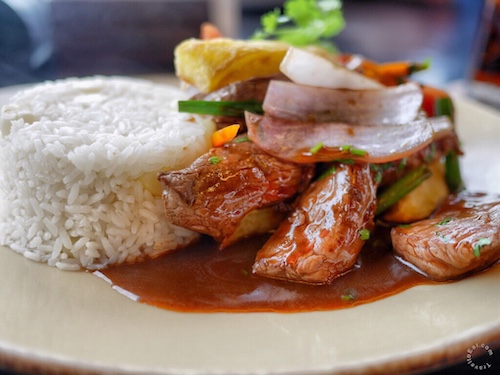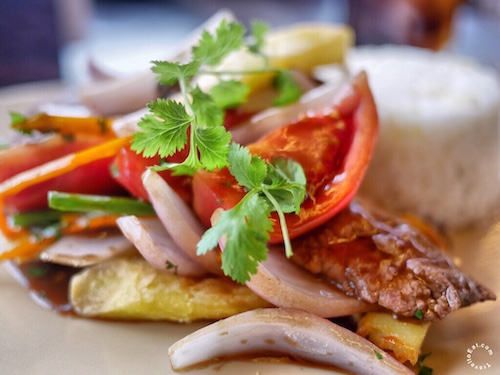 I ordered the braised beef hearts which were delicious and very tender. Anticuchos (singular anticucho, Quechua for Cut Stew Meat) are popular and inexpensive dishes that originated in Peru in the pre-Columbian era; other Andean states, such as Chile and Bolivia, adopted the recipe. The modern dish was adapted during the colonial era between the 16th and 19th centuries. Anticuchos can be found on street-carts and street food stalls (anticucheras). The meat may be marinated in vinegar and spices (such as cumin, ají pepper and garlic). While anticuchos can be made of any type of meat, the most popular are made of beef heart (anticuchos de corazón). Anticuchos often come with a boiled potato or bread on the end of the skewer. A similar dish, shish kebab is found in Mediterranean cuisine. Anticuchos are linked to the procession of Señor de los Milagros.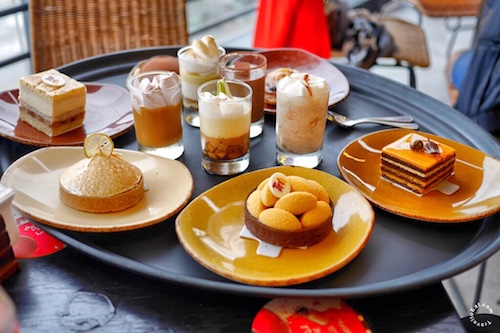 Peru has fantastic cuisine, including desserts, that is a combination of European, African, and Asian influences, and heavily influenced by Spanish cuisine. In Colonial times, quite often expensive and unavailable ingredients used in the Spanish cuisine were replaced by typical Peruvian ones. Later, foreign cooking techniques were used to create unique local sweets. Because of Peru's geography, many desserts feature tropical fruits, such as chirimoya and lucuma. Many traditional desserts of Peru also feature manjar blanco, the Peruvian version of dulce de leche.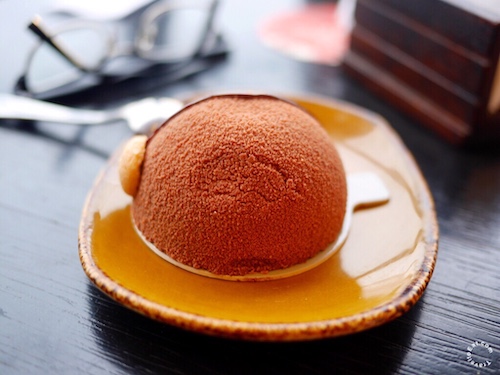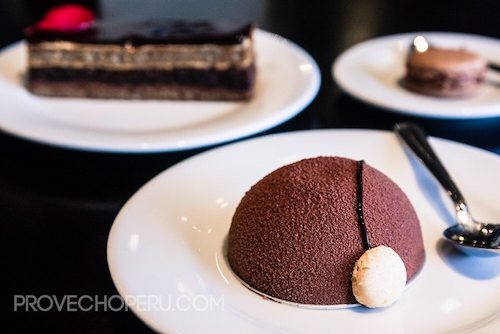 I decided on the Peruvian chocolate mousse for desert. It was predictably delicious. Everything about this restaurant was great, the service was good, the food was great and the view unbeatable. If you visit Lima, this restaurant is a must visit. As always please leave a comment.
References:
Miraflores: https://www.bestofperutravel.com/things-to-do-in-miraflores-lima/
Miraflores Boardwalk: https://www.tripadvisor.com/Attraction_Review-g294316-d2555977-Reviews-Miraflores_Boardwalk-Lima_Lima_Region.html
PeruvianCerbiche: http://www.jamieoliver.com/recipes/seafood-recipes/peruvian-ceviche/
History of Cerbiche: http://whatscookingamerica.net/History/CevicheNotes.htm
Cerbiche: http://taste-of-peru.com/peruvian_culture/el-ceviche.php
Choclo Corn: http://www.radioredeperu.com/index.php/2014-11-10-05-28-27/2014-11-10-05-28-43/3609-senasa-choclo-peruano-obtuvo-la-autorizacion-para-ingresar-al-competitivo-mercado-chileno
Peruvian Ají: http://www.limaeasy.com/peruvian-food-guide/typical-aji-chilli-peppers
Anticucho: http://andrewzimmern.com/2015/06/02/beef-heart-anticucho/
Barbecue Bible: http://barbecuebible.com/recipe/peruvian-beef-kebabs-anticuchos/
Typical Peruvian Desserts: http://www.limaeasy.com/peruvian-food-guide/typical-desserts
Peru Delights: http://perudelights.com/category/recipes/desserts/
Mousse Dukan: http://dietaemagrece.com.br/mousse-chocolate-dukan.html