Tucked away, right around the corner from us, is the lovely little Chinese Restaurant Tang. We were walking home a different way than usual and just happened upon it. Tang is a one star Michelin restaurant with a lovely boutique setting one block from Rue de la Pompe. We decided to go for lunch.
The decor has hints of China but is also very Parisian. The service is friendly, prompt and courteous. The tables are laid out with crisp white tablecloths and silver service. The owner, Charlie, came out and greeted us personally. The staff speaks excellent English and are very helpful. They have a large wine list and every other drink they refill your glass.
I ordered the prawns, the plating was pretty awesome and they tasted as good as they look.
Lisa had the mongolian beef with a black rice cake. The beef was so tender it melted in your mouth.
They brought out the fried rice in a silver bowl, trés elegant.
For desert, Lisa had the Bananas Flambé, which made the impressive entrance shown above.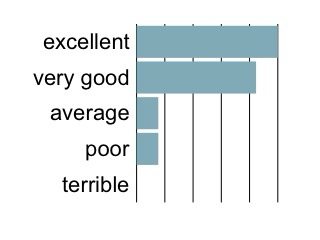 I had the medley of tropical fruit served in a silver bowl. Actually quite nice. We have since gone back a couple of times and the experience has been the same. Tang has gotten excellent reviews on TripAdvisor and it is regularly listed as one of the best Chinese restaurants in Paris. The prices are very reasonable, our lunch with a bottle of white wine was only about 115€, much more affordable than we would have thought for a Michelin restaurant with the great service and innovative food of much pricier places. If you are in Paris and want a change from French food, consider a visit to Tang.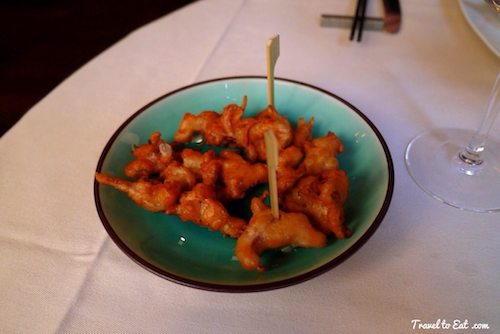 We went back for dinner and I thought I would share a few more photos. The picture above shows the deep fried calamari.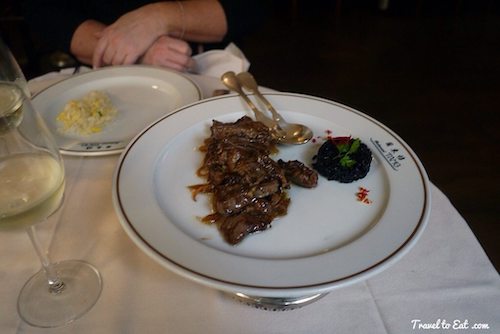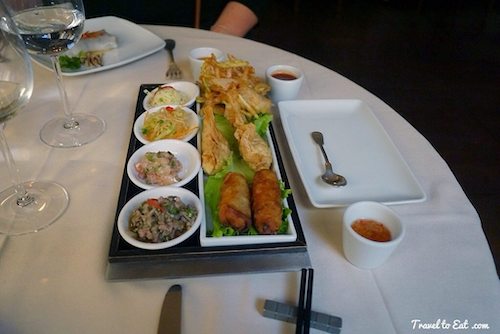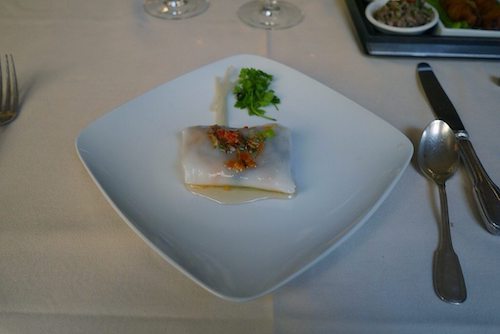 Lisa had the beef with black rice again and I had the tasting menu. It was very good the second time.
References:
Michelin: http://restaurant.michelin.fr/restaurant/france/75116-paris-16/tang/2aeqz1a
TripAdvisor: http://www.tripadvisor.com/Restaurant_Review-g187147-d719926-Reviews-Tang-Paris_Ile_de_France.html