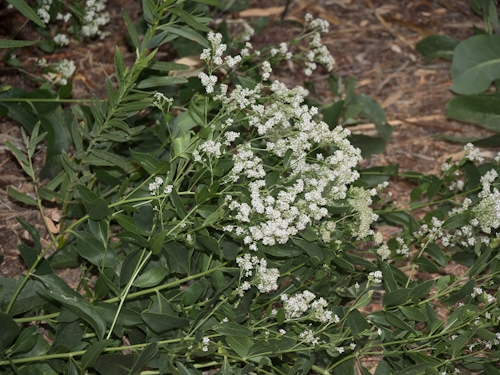 Common Names: Tall Whitetop, Perennial Pepperweed, Broadleaved Pepperweed, Pepperwort, Peppergrass, Dittander, Dittany
Synonyms: Lepidium latifolium
Family: Brassicaceae (Mustard/Cabbage)
Habit: perennial forb, herb
Size: 1-3 feet (30–100 cm)
Flowers: white
Bloom: May, Jun, Jul, Aug
Leaves: alternate
Fruit: 1.6mm reddish seeds
Description:
Leaves are alternate, oval to lance-shaped, mostly 3-12 in. long, 1-3 in. wide, green to gray-green, lack hair and waxy; edges (margins) smooth to toothed and can also be curled.
Flowers are small and white with 4 petals; arranged in dense clusters at the tips of stems
Seed pods are round, flattened, less than 0.1 in. diameter, usually covered with hairs; each has 2 chambers, each with 1 seed
Distribution: Native to southern Europe, Mediterranean countries and Asia as far east as the Himalayas. It may have been introduced to the United States when its seed got into a shipment of sugar beet seeds.
Seen: Wetlands Park (June 11)
Habitat: The plant is most invasive in wetland habitats, including riparian zones; from there it easily spreads to other ecosystems, such as sagebrush.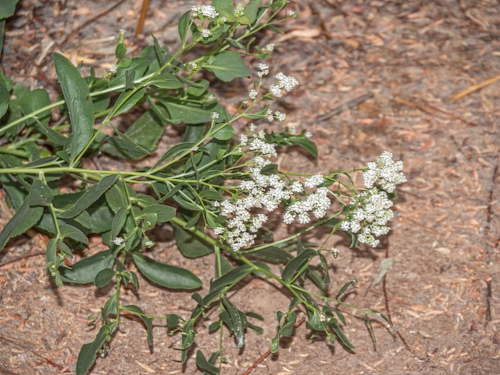 References: