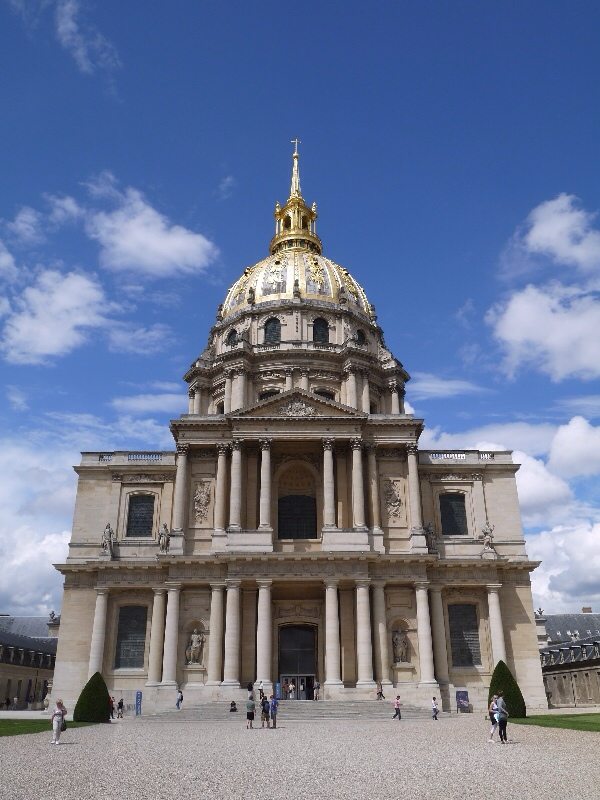 Proposed by Louis XIV in 1670 as a home for "invalids" – disabled and impoverished war veterans, Les Invalides was designed by Libéral Bruant and completed in 1676. Shortly after the veterans' chapel was completed, Louis XIV commissioned Mansart to construct a separate private royal chapel referred to as the Église du Dôme from its most striking feature. Inspired by St. Peter's Basilica in Rome, the original for all Baroque domes, it is one of the triumphs of French Baroque architecture.
The dome itself is 107 meters high (351 ft) making it one of the tallest monuments in Paris, and was centrally placed in order to dominate the court of honor – one of 15 courtyards at the complex, designed for military parades. The inside of the dome was painted by Charles de La Fosse, disciple of 18th century well-known French painter, Charles Le Brun.
The doors seen you see to the right are covered in gold leaf, 25 feet tall, weigh almost 3 tons and have several symbols on them. The top round monogram is Louis XIV with two crossed "L's". The two round monograms framing the fleur de lis of France in the middle are for Saint Louis, King Louis IX. The square section between is topped with two trophy helmets, the sun with a human face for Louis XIV (he believed he was unique and radiant like the sun) and finally the coat of arms for the kings of France, three golden fleur de lis on a sea of blue.