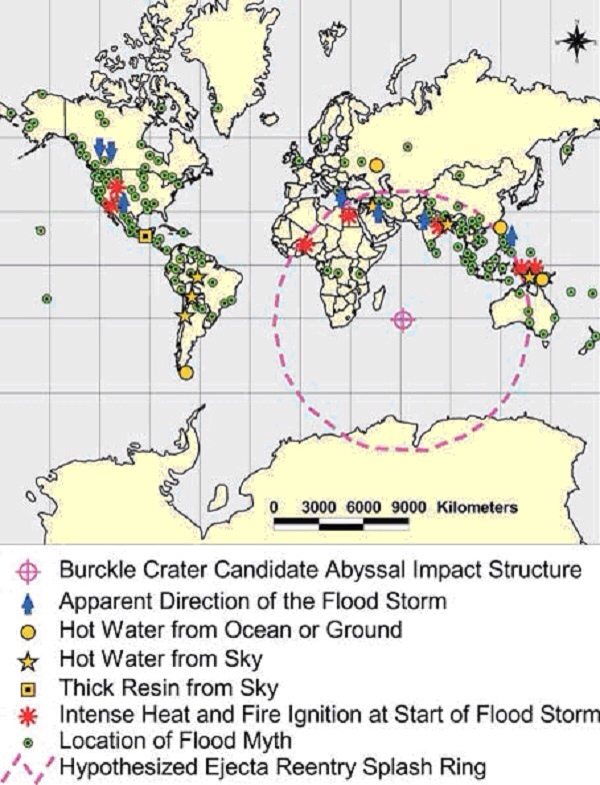 The Holocene Impact Working Group is a collection of scientists from Australia, France, Ireland, Russia and the US who hypothesize that meteorite impacts on Earth are more common than previously supposed. The group has suggested that the Earth experiences one large global impact every 1,000 years. They claim that the geological formation known as a chevron or a wedge-shaped sediment deposit observed on coastlines, are created by megatsunamis and asteroid impacts. They have gathered some significant results and located major impact zones on Earth. The most important being the Burckle Crater, which is an undersea crater located to the east of Madagascar and west of Western Australia in the southern Indian ocean.
The impact zone is very large and estimated to be about 30 km (18 mi) in diameter. The Burckle Crater has yet to be dated by radiometric analysis, but it is strongly believed that the object impacted Earth between the years 2800-3000 BC, which is only 5,000 years ago. Near the crater, unusual metals have been reported, including carbonate crystals, translucent carbon spherules and fragments of mineral glass.
Numerous cultures make references to an ancient flood during this time in history and a wide range of events point to a disaster on Earth, including the end of the Early Harappan Ravi Phase, the end of the pre-dynastic "antediluvian" rulers of the Sumerian civilization and the start of the First Dynasty of Kish.