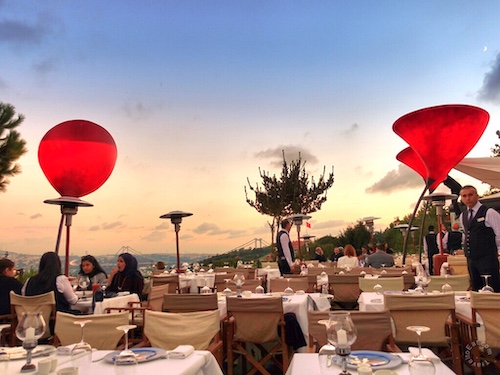 Istanbul is much like Paris when it comes to restaurants, there are really good cafés on nearly every block. However, there are always a few restaurants that are special, often because of location or amazing food. Rarely, there is a restaurant that has both, like Sunset Grill and Bar in Istanbul boasting stunning views of asian Istanbul, the Bosphorus and sunsets in the heart of city, on the hills of affluent Ulus. This restaurant was suggested by my friend David and I am so pleased I took his recommendation. I was staying in the Sultanahmet or old city and with traffic it took only about 30 minutes to get there, well worth the effort. Istanbul's first restaurant to add a sushi bar (in 2000), Sunset Grill & Bar isn't just any upscale restaurant in the city. The restaurant grows its own herbs in the garden, produces wines in its vineyard in Bozcaada and has Turkey's most precious wine collection in its possession. They are open Monday-Saturday from noon to 3:00pm for lunch and daily from 7:00pm to midnight for dinner.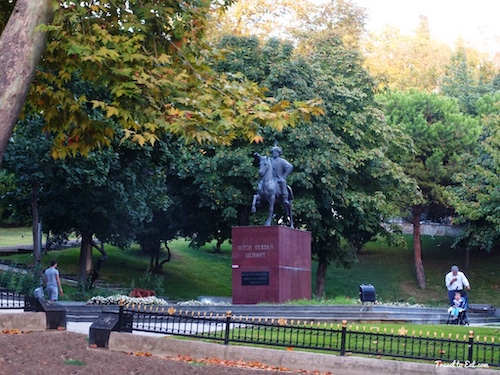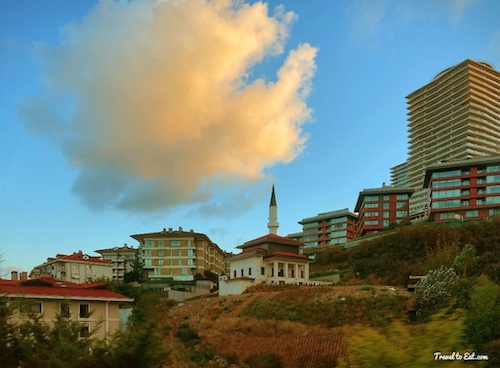 Ulus Park, in Istanbul's Besiktas district is a large green space located on Ahmet Adnan Saygun Street. Ulus park has a prime location overlooking the Istanbul Bosphorus including the Bosphorus Bridge, Topkapi Palace and the Üsküdar. Sunset Grill and Ulus29 are among the well known restaurants located within the Ulus park. To get to Ulus Park, you can get the DT2 bus from Taksim that travels to Ulus District. If you are travelling with a private car, you should turn to Adnan Saygun Road that connects Ortakoy with Etiler and follow the signs that say Ulus Park. Fatįh Sultan Mehmat or Mehmat the Conquerer (1432-1481) seen above, is considered a hero in modern-day Turkey and parts of the wider Muslim world. At the age of 21, he conquered Constantinople (modern-day Istanbul) and brought an end to the Byzantine Empire.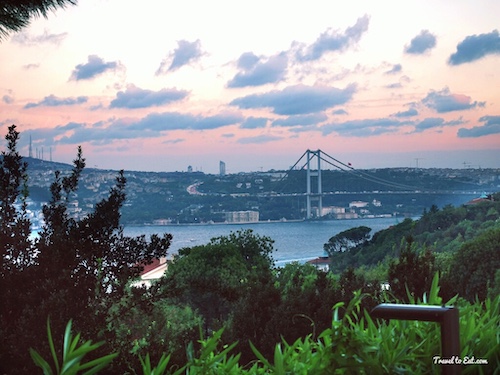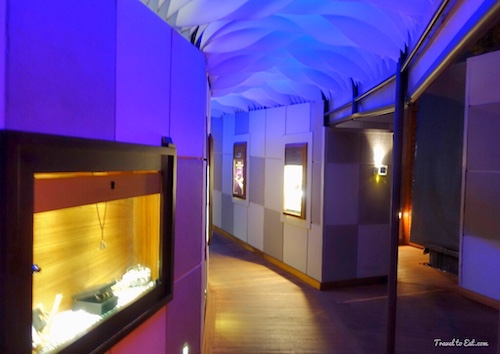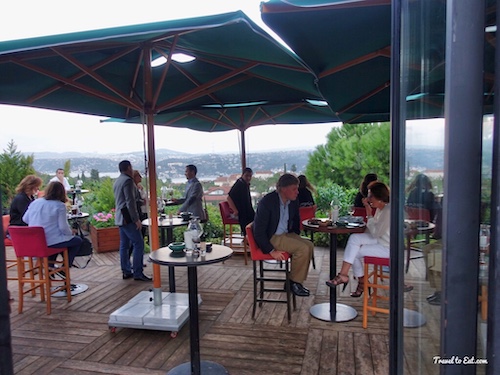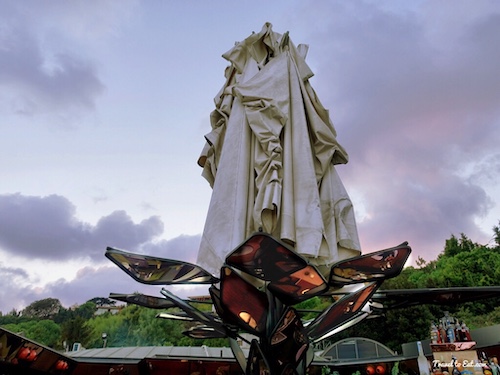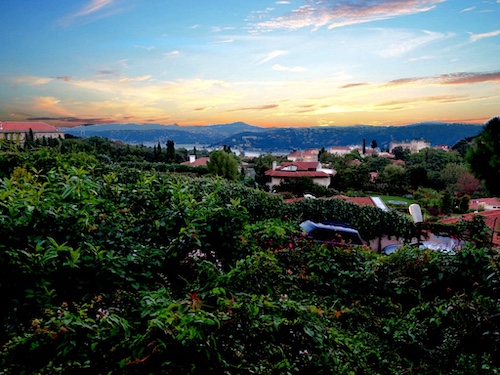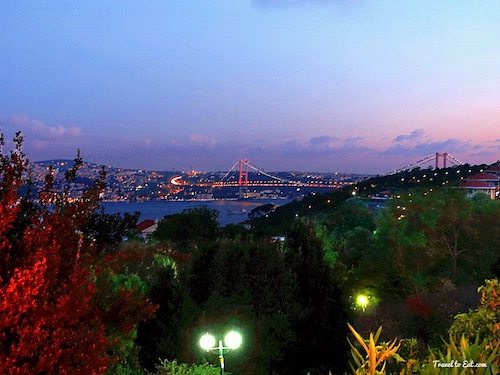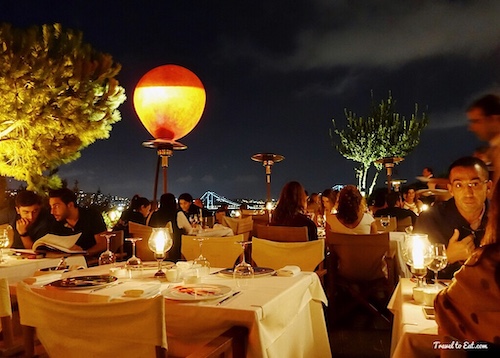 Once you settle down, you quickly realize why the restaurant is named "Sunset." The views can be described as "spectacular," an overused term rarely deserved but Sunset is the exception that exemplifies the meaning. Visiting Ulas and Sunset Grill and Bar in particular gives you the big view of Istanbul that every tourist covets but few ever see. Sunset Grill and Bar is both lovely and exotic.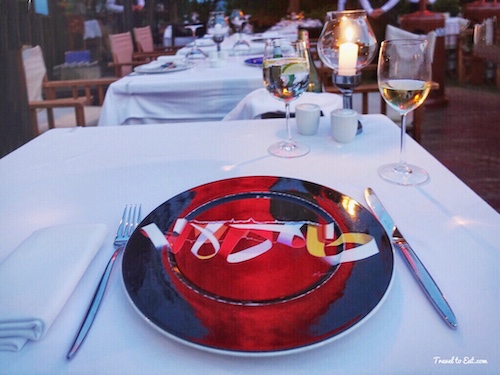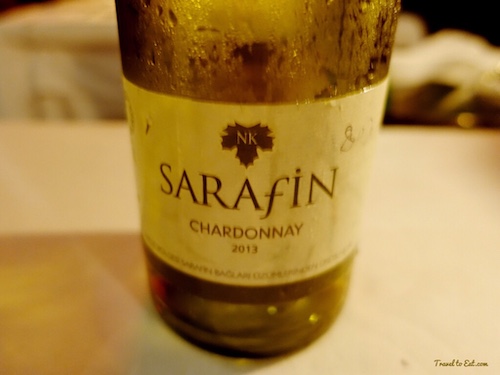 The sommelier suggested a great Turkish Chardonnay that I thought I would share. Winemaking history began in the geographical area where Turkey stands today. The oldest remains relating to winemaking suggest the land between Thrace and the Caucasian mountains was the site of the earliest winemaking. However, since those days wine culture has taken root in Europe and then moved on to the New World without returning to its home for a very long time. Wine-lovers in Europe and the New World have refined their choices and narrowed down a selected list of "Noble Grapes", and they have enjoyed these superb wines for centuries. The SARAfIN project imported Chardonnay, Sauvignon Blanc, Cabernet Sauvignon and Merlot from French vineyards and planted them in the Gallipoli Peninsula on the shores of the Aegean Sea, the shores of Saros Bay to be exact, land which had been used for viticulture for hundreds of years. The SARAfIN Chardonnay vineyard, only about an hour away from Doluca is one of the strongest assets of SARAfIN project. The malolactic fermentation that is normally used for red wines, is applied to Chardonnay grapes, which results in wine with a "buttery" flavor. The wine is aged 12 months in French Oak barrels resulting in a rich bouquet and complex, lasting flavor on the palate.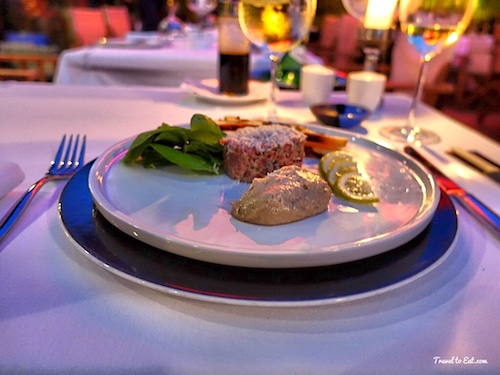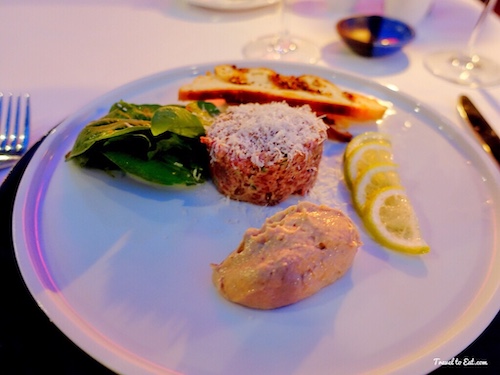 When they have it on the menu, I often order steak tartare both because I love it and it is a sufficiently complex dish to test the chefs. Properly made, the beef is chopped, never ground, with a combination of egg yolk, onions, capers and seasonings, mixed tableside or immediately after preparation. At Sunset, they add wild mushrooms emulsion and black truffle oil. This was as good as the best I have had, comparing very favorably with another of my favorites, The Grill by Sean Connolly in Auckland. I appreciated the service with toast points and a lovely horseradish and Dijon mustard. They also have a very good salmon tartare.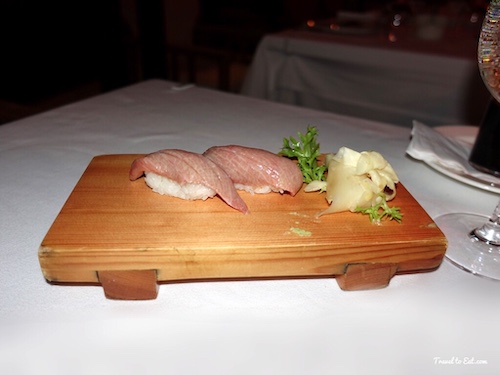 Since Sunset has perhaps the best sushi in Istanbul, I indulged my taste for some yellowtail. The yellowtail was cold and fresh, the rice had just the right "stickiness" and the wasabi was freshly ground with a strong taste. Even the ginger was perfect as was the presentation. They serve this with yuzu soy sauce, made famous by the likes of Nobu and Wolfgang Puck. Yuzu is a Japanese citrus fruit with a yellow-green rind that is almost like a cross between a lemon and a lime, but its juice is very sour and definitely more potent than lemon or lime juice. It is believed to be a hybrid of sour mandarin and Ichang papeda. Yazu Soy has become a very trendy ingredient in many high end Japanese restaurants.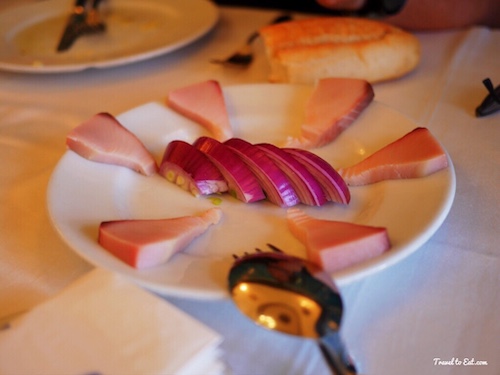 Raw (torik), pickled (Lakerda) and cooked Bonita (palamut) has long been a favorite in Istanbul and bonito flakes, known as katsuo-bushi or katsuobushi are also used and exported in Turkey. Bonito flakes are used to make katsuobushi-dashi, the second most favored type of dashi (Japanese broth) for miso soup. Bonito flakes are also used for onigiri filling and to make ponzu sauce. So there is more of a connection between Japanese and Turkish food than you might think.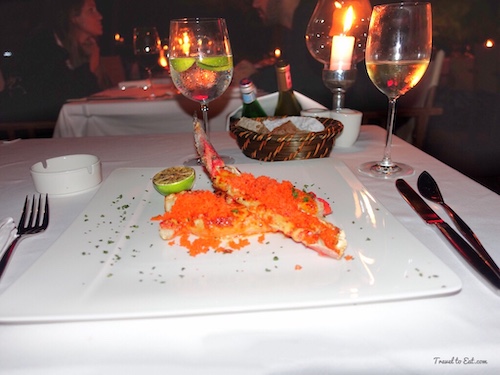 The food at Sunset is uniformly excellent and represents a mixture of international cuisine and Turkish dishes. If not ordering from the sushi or sashimi menu, other appetizers include foie gras on mandarin brioche, octopus carpaccio or salmon tartare. Lighter starters include wild mushroom risotto or mixed greens with herbs grown in the on-site garden. The main courses are a medley of land and sea with veal chops and grilled T-bone vying with grilled monkfish, lobster linguine, or baked King Crab. I chose the baked King Crab with mild spicy cream sauce and red tobiko, seen above. This was not only given a lovely presentation but was also really delicious, smothered in one of my favorites, Tobiko or "flying fish" roe. A traditional Turkish menu is also on hand for more Istanbul-authentic menu options like kebabs or lamb shank.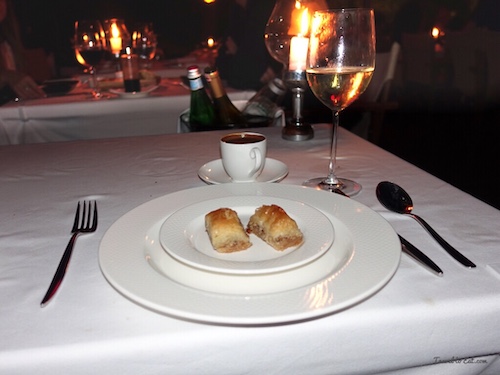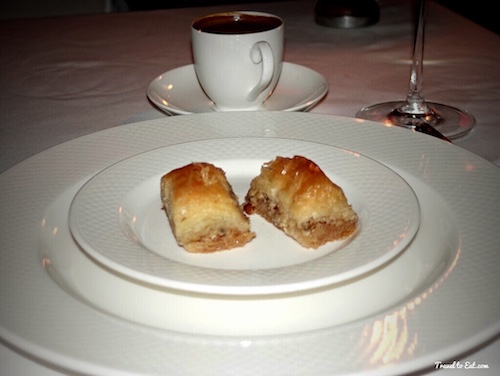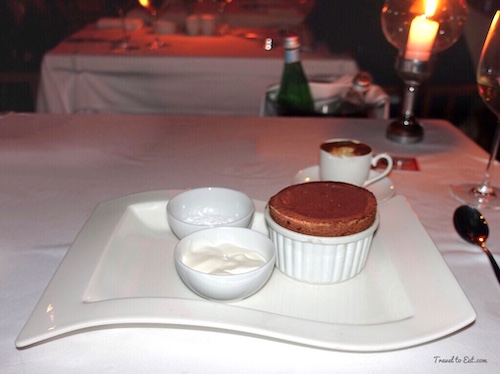 The evening I visited, the evening was balmy and magical, with the spectacular sunset, the comfortable embrace of the outdoor veranda of Sunset, and the twinkling lights of asian Istanbul. I really did not want to leave, so I decided to order not one, but two desserts, accompanied of course, by strong sweet Turkish coffee. When I am Turkey, I order baklava any and all times of the day or night. The sticky sweetness of honey kissed with roses and the soggy crunch of pistachios folded into leaves of phyllo is a great breakfast, snack with coffee or desert for dinner and nobody does it better than Turkish bakers. As I lingered on, the chocolate soufflé arrived, perfectly cooked and accompanied by whipped creme and powdered sugar.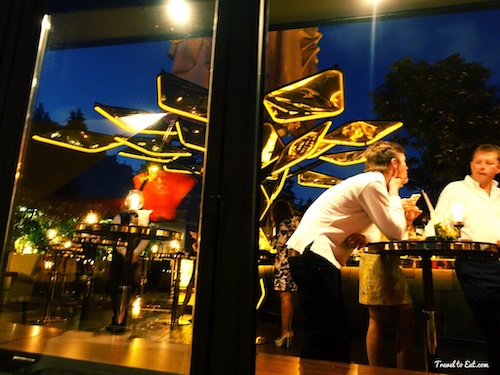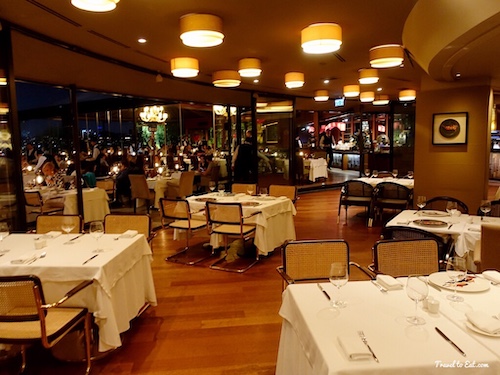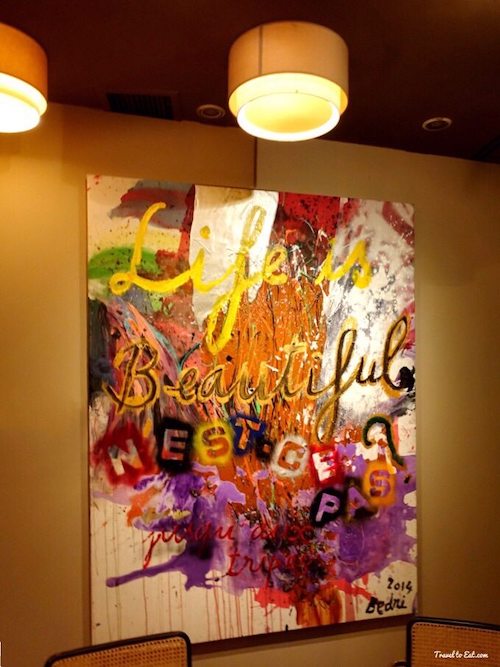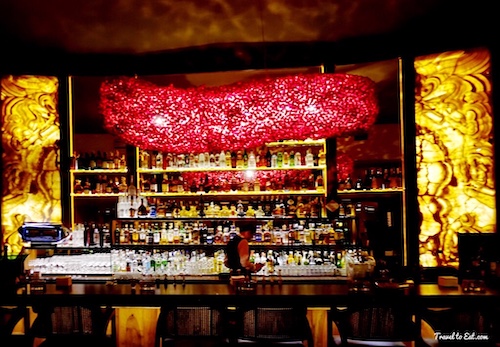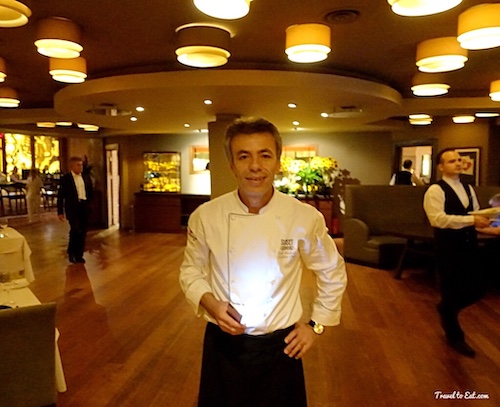 Executive chef Erol Arslan and chef Hiroki Takemura form a force that creates some of the best Turkish, Mediterranean, and Japanese dishes in Istanbul. Besides being a member of the Chaîne des Rôtisseurs since 1999, Sunset Grill and Bar is the recipient of several international and domestic awards. In 2002 and 2009, they were selected among the "Best Restaurants in Istanbul" by the Zagat Survey prepared for European cities. They were selected the best restaurant in Istanbul in 2004 by Time Out Istanbul. In 1999, Sunset Grill and Bar was invited to prepare specialties from Turkish Cuisine at the James Beard Foundation's "Oscars" recognized as one of the major foundations in the gastronomy world. Put simply, I think Sunset may be the best restaurant in Istanbul and was certainly the best Istanbul dining I have experienced. The restaurant is not inexpensive but it is fairly priced with comparison to Michelin starred restaurants, most of which do not have the ambiance of Sunset. Really good food, meticulous and polite service combined with a killer location makes Sunset Grill and Bar a "must visit" on any visit to Istanbul.
References:
Sunset Bar and Grill: http://www.sunsetgrillbar.com/en
CNN Best Istanbul: http://travel.cnn.com/best-restaurants-istanbul-526756
Arabian Nights: http://www.amazon.com/The-Arabian-Nights-Thousand-Classics/dp/0812972147
SARAfIN: http://www.snooth.com/winery/sarafin-istanbul/
SARAfIN Chardonnay: http://www.dolucawines.com/products/our-wines-detail/28/sarafin-chardonnay-2013
Turkish Wines: http://www.jancisrobinson.com/articles/modern-turkish-tasting-notes
Yuzu Soy Sauce: http://www.yummly.com/recipes/yuzu-soy-sauce
Istanbul Bonita: http://www.deliciousistanbul.com/blog/2012/10/22/istanbul-bonito-fever-and-5-tips-for-perfect-roasted-fish/
Japanese Bonito Flakes: http://www.catmandoo.biz/products/dried-bonito-flakes/
TripAdvisor: http://www.tripadvisor.com/ShowUserReviews-g293974-d805955-r136377334-Sunset_Grill_Bar-Istanbul.html