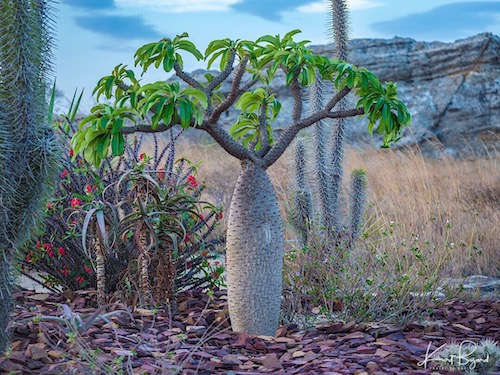 The garden at Relais de la Reine is concentrated on succulents and cactus and is one of the more remarkable collections I have seen. They have a collection of the Malagasy succulents Didierea and Alluauda from the famous "Spiny Forest", a beautiful collection of indigenous Aloe and Kalanchoe, a collection of rare and unusual euphorbia from the Americas and Africa and an equally amazing collection of unusual cactus with the very rare Brasiliopuntia cactus. You will be forgiven if all these names just went over your head, this post will focus on pictures of these unusual plants with a minimal description. Even if you don't know their names, these plants are something you will not want to miss. The Spiny Forest in the south of Madagascar is a world of spiky octopus trees and swollen baobabs, and almost all its species exist only in Madagascar.

Didierea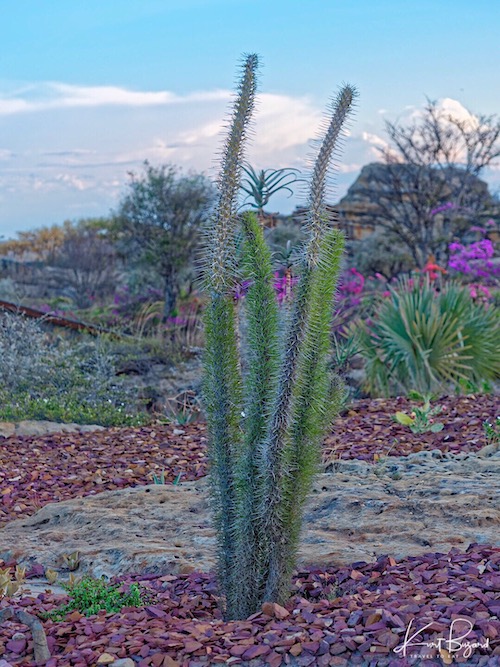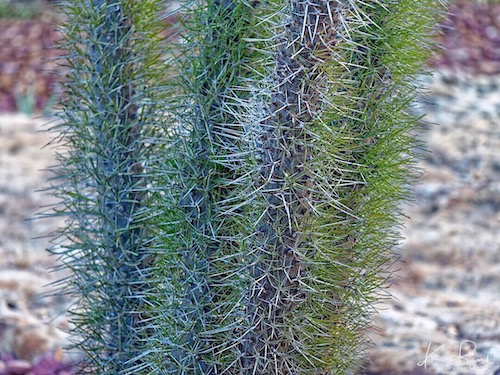 Didierea madagascariensis, commonly known as the octopus tree, is a species of Didiereaceae endemic to the spiny thickets of southern Madagascar. It was first described scientifically by the French botanist Henri Ernest Baillon in 1880. The type species of the genus Didierea, it is a densely spiny succulent and can grow up to 33 feet (10 m) tall. As you can see above, the plant has long white thorns with thin grass-like leaves emanating above the thorns. This plant is an example of "convergent evolution", which we have discussed before. New World cacti, African Euphorbias and the Madagascar Didierea madagascariensis appear similar in appearance, being succulent, spiny, water-storing, and adapted to desert conditions. However, they are classified in separate and distinct families, sharing characteristics that have evolved independently in response to similar environmental challenges, and hence this is a typical case of convergent evolution.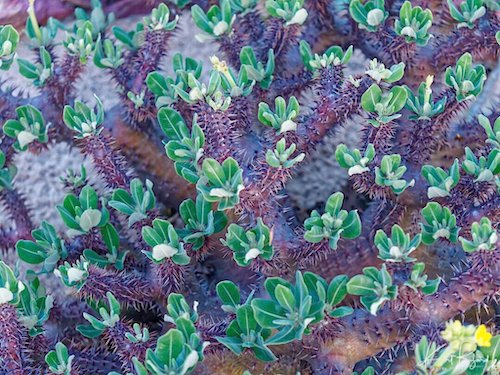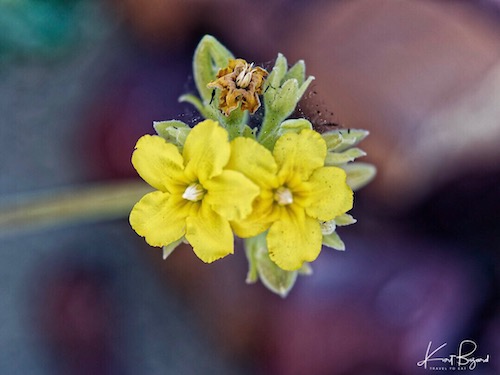 As you can see, this is the Octopus plant instead of tree. Didierea is a genus of succulent flowering plants in the family Didiereaceae. It is dedicated to naturalist Alfred Grandidier (1836–1921). The two known species are endemic to Madagascar, where they are found in the spiny forest–thicket ecosystem. They are listed in CITES appendix II, which means that their trade is restricted to protect natural populations. The Octopus Plant grows prostrate for many years before growing erect to 10 feet (3m) high. The spiny, succulent stems initially grow along the ground (hence the name octopus plant), bearing small deciduous green leaves when in active growth. The yellow flowers are distinctive. These two Didierea are very rare plants, something I may never see again, especially in bloom.
Alluaudia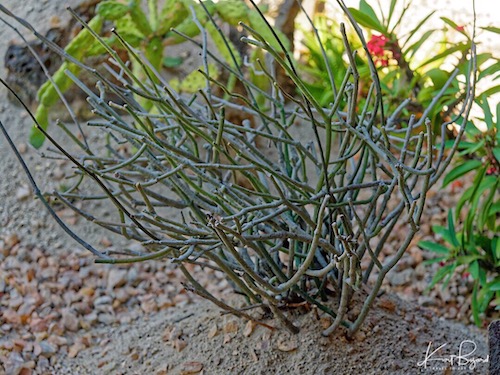 Alluaudia dumosa is a succulent shrub or small tree native to southwest Madagascar. It has grey-green thick succulent stems which have no adherent leaves and very few spines. It is a very slow grower. Alluaudia is a genus of flowering plants in the family Didiereaceae. There are six species, all endemic to Madagascar. The tree is harvested from the wild for local use as a medicine and source of wood. A decoction of the stems is used to treat toothache and is also used as a mouth disinfectant. Several flavonoids have been isolated from the plant – these may be responsible for the claimed antimicrobial activity.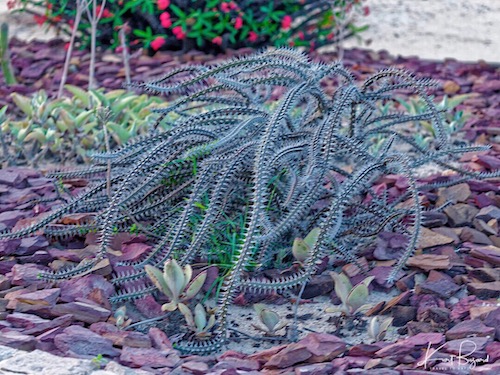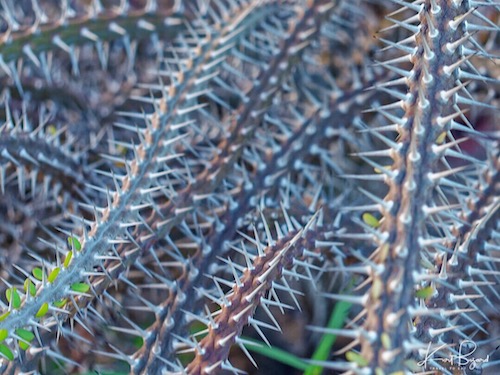 Alluaudia procera is a spiny and scarcely branched or occasionally columnar, small succulent tree up to 50 feet (15 m) tall, with paired, up to 2 inches (5 cm) long, oval or rounded, succulent leaves (often leafless in high heat) and grey spines up to 0.4 inch (1 cm) long, that sprout up along the mostly unbranched upright, stout stems. The stem is gray-green to bone white in color and up to 6 inches (15 cm) in diameter at the base. The flowers are yellowish or whitish-green in crowded clusters at the end of the branches.
Pachypodium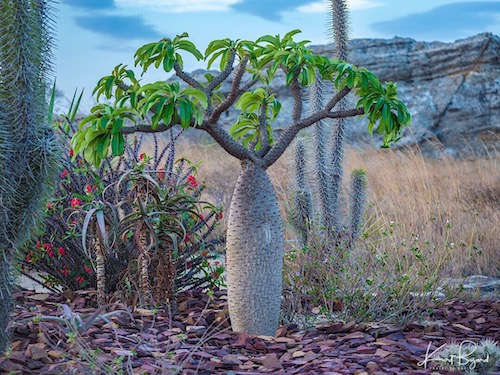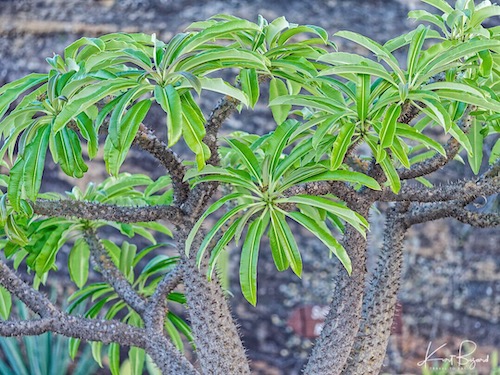 Pachypodium lamerei is a species of flowering plant in the dogbane family Apocynaceae. It is a stem succulent, photosynthesizing mainly through its trunk, and comes from the island of Madagascar, off the east coast of Africa. It has large thorns and leaves mostly just at the top of the plant, and large, fragrant flowers. The species has become one of the best known pachypodiums in cultivation, being relatively easy to propagate and grow. In cultivation it is often marketed as the Madagascar palm, despite its not being a palm at all. Pachypodium lamerei has a tall, silvery-gray trunk covered with sharp 6.25 cm spines. Long, narrow leaves grow only at the top of the trunk, like a palm tree. It rarely branches. Plants grown outdoors will reach up to 20 feet (6 m).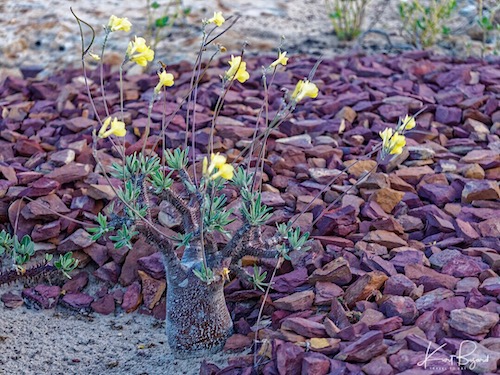 Pachypodium rosulatum, native to Madagascar, is a shrubby perennial succulent with a bottle-shaped trunk, brownish silver and almost spineless, about 3.9–5.9 in (10–15 cm) wide and about 7.9–13.8 inches (20–35 cm) tall. From the caudex depart many thorny cylindrical arms, forming a shrub about 5 feet (1.5 m) tall. The leaves, which fall in the dry season, form a rosette on the top of branches. They are deciduous, dark green, ovate or elliptical and petiolated. The long-stalked flowers are sulfur-yellow and form a flower on the stalk about 1–2 feet (30–60 cm) high. Pachypodium rosulatum was the first of the Malagasy species to be described. It is widely distributed on the central plateau.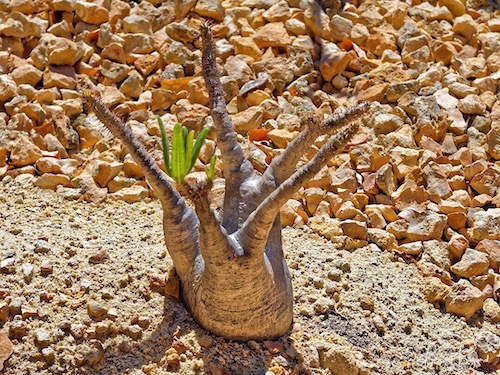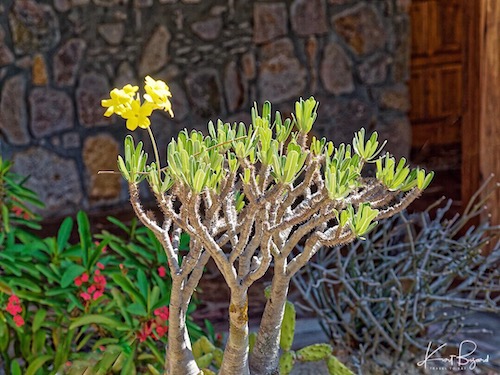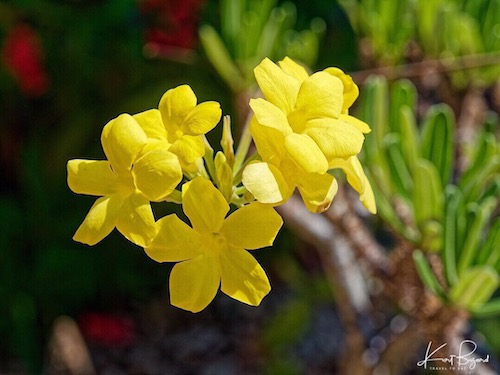 Pachypodium rosulatum var gracilius is a beautiful plant with bright yellow flowers actually originating in the Isalo mountains in Madagascar. It is smaller growing than Pachypodium rosulatum and has fewer, thinner leaves, slimmer branches and a shorter corolla tube. The base has a gnarly ovoid shape that looks vaguely alien. It grows up to 3 feet (90 cm) tall. It grows on sandstone escarpments, cliffs and rocks with some humus along with other vegetation.
Aloe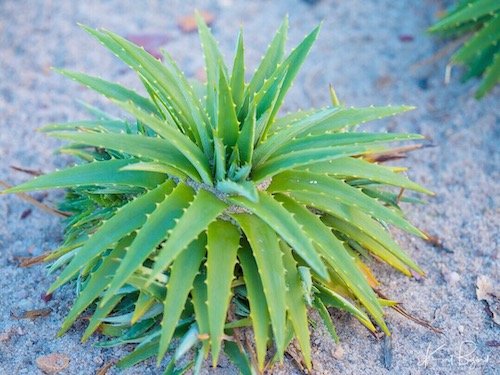 Over 450 species of Aloe have been described with diverse forms and sizes. The genus includes small grass-like herbs and stemless succulent rosettes a few inches tall to larger species with stout 60ft trunks, occupying the ecological niche of trees. Aloes are distributed across sub-Saharan Africa, Madagascar, and Arabia. Aloes feature in prehistoric rock art by bushmen, and have been cultivated for thousands of years. Madagascar has about 117 endemic species, many recently described. Furthermore, there are 7 species in small islands of the southern part of the West Indian Ocean. became so widely grown as a medicinal plant in ancient times that its exact region of origin is a mystery. However, it's origin was probably within the Arabian peninsula.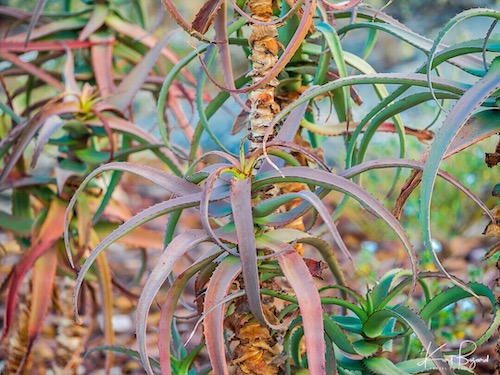 Aloe helena is a tree aloe, endemic to southern Madagascar, where two or three subpopulations are known to occur in the Fort Dauphin region. This plant is well-known as an ornamental and can be seen growing in private and botanic gardens outside of Madagascar. The leaves of the plant are used locally on a small scale for medicinal purposes. Aloe helenae from southeastern Madagascar is currently listed as Critically Endangered on the IUCN Red Data List.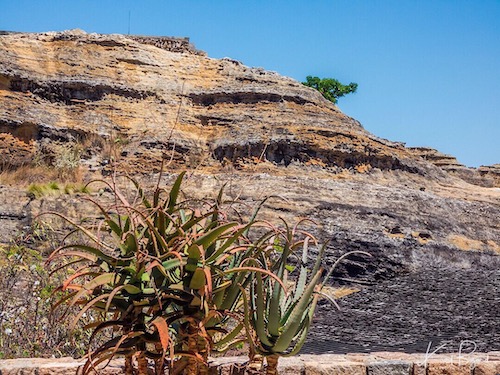 One of the showiest of the tall Aloes, Aloe vaombe (Malagasy Tree Aloe) is a large evergreen succulent perennial forming a beautiful solitary rosette of curved, long, shiny, dark rich green leaves. The fleshy leaves are adorned with white teeth and turn vibrant deep red in winter or with bright exposure. It can grow up to 8–12 ft. tall (240–360 cm) and 4–5 ft. wide (120–150 cm).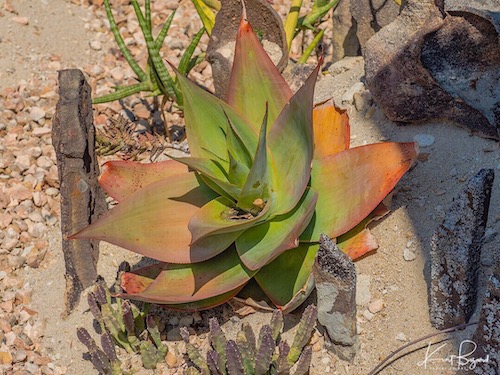 This is a fairly rare aloe often found in Isalo Park. Aloe imalotensis is native to southern central and southeastern Madagascar, where it grows on rocky ground around 2000 ft (600 m). As you can see, it tuns a lovely rusty red color when exposed to high heat and light. They grow slowly, so this one must be pretty old.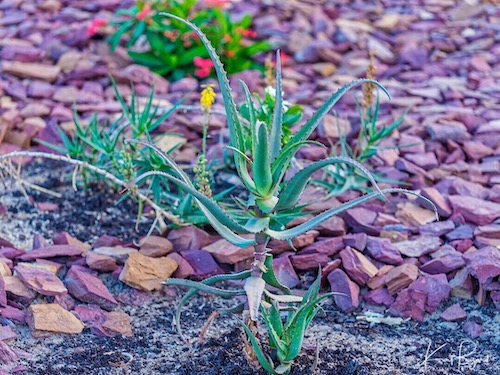 Aloe volkensii forms a tall, stiffly-erect stem, up to 13 feet (4 m) tall. It occasionally develops an offset or two from its base. The long (2 feet or 60 cm), slender, grey-green leaves are recurved, like a chandelier. The leaves bear brown-tipped teeth on their margins. This species occurs from southern Kenya, across almost all of Tanzania, and as far west as Rwanda and Uganda. It grows in dry bushveld, usually on rocky slopes.
Small Succulents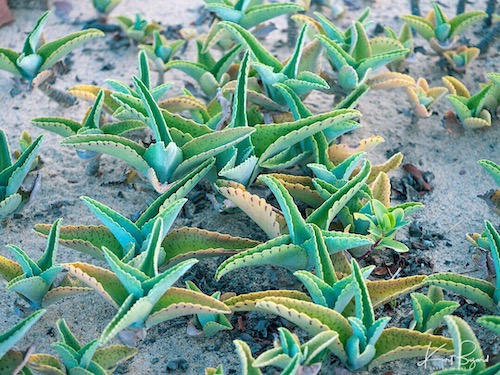 Bryophyllum daigremontianum, commonly called devil's backbone, mother of thousands, alligator plant, or Mexican hat plant is a succulent plant native to Madagascar. Like other members of its genus Bryophyllum, it is able to propagate vegetatively from plantlets that develop on its leaf margins. All parts of the plant contain a very toxic steroid known as daigremontianin. Plants of the genus Bryophyllum have sometimes been included in the genus Kalanchoe, where this species is known as Kalanchoe daigremontiana.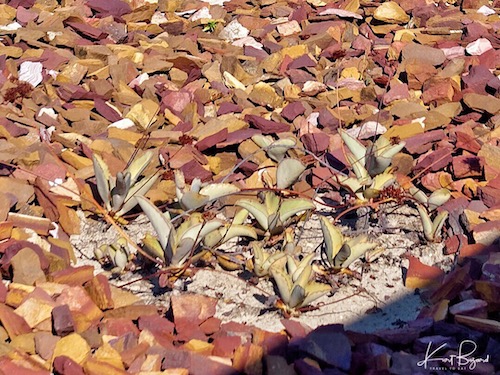 Kalanchoe synsepala is a very attractive succulent plant, native to Madagascar, up to 20 inches (50 cm) tall. The large fleshy leaves have a red scalloped margin. Flowers are tubular, very pale pink to reddish, small in dense terminal cymes. It produces baby plants at the ends of long stems, which eventually and bend down to the ground and take root, giving rise to its common name of Walking Kalanchoe.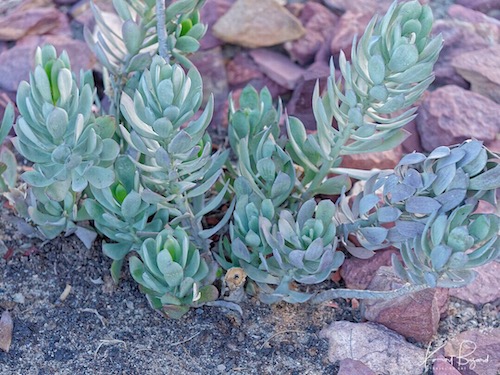 Senecio decaryi (Madagascar Senecio), a native of Madagascar, is an upright growing shrubby succulent to 3 to 5 feet tall with fleshy roots and branching ornately marked stems bearing oblanceolate 4 inch long blue-green leaves that have crimson colored venation and margins when first emerging and a 2 foot branching inflorescence of bright yellow ray and disk flowers that, atypical to many in the genus, have a light but sweet aroma. Senecio decaryi was mistakenly introduced into the trade under the name Senecio amaniensis and is occasionally still seen listed as such but these two plants are quite dissimilar and really cannot be mistaken for each other.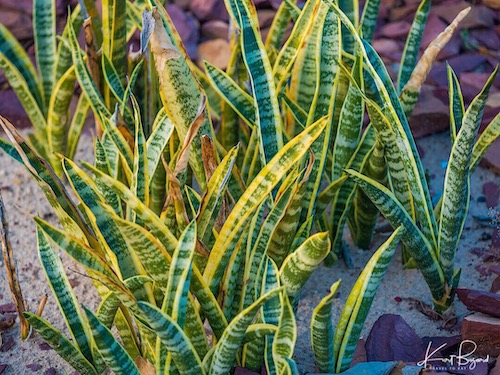 Sansevieria is a genus of about 70 species of flowering succulents, native to Africa, Madagascar and southern Asia. It is often included in the genus Dracaena. In the APG III classification system, both genera are placed in the family Asparagaceae. Sansevieria trifasciata is native to tropical West Africa from Nigeria east to the Congo. It is most commonly known as the snake plant, mother-in-law's tongue, and viper's bowstring hemp, among other names. Like some other members of its genus, S. trifasciata yields bowstring hemp, a strong plant fiber once used to make bowstrings.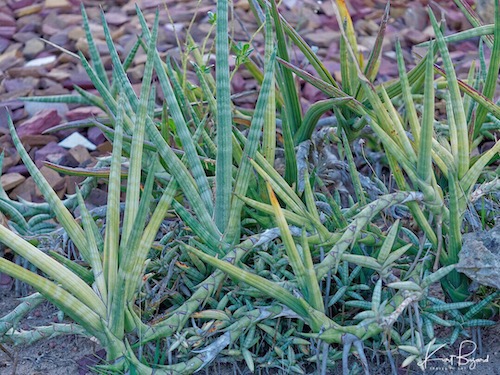 Sansevieria cylindrica, also known as the cylindrical snake plant, African spear or spear sansevieria, is a succulent plant native to Angola. Sansevieria cylindrica has striped, elongate, smooth, greenish-gray subcylindrical leaves. They are up to 1 inch (3 cm) diameter and grow up to 7 feet (2 m) above soil. It grows in a fan-shape, with its stiff leaves growing from a basal rosette. These are popular houseplants.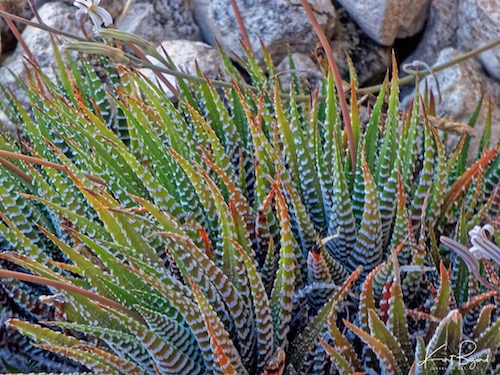 Haworthiopsis attenuata, formerly Haworthia attenuata, the zebra haworthia, is a small species of succulent plant from the Eastern Cape Province, South Africa. As an ornamental, it is one of the most commonly cultivated of the Haworthiopsis species.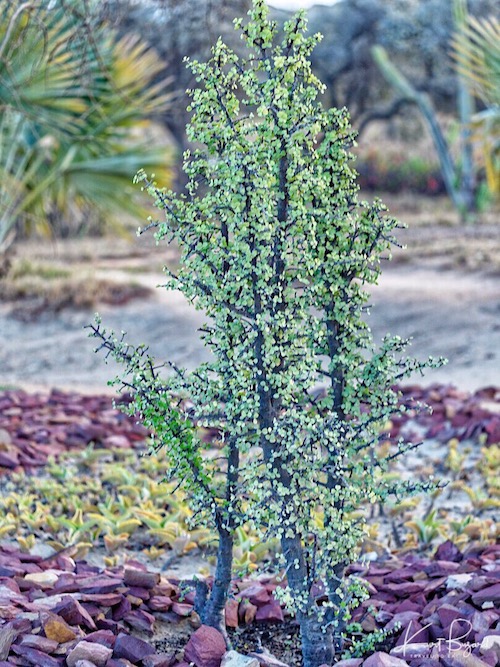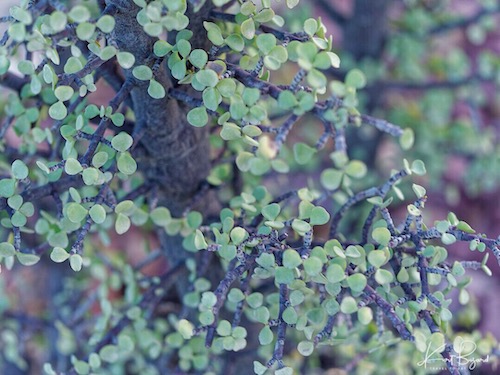 Portulacaria afra, known as elephant bush, dwarf jade plant, porkbush and spekboom in Afrikaans is a small-leaved succulent plant endemic to South Africa. It looks a little like the Jade Plant (Crassula ovata), also a succulent.
Euphorbia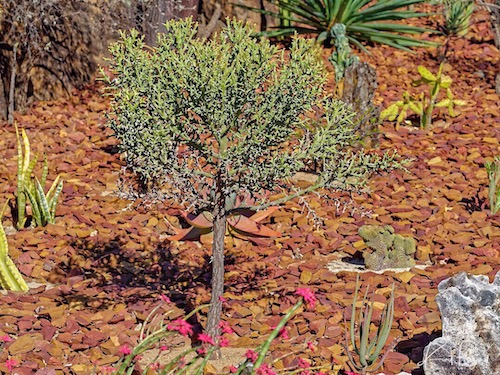 Euphorbia stenoclada is a succulent native to Madagascar and the Mozambique Channel Islands (Europa Island). Its natural habitats are subtropical or tropical dry forests, subtropical or tropical dry shrubland, and rocky areas. It is threatened by habitat loss. It is an upright many-branched large leafless succulent shrub or small tree usually seen around 6 feet tall but capable of growing to 12 feet tall or more by 4 to 6 feet wide. It has new growth that is fairly pliable but hardening into rigid flattened green stems with spines at the tips. With age it can develop into a gnarled trunk small tree with a rounded head of spiny growth as seen above. This plant is also found in a silver-gray version.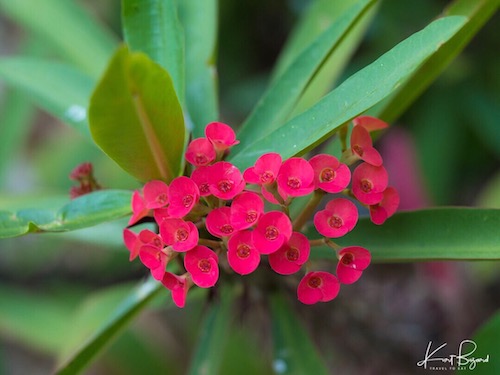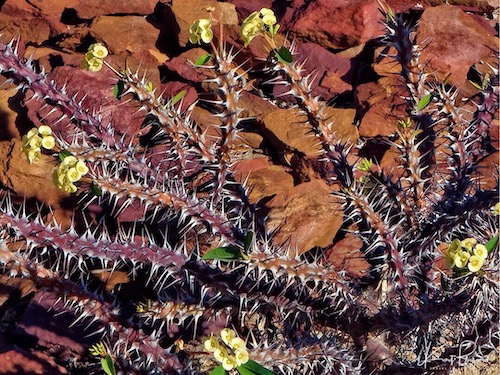 Euphorbia milii is a variable species, and several varieties have been described; some of these are treated as distinct species by some authors. While the flowers of Euphorbia milii are bright red, or yellow in Euphorbia milii var. lutea, hybrids offer a variety of flower colors from white, cream and yellow, through many shades of pink and red. And some hybrids come in double forms. The flowers are generally produced in clusters (cymes) along the stem (axillary), but some selections bloom in terminal clusters. The California hybrids, developed for their stout stems and larger flowers are often referred to as the "giant crown of thorns" series.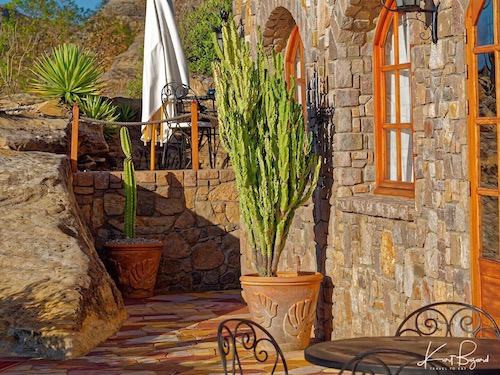 Euphorbia trigona (also known as African milk tree, cathedral cactus, Abyssinian euphorbia, and high chaparall is a perennial plant that originally comes from Central Africa. It has an upright stem and number of branches that also grow upward. The stem and branches can have two or three sides. The stem itself is dark green with V-shaped light green patterns. The about 5mm long thorns are placed in pairs of two on the stem's ridges. The drop shaped leaves grow from between the two thorns on each ridge. The plant has never been known to flower, and is possibly a hybrid.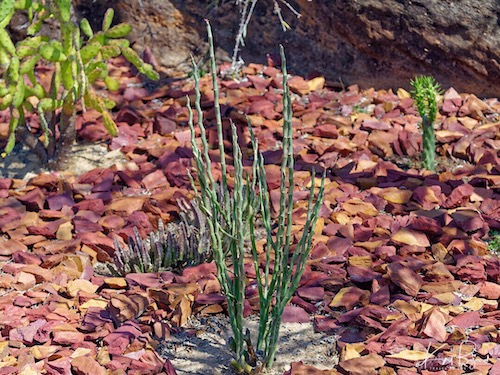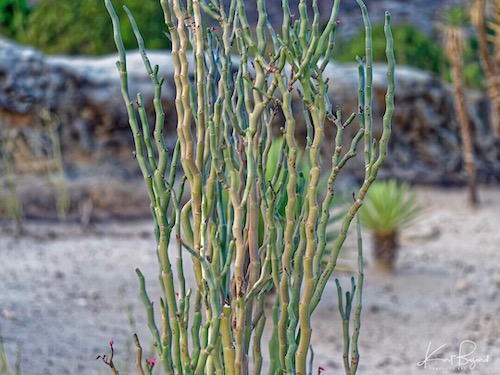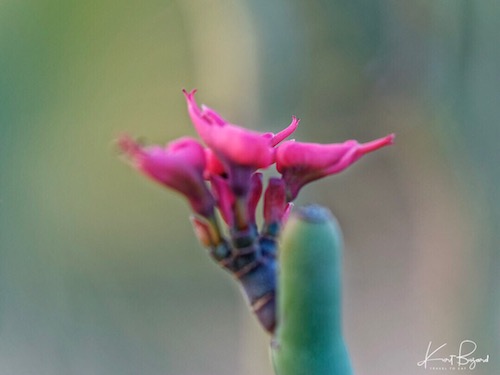 Pedilanthus is a genus of around 15 species of shrubby succulent plants related to Euphorbia, from the Americas including Mexico and the West Indies. Flowers have characteristic shoe-shaped bracts, often red or orange and pollination is often by humming birds. Steinman (2003) reduced Pedilanthus to a synonym of Euphorbia, based on analyisis of DNA sequence data. It is a densely clumping shrub with many 1 to 4 feet tall leafless slender pubescent gray-green stems topped in late spring through summer with a terminal inflorescence of small thick dull red bract-like structures, called cyathia, surrounding the other floral parts that is best described as "strange red flowers like a bird's beak".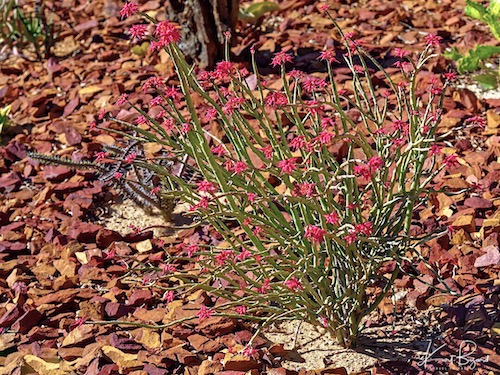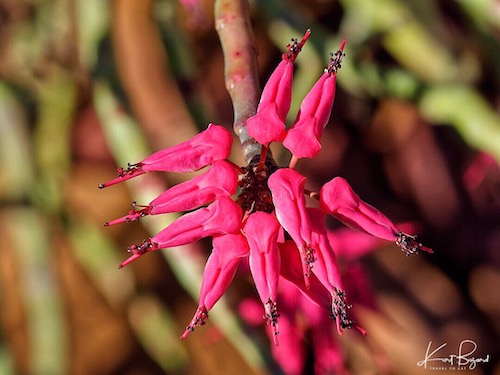 Tucked away in another corner of the garden was the full sized version, Pedilanthus macrocarpus. Now you can clearly see the beautiful slipper shaped blossoms. Pedilanthus is a clade within the very large genus Euphorbia (Euphorbiaceae). It is distinctive not only because of its flowers, which in various species resemble everything from shoes to ducks, but also because of the great range of life forms and habitats that the 15 or so species occupy. Most, such as the relatively well-known "Devil's backbone" Pedilanthus tithymaloides, are small leafy shrubs that grow in tropical dry forests of Mexico and the Caribbean. Other species, such as Pedilanthus calcaratus , may become small woody trees of tropical dry forests. Species such as Pedilanthus cymbiferus and Pedilanthus macrocarpus are leafless or nearly-leafless stem succulents with water storage tissue in the pith and bark.
Cactus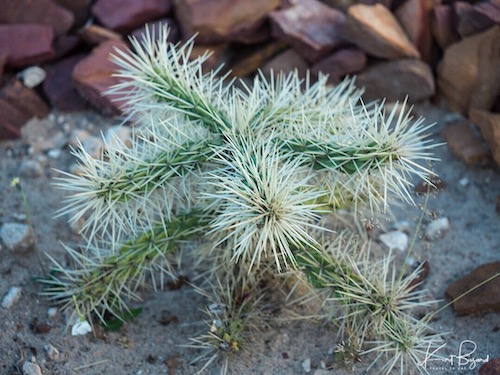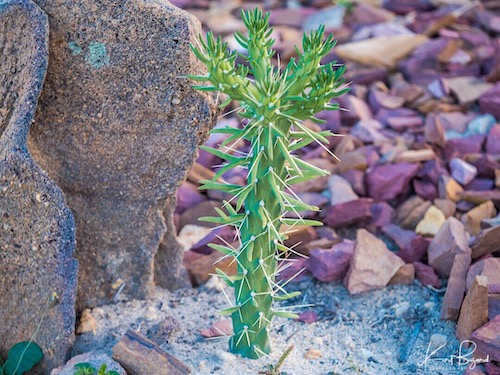 We are going to get into cactus slowly, beginning with these two cactus. Many people think all cactus look the same but you can easily tell the difference between the top Teddy Bear Cholla from the Southwest Americas and the bottom Eve's Needle Cactus from Peru. Cylindropuntia bigelovii has a soft appearance due to its solid mass of very formidable spines that completely cover the stems, leading to its sardonic nickname of "teddy bear" or "jumping teddy bear". Austrocylindropuntia subulata is a species of cactus native to the Peruvian Andes. The name subulata comes from the Latin subulate, for awl-like, referring to the shape of the rudimentary leaves. Both of these plants are in pristine and beautiful condition.
Peruvian Apple Cactus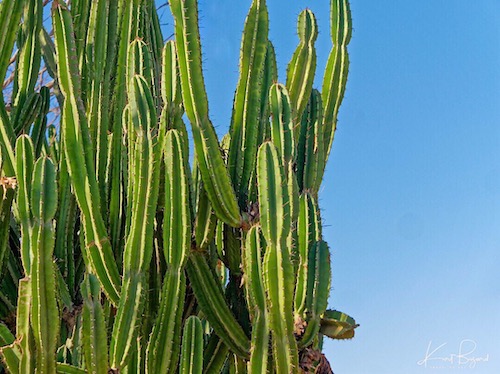 Yet another common cactus from Peru is Cereus repandus (synonym Cereus peruvianus), the Peruvian apple cactus. It is a large, erect, thorny columnar cactus found in South America as well as the nearby ABC Islands of the Dutch Caribbean. It is also known as giant club cactus and hedge cactus. In Madagascar you will see quite a number of these used as a fence or hedge. They produce a red fruit that tastes and looks like dragonfruit.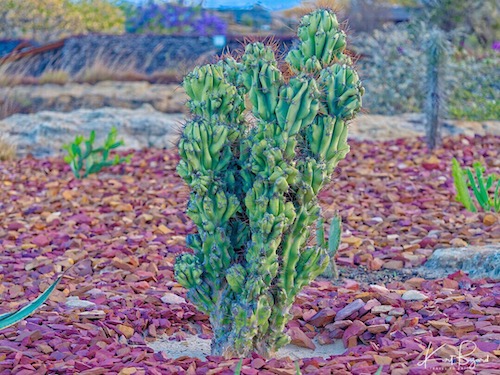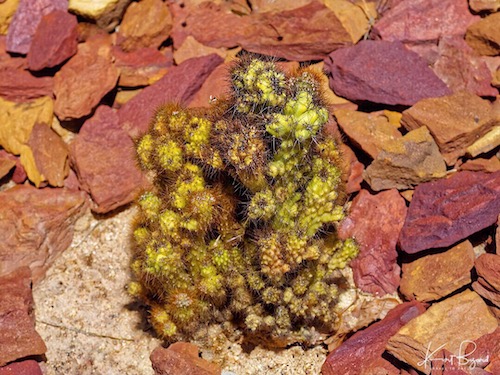 This is where cactus collectors and naturalists get excited. All living things are created with a blueprint based on DNA. Organisms are pumped out in succession like coins at a mint. Occasionally a mistake or genetic error occurs which does not kill the plant. This seems to be more common in succulents. Just like a coin with a minting error, these plants are rare and valued by collectors. In cactus there are two basic forms of genetic error, the monster or monstrous and the crested variety, sometimes combined. Above we see the two known genetic malformations of the Peruvian Apple Cactus, the top is the monstrous form and the bottom is the dwarf or perhaps crested form. You can see they sort of look like the original but different. These specimens are large and relatively rare, I have never seen both in a single collection. A nice little surprise if you know what you are looking at. If you want to learn more about this subject, I have included a link in the references.
Opuntia Cactus
Opuntia is the most widespread of all genera in the cactus family. Opuntia, commonly called prickly pear, is a genus in the cactus family, Cactaceae. Prickly pears are also known as tuna (fruit), sabra, nopal (paddle, plural nopales) from the Nahuatl word nōpalli for the pads, or nostle, from the Nahuatl word nōchtli for the fruit; or paddle cactus. The genus is named for the Ancient Greek city of Opus, where, according to Theophrastus, an edible plant grew and could be propagated by rooting its leaves. The most common culinary species is the Indian fig opuntia (Optunia ficus-indica). Opuntia are easily recognized by their flat paddle-shaped stem segments called cladodes that grow one on top of the other. The edge and flat surfaces of these cladodes are covered with areoles that always have tiny, easily detached spines called glochids. Many Opuntia species have large, formidable spines in addition to the glochids, but some are armed only with masses of glochids.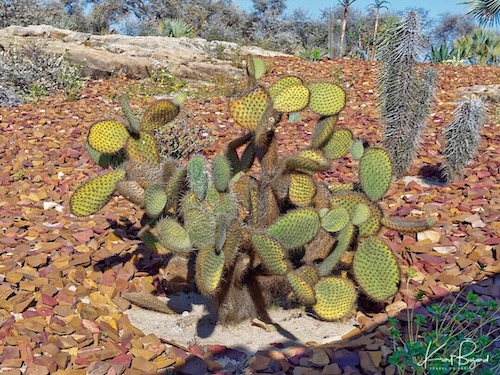 Opuntia galapageia is endemic to the Galápagos Islands, part of Ecuador. There are three varieties: Opuntia galapageia var. galapageia on Bartolome, Santiago and Pinta, Opuntia galapageia var. macrocarpa on Pinzon and Opuntia galapageia var. profusa on Rabida. Note the profusion of white spines on the younger paddles and the yellow-brown spines especially at the edges of the older paddles. During his explorations of the Galapagos Islands, Darwin recorded Opuntia galapageia in a simple sketch of a tree-like cactus with a compact crown of pads. While most Opuntia galapageia do indeed have well-developed trunks and rounded crowns, some are more low-growing and shrubby in appearance. Of the 200 species of prickly pear that grow across the Americas, only six grow in the Galapagos Islands. This is a pretty exciting cactus to see in Madagascar.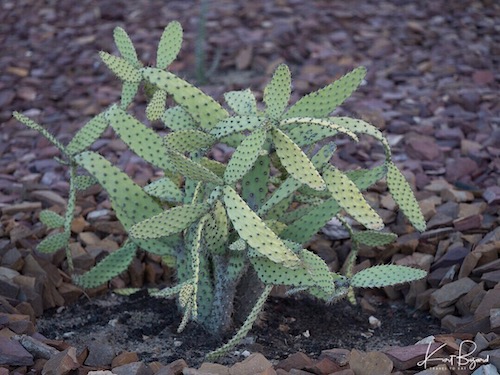 Opuntia schickendantzii is endemic to Argentina and Bolivia and represents an unusual situation. In the wild it is relatively rare but it was introduced to Australia in the 19th century along with other Opuntia and has become naturalized and branded as a noxious pest. Opuntia were also introduced in Madagascar, ostensibly for cattle feed, but gradually died out. This is an erect shrub, 2–5 feet (0.7–1.8 m) high, with a well developed trunk. The paddles are relatively thin (5–8 mm through), narrowly linear-elliptic or oblong, 7–15 inches (20–35 cm) long. It looks a little like Opuntia linguiformis but much smaller. Also, the wild form looks different in terms areoles and spines.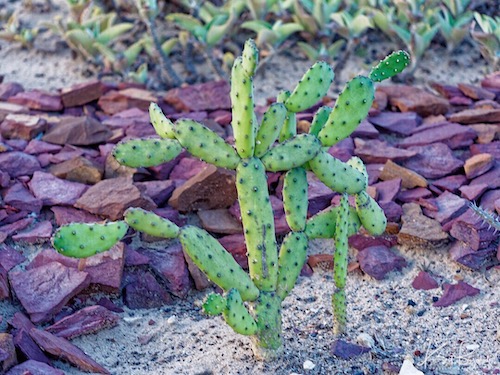 Consolea rubescens is a nearly spineless cactus that eventually becomes a tree up to 20 foot (6 m) tall tree, with a trunk up to 6 inches (15 cm) thick. Its flattened bumpy paddles give it the name "Road Kill Cactus" for obvious reasons. It even looks like it has tire tracks across it. The smallish flowers are orange and appear in spring. This one seems a little plumper than others that I have seen.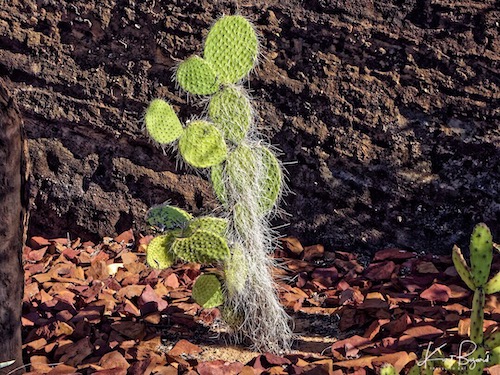 Also classed as a longer-spined variety of opuntia polyacantha, opuntia erinacea, the Mojave or grizzlybear prickly pear, is widespread in distribution and somewhat changeable in appearance; the main characteristic is the dense spines, which are white or pale yellow in color, reddish at the base, and between 1 and 7 inches in length (on the same plant); this variation gives the plant a shaggy, unkempt appearance. The shorter spines are quite thick, and some point downwards, while the longer ones (more noticeable on older pads) are thin, almost hair-like. The cactus forms low, medium-sized clumps, generally no more than 2 feet high but up to 10 feet across. The species is quite frost tolerant and is found in locations up to 7,000 feet elevation, such as the South Rim of the Grand Canyon.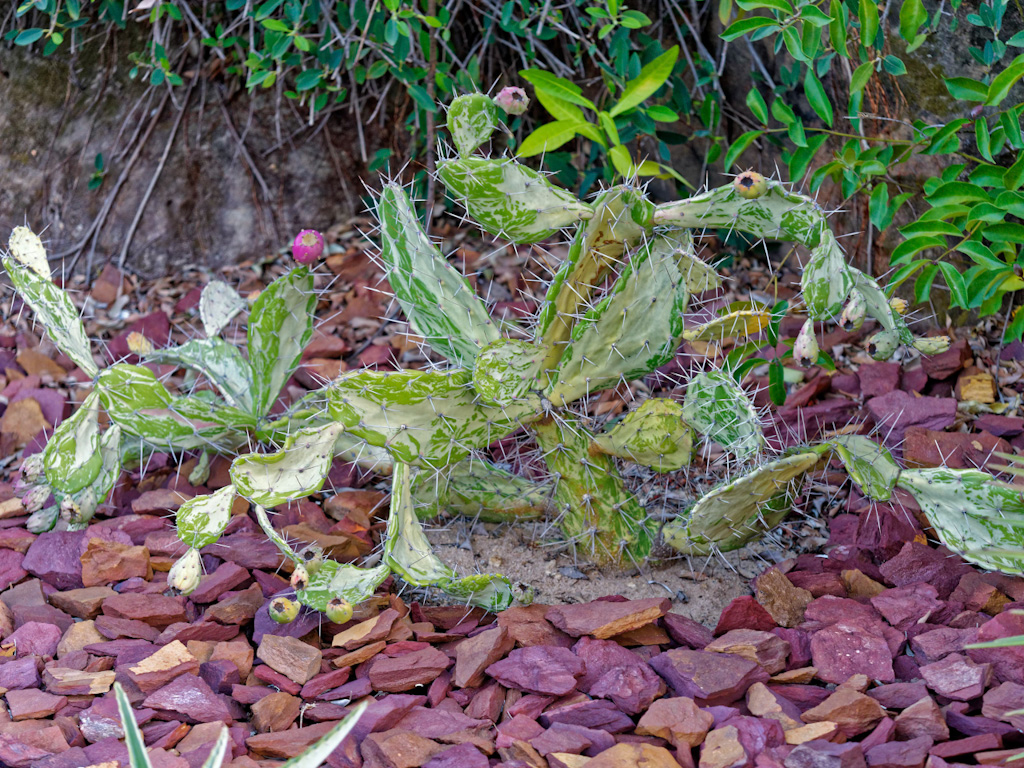 Opuntia monacantha f. monstruosa variegata commonly known as "Joseph's Coat" is one of the very few naturally occurring white-variegated cacti. It is a dwarf, teratological variant of the larger Prickly Pear cactus Opuntia monacantha. As its name suggests, this cactus is variegated or marbled with white, creamy-white, yellow, green and sometimes also with pink in varying patterns.
It is an odd shrubby or tree-like plant that forms wonderfully tortured shapes usually less than 1.5 feet (50 cm) tall, but occasionally up to 3 feet (1 m) tall. To many it looks stretched or pale and drawn out due to lack of light (etiolated), but it is actually a monstrous form.
Brasiliopuntia Cactus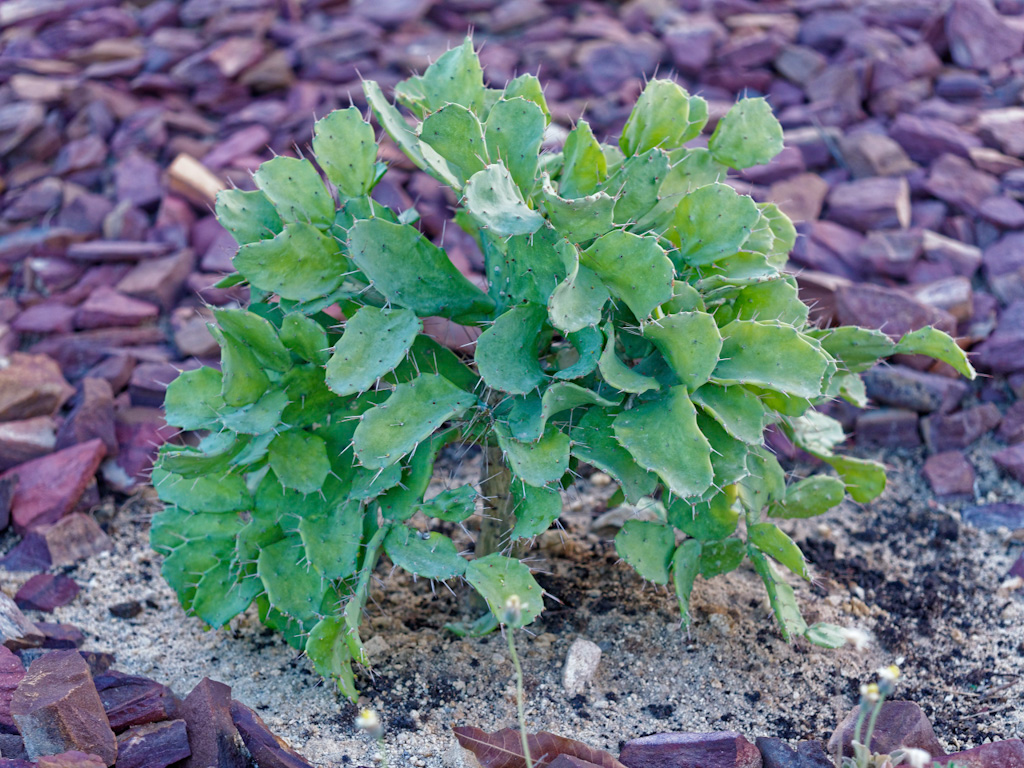 Brasiliopuntia is a genus in the cactus family, Cactaceae. It contains only one species, Brasiliopuntia brasiliensis. It is found in Brazil, Paraguay, eastern Bolivia, Peru and northern Argentina, and has become naturalized in Florida among other places. Brasiliopuntia brasiliensis was placed in the genus Opuntia when the very broad genus Cactus was dismembered. The distinctive features of the species were recognized by Karl Schumann in 1898 when he created a subgenus Brasiliopuntia within the genus Opuntia. In 1926 Alwin Berger completed the separation from Opuntia by raising Brasiliopuntia to a full genus. A number of species have been described in the past, but are now considered only to be variants of B. brasiliensis. This one is really rare, I have never even heard of it before.
Echinopsis Cactus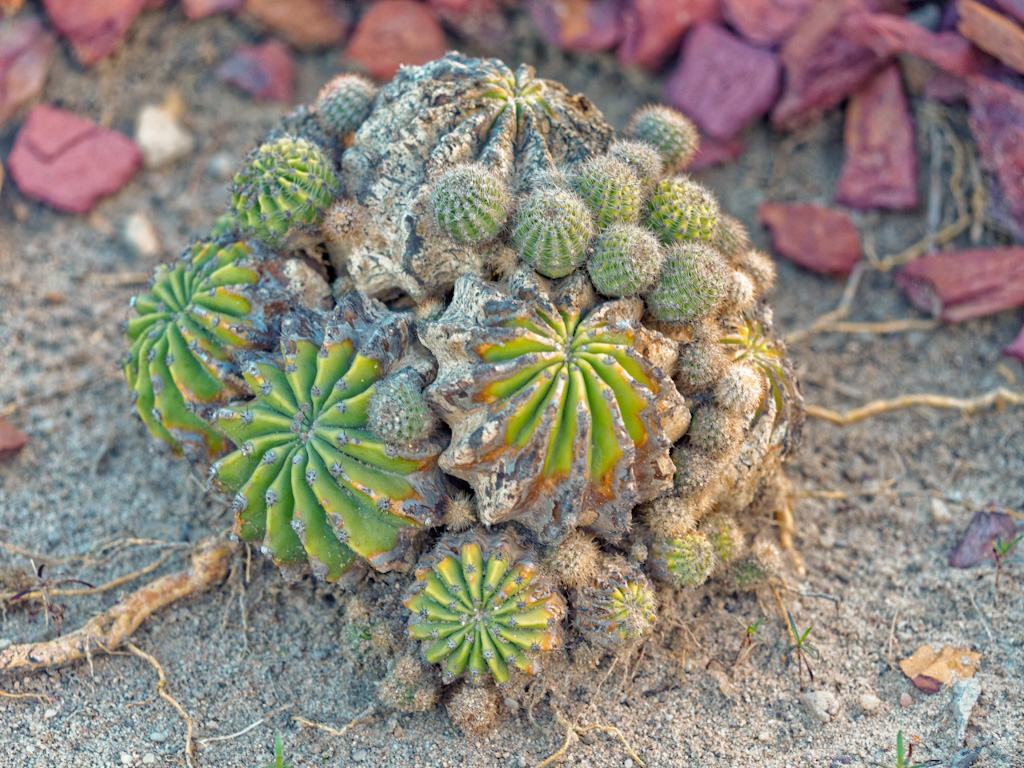 Echinopsis is a large genus of cacti native to South America, sometimes known as hedgehog cactus, sea-urchin cactus or Easter lily cactus. The 128 species range from large and treelike types to small globose cacti. The name derives from echinos hedgehog or sea urchin, and opsis appearance, a reference to these plants' dense coverings of spines.
Continental Drift and Convergent Evolution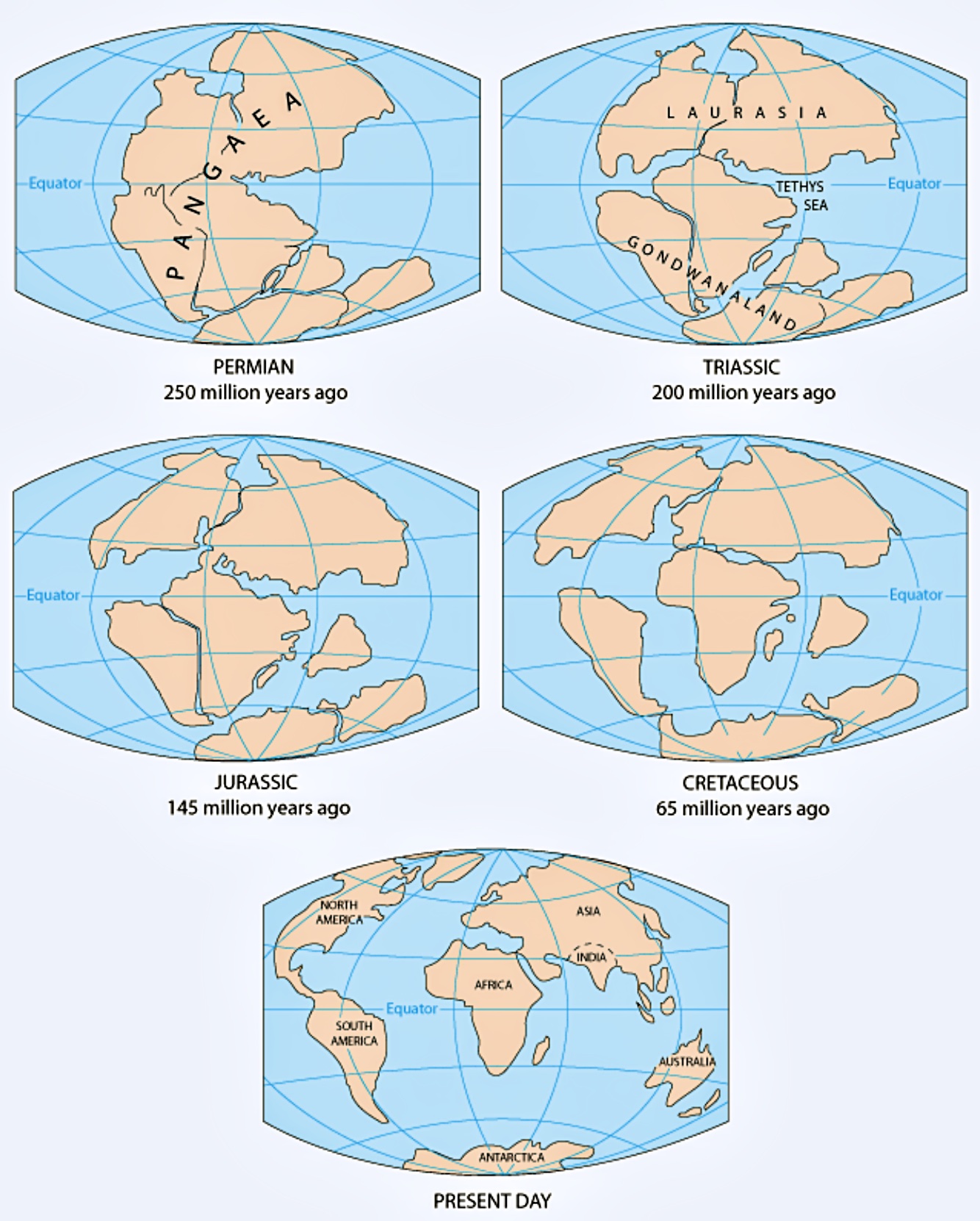 I know this has been a long post, even for me, but this garden beautifully illustrates the convergent evolution of American Cactus and African Euphorbia. The North American Cactus and African Euphorbia species originated from two different, but similar plants. However, their evolutionary paths began to change with the separation of the early supercontinents, Pangaea and Gondwana (and the separation of Madagascar from Africa). As variations in the climate caused the development of harsh, arid, desert environments, both plant families experienced convergent evolution in order to adapt and survive. Cacti and Euphorbias (and the Malagasy succulents Didierea and Alluauda) both converged on similar forms and metabolisms after prolonged exposure to corresponding environments, due to the fact that similar biomes can require the same adaptations. With rare specimens from all over the globe, this garden chronicles millions of years of evolutionary history.
References:
Cactiguide Echinopsis subdenudata
Cristate and Monster Succulents
Australia declares Opuntia Pests