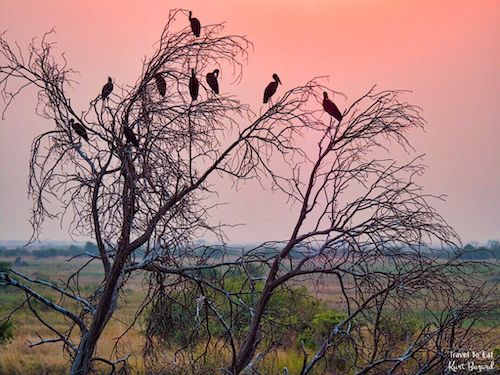 On my recent trip to Botswana, I had an opportunity to observe a variety of beautiful Storks. Storks are beloved in mythology and literature, associated with childbirth and one of my favorite birds with their long graceful form and often bright coloration. Storks are large, long-legged, long-necked wading birds with long stout bills. They belong to the family called Ciconiidae, and make up the order Ciconiiformes. Ciconiiformes previously included a number of other families, such as herons and ibises, but those families have been moved to other orders. German folklore held that storks found babies in caves or marshes and brought them to households in a basket held in their beaks. The babies would be dropped down the chimney of a hopeful mother. Households would notify when they wanted children by placing sweets for the stork on the window sill. The Modern English word can be traced back to Proto-Germanic *sturkaz. Nearly every Germanic language has a descendant of this proto-language word to indicate the (white) stork.
Yellow-Billed Stork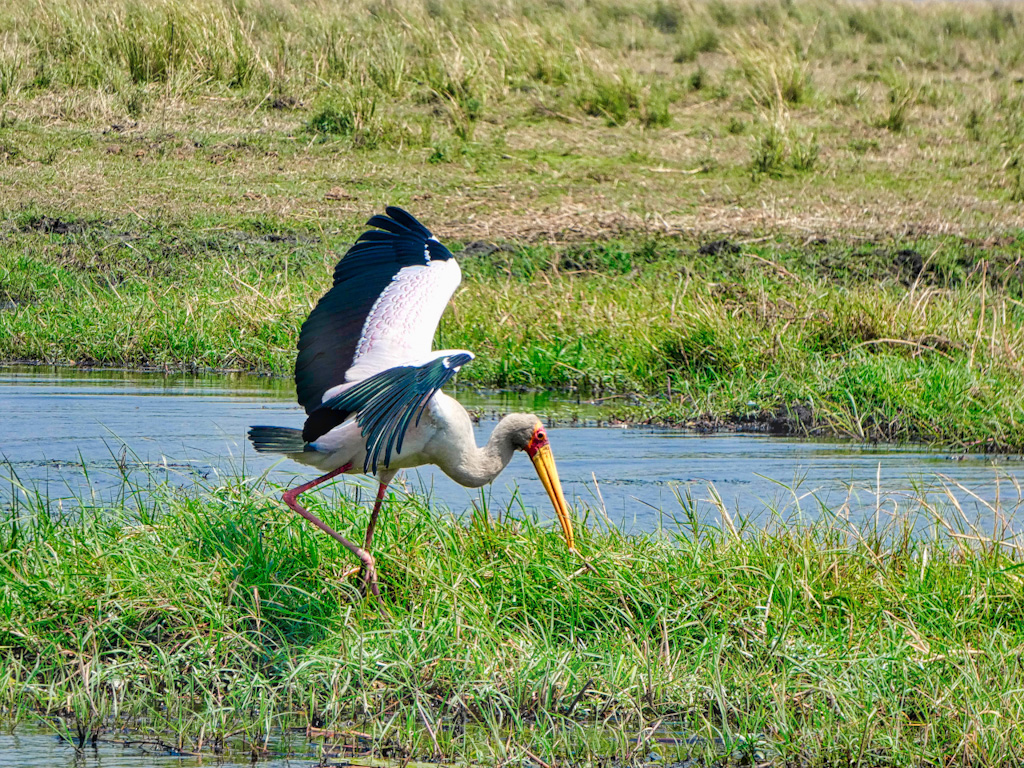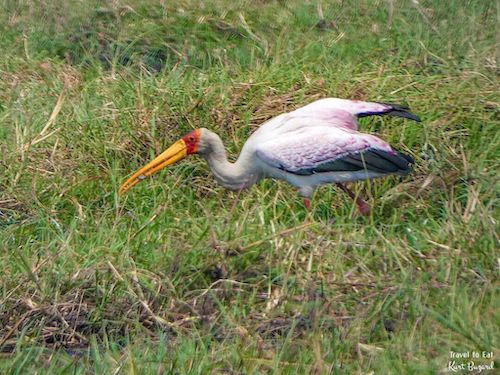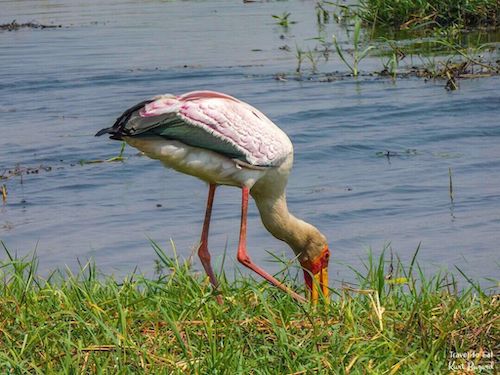 The Yellow-Billed stork (Mycteria ibis), sometimes also called the wood stork or wood ibis, is a large African wading stork species in the family Ciconiidae. The Yellow-Billed Stork is closely related to 3 other species in the Mycteria genus: the American Woodstork (Mycteria americana), the Milky Stork (Mycteria cinerea) and the Painted Stork (Mycteria leucocephala). The yellow-billed stork is native to Africa, where it ranges from Senegal and Madagascar in the east, Mauritania in the west and south to South Africa. It is a vagrant to the north of the Sahara including Morocco and Egypt.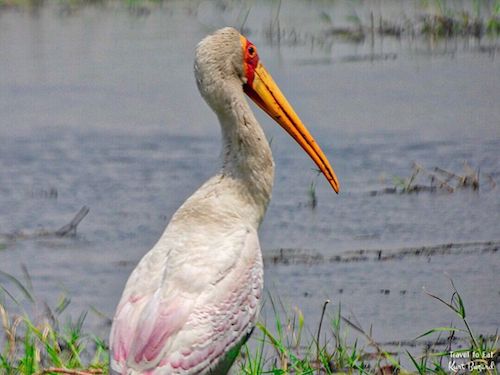 The coloration of the yellow-billed stork becomes more vivid throughout the breeding season. Its bill becomes a deeper yellow and the face a brighter red while the feathers are saturated with pink and the skin of the head is retracted, the area of visible red skin hidden beneath becoming larger. The ordinarily dull legs become a brighter red.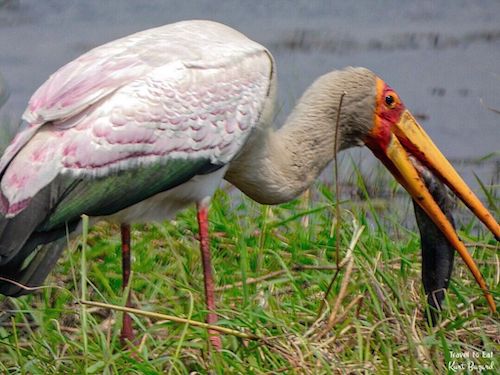 Their diet comprises mainly small, freshwater fish which they swallow whole. They also feed on crustaceans, worms, aquatic insects, frogs and occasionally small mammals and birds. This species appears to rely mainly on sense of touch to detect and capture prey, rather than by vision. They feed patiently by walking through the water with partially open bills and probe the water for prey. Contact of the bill with a prey item is followed by a rapid snap-bill reflex, whereby the bird snaps shut its mandibles, raises its head and swallows the prey whole.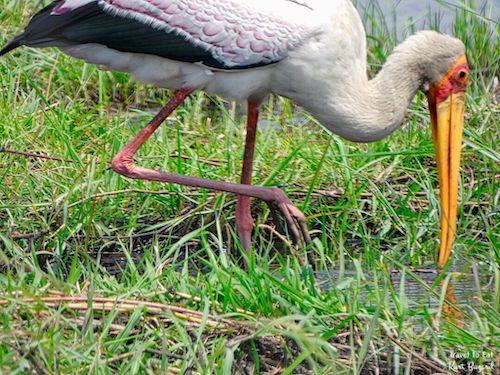 They are smart birds, the Yellow Billed Storks will stand on one leg, and stir the water and mud with the other, disturbing their prey, and then catching it quickly as it moves.
Saddle-Billed Stork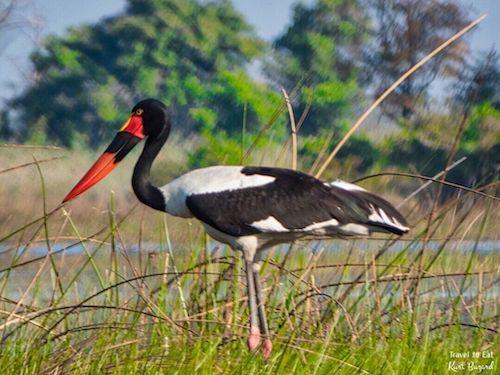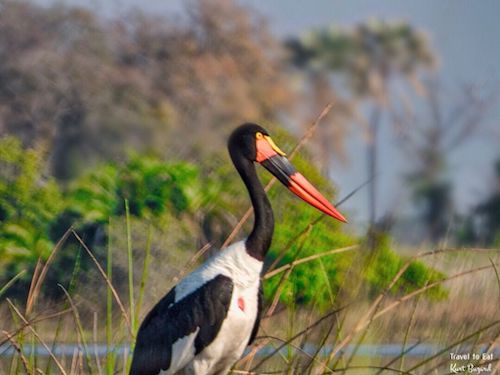 Possibly one of the most striking birds occurring along the rivers and wetlands of sub-Saharan Africa is the Saddle-Billed Stork (Ephippiorhynchus senegalensis). It is a widespread species which is a resident breeder in sub-Saharan Africa from Sudan, Ethiopia and Kenya south to South Africa, and in The Gambia, Senegal, Côte d'Ivoire and Chad in west Africa. In southern Africa, it is uncommon in northern and eastern Botswana, northern Namibia (including the Caprivi Strip), Zimbabwe, eastern South Africa and Mozambique. Saddle-billed Storks are officially Endangered in South Africa, but face fewer threats in other countries. It generally prefers freshwater marshes, rivers through open savanna, lake shores, pans and flood plains. This is a huge bird that regularly attains a height of 5 feet (1.5 meters) and a 7.9–8.9 foot (2.4–2.7 meter) wingspan.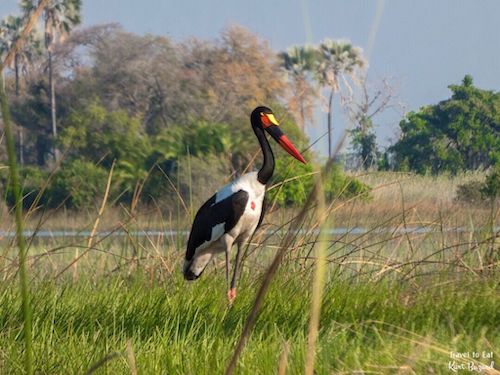 It is spectacularly plumaged; both the female and male appear identical when perched but the female shows much more white in the primaries in flight. The head, neck, back, wings, and tail are iridescent black, with the rest of the body and the primary flight feathers being white. Juveniles are browner grey in plumage. The massive bill is red with a black band and a yellow frontal shield (the "saddle"). The legs and feet are black with pink hocks. On the chest is a bare red patch of skin, whose color darkens during breeding season.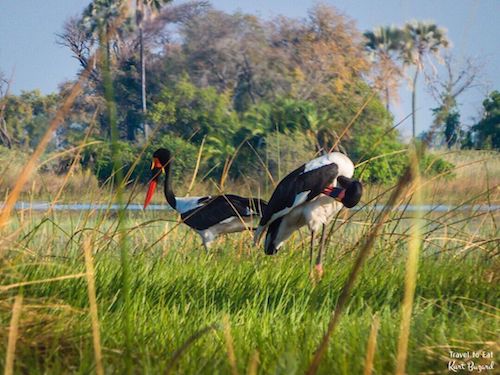 The sexes can be readily distinguished by the golden yellow irises of the female and the brown irises and dangling yellow wattles of the male. Unlike most other southern African stork species, it is fairly easy to separate the male from the female of a pair in the field. Adult females have a bright yellow eye while males have a dark red eye and two yellow wattles at the base of the bill. The saddle-billed stork, like most of its relatives, feeds mainly on fish, frogs and crabs, but also on small birds and reptiles.
Marabou Stork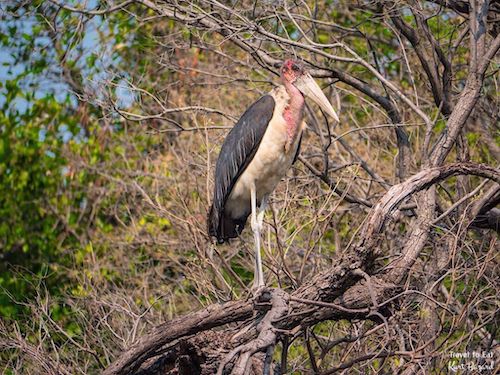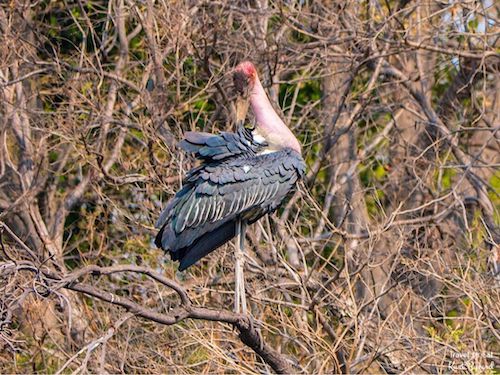 The Marabou Stork (Leptoptilos crumenifer) is a large, unusual looking bird, sometimes called the "undertaker bird" due to its cloak-like wings and back, skinny white legs, and sometimes a large white mass of "hair/feathers" on it's back. In addition to hollow leg bones, marabou storks have hollow toe bones. In such a large bird, this is an important adaptation for flight. The marabou stork is a massive bird: large specimens are thought to reach a height of up to 5 ft (1.52 m), wingspan of up to 12 ft (3.7 m) and a weight of up to 29 kg (20 lb). Although these measurements are not the average, the above figures make the Marabou Stork the largest bird in the world.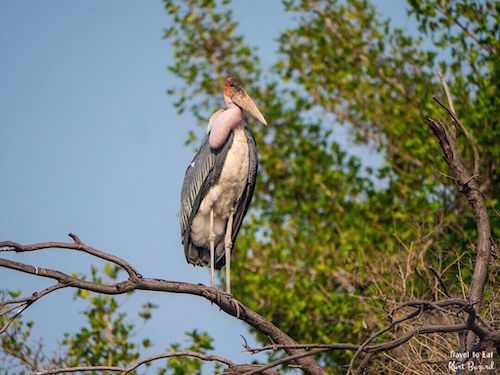 The Marabou Stork breeds in Africa south of the Sahara, in both wet and arid habitats, often near human habitation, especially landfill sites, where it eats almost anything. Behaving more like a vulture than a stork, the marabou is a consummate scavenger, eating mainly carrion, scraps and feces but will opportunistically eat almost any animal matter it can swallow. It has a huge bill, a pink gular sac at its throat (crumenifer(us) means "carrier of a pouch for money"), a neck ruff, and black legs and wings. This pouch is used in courtship rituals. The naked 18-inch inflatable pink sac is particularly conspicuous during the breeding season. It connects directly to the left nostril and acts as a resonator allowing the bird to produce a guttural croaking sound.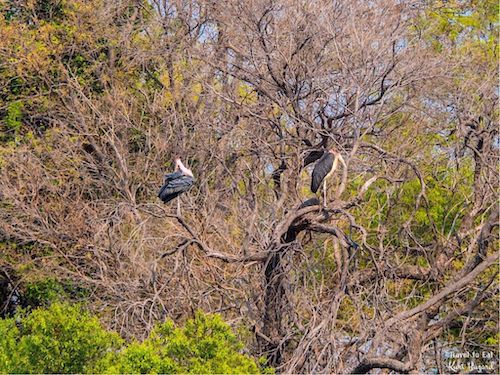 Marabou Storks breed on the treetops, where they build large nests. Like many birds the Marabou Stork also pants when it becomes hot, again to lower its body temperature. Like the Turkey Vulture, the Marabou Stork defecates upon its legs and feet. It is known that the Turkey Vulture has strong antiseptic properties in their whitewash and indeed this is also the case with the Marabou stork, however their reasons for carrying out this act are different. Quite simply, it helps assist in regulating body temperature, and also gives the false appearance that the birds have lovely white legs. These are particularly lazy birds and spend much of their time standing motionless, though once they take flight they are very elegant, using thermal up-drafts to provide the needed lift.
African Openbill Stork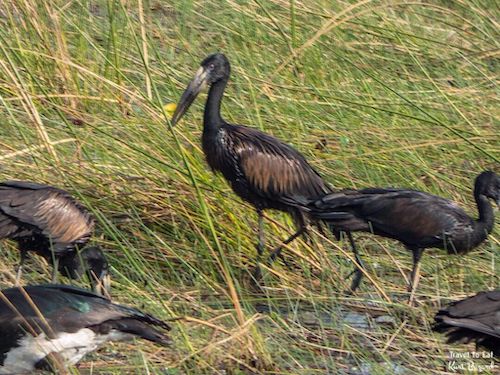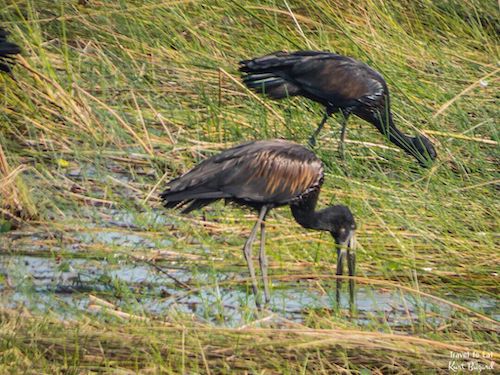 The African Openbill Stork (Anastomus lamelligerus) is a rather small, all-dark Stork with an ivory-horn bill that has a characteristic wide, nutcracker-like gap between the mandibles/bills. This feature develops only in the adults. The two species of Openbill Storks are the Asian Openbill (A. oscitans), a resident breeder in tropical southern Asia from India and Sri Lanka east to Southeast Asia and the African Openbill (A. lamelligerus,) a resident breeder in sub-Saharan Africa and Madagascar. Like the other member of the genus Anastomus, the Asian Openbill, the African Openbill has an unusual bill which is well adapted to the feeding behaviour of both species. The African Openbill feeds almostly exclusively on aquatic snails and freshwater mussels. It will also eat terrestrial snails, frogs, crabs, fish, worms, and large insects. It uses its bill to detect its prey, and can use it in such a way that it easily pries open mollusks and to extract snails from their shells.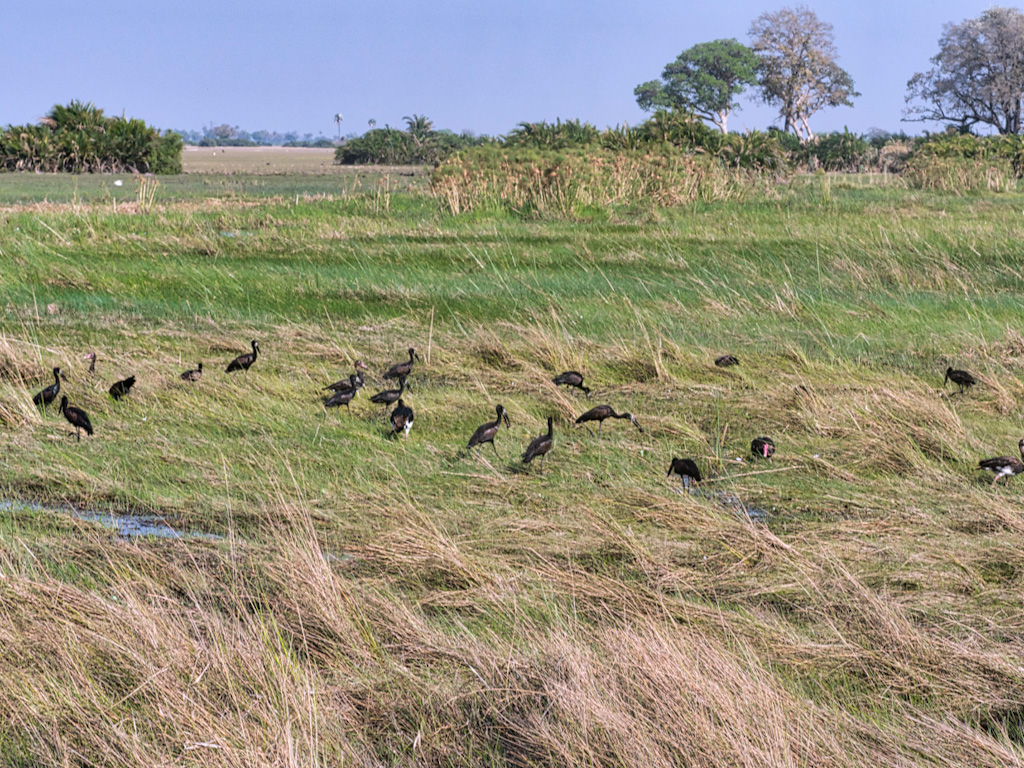 The African Openbill is found in throughout sub-Saharan Africa from Senegal east to Ethiopia and then south as far as KwaZulu Natal in eastern South Africa. It also occurs in Madagascar, mainly in the western regions. The Madagascar Birds perform some migrations, with regular transequatorial movements of birds arriving in West Africa for the dry period. They migrate in flocks, but these movements are not very well understood. The African Openbill tends to feed singly or in small groups. It is a bird of shallow wetlands and can be found wherever its molluscan prey is available including temporarily flooded pans, flood plains, swamps, marshes, ponds, streams, river shallows, dams, rice paddies, lagoons, lake margins and intertidal mud flats.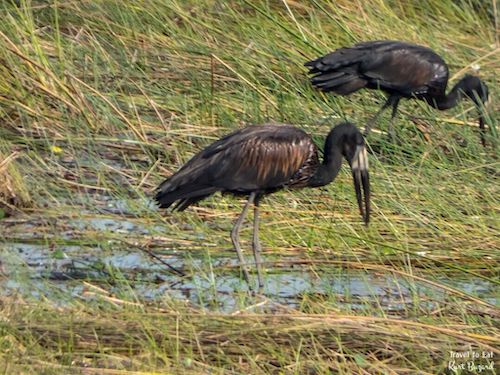 Both adults are similar, with male larger than female. The plumage is black overall, with glossy green, brown or purple mantle and breast. The large bill is brownish-horn, paler towards the base. The mandibles show a wide gap between them of about 5–6 mm, and join only at tip. On the almost straight upper mandible, there are several small columnar pads, about 20–30, which help the bird to grip the shell and then, to extract the mollusc. Eyes are grey with bluish lores and bare eye-ring. Legs and feet are blackish. It breeds during in the rains when snails (its main prey items) are most readily available and nests in colonies of various sizes often with other species. Nesting may only occur in years when local food supplies are plentiful however, so may not occur regularly at the same site. They nest in colonies in trees, which is typical of storks. The African Openbill mates for life, unless of course, its mate dies.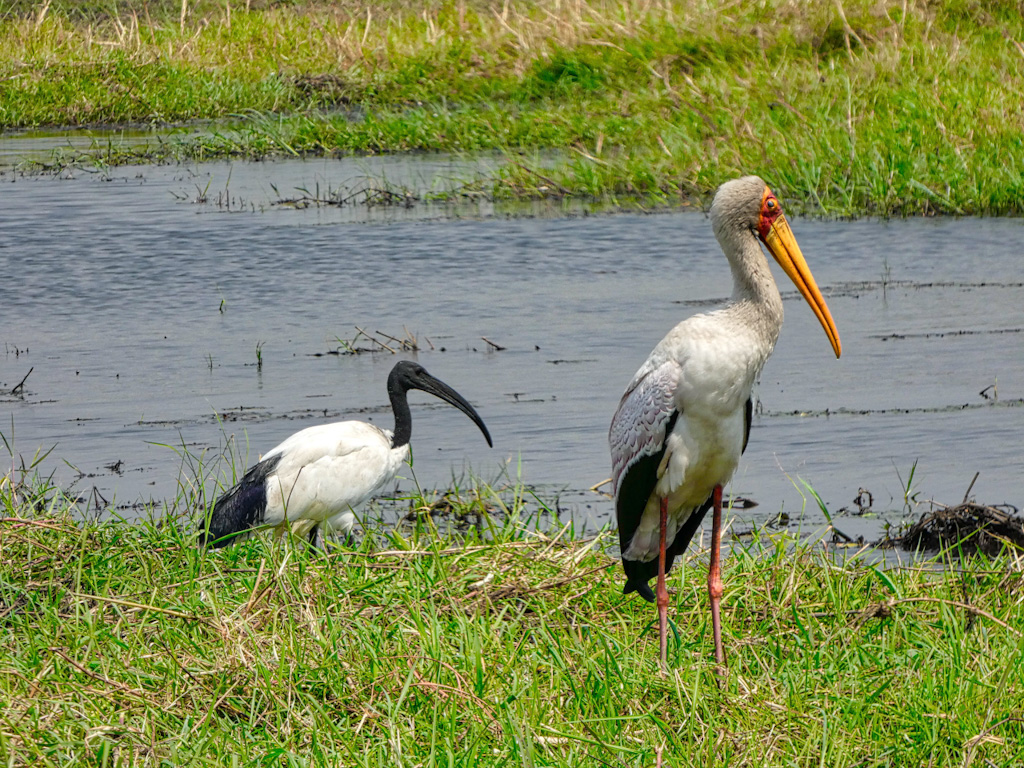 As always, I hope you enjoyed the post, please leave a comment.
References:
Storks in Mythology and Literature