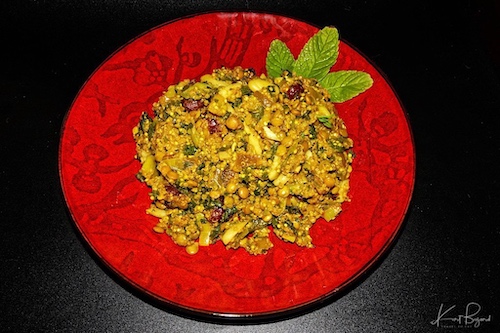 When the summer gets hot, as it has been this year, nothing is more satisfying than a cold and easy salad. There's just something I love about a fresh cold salad on a hot day, not to mention a perfect dish for outdoor potlucks. While I love tabouli, hummus and caprese salads I have recently started making a really fresh and nutritious salad for these hot days that I thought I would share. This salad combines two of my favorites, lentils and quinoa, which together are a formidable nutritional combination with with more than 16 g of protein from both the lentils and quinoa. This salad is also packed with fiber thanks to quinoa, vitamins B, C and E and iron, selenium and copper. But the real reason I make it is that it tastes great and I can make it in one pot in about 45 minutes. This recipe gives you a generous amount of food, easily enough for 4 people, which just gets better over time in the refrigerator and is perfect for snacks and lunches over a week or more.
Lentils And Quinoa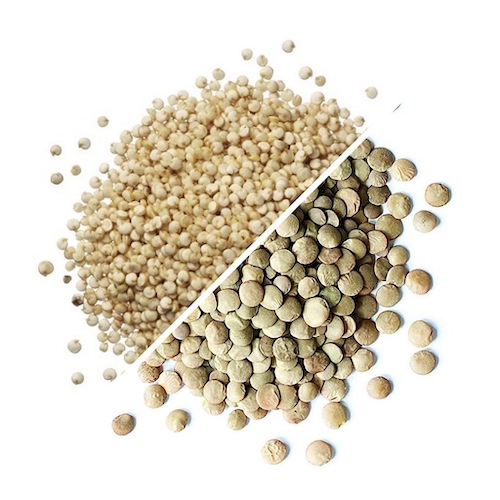 Yellow lentils and red lentils are small and round. They are commonly used in soups and Indian curries.
Green lentils are larger than other lentils and have a flattened seed. They are sturdier, so work well in slow cooking and burgers.
French, or Puy, lentils are a dark green color. Even though they are called French Lentils they are grown in Australia. They have a nutty flavour and hold their shape when boiled, so they are great in salads or a side dish.
The lentil is one of the oldest food crops known and is a legume like beans and peas. Legumes contain relatively low quantities of the essential amino acid methionine (which is found in higher amounts in grains). Grains, on the other hand, contain relatively low quantities of the essential amino acid lysine, which legumes contain. This is why some vegetarian cultures – in order to get a good balance of amino acids needed for growth and repair – combine their diet of legumes with cereal grains. Common examples of such combinations are dhal with rice in India, beans with corn tortillas in Mexico, tofu with rice in Asia and peanut butter with bread in the USA and Australia. White Quinoa is the most common color. Much like its color, white quinoa usually has a lighter taste than other varieties, and when cooked, offers a fluffier texture. Quinoa is especially high in lysine, methionine and cysteine, which are some of the amino acids that plant foods are frequently low in. In fact Quinoa is one of the few plant proteins that is a complete protein. This means it contains all of the essential amino acids you need.
Ingredients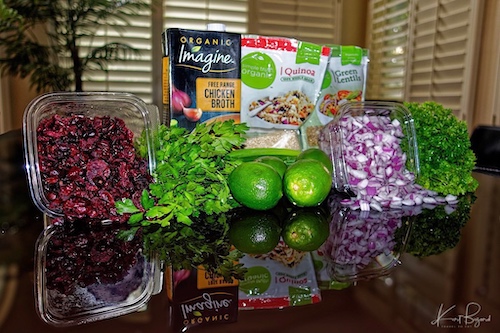 1 tablespoon extra virgin olive oil
1 red onion, diced
1 tablespoon ground turmeric
1 teaspoon cinnamon
1 teaspoon mace
1 teaspoon cardamom
1 small knob of ginger
1 1/4 cup uncooked white quinoa
3/4 cup French or just green lentils
4 cups chicken broth or vegetable broth
2 bunches of green onions, ends removed and diced
2 bunches fresh curly leaf parsley, large stems removed and chopped (about 2 cups)
1 cup slivered almonds
1 cup dried dried cranberries or golden raisins
4 limes
fresh mint for garnish
Salt to taste
I use a fair amount of turmeric in this recipe, partly because of the beautiful color it lends, but also because turmeric is a natural anti-inflammatory and antioxidant compound. Cinnamon and cardamom fit the Moroccan flavor profile but I also added mace for the more fruity nutmeg flavor that many of you may not have known about. I also just love the floral notes of cardamom, my Swedish grandmother used it in almost all her baked sweets. I use a microplane with the ginger, it makes quick work of the gnarly root. I adapted this recipe for one that called for 3 cups of broth and left me with an extra cup in the 4 cup box. If you buy a 3 cup broth container, use 1 cup Quinoa and 1/2 cup green lentils. I tried this with store bought vegetable broth and found it too bland. If you are a vegan or vegetarian, consider making fresh broth, it really isn't that hard. I use the curly parsley since it holds up to heat better. I fold in the parsley after I cook the Quinoa and lentils and the flat leaf parsley just goes limp. Normally you would use lemon in a Moroccan dish but I live in Las Vegas and I just like limes. I use a pinch of kosher salt when I am cooking the onions but no other salt. Consider adding salt to taste when plating.
Directions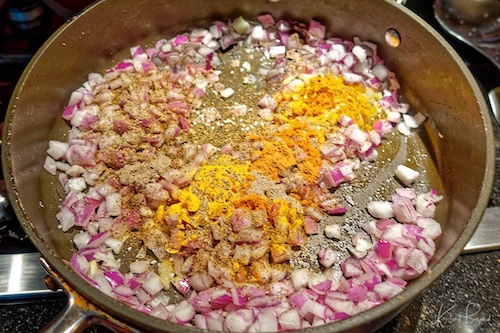 In a large frying pan, combine the diced onion and ginger with the oil and bring to a low heat. Cook until the onion begins to become translucent, about 3–4 minutes, and add the turmeric, cinnamon, cardamom and mace which will stick to the onions as you mix them in.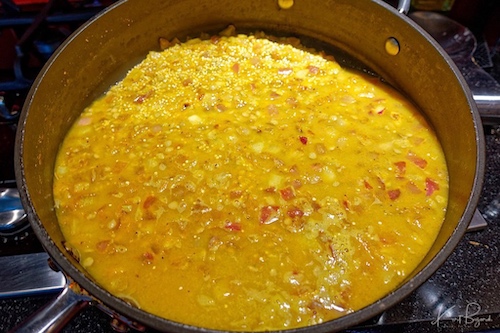 Add the quinoa and green lentils to the mixture and allow them to toast slightly, approximately one minute. Add the 4 cups of broth, bring to a boil over medium heat, cover and place on low heat for 20 minutes, stirring occasionally.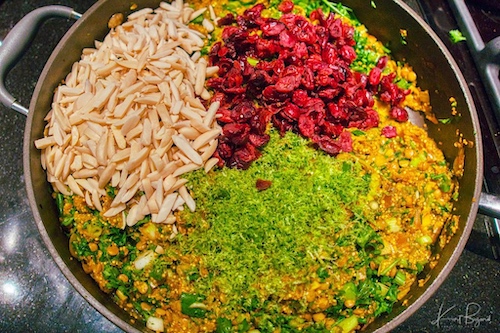 Remove from heat, fluff the mixture and add the sliced green onions and chopped parsley, folding them into the mixture. Add the slivered almonds, dried cranberries and lime zest. I guess it goes without saying, but I use a microplane to zest the limes. Add the lime juice and combine the ingredients. At this point the mixture may seem to have a little excess liquid but this liquid will absorb overnight.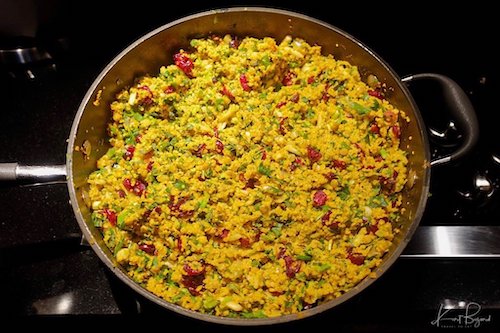 Place in an airtight container and place in the refrigerator. Fluff the mixture occasionally the first night, I think it is much more tasty and the favors are more evenly dispersed after a night in the refrigerator. You can serve this hot or cold, try mint leaves as a tasty garnish and mint tea as a beverage.
I really hope that you give this recipe a try, it is colorful, easy and tastes delicious. As always I hope you enjoyed the post, feel free to leave a comment or question.
References
Moroccan Style Lentil and Quinoa Salad
One Pot Sweet Spiced Quinoa Lentil Salad