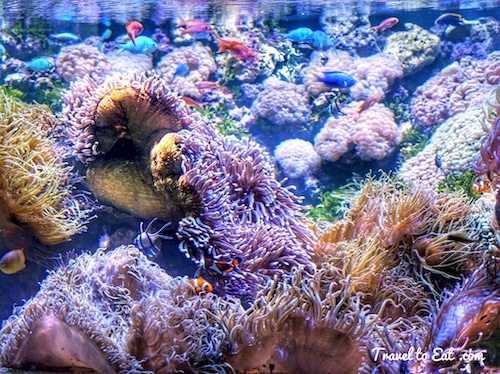 Since we did not visit the Great Barrier Reef, we were particularly happy to visit the Barrier Reef exhibit at Sea Life Sydney Aquarium. One of Australia's most remarkable natural gifts, the Great Barrier Reef is blessed with the breathtaking beauty of the world's largest coral reef. The reef contains an abundance of marine life and comprises of over 3000 individual reef systems and coral cays and literally hundreds of picturesque tropical islands with some of the worlds most beautiful sun-soaked, golden beaches. They have a beautiful collection of coral and fish at the Sydney Aquarium.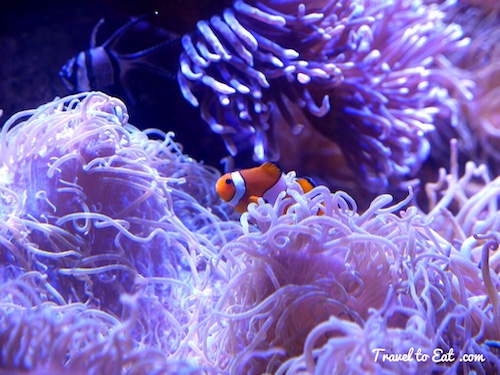 The Ocellaris Clownfish (Amphiprion ocellaris), also known as the false percula clownfish or common clownfish, is a marine fish belonging to the family Pomacentridae which includes clownfishes and damselfishes. Amphiprion ocellaris are found in different colors, depending on where they are located. Anyone with kids and a DVD player probably thinks they know all there is to know about the clown anemonefish, or, simply, clownfish. What they may not know is that the heroes of "Finding Nemo" are actually called false anemonefish. Clownfish perform an elaborate dance with an anemone before taking up residence, gently touching its tentacles with different parts of their bodies until they are acclimated to their host. A layer of mucus on the clownfish's skin makes it immune to the fish-eating anemone's lethal sting.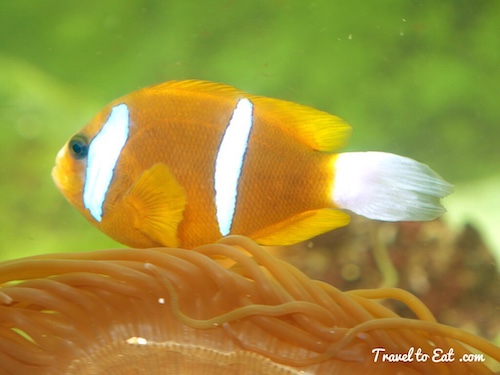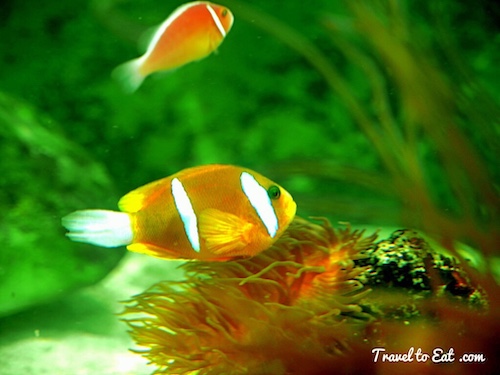 Barrier Reef Anemonefish, Amphiprion akindynos Allen 1972. Other names include Brown Anemonefish, Guarded Anemone Fish, Two-banded Anemonefish, Two-banded Anemone-fish. An orange to orange-brown anemonefish with two black-edged white bars on the body, and a white caudal peduncle and caudal fin.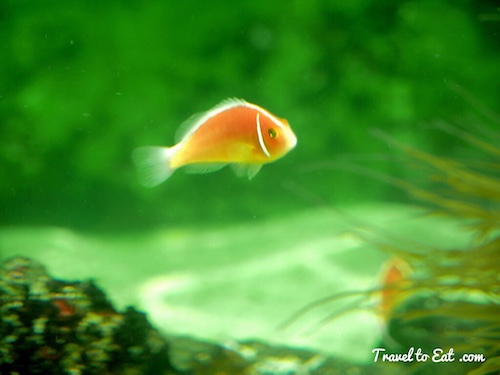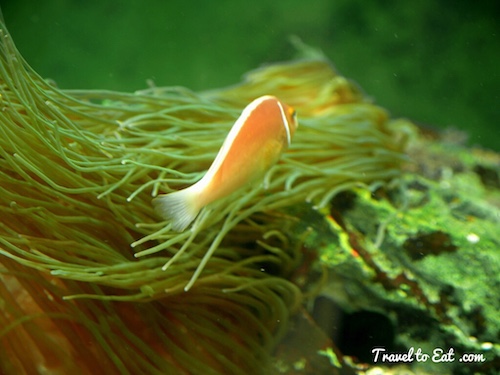 The pink skunk clownfish or pink anemonefish, Amphiprion perideraion, is a skunk clownfish found from Tonga and the Great Barrier Reef in the west Pacific Ocean ,the Cocos and Christmas Islands in the eastern Indian Ocean and the Indo-Australian Archipelago. It inhabits reef lagoons and outer reef slopes, and lives amongst sea anemones for protection. It is known to be one of the smaller clownfish.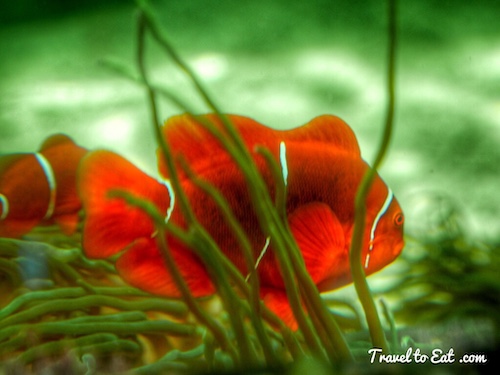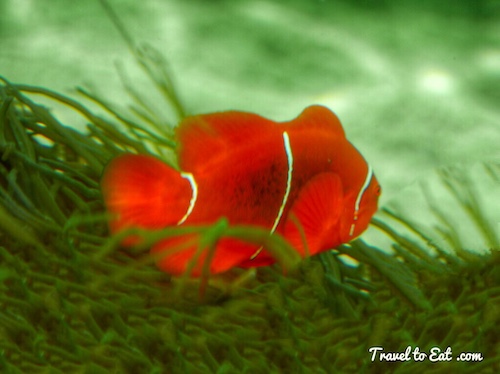 The Maroon Clownfish also known as the Spinecheek Anemonefish (Premnas biaculeatus) is a species of clownfish that is found in the Indo-Pacific from western Indonesia to Taiwan and the Great Barrier Reef. spinecheek anemonefish (Bali, Indonesia)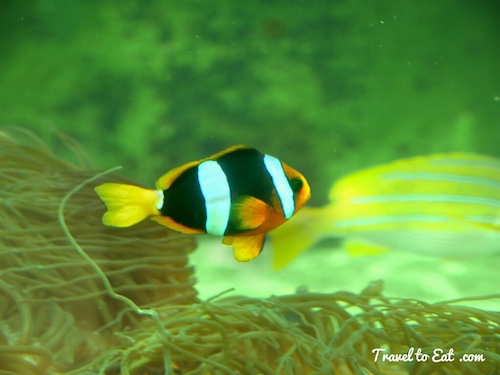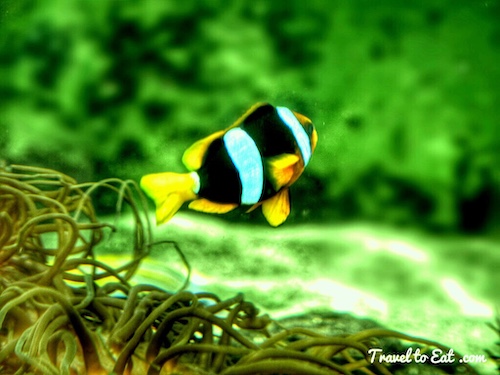 The orange-fin anemonefish or orange-fin clownfish (Amphiprion chrysopterus) is a clownfish, found in the Western Pacific north of the Great Barrier Reef from the surface to 20 m, to include the Pacific Ocean between Queensland, Australia and New Guinea to the Marshall and Tuamoto islands. It can grow to 17 cm in length.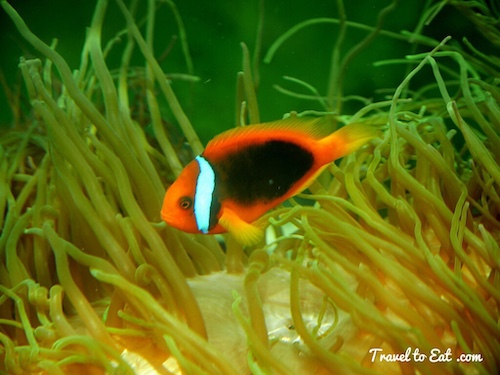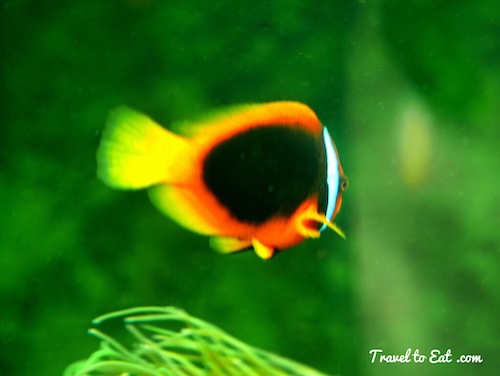 The Tomato Clownfish (Amphiprion frenatus) is a clownfish that is found in the waters of the Western Pacific, from the Ryukyu Islands, Japan, to Malaysia and Indonesia. It is also known as the bridled clownfish, red clownfish, or tomato anemonefish. The adult fish is bright orange-red, with one white vertical stripe just behind the eyes, joined over the head. They can grow to 14 cm (5.5 in) in length, however the female is usually larger than the male.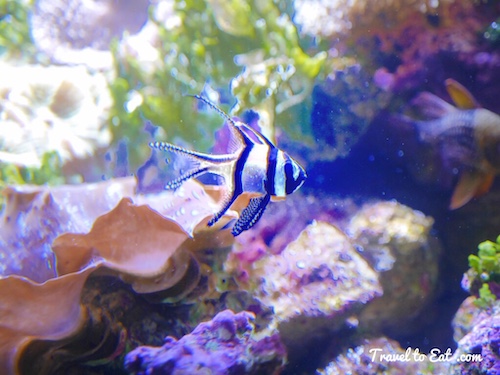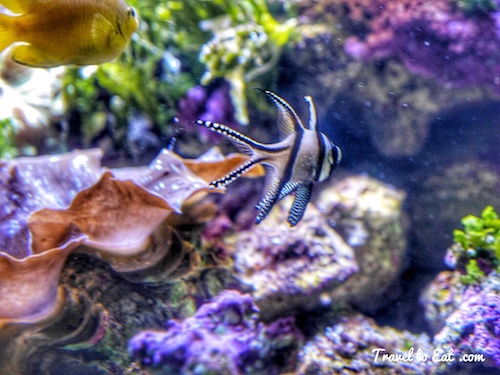 The Banggai Cardinalfish (Pterapogon kauderni) is a small tropical cardinalfish family Apogonidae. It is the only member of the genus Pterapogon. This species is restricted to the Banggai Islands of Indonesia. It has an extremely limited geographic range (5,500 km²) and small total population size (estimated at 2.4 million). A small, elusive species, Cardinal Fish have large eyes and mouths for their size and are notable to having their dorsal fin separated from a single protrusion into twin fins, a relative rarity among reef-dwelling fishes. Cardinal Fish are nocturnal and typically bury themselves within gaps in coral or caves during the daylight hours before emerging at night to get their fill of their typical shrimp and crab based diet.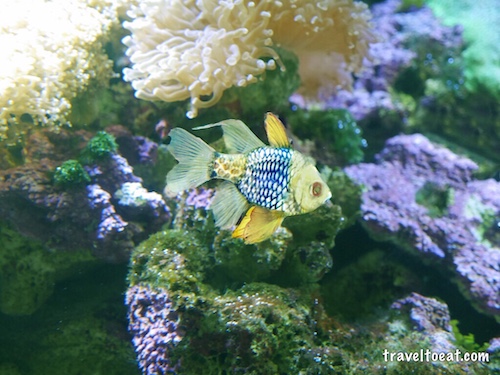 The Pajama Cardinalfish (Sphaeramia nematoptera), the spotted cardinalfish, coral cardinalfish or polkadot cardinalfish, is a species of fish belonging to the Apogonidae family. The pyjama cardinal is a very colourful fish with a greenish-yellow face, bright red eyes and silver body covered with orange polka-dots. Its dorsal fin is often multi-coloured and they reach a maximum length of about 8.5 cm (3.3 inches). After the female has produced eggs the male cardinal stores them in his mouth for about a week until they hatch (I presume he is fasting during this week). Found mainly in the Western Pacific from Java to Fiji, north to the Ryukyu Islands then south to the Great Barrier Reef where they live mainly on reefs.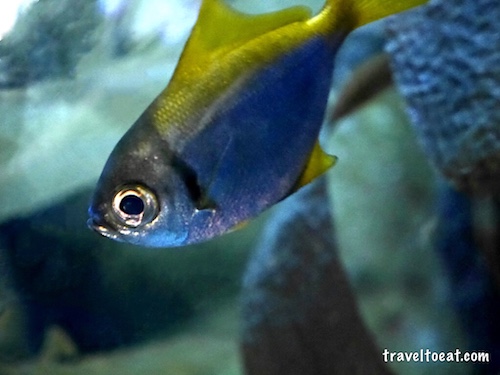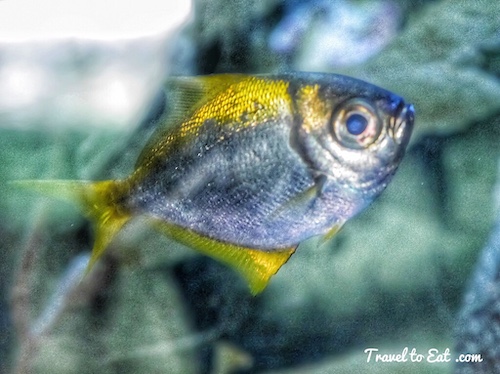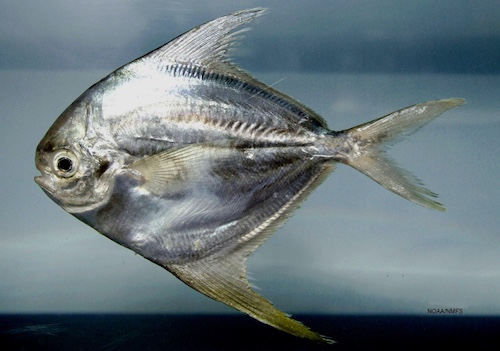 Threadfin Cardinalfish (Apogon Leptacanthus) is one of the cardinalfishes found in the Red Sea and off Mozambique Island to Samoa and Tonga, north to Ryukyu Islands, and south to New Caledonia and Micronesia. It is a translucent fish with vertical iridescent blue lines on the head and front of body, it grows up to 6 cm in length. In juveniles, the blue lines are missing. Adults occur in small aggregations from 1 to at least 12 m deep, usually close to branching coral, in sheltered bays and lagoons. Looks a little like a Pacific Harvestfish (Peprilus medius) but the fins and body are different.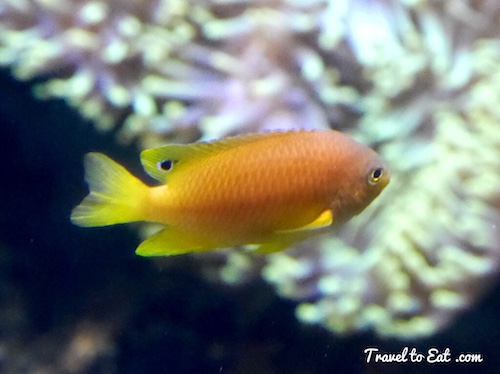 Longfin Damselfish (Stegastes diencaeus) has a distribution including southern Florida (USA), Bahamas, and Caribbean Sea. Including Antilles and Yucatan to Venezuela. It occasionally makes its way into the aquarium trade. It grows to a size of 12.5 cm (4.8 inches) in length. The Longfin adult damselfish gets it's name because it's dorsal and anal fins extend beyond the base of the tail. As an adult it is brown and distinguishes itself from its brown counterparts in having extended, round tipped, dorsal and anal fins. The juvenile is yellow with purple/blue dots, then striped forehead, from which it darkens with age, losing its dorsal black spot in the process.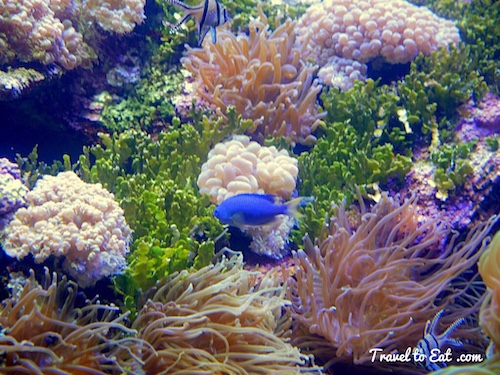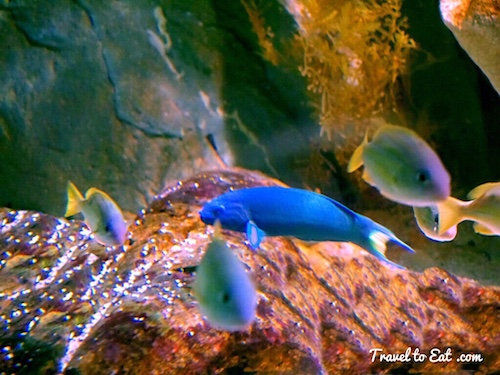 The Yellowtail Blue Damselfish (Chrysiptera parasema) is a hardy fish found in the tropical pacific. The males are 2.75 inches, while the females are slightly smaller. The fish Chrysiptera parasema is known under several different common names in English, such as Yellowtail Damsel, Yellow-tail Blue Damselfish, Blue Yellowtail Damselfish, Goldtail Demoiselle, and Yellowtail Demoiselle. The Yellowtail Damsel is found in the Western Pacific, including the waters of Solomon Islands, northern Papua New Guinea, Philippines, and Ryukyu Islands. It may also inhabit parts of the Great Barrier Reef off the coast of Australia, but this has not been proved. The Yellowtail Damsel is a reef associated fish that lives in sheltered lagoons and inshore coral reefs with prolific coral growth. It is known to live in small groups over patches of Acropora corals.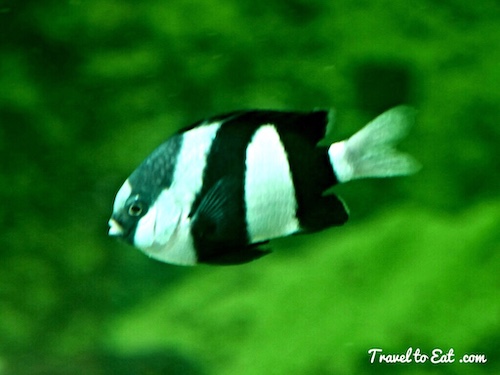 Known by multiple common names, such as humbug damselfish, three-striped damselfish and white-tailed damselfish, whitetail dascyllus or humbug damselfish, Dascyllus aruanus is a feisty little fish that adapts well to aquarium life. Whitetail dascyllus is up to 10 centimetres (3.9 in) in length but its common size is 6 centimetres (2.4 in) and is white with three black vertical bars.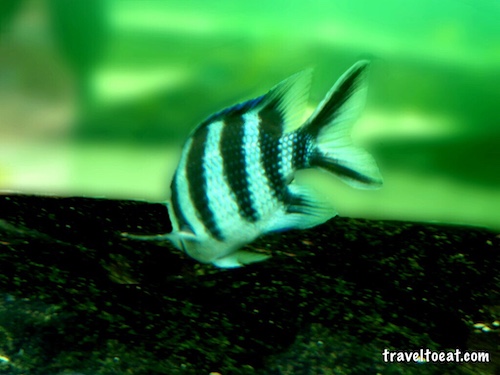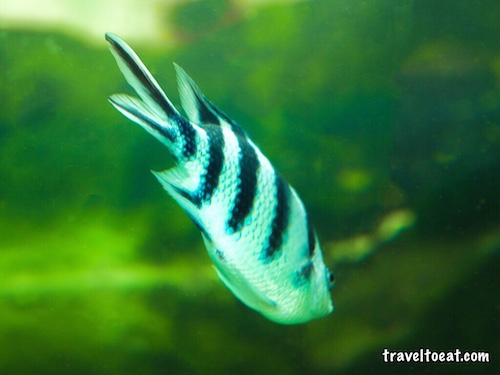 The Scissortail Sergeant or Striptailed Damselfish (Abudefduf sexfasciatus), family Pomacentridae is a large damselfish. It earns its name from the black-striped tail and sides, which are reminiscent of the insignia of a military Sergeant, being similar to those of the Sergeant Major damselfish. It grows to a length of about 16 centimetres (6.3 in). Scissortail sergeants live on coral reefs at depths of up to 15 metres (49 ft) in tropical reaches, often living in a group surrounding a single head of coral. They are found on reefs in the Indo-Pacific region, including the Red Sea.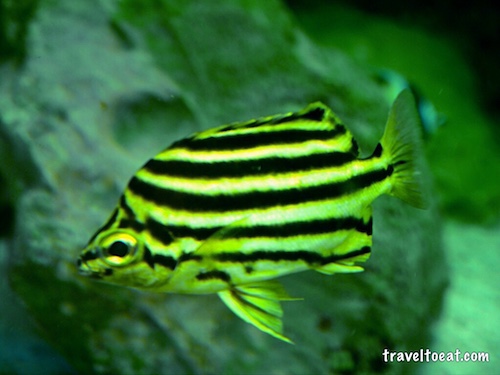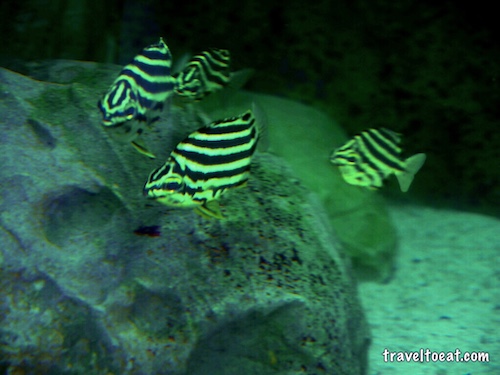 The Stripey (Microcanthus strigatus) (Cuvier, 1831) can be recognised by its deep, compressed body, and distinct pattern of slanting black and yellow to white stripes. It is also known as the Eastern Stripey, Footballer and Western Stripey. It grows to about 16 cm (6.3 inches) in length.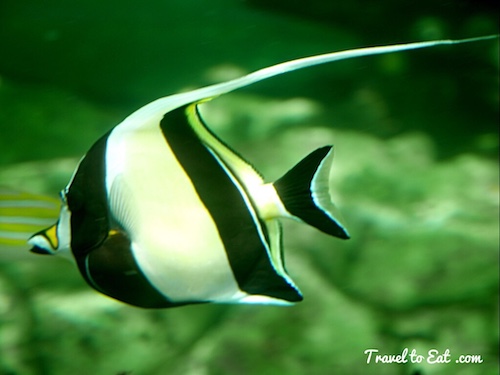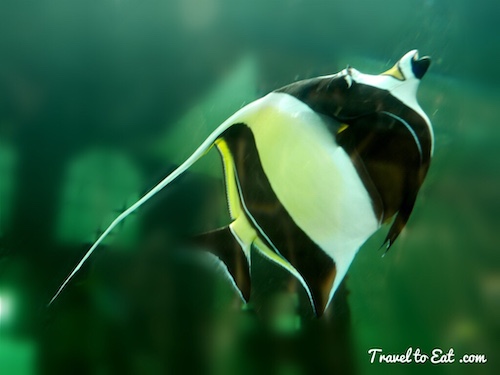 The Moorish Idol (Zanclus cornutus), is a marine fish species, the sole extant representative of the family Zanclidae (from the Greek ζαγκίος, zagkios, "oblique") in order Perciformes. A common inhabitant of tropical to subtropical reefs and lagoons, the Moorish idol is notable for its wide distribution throughout the Indo-Pacific. A number of butterflyfishes (genus Heniochus) closely resemble the Moorish idol. The Moorish idol got its name from the Moors of Africa, who purportedly believed the fish to be a bringer of happiness. Moorish idols reach a maximum length of 23 cm (9.1 in).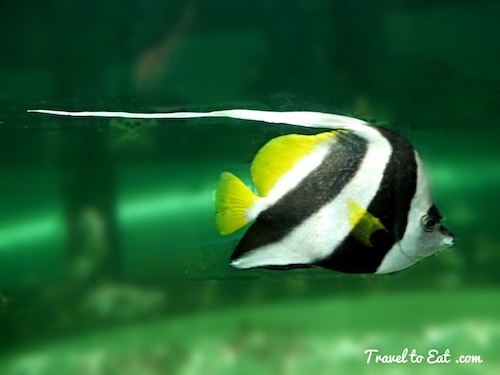 The Pennant Coralfish (Heniochus acuminatus), also known as the longfin bannerfish or coachman, is a tropical fish of the family Chaetodontidae. It is also known colloquially as the "poor man's Moorish idol". The pennant coralfish's natural distribution is in the Indian and Pacific Oceans in reef settings, from southern Japan to Micronesia and Lord Howe Island, and in the Seychelles. Currently it is registered as an introduced species in the Black Sea. It is typically 15 cm (5.9 inches) in length. Though very similar in appearance to the Moorish idol (Zanclus cornutus), the members of this genus are not closely related to it.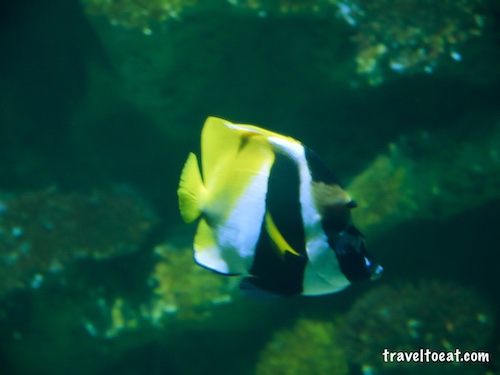 The Masked Bannerfish (Heniochus monoceros) can be recognised by its coloration and is also known as the Coralfishes, Bannerfish, Masked Coachman, Horned Coachman, Pennant Coralfish, Unicorn Pennant Coralfish. It has a black face with white lines above and in front of the eyes. The nape is brown. There is a broad black bar crossing the body from behind the dorsal fin filament to the black pelvic fins. The species grows to 23 cm (9 inches) in length. The Masked Bannerfish is found in tropical marine waters throughout the Indo-West and Central Pacific. In Australia it occurs from the offshore reefs of north-western Western Australia and from the northern Great Barrier Reef south to central New South Wales.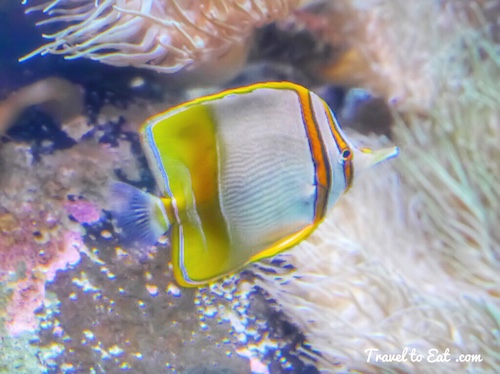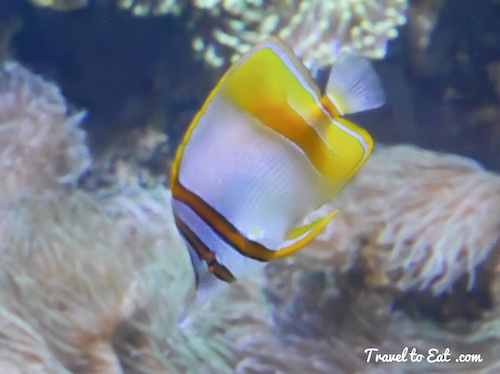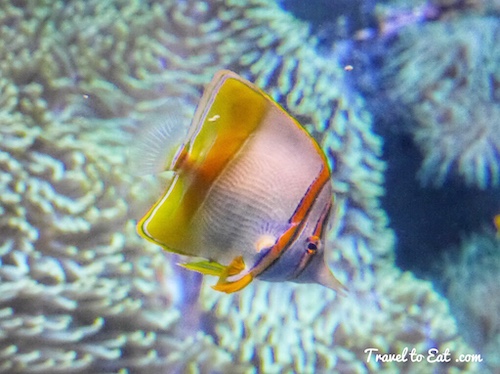 Chelmon marginalis, commonly known as Margined Coralfish, is a species of tropical fish in the family Chaetodontidae. It was first described by John Richardson in 1842. The average length of the Chelmon marginalis is about 7 inches or 18 centimeters.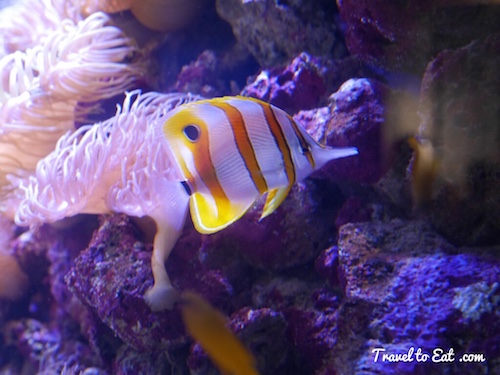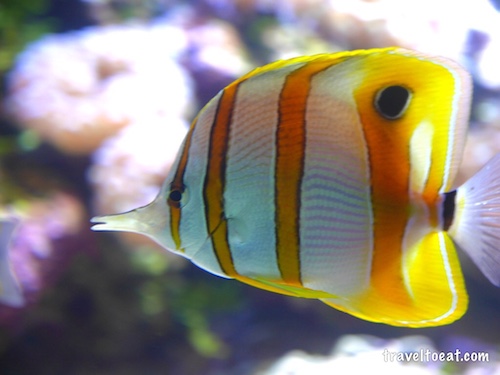 Copperband butterflyfish (Chelmon rostratus), commonly known as beaked coral fish, are found in reefs in both the Pacific and Indian Oceans. This butterflyfish is one of the three species that make up the genus Chelmon and all have long beaks. Butterflyfish grow up to 20 cm (7.9 inches) in length.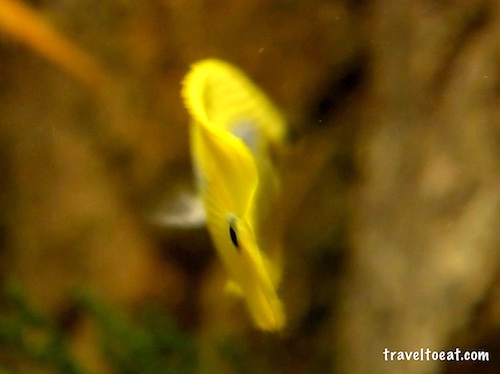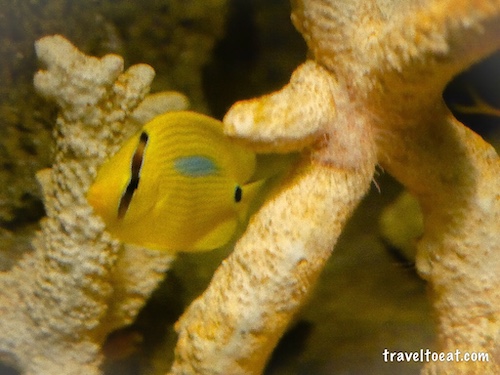 The Blue Spot Butterflyfish (Chaetodon plebius) has a mostly yellow body with a blue spot or area toward the upper part of its body. It has a dark stripe running through its eye as well as a dark "eye-spot" located at the junction of its body and caudal fin. The blue spot butterflyfish belongs to the family Chaetodontidae. It is also commonly called the blue-blotch butterflyfish and the coral butterflyfish. The black stripes running through the butterflyfish's eyes helps to confuse predators. Predators can't see the "real" eyes of the fish, and confuse the eye spot as the fish's eyes. In their natural habitat they are found in the Indo-Pacific along coral reefs where they feed on coral polyps (Acropora species) at 1-10 m in depth and have a length of 15 cm (5.9 inches). This is why these fish are often referred to as "coral butterflyfish." They also sometimes behave as cleaner fish feeding on the parasites of other fish. I know my photo is blurry, so I included one from Mark Rosenstein.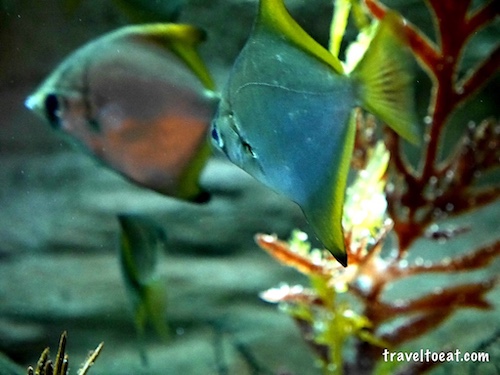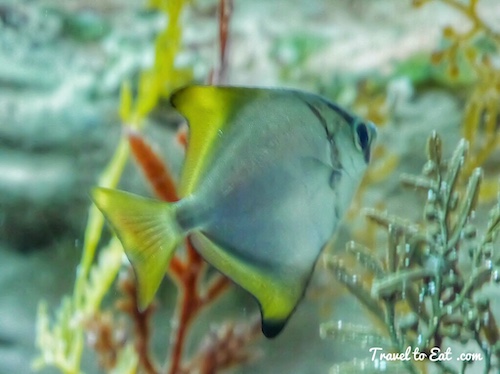 The Silver Moony (Monodactylus argenteus) also known as mono argentus, silver moonfish, fingerfish or malayan angel, is a perciform fish, usually found in the Red Sea and East Africa to Samoa, north to the Yaeyama Islands, south to New Caledonia and Australia. The silver moony has a silver body in a triangular shape. The big eyes are crossed by a dark ray. Its fins are silver with yellow reflection. It is a shoaling fish that needs to be in groups of three and can grow up to 12 inches, but more commonly 8 inches in aquaria.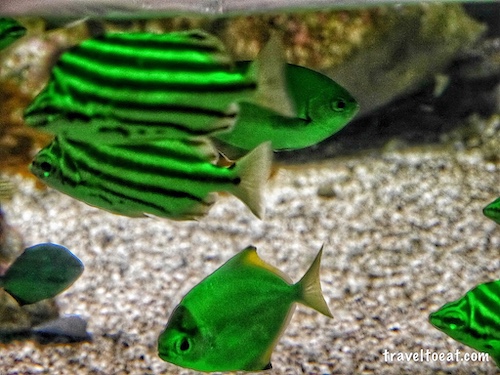 The colored lights often used in aquariums can drastically change the appearance of the fish. Above you see the Silver Moony and the Stripey under artificial green lighting. As always, I hope you enjoyed the pictures and please leave a comment.
References:
Barrier Reef: http://www.greatbarrierreef.com.au/animals/fish/
Oceanlight: http://www.oceanlight.com/fish.html
What's That Fish: http://www.whatsthatfish.com/atoz
Fishes of Australia: http://www.fishesofaustralia.net.au/Home/ClassList
Hydroaquatics: http://hydroquatics.net/fish_gallery
Biopix: http://www.biopix.com/
Pyjama Cardinalfish: http://www.seaquarium.co.uk/weston-aquatics-animal-a-z.php?search_value=C
Peprilus medius: http://biogeodb.stri.si.edu/sftep/en/thefishes/species/2280