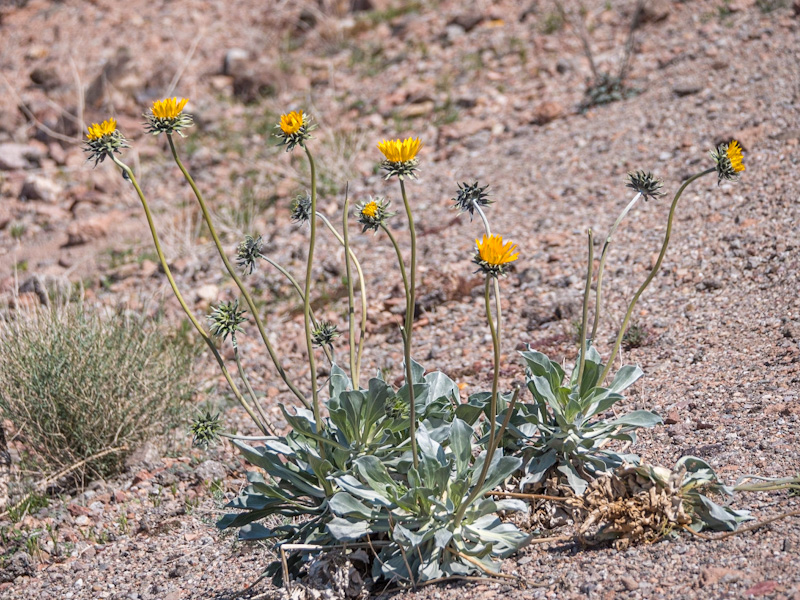 Common Names: Silverleaf Sunray, Nakedstem Sunray, Naked-stemmed Daisy
Synonyms: Enceliopsis argophylla, Tithonia argophylla
Family: Asteraceae (Aster/Sunflower)
Habit: perennial forb, herb
Size: up to 2.5 feet
Flowers: yellow
Bloom: Apr, May
Leaves: silvery, basal
Fruit: cypsela
Description:
Leaves appear silvery because of many small hairs pressed against the leaves. Leaf blades are up to 4 inches (10 cm) long, with wings running along the sides of the petioles. Appearing in April and May, the flower heads are yellow, at the ends of long peduncles, each head with as many as 35 ray florets and up to 500 tiny disc florets. The achene is strongly flattened, covered with small hairs, and sometimes with a pappus of 2 awns up to 2 mm long (unlike some of the related species).
Distribution: Found in Clark and Mohave Counties in the vicinity of the artificial reservoir Lake Mead
Seen: Lake Mead
Habitat: Stony barren slopes at 1,000 to 1,500 m (3,300 to 4,900 ft) altitude. It often grows alongside the rare golden bear-claw poppy or Las Vegas bear-poppy Arctomecon californica. Both plants grow in a fragile gypsum crust on the soil, which when damaged facilitates the spread of invasive plants.