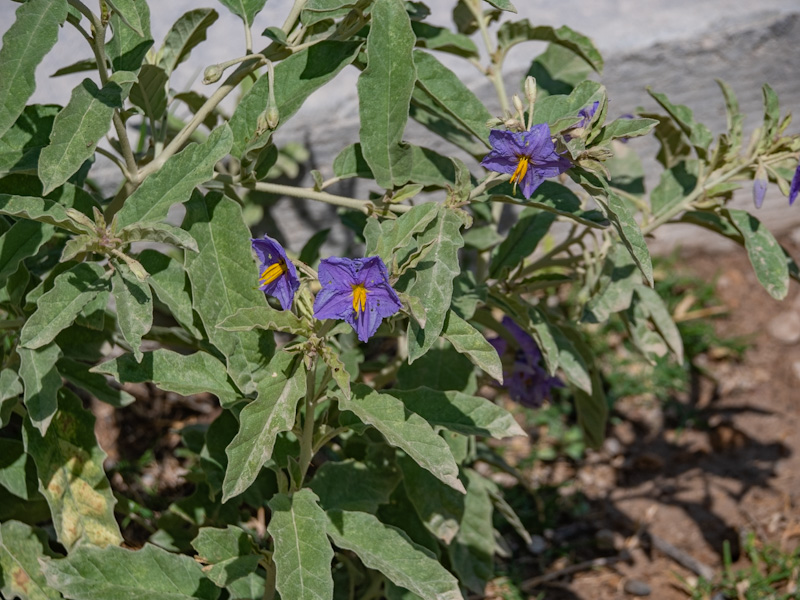 Common Names: Silverleaf Nightshade, Silver-leaved Nightshade, Prairie Berry, Silverleaf Nettle, White Horsenettle, Silver Nightshade, Trompillo, Tomato Weed, Bull Nettle
Synonyms: Solanum elaeagnifolium
Taxonomy: Solanaceae (Nightshades/Tomato/Potatoe)
Habit: Perennial Forb/Herb
Size: up to 3 feet
Flowers: purple, yellow, white
Bloom: Mar, Apr, May, Jun, Jul, Aug, Sep, Oct
Leaves: alternate
Fruit: berry
Description:
The leaves are up to 15 cm long and 0.5 to 2.5 cm wide, with shallowly waved edges. Leaves and stems are covered with downy hairs (trichomes) that lie against and hide the surface, giving a silvery or grayish appearance. The flowers, appearing from April to August, have five petals united to form a star, ranging from blue to pale lavender or occasionally white; five yellow stamens and a pistil form a projecting center. The plant produces glossy yellow, orange, or red berries that last all winter and may turn brown as they dry. The lavender, star-shaped flowers with yellow centers are beautifully set off by the silvery foliage, and large patches of the plant in full bloom are striking. However, the plant is an aggressive, poisonous, spreading steadily from deep rootstocks; in a few states it is classified as a noxious weed. It is very hard to control, as root stocks less than 1 cm long can regenerate into plants. The species is also toxic to livestock.
Distribution: Across southern half of United States and in northern Mexico; in West, north to Washington, Idaho, Colorado, and Nebraska
Seen: NV (Floyd Lamb Park), AZ (Desert Botanical Garden)
Habitat: poor soil with very little water