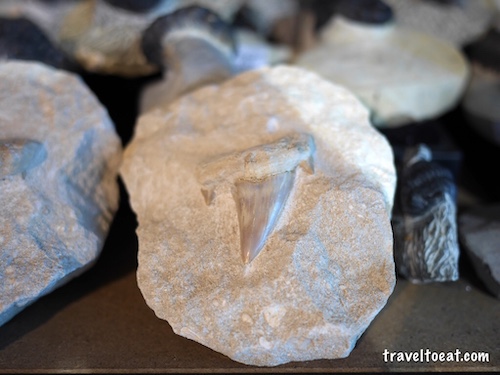 Evidence for the existence of sharks dates from 450–420 million years ago, before land vertebrates existed and before many plants had colonized the continents. Only scales have been recovered from the first sharks and not all paleontologists agree that these are from true sharks. The oldest generally accepted shark scales are from about 420 million years ago. The first sharks looked very different from modern sharks. The majority of modern sharks can be traced back to around 100 million years ago. Most fossils are of teeth, often in large numbers. Partial skeletons and even complete fossilized remains have been discovered. Estimates suggest that sharks grow tens of thousands of teeth over a lifetime, which explains the abundant fossils. The oldest white shark teeth date from 60 to 66 million years ago, around the time of the extinction of the dinosaurs. These sharks attained gigantic proportions and include the extinct megatoothed shark, Carcharias megalodon. This giant shark reached a total length of more than 16 meters (52 ft). It may have approached a maximum of 20.3 meters (67 ft) in total length and 103 metric tons (114 short tons) in mass.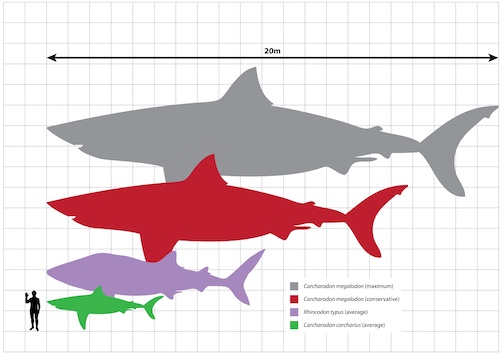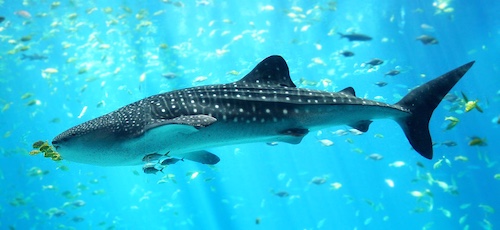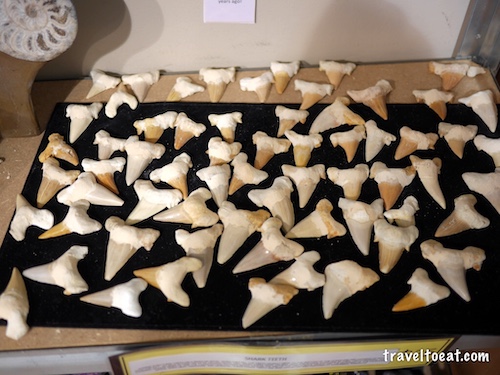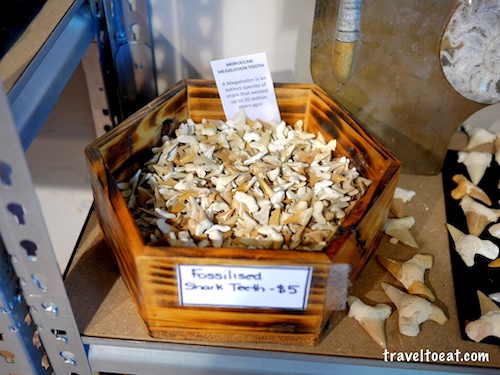 As you can see from the comparison chart seen above, the Carcharias megalodon shark was way larger than any shark living today. The current largest living shark, the Whale Shark (Rhincodon typus) is a slow-moving filter feeding shark and the largest known living fish species. The largest confirmed individual had a length of 12.65 m (41.50 ft) and a weight of approximately 21.5 metric tons (47,000 lb), and unconfirmed reports of considerably larger whale sharks exist. Claims of individuals over 14 m (46 ft) long and weighing at least 30 metric tons (66,000 lb) are not uncommon.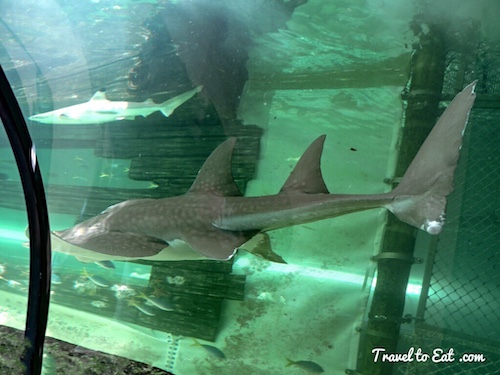 The White-Spotted Guitarfish (Rhinobatos albomaculatus) is a type of ray even though it also looks like a shark. I have included it here and with the Rays. It is found in the eastern Atlantic from the Gulf of Guinea to Angola. Also known as the White-Spotted Wedgefish because of its distinctive shape, the White-spotted Guitarfish can grow 3 meters long (10 feet) and to a weight of up to 300 kilos (650 lbs). Despite its size this harmless animal can be safely and closely approached by divers and snorkelers. The White-Spotted Guitarfish inhabits open and shallow seas in subtropical climates from the Gulf of Thailand and the Philippines to Queensland, Australia and can often be found resting on the seabed during the day, propped up on its pectoral fins as it slowly pumps water over its gills. Unfortunately, with fins prized in the shark fin trade and commonly caught in nets, the White-Spotted Guitarfish has been listed as Vulnerable by the International Union for Conservation of Nature.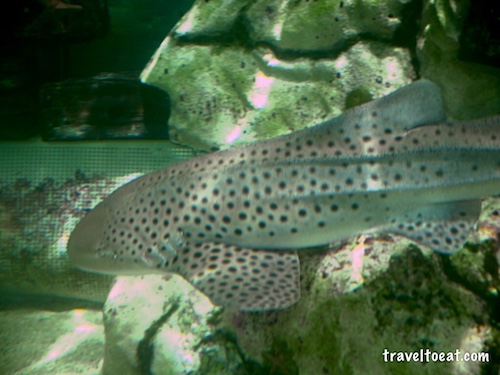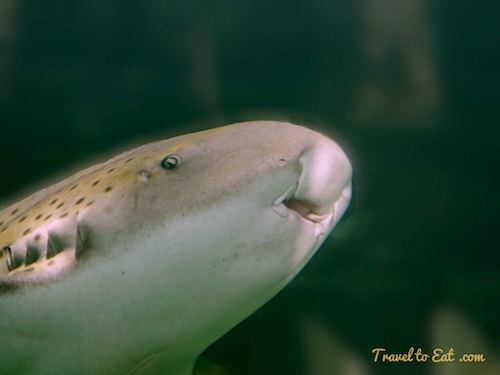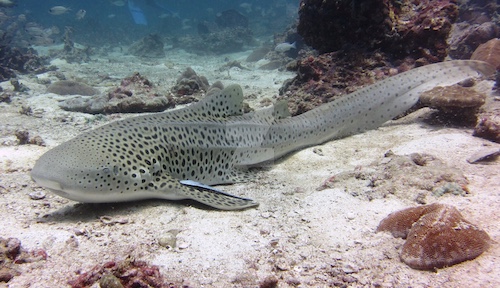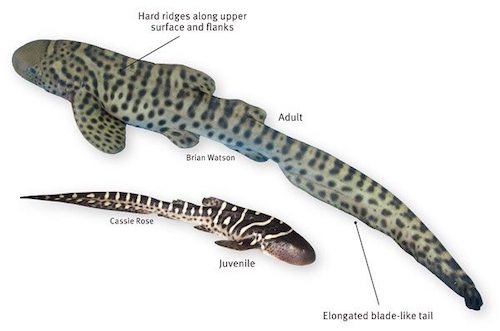 The Zebra Shark (Stegostoma fasciatum) is a species of carpet shark and the sole member of the family Stegostomatidae. It is found throughout the tropical Indo-Pacific, frequenting coral reefs and sandy flats to a depth of 62 m (210 ft). The zebra shark can attain a length of 2.5 m (8.2 ft). Zebra sharks are nocturnal and spend most of the day resting motionless on the sea floor. At night, they actively hunt for molluscs, crustaceans, small bony fishes, and possibly sea snakes inside holes and crevices in the reef. The color pattern in young sharks is dark brown above and light yellow below, with vertical yellow stripes and spots. As the shark grows to 50–90 cm (20–35 in) long, the dark areas begin to break up, changing the general pattern from light-on-dark stripes to dark-on-light spots. The name "leopard shark" is sometimes applied to the spotted adult, but that name usually refers to the houndshark Triakis semifasciata, and is also sometimes used for the tiger shark (Galeocerdo cuvier).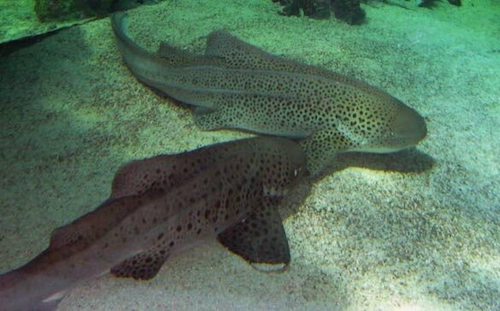 A leopard never changes it's spots, and Sydney Aquarium's Leopard Sharks Brian and Zelda have never changed their love for each other. After a period of separation Brian and Zelda have been reunited after Zelda made a visit to Oceanworld Manly – until then, they had spent years together and even shared eggs! Here they are reunited, sucking on each other's fins.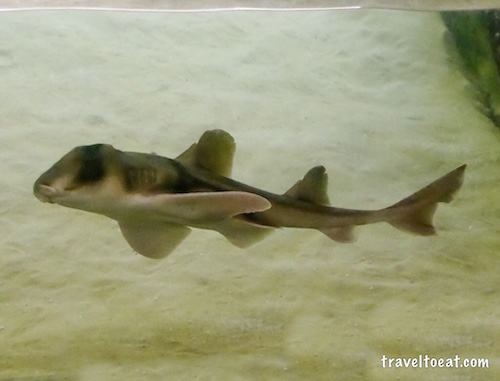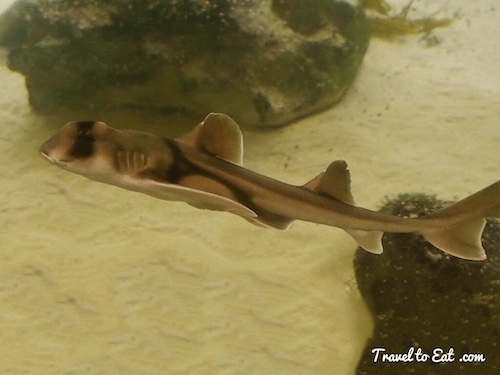 The Port Jackson Shark (Heterodontus portusjacksoni) is a nocturnal, oviparous (egg laying) type of bullhead shark of the family Heterodontidae, found in the coastal region of southern Australia, including the waters off Port Jackson. It has a large, blunt head with prominent forehead ridges and dark brown harness-like markings on a lighter grey-brown body, and can grow up to 1.67 meters (5.5 ft) long.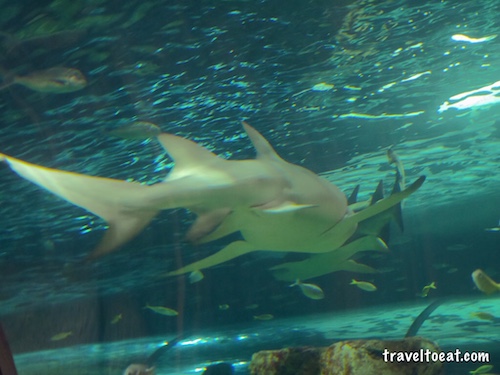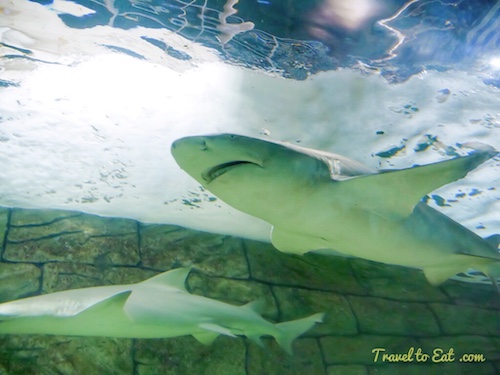 The Lemon Shark (Negaprion brevirostris) is a stocky and powerful shark. A member of the family Carcharhinidae, lemon sharks can grow to 10 feet (3.0 m) in length and a weight of up to 90 kg (200 lb) by adulthood. The shark's yellow coloring serves as a perfect camouflage when swimming over the sandy seafloor in its coastal habitat. They are often found in shallow subtropical waters and are known to inhabit and return to specific nursery sites for breeding. Lemon sharks are mainly found along the Southeastern coast in the United States. The Gulf of Mexico is also a prime location for them. They have been known to migrate to places including West Africa. They have six Lemon Sharks at the Sea Life Sydney Aquarium, four females and two males.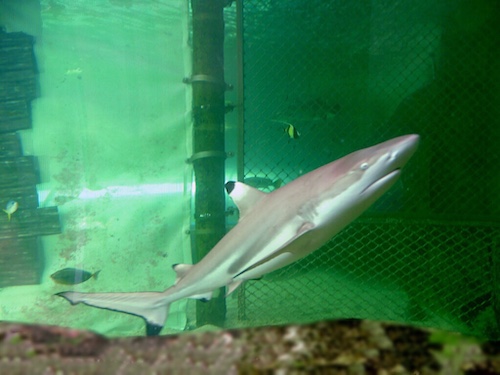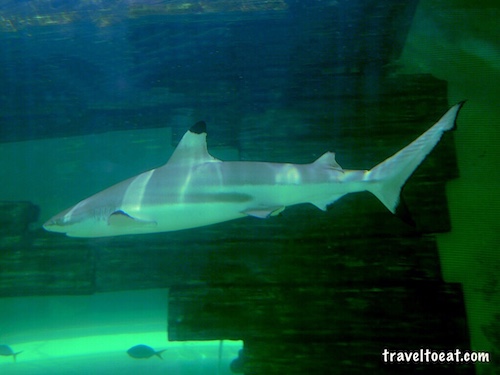 The Blacktip Reef Shark (Carcharhinus melanopterus) is a species of migratory sharks, in the family Carcharhinidae, easily identified by the prominent black tips on its fins (especially on the first dorsal fin and its caudal fin). Among the most abundant sharks inhabiting the tropical coral reefs of the Indian and Pacific Oceans, this species prefers shallow, inshore waters. This species typically attains a length of 1.6 m (5.2 ft). Timid and skittish, the blacktip reef shark is difficult to approach and seldom poses a danger to humans unless roused by food.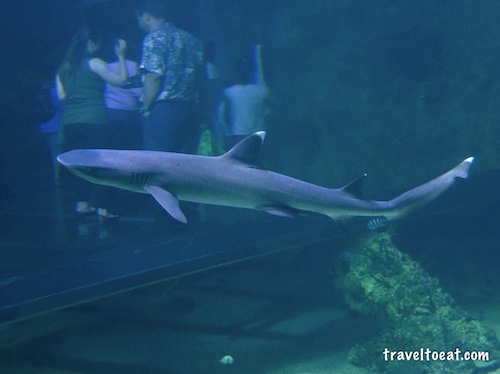 The Whitetip Reef Shark (Triaenodon obesus) is a species of requiem shark, in the family Carcharhinidae, and the only member of its genus. Requiem sharks are sharks of the family Carcharhinidae in the order Carcharhiniformes, containing migratory, live-bearing sharks of warm seas. A small shark usually not exceeding 1.6 m (5.2 ft) in length, this species is easily recognizable by its slender body, short but broad head and white-tipped dorsal and caudal fins. One of the most common sharks found on Indo-Pacific coral reefs, the whitetip reef shark occurs as far west as South Africa and as far east as Central America.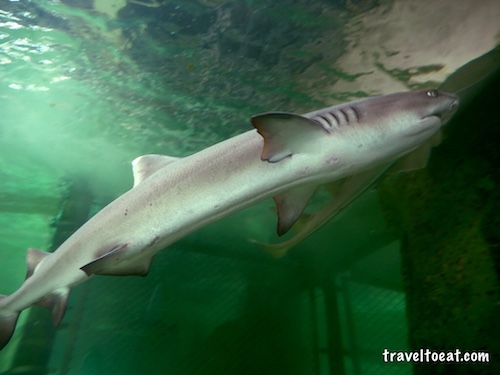 The Nurse Shark (Ginglymostoma cirratum) is a shark in the family Ginglymostomatidae. Nurse sharks can reach a length of 4.3 m (14 ft) and a weight of 330 kg (730 lb). They are thought to take advantage of dormant fish which would otherwise be too fast for the sharks to catch; although their small mouths limit the size of prey items, the sharks have large throat cavities which are used as a sort of bellows valve. In this way nurse sharks are able to suck in their prey with a short, violent influx of water.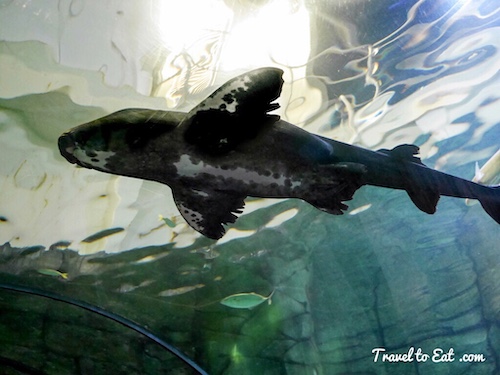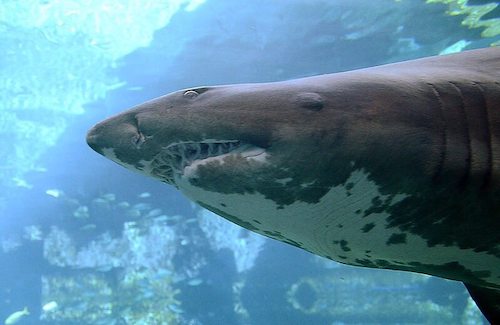 The Sand Tiger Shark (Carcharias taurus), grey nurse shark, spotted ragged-tooth shark, or blue-nurse sand tiger is a species of shark that inhabits subtropical and temperate waters worldwide. It inhabits the continental shelf, from sandy shorelines (hence the name sand tiger shark) and submerged reefs to a depth of around 191 m (627 ft). They dwell in the waters of Japan, Australia, South Africa, the Mediterranean and the east coasts of North and South America. Even though the teeth look fearsome they are generally not a threat to people. Despite its name, it is not related to the Tiger Shark (Galeocerdo cuvier) however, it is a cousin of the Great White Shark Carcharodon carcharias. Despite its fearsome appearance and strong swimming ability, it is a relatively placid and slow-moving shark with no confirmed human fatalities. The sand tiger's length can reach 3.2 m (10.5 ft). They are grey with reddish-brown spots on their backs.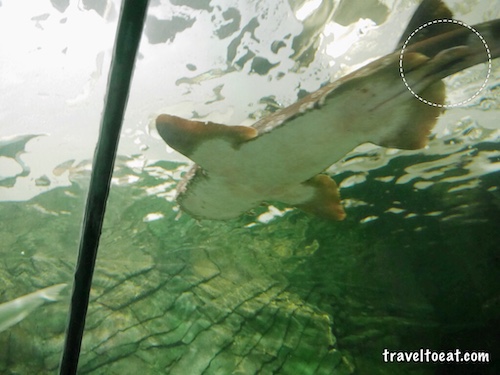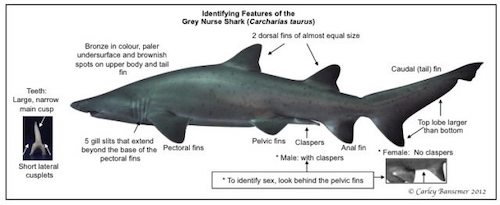 The Grey Nurse Shark's numbers declined sharply in the 1960s and 1970s and, in 1984, they became the first shark in the world to be awarded protected status. However, they're sometimes still caught by accident in shark nets and by fishermen and, because they're slow growing, their numbers have yet to recover. Sydney Aquarium supports conservation measures to protect these fish, such as the establishment of marine parks where fishing is prohibited. Sharks have their own inbuilt dentist – they can rapidly grow back teeth if their gnashers become worn or damaged. Their skin is also amazing – it's not made of scales but of denticles, which means 'tiny teeth'.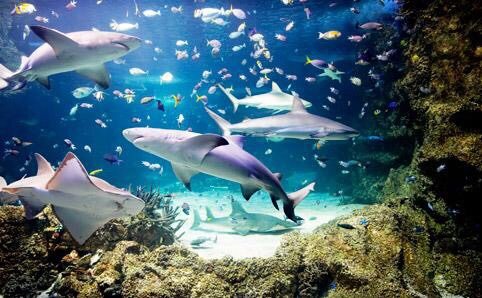 This was another amazing experience at the Sea Life Sydney Aquarium, with the same walk-though tunnels as they had for the tropical fish. You can also explore in a glass bottomed boat or even scuba diving with the sharks. You may think I am a bit over enthusiastic but this is an aquarium with great presentation and so many species. As always, I hope you enjoyed the pictures and please leave a comment.
References:
Sea Life Sydney Aquarium: http://www.sydneyaquarium.com.au/
Namur Deviant Art: http://namyr.deviantart.com/art/Shark-Species-ID-Zebra-Shark-440588874
Types of Sharks: http://www.world-of-sharks.com/types-of-sharks.html
11 Sharks: https://underwater.com.au/article/id/10195
Leopard Love: http://www.sydneyaquarium.com.au/news/leopard-shark-love/
Queensland Zebra Shark: https://www.daf.qld.gov.au/fisheries/species-identification/shark-identification-guide/photo-guide-to-sharks/sharks,-part-3/zebra-shark