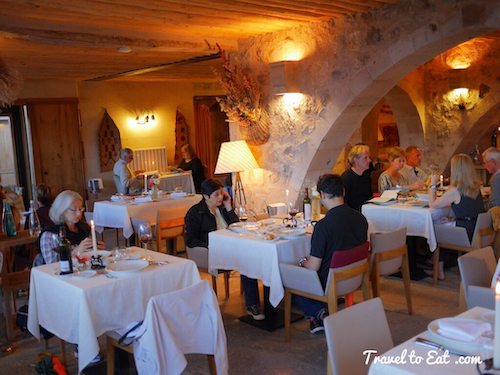 We decided to go out to dinner nearby, at the Argos hotel. Argos in Cappadocia bills itself as "an ancient village with a reception desk." That's partly true. It occupies a medieval monastery that was carved into the soft volcanic land, and some of the structures are indeed ancient, such as the 2,000-year-old chapel that's now used as a concert hall and event space. But some are not, and everything is more luxurious than when the original inhabitants cave-dwelt on these hills. The main lounge and dining room have a more contemporary farmhouse feel and staggering views of the fantastically sculpted Pigeon Valley below, arguably the best in the area. The modern-Turkish food is fabulous too, and the deep wine list spotlights the surprisingly good wines produced in the region, including some from the hotel's own vineyards (and stored in a centuries-old cellar that's as atmospheric as anywhere else in the place).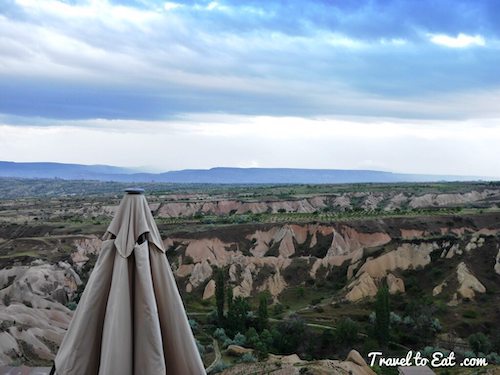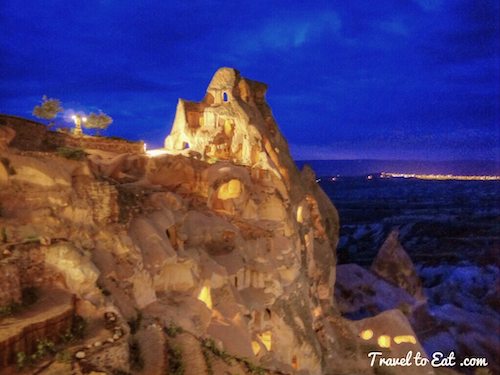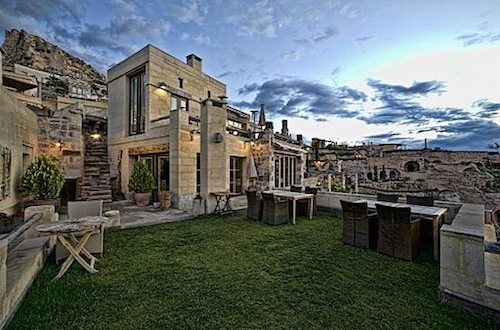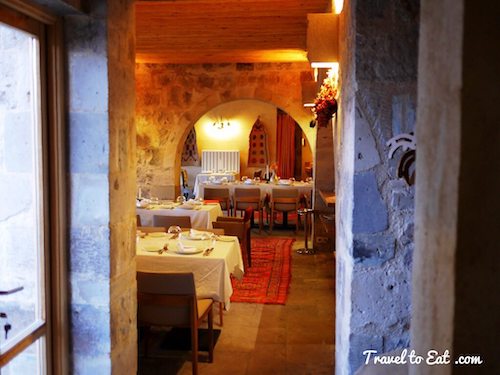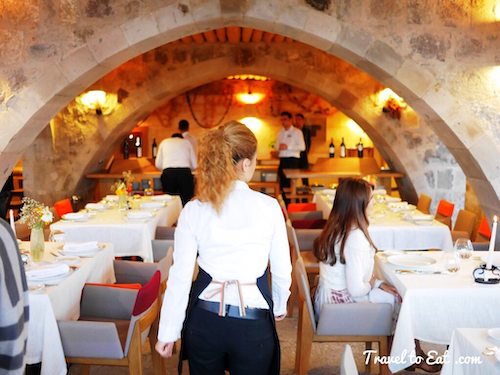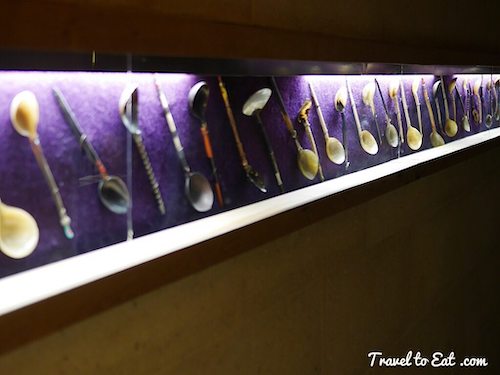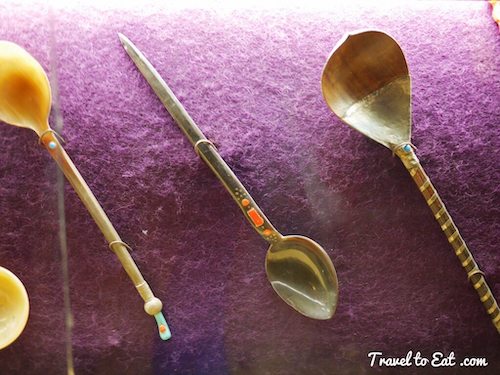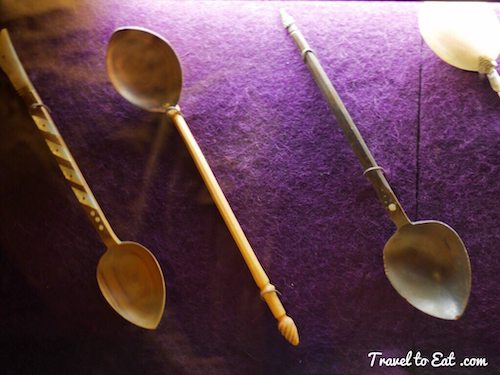 The views from the restaurant are awesome, the restaurant has a dead on view of the Pigeon Valley. Inside, the restaurant is modern with all the conveniences. As an interesting aside, the restaurant has a lovely collection of antique spoons.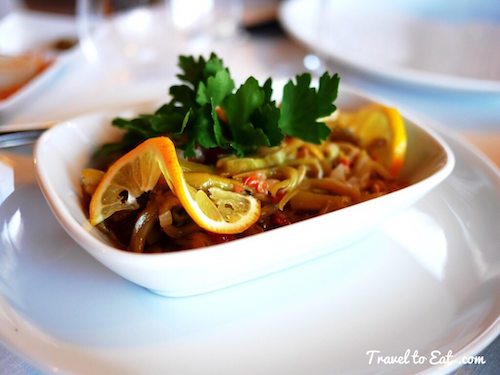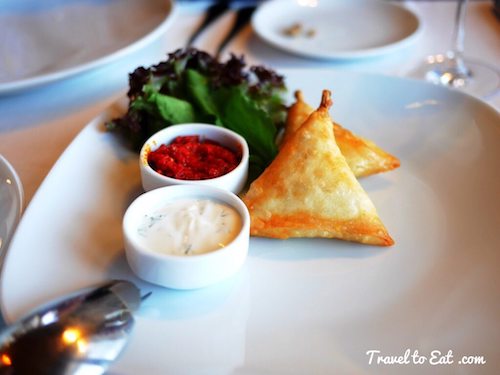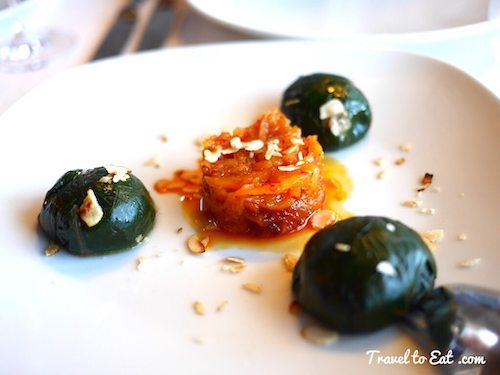 For our appetizers or meze, we had quail legs wrapped in phyllo with with yoghurt sauce and hot salsa, duck confit wrapped in chard with spicy apricots and almonds and a Turkish staple, green beans and tomato cold salad (Taze Fasulye). Whereas the French lightly blanch their haricot vert, the Turks cook them for 1-2 hours. The Turks are picky about their beans, hence 'taze fasulye' literally 'fresh beans', preferably plucked straight from their vegetable garden. Many Turkish cooks will tell you it should take less than an hour from the moment they are picked to the time they are put in the pot. To be sure, a French-style preparation of blanched, lightly seasoned green beans isn't exactly bad. But far better is the Turkish or Greek method of preparing green beans, namely, cooking the living daylights out of them. If the sight of these slow-braised green beans reminds you of canned green beans, the scourge of school cafeterias everywhere, you may be skeptical. Suspend your disbelief, if you can, because braised green beans have several things going for them that canned green beans do not. Aromatic onion and garlic, sweet tomato, and tart lemon counter any bitterness, while a healthy dose of olive oil lends the beans the luxurious mouthfeel that only fat can provide. Plus, crucially, these green beans aren't merely overcooked; they're so far beyond overcooked that they've practically transubstantiated. When you simmer green beans for a couple of hours, they become tangled, silky, and so tender that they nearly dissolve on your tongue. The other Meze were equally delicious, more European in their origin.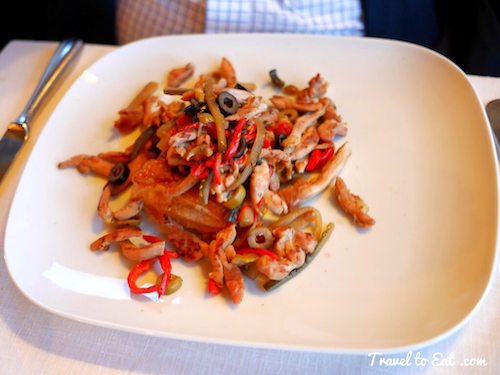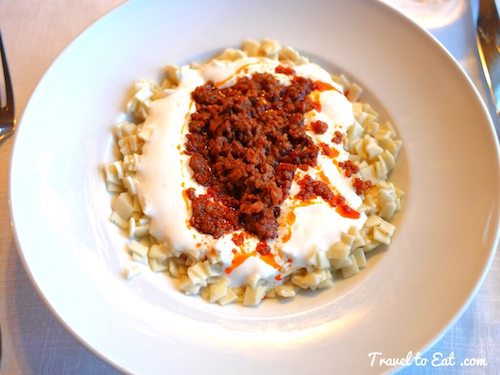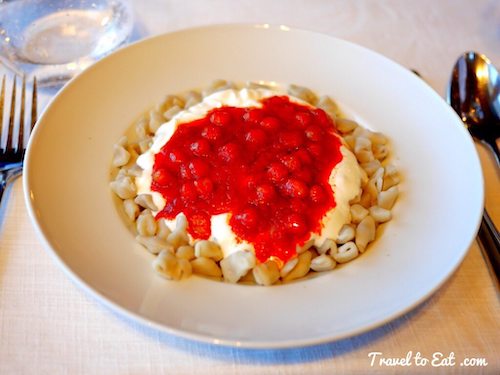 For our main dishes we had Chicken, Olives and Cornichons, tradational "Kırcı" Noodle with yoghurt and beef mince and Manti with Yoghurt. Manti is believed to originated by Uyghur Turks living in China as mantou, and was carried across Central Asia to Anatolia by migrating Mongol peoples in the Chingizid-Timurid periods. In particular, according to some researchers, manti first reached Cilician Armenia as a result of the cultural interaction between Armenians and Mongols during their alliance in the 13th century. This quintessential Turkish combination features lamb-stuffed pillows of fresh pasta that are drizzled with two sauces: a garlicky one made from yoghurt, and a spicy one made with butter, paprika, and hot pepper. This type of Turkish ravioli originated in Mongolia. Manti was eaten at the Ottoman court and has been popular throughout Anatolia ever since; the city Kayseri is especially famous for them. The most famous Mantı in Turkey is Kayseri Mantı. These are tiny manti, which are then served with garlic yoghurt and oil mix with tomato paste which is reduced and poured over the top of the yoghurt.
The Argos hotel is one of the best in Ürgüp, probably one of the best places to stay in Cappodocia with an awesome indoor pool. The Seki restaurant was great, really good food with a nice wine list, and excellent service.
References:
Website: http://www.argosincappadocia.com/mobil/ENG/
TripAdvisor: http://www.tripadvisor.com/Restaurant_Review-g297988-d3546236-Reviews-Seki_Restaurant-Uchisar_Cappadocia.html
Turkish Green Beans: http://www.slate.com/blogs/browbeat/2012/07/25/turkish_or_greek_style_green_beans_braise_them_till_they_practically_melt_.html
Faysulye: http://tanyazouev.com/fasulye-turkish-green-bean-tomato-stew/
Turkish Green Beans: http://www.petersommer.com/turkey-travel-country/turkish-food-cuisine/taze-fasulye-green-beans/
Manti: http://www.panningtheglobe.com/2013/11/05/turkish-manti/
Manti Dean and Deluca: http://www.deandeluca.com/recipes/recipe_manti_with_yogurt_sauceturkish_ravioli.aspx