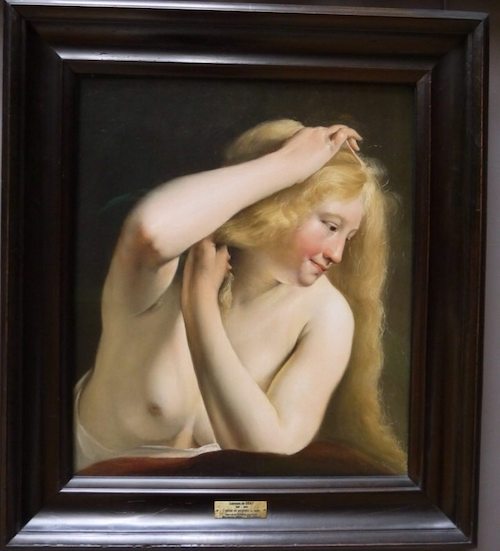 I saw this lovely painting at the Louvre, and was struck by the pose and detail of her hair. The painting is titled "Young Woman Combing Her Hair" done in 1635. Salomon de Bray's skills at observation are evident as is the lighting which seems oddly fresh and vibrant for a Dutch painter. De Bray's artistic development is not well documented. In 1635 he seemed to favor half-length figures, which at that time had become rather old-fashioned. By about 1640, his work showed the influence of Rembrandt van Rijn's "chiaroscuro". The term chiaroscuro refers to a strong, self-conscious juxtaposition of light and shade which results in a stunning visual effect in a work of art. The technique was initially pioneered by Leonardo da Vinci, further developed by Caravaggio, and finally perfected by Rembrandt. I still maintain that the painting above is a masterpiece and despite the genius of Rembrandt, the above representation is very modern.
Salomon de Bray (1597 – 11 May 1664) was a Dutch Golden Age architect and painter. He was a painter, draughtsman and designer, architect, urban planner and poet. From 1617 he was a member of the civic guard company of St Adriaen in Haarlem, where he is thought to have trained with Hendrick Goltzius and Cornelis Cornelisz. van Haarlem (though there is no evidence for this). He remained in Haarlem until his death. In 1630 he became a member of St Luke's guild, the painters guild. His work consists of historic pieces, portraits and landscapes. He was a well known and prolific painter and lived a comfortable life.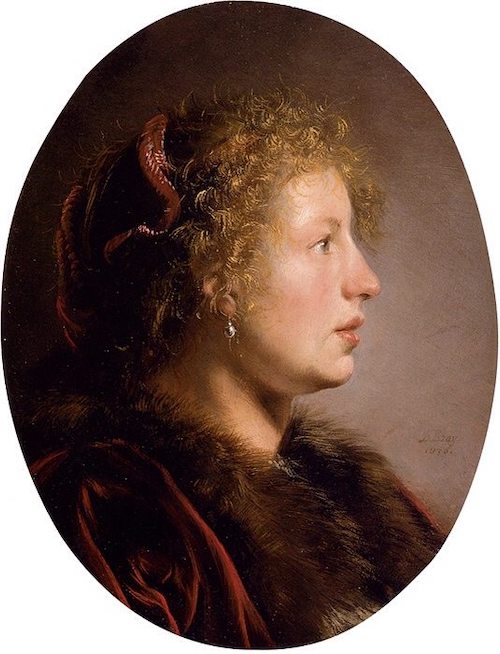 From the middle of his career is the small, but superbly painted "Portrait of a Woman in Profile" (1636), sold at Sotheby's, New York in 2004 for $1,500,000. Again note how finely the fur and hair are rendered and how contempory the woman appears.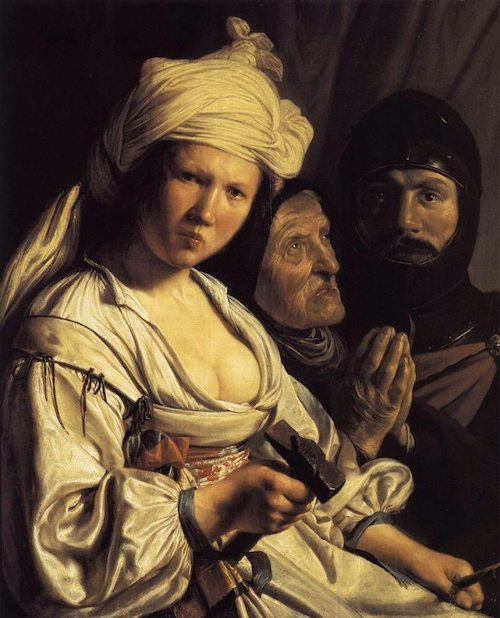 Here is a historical piece, "Jael, Deborah and Barak" done in 1635. This work is linked to Judges 5:24. Jael had managed to kill the enemy warlord Sisera, leader of the Cannanites, by nailing a peg into his head while he was asleep in her tent. De Bray does not show the moment supreme. Instead he shows Jael, with hammer and pin, next to the prophetess Deborah and Jewish warlord Barak. These historical pieces were hard to sell as Rembrandt had also learned. The lighting here seems much more chiaroscuro and the fabrics are rendered in superb detail. The contrast in mood, lighting and context of these three paintings, done within a year of each other is striking and shows the range of de Bray.
De Bray played an important role in Haarlem's cultural projects and institutions. Unfortunately, many of his architectural designs were never carried out. He helped reorganize the Guild of Saint Luke in 1631, along with Pieter Molijn. Sensitive and intelligent, De Bray published a collection of love poems and a book on contemporary architecture.
Salomon de Bray was the father of ten children, of whom three (Dirck de Bray, Jan de Bray, and Joseph de Bray) became notable artists. He probably died of the plague that hit Haarlem in 1664, as he and his children Jacob, Josef, Juliana and Margaretha all died in April and May of that year. His wife had already died the previous year. He was buried in the Sint-Bavokerk in Haarlem.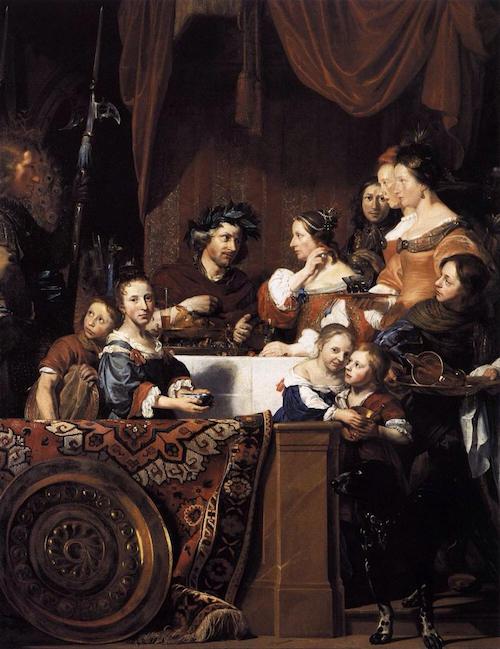 His father called his son Jan de Bray "the pearl of Haarlem" and viewing the above painting by Jan shows why. He was taught by his father and spent most of his career working in Haarlem where he was for many years the dean of the Haarlem Guild of St Luke. The full title of this painting is "Banquet of Mark Antony and Cleopatra: Family Portrait with Salomon de Bray and Anna Westerbaen". The two central figures are the artist's father (Salomon de Bray) and mother (Anna Westerbaen), while Jan painted himself standing discretely to our left with the brothers, all deceased except Dirck, looking at him. (Currier Museum of Art) In essence, he has taken the memories of his family and made them real, so that we can share in that memory. How many of us would like to have the gift to do the same?