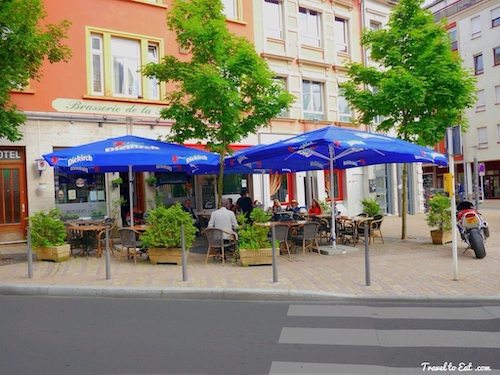 We decided to go to Luxembourg, one of those spur of the moment decisions that we had a whole day to regret. We signed up for one of those hop-on hop-off buses that represented another bad decision, the driver actually sped up when there was the rare sight to see. Just for the record, our experience has been the same in other cities, in Genoa we jumped off and they never came back. Anyway, what little there is to see in Luxembourg is locked up in a few "city" museums with a ban on photography. Either it is too obscene for public consumption or they are concealing forgeries and don't want to be exposed. Seriously, I have an aversion to museums banning photography, I consider it a suppression of artistic expression and the study of that knowledge. As a result, I refuse to enter museums with this policy. It wasn't like there were any tourists in the first place, you would think they would have been happy to see us. So we had a day to kill and stumbled on the Russian Café a few blocks from the train station.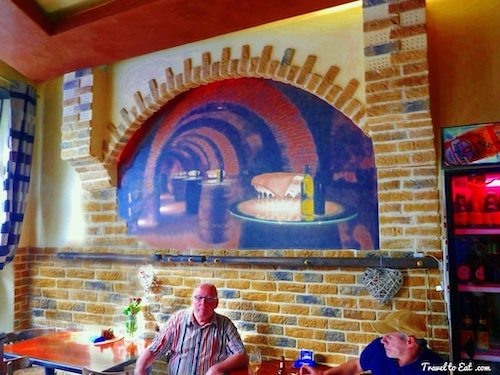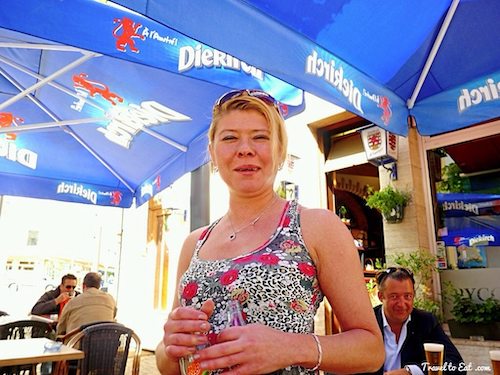 The restaurant is in the middle of a Russian quarter, the inside was packed with Russian speaking patrons all speaking Russian. Our waitress was a charming Russian girl who gave us the down-low on all the Russian dishes they had to offer. The service was excellent and friendly, we felt like we were at a home away from home.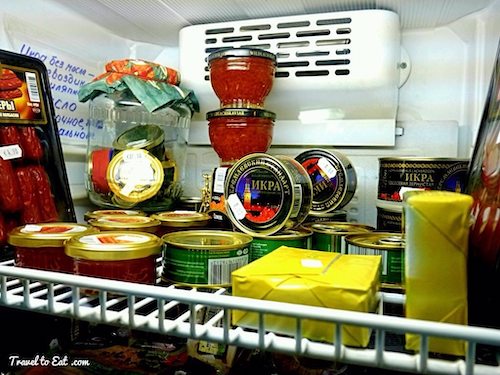 Across the street was a a Russian grocery, a small room crammed with everything Russian, including caviar.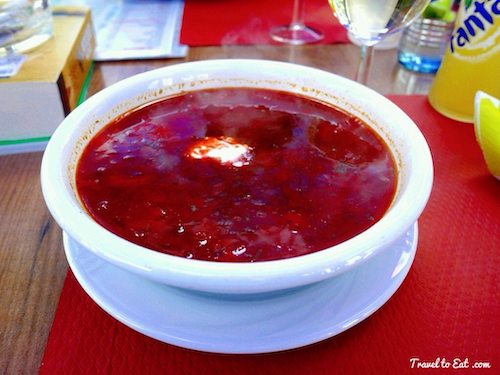 We decided to have Borscht as a starter. In my limited experience, Borscht has been a purée and usually served cold. This was a steaming delicious combination of pieces of beets, carrots, potatoes and beef all in a hot wonderful broth and topped with a dollop of sour creme. This was indeed a memorable soup.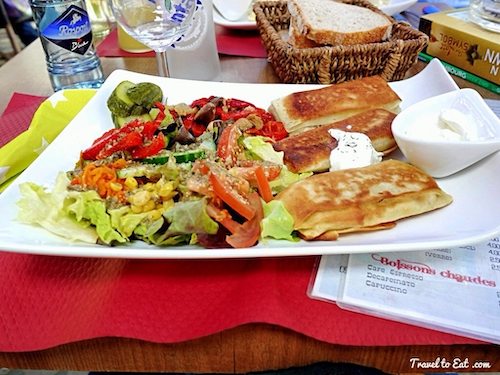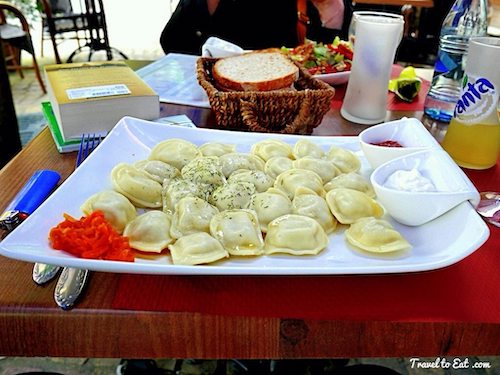 For our main course, Lisa had the meat stuffed bilinis and I had the Pelmeni, basically a Russian ravioli although the meat stuffing is more coarse. Pelmeni belong to the family of dumplings, and are related to Ukrainian vareniki and Polish pierogi. In the United States and Canada, the term pierogi or perogis is often used to describe all kinds of Eastern European dumplings, regardless of the shape, size, or filling. The most important difference between pelmeni, vareniki, and pierogi is the thickness of the dough shell—in pelmeni this is as thin as possible, and the proportion of filling to dough is usually higher. Pelmeni are never served with a sweet filling, which distinguishes them from Ukrainian vareniki and Polish pierogi, which sometimes are. In Siberia, pelmeni are traditionally frozen outdoors in the winter and treated as preserved food. Hunters or explorers heading into the taiga would carry sacks of frozen pelmeni with their provisions as easily cooked, nonperishable food. Pelmeni can be stored frozen for a long time and they are prepared immediately before eating by boiling in salted water until they float, and then two to five minutes more. As a result, if you buy frozen pelmeni, they are often called Siberian pelmeni.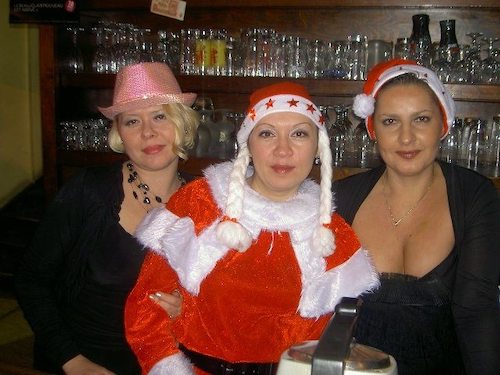 Both were served with sour creme and mine included a hot sauce. Needless to say, both were absolutely delicious. We both cleaned our plates. So if you have the misfortune to end up in Luxembourg, go down Rue de Gare to Rue Bonnevoi, turn right and go up about a block. You will find the best Russian food I have personally ever eaten at very reasonable prices.
References:
Russian Café Facebook: https://www.facebook.com/brasseriedelaplace?filter=2