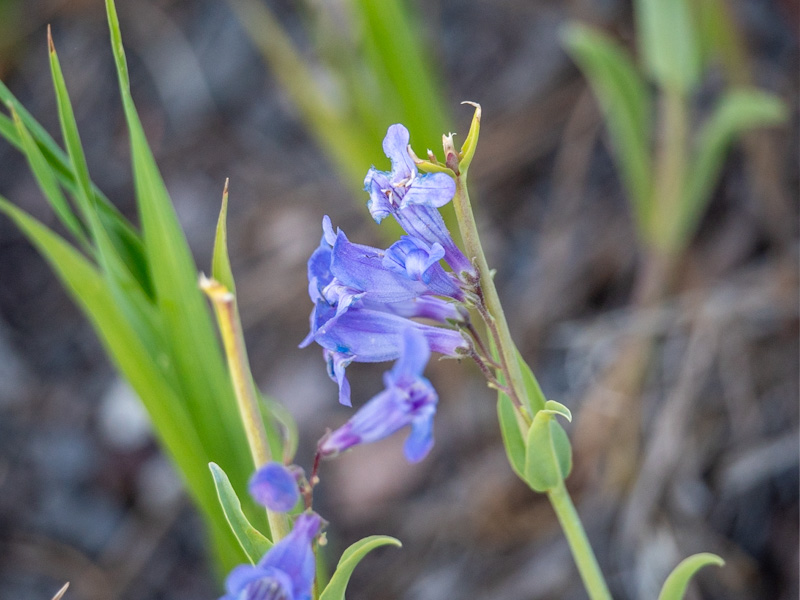 Common Names: Royal Penstemon, Royal Beardtongue, Sagebrush Penstemon, Sagebrush Beardtongue
Synonyms: Penstemon speciosus ssp. kennedyi
Taxonomy: Plantain (Plantaginaceae)
Habit: perennial forb, herb
Size: up to 3'
Flowers: blue, purple, Violet
Bloom: May, Jun, Jul, Aug, Sep
Leaves: opposite basal
Fruit: capsule
Description:
The leaves are usually lance-shaped and sometimes folded lengthwise, usually less than 6" (15 cm) long. They are arranged oppositely and often clasp the stem at the bases. The showy inflorescence bears tubular flowers with expanded mouths 1-1.5" (26-38 mm) long. The flowers are light to deep blue, lavender, and purple, and usually have white throats. The white, generally hairless, throat helps to distinguish it from similar species within its range.
Distribution: CA, ID, NV, OR, UT, WA
Seen: UT
Habitat: Dry plains; wooded or shrubby slopes; 3500-8500'